Vodafone 845
1st Jul 2010 | 11:22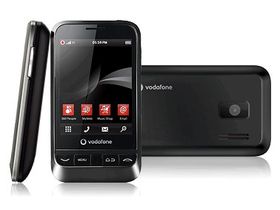 Android 2.1 stuffed in a budget package
Vodafone 845: Overview
We've picked up the new Vodafone 845, the budget Android handset that hasn't been examined in detail anywhere else, so this Vodafone 845 review is your first chance to see a definitive verdict.
We've seen many of the Most Wanted mobile outlaws come swaggering into the smartphone saloon slinging their Android 2.1 pistols, nonplussed by the hefty price upon their heads.
Now Vodafone has announced the arrival of a new deputy in town, toting the same weapon, but at a fraction of the bounty.
The Vodafone 845 is the network's first branded handset to feature the Google-powered operating system, and it's come out all guns blazing, throwing forward the latest incarnation of Android seen on handsets like the HTC Desire and HTC Legend.
Of course, by that token, build quality, processing power, user interface, screen resolution and camera quality might be compromised compared with the £400 top-end players like the Google Nexus One and Motorola Milestone, but Android 2.1 on an affordable alternative is enough to take this handset seriously.
The Huawei-built handset isn't available SIM-only at present, but it's free to own from just £15 a month from Vodafone.
It's very much a case of choosing the supermarket brand baked beans over Heinz. If you're willing to sacrifice a little extra taste, the tin will still contain beans and something resembling tomato sauce.
The Vodafone 845 is one of the dinkiest smartphones available on the market and with a 2.8-inch TFT touchscreen it'll sit alongside the likes of the Sony Ericsson Xperia X10 Mini, and Palm Pixi Plus in terms of size.
The screen doesn't dominate the 100 x 56 x 14.2mm body as much as you'd think, though, and the handset could be a good deal smaller there.
There's plenty of room around the screen and the four plastic buttons (Call, Menu, Back, End call) at the base of the device are pretty thumb-friendly too. In the centre of those buttons is a touch-sensitive trackpad, which enables you to scan through and summon Home screens.
The chassis itself is metallic, with a distinctly different (and hard to remove) plastic back. On the back of the device is the 3.2-megapixel camera and the speaker, while the right-hand edge houses the metal volume controls.
On top of the device is the power switch (which also locks the screen) and case release flap, while underneath is a 3.5mm headphone jack and micro-USB charging port.
The centre button, which underpins much of the phone's functionality, also works as a mechanical camera button. The microSD slot lives beneath the casing
The device fits in the hand quite nicely and, at 110g, it's reassuringly heavy. It's the same weight as the HTC HD Mini, while being 10g lighter than the X10 Mini.
It's not exactly the slimmest at 14.2mm, with the HTC Desire at just 11.9mm, but we're not going to sit here quibbling about 2.3mm on a handset packing this much into a tiny body.
The screen resolution and touchscreen quality on these lower-end touch devices are always a concern. When switching the device on, the 240 x 320 screen doesn't amaze, but its compromised quality is not overbearingly apparent.
The icons and images are by no means up there with the crisper and clearer smartphones screens on the planet, and doesn't match up to many of the smaller, cheaper handsets around, like the Palm Pixi Plus, which maintains a smooth and crisp resolution.
The bespoke Vodafone widgets on the Home screen are particularly poor, but once inside the Android interface, it's a lot better.
The touchscreen itself is resistive rather than capacitive, and it does it's best to resist your commands a large part of the time. Swiping and moving around apps is relatively responsive, but getting the desired response from simply pressing the touchscreen can be difficult. Typing? Again, not so easy.
In the box

The handset is accompanied by a micro-USB charging cable and AC plug adaptor as well as a pair of headphones, which double up as a hands-free kit. There's also a simple set-up guide within the minimal packaging.
Sadly the device doesn't come loaded with a microSD card, the capacity for which is 16GB. The phone's internal memory is 512MB, so there's space for the odd photo, video and application, but for anything beyond that you're going to need to buy one.
Vodafone 845: Interface
Bringing Android 2.1 to such a competitively-priced device was always going to be the main attraction for the Vodafone 845, but how would it be employed, and how useful it would be on this device was always going to the the key to success.
It would have been easy for Vodafone to just employ a bare-bones version of Android and let it do the work, but that's not the case.
The skin Vodafone has applied to the device takes inspiration from the HTC Sense UI and Nokia Symbian handsets in that it allows a multiple Home screens, but on a much more basic level.
Home screens are infinitely customisable with Android widgets, shortcuts and bookmarks, and you can choose what goes where by just holding down a finger on the touchscreen.
On the multitude of phones that now employ this interface, navigation has always been horizontal, but Vodafone has added now added vertical scanning to the mix.
There are seven horizontal Home screens and, on top or underneath each of those, you can add four additional screens. That means a potential 35 homescreens. Now that's got to be some kind of record?
Well, how on Earth are you supposed to navigate through those, we hear you ask, let alone remember where you've placed everything?
Holding down the centre button (or pressing the onmi-present zoom icon on the Home screen) promps mini versions of each Home screen in a grid, which can be zoomed in and out to find your desired applications.
Pressing on the grid takes you to the screen with a neat moving animation. You can also swipe up and down and left and right to get where you want to be, but doing that a great number of times, while trying not to open the apps while applying the necessary pressure is tricky and frustrating.
It's quite impressive, but it's overkill. You'd almost have to download the whole Android market to fill 35 Home screens. Seven would be just fine thank you very much.
However, regardless of which screen you're on, the menu, call, messaging and zoom icons remain present, so you'll always be able to get where you want to be without excessive scanning and searching. It's also easy to rearrange the icons, by holding them down and moving them around.
So what does Android 2.1 bring to this phone, to make even HTC Hero users (who're still waiting for the upgrade) and Dell Streak owners (who only have 1.6) jealous?
Two words. Live wallpapers. We first saw these on the Google Nexus One phone back in January, adding a fun and pretty extra dimension to Android phones.
We loved the Nexus wallpaper of interactive moving streams of colour. It's worth keeping a Home screen blank just to play with it, but it's fair to say the inferior touchscreen and general screen quality doesn't make this as pretty and intuitive an experience as on the higher-specced Android 2.1 phones.
There's also a live Google Maps wallpaper, which is functional and handy to have instant access to, but constant GPS-usage will kill your battery extremely quickly. And it thought we were in North Wales. Despite what armies of opposing football fans would have you think, Shrewsbury is not in North Wales.
Google text-to-speech synthesis should also be available but it isn't. When we tried to install the voice data functionality needed for this, it was inaccessible from within the dedicated text-to-speech settings menu in Android. Strange one, that.
It offers a lot of the widgets served-up on the big name handsets, including a more basic Accuweather clock as seen on HTC's Sense UI, as well as the live Facebook widget, which shows your friends' latest status updates and allows you to update your own.
Scanning between them is nigh on impossible though thanks to some teeny, weeny arrows and the touchscreen is nowhere near good enough to handle that.
There's also an interactive calendar widget (populated by pairing-up with your Google account) which allows you to flick through months live on the Home screen.
We also liked the multimedia library widget which also lives on the Home screen and the Android control panel which gives instant access to connectivity options and screen brightness.
The Google search bar also works in the same way as Apple's spotlight feature, scanning your phone for relevant content before searching online.
All of this means you get to your favourite content faster, which makes complaints about the multitude of Home screens a little irrelevant.
They're there if you need them and want to use them, but if not, it's so easy to get to everything anyway.
Trying to do so much with a 525MHz processor that offers around half the performance of the top-end smartphones is a bold move.
Couple that with the paltry 128MB of RAM and it means that the experience isn't nearly as fluid as we'd like.
Especially when typing, the phone struggles to live up to our demands and occasionally you can press the screen until the cows come home without and the 845 chooses to ignore you, so you'll need to be patient with it.
After continued use we were reluctant to exit an application we needed to come back to, just because of the extra time, patience and sheer effort it takes.
Opening apps like the camera just takes an absolute age and the he accelerometer takes longer to erm... acceleromate than we'd hope
If you can't be patient with it, spend more than £15 a month for a free smartphone. Simple.
Vodafone 845: Calling and contacts

The great thing (or the not so great thing depending on your views on Google and privacy) about using Android phones is that once you've used one, you can switch on any of the handsets, type in your email address and every single one of your phone and email contacts are instantly downloaded.
As a bonus, you also get information you've previously in-putted regarding Skype accounts, email and home addresses as well as any picture you have associated with that contact.
It also remembers those lucky folks you've specified as favourite contacts with a little star. In theory, you can add your Facebook account to proceedings, but when we tried to do that we were immediately returned to the previous screen over and over again. That was frustrating.
The contacts interface is nice enough and easy to navigate, as you'd expect from an Android phone. It opens very quickly from the Home screen and has a handy tabbed interface to whizz between Dialler, Call log, Contacts and Favourites.
The Call log enables you to start typing a name through the alphanumeric pad and pick up the contact you'd like to dial.
You can use the touchscreen, or the touch-sensitive trackpad to scan contacts with no lag at all, or search as you type. It works very well.
Heading within a contact allows your to see calling, text and email history in one stream, and also serves up invitations to make contact in a number of different means. It's a nice interface.
You can also access the dialpad direct from the Home screen, wherever you might be within the OS, by pressing the phone icon. Once you're connected, call quality is very good and voices come through loud and clear.
The loudspeaker quality on calls is also better than expected, but it doesn't go loud enough for our liking. Also, we did find that when you lose signal, it takes a significant amount of time to return.
Vodafone 845: Messaging

The important thing here is to immediately, before you send a single text or email, ditch the TouchPal keyboard, because it most certainly is not your pal. The QWERTY keyboard is way too small to use in both portrait and landscape mode and we had at least a 50 per cent mistake record.
It also really struggles to keep up if you want to type at a rate of more than five letters per minute and there's also a tremendous lag even when you use the T9 keyboard.
You can easily end this misery by selecting the Android keyboard from the Input Method menu while within any application where you need to type.
It's much a much more forgiving and fluid experience and keys seem to be more spaced out and slightly larger. It's advisable, even if it does take up a little more of that limited screen real estate.
Turning off the haptic vibrations is also a good idea, because they only seem to slow down the typing process. If this is your first experience of on-screen keyboards, then it isn't exactly going to win you over.
Grip is another issue, naturally landscape will allow you to make use of the extra keyboard space when typing, but due to the size of the phone it's a very tight squeeze using two hands. A decent approach is to use one hand for holding and adopt a one-fingered typing assault.
It's also fair to point out that typing is achieved with more of a press than a touch. The screen requires a little pressure to recognise the command, unlike some of the HTC Android phones this model is looking to undercut.
The texting app is instantly familiar to any Android user, and not too much has been done to it beyond a slight lick of Voda-paint. The dictionary functionality is excellent, learning new words as you go along and making its best guess as to what you're hoping to achieve with your fast fingers.
Google Talk is also installed as standard, but there's no Windows Live messenger on-board, sadly. A Skype app is available for Android though.
In terms of email, you'll be invited to log into a Google Account when you set up the phone, so Gmail will be your default web client, but it's possible to add other clients, such as Hotmail, with the greatest of ease.
Just add your username and password (there's no messing about with IMAP/POP3 settings) and it'll begin pushing email direct to your phone and into one combined inbox. It's easy to separate accounts, though, if that's your preference.
You can also set up Exchange too, and from there all of your contacts will also download to your phonebook.
The Gmail app offers the same threaded email interface that you'd expect from the web service and every other Android-running handset on the market, but aside from the lack of threads, the phone's bespoke client does an admirable job of reproducing the look and feel of the Android-designed app.
It's a very fluid and seamless operation.
Vodafone 845: Internet
If you're used to using some of the more capable Android phones, the one thing that will be immediately apparent about the web experience on the Vodafone 845 is the lack of a capacitive multi-touch screen, so there's no pinching to zoom.
On a 2.8-inch screen, there's not really much room to showcase a web page in any great detail. Pages open with the top third of the site visible, with a double tap zooming out to show everything you'd usually see above the fold.
You can obviously use the zoom controls and scan around the page using the touchscreen, but it's not quite the same.
That's not to say it's a bad browser. The WebKit Android browser is very intuitive, easy to use and logical.
When typing in the URL bar, there's a dedicated "www.*.com" key, which highlights the cursor on the star character, allowing you to just type the site name and you're good to go. That's a really neat, time saving feature.
Frustratingly it's a feature of the TouchPal keypad, rather than the Android keypad, so pick your poison there.
You're also just one touch away from bookmarks and most visited pages, which are highlighted as a neat icon of the last impression you visited.
Bookmarks is also a handy widget to dedicate one of your 35 Home screens to, but you'll have to delete all the Vodafone nonsense from there if you want your actual bookmarks to appear at the top of the menu, instead of languishing beneath the network's news services.
The phone comes loaded with Vodafone's Live 360 web service as a homepage, and the My Web custom Vodafone icon rather than the Android browser.
That's something you can dispense of from your Home screen instantly. Does anyone actually use these bespoke network web services? At least we're not burdened with Vodafone's hopelessly desperate 360 social networking interface on this device
A pleasant surprise when we plugged the device into our PC was the opportunity to use the phone as a mobile broadband dongle. It's extremely simple to set up and the interface is extremely similar to that of your dedicated mobile broadband dongles.
It will cost £15 a month extra for a 3GB of data though, which refuses to allow voice calling data or file sharing. Boooo!
Sadly the phone doesn't support Adobe Flash, so there's that rules out enjoyment of a good few web pages and a hell of a lot of web video.
Vodafone 845: Camera
Amid the modest spec sheet on the Vodafone 845 comes at 3.2-megapixel camera, without an LED flash or any notable lens technology. It's very similar to the cameras we saw on the very first Android phones, the T-Mobile G1 and HTC Magic handsets that treated the snapper as mere bonus.
It's only recently that phones such as the HTC Desire, Motorola Milestone and Dell's Streak tablet that have looked to make the camera a worthwhile feature on phones boasting the Google-made open source OS.
With no notable specs to speak of, the camera on the 845 could only pleasantly surprise. The interface is basic Android with no bells and whistles. You can use the touchscreen to capture photos or the centre hard button, which underpins much of the functionality of the phone.
Pressing down the centre button in camera mode will apply focus (although aside from the green square appearing in the screen, nothing really happens), while releasing will take the snap instantly.
It's a nice way to capture a target moving towards you. Hold, and then release, rather than pressing and waiting for the camera mechanism to kick in. Capture isn't instant though, so make sure you hold the lens still after the shutter sound.
There's no touch-to-focus however, so what the lens sees is what you get. More often than not, what the lens sees is pretty acceptable in the right conditions.
We achieved some half decent results from the 845 as the sun was descending on a summers eve, but any decent sunlight will leave pictures washed out and over exposed.
Pictures can occasionally appear detailed and crisp (actually they're largely fuzzy around the edges), but colours come through pretty strongly and are true-to-life.
Up close, the camera has no real means of focusing, so don't expect good macro photos, and in lower light it's effectively useless due largely to the lack of an LED flash. It's also necessary to watch the grip position because it's easy to slide an errant finger over the lens.
Naturally there are a bunch of settings that you'll rarely use, accessible from a neat slide-out menu within the shooting mode.
There are several white balance options, but none of them is more functional than the Auto setting, although Daylight adds a little more contrast to proceedings. We're yet to encounter a phone where it has been necessary to employ the Fluorescent setting.
Using the zoom controls isn't advisable as pictures come out fuzzier than a Channel 5 signal in the Scottish highlands.
In terms of the Colour Effect settings, Mono and Sepia offer some decent alternatives, but if stylised pictures are your bag then, best to avoid the Vodafone 845. It's best used as a when-you-have-nothing-else-and-the-light-is-perfect deal.
It's a similar story when it comes to video. It captures 3GPP and MPEG4 footage, which is compressed to within an inch of its life.
A one minute video only comes in at around 3MB, which is great for sharing but poor for showcasing. Even at the higher setting, as you can see, the footage is decidedly poor quality.
In-recording zooming is relatively smooth, even compared with some of the pocket camcorders like the Sony Bloggie, and can be done using both the on screen zoom icons and the volume buttons. If using the latter the sound does come through, ruining your video footage further.
Video settings are extremely basic. White balance can be adjusted again, and quality can be lowered further. If you have a capable enough microSD card (the phone can handle upto 16GB), it's possible to shoot for 30 minutes continuously.
The video camera is glitchy too. Sometimes when flicking between stills and video, the record icon just wont appear, forcing you to quit the application and start again. Also, half the time, the on-screen zoom controls don't show up either.
Another frequent issue is that when attempting to capture video, the handset fails to recognise that the microSD card is plugged in. The phone is full of little niggles like that.
Pictures and videos can be shared via the usual sources; email, Facebook, Bluetooth, Picassa, MMS and, in the case of video, YouTube.
Vodafone 845: Media

The music player on the Vodafone 845 is extremely basic and really lacks the processing power to be functional much beyond putting an album on listening to it.
Moving between tracks, albums and songs is a frustratingly slow and jumpy experience and the quality emitted from the internal speaker and the bundled in headphones is poor at best.
Again, it's all about managing your expectations of the handset. This is not an Apple iPhone with an iPod touch built right into the hub.
It's a free for £15 a month network-branded handset, which offers a decent enough music player that will store and play your music, enable you to move between artists, songs and albums and to create and store playlists.
Thanks to Android you can also continue listening to music while performing other tasks on the phone and relatively quickly summon the music player back using the omni-present notifications tab that is dragged down from the top of the screen.
However, that tab isn't always a blessing. Sometimes, screen items are so close to the top that you'll inadvertently summon the notifications when you're trying to just return to your Facebook profile page.
Music can be downloaded from the Vodafone Music Shop, which the network has conveniently placed as an icon front and centre on the Home screen. The interface allows you to subscribe to music or buy individual tracks as well as preview music, complete with album art.
However, you can only download over 3G, so you'll need to switch off the Wi-Fi and return to the shop. That's hopelessly backwards. Also as the interface moves between screens, you're almost constantly greeted by a hugely annoying, rotating cubes Vodafone animation.
We instantly deleted that icon from the Home screen and replaced it with the free Amazon MP3 app, which will enable tracks to be downloaded to the device easily and cheaply.
The music player can play MP3, WAV and AAC files, so in the main, dragging and dropping stuff onto the microSD card will mean you're good to go.
The video player is also pretty standard, and the high quality movie trailers we transferred onto the device actually looked pretty clear and crisp.
At just 2.8-inches though, it's hardly the ideal device for admiring the cinematic beauty of Citizen Kane. The player can handle a modest array of formats; MP4, H.263 and H.264.
There's also a decent FM radio on board, with the bundled-in headphones assisting as an antenna. Inputting your chosen frequencies is extremely simple and fine turning is easy from there. You can also save your favourite channels, but as expected, there's no means of recording radio.
When it comes to YouTube, the Android Home screen widget is also very handy too. It'll directly open the video camera, allow you to capture footage and then move directly to the upload screen.
It's a great little feature that's more of a reflection of having Android 2.1 on the phone, rather than the quality of the phone itself.
When it comes to YouTube, the Android Home screen widget is also very handy too. It'll directly open the video camera, allow you to capture footage and then move directly to the upload screen.
It's a great little feature that's more of a reflection of having Android 2.1 on the phone, rather than the quality of the phone itself.
Vodafone 845: Maps
This is the most competitively priced phone in the world to boast the Google Maps Navigation functionality recently rolled out to all Android phones boasting version 1.6 and over. It effectively turns every handset into a capable satnav for no extra charge.
So, how does it work on the Vodafone 845? Well, all of the functionality is certainly there. After installing the speech package, voice instructions come through clearly (although we could do with a little more volume from the speakers) and in a timely fashion.
There's the option to add traffic, satellite and POI layers onto the maps also. It's ably assisted by the digital compass on the device.
However, the processor does really struggle to complete all of your requests on demand. As with many areas on the phone you'll end up continually prodding the same thing when the phone has recognised your touch, it's just taking its time to think about it.
In truth, the app and the GPS use up much of the phone's power without asking it to go that extra mile.
The acceleromter is even slower here than in other areas of the phone, but you'll have this in landscape mode 90 per cent of the time anyhow. It also takes a long time to properly render maps once Google Maps has pinpointed your position.
If you need to come out of the app, Google Maps will continue to run in the background and it's easy to access the Ongoing service from the notifications tab, which can be dragged down from the top of the Android interface.
All of this is great, but the GPS signal did suffer from the occasional drop out, even when outdoors, and on a 2.8-inch screen it's questionable how useful the satnav functionality is here. When trying to find your way around a city on foot, the regular Google Maps functionality is obviously on board.
Google Maps also remembers your previous searches and, as we mentioned, in Google Maps 4.1 there's an option of a live maps wallpaper which follows your movements around with a little blue dot.
There's also Google Latitude functionality added in too, so you and your friends can track each other's progress around the globe. Scary.
The navigation options on the device are another example of the Vodafone 845 doing its best to be a fully-functional Android smartphone, adding in all of the features you could possibly want, just unable to execute them as well.
Vodafone 845: Battery, connectivity and apps

The Vodafone 845 boasts a Lithium-Ion 1200mAh battery, which, when heavily used, lasted us about 8 hours before it required a bit more juice, however that was with continued use of the browser, viewing of YouTube videos, listening to music, excessive GPS use and live Google Maps wallpapers.
On a normal day you'll get a full day's use out of the device.
Again it goes without saying that the less applications that are in use, the more life you'll get out of the battery. Live Android widgets like Facebook and push email naturally have an adverse effect on the battery life also.
One charge a day is totally necessary, however the battery doesn't charge as fast as some of the competitors, especially when plugged into the PC rather than the mains.
Connectivity
As expected we've got Wi-Fi 802.11 b/g, tri-band 2G (900/1800/1900) and HSDPA to 3.6Mbps and HSUPA 3G mobile broadband capabilities, as well as Bluetooth 2.1 and A-GPS. So, all the usual suspects are here.
The Wi-Fi, as on all Android phones, is extremely easy to set up and, like a wily old Jack Russell terrier, will remember everywhere it has ever marked its territory before. With only 3.6Mbps, rather than the now expected 7.2Mbps, 3G mobile browsing isn't as speedy as we'd like.
Occasionally we'd have to restart the phone to have any joy to have any joy loading webpages, even when the connectivity meter was showed that data was being pumped in and out of the phone.
As we mentioned in the maps section, the GPS isn't as solid as we'd hope for, although it will geotag the pictures captured on the 845's camera.
There's also an extremely easy to set-up PC Suite, which will back-up all of your contacts and texts, but only from the SIM card, and storing things on the SIM isn't exactly the Android way these days, we leave that up to Google, for better or worse.
It does sync your Outlook contacts nicely enough, however, but that can be done remotely.
We spoke of this within the internet section, but the ability to use to tether this phone as a mobile broadband dongle is an unexpected bonus.
Applications
The Android Market is the clear second-placed player behind the Apple App Store and is getting better with each passing day.
There may only a quarter of the applications available compared to iPhone owners, but there's been a sharp increase in quality this year, and that is another solid reason to get behind this device.
Google has promised 130,000 applications by the end of the year, but with the inability to save applications on the microSD card it's going to be difficult to load the device with some of the market's better offerings, especially some of the games currently making their way into the market.
The Vodafone offerings we mentioned within the music and internet sections of the review can largely be ignored, but the Facebook and YouTube live Android widgets as well as the Accuweather widget allow 845 owners to give their phone the same set-up as many of the top-end Android devices at a fraction of the price.
Obviously the processing power isn't there to match, so the functionality and user-friendliness isn't quite there, but this is another example of the 845 trying to be the best it can be.
Vodafone 845: Hands on gallery
Vodafone 845: Official gallery
Vodafone 845: Verdict
If the Vodafone 845 was a cartoon character, it would undoubtedly be Scrappy Doo. The plucky, gutsy little pup who reckons he can take on the world, but needs to be held back before he takes an absolute pasting.
Likewise, this smartphone admirably tries to do everything that its more illustrious Android uncles can achieve without the processing power or the technical quality to get the job done to a highly-functional standard.
The advantage of Android and the open source nature of the OS is that it opens up a whole new world of functionality to affordable phones that could never dream of access to such an embarrassing of array of riches.
We liked
There's everything here that you could expect from the modern smartphone.
A fantastic operating system, a fully customisable user interface (which is actually more customisable than any phone we've ever seen before with its almost ludicrous ability to host 35 homescreens), an App Store second only to the iPhone and all of the connectivity options we've come to expect from the top-end players.
There's also a camera and video camera with infinite sharing options, easy access to all of our favourite social networking sites and a fully functioning satnav.
We disliked
However, this functionality comes at a price. The 2.8-inch resistive touchscreen isn't nearly good enough and there'll be plenty of times when you'll want to do damage to this phone because of its lack of responsiveness, and the inability to react quickly to your commands.
We really miss pinch-to-zoom and the extra functionality that comes along with that.
The processing power just isn't enough to make full use of the luxuries afforded by Android 2.1 and you'll need to get used to applications just crashing because the phone can't handle the weight of these lofty expectations.
The Google Maps Navigation offering is a great bonus, but it's very frustrating to use, and although we didn't test it out on the road, we can't imagine that faffing around trying to get the device to respond, and squinting on a 2.8-inch, screen is the safest way to reach your destination.
Verdict
If you'd like the functionality of a top-end smartphone in a lower-end handset then you'll need a lot of patience. If this is your first venture into the world of the smartphone then there are definitely worse ways to start.
If you're simply after a smaller alternative to the iPhone or the HTC Desire, then you're much better off opting for the Sony Ericsson Xperia X10 Mini or the Palm Pixi Plus. They'll offer improved functionality and improved power, but at a higher price.
It's fair to say that Vodafone has admirably punched above its weight with the 845 handset, but despite the presence of Android 2.1 and all of the functionality that comes with that, it's not quite the budget smartphone titan we'd hoped it would be.
smartphone Android 2.1 touchscreen