T-Mobile Pulse Mini
20th May 2010 | 16:20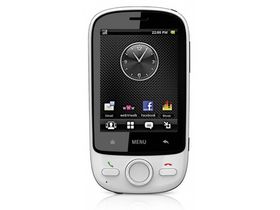 Android on a budget - get a Googlephone for £100
T-Mobile Pulse Mini: Overview, design and feel
The problem with all this cool new stuff on mobile phones is that the cost of actually having one keeps going up - £400 is a reasonably low price for a current Android device.
That's where the T-Mobile Pulse Mini steps in - offering a huge swathe of high end tech for a penny under £100.
Android 2.1, GPS, Wi-Fi, 3.5mm headphone jack, 3.2MP camera with Flash, push email - the list goes on, making it a much better phone on paper than its peers, like the INQ Chat 3G or the Samsung Genio Slide.
The Pulse Mini itself isn't too much to look at, as you'd expect from a phone coming in at this price point - not only is it fairly small, it feels pretty plasticky in the hand - solid, but you can feel the budget production from the manufacturer, Huawei.
The screen is also pretty low rent too - we're talking a 2.8-inch display with resistive touch technology on top.
It's a far cry from the capacitive gloss of the HTC Desire or iPhone 3GS, but again, this isn't a phone to compete with those, it's a budget phone that attempts to outdo its price point.
The front of the phone is pretty sparse, as there's only a circular navigational key with a central 'Enter' button, and the call/terminate keys too.
You can configure the latter to push the phone into sleep mode and head back to the home screen - a nice touch and indicative of what can be done with Android with a clear thinker on the design team.
The top of the phone houses the power switch, which some might be used to using to put the phone to sleep - given the phone's small size, it's easy to reach.
There are also three touch sensitive keys just below the screen: Home, Menu and Return, which we're used to seeing on Android phones. Interestingly there's no search key here, which is odd for a Google-powered phone.
Overall, the phone sits well in the hand and is slim enough in the pocket, especially for the price point.
We're a little peturbed by the presence of the stylus, as Android is supposed to be a forward looking OS; a stylus sends us screaming back to the early days of WinMo.
T-Mobile Pulse Mini: Interface
On the one hand, the interface on the T-Mobile Pulse Mini is classic Android: a simple background, a few home screens and some widgets to play with.
But there's more: T-Mobile has added a huge grid-like structure to proceedings, meaning you get 15 home screens to play with, accessed by swiping up and down as well as left and right.
There are also a huge number of widgets to play with; Android offers a number of its own, and T-Mobile has thrown in 'Emotion Widgets' to let you access things like your favourite bookmarks and the FM radio.
But that's where the cool elements end - because while the interface is cool, the phone simply cannot perform well enough to keep up with it.
What's odd is that there's a decent amount of RAM on offer here, and a 600MHz Qualcomm processor - but this phone is juddery, slow and prone to freezing so often you'll want to throw it in a canal.
We're not sure why this is the case, but it seems the Pulse Mini is trying to do too much, even though it should have the grunt to perform.
Well, it's not strictly true – in some instances the phone will flow nicely, as long as it hasn't been put into sleep mode for a while, but then it will begin to jerk and slow down once more.
Simple things like opening the contacts menu or trying to shuffle between home screens can take an age, and if you leave the phone asleep for too long it will simply freeze at times, meaning no alarms, texts or phone calls.
While this phone could have been amazing with the spec list, interaction with it is just too frustrating to bear at times, and you'll yearn for the slick interface of the iPhone or HTC Desire, even if they cost that much more.
T-Mobile Pulse Mini: Contacts and messaging
The contacts menu has also been overhauled on the T-Mobile Pulse Mini, with a new set of options on offer. You can group contacts together in the 'My Favourites' section, which offers them in a little carousel separate application.
Within the actual contacts app, there are a number of things to look at - you can see which people you talk to the most, your favourite people and (if you synchronise with your Google account) those you have starred in Android.
We're confused as to why the Pulse Mini felt it was necessary to download each contact from the Google server three or four times - and the quality of the screen was such that we simply couldn't be bothered to go in and delete everyone off that we didn't need.
Call quality is awful at times too - in areas where we usually had a good signal we couldn't hear anything through the speaker, although when out and about the bars shot up to full strength.
It's not that it's hard to call at all times, it's just very hard to predict when the T-Mobile Pulse Mini will perform well and when it will give up on you.
Messaging
Messaging options on the T-Mobile Pulse Mini are good - there's the usual SMS, MMS, Gmail and webmail synchronisation on offer.
And a little cheeky bonus for a phone of this price: push email from DataWiz via its RoadSync program is a great addition.
It works in exactly the same way as it does on much, much more expensive smartphones like the Sony Ericsson Satio - we like it a lot and are impressed T-Mobile has kept the feature from the original Pulse.
However there's a problem (another one): the T-Mobile Pulse Mini's keyboard is shocking.
Firstly, the best way to use it is with a stylus, which is something we never want to see on an Android (or any new) smartphone. This is not 2004, these aren't Windows Mobile phones.
Add to that the lag, which we mentioned before, and it's very, very hard to type out a message quickly without accidentally activating other modes.
For instance, if you long press a key, other symbols and letters pop up, which is a nice touch.
But the lag means that this frequently happens when you don't want it to, so you have to wait, reverse, and then get the message up and running again.
We feel like we're constantly pounding on the T-Mobile Pulse Mini, but in instances like this it really is so frustrating that we find we don't want to text our buddies any more.
T-Mobile Pulse Mini: Internet and apps
The internet browser on the T-Mobile Pulse Mini is based on the same WebKit framework as the rest of the Android range (and the iPhone 3GS) so should be pretty good.
However, the screen is too small to make out web pages at full zoom, and the QVGA resolution means that it's very hard to see what's been written.
The speed issue also crops up here once more, with web pages taking an age to load over both 3G and Wi-Fi.
Again, we can't work out why this is, especially when there's a perfectly adequate processor under the hood.
There's obviously no Flash video or anything here, but web navigation on the smaller, more mobile-friendly sites is OK, and the double tap to zoom function resizes the text nicely.
However, it's too hard to use the internet fluidly here - T-Mobile has thrown in 6 months free internet, but we used ours so much less than usual on other phones.
The lag means the app store is also a bit harder to use than normal - although the larger icons and buttons of the application Market are easier to use.
The range of applications on offer is as good as something like the HTC Legend, and while there are a few more high res ones that are missing due to the QVGA screen, overall it's well stocked.
For instance Google Maps is on offer, and it's a surprisingly good experience, with even Google Maps Navigation, the free sat-nav program, available to T-Mobile Pulse Mini users.
It works fairly well too, with directions generally keeping up with the road, which we were surprised at given the performance in other areas of the Pulse Mini.
It does make it more confusing as to why there's also a month's subscription to TeleNav on board - but we assume that was put in place prior to Google's announcement.
T-Mobile Pulse Mini: Camera and media
The T-Mobile Pulse Mini has a pretty good 3.2MP camera on board, with a flash too - enough to take some half decent pictures in most instances.
Except that's all they are on the Pulse Mini - half decent, with a lot of blur and lack of clarity in most pics.
Add to that the laughable inability to spell 'autofocus' on our review sample, and you can see why the T-Mobile Pulse Mini has deep-rooted problems.
The LED flash wobbles between over-exposed photos and inadequacy in dark scenes - this isn't the phone to take to the club.
That said, it's what we expect from a phone at this price point; think mobiles made around three years ago and you'll get an idea of the quality.
It does offer some cool features though, like tap to snap auto focus, but thanks to the unresponsive screen this is hard to work as the zoom function will frequently kick in instead.
BRIGHT LIGHT: The Pulse Mini handles contrasting scenes surprisingly well
ALL COLOUR:The Pulse Mini picks out colours well, but fails to register good levels of detail
Video is equally 'adequate' - it's jerky and fairly blurry, so you won't be recording any Oscar-worthy material on it.
Media
However, where the Pulse Mini does pick up a few plaudits is with its media abilities. It features the standard music and video player application, with an FM radio thrown in for good measure.
The FM radio and music player get their own home screen widgets too, making it very easy to use them from the off.
The Pulse Mini also offers a good upgrade from the original T-Mobile Pulse, in that it has a 3.5mm headphone jack, rather than the annoying 2.5mm option.
Music playback is pretty darn poor though - most media files sound like they're being strained through a sieve. In another room. By a toddler.
Basically, we're saying you're very unlikely to ditch your iPod for this phone.
It's also annoying that music starts playing as soon as you plug the headphones in - sometimes you don't want it, so you have to take ages to shut it down before doing what you originally wanted to.
However, the FM radio is alright - it works quickly, scans well enough but can't hold stations as well as most other phones on the market. We could be picky and ask for FM recording to memory card, but it's a bit much for a phone like this.
Video, however, is much better than we expected, playing 3GP and (some) MP4 files, although DivX and Xvid is out of the question.
Video is clear and fast, although the sound quality is once again terrible - probably among the worst we've heard on any smartphone.
The viewing angles are a little suspect too - you really need to hold the phone at the right angles to get the best out of it, which can be annoying if you're in a bright area.
But for some reason in video mode the accelerometer is able to switch the screen from portrait to landscape without a hitch - the only time on the phone it works this well, so we're not sure what that's about.
Scrolling through is also fast - meaning video seems to be the only mode where the Pulse Mini lives up to its potential.
T-Mobile Pulse Mini: Battery life and connectivity
The battery life on the Pulse Mini is alright - the battery is a little tiny, but we expected that in a phone this size. However, we found the reason it lasted so long was that we didn't want to play with the phone, which obviously saves power.
The little things like taking an age to come out of sleep, erratic operation or poor internet mean we kept choosing not to use the phone rather than idling hours away playing pointless games or looking at nothing sites on the internet.
However, if you're really up for trying out all the functions on the Pulse Mini, then you'll probably manage to get well over a day's usage out of this bad boy - but most of the time you'll manage two or more days' juice.
Connectivity
The usual suspects are all here on this Android-powered phone: Wi-Fi, Bluetooth 2.1, GPS, 3.5mm headphone socket, HSPDA connectivity - in short, all you really need.
The Wi-Fi is pretty good - it disconnects every time you put the phone to sleep, and will tell you so when you open it back up again, but will re-connect almost instantly each time.
The data side of things gets annoying, as the APN (the connection settings for 3G data) can't seem to lock on; the Pulse Mini keeps telling you something is wrong and that the settings have changed.
GPS is fast enough to connect though as we mentioned - the Navigation feature of Google Maps works well enough, and that's the hardest application on the GPS chip.
T-Mobile Pulse Mini: Hands-on gallery
T-Mobile Pulse Mini: Verdict
The T-Mobile Pulse Mini is chock-full of the latest technology, and all for under £100, which should put some of the more expensive smartphones to shame.
The phone is small, light and cheap - but that doesn't always equate into the best experience for a handset.
We liked
We enjoyed the T-Mobile Pulse Mini - when it worked correctly.

The sheer amount of home screens is dizzying. While it's easy to get lost on where you've put widgets and icons, we're all for choice and this certainly offers it.
The specs are high end, and simple things like being able to add in live wallpapers make it a really cool phone if you're struggling for cash.
While it's not necessarily to do with the hardware, we're impressed that T-Mobile is offering 6 months' free internet with the phone, meaning you can get the best experience from Android and the App Market.
Push email is a nice touch too, and while it can be erratic it is certainly comprehensive. The same goes for the documents viewer - something that more phones should add in, especially given the higher costs.
We disliked
It's hard to know where to start - there's a lot wrong with the Pulse Mini. While it can hide behind the budget tag for so long, the general day-to-day use borders on the abysmal at times.
If you download a task manager, you can minimise the effect somewhat, as multiple applications slow the Pulse Mini right down, to the point of intense frustration.
But like with the Sony Ericsson Xperia X10, you shouldn't have to do that with a phone, it should just work right out the box as it's supposed to.
The screen is terrible too - while we understand the cost benefit, it's unresponsive, inaccurate and had weird 'noise lines' that roll up the screen at all times, which makes it look low quality.
Taking an age to come out of sleep mode means you're constantly wondering if it's frozen, and zooming out to see all the home screens at once is poor too.
The internet browser, music quality and camera are also all below par, although we can slightly forgive this given the budget tag - if anything the Pulse Mini is guilty of doing too much in one place.
The on-screen keyboard is awful too; not only do we hate using a stylus, but it's too slow to be speedy when texting, which most of the Pulse Mini's demographic will be keen to do we'd imagine.
Verdict
This phone had so, so much potential when we saw the spec list in Barcelona - it was going to be a triumph for the budget world.
But the best way we can describe it is like going out to buy a Ferrari and seeing one on sale for £200.
On the outside, it looks like a brilliant supercar, until you realise it's made out of plastic and has a lawnmower engine instead. Yes, it's cheap, but you'd rather have a lesser car that worked as you'd want it to.
This isn't a case of being a smartphone snob either - we love budget phones, like the Nokia 5530 for instance - a great example of budget and functionality.
But the Pulse Mini is a victim of its own ambition; the amount of times we were massively impressed with the stuff it can do were hugely outweighed by the times we wanted to throw it out of the nearest window.
We'd advise you save up a little more cash and look at some other phones, rather than being drawn in by its budget tag.
Android Android 2.1