Sony Ericsson Xperia X10 Mini Pro
16th Jul 2010 | 10:32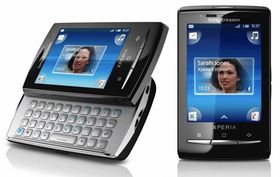 Now packing a QWERTY keyboard for touchscreen refuseniks
Sony Ericsson Xperia X10 Mini Pro: Overview
UPDATE: We've now published our test of the X10 Mini Pro's successor - so check out the more efficiently-monikered Sony Ericsson Xperia Mini Pro review.
The Xperia X10 Mini Pro has recently been updated to Android 2.1, with Sony Ericsson finally getting around to modernising the antiquated Android 1.6 OS that powered the little Android QWERTY phone when it launched last year.
The changes are slight, but with an improved web browser, more Bluetooth connectivity and enhanced social network integration, the X10 Mini Pro is certainly a better phone with the update than it was when it first launched.
But is an upgrade to the already-outdated Android 2.1 enough to stay competitive in the cut-throat Android scene of 2011? Read on to see what difference Android 2.1 has made to this sweet little phone.
You might get a slight sense of déja vu while reading this review of the Sony Ericsson Xperia X10 Mini Pro – because it's virtually the same phone as the extremely nice little Xperia X10 Mini we reviewed previously.
Only there's one rather obvious and glaring change – the addition of a slide-out QWERTY keyboard that's been bolted onto the underside of the X10 Mini Pro, for the benefit of those yet to take the brave leap into entirely touch-based mobile phone operation.
Amazingly, the Sony Ericsson Xperia X10 Mini Pro manages to remain the same physical size as the non-QWERTY X10 Mini – which leads us to presume the X10 Mini was filled with plenty of foam padding to make it bigger than actually necessary.
The Xperia X10 Mini Pro's QWERTY keyboard adds extra weight to the phone, giving us a handset that feels much heavier than the slightly lightweight X10 Mini, which somehow tricks the brain into thinking it's a more solid, high quality device. It's lovely in the hand. People will pass it around in admiration.
The keyboard flips out with a heavy clunk and is backlit, with light twinkling out through its keys to guide your thumbs when the automatic sensor thinks it's dark enough for you to need a bit of help finding the right buttons.
The keyboard is solid, doesn't bend or flex, and while it's obviously a little cramped given the minuscule nature of the phone itself, there's enough of a gap between the slightly raised buttons to ensure typing is possible to a good degree of accuracy.
There's actually a pretty big internal difference between this and the X10 Mini – the Mini Pro features a removable battery, while the regular X10 Mini's came sealed into its case. The Mini Pro's battery offers a rather tiny 930mAh capacity – but you wouldn't know it. It lasts for ages.
The USB connector has been placed along the side of the phone so it pokes out between your hands when you've got it connected, meaning it's easy to hold the phone easily when it's plugged in – nice thinking there, Sony Ericsson boffins. The 3.5mm headphone jack and power/lock button sit on the top edge.
There's a custom button for the camera along the right-hand edge, beneath the rocker button for volume. As with the X10 Mini, there's no optical button or trackpad. The QWERTY keyboard has a left and right cursor button placed either side of its keyboard's space bar, enabling users to page quickly through typed messages to repair typos and save embarrassment.
Inside the box came the phone, battery, charger, USB cable, 2GB micro SD card and charger. And you're ready to go.
Sony Ericsson Xperia X10 Mini Pro: Interface
Again, this is déja vu time if you've already read our review of the Xperia X10 Mini, since the Sony Ericsson Xperia X10 Mini Pro uses an identical version of the heavily skinned Android OS that worked so smoothly within the X10 Mini.
The change to Android 2.1 brings one immediate and obvious alteration, thanks to the new lock screen. Press any button to wake up the screen, then slide the lock icon to access the phone's Home screens – or slide the volume icon to silence all tones and alerts.
The Home screen look and operation is exactly the same as in Sony Ericsson's Android 1.6 user interface skin. You start off greeted by the reworked widgets system, which only enables users to display one large Android widget in the middle of each screen.
You're allowed to have 20 of these screens lined up from left to right for you to scroll through, with Sony's corner-based UI adding four additional customisable app shortcuts to the corner of the main screen.
It's a brilliantly simple system. Pressing the Menu button from the Home screen reveals the option to rearrange your icons, and from here you're able to choose which four you want to be permanently displayed on the four corners of your phone's desktop.
Anything goes, so you can have a shortcut to your SMS messages, music player, browser or whatever, all perma-displayed in the corner for easy access.
If you do use your phone for more than four things, do not panic – swiping your finger up the screen slides the standard Android app drawer into view, which features shortcuts to everything that's installed on your phone.
It's a very smart way of maximising the phone's tiny 2.55-inch touchscreen.
The QWERTY keyboard is also a bit of a godsend when working with the X10 Mini Pro's limited screen space. The simple fact that you tend to use the Mini Pro in landscape mode with the keyboard popped out means you find yourself with a more readable, spacious screen than found when navigating on the regular X10 Mini.
Slide out the QWERTY – which clunks open in a very solid and satisfying manner – and the screen orientation immediately rotates, making everything seem slightly more natural and uncluttered when displayed in this miniature widescreen format.
The only problem we have with the Sony Ericsson Xperia X10 Mini Pro's QWERTY keyboard is its lack of an Android-spec Back button. The left and right cursor buttons let you navigate through text easily, but if you want to quit an app or go back the previous menu, you have to reach up and press the silver button beneath the touchscreen.
It's not much of a reach given how compact the phone is, but an extra Back button in the QWERTY area would've been a nice touch.
Sony Ericsson Xperia X10 Mini Pro: Calling
The Xperia X10 Mini Pro's contacts section is a stripped-down, all-blue version of the standard Android tool. Your contacts are broken down into two lists – everyone, and those lucky enough to have been starred as your Favourites, which are accessed through a separate tab.
Opening up a contact brings up a short listing of their data – and a photo if you've taken one of them and tagged it to their profile through the imaging app – plus there's Sony Ericsson's big important thing, the Timescape button.
Pressing the Timescape icon pops up the Timescape window, which will, if you've set it up to do so, gather together all the Twitter, Facebook and SMS messages sent to you by this particular person into one enormous stack of personal data.
It's a pretty redundant feature, to be honest, since most users will be much happier keeping their Twitter and SMS lives separate, but it does at least illustrate some of the extremely clever business conducted behind the scenes by Sony Ericsson's super-skinned Android.
The update to Android 2.1 brings a new social network connectivity layer, with users now able to pull in all their friends from Facebook and have these listed in the contacts section.
It's a useful feature, with a further option available to filter results depending on if they have phone numbers registered or not. So you don't have to worry about filling your Contacts section up with the hundreds upon hundreds of people you're 'friends' with on Facebook yet never actually speak to.
Selecting text when sending messages works in a clever way, too. Press a text area (this only works when you're typing text, not on web or email blocks of words, sadly) and the interface sticks in an anchor point. You then touch the screen before or after the anchor, highlighting the text between the start and end points.
It's easier to use than it is to explain in the written word.
The keyboard itself is usable enough, although it's tiny size meant we found it easiest to type using the tips of our thumbnails. If you've got fat man-thumbs, you'll struggle.
As with the X10 Mini, if you use the Mini Pro with the QWERTY keyboard closed, you're greeted by a numeric keypad text entry system. There's no touchscreen QWERTY option in here, so you're stuck with the old T9 123/ABC format if you decide not to use the QWERTY.
Email is handled through the standard Android reader, which will automatically set you up to connect to external accounts. It's been given a blue theme to help it fit in with the rest of the phone, but it's the same, simple Android email app underneath.
As with the X10 Mini, the Android 2.1 update enhances the POP3 email options of the phone. You're now able to have more than one external POP/IMAP account, which is great news – although Exchange support still isn't included in the email app. For that you have to use the third-party RoadSync email app.
As for calling quality; the great forgotten feature of today's phones? The earpiece is loud and generates a very clear sound free from digital noise.
You'd think the tiny form of the phone would mean the microphone might be too far away from your mouth to pick up sounds, but in our test calls, voice came across well. The wife heard our orders regarding tonight's dinner loud and clear!
Sony Ericsson Xperia X10 Mini Pro: Internet
As with the Xperia X10 Mini, the Mini Pro is an absolute star when it comes to browsing speed and using the web on its tiny screen.
Pages load quickly through the standard Android webkit browser, and the magnifying and scrolling tool, which is so often a cause of slowdown and glitches on low-spec Android phones, lets you whizz around pages at top speed.
You won't believe a phone this cheap can do such a great job of being your window into the internet.
The Android 2.1 update brings an all-new web browser menu system and many extra features, with the updated X10 Mini Pro packed with many, many more options than arrived in the old 1.6 software.
Bookmarks are now organised in a visual icon style, with a convenient link to the bookmark page placed right next to the URL bar. Dig a little deeper into the options and there's much more to play with than there was in the 1.6 browser, with multiple tab support, default text size and zoom options, web form data saving and more.
You're even able to turn off images and Javascript, for cutting down on mobile bandwidth, if necessary.
The most thrilling addition is the 'Add shortcut to Home' option – which sends a link to a web page to the phone's icon drawer. Do this and you're then able to quick-launch favourite web pages from shortcuts – even setting them up as direct links in the corners of your Home screen if you're very, very addicted to certain forums.
The low-resolution screen makes text a little rough and not particularly easy on the eye, though, so there's quite a bit of zooming and scrolling to be done to get internet words into readable sizes and positions. Fortunately, in general use, the X10 Mini Pro's web browser is surprisingly fast for such a small and relatively underpowered phone.
Sony Ericsson Xperia X10 Mini Pro: Camera
The Sony Ericsson Xperia X10 Mini Pro's camera is another area where you get more than you'd expect from a phone that costs a good couple of hundred quid less than many models.
The 5MP camera has both flash and auto-focus, with the latter coming into its own when selecting macro mode. Shots snap into focus quickly, the images appear on the screen equally fast for your approval, and the whole imaging section is simply miles ahead of what's offered in standard, non-customised Android phones.
Sony Ericsson has also comprehensively customised the stock Android camera option layout, bringing across its corner-based approach to camera navigation.
Only here you're given camera-specific options in each corner, letting users switch between video and stills, select shooting effects, look at the Gallery or toggle the flash on or off.
And once you've taken a photo the corner options change once more, this time giving you the option to delete it, share it through the normal Android social tools or any apps you've got installed that support pic uploads, or set it as the picture of one of your contacts.
It's essentially a camera that reads your mind, with the user interface doing a superb job of taking the pain out of using a phone as a camera.
POWER UP:Close-up shots are superb, with the X10 Mini Pro's focus and macro mode doing a great job of capturing small things that are near
Click here to see the full resolution image
THE DARKNESS:Wider shots are about what you'd expect from a rather cheap 5 megapixel camera – acceptable, but not great in low light
Click here to see the full resolution image
The only possible moan we have here is with the stiffness of the physical photo button. It uses the standard digital camera system of pressing the button halfway down to focus, then all the way down to take the shot – but the button's so damn stiff you have press it with all your might (well, a bit of the might of one finger), meaning you may end up with a blurry pic.
You have to pay attention to pressing and holding the thing still. Which, we suppose, is pretty much the case with any camera. We're just being fussy.
Subscribe to TechRadar's YouTube channel
Video is recorded into 3GP files at a resolution of 640 x 480 – an impressive quality for a supposedly entry-level smartphone.
Movies look good, with very little in the way of blockiness – only an occasional tearing effect due to the lack of interlacing. Looks great on the phone, and is more than usable when transferred to computer.
The only change made to the camera as part of the Android 2.1 update is the addition of autofocus when recording videos, which it does quickly. This is a welcome change.
Sony Ericsson Xperia X10 Mini Pro: Media
The music player is the standard Android one given a blue-tinged redesign, so it's pretty basic. You're able to organise files by folder or playlist, and Sony Ericsson has shoehorned its Infinite button into the mix.
Pressing that performs an internet search for the artist you're currently listening to, bringing up a list of YouTube videos that the phone thinks you might want to watch.
It works best if you're listening to something modern and popular that there's lots about on the internet, but even then it's only really a novelty option for the extremely bored, as YouTube videos on the Xperia X10 Mini Pro aren't really up to much.
Music playback is great through the supplied headphones, and the phone's speaker is so loud you could stick the X10 Mini Pro on the bonnet of a parked car and use it to start a rave. It's going to be the cause of many a fight on public transport systems, we suspect.
The YouTube app is extremely impressive, playing back files completely glitch-free and skipping back and forth through videos in a fraction of a second, as long as you're connected through Wi-Fi. However the small screen isn't the ideal vehicle to be viewing them through.
Outside of Google's safely-controlled video portal, media playback is a little more restrictive. The X10 Mini Pro requires files to be encoded into MP4 format in order to play, so you can forget about seamlessly copying across your existing AVI collection without substantial re-encoding hell.
Once on the phone in the correct format, though, video files play and zip about as well as those within the YouTube app. It really is quite amazing to see a phone so small performing so admirably.
Sony Ericsson Xperia X10 Mini Pro: Applications
The applications selection is once again identical to the list of stuff that came pre-loaded on the Xperia X10 Mini.
The most important thing on the Mini Pro is the Google suite of tools, meaning you get Google Talk, YouTube, Gmail and the superb Google Maps.
Sony Ericsson would no doubt prefer to talk about its TrackID system, which is similar in operation to Shazam, used to identify music tracks by recording them as they play via the phone's mic and processing the results.
Do that and you'll be prompted to buy the songs in question via Sony Ericsson's BuyNow service. It will ask you for £1.29 if you want a direct-download of individual tracks, or £1.50 to pay via sending a premium rate text message. You probably won't do that very often, but it's nice to have the option.
Obviously there's the Facebook app, complete with widget, that looks very nice when expanded to full-size on the X10 Mini Pro's Home pages. The NeoReader barcode reader will quick install Android Market apps, plus Sony Ericsson's own Creatouch drawing tool lets users build their own Home screen desktops. There are also a few crappy games.
The mighty Google Maps is in fine form thanks to the unexpected power of the X10 Mini Pro, which ensures maps draw themselves and scroll about with impressive ease. Obviously the Android-spec inner-workings of the X10 Mini Pro include GPS support, so you'll be ready to go with full sat nav from day one.
Elsewhere there's an eBay app, Navteq's Wisepilot sat nav tool, RoadSync for Exchange email support if needed, plus usual things like an FM radio, a notes tool that lets you stick notes up as widget reminders, a calculator and the like.
If you want to take care of all the above, there's a new feature included in the Android 2.1 update - Sony Ericsson's Backup and Restore. It collates your text messages, settings, Android Market downloads and more into one file, stored on the SD card.
So if you need to do a factory reset or accidentally cripple your phone in some way, it's easy to revert it to a working state. Backups can be scheduled, too.
Sony Ericsson Xperia X10 Mini Pro: Battery
The Sony Ericsson Xperia X10 Mini Pro is small, but still does everything an Android-powered smartphone should.
The phone will install a companion app on your PC the first time you connect it up, but it's okay – you really don't have to use it at all.
Like all Android phones, the X10 Mini Pro will show up as an external hard drive if you choose to mount the thing from the phone screen when connecting it up, so from then on it's a simple drag and drop system to stick files on the thing.
The battery life is superb. Despite being a tiny little thing with only a 930mAh capacity, the efficient X10 Mini Pro and its tiny screen ensures you don't have to worry so much about power management.
The phone easily remains operational for two days or more, even under moderately harsh use. Turn off GPS and use it casually, and it'll stay alive for well over two days off a single charge. The reskinned power bar widget looks great at full-size on one of the X10 Mini Pro's extra large widget pages, so use it.
Extra connectivity is provided via Bluetooth, and as with the Xperia X10 Mini, the Mini Pro's new Android 2.1 update brings expanded connectivity options.
In Android 2.1 you're now able to share photos, videos, URLs and even contacts with others via the Bluetooth connection, massively enhancing the rather poor implementation of the wireless protocol that arrived on the original 1.6 Mini Pro.
Sony Ericsson Xperia X10 Mini Pro: Hands-on
Sony Ericsson Xperia X10 Mini Pro:Gallery
Sony Ericsson Xperia X10 Mini Pro: Verdict
The Sony Ericsson Xperia X10 Mini Pro is packed with physical and software features that make it one of the finest small Android-powered mobile phones out there today.
Its small screen is obviously a bit of a hindrance if you're into serious media or gaming use, but using it in landscape orientation, as you will the majority of the time thanks to the QWERTY keyboard, makes the Mini Pro feel more spacious than its equally sized regular X10 Mini.
The processor handles everything extremely easily, with even demanding apps like Google's Maps Navigation booting up quickly and zipping around without pause or glitch.
We liked
An incredibly fast and responsive handset to use. The capacitive touchscreen responds to the lightest of touches, while the processor shuffles menus and media around with virtually zero lag or glitches.
The hardware itself is rock solid. The QWERTY keyboard gives the phone an impressive extra bit of weight over the X10 Mini, while its chrome edges and backlit keyboard add to the general sense of class.
The keyboard is well thought out. The blue alternate function key enables you to add commas, numbers and special characters while typing, plus the physical left & right cursor keys make text editing a breeze.
We disliked
The QWERTY keyboard is way easier to type on than the standard, numeric keypad touchscreen of the X10 Mini, but it's still very tight – you'll be pecking away with your thumbnails and not hitting particularly high word-per-minute counts, even if you're not particularly fat-fingered.
The screen, while responsive and bright, is quite low-resolution at 320 x 240 – black text on white backgrounds can look a little poor and harsh on the eyes, especially via the web.
The X10 Mini Pro launched with Android 1.6 and although it's now been updated to Android 2.1 it's still behind the curve compared to most new Android phones launching today.
Verdict
It is what it is – the very same impressive Android-powered phone as the super little Xperia X10 Mini, only with a well-made QWERTY keyboard underneath it.
The phone itself is much more powerful and responsive than any of the other phones in its entry-level price bracket, so much so that comparing this with the similarly price Vodafone 845 feels quite wrong. The X10 Mini Pro is streets ahead of it.
With such a lack of competing Android QWERTY phones out there on the market, the Sony Ericsson Xperia X10 Mini Pro is going to have the whole sector to itself, we suspect.
In fact, the Mini Pro feels as fast in use as many of the top-spec phones of today like the HTC Desire, so we can imagine it'll also win over quite a few of the 'enthusiasts' out there as well. It's quite an achievement.
And don't fear the small screen – Sony Ericsson has made a smartphone so user friendly you're in no way hindered. In short, the Sony Ericsson Xperia X10 Mini is quite an impressively powerful and polished phone
The Mini Pro has also aged better than the standard X10 Mini, with the heavier, more solid hardware still feeling impressive in the hand today.
Couple that with the increased functionality of Android 2.1 and the lack of any similar, ultra-compact QWERTY phones on the market, and the Mini Pro is a phone we're still happy to recommend.
Android 2.1