Sony Ericsson T715
4th Feb 2010 | 17:06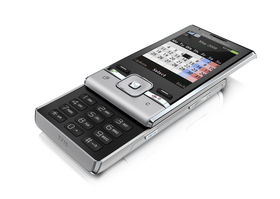 Slim and cheap - but is it too lightweight on specs?
Sony Ericsson T715: Overview
Sony Ericsson is looking to follow up the heavyweight Aino and W995 with a mid-range marvel: so step forward the slim and pocket-friendly Sony Ericsson T715.
Slipping into its slide-phone portfolio, the T715 brings a solid set of features in a tidy but understated design that's compact and straightforward to use – all without a quirky name in sight.
Aimed at the mid-range mobile buyer, the Sony Ericsson T715 doesn't do any touchscreen tricks. It has familiar looking slider bodywork built around a 2.2-inch display and is equipped with HSDPA high speed 3G data connectivity and a 3.2-megapixel camera with an LED flash.
It also sports a familiar rundown of media player features plus a sprinkling of online applications such as Google Maps, YouTube, AccuWeather and Facebook. However, there's no Wi-Fi or GPS built in to this model.
Priced at around £180-195 SIM-free, the T715 can also be found for around £100 in 3 pay-as-you-go packages, pitching it in affordable mid-tier territory.
Sony Ericsson T715: Design
The T715 is a tidily constructed handset, with a refined design that's functional but quite pleasing on the eye as well as in the hand. It's available in either smart 'galaxy silver' or girly 'rouge pink' paintjobs, with the main bodywork around the screen, control panel and number pad in fashionable glossy black plastic.
Measuring 91.5(h) x 48(w) x 14.9(d) mm when closed and weighing a reasonable 96.5g, and with smoothly rounded edges, the T715 is a comfortable pocketful. It's well-balanced in-hand too with the slider open or closed.
The 2.2-inch QVGA (240x320 pixels) 16.7 million-colour TFT screen is bright and clear. While it's an average sized screen for Sony Ericsson's mid-range, those looking for more media centric devices may want something more substantial - though it's adequate and easily readable for a middle of the road device like this.
The control panel under the screen is sufficiently spacious. A large square navigation D-pad has slightly raised edges, making it finger-friendly and accurate to operate, while the Call and End buttons that are positioned on slim chrome keys either side have a subtle contour for easy finger selection.
A pair of rice grain thin softkeys are adequately spaced too, with Sony Ericsson's standard Activity Menu button – which pulls up a tabbed menu of useful shortcuts to features, status updates, browser options and so on – given plenty of room opposite the Clear key at the bottom of the control panel.
The large numbers on the slider keypad are raised and rounded with a matt texture that gives it a tactile and responsive feel when texting. It has a reassuringly springy action and a stable feel when using one-handed.
Buttons around the edge of the phone are sparse – there's a camera key and volume rocker – while a regular Sony Ericsson multi-connector socket typically located on the side takes care of earphones, charger and USB connections.
Like other recent Sony Ericssons (such as the Sony Ericsson Satio), MicroSD card memory card expansion is supported rather than Memory Stick Micro cards. The T715 can accommodate cards of up to 16GB in its slot under the back cover, boosting its 90MB of internal storage, although no card is supplied in the box.
Sony Ericsson T715: Interface
The T715's user interface will be familiar to anyone who's used a Sony Ericsson handset. It's a typical mid-tier set-up, with a grid-based main menu grid of 12 icons taking you into further sub menus.
These are generally list-based, so are simple to negotiate and find options. This makes for a straightforward, conventional mobile user interface that's functional and easy to get to grips with.
Conventional mobile shortcuts are available from the navigation pad; it's set up for contacts, messages and calendar by default, although users can define their own preferred shortcuts too through the setting menu.
Softkey options on standby include a search facility, which offers options for Google searches online and stored web links for fast internet access.
The useful Activity Menu button also provides shortcuts to features and applications. The tabbed lists pull up a My Shortcuts list that can be customised how you want: internet browsing options, new event notifications and a running apps list are all on offer.
Sony Ericsson T715: Calls
This T715 gets the basics right on voice calls. We got a reliable, high quality call performance from the T715; sound quality was dependably clear.
We had no trouble throughout our review period, and the phone had no issues with network connectivity.
The keypad and on-screen fonts are nice and large for typing in new numbers or searching your contacts phonebook. The phonebook operates conventionally, searchable by typing in letters as well as scrolling.
As usual for the Sony Ericsson interface, as an alternative to the regular contacts searching, from standby the phone will show both the number you're typing and a list of names as if you were entering search terms by predictive text.
The contacts phonebook itself can store plenty of additional information on individual contacts, with a good range of fields to input extensive contact details.
The T715 lacks a front facing camera for face-to-face video chats, although video calling is supported, if you can be bothered to go at it with the back panel camera.
Sony Ericsson T715: Messaging
The messaging interface adopts Sony Ericsson's method of linking sent and received texts as threaded 'conversations' with individual contacts.
It makes for an easy way keep tabs on what's been said between you and particular people, which is useful if you're a busy texter. As mentioned previously, the contoured number pad is pleasing for typing out messages, giving a responsive performance.
The new text template provides easy options for adding additional media to make MMS messages, with a row of media icons at the bottom of the text panel users can select from for adding sound, pictures, video and so on.
The messaging line-up includes a regulation email client to view and send email from your normal web-based email accounts.
The setup is aided by a wizard that guides you through the procedure, requiring just the inputting of your email account address username and password details, with other settings downloading automatically.
Email is standard mid-tier Sony Ericsson – it's useful for keeping up with your regular web-based or ISP accounts on the move, but it's not the most sophisticated email client and managing emails isn't particularly intuitive or desktop-like user friendly, unlike many smartphone devices we could mention.
Attachments can be downloaded, but not automatically viewed as no document viewer software is pre-loaded.
Instant messaging is supported on the phone too, though you'll have to input settings yourself. IM is handled like texts, with conversation threads linking messages.
Sony Ericsson has also decided to slip a Facebook app option into the T715's messaging sub menu, enabling you to get into your account and manage your profile online.
Sony Ericsson T715: Internet
The Sony Ericsson T715 offers high-speed data connectivity via HSDPA over mobile networks, although there's no Wi-Fi for higher speed (and lower cost) data links, which is a shame.
The browser employed is the usual Access NetFront full web browser we've come to expect of Sony Ericsson. For a mid-tier conventional phone, it has a reasonably attractive home screen, offering Google search and web address bars on top of a list of options including Bookmarks and History.
It works reasonably quickly to download pages, and presents them adequately on the screen. You can use number pad shortcuts to work some controls, such as zooming in and out and bookmarking, but for much of the operations you have to work through scroll-down menus, so it's not a desktop like experience and is more clunky than Opera's mobile browser software, for instance.
While you might not expect the breezy ease of use of an iPhone or other high-end device, other mobile makers are moving the game on with even cheaper handsets – notably touchscreen models from the likes of LG and Samsung - that make mobile browsing a much more intuitive experience.
It does do the job adequately with RSS feeds supported too, while Sony Ericsson includes apps linking you to mobile optimised online services including YouTube, Facebook, and AccuWeather.com weather forecasting.
Sony Ericsson T715: Camera
The T715 sports a routine 3.2-megapixel fixed focus camera rather than one of its more sophisticated shooting stablemates, such as the Sony Ericsson C905.
It does have an LED flash, improving its low-light shooting, but overall image quality is average for this grade of cameraphone.
The camera user interface is consistent with other mid-tier range mates; the camera button opens the shooting app in 2-3 seconds, and it flips automatically into landscape viewfinder mode.
A settings options menu enables you to tweak some typical cameraphone controls, including image resolution, white balance setting, night mode, self timer and colour effects.
You can also choose multi-burst shots (captured in low-res VGA quality), a run-of-the-mill panorama shot option and frame effects.
In addition, within the additional settings, you can choose to add positioning metadata to images.
While there's no GPS onboard, this option does enable you to automatically record approximate location info for shots for use with certain apps (including Google Maps), using automatic cellular triangulation.
Image quality is reasonable for this sort of cameraphone. Colours are generally good and the auto-metering system responds effectively to alterations in lighting environments.
Colours are bright, although they can appear slightly over-saturated at times. Without an autofocus system, you don't have the flexibility for precisely focused shots or sharp close ups.
The camera's results are reasonable for quick cameraphone snaps, but lack the sort of crisply focused quality you'd get from a decent standalone camera.
The LED flash is also limited, offering some illumination at close quarters but not with the subtly or effectiveness of a more powerful camera flash.
The T715 can capture video, too, although quality is mediocre. It shoots at maximum QVGA resolution at up to 15 frames per second, so is less than impressive when played back.
Once shot, both images and video footage can be immediately uploaded to web-based services. Settings for some – including Picasa Web Album, MySpace and Blogger – come pre-loaded, although you can also insert your own preferred services.
CASUAL SNAPPING: The T715's camera is a modest shooter but can be used for casual snapping. Here the contrast between trees and skies on a dull day isn't brilliantly captured, though there's a reasonable amount of detail for this grade of cameraphone
CLOSE RANGE: The detail here isn't bad for this sort of fixed focus cameraphone, although the red appeared slightly over saturated
SUBDUED LIGHTING: For a modest camera, it does OK in adjusting to subdued lighting conditions, the auto-metering system handling tones adequately
INTERIOR SHOTS: These can be OK, though the brighter the lighting conditions the better results you'll get
INDOORS: Under artificial lighting, the T715 is able to take acceptable snaps, although they're a touch soft. Again the lack of autofocus limits how you can choose what to focus on in the viewfinder
FLASH: The T715's LED flash is a photo lamp that can be switched on in dark environments. It's not very effective, only offering limited illumination close up. Even at this range it doesn't do a great job, barely throwing enough light from a metre or so away
Sony Ericsson T715: Media
The quality of video playback on the screen is reasonable, considering the screen real estate available, and compatible files play smoothly enough.
However, file formats are limited – it supports MP4, WMV and H.263, though DivX and Xvid files can't be played directly on the handset. Streamed video via YouTube is perfectly watchable over an HSDPA connection too.
The music player function on the T715 is again familiar Sony Ericsson mid-range software. Reminiscent of Walkman phones, it's easily navigable and works well enough without offering anything particularly innovative. The player's controlled by the navigation pad, and cover art is supported if available.
Tracks sideloaded to the phone or slipped in via a memory card are automatically identified and categorised appropriately under headings which include artists, albums, tracks, playlists, audio books and podcasts.
Tracks can be synchronised using Sony Ericsson's MediaGo software, which can be downloaded from its online support page, as no software is packaged with the phone.
Like most Sony Ericssons, earphones are routed through its multi-connector port on the side of the phone rather than a standard 3.5mm headphone socket - something we'd like to see changed in the near future, as on the likes of the Sony Ericsson W995 it's a real boon.
The large connector makes it more snag-prone in the pocket, and the lack of a 3.5mm adaptor with the supplied earphones means you'll have to source one yourself if you want to upgrade the ear-wear.
The in-box HPM-60 earphones are average quality mobile phone kit, and produce an ordinary audio performance that's a bit bland, with rather sedate bass but which is adequate for casual listening.
We sourced a spare Walkman phone adaptor cable and noticed an immense sound improvement with our affordable Sennheiser reference headphones. It's worth trying if you're concerned with audio quality – or you could splash out on stereo Bluetooth headphones.
The headset is still required though for the FM radio function. This free entertainment function is straightforward to tune in and use and supports RDS. You can use TrackID software in the radio options for finding out more about tunes you hear over the air.
Sony Ericsson T715: Battery life and organiser
As a mid-range 3G handset, the Sony Ericsson T715 puts in a decent power performance. Under optimum conditions the supplied 950mAh battery is reckoned by Sony Ericsson to deliver up to four hours talktime or 350 hours of standby on 3G networks (or 10 hours and 400 hours, respectively, in GSM-only coverage).
While it will vary on how you use the phone (such as whether you're hitting the music play button regularly), with our typical amounts of usage, we comfortably managed over three days between charges.
Organiser
A familiar batch of standard Sony Ericsson organiser functions and productivity tools come pre-loaded. There are few surprises with the calendar, calculator, tasks and notes functions – all are manageable and easy to use – while the package also contains timer, stopwatch and code memo apps.
We've seen them all before, and they work effectively enough. And you can synchronise contacts, calendar and notes with a remote service or Microsoft Exchange server via SyncML or Exchange ActiveSync.
Sony Ericsson T715: Connectivity and others
Local synchronisation of contacts, calendar, notes and tasks, emails, bookmarks and other content is supported, too, although you'll have to download Sony Ericsson PC Suite software from Sony Ericsson's online support as none is included in-box. It's Windows only, however.
You can hook up to a PC using a USB data cable, with a mass storage option available too when plugged in. The phone's Bluetooth capability includes A2DP stereo audio streaming for wireless headsets and other Bluetooth-enabled gadgets such as speakers.
As far as mobile network connectivity goes, the Sony Ericsson T715 is a UMTS 2100 enabled handset, which when 3G network coverage isn't available can switch to GSM 850/900/1800/1900 networks.
It supports HSPA high-speed connectivity (HSDPA download up to 3.6Mbps) plus GPRS/EDGE on GSM networks.
Other
Among the other out-of-the-box applications is Google Maps location finding, route-planning and map-viewing service. Now a staple feature on Sony Ericsson phones, it's always a useful app to have, even if GPS is absent.
The Sony Ericsson T715 uses cellsite triangulation rather than precise GPS, to get a fix on your approximate position to within a few hundred metres, providing maps over the air to help you find your way around or search for places of interest or routes.
Google's Latitude real-time location sharing service is featured in the software, as well as Street View options, plus multiple direction finding services for driving, walking and public transport. Over HSDPA, mapping updates and searches load quickly and the screen refreshes zippily enough.
Other regulars include TrackID music identification software, which records clips of songs you hear and want to identify, and interrogates a remote database for track details.
Sony Ericsson's VideoDJ, PhotoDJ and MusicDJ tweakery tools and a sound recorder are included too, plus a Bluetooth remote control option and a neat world clock function. Usefully, the LED flash can also be switched on as a torch within the organiser menu – and handily it's also set up as a shortcut.
Three time-passing games are pre-loaded - Brick Breaker Revolution, Kasparov Chess and Sudoku. We can confirm we passed time using them - we cannot confirm we really get how to play chess properly.
Sony Ericsson T715: Verdict
While the headline grabbing mobiles of the moment are busy breaking new ground, the Sony Ericsson T715 provides a less eye-catching but steady alternative for those looking for a moderately priced and reasonably featured 3G handset.
It's a good looking device that'll fit snugly into any pocket or handbag, and offers a degree of understated style without being particularly attention seeking.
Its feature rundown is solid rather than exciting, but although it may be short of high-end feature fireworks, it offers a reliable, if low-key, package of features that are generally straightforward to use.
Compromises such as lack of autofocus on the camera may put some off, and the online experience is unexceptional for a mid-tier device like this, but as an affordable handset, it does offer a reasonable package.
We liked
The design of the T715 is classy and compact for a lower-priced mid-range handset, and its numberpad and control keys provide a good, responsive user experience.
Its menus are straightforward to navigate and it has a decent spread of features inside, including high-speed HSPA data connectivity for browsing and using online service apps embedded in the phone.
The music player puts in a decent performance (the average in-box earphones notwithstanding), and video playback is reasonable for the screen size.
We disliked
Although it has a solid if low-key feature package, there's little about the T715 to really wow users – although that may not be a drawback for users looking for a 'steadier' device.
We'd have liked to have seen a bit more punch in the camera's performance; the lack of autofocus is a shame when some similar grade cameraphones have it.
The absence of a 3.5mm headphone socket or adaptor in-box is also a let down, and the standard bulky earphone multi-connector on the side feels awkward and snag-prone in-pocket – particularly as the phone is relatively compact.
Additional features such as Wi-Fi and A-GPS would have been welcome, too, though some compromises are understandable for the price.
Verdict
If you're after an understated but classy handset that may not be geared up with the very latest high-end gadgetry but which does the job, the Sony Ericsson T715 could be worth looking at.
It's a reasonably priced low-key handset that puts in a decent performance and is straightforward to operate. It may not turn heads, but it delivers a solid user experience in an attractive, compact package.