Samsung Wave 723
£199
13th Jan 2011 | 10:00
Samsung's second Bada handset demonstrates that less is definitely less
Samsung Wave 723 review: Overview
With the Samsung Wave 723 we see a reprise of Samsung's proprietary Bada operating system. Coming up with your own OS is a brave move in these days when Android and the iPhone dominate. But like these two OSes, Samsung hopes to make hay with its OS and, not least, offer its own app store.
Mind you, with the first Bada handset having appeared last August in the shape of the original Samsung Wave, the company isn't exactly rushing Bada out the door.
Indeed, between then and now we've seen other Samsung handsets such as the Android-rocking Galaxy Europa i5500 and Samsung Galaxy S, the Windows Phone 7 Omnia 7 as well as the Android-based tablet, the Galaxy Tab and PMP the Galaxy Player 50. So, Samsung wants its finger in lots of pies, then.
The Samsung Wave 723 isn't intended to be a top-end handset. It's a fairly small mobile, aimed more at the middle of the road. SIM-free, it costs around £200. That's a crowded area of the phone market with plenty of smartphones hovering around this price. The Samsung Wave 723 will have to be good to compete.
Hardware wise the Samsung Wave 723 is unremarkable. A smallish handset at 109 x 53.9 x 11.8mm thick and 99.5g, it will suit smaller hands. The screen is smallish at just 3.2 inches, and its pixel count is on the low side at 240 x 400. We'll see how it stands up to web browsing later.
There's a tiny lip on the bottom edge that looks in photos to be faintly reminiscent of the HTC Hero, though actually it's barely present at all and looks more pronounced in photos than it really is.
The metal backplate helps the build feel solid and tough, and should help the phone withstand drops to the floor. The remainder of the body is plastic, with a characteristic shiny finish to the front fascia.
There is a nice build touch in the fact that the top-mounted micro-USB charge and PC connect port has a sliding cover, and another in the thin metal frame to the top-mounted 3.5mm headset slot. On the right side, lozenge shaped on/off and camera buttons are comfy under the fingers, as is the volume rocker on the left side.
On the front, three buttons sit beneath the screen. There are no surprises that these buttons provide call, end and menu functions.
Samsung provides a flip cover for the Wave 723. Essentially just a solid screen protector, you fit this by removing the bottom back section of the chassis and clipping the screen back into its place.
The cover can then be flicked on and off the screen. It's pretty effective, and a style of screen cover we've seen before from Samsung.
In terms of specification, there's nothing really thrilling about the Samsung Wave 723 though anyone quickly glancing through the list will be happy to see Wi-Fi, HSDPA and GPS all present and correct.
Samsung Wave 723 review: Interface
Despite the proprietary Bada operating system, the Samsung Wave 723 has been designed to look and feel quite familiar to anyone who has used a current generation smartphone. To that end, it runs Samsung's own TouchWiz 3 user interface, which we've seen before, most notably on the original Wave. In fact, the Samsung Wave 723 is very like the original Wave to use.
So there's a lock screen that you sweep sideways to unlock.
Samsung has retained the superb feature we liked so much in the original Samsung Wave here. You can simply sweep on the arrows to open to the main Home screen or you can move the notification jigsaw puzzle piece into its correct position to jump straight to unread messages.
There are multiple Home screens, which you can populate with widgets. You start with three Home screens, but can add more as you add more widgets, up to a total of 10. You simply tap the widget icon at the top of a screen and then drag widgets onto the screen you want from a menu at the bottom of the screen.
Home screens can be reordered and deleted in landscape mode.
[Photo: Samsung Wave 723 reordering home screens]
At the bottom of each Home screen are three fixed position icons that take you to the keypad for making calls, to the contacts book, and to the messages area.
If you tap the middle button beneath the screen you are taken into horizontally scrolling windows of apps links.
Those three fixed position buttons for calls, contacts and messages, remain present, but you can move any application icons by tapping the edit button at the head of the screen then dragging them around and tapping done when you are finished. You can't though, put apps onto any of the main screens.
Back on any of the main screens, there is a notification area sitting at the very top of the screen giving you alerts, the time, battery and signal status data. Pull this down and you get a wider set of notifications and quick toggle buttons for Wi-Fi, Bluetooth and silent mode.
Samsung Wave 723 review: Contacts and calling
One of the things the Samsung Wave 723 does well is integrate social networking with contacts. Having logged in to Twitter and Facebook you can pull in contacts (and calendar from Facebook).
In fact, social networking synchronisation in general can be set to happen automatically at a range of intervals. If you prefer, you can opt for manual sync.
When you've pulled in all the contacts from your Twitter and Facebook, and added any from your SIM too, you've got a nicely populated contacts book whose level of detail will depend on what's been pulled in from each external location.
You can link contacts together fairly easily, though the process is tedious to complete. Open a contact with its associated Facebook or Twitter profile, then open the menu associated with it by pressing the icon at the bottom of the screen. Now you search for the contact's alias on Twitter or Facebook (whichever you didn't open), find the contact, and make the link.
With that done you can access all their details in one place, see their postings to both location and see your own on-phone contact history with them. It's great, but just be prepared for a fair bit of long-winded setting up.
When it comes to making phone calls, you can make selections from your integrated contacts list from the various numbers that might be available. Or, of course, you can simply tap the keypad icon on the Home screen and dial a number manually.
When in a call, you've got easy access to features like the mute button and speaker phone, though oddly you have to press and hold the side-mounted on/off/lock button to get to get their menu up.
You can make and take video calls too, but there's no front-facing camera so the back camera is used to send your outgoing video.
While using the Samsung Wave 723 for voice calls, we found that connections were good. The people we spoke to didn't complain of a broken up conversation, and we heard them loud and clear, too. We did have a bit of trouble maintaining a consistent 3G signal all the time, though, in a location and on a network that normally doesn't give us any bother.
Samsung Wave 723 review: Messaging
Messaging is something the Samsung Wave 723 does very well, at least in terms of the variety of options on offer. Of course, voice mail and SMS are here. You've also got the Facebook and Twitter we've already covered.
But that's only the start. In the main menu, you'll find an app called My Accounts. Pop that open and you can set up a range of other accounts for email. Those who use a corporate system will find the Exchange ActiveSync setting useful, but you can also set up Google mail, Yahoo, Windows Live and other accounts that you may have. The social networking quota is bumped up with MySpace, too.
The process of creating messages is straightforward thanks to a responsive screen and well-designed keyboard. The capacitive touchscreen is very responsive to screen presses, and the keyboard has separate keys for the @ symbol and for '.com'.
Sitting above the keyboard is a row of three menu buttons, which you can use to quickly add a recipient or group of recipients to a message. We really like the Recent button, which we found we used most often.
When you're typing a message, the word prediction box appears and offers you alternative words if you pull it down by clicking the arrow to the right of the box.
The keyboard is a little small in tall mode for all but the tiniest of hands, though. Switch out to wide mode and you've got more space, with the same word prediction box to help you out.
We found typing at a reasonable speed was no problem – except when we wanted to enter words that aren't in the built-in dictionary. Just as with the original Samsung Wave, you can only enter a word that's not in the dictionary if you enter it into the dictionary first. You'll spend a lot of time entering your chums' oddly spelt names into the dictionary unless you turn it off.
One of the things we really like about Samsung's Bada operating system, though, comes into its own with messaging. Many screens have a small icon with three dots on it at the bottom of the screen. If you tap this you get a context-sensitive menu.
In the case of messaging it lets you easily perform actions such as adding multimedia and attachments to messages.
Samsung Wave 723 review: Internet
Samsung has put a lot of effort into its Dolphin web browser, and at first glance it renders pages nicely. Full-screen web pages look good in both wide and tall screen modes.
You can pinch to zoom in and out of web page, do a nifty double tap to zoom and out, and use a finger to pan around. Rather cleverly, the left side mounted volume rocker doubles up as a scroller, with is nice for one-handed vertical browsing.
There are some handy features, such as a Google search bar at the top of the screen and the ability to open multiple windows and flick between them.
But the browser did seem a bit slow to respond to finger presses when we wanted to access more advanced features such as multiple windows. Worse, Flash support seems iffy. We were unable to play movies at the BBC News website, for example.
And text reflowing is non-existent, so that you need to do a lot of horizontal swiping to actually read stuff you've zoomed into.
We really like the ability to send a URL via email or SMS simply by using the context-sensitive menu on the browser page.
And for really quick access to the web, there are a couple of Home screen widgets on hand – a Google search widget which will search Google maps and take you to your Gmail as well as doing general searches, and a widget that shows your three most frequently visited websites so you can quickly pop back to one of them with a single tap.
The browser is a mixed bag, then, with some nice feature and some annoying ones. Samsung needs to put a bit of effort into tweaking its Dolphin browser if it's to be really useful.
Samsung Wave 723 review: Camera
Sporting a five-megapixel camera with autofocus and an LED flash, we expect great things from the Samsung Wave 723. And indeed we got them, at least where stills shooting is concerned.
There are various scene modes including sports, night, party/indoor dawn, fireworks, text, and candlelight. Smile shot, continuous mode and panorama mode are also present, so you can play around quite a bit.
Click here for full-res version
INDOORS:Often you can forget about the scene mode settings and just point and shoot with the Samsung Wave 723 to get a decent image. This dimly lit bar produced a surprisingly bright and detailed photo
Click here for full-res version
OUTDOORS:Outside results were reasonably good with the camera able to pick up a fair amount of detail. This very dull winter day didn't stop the lens capturing a fair bit of light
Click here for full-res version
CLOSE-UP:No, these aren't real strawberries, but a tablecloth photographed close up. The Samsung Wave 723 camera does well to cope so close in without a macro mode, and both the light and detailing are good
Click here for full-res version
PANORAMA:The panorama mode is very easy to use. The camera automatically takes the next image in a sequence, so that all you need to do is move the camera around. The stitching process is fast too
Samsung Wave 723 review: Video sample
Video capture is limited to a top resolution of 320 x 240 and the results were a lot less impressive than with the stills camera. Compared to the HD video recording on the Samsung Wave the video recording here is particularly disappointing.
Samsung Wave 723 review: Media
The Samsung Wave 723 isn't really a media fan's ideal smartphone. You need a screen larger than 3.2 inches to make the most of video playback. Still, there is enough going on here to keep many people quite happy.

We're pleased to see the headphones connector on the top edge of the handset, and while we don't really like the L-shaped connector on Samsung's earphones, the quality of output they produce is acceptable.
The music player itself is easy to navigate and has some nice visualisations. There is an equaliser and a range of effects settings, the latter enabling you to choose options such as Concert Hall or Bass Enhancement to alter listening quality.
There are three visualisations you can choose from while music is playing.
If you go out to the lock screen while music is playing, you can drag down the CD icon to get to a set of playback controls, and these controls are also available from anywhere you can pull down the notification area.
There is an FM radio too, and you can record from it. Recording is the easiest thing to do – you just call up the menu by pressing the context-sensitive menu button and hit record.
Video playback is somewhat limited with MPEG4, H.263 and H.264 standards supported. Our sample movie trailer would not play, getting an 'unsupported resolution' report. And when we went looking for free movie trailers at Samsung's Wap site – a link that kicks in when you file browse, incidentally – there was none.
The YouTube icon on the main apps menu looks promising, but is nothing more than a link to the mobile YouTube website. It delivers content that you can view in portrait or widescreen, and we found it delivered smooth content to a good quality.
Samsung Wave 723 review: Battery life and apps
Battery life left us feeling a little disappointed. The 1200mAh battery gave us just over three days on standby with a very small amount of use.
When we were using the Samsung Wave 723 heavily it ran down fairly quickly and we were having to charge it every day to keep it going.
You might find yourself doing a fair bit of music listening and web surfing with this handset, and if that is the case you ought to budget for a charge every day and maybe even a mid-afternoon boost.
If you are fairly frugal on those scores, then you could get a day and a half or even two days out of the Samsung Wave 723.
Organiser
The Samsung Wave 723 comes with its own calendar app and there's a Home screen widget that shows you what day it is – though nothing useful like upcoming appointments.
To see what you are meant to be doing at any time, you need to tap the widget and open the calendar proper. Now you can flick through the months, see your daily schedule and add new appointments.
There are other apps to help keep you on the straight and narrow, too. A clock with stopwatch, countdown timer and alarms as well as an array of world clock times you can set ought to sort out your timing issues.
There's a little memo maker and a task manager, too. Neither has a Home screen widget, which is a bit irritating since it means you have to go into each apps itself to see its contents.
A calculator rounds things off.
App store
You can take a look in the Samsung app store for more, but this is still woefully under-supported in comparison to other top-grade app stores from Apple and Android.
Apps are divided into categories but some have very few entries – Social Networking has seven, while Productivity has just 19. There isn't even a separate heading for Widgets so you can boost the fairly small number that are pre-installed.
If it's apps you want, look elsewhere.
Samsung Wave 723 review: Comparison
Bada leaves us nonplussed. Well, it's not quite Bada itself that has that effect. We aren't opposed to the concept or to the general look and feel, both of which are very close to what you find in Android in terms of the general user interface.
What gets us riled is the lack of expandability. That this should be the case more than three months after we reviewed the first Bada handset, the Samsung Wave, seems odd. Samsung needs a vibrant and exciting app store if it's to make Bada a success. And that simply isn't there at the moment.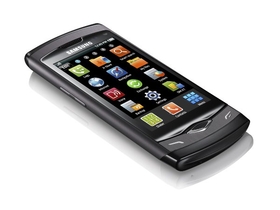 What this means is that the £200 you could spend on the Samsung Wave 723 might more fruitfully be spent on the Android-based Orange San Francisco (cheap at half the price)
You could also consider Samsung's own Android-based Galaxy Europa or LG's Optimus One.
Samsung Wave 723 review: Hands-on gallery
Samsung Wave 723 review: Official gallery
Samsung Wave 723 review: Conclusion
It's not that we don't like the Samsung Wave 723, more that it feels as though Samsung has stopped half way through its development having got a bit bored.
That is a real shame given that this is only Bada's second outing. Samsung needs to ramp Bada up considerably if it is to be a success – not least because even Samsung is releasing competing Android handsets at a rate of knots.
We liked
There are some very neat aspects to the Samsung Wave 723. We like the context-sensitive app menus, the way the number of Home screens grows as you add more widgets to them, the neat pull-down controls that expand the notification area and give you access to Wi-Fi settings and more.
The camera also does itself proud – at least as far as stills are concerned. More attention is needed to the video recording aspect, though.
The neat little flip cover won't appeal to every taste, but we found it solid and like the simplicity of the design.
Integration of Facebook and Twitter contacts is nicely done, even if linking is a rather laborious task.
We disliked
Not enough attention has been paid to the widgets which seem few in number and lacking in flexibility. Why is there no widget for the note app or the to-do list app, and why can't you put apps themselves onto the home screens?
Similarly, Samsung has not pushed its app store hard enough. It isn't growing fast enough to compete with the Android and Apple competition. Even Microsoft has understood this and pushed its Windows Phone 7 app store hard since launch.
Samsung has made a great start with its Dolphin web browser, but we want more. Specifically we want high-quality text reflowing.
Verdict
The Samsung Wave 723 is a fair enough handset, with a good-looking user interface and some nice features. But underneath all that lies an operating system that is not easily expanded with third-party applications.
As it stands at the moment, we have to wonder who would choose Bada over Android or Apple? The £200 mark is arguably the most competitive in the whole smartphone sector and Samsung needs to work harder on Bada to make it a success against very hot competition.
Bada smartphone mobile phone touchscreen