Samsung Wave
8th Aug 2010 | 16:19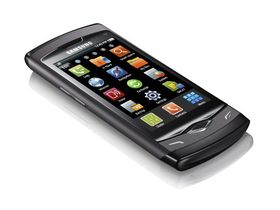 Samsung offers its most powerful phone yet
Samsung Wave: Overview, design and feel
We've finally managed to get our hands on a final release unit of the Samsung Wave - and the good news is it's a darn sight better than the pre-production version we tested a few weeks ago, so read on to see the updated and final Samsung Wave review.
The Korean firm has made the somewhat leftfield decision to launch its own OS and with the new Samsung Wave it gets a phone with top-notch hardware to debut it on.
This isn't just another 'and me' Samsung phone – it's crammed to the hilt with high end features, such as HD video recording, a 1GHz Samsung-own Hummingbird processor, a super-slim chassis, the latest Super AMOLED screen and multi-touch support right out of the box.
However, it's still rocking Samsung's TouchWiz overlay, which is great if you like Samsung phones, but a very different experience for those joining the Korean giant for the first time.
So is this another middling handset from the firm that brought us more phones than we could shake a stick at last year, or is the Samsung Wave the first phone of a radical new dynasty?
The first two things to note about the Samsung Wave are obvious: the build quality and the screen just cram style into your eyeballs.
The phone is very slim at less than 11mm thick and the metallic build quality is apparent the second you hold it in your hand. Given a startling number of purchases are made in store based on how a phone feels this will be head and shoulders above the rest to that demographic.
The front is sparse in terms of buttons, with call, terminate and menu keys the only things apparent other than the 3.3-inch capacitive screen. The menu key is sculpted and nicely tactile, although perhaps a little large.
The rest of the phone is pretty simple: volume up/down keys on the left-hand side, lock and camera shutter keys on the right-hand side and the top sees a 3.5mm headphone jack and a microUSB connector with sliding cover.
Other than that, there's only the diamond-shaped 5MP camera on the back with accompanying LED flash, which all together gives the Wave a very refined look indeed.
And if you're impressed by the chassis, then you'll be amazed by the SuperAMOLED screen, with its high-res 480x800 WVGA screen with great viewing angles and jaw dropping contrast.
It zips along under the finger too, and allows you to see a huge amount of information, be it widgets on your home screen or a full internet page.
In short, the Samsung Wave looks the business, but while it's nice to get a phone out in the pub to impress your mates once in a while, you've still got to live with it day to day, so let's dive under the hood to see how it works.
Samsung Wave: Interface
As we mentioned, the Samsung Wave is rocking the TouchWiz UI on top of Samsung's new Bada OS, which is meant to make most of its range into smartphones with access to its own app store.
While those of you that have played with the Samsung Jet might groan at the thought of another TouchWiz phone, the good news is the Wave is the first handset to use TouchWiz 3.0, which comes with a lot more intuition baked right in.
For instance, you get a number of homescreens to play with a la Android, rather than the odd three that took an age to scroll through.
You can add widgets to these, and when you start to run out of space, another is added to the pile, up to a maximum of 10.
It's relatively easy to add home screens, and should you want to drop the amount of screens on offer you simply move the phone into landscape mode and use the 'x' in the corner of each screen to delete them.
The amount of widgets has been improved too from previous Samsung handsets, with a simple 'widget' key in the top right calling up the list available from the bottom of the screen and letting you drag them onto the home page.
These range from diary-keeping apps to favourite contacts to a Google Suite, with more available to download from the Samsung store.
We mentioned the screen swooped nice and responsively under the finger, and the menu system is very familiar, just rows of icons with new apps joining the back of the queue when downloaded.
There is the option to arrange the icons by most used, which is pretty nifty – if you can't be bothered to arrange things by yourself, you lazy thing, then you can ask the phone to do it for you.
However this does get confusing as the order will constantly change, even if there's an app your use way more than anything else.
We did like the unlock mechanism though: not only can you swipe any way you want across the screen to unlock the Samsung Wave, but if there's a message or a missed call a small piece of jigsaw appears that you have to place in the right slot to open up said notification.
Aping Android once more, there's also a drop down menu from the top of the phone to let you see when you've got new messages and emails and the like – they sit below three massive buttons controlling Wi-Fi, Bluetooth and phone volume for easy access.
It's easy to slide the menu down from any application in a similarly slick way to other smartphones like the HTC Desire and Sony Ericsson Xperia X10.
One massively annoying feature is the inability to put menu icons on the home screen for quick access. Why this wouldn't be included is beyond us, but Samsung seems to have decided that only widgets are allowed on the home screen - icons would not only make sense but make the whole process more intuitive.
An odd feature Samsung has thrown in too is the option to double tap the phone and get a search menu, one that's pretty comprehensive.
While you do look a bit foolish tapping the top of your phone to open up a menu, there are a lot of search options on offer: you can search messages and contacts within the phone, search the internet or just look at mobile content on offer.
Overall though, we're generally impressed by the interface on the Samsung Wave, as it's quick and slick under the finger - good work on a first effort, Samsung.
Samsung Wave: Contacts and calling
Having taken a look at what HTC is doing with its Android system, Samsung's doing something pretty similar with its contact menu, namely offering social network integration with each person.
It's a simple system: download Twitter and Facebook contacts when you log into your respective accounts, then link them up with the relevant people when they're all in the list.
Except that linking them up is a right royal pain, as there are no helpful suggestions to make it easier to find the right people, like we see on the HTC Desire. You have to click search, type in the right name and then wait for it to come up to connect the two.
However, when you've spent around four hours doing that, you'll get to see your contact's Facebook and Twitter updates, media they've published to their accounts and also any interaction you've had with them on the phone.
It's not a new idea, but it's a good one so we're glad Samsung has included it so fully here – plus one addition in that you can comment directly on statuses from the contact menu.
We're also pleased that scrolling through the list is made easier by a line of letters at the side you can run your finger down, making it easier to find the right people you're looking to chat to.
Other than that, it's pretty standard fare with the Samsung Wave, offering the chance to mark favourites and enter the contact book from the dialling screen.
However, there's no smart dialling here: if you start typing in a number the Wave will complete it based on the numbers in your phone book; we'd prefer it if it worked out what names we were after using predictive text, like the HTC Legend, but you can't have everything it seems.
Calling
Calling on the Samsung Wave is pretty good – there's no noise cancelling secondary microphone here, but you can hear your friends pretty well and even if you're standing in the middle of Spaghetti Junction (not a good idea, just ask Telly Savalas) you can still be heard.
The Wave also supports video calling, which is pretty nifty, especially as the other person looks a lot better on the high res screen. However, unless someone suddenly comes up with a really compelling use for video calls, this isn't going to be an oft-used feature.
Connection stayed very strong throughout the test as well - there was a ten minute period on a train journey when the phone didn't drop a single bar of signal; until we realised that it had frozen, which sort of ruined the fun.
Samsung Wave: Messaging
Samsung has had a good think about what a smartphone should have in terms of messaging options with the Samsung Wave, and come up trumps with a plethora of options.
Not only is there the usual SMS/MMS option here, but you can also link into multiple webmail accounts (we tested Ymail!, Hotmail and Googlemail without problem), Exchange email and IM too – all together nicely in the Social Hub section of the Samsung Wave.
You also get Facebook and Twitter integration baked right in to the phone as well – along with the ability to comment on people's statuses from the contact book, you can also interact with messages and tweets too.
Admittedly, it is annoying to have to open up a dedicated application every time you want to use the latter two functions, as it takes about ten seconds to boot it up each time.
However, you are offered a potted down version of each to play with, with the Facebook option giving you a fairly wide range of functionality.
There are also IM clients on offer too, such as Google Talk and Windows Live Messenger as well, meaning you're almost spoilt for choice on the ways you can communicate with your buddies.
The keyboard on the Samsung Wave is pretty good too, although not in the same league as the likes of the iPhone 3GS or the HTC Desire in terms of usability.
The accuracy isn't too bad in terms of registering keystrokes, but the autocorrect is so abysmal that we simply had to turn it off - the keyboard isn't multi-touch either meaning it's hard to type at a swift speed.
Not only does it force you to open drop down menu every time you spell a word wrong, it also won't let you write the word you wanted if it's not in the dictionary – you have to go through the laborious process of adding it in.
If you like to type in landscape mode, this is a great device for that as the slim dimensions help it to sit nicely in the hand and also packs a nice amount of contextual keys. For instance, should you be entering an email address the space and comma keys are replaced by the @ symbol and .com options.
It's elements like this that make the Samsung Wave part of the new generation of smartphones – there's still a way to go before it's rivalling the big boys, but this is a massive step in the right direction.
Samsung Wave: Internet
Like the other high end smartphones on offer, the Samsung Wave offers a pretty nifty internet experience, with full HTML browsing offered.
The large and expansive screen is great for viewing full web pages, and the Wi-Fi and 3G both offer a very speedy experience when looking at mobile or lower-complexity pages.
The Samsung Wave apparently supports Flash video, although attempts to play any video usually end in failure or at best a very choppy video, which also makes heavier web pages stumble quite comprehensively on the Wave.
There's none of the instant access element we've grown used to with the better smartphones on the market, meaning we're often left waiting for too long to simply check a simple news story.
Search is built right into the Samsung Wave, with not only a Google widget on offer for the home screen, but also the aforementioned 'double tap' search screen available too.
Not only can your scroll through Google from here, but also Bing and Twitter too, making it a pretty comprehensive search facility indeed.
While on the pre-production model, the Samsung Wave would always convert the page into a 'mobile-optimised' version - thankfully that's gone from this sample.
A real plus point should also be the ability to pinch and zoom into web pages... none of this 'one finger zoom' nonsense Samsung threw at us with the Jet.
But there's no text reflow on offer here, meaning once you've zoomed in a bit the text stays in the same illegible columns unless you zoom in and constantly swipe the screen left and right to discover new columns.
The poor Flash experience notwithstanding (after all, the iPhone manages just fine) we're only mildly impressed with the internet on the Samsung Wave. With so many people after a phone for 'good internet' these days, the experience should be top notch.
We've no doubt that Samsung will improve it in the near future, but with such a strong processor on board we frankly expected more than a slightly improved internet experience from a feature phone.
Samsung Wave: Camera
If you've ever met a Samsung phone, you'll know that one of its defining characteristics (especially at the higher end) is a tip-top camera: the Samsung Tocco Ultra Edition, the Samsung i8910HD, the Samsung Pixon 12 are all examples of how the Koreans know how to give a phone a decent eye.
And that trend is continued on the high end Samsung Wave, despite 'only' having a 5MP camera.
The addition of an LED flash helps matters too, but overall the quality of the pictures is generally very good, with a decent level of detail along with a fast shutter speed.
There are a huge number of shooting modes on offer as well, such as panorama, continuous and 'vintage', as well as the option to adjust the scene being shot, automatically sorting settings to work against bright light, shooting sports or taking pics of fireworks. Which we clearly all do on a regular basis.
PLAY UP:The Wave is great at capturing a large amount of detail from multiple sources
WIDE VIEW: The Wave handles large landscapes with ease in a dedicated infinite focus view
PIGEON WITH A MOHICAN: Quick snaps are easy with the fast shutter speed
BEAUTIFUL VISTA: Capturing panoramic views is a gimmick, but it works well here with the accelerometer telling you where you need to go
Video
While the camera on the Samsung Wave is something to crow about, the addition of the HD video recorder is even more so.
It's a great addition to the line up, and works surprisingly well given the Wave's dinky dimensions.
There's the option for slow motion capture as well, meaning you can work on your golf swing etc (we've reviewed phones with slow motion on so many times, and we've yet to see anyone use the mode for anything but dancing like a rabid dog on heat and watching it back slowly).
Exposure, colour, contrast and brightness can all be tinkered with, but ultimately it's just a rather good video recorder with some nice extra touches and decent sound recording too.
Subscribe to TechRadar's YouTube channel
As you can see the captured video shows off motion well - it might not look as slick as other HD recordings but it's certainly better quality than most.
Samsung Wave: Media
As you can imagine, a phone with a screen this big and high resolution is meant to be used for all manner of media, and the Samsung Wave certainly has the right amount of options on offer.
Music
The music player on the Samsung Wave is very attractive to look at, not least because of the superb colour reproduction from the Super AMOLED screen.
The main player is nice to use with large buttons, and there are options to add the songs to a quick playlist for on the go use.
Some of the options are a little hidden though; for instance we had to hunt for AGES to find out how to shuffle songs on a playlist (you need to tap the screen when a song is playing to call up the command list, FYI).
Music playback can also be controlled from anywhere in the phone, by dragging down the top console and using the basic controls on offer.
You can even do the same thing in the lock screen by double tapping the disc at the top of the screen and calling up the basic menu - it's a nice touch but unlocking the screen is hardly a hassle, so we suspect this is more for decoration.
The music quality is up there with the best, especially when listening to songs with a higher Kbps rating and using the 5.1 SRS Surround Sound from Samsung. However, when you get down to the lower bit-rate options, things do take a slight turn for the worst, with the surround sound distorting rather than improving sound quality.
Video
Samsung has long trumpeted its multi-codec support for video files, and to that end, the Samsung Wave is well-packed.
We're talking MP4, H.264, DivX, Xvid... the list goes on and all are supported as far as we could tell (although one HD file refused to play ball on the device which makes sense given the screen resolution).
Playback looks sumptuous in terms of colour and contrast, and the overall experience was pretty slick and sharp indeed. It thankfully seems the Samsung Wave is able to use the full force of the 1GHz Hummingbird CPU to represent graphics nicely.
And there are some cool features too: mosaic search quickly scoots through the video to find thumbnails at three minute or so intervals so you can search through your movies with ease.
Other little luxuries include being able to change the colour tone of the film, the brightness and also that 5.1 virtual surround sound that Samsung loves so much - although it does actually make a difference through headphones.
Media sharing
Another feature, presumably for all Bada phones, on the Samsung Wave, is AllShare, which lets you stream media from your phone to a TV or PC.
There are three options - streaming media directly to a (presumably Samsung only) TV via Wi-Fi, to a PC which in turn can pump it to a TV or from a PC to your phone.
We tested the first two options on a Samsung 7 Series LED TV, and it worked pretty well. If you've got your TV wired up to a router for internet services, then it appears to be a very straightforward process.
You simply click share on the movie, song or photo and select the TV option - the file is then instantly recognised on the TV and it begins playing.
However it takes a while for each file to load up on the TV, so while video streams well (and the HD video plays very well indeed even on a 40-inch display) photos take an age to cycle through, to the point where it's utterly not worth doing it.
And let's be honest, nobody really cares about others' photos unless they're in them anyway.
The final option is also pretty nice, with the Samsung Wave able to easily stream content from a PC onto the device. We're still a little sceptical about this process, apart from the really cool download function.
If you find a movie you're enjoying from the PC but need to go out, you can download it to the device and take it with you - a really cool feature that works with music and photos too.
Samsung Wave: Battery life and connectivity
The Samsung Wave is packing a 1500mAh battery, which we've seen on many high-end devices at the moment, and despite being massive doesn't necessarily lead to an awesome power boost.
This is usually due to poorly-written code or applications going rogue and sucking all the juice from the phone, and something that's partly putting people off going down the smartphone route.
However, it's clear that Samsung has improved this by vertically integrating the whole process to control everything from start to finish, as the Wave has a pretty good battery life, lasting around two days in normal use.
We also noticed that with the SIM card out and the Wi-Fi running, the phone will last for ages and ages - we got nearly four days with only 50% battery drain. Not that this mode is much use, but should you need to drop down to half connectivity for a while to save battery then this is a great option.
Admittedly we couldn't give the phone a full road test, as the app store is woefully under-stocked so it's impossible to see if anything would actually suck your battery dry.
But with push email, Facebook and smidgen of Twitter it easily lasted the day (much more without push notification on), so we've got hope that this could be one of the better smartphones out there when it comes to battery life.
Connections
In terms of connectivity, the Koreans have thought of everything with the Samsung Wave.
Not only does it have Wi-Fi, Bluetooth 3.0, GPS, HSPDA 7.2Mbps and a 3.5mm headphone jack that doubles a TV out - but you can also use it as a Wi-Fi hotspot as well.
Using the Mobile AP setting within the connections menu, you can set the Samsung Wave to open up the 3G connection to other devices.
It's automatically set to work with a password and WPA (not the most secure, but better than nothing in a pinch) and in our tests it worked pretty well. The first connection failed, but the second worked fine, and speed on an iPhone was adequate if not stellar.
We also like the little notification from the Samsung Wave that using this feature will use gallons of data and drain the battery pretty quickly - we're sure we'd have worked that out almost instantly, but it's nice that Samsung is being responsible.
Samsung Wave: Navigation and apps
You might have noticed that most smartphones are using Google Maps in some form or another these days, and the experience is becoming fast and intuitive.
Samsung decided that it could do better than that - using its own location based services instead of Google Maps to provide navigation.
We wish it hadn't - the option on the phone is pretty poor compared to the experience on Android phones or the iPhone.
There's no pinch to zoom method of going in closer to the map in 2D mode (although it is curiously enabled with 3D view) - instead you have to keep hammering the plus or minus icons at the top of the screen to move incrementally.
Also the positioning can take some times, even without GPS enabled, with it being ages to find where you are in sat nav mode. We're not sure how to locate yourself normally - so we ended up searching for our location which took ages.
The sat nav on board is pretty comprehensive - you can have a range of voices, maps and more, with options like 'Navigate to home/office' a real help when you just want to get somewhere quickly.
However, you have to pay for this privilege - for instance, downloading the driving and walking directions will cost you €5 per month (we've yet to hear UK pricing) or €20 for the year. It's not expensive, admittedly, and the aforementioned list of voices and extra commands are useful.
But in the face of the quicker, and more importantly free, Google Maps Navigation, we can't recommend this mapping app over Google's effort.
Apps
Samsung made a big song and dance about the app store it's creating when unveiling Bada, given that it hopes to not only make a great number of its handsets into smartphones but also offer apps on them all.
Developers can code applications in Flash, C++ or Web Runtime, as well as Java if they so wish, meaning a much wider gamut of ways to download and utilise applications for users.
The App Store has quickly gained a number of cool applications - from a free TV remote to handle your Samsung display to a high-pitched mosquito sound effect to ward off kids, this could be a real winner if it's available to all Samsung mobile users in the future.
There are some nice applications already pre-installed on the phone - the daily diary app was the most pointless, allowing you to take pictures, write notes and record the weather (all manually) for future, very boring, reference.
YouTube is included and works well, as is the FM radio, which also allows you to record what's being played rather nicely for storage - something many Samsung phones have had as a feature.
The only game on board is Asphalt 5, which uses the motion sensor and hardware acceleration to offer a nifty gaming experience. However, despite everyone at Samsung trumpeting how awesome the game is, it's still pretty basic - we're hopeful the Wave is capable of more.
Samsung Wave: Hands on gallery
Samsung Wave: Official gallery
Samsung Wave: Verdict
The Samsung Wave is the Koreans' first strike into taking on the might of Android and the iPhone in the smartphone market - Bada needs a champion and this certainly has the specs to do it.
It's pretty cheap compared to the likes of the iPhone 4 as well - only £25 per month with a free phone on some networks, although that is with a 24 month deal.
We liked
This phone is simply beautiful to look at. From the slim aluminium casing to the sumptuous screen, it screams premium quality and that's going to attract a lot of people to it instantly.
The screen is responsive too, and we love the amount of homescreens we get to work with. The notifications bar at the top is good too - simple to pull down and giving you just the right amount of information and interactivity.
We're glad Samsung has had a look at the competition when deciding what to add into this smartphone platform - while the experience could be slightly better, the ability to synchronise Facebook, Twitter and Exchange accounts within the contacts menu is great.
The widgets overhaul is good too - you can cram a ridiculous amount of information onto the home screen, which is what today's smartphones are all about really (and something we hope the iPhone gets on board with soon).
The camera is amazing, as is the ability to share the content from PC to phone to TV easily. Media is basically well-supported all round, meaning you get a great music, movie and photo experience.
We disliked
The keyboard, while responsive, is still rubbish when it comes to the predictive correction. We don't want to turn it off, we just want it to be as good as the option on the HTC Desire - is that too much to ask?
The inability to put icons on the home screen is an oversight as well - why not let us put a few quick links in there for easy access, Samsung?
The internet is too lightweight and stuck in the dark ages for us too - where the iPhone has us addicted to surfing almost like we would on a PC, the Samsung Wave doesn't have the same attraction at the thought of having to use a slightly lightweight internet experience on what's supposed to be a top-end phone.
And the mapping application, though powerful, is a little too clunky and overbearing in the face of Google Maps. It's like Ovi Maps but a little slower and worse-looking and without the free sat nav: not ideal at all.
Verdict
On paper, it would be easy to slate the Samsung Wave as nothing more than a tarted up Samsung Jet, with a bigger and glossier screen and a 25% more powerful processor.
But this phone is probably the most desirable on the market in terms of the complete package - the at-times average operation is offset by the beauty of the chassis and screen, as well as the pocket-friendly slim dimensions.
It's a lovely phone to hold and play with, and while the internet is a little poor for our tastes and the navigation not up to much, we still can see this phone being the handset of choice for a number of people looking to get involved in the smartphone market for the first time.
However, it's very similar in specs to the new Samsung Galaxy S that's on its way - we assume a number of people will be waiting to see if the Android version of this phone, with 1GHz processor and Super AMOLED screen too will be as good, if not better.
Want to get rid of your old mobile?Compare and get the best price
Samsung Wave Bada