Samsung Galaxy S3
$499
23rd Jul 2014 | 15:05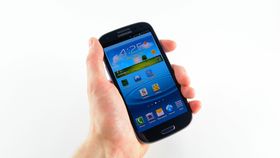 The Samsung Galaxy SIII - a phone worthy of the hype
Introduction
The Samsung Galaxy S3 has been available in the market for over two years now, but with the recent update to Android 4.3 Jelly Bean and further price reductions thanks to the recent introduction of the Galaxy S5 there's still a lot going for the aging handset.
We're currently putting the Galaxy S3 through its paces with the new software on board, taking into account its new, lower price point of £200 (around $290, AU$380) and the fresh competition it's facing.
We'll update this review shortly with our latest findings on whether the S3 is still worth a punt if you're looking for an affordable smarphone.
It's mostly changes to the interface that have been brought with the new update, but there are a few other areas that have been updated with the new breed of TouchWiz.
Samsung has made a big deal about this phone, not only choosing to launch it at a big and glitzy standalone event in London but has managed to top 30 million sales in November 2012 - and given the amount of people we see rocking the handset on the trains these days, those number seem to bear a hallmark of truth.
The price is pretty palatable for a top-end phone – some sites are offering it for around £26 per month with a very low up front cost,
But let's get down to the main question – is this the phone you should be spending your hard-earned cash on?
Design
The Samsung Galaxy S3 is, according to Samsung anyway, 'inspired by nature – it sees, listens, responds, and enables you to share the greatest moments'.
While this is all a little hyperbolic, the nature theme is certainly present when you handle the phone for the first time.
Brushed polycarbonate – you've got a choice of 'Marble White' and 'Pebble Blue' – adorns the large device, which runs in with dimensions of 136.6 x 70.6 x 8.6mm, despite still having to pack in a 4.8-inch Super AMOLED HD screen.
We'll lay it out right now: the plastic feeling of the Galaxy S3 won't appeal to all. It feels very lightweight (despite tipping the scales at 133g) in the hand, and some people will read this as feeling a little cheap.
However, it's exactly the same sensation as we found on the Galaxy S2, and given the silly numbers of sales that had, we think there's more than a market for a phone that you'll barely notice in your pocket most of the time.
But we'll be very clear on this - the Galaxy S3 is not a cheap-feeling phone. It's got a really solid Gorilla Glass 2 front, a well-packaged interior and a more robust battery cover. It's polycarbonate rather than bog-standard plastic, although we're not sure some people will like the more rounded nature of the design.
However, despite being made of similar material, there's no doubt that the HTC One X feels more premium in the hand. Although the One X is actually 3g lighter than the Galaxy S3, it feels a touch weightier, which shows the way texture can affect the way a phone feels in the hand. And there's something about an object so large feeling so light that some will find disconcerting in the S3.
There's no doubt in our minds that the Pebble Blue offering is the much more attractive option, since the Marble White looks similar to a low-end Galaxy Mini or similar – the brushed effect is really necessary. And now we've got a host of extra colours to play with (Titanium Grey, Garnet Red, Amber Brown and Sapphire Black) so the sky really is the limit here... although actually, there's no Sky Blue option.
Compared to rest of the Galaxy line, the S3 has more in common with the original Galaxy S than the S2, with curved edges the theme in the design language. The home button has also been elongated, although the same menu and back buttons remain from the prequel.
Overall, the effect is much more like the Samsung Galaxy Nexus than anything else – rounded edges, HD screen but with a more minimal bezel to really accentuate the larger screen in the hand.
The button design around the phone has been well thought out in our opinion - for a phone this big it's very difficult to make all the keys accessible, so putting the lock button on the right-hand side rather than the top makes a large degree of sense.
The addition of the lozenge-shaped home button, and its softkey 'Back' and 'Menu' buttons are great additions in our eyes, as it means contextual menus can be found easily without needing to mess around looking for the on-screen icon.
The volume up and down button is parallel to the lock key on the left-hand side of the phone, and also within easy reach when holding the Galaxy S3 in the hand.
The microUSB slot is placed at the bottom of the phone - easy to find with a charger but it will be interesting to see how it's used when placed in docks and car cradles.
The battery cover is also made of the same polycarbonate material as the rest of the body. Yes, you read that right - the battery cover is removable. The future isn't all unibody, it seems.
This means that not only can you switch the battery in and out - a key consideration for many people - there's also a cheeky surprise in the shape of a microSD slot next to the microSIM port. Expandable memory? This just gets better and better.
This means that theoretically you'll be able to have a 128GB-capacity Samsung Galaxy S3 if you combine the top spec of internal memory (64GB) with the largest microSD card around at the moment (64GB)... making it a mouth-watering prospect for those who love a spot of media. However, we're still waiting to see the 64GB Samsung Galaxy S3 variant make an entrance, as it looks like retailers are going off the idea of such a high capacity model.
Sure, there are stats that say only 10% of users regularly go over 16GB of storage, but there's always the lower end version of the Galaxy S3 for that. With HD movie downloads becoming far more prevalent, plus the influx of HD apps, we think more space is an excellent idea.
Overall the Samsung Galaxy S3 feels superb in the hand. The design contours well against the palm, and while the screen size may be a little big for some (you'll need a bit of shuffling to reach the upper section of the screen) it's definitely more than useable day to day.
So in short: if you don't mind a slightly lighter-feeling polycarbonate shell and you like big HD screens in your pocket, this is a phone definitely worth checking out.
Screen
Let's take a minute and talk about the screen: it's beautiful. We almost feel sad that this isn't the first HD screen we've seen on a mobile phone, as it's kind of lost its lustre since the likes of the Nexus, Note and One X have all managed the same trick – but if you've not seen one before and you compare it to a Galaxy S2, it's worlds apart.
If we think back to just four years ago, when HVGA (320 x 480) resolution screens were the norm on phones and 720p TVs were still the plaything of the bigger spenders, it's incredible to think that pixel count has been shrunk down to fit into your palm.
And that means the 309ppi pixel density is up there with the sharpness of the iPhone 4S, and it makes us realise that while a Retina Display is lovely, 3.5-inch screens just don't cut it any more.
We'll be mightily surprised if the combined popularity of the HTC One X and Samsung Galaxy S3 don't prompt Apple into a re-tooling of the screen with the iPhone 5, as the contrast ratio, large display and excellent colour reproduction will definitely wow users on the shelves.
It seems Samsung has tweaked the colour balance on the Galaxy S3 as well – things don't look as saturated as before, which will certainly help entice those who were previously against Super AMOLED due to the harshness of colours.
There is an issue here for those who like to let the phone handle the display management - the auto-brightness level is too low for our eyes. It's like Samsung is trying to protect the battery a little too much here, and we'd rather have a variety of auto-brightness settings like in the internet browser.
But thankfully the auto brightness issue has been fixed with the Jelly Bean update. The first iteration wobbled all over the place, and it was fixed from there, meaning a more even glow.
However even if you had the phone brightness bar right down, the auto brightness didn't move much. Now it seems there are gradients within the system so that the phone will never fire to full brightness if you want things a little darker, limiting itself to around 60% or so.
It's excellent in direct sunlight too - the contrast ratio of 3.5:1 Samsung is touting in direct sunlight is just about enough to see what you're doing, and if you're using the camera you can fire the brightness even higher to see what you're snapping.
The same option has been sadly removed from the Video player, so sitting in the sunshine watching Robocop is now no longer a thing to be done with your new Galaxy.
In terms of comparisons to previous iterations of Super AMOLED screens, this is where it gets a little bit technical - we'll try to keep it simple.
The Galaxy S2 packed a Super AMOLED Plus screen, which means that for every pixel, there were three subpixels - red, green and blue. This meant lovely contrast ratios and cleaner whites - this was noticeable close up.
However, in order to facilitate the much higher resolution, Samsung has crammed in fewer sub pixels per pixel, which means a slightly less 'clean' colour close up.
But what does this mean to you, the user? In truth, not a lot. Power efficiency seems to be very similar to that on the original S2 when it comes to firing the screen, and while there might be more of a skew towards green and blue on the colour scale, in practice this simply results in more natural-looking hues.
The sharpness is also technically affected, but with such a high resolution there's very little chance of this affecting the way you get to watch your movies or see the web.
Check out our comparison from Galaxy S to S2 to S3 to see what we mean - close up, the colours are more noticeable on the S3 compared to the S2, but this is unlikely to bother most users.
Click here for the full resolution image
The original Samsung Galaxy S used a standard Super AMOLED display, which was impressive two years ago.
Click here for the full resolution image
Here's the Samsung Galaxy S2 - as you can see, the Super AMOLED Plus offers some very clear colour reproduction.
Click here for the full resolution image
The Galaxy S3 does have more visible colour sections within each pixel, but only when viewed at very close range. As you can see, the sharpness is much higher.
Jelly Bean update
The Samsung Galaxy S3 is all set to get the new Jelly Bean update in the near future, giving it similar characteristics to the Samsung Galaxy S4 - such as enhanced voice controls, the S4 lockscreen with new unlock features, a completely revamped settings UI, new screen modes like Adapt Display and Professional Photo and full screen Samsung apps.
We'll update this review when that upgrade lands - fingers crossed it's only days away.
There's no doubt that the Samsung Galaxy S3 is much faster with the Android Jelly Bean update; thanks to the inclusion of Google's Project Butter everything is just that little bit quicker under the finger.
However, we'll get this caveat out of the way: upgrading to Jelly Bean can slow your Galaxy S3 down dramatically. From what we can gather, this is due to some elements of Android 4.0 still pervading through the OS and eating up resources.
Here's the kicker: you can either reset your device to factory settings to clean things up and get the super whizz-bang fast motion for the user interface, or leave it on Android 4.0 to preserve your data. You can back up most things before the change, but in reality there will always be something you lose, be it the saved game or some text messages – so be warned that could be a problem.
It's not all phones that have this issue of course, but we experienced it on our network-free handset and it proved to be quite an issue. However, for most people it's going to be fine but let's run through the key differences with the interface (although we have put some more updates throughout the review where relevant too.)
For a company that, just a few years ago, was seemingly haphazardly throwing together user interfaces we're incredibly impressed with the level of detail offered from this area.
On top of that, we've still got the same power and connectivity management icons for easy turning off and on of the key elements in the phone. However, the move to Android 4.1 has facilitated a change in the way you get your messages, with everything presented in a fuller manner.
Instead of just being told you have multiple messages, the names are listed. Contact pictures are included next the sender, and the uppermost missive (be it an SMS, an email or other kind) will be displayed in full. Essentially, the screen space is used more effectively, and while there's a lot of information the layout is impressively clear.
Blocking mode
Another new feature of the S3 Android 4.1 update is the addition of Blocking Mode, which is the equivalent of Apple's Do Not Disturb.
It works as you'd expect, shutting the phone down when turned on, and you can no only specify what style of communication you want to receive (no calls during a meeting, for instance) but you can also set up the people you want to be able to break through the barrier, which is helpful if your wife is set to go into labour and you're watching the football peacefully.
The ability to time-set it is excellent as well, but the only iffy point is that if you have blocking mode activated, it shows as an icon in the notification bar.
We want to use it every night to stop being woken up by a buzzing handset, but we can't bring ourselves to clutter that icon bar at all times. Also, it would be nice to set meetings in your calendar with blocking mode engaged when created - come on Samsung, you know you can do that one.
Home screen modes
The Samsung Galaxy S3 has proved to be an immensely popular phone, and despite its power has been picked up by a number of users with a wide range of usage models. This means some people don't want to set icons and widgets all over the place, which is why Home Screen Modes have been added in.
This option, found in the settings and offered when you first boot up the Jelly Bean update, will allow you to have the obvious functions of the phone to the fore so it's a more simple process to use it day by day.
We can't see a huge amount of people shelling out for this phone and not wanting to have a little tinker with the UI from time to time, but the mode is there for those that want it.
Lock screen
The lock screen on the Samsung Galaxy S3 is now a much more interactive place, with the ability to unlock it in so many different ways. You can have loads of information on there, such as a news ticker or the weather in your local region, and now you can unlock using face, face and voice, the familiar swipe and holding the display and picking up the phone.
We tried to get on board with the latter method, but in practice it's not useful, as there are many times when you want to unlock the phone and view it on the desk or on a dock. If Samsung could combine the two of these, it would be a much better idea.
Voice unlock was a little tricky to use as well as being a real hassle to do just to unlock the phone… if you're that worried about security then just use a pin code or pattern. The Face Unlock function is really just a novelty that will quickly wear in day to day life.
Google Now
The other big addition to Android 4.1 is Google Now, which is a way of searching without search. The idea uses cards to give you information on travel times (based on real-time information on disruptions or traffic) or nearby weather – you can see a more in-depth look at the list over at our Android Jelly Bean review.
The service is pretty unobtrusive as well, meaning while you can get a little too much information at times (we don't want to know the timetable of EVERY bus stop we pass and stand near) there is some really helpful stuff in there. And of course you can choose the things that you want to see, so if you don't want to be told when there's some decent stuff to photograph nearby you don't have to.
The updates land in the same notifications bar as everything else, but the Google Now screen is a different application altogether. It's the new kicking off screen for any Google searches too; get to it either by hitting the relevant update or long-pressing the home button to bring up the multi-tasking window.
Of course this system is designed to be used with a virtual home key, but Samsung has thankfully moved away from that idea on the Galaxy S3 and as such had to come up with an alternative.
Google Now works very well in practice, and things like being told when to leave to arrive for upcoming appointments are really useful. However, there's not a lot of quality control on offer, meaning you can be told to go anywhere with an address attached, which is no use if you have a shared work calendar.
Interface (part one)
Samsung has unsurprisingly re-tooled the Touchwiz overlay for the Galaxy S3, and has really gone to town with the whole 'inspired by nature' business.
For instance, the lock screen now becomes more interactive than ever. You don't get a visual clue when you're unlocking (which may be a nod to the litigation brought forth by Apple on the subject) but touch the screen and you'll see a little water ripple under the finger.
Added to that is a little water drop sound, and the whole effect is surprisingly pleasing. We can see it irritating a few people after a while though, so turning it off will probably be a decent option.
Samsung has taken a leaf out of HTC's book as well with the new overlay to the Galaxy S3, by enabling you to open up specific applications from the lock screen. Simply swipe the application upwards and you'll be taken directly to it without having to navigate within the phone itself.
We still prefer the HTC Sense method of dragging the icon into the styled ring, but it's a real time-saver when you want to open the camera to get a quick snap for instance.
The S3 wasn't the speediest to wake up from sleep mode - this was a problem we had with the Galaxy S2, so it's obvioulsy a facet of the way Samsung designs phones. This has been improved in the software update to be a lot snappier, but it's still not perfect... we could do with it being a bit faster when we press the button.
It's clear with the S3 that Samsung has worked out there's only so much it can do on the hardware side these days – not to say that we're unimpressed with the spec list - and as such has tried to bring the unique flavour through the interface instead.
The 1.4GHz quad core Exynos processor is among the fastest Samsung has launched - it's not got the 40% speedier A15 core from ARM involved, but that's not available in quad-core format yet, so we'll make do with the popular Cortex A9 design.
With the re-worked Touchwiz, there's a definite sense the whole process has been simplified, as the phone has got a much easier feel to it when swiping around. That's not to say there aren't loads of widgets to be played with, but there is less clutter on the larger screen.
The widgets selection has also been given an overhaul with the new software update - meaning you've got the ability to choose from larger calendar widgets, All Share Cast and more - have a play around as the new options will vary, but do check it out.
The dock at the bottom of the display has been increased to now hold five favourite items, which is a real plus for those who want internet, mail, phone and messaging all within easy reach (as well as the app menu).
Another Jelly Bean update we think should be brought to the attention of users is the icon management, borrowed directly from the stock Android 4.1 OS. Before, dragging and dropping an icon on top of others would just see the phone digitally shaking its head at you, meaning you'd have to 'drop' the app you wanted and create space for it.
Now everything obligingly shuffles around where you want to place it (the same being true of widgets) and you can organise things visually, rather than having to draw a schematic on a notepad just to know where your space is.
It's annoying that you still have to create folders though - stock Google allows you to drop icons on top of one another to create clusters of similar apps, but with the Samsung Galaxy S3 you still need to manually make a folder before you can lob stuff into it.
Swiping around the display was easy as pie – it's not exactly taxing on the processor, but given that the HTC One X is one of the most powerful phones out but can't manage to stop live wallpapers freezing, we're always happy to see slick interaction.
However, there is always worry that the quad core 1.4 GHz Exynos CPU could suck power a little too dramatically – and to that end Samsung has come out with an innovative eye-tracking method called Smart Stay.
This idea will track your eyes when looking at the display, and dim it when you're not checking out your phone. We're giving it a proper test in a later section of the review, so keep an eye out for that later on.
Smart alert is also present, and will be a lot more useful than voice activation. Pick up the phone when you've got a missed call or text and it will vibrate gently in your hand in combination with the notification light to let you know you're a popular bunny.
In truth, the fact that the notification light is there is more useful when picking up the phone to see if anyone has got in contact, but it's a neat feature that adds to the overall effect of the 'human integration' of the phone.
Samsung's quick control functions are thankfully still available in the drop down notifications menu, easily accessed from the top of any screen – we're glad they're still there, as it makes doing things like turning the Wi-Fi on and off much easier.
However, there is one annoying feature here – while there are loads of options, such as Bluetooth, mobile data and GPS, the bar will always scroll across every time you open the notifications bar.
Yes Samsung, we get it: you've got loads of options up there. Now stop moving it every time!
Interface (part two)
As with many new Android phones, Android Jelly Bean is embedded out of the box, meaning you've got a plethora of options when it comes to notification management. You can easily get rid of anything that you don't care about by simply swiping the alert left or right – it's a really neat system that means you can leave the bits you really care about.
With Android Jelly Bean, you're now getting Google's Project Butter, which makes everything that much smoother under the finger. On top of that, the notifications bar will be one of the key areas where most notice a big change.
Like on the Galaxy Note 2, the information when dragging your finger down from the top of the screen is far richer than before. You've still got the same brightness alteration bar, but the settings icon is more prevalent, the clock is larger and the network connectivity status is now at the bottom of the sliding bar.
This last element might not sound like much, but now you can tap the top of the screen in any app and see the date, time and the network you're connected to – not just the signal strength.
The neatness is reproduced in the application management pane: when holding down the Home button at the bottom of the phone you're presented with a long list of all the applications you've recently opened – another flick of the finger and they're shut down.
One of the problems with the Galaxy S3 when it first arrivedwas this feature; it was so slow. Ridiculously so. We weren't alone in our criticism of how long it takes to activate once you've long-pressed the home button when the S3 first launched - we were disgusted that a key action was so poorly implemented.
However Samsung has finally pulled its finger out here and given us an instantly-acting pop-up, and it's also got some new friends at the bottom. The Google Now option is flanked by an icon to shut down all the open applications, as well as being able to jump into your RAM usage and cut that down as well.
It's a useful trick, but it would be even better if we could customise those icons so you've always got the apps you want at your fingertips... it's not really an effort to jump into settings from the notifications bar once in a while to clean our RAM usage, and many people will never even bother.
However, this is different to the task manager Samsung has installed in the Galaxy S3, where you can look at running applications and the amount of power (and therefore battery) they're sucking down at any one time, which is very handy for when you're wondering why your phone is overheating so much – not that we noticed that very much during our review.
In terms of management options, there are more than ever before – the battery usage meter is joined by the data management tool that enables you to see which apps are sucking down the most bytes, and also (and quite neatly, using sliding bars) enables you to set warnings for when you're getting close to your data limit and when you've reached it.
You can even tell the phone to stop connecting to the internet over 3G if you're worried about your data charges after a certain period – this is certainly going to satisfy those who don't ever know how much data they're using, because you're in total control.
The menu system is very easy to use as before – sort your apps chronologically or alphabetically – and if you're not a fan of the standard grid system you can chuck them all into one long list.
There's a tab for apps (which you can filter to just those you've downloaded) and also widgets too – with the seven enabled home screens on the top to chuck them into. There are loads to choose from (with more to come as you download applications) which can get a bit chaotic when you're scrolling through.
And if you want to uninstall apps, simply open up the option from the menu in the App drawer - much easier than messing about through the innards of the phone or heading through Play Store.
We noticed one issue with the interface speed: namely when pushing the graphics chip harder (perhaps loads of internet tabs or a pretty game) and the interface will have to redraw when pressing the home key.
This happens a whole lot less with the Android 4.1 update, to the point where it's really negligible... however, if you do notice it happening you should think about shutting down some background apps using the long-press on the home button.
The other big feature for the S3 is the addition of motion control – not necessarily a new idea, but one that's been pushed to a whole new level in the phone.
This means that not only does turning over the phone or placing your hand over it mute a call, but also performs the same trick when playing music. It can even do it when turning the phone over in mid-air… which is quite impressive when you think the handset can tell the difference between the pocket and a desk.
Other features, such as tapping the top of the phone to move to the top of a list, are pretty cool, but ultimately pale in comparison to Apple's (likely patented) tapping at the top of the screen – and the S3's effort is nowhere near universal, so you can find yourself tapping the phone to no avail on more than one occasion.
There's another new feature with the software update: you can press the power key and change the sound settings.
It feels a little redundant as the same thing can be done with a drag down of the notification bar, but it harks back nicely to the Nokia days when this was the only way to change sound settings.
But overall the good news is the large screen looks great, the slick operation under the finger is exactly what we wanted and the little touches like the rippling lock screen do actually feel quite natural.
S Voice and Smart Stay
The other 'smart' idea Samsung had was the idea that voice recognition could work with Smart Voice – and we hope that this does actually happen as it was nowhere near Siri level on the Samsung Galaxy S2.
It's based on Vlingo, and offers you the chance to do pretty much everything Siri on the iPhone can do – it even parses Wolfram Alpha to get its information.
But it doesn't have Siri's sense of humour – ask it what its name is, and it will tell you Wolfram Alpha. It won't label the Nokia Lumia 900 as the best phone ever, and it also doesn't know the meaning of life.
However what it can do is simple tasks, such as opening the calendar, making an appointment or start playing a specific song or playlist. You'll have no joy with videos and searching the web can be a bind, but for items like setting a timer or an alarm or activating driving mode, it's perfect.
Well, we say perfect – the speech recognition is still a little bit iffy at times and the network connectivity can be frustratingly slow, but if you're in a car or somewhere else where hands free operation is a must then it's a good tool to have.
Another, larger, problem is the fact S Voice froze the phone a little too regularly, especially when activating it through Bluetooth headset or constantly jumping in and out of the app.
This has sorted itself as an issue largely - and to be honest, we used S Voice so little that it wasn't really an issue.
However, we wish Samsung would get rid of this idea of being able to wake the phone with a certain command – you can do so from the lock screen or the app itself, and you can train to phone to know your own command too.
But when will it ever be needed? If you're turning on the lock screen anyway, you can just press the home key twice to fire up the app, and if you're in it already, just press the blinkin' button at the bottom – we don't need to say anything to the phone.
You can't help but feel that S Voice is nothing more than a 'me too' addition to the phone – you can't do anything cool like take a picture with your voice, so what's the point? In fairness, we've said the same about Siri – it's not a novelty, but it's not a headline feature.
Over the last few months, we've not used it once since our original review, bar trying to set a timer, as we have done constantly with an iPhone. It didn't understand what was being said first, then made us confirm the timer. It renders the app pointless.
So to summarise: S Voice is about 80% as good as Siri, given that all we use that for now is setting a timer or making it say funny things.
Update: You can now see S Voice, Google Now and Siri in action and make up your own mind on how good they are in our video face off below.
Smart Stay
One of the other big-hitting features Samsung is talking about is the ability to track your eyeballs to make sure that the display stays lit when you're looking at it.
In theory this should mean that you can keep the screen timeout to a minimum of 15 seconds, and then never have to worry about it turning off – a little eye icon (eyecon?) appears in the notification bar when it's tracking your peepers.
In practice it works around 75% of the time… even in bright light it can sometimes still turn off the display, despite the icon showing up. In fact, the icon can pop up even when you're wearing sunglasses – so it's hard to trust it.
However, if you're in an evenly-lit space it will generally catch your eye and keep the display on – we just feel it should be completely flawless as a system when you're in a well-lit area.
Update: We've spoken to Samsung about this, and the brand has told us that the reason for both of these features being a little erratic is down to 'optimisation of cutting edge, innovative features' (read: they're new) and promises tweaks may be made in the near future to fix any issue. Here's hoping it's sooner rather than later.
It seems these tweaks haven't worked - Smart Stay still is totally erratic. It's a bonus feature that works to keep the screen on - but when it registers the eye and doesn't stay on, it's really irritating.
Contacts and calling
When it comes to contacts, the Samsung Galaxy S3 doesn't really stray that far from where the S2 left off – especially since the Ice Cream Sandwich update landed. This means a pretty average-looking list of contacts, with each tagged with a photo from either Google, Facebook or one you've added in yourself.
You may have noticed that Twitter is missing from that list - and that's because the social networking service has been removed from the contact integration. We first noticed this on the S2 ICS update but we're dismayed to see the same thing from the Galaxy S3.
Given it's been a stalwart for so many years on Android phones, we're not sure why it's been omitted from the S3 - the One X is all over it like a beaver at a wood-carving convention.
One of the big plus points of Ice Cream Sandwich on the Galaxy Nexus is the ability to see large, high-res pictures of your friends rather than teeny stamp sized pixellated messes - so we're really confused as to why the S3 has chosen to go down the latter route. Despite there clearly being a large enough space next to the square pic to have a much longer icon, the S3 won't let you choose such a thing.
This space is reserved for Google Plus updates, but given you're only going to have 1 in a 100 friends on the service and even fewer posting, it seems like a real error of judgement on Google/Samsung's behalf.
It's to the credit of the Galaxy S3 that you can choose the location of your picture for each contact, meaning you can have Google+ for some and Facebook for others, but the fact that even high resolution pictures are shrunk down to smaller versions is confusing.
Add to this the fact the picture will stretch when you get a call from said friend, and we can only recommend you head into the Facebook app and manually add their picture from a profile - which is both time-consuming and stalkerish.
Let's not get too hung up on the fact that the contacts system is uninspiring though - it's still one of the best out there even if it is mostly stock Android.
For instance, you have not only a dedicated ringtone but a dedicated buzz pattern so each person is still recognisable in the pocket. And from the menu system you can set defaults on everything from email addresses to names.
Plus there are loads of ways to save contacts in other places - Samsung's online account mirrors Google's by letting you merge them all together, with the added bonus that Samsung's doesn't have the same online mishmash of names when you go to browse it.
That said, the linking of contacts with social networks isn't as impressive as we've seen on the likes of the HTC One Series, where pressing the 'joined' section rarely gets you connected with the right person from Facebook if the names aren't identical.
It would be really nice to see the same suggested links we get from other manufacturers, but in these days of overly-litigated patents, perhaps that's simply not allowed. So we'd suggest you allow a good two hours to draw in all the contacts you can and then get all the pictures and defaults in place.
Not ideal, but once it's done you'll be cock-a-hoop with the ways in which you can see your buddies.
Calling
Calling on the Samsung Galaxy S3, to put it bluntly, couldn't be better in our eyes. Sure, it's a relatively simple function in today's smartphones, but it's still often ruined by brands not giving it enough attention.
Take the likes of noise reduction - in our tests, the S3 came out top in terms of calling the same person with traffic and wind behind us. Even walking past a building site the only criticism we were given was 'it's a tad windy, isn't it?'.
There's a new feature with the software update that enables 'Extra Volume' to be added in call (accessed through the settings menu) and it really does boost the volume from the earpiece - which was good to begin with.
Signal quality seemed to be average - we didn't notice any significant drops, but in the areas where we've had notoriously poor signal before (on the 3 network) there weren't any more bars of signal available to us.
But given dropped calls were very rare, we can't label this as a negative.
Then there's smart dialling - again, nothing special but we really miss it when competing phones like the iPhone or those in the Windows stable don't allow it.
Simply pressing the numbers will call up the corresponding letters, making tapping 323 the easiest way to get to 'Dad'.
Video calling is also well-integrated, with those on a similarly-enabled phone quickly picking up our facial features, even over 3G.
The effect was pretty smooth and clear too - when you'll use it is still debatable, but we were impressed nonetheless with the 1.9MP front-facing camera.
And for those worried about calling over Bluetooth, worry no more. The Samsung Galaxy S3 supports apt-X codecs, which produces some of the clearest sounds from a headset yet. And if you want to disengage the headset halfway through a call, two quick taps will see you talking via your ear (not literally) in a second.
Messaging
There are some that say that messaging isn't important on today's smartphones – but then again, there are some that say the moon is made of cheese and dinosaurs didn't exist.
The Samsung Galaxy S3 is one of the best messaging devices around – although we're saying that about a lot of smartphones at the moment, such is their prowess at talking to another person.
The Galaxy S3 comes complete with a large number of ways to talk to your buddies in much the same way Android phones have been doing for years. This means that you can email, SMS, message and IM all from within the phone.
It's nothing new, but then again, it's a system that worked pretty well as it was with stock Android, so Samsung hasn't changed it too much.
The messaging system looks much the same as before, with yellow and blue conversation bubbles the order of the day. You can also check to see if your Android-powered buddies are online through a little green dot next to their name in the contact list – this signifies if they're available through GTalk.
This interface has been improved slightly with the Android 4.1 update: messages are a little wider so you can see more easily the words you've been sent.
This is on top of other fun elements, like being able to set a background picture on the messaging screen and being able to alter the style and colour of the speech bubbles for the conversation mode.
You've also got ChatON as standard with the Galaxy S3 - this is Samsung's version of BBM or iMessage, and is designed to enable you to talk to others on Samsung devices with the app installed. We struggled to find many friends running the service though - even those with Samsung phones didn't have the app enabled or downloaded.
And let's not forget about Google+ here - it's very well designed and enables easy updating of your photos and such thanks to tight integration. However, being able to talk to these people using the separate Messenger app is difficult, as you're never sure who's online, unlike Google Talk.
The keyboard, like its predecessor, is not quite up to the task at the moment. We're talking shades of grey here, as many will find it quite adequate, but in our opinion the level of accuracy when tapping out a message isn't always the greatest.
Also, the predictive text option could still do with a lot of work, getting nowhere near to the accuracy of the likes of the HTC stock keyboard or third party options like SwiftKey.
The new software update adds in a new keyboard - nothing in terms of functionality, but the keys are more rounded and look a little nicer on the screen. The message box for new messages is now smaller, and you can delete individual messages.
It's nothing ground breaking but adds to the overall sheen of the app.
There are a couple of nice touches in here, in that you can use the Swype-like method of drawing a line from one word to the next to send a missive, which is pretty accurate when used slowly enough. Plus there's the nifty notion of being able to swipe the whole keyboard from right to left to open up the symbols section for ease of question mark-ery.
Then there's the notion of voice recognition for dictating your messages, which is a neat idea and one that Google's been floating around for a while.
There are actually two versions of the recognition software on the Samsung Galaxy S3: one from Google, and one from Samsung's Vlingo software. We noticed greater accuracy with Google's offering, plus the fact it will convert your speech in real time and will give corrections too.
You can also use the handwriting software too – but that's painfully slow and probably more useful for certain characters instead.
The landscape mode of the keyboard makes the characters easier to hit, but the problem is the size of the phone, meaning you may struggle to get up a good flow with the handset wiggling a little between your palms.
There's also a nifty feature within the People tab enabling you to send group emails or texts simply by checking the people you want to include - you have to dig a little to find it, but it's a nice feature.
Email
When it comes to email, there are two options on offer – the standard Samsung client and GoogleMail for, well, GoogleMail stuff.
We'll go through the former first – it's a big improvement on the, at times, hotch-potch mess of the S2 (although this was fixed in the ICS update). It works as an email client should now, although there's nothing in the way of fancy animations.
The layout is much simpler, enabling you to select messages and see who they're from. We don't really need too much more from our email software, and the fact you can actually see your emails when you want to makes it a big improvement over the original version from the old phone.
There's also the option to see said mails in either the standard chronological view or grouped together as conversations – although in this mode the experience is better on nearly all other platforms.
Plus you can move from one email to another by swiping as well - although if it's one that extends off the side of the screen, this motion can be hard to activate.
However, you can group every email account you've got into one easy to read space – whether you'll want the hassle is up to you, but it's a nice option to have.
Although if we're honest, it's still one of the poorer email apps on an Android phone. It doesn't hold a candle to the offerings on the iPhone, HTC One range or the Windows Phone inbuilt offering, as it constantly brings non-updates or just fails to connect to servers.
Again, it's a lot better - but Samsung had better bring its email A-game for the Galaxy S4.
The Gmail client is a different kettle of fish; common across all newer Android devices, this app uses some nifty animations, clever tags and large fonts to make swiping around messages very easy.
The only problem is HTML files don't display automatically – it would be nice to have something that enables you to add safe senders without having to enable them each time.
Internet
When it comes to the internet, there's no reason to think that a phone with a quad-core chip, HD screen and powerful GPU won't present a stellar internet experience. And the Samsung Galaxy S3 doesn't disappoint.
From the zoomed out web pages that offer still-legible text to the speed with which web pages render even over 3G, we're massive fans of this phone as an internet tablet.
The UI has been overhauled to present a smaller URL bar, a Forward button for easier navigation and an overall more fluid feeling to the handset.
There's only one flaw, and we'll get it out of the way first: when zooming into text you can't make it all reformat to fit the page the closer you zoom in. There's a decent level of auto-fit to be had when double tapping the words, but you can't select your own level sadly.
However, the rest of the sensation is excellent - and it's only going to get better for some regions. The UK is on the cusp of getting DC HSPA (which is capable of delivering 42Mbps connectivity), but sadly it appears the Galaxy S3 is not able to access this signal speed.
Only LTE-enabled handsets will get the next-generation speeds, so other countries get the blazingly fast connectivity - although over Wi-Fi there were some lighter websites that rendered in the blink of an eye already.
Web pages are rendered in clear and crisp formations that lacks for nothing compared to a larger PC screen - Flash video plays right out of the gate, although we recommend you look to pick up the Flash Player 11 app before trying out all the sites (and make sure you have Flash player enabled in the settings as well).
There are a number of other little features we like, such as being able to browse in incognito mode in the same way as Google Chrome on the PC - you know, for the times when you're buying your wife a present and don't want her to see a copy of your web history.
The Chrome browser is now enabled on the Samsung Galaxy S3, thanks to it coming with Ice Cream Sandwich, so this means synchronised bookmarks over a PC, tablet and smartphone provided you're signed into Google, and this worked very well in practice - almost eerily so at times.
You can also perform that lovely option of saving for offline reading - should you come across an article you want to peruse on the commute when you know you'll be stuck without signal, you can keep track of it in a separate pane in the bookmarking section.
We've been fans of the bookmarks in Android for a long time now, and while we're a little sad to see the 'Most Visited' pane disappear, the History and visual bookmarking system more than makes up for it.
The option to change the brightness setting for the internet browser only is now gone, with the notifications bar option now deemed to be within easy enough reach.
We did like being able to have the brightness up for when we browsed, as it meant you could have a high power saving mode enabled when tracking through whichever hipster sites you frequent throughout the day, but have a colourful and bright screen for the rest of your activities, thus saving on crucial battery life.
There was another glitch that we found too: when pushing the web pages too hard (zooming in and out, navigating too fast) the Galaxy S3 internet browser would sometimes just crash and dump us back to the home screen. Not a huge problem, but one that does need to be ironed out.
However, the overall effect is stellar; if you're after one of the best internet phones on the market then the Galaxy S3 is certainly one of the best out there.
Camera
The camera on the Samsung Galaxy S3 is one of the biggest surprises from the Korean firm, and shows quite a step-change in the way it approaches mobile design: it's stuck at 8MP with the sequel to the S2.
We don't think this is much of a problem - the humble phone doesn't need any more than 8MP to take good quality snaps - but Samsung has always chased specs in the past, so this is an interesting move.
What do you get for that lower spec? Well a thinner device of course - today's camera modules are very much slimmer than their counterparts a year ago, and a 12MP sensor would have had to be thicker or take inferior quality shots.
See the S3's new camera features in action as we demo Buddy Photo Share, Burst Mode, Face Zoom and more in this video:
It's not a next-generation sensor though - we're seeing very similar hardware as that used in the Galaxy S2 with improved (and much improved, at that) software optimisation on the phone rather than bringing stonking picture performance.
One of the big claims for Android 4.0 is the speed with which snaps can be shot when out and about, and that zero shutter lag is very much in effect here with the Galaxy S3.
While there's no dedicated shutter button, getting into the camera is a piece of cake thanks to the number of options you've got.
Making sure one of the icons is on the lock screen definitely helps, but there's also a little trick we uncovered that enables you to boot the camera even more quickly: hold the screen and turn the S3 into landscape mode (when on the lock screen) and the camera opens up instantly - and it's even faster with the new update.
Which Ice Cream Sandwich-ified quad-core handset shoots the best photos and video? Find out in our S3 vs HTC One X camera test comparison video:
We measured the time it takes to go from pocket to picture, and while it's a little slower than the HTC One X, it's barely a second slower - we reckon you'll be pleased with the results of under four seconds.
Samsung has thankfully dialled back the range of stupid settings you can mess around with on the Galaxy S3, which means a slicker experience when trawling through the settings - plus you can edit the icon placement to make it simpler to find the functions you use most often.
It has, however, added in a new feature with the software update: a wand will enable you to apply effects before shooting. One of the most striking is the change to filter out colours, meaning you can get some great shots where only blue and green are on show, for instance.
One of the most novel features on the Galaxy S3 is the ability to recognise faces from within photographs - this is meant to make it simpler to find the people you care about. We're sad the results don't go into the contact's profile within your phone (which would make sense given you have to assign a contact to the tag to make it work) but if you've got them in a group you can see that simply from within the Gallery app.
However - in practice the trick is a little bit hit and miss at times. We'd estimate around 80% of the photos we took got the face spot on (although sometimes questioned whether the tag was right rather than automatically setting it) but the other times it had no idea.
The issue seems to be if any part of the face is covered or in slight shade - we're not talking total obfuscation, so we were a little surprised.
However, when it does work, it's mightily impressive, and you can email the photo to those involved (but sadly not upload to Facebook pre-tagged).
There are a number of other features we like too: Burst mode works well, taking 20 photos in a row at around 10 per second, which is great if you're trying to take a picture of your cat doing a back flip and want all of the sections.
Best Shot can also be used with Burst mode (where the Samsung Galaxy S3 works out the best picture for you from the selection) but you're limited to eight shots in this scenario.
We're probably being a little bit picky, but the processing time after each Best Shot set taken was too long in our opinion - we want to see evidence of that quad-core monster in action. Plus it would be good if we didn't have to set the Burst mode up each time we wanted to use it - on the HTC, it's simply a case of holding down the shutter button.
The front-facing camera is closing in on being a decent sensor in its own right - at 1.9MP it's capable of taking non-grainy self portraits and can even record in 720p video as well - we're fans.
The other features, such as HDR mode, Beauty mode, Panorama and Smile Shot, all offer excellent picture quality if you're into that sort of thing - although we can't really see a use for Cartoon other than for those who want a blurry mess to show to friends.
Overall, the speed with which you can take a picture, the options on offer and the sheer range of settings for those who want to dig a little bit deeper (the contrast, exposure, ISO levels and white balance tweaks will appeal to many) all combine to make a cracking camera that will be more than adequate for most.
Update: Why not see how the S3's camera compares to the iPhone 4S, HTC One X and Galaxy S2 in our video below?
We can't see the Galaxy S3 winning many cameraphone of the year awards, thanks to last-gen hardware onboard - but the pictures you take are available quickly, have a variety of ways to improve them and certainly look pretty decent.
Camera samples
Easy close up shots can be taken in under three seconds from the pocket
Wider shots pack a more than acceptable level of detail
Brighter scenes do well, although can look slightly over saturated when viewed on a computer screen
The two shots above were taken using the autofocus to adjust the white balance by tapping on separate areas of the screen
Smile shot works very well - although we suspect 'handsome mode' was also engaged
HDR processing actually took quite some time, and the results aren't quite up there with the iPhone 4S'
Panoramas were easily and quickly taken on the Galaxy S3, but be aware of changing light levels
Cartoon mode. Point? None.
The Galaxy S3 struggles somewhat in lower light, thanks to a last-gen sensor
Night mode is OK, but this is the fifth attempt at a shot with very, very minimal movement
The flash is super bright, and you'll need to sit further away to get anything good
This is our other cat. We didn't want her to feel left out.
Video
Video recording follows the power of the camera on the Samsung Galaxy S3, meaning you've got a strong tool for movie making that doesn't come over-stuffed with modes to play with.
In truth, the options are pretty streamlined – and it's good that it defaults to 1920 x 1080 video recording from the off, as other phones don't manage the same trick and will have people recording in lower resolutions for ages before they notice.
The Galaxy S3 will record at 30fps as well, but apart from that the settings are pretty limited – no slow motion video here. You can tweak the important things though, such as white balance and anti-shake (which actually does a relatively good job and keeps your footage looking all slick when you're jiggling around like a bowlful of jelly).
Toggling the video light during filming isn't an option, so you'll need to get this sorted before you start up your home movie - but then again, when you compare this to the 15 or so menus you had to go through on a BlackBerry to simply turn the thing on, this perhaps isn't as bad as it seems.
During the filming there are some decent options though, such as being able to turn the autofocus on and off. One of the worst parts of any self-made movie is when the camera inexplicably will start blurring up your beautifully balanced scene, so you can tap to make it focus on the area you want and then simply turn off the AF so it doesn't happen again.
Zooming in and out is also well catered for, as you can just pinch to zoom to get a larger or smaller image. The quality doesn't degrade too much either, which we were pretty impressed with, and overall, there was very little we wanted for on the video recording side of things from the Samsung Galaxy S3.
Media
When it comes to media on a smartphone, users are now being spoilt for choice by the top manufacturers – where the Samsung Galaxy S2 was one of the most impressive media phones out there, it's quickly been caught by the competition.
That's not to say the Samsung Galaxy S3 isn't a superb effort in the media space – in fact, the biggest criticism of it here is the fact that it's actually trying to do TOO much, which is never a bad thing.
But a quick word of warning to those looking to get the 16GB version of the S3 – the OS takes up a whopping 5GB of space, so you're only getting 11GB capacity in reality.
But that's not a huge issue, thanks to that lovely microSD card slot. Hear that, HTC and Apple? EXPANDABLE MEMORY. It's a good thing.
Plus Samsung has one-upped HTC here by offering up 50GB of Dropbox storage, rather than the 'meagre' 25GB option on offer from the Taiwanese firm. If you run out of space now, you're doing something a little odd.
(Oh, and quick note on the bundled headphones: they're excellent for free options. They're a little lightweight and lack bass quality compared to high-end options, but the in-ear nature and microphone work very well).
Music
The Music player on the Samsung Galaxy S3 is certainly a decent enough effort and offers all the functionality we're looking for in a mobile phone - from smart playlists to wireless streaming, it's all there.
For instance, the second you connect headphones to your Samsung Galaxy S3 you get not only the chance to fire up the music player, but look in the notifications pane and you'll see all the apps that are optimised for headphones, be it the music player, FM radio or YouTube.
The notifications pane is actually a pretty pivotal section for the music player, as you can also pause and skip tracks from here - it's something Samsung has offered for years, and we're glad it's still there. It's now flanked by a music widget on the home screen too, which hasn't always been there in times gone by.
But onto the important stuff: the quality of the sound. And yes, it's good. Very good indeed. The tonal quality is very even throughout listening, and the sheer range of equaliser settings is dizzying. Most of them are slightly useless and very similar to one another, but the difference in quality between 'dance' and 'rock' is enough to warrant use.
There's also a virtual surround sound option in there as well, which we were surprised did actually give the impression of 7.1 sound (well, it could have been 5.1. Our ears aren't THAT discerning). It only worked on tracks encoded at a higher bitrate, but it's a good option nonetheless.
In terms of actual use, the Music player is pretty standard on the Samsung Galaxy S3 - that's not a bad thing, but there's not much to really talk about. The buttons could do with being slightly larger, especially given how much space the album art is given, but it's not going to cause tears before bedtime or anything.
We were intrigued to try out a new feature from Samsung called Music Square here - it's been done before by other brands and basically works out the intensity of a song and ranks it by mood.
So if you want a 'passionate' and 'exciting' track for...whatever you're doing.... then the S3 should have that ready for you. You can even select the level of passion/excitement.
In practice - well, it's a bit hit and miss, as many of these have been. It's good the music is processed from the device itself, rather than calling up a database in the sky, but some of the choices were a little odd, and made us not want to rely on Music Square to really guess our mood.
You can drag your finger across the square to choose a 'progressive' playlist based on your mood - the odd additions aside, this is a really nice way of making a playlist from your tunes.
DLNA is also superbly well supported throughout the Samsung Galaxy S3, and enables easy access to any tracks shared from nearby devices. Well, that's the theory - in practice, it was a little more difficult. Firstly, if you've got AllShare installed on your PC then you'll find two locations popping up on your phone for tracks, and once the list is populated (which takes a long time) then we couldn't play anything thanks to a 'license issue'.
It's not a big deal, but the idea of streaming tracks from a PC to your TV via your handset was a lot easier on the Galaxy S2. We're going to have a little more of a play with this feature to see if there's something obvious we're missing, but it's unlikely the non-technically minded user will want to mess around with it too much.
There are a few other options to talk about here: for instance, dive into the menu and you'll see that if the music file you're playing has embedded lyrics, you can see them on the screen at the same time. It's a shame Samsung couldn't repeat Motorola's excellent trick of being able to call them from an online database, but we can't see too many people missing this as a feature.
You can also set the play speed from within the menu, all the way up to 2x. Why you'd want to, and why it's hidden in a menu, we don't know, but it's there if you want it. We can confirm it does speed up songs. Perhaps you want to make your tunes that much more squeaky when annoying others on the bus?
We'd also like to see an option to update the album art without needing to connect to a PC – why is this not included when a multitude of third party apps manage the same trick?
But overall, the music player from the Samsung Galaxy S3 gets a big tick in our book. Sure, we'd have loved to see a super slick DLNA player, especially as the Nokia N900 from many moons ago could do it, but we'll survive and hopefully work that one out.
Another feature is Samsung's Spotify-baiting Music Hub, which is the place to get more tracks on your mobile.
We've since made a short walk-through video so you can see the Music Hub interface:
Video
The Video player on the Samsung Galaxy S3 is one of the best out there on the market - without question. We're not talking about third party options from Android, as there are some crackers that many will want to upgrade to, but this is one of the best stock players we've seen.
One of its main strengths is the layout: it's futuristic, simple and easy to use. The buttons are large enough, and the slider is easy to grab to move through a video at your own speed. It's a shame you can't swipe on the screen anywhere and do things like move the brightness up and down and scroll through the movie at different speeds, but as we said, the likes of MX Player will sort you out from the Play Store.
The range of files supported is brilliant too: from AVI to MP4 to Xvid and DivX it's all there, and will appeal to those who like watching movies on the go. You can simply change the ratio of the file, which is a function that so many seem to omit at the moment - sometimes our files aren't the best-behaved, so this option is critical.
Then we get to the playback: it's excellent. The deep contrast ratios, the colour reproduction; it's all pretty much class leading. We can't say it's necessarily better than the HTC One X, which has the same pixel count (but Super LCD 2 technology rather than Super AMOLED HD) but that's just preference - both had an excellent image when watching all kinds of videos.
Even the Video player home screen is ace, as each thumbnail (which tells you which video is which... are you listening, HTC?) will start autoplaying - such is the power of the quad core processor.
What is obvious is the need for a response from Apple on the screen size issue: the 3.5-inch option is just too small for video watching in any long scenario. The 4.8-inch screen is fantastic, and we thoroughly recommend it to anyone who likes watching a whole host of videos.
Pop Up Player is also on offer from Samsung, and is a cool function to have. Press the button at the bottom right-hand side of the screen and you can keep the video playing when you're browsing the web or flicking through photos.
It's flawless in terms of performance, but we're not sure that it's actually useful. Given that attention spans are already being destroyed by the likes of Twitter and Facebook, we don't think you need an extra distraction on your smartphone.
But you'll still play with it once in a while and throw the video around the screen... just because you can.
The other function is watching videos from your PC or other DLNA-enabled device, and unlike the music player the news is much better: it works. Simply jump into the Video Player app and you'll be able to search for nearby devices and see a list of shared videos.
It's not the fastest out there, but that's more to do with the speed of Wi-Fi these days more than the phone itself.
So, once again - Samsung has managed to produce an industry-leading video player through the Galaxy S3.
Video Hub
With the smartphone market becoming so congested, the notion of just chucking together the best technology in a slim package isn't enough any more, so other services need to be integrated.
The Video Hub from Samsung needs to offer users loads of content without breaking the bank – and it doesn't really do either if we're honest.
The selection is very minimal at the moment, with TV shows not available as one lump and costing £1.99 ($3.50) roughly per show.
Movies come in at around £8 (or $11) to buy, with rentals slightly more expensive than their counterparts on Google's Play Movies store. And there's not even anything available in HD.
What it lacks is the likes of HTC Watch's 5p rentals section, or the breadth of content Apple has through iTunes. Until that gets sorted, we can't see this store being overly used.
FM radio
The FM radio on the Samsung Galaxy S3 has all manner of functionality built into it – most importantly the fact you can record the station you're listening to. So many other manufacturers don't offer this, and we love being able to nab whatever we're listening to for offline fun.
The scanning is very strong as well – we found many stations that most other phones couldn't pick up in the same area.
AllShare
AllShare is a big feature of the Samsung Galaxy S3, with dedicated PC software, remote connectivity and DLNA all involved and ready to go.
However, it's currently a pretty confusing place to be – you can download AllShare for your PC that sits alongside Kies and lets you keep up to date with the nearby PC and DLNA-enabled devices that you can share stuff with.
But if you've got this running on a Windows 7 PC and you scan for it on the Galaxy S3 you'll be offered the choice of two servers, with different files on each depending on what you've shared.
It makes sense that both are being broadcast, and it's excellent they can be picked up – we'd just prefer to be able to negotiate through folders, as all your photos are lumped into one big grid of snaps on the phone.
(As a side note, the Gallery app will cache all your Facebook photos as albums, and it's really cool to be able to browse them on your phone – although you can't save them to the handset).
The other feature, AllShare Cast, is designed to enable those with similarly-enabled phones to share songs and video altogether and connect remotely to another device (as long as it's powered on).
We sadly couldn't get this feature working, as the AllSharePlay website isn't live yet to get the software to make our PC into a remote station.
Oddly, you do get access to web services from the AllShare Play app on the phone, but only SugarSync… why have this as the only option when you've given us 50GB of Dropbox storage Samsung?
So to summarise: AllShare's local connectivity from the Samsung Galaxy S2, which we loved a lot, has now been integrated into the phone, and AllShare Play is more for remote working… check back and we'll let you know how we get on when the service is enabled.
Gaming
The gaming experience on the Samsung Galaxy S3 is meant to be one of the best thanks to that Mali-400MP GPU running at the heart - Samsung is promising big things from the gaming side of things as a result.
It's still something of a tradeoff though - in our opinion, the ability of the Nvidia Tegra 3 chip at harnessing all those polygons and pixels is still the most impressive on a smartphone or tablet.
You can also compare the respective gaming hubs on offer - admittedly, Nvidia has created a dedicated TegraZone portal to get your hands on as many high-power games as possible, but the option from Samsung is currently almost useless.
You get two zones: one for premium games, and one for the more casual player (noted as 'Social Games'). However, the premium offerings are far away from a) taxing the phone in any way and b) worth paying for in reality.
Sure, there are some half decent ones in there, but nothing that compares to the likes of Riptide GP on the HTC One X.
However, a note on that title - while you don't get all the whizzbang effects, such as water splashing up at the screen and the turbo mode causing the graphics to speed up (both of which Nvidia has stolen for its Tegra 3 devices... and are really only window dressing) the experience is still awesome.
We're also finally starting to see evidence of proper gaming to tax the Samsung Galaxy S3 - for instance, we're able to play N.O.V.A. 3 on the phone too, and it's quite the match of the iPhone variant, proving that all that power isn't going to waste.
Any criticism of the gaming capabilities of the Samsung Galaxy S3 is hard, since it's clearly a handset that's able to handle most things you can throw at it.
However, Google's Play Store needs to up its game (so to speak) as there's really very little to help out the more interested gamer. You can find casual gaming as its own section, but the more resource intensive titles are hidden among the cutesie tower defence and stick man games.
But try the likes of Grand Theft Auto 3 or Dead Space and you CERTAINLY won't be unimpressed by the polygon management or general responsiveness of this, Samsung's greatest gaming device yet.
Battery life and connectivity
Battery life. One of the most contentious elements still on smartphones and one we're keen to see stop being an issue – and it's thankfully nothing to worry about on the Samsung Galaxy S3.
See how it fares in our tried and tested battery power video:
The 2100mAh battery is designed to make sure that the large screen, with millions of pixels, isn't going to suck down the power as fast as it might do. Samsung has even upgraded this to offer a 3,000mAh option, which will appeal to a vast amount of people - although it's at least £40 if you want the extra power. Does come with an NFC chip, though.
That's not to say the screen isn't thirsty – it takes up a good portion of the battery meter each time you check in – but overall, battery life was not an issue we butted up against regularly.
Let's put it into some context: subjecting the Galaxy S3 to the same test we do all smartphones, it's come out as the second longest-lasting device of all we've checked out.
We ran a 90 minute video at full brightness and applied all accounts (Dropbox, Facebook, Twitter, Exchange etc) and set them all to the most regular updates over Wi-Fi.
The Samsung Galaxy S3 managed to get to only 82% battery power by the end of the test – compare that to the 60% of the HTC One X and 74% of the iPhone 4S and you can see why we're impressed.
Under heavy load, the phone will last about eight hours. And we mean heavy: the battery test we mentioned plus an hour of photography and video.
And after that, half an hour of playing Riptide GP and then some web browsing for a further hour. Then around 20 minutes of music listening before an hour's session on video.
We also had the voice-control activated from the lock screen the whole time, which Samsung tells you is a real battery killer as it listens to what you say.
This pushed the battery to about 20%, after which we killed it trying to synchronise over Wi-Fi direct in about 45 minutes (although this can be a real battery drainer).
In real use, as in not checking it every seven seconds to play with it (the curse of the new phone) you'll get a much more reasonable battery life. We regularly saw power drops of only 30% by 2PM, and a healthy 25% by bedtime.
This will change during use, obviously, but it's much harder to hammer the battery through actually doing things the phone is supposed to, compared to the HTC One X.
The battery life of the Samsung Galaxy S3 on the Jelly Bean update is improved ever so slightly – assuming you do a full factory reset when updated. This is only the experience we had with our handset, and others have reported a clean update process without needing to reflash.
However if it doesn't take properly, then you'll notice a real drain on the battery until you decide to do the factory reboot – shame on you Samsung.
But as we said: when it's all working correctly you'll get even better battery life than before, and the Galaxy S3 already offered market-leading power management as it was.
Update: We've recently got our hands on the new 3000mAh battery that Samsung is offering to upgrade the battery life of your phone. We ran a comparison test between it and the normal version, whereby we played a 90 minute video on flight mode at full brightness.
The larger power pack only dropped to 88%, where the standard option managed to get to 82% by the time the movie had finished. We're testing the battery more thoroughly at the moment to bring you more in-depth findings, but if you must buy the phone NOW, if you can get past the increased thickness, it's definitely worth the investment.
As we said, it's not a cosmetic update you'll be getting though. The improved battery makes the back so much thicker, and gives the impression of an iPhone 3GS when held in the hand.
It makes the phone feel much cheaper to have that extra power pack in there, but if you're looking for more power then this is probably something you're not so worried about.
The phone still feel solid, just not as high-quality (which some people found debatable anyway) as before.
Connectivity
If you're one of those people who want to have the phone all their friends have got, then the Galaxy S3 is the one you'd better hope they have.
When it comes to connectivity, it's unsurprising that the Samsung Galaxy S3 is fully stocked – in fact we can't think of a single thing that we'd want to see that's missing.
From NFC to advanced location sensors, everything has been packed into the 8.6mm frame.
Samsung has built on the Android Beam system - based on NFC - that Google created to enable you to share things such as map directions, web links and YouTube videos. However, it's souped it up by using Wi-Fi Direct, which can transfer items at dizzying speeds.
Think pictures from one phone to another in seconds, and HD videos in around a couple of minutes - although sadly the trick will only work from S3 to S3 at the moment - we're hoping Samsung changes this in the future, as Wi-Fi Direct connection should be easy to do within brands.
With the move to Android Jelly Bean, the Samsung Galaxy S3 has been imbued with greater powers than before, but no Wi-Fi Direct with other models.
It can now send all manner of media formats, not just contacts and YouTube links to HTC or Sony phones.
While this means that it will take an impossibly long time to transfer video between the handsets (and will eat the life of the battery) pictures are much easier to share without having to worry about data costs.
It's still hard to share things between phones, as trying to not press something on the screen of one of the transferring handsets is difficult; that said, we love the soft beeping sound made when the process is initiated. Swings and roundabouts, really.
Dual channel bonding is also on offer for the Wi-Fi brigade out there - we noticed very little in the way of slowdown when it came to connecting over Wi-Fi, and the signal strength held well even with our terrible Sky router (which loves to spit out a single bar of reception even when right next to the box).
Samsung hasn't stopped there though - get yourself an MHL lead and connect up to the TV through the microUSB port and you can mirror your device onto a larger screen with no problems... and it's a much better way of using your phone as a games controller than going through AllShare Cast, we've found.
USB To Go is an underrated trick that we're surprised isn't being more widely used (although it's probably because the adaptor is so jolly hard to get hold of). Being able to connect a USB stick or hard drive to the phone when out and about is a great feature to have, and one we're glad to see again.
GPS is onboard, and it's backed up by GLONASS - if you don't know, this is a system that's similar to GPS (developed by the Russians) that's slightly less accurate than the US-created version - but add the two together and you've got a superbly quick fix when it comes to locating yourself on the Maps app... we're talking a couple of seconds max most of the time and world away from the rubbish reception of the Galaxy S2.
(Apparently GLONASS is necessary on mobile phones now to avoid being subject to an import duty when exporting to Russia - we don't care, as it gives us faster tracking and phones are cheaper for our Russian friends. Everyone wins).
As we've already discussed, DLNA is onboard to enable easy connection to nearby devices - most of the time you'll have to trigger this manually in the menu, but once enabled the streaming is pretty quick.
It's not perfect by any means, and still lacks the slickness we'd like to see from wireless streaming, but should you get your setup working well you'll enjoy being able to get files from your computer without a hassle.
Bluetooth 4.0 is onboard the Samsung Galaxy S3 as well, with the standard A2DP streaming to Bluetooth headsets also on offer.
This means when the technology starts to mature you'll be able to create personal area networks (PANs) where you can connect up a variety of sensors and have them stream to your phone - and there are a few of those listed in the accessories section already.
And let's not forget the fact you can turn your phone into a wireless hotspot with ease, enabling you to share your data connection with all and sundry. You'll have to make sure it's enabled by your networks first, or else you could be forced onto another price plan to make it work.
So, as you can see: connectivity is high here and we haven't even got onto the myriad PC connections on offer yet...
PC connectivity
With most smartphones, the notion of connecting up to a PC to get files and updates is growing increasingly antiquated - but Samsung is forging on still with its Kies software.
This is Samsung's version of iTunes, although it's not really got anything like the same power behind it. It harks back to older phone software at times - insofar as it still took us three attempts to install the correct drivers to sync up the Samsung Galaxy S3.
But once in, the experience isn't terrible - we were instantly asked if we wanted to use the iPhone back up Kies had found to populate the S3 with new content, which was a nifty touch. We instantly had loads of photos from another handset without having to do any dragging and dropping, and if we hadn't got all our contacts from Google sync then this would have been ace.
However, getting other content onto the phone isn't the fluid experience we might have hoped to see for a company that's trying to out-do Apple in the media stakes - you can't do simple things like dragging and dropping files onto the phone icon; instead you have to right click and tell it to 'Transfer to Device'.
At least that process is fairly quick - even with conversion on some video files there was no problem with it.
And if you're one of those people with fancy Wi-Fi enabled computers (you know... everyone) then you can connect to Kies over Wi-Fi instead of tethering the phone to a PC through a cable. However, this is a slower way of doing things, and we had trouble getting the phone to auto-update when we got into the Wi-Fi zone, which is what we'd have hoped for from such a service.
And when the Galaxy S3 is connected to Kies via Wi-Fi it's not got the same speed of operation either - we noticed significant slowdown from a handset that is definitely snappier in most cases. This will obviously depend on your home setup, and it's something we've seen on many other phones too.
If you're interested in connecting to a PC but not messing around with Samsung's software, you could just drag and drop files over the Windows Explorer interface - it works just as well thanks to the Galaxy S3's ability to play nearly every file under the sun.
You can connect the phone in either MTP or Camera mode - both of which will enable you to access the file system (although you'll have to use the former method to connect via Kies).
Here's one big issue though: Mac connection simply isn't available in USB mode. You can connect up to Kies, but the old way of being able to drag and drop files from your Mac won't work any more. It's a kick in the teeth for Apple computer users, and one that's odd when Samsung is trying to wrestle away fans from the iClan.
Something else that's missing from the Galaxy S3 is the ability to interact with the phone via an internet browser - a novel idea from the S2 - but given that process was as slow as pulling teeth, we really don't miss it.
Apps and Maps
Apps pre-installed on phones are now seen by some as bloatware, so it's good to see that the Samsung Galaxy S3 hasn't gone too far down this route.
There are some new things added in to replace the likes of the Reader Hub, and we've now got new toys from Google as well - but it's the UI tweaks to some of the old favourites that we like.
Voice recorder is one that we use quite a lot these days, being all journalistic and that (apparently), and it's one of the best we've seen so far. It doesn't do much more than recording voice, but it does that with aplomb - picking up sounds that it really shouldn't thanks to the sensitive microphone.
You've also got a more reactive decibel meter, meaning you can tell how loud a person is being while the chat is going on - handy indeed.
The Alarm function has also been imbued with even greater powers, and considering most will use this app nearly ever day, it's a good move. Not only have the likes of Smart Alarm been added, which enables you to have a softer sound before ramping up in volume, but Briefing is also in there too.
A word of warning: NEVER use this feature if you don't want to wake up to a heart attack some days. A quick burst of music is followed by a posh robot telling you the weather, the time, any appointments you have that day and the news headlines. It's hard to customise, and scares the life out of your comatosed brain. Still, fun to play with though...
Then we get into the 'S Suite' of apps - and these are of mixed value to the phone. Things like S Suggest give you apps you might like, and aside from the sexism of choosing apps for him (workout apps) and for her (messaging apps) does help separate the wheat from the chaff when it comes to trying to know about the first things you should download to the phone.
S Planner is an advanced calendar function that shows so much information you might want to think about dialling it back, as it can be a bit messy. Plus you can see different tabs by simply swiping left and right with two fingers across the screen - which is always fun to do.
S Memo seems to have been copied across from the Samsung Galaxy Note, and is brought in to really utilise the S Pen accessory - sold separately, of course. You can sketch and squiggle using your finger, or write text in here instead, as there's no Notes app any more.
Google also wanted to get in on the act, enabling you to rent movies at a slightly high price from Play Movies - and the selection isn't brilliant either. We'd also like to see a lot more in HD too - and some discounted titles wouldn't go amiss.
We're still waiting for the really attractive video download service from someone on a mobile phone - and Play Movies still isn't it, in our opinion.
Play Books is a lot better though - the prices are quite in keeping with the Kindle offering and there are loads of sales running most of the time. It's not quite got the catalogue Amazon does, and the experience of reading an ebook on a phone isn't as fun as a dedicated ereader, but it's a good service nonetheless.
The Play Books app is well laid out though, giving you a modern 3D interface to scroll through to get to your favourite tomes. You can tweak everything from page colour and brightness to size of text and line width - not earth-shattering but very much welcome.
There's even the option to have the books read aloud to you if you're against any kind of intonation in spoken word stories.
Maps
Mapping on Google's Android devices has always been excellent, and there's nothing better at the moment for this than the Samsung Galaxy S3.
Thanks to the latest version of Google Maps, the HD screen is well optimised to show high levels of details, vector-based graphics for easier zooming in and out of places, and has even greater detail than before when it comes to finding out about your surrounding area.
It's fast – very fast – at locating you thanks to the aforementioned GPS and GLONASS satellites on offer, meaning a maximum of three seconds for a fix outside, and around 10 seconds on a train or near a window – which is mind-blowing.
The speed of finding new places and loading the 3D maps is as fast as ever, although we're not seeing an improvement over dual core phones here. But then again, we're struggling to see a reason for the quad core processor at all at the moment.
Places has been updated as well within Google Maps, as the chances of finding a decent coffee shop or pub in the vicinity is much higher than before – we used to just point and hope, but now there are several establishments on offer.
The new version of GMaps also enables pre-caching (through the Labs trial section) which means you can pick a place and save 10 miles of mapping info for a foreign trip, if you don't want outlandish data charges.
Transit lines have been included in the software for a while, but are now supplemented with live Tube information in the UK should you need to find out which lines are borked.
And let's take this phone out and about: we're talking about directions and Navigation on offer here, and as before, they're excellent.
The former will show a simple route to wherever you want to go and how long it reckons it should take you in normal conditions – you can choose on foot, by public transport or by car if you're in the UK.
However, if you're in the latter mode of transportation you can also activate Google Maps Navigation to get your hands on free sat nav wherever you are.
This is a great system – it not only has voice feedback and clear maps, but will also draw in live traffic updates to give you a real-time analysis on how long the route will take.
This part is scarily accurate; we're talking to within 100 metres at times, so planning a re-route is definitely an option (when you've stopped at an appropriate place… we would never condone trying to do this when driving. Google says so too).
If only the app could tell you local re-routing options to get you around the traffic… you can always choose two or three routes from Navigation, but they're mostly large-scale options rather than helping you get around a tipped-over tanker in Torquay.
Benchmarks
Antutu
Peacekeeper
SunSpider
Hands on gallery
Official gallery
Verdict
If you've read the whole way through this Samsung Galaxy SIII review, then well done to you; you've navigated TechRadar's most in-depth rundown of a phone ever.
And the reason we went into such depth was simple: the Galaxy S3 is one of the most advanced smartphones in the world ever.
With a host of new features, a spec list that's close to being unbeatable in the modern climate and a pretty darn palatable price on contract (if you're with the right network), there's a good reason why the Galaxy S3 broke pre-order records the world over.
And now we've lived with the phone for a while, we can feel more comfortable in our verdict on one of the most sought-after handsets out there.
We liked
Now this part we've been looking forward to – the chance to wax lyrical about the plethora of great things the Galaxy S3 does.
Do we choose the blazingly-fast core that is almost infallible when it comes to navigation? The bright and clear Super AMOLED HD screen which never fails to raise a small smile when watching video (especially HD stuff)?
We could move onto the fact that despite packing a similar sensor to the S2, the camera is still a cracking effort that will please most. Or we could point out how mind-blowingly fast the internet browser is.
Oh, and lest we forget the storage: up to 128GB onboard the phone and a further 50GB from Dropbox. The design is also very sleek and the weight is minimal too – and battery life borders on the stellar at times.
Heck, we even like the way the lock screen ripples and the ease with which you can open apps from there. And once other people pick up the S3, we're looking forward to sharing things over S Beam in seconds, rather than faffing about with uploading to servers or emailing files.
As you can see, it's all about faster, smarter and being more minimal than ever before while keeping the spec list at the bleeding edge of technology.
We disliked
This was initially a difficult section to write, but as we've lived with the phone a few more niggles have presented themselves - but don't worry, it's nothing major.
S Voice and Smart Stay currently don't seem like much more than gimmicks, with the former especially quickly getting (metaphorically) dusty within the phone. Voice accuracy is just too poor for general use, and some of the responses border on the weird.
That's not necessarily a slight on Samsung, more on the crazy culture Apple has created by telling us that voice control is important. It really isn't until it's unerringly accurate.
The design is probably the biggest bone of contention for most, and while it's not stellar in terms of a 'premium' feel, it's not terrible. It's weight over form - if you like a lighter pocket feeling, then the S3 is a winner. If you prefer glass and brushed metal, or an overall chunkier-feeling phone, there are options from HTC, Apple and LG that you should look at.
Other problems include a sub-par email client, the sheer lack of Mac support on this top-end phone, and the re-drawing issue when heading back to the home screen. It's nothing to really be concerned about, and they're massively outweighed by the positives, but it's worth noting.
Final verdict
If you've come straight here and looked at the score, let us put it into some kind of context for you: we agonised about whether this was another five star phone in the same mould as the Samsung Galaxy S2 - but simply put, it doesn't have the same wow factor.
There is still room for improvement here. Whether it could be achieved without a massively adverse effect on cost, we don't know, but there are some things that could be added on future models to make it impossible to not buy.
If the Samsung Galaxy S3 had landed with a premium metallic shell, in the same vein as the HTC One S for instance, any question of design standards would have been obliterated.
The email client, the Mac support and the overall erratic nature of the UI at times don't scream 'high end' to us, and for a five star rating we have to be amazed constantly.
And other little things such as S Voice and Smart Stay not being quite up to the task just yet mean it's hard to state this is a phone almost without flaw, especially given the competition it faces.
But make no mistake: the Samsung Galaxy S3 is the best smarpthone on the market. It's got every kind of feature we could ask for and more, and raises the bar once again in terms of what consumers should be expecting in terms of battery life, processor speed and media management.
Would we recommend you buy one? Yes, without hesitation. If you're torn between this and an HTC One X, it's a very difficult one to call – the camera on the One X is better in some respects and the overall feel might appeal. But in terms of pure usability and power, we really like what Samsung has put on the table.
The changes to the notification bar are worth the update alone, so if you're on the fence over whether to buy the Samsung Galaxy S3, then the Jelly Bean overhaul should be enough to sway you to buy one of the most popular phones around.
The big question is whether the Samsung Galaxy S3 matches or even surpasses the iPhone 5. Well, there is not much in it between the two phones. The S3 is heavier - 133g, compared to 112g - and bigger in chassis. But this is in no way surprising, considering the screen size is a whopping 4.8 inches, compared to the iPhone 5's 4 inches.
The iPhone 5 does beat it on pixels per inch - with Apple's flagship packing 326ppi, compared to the S3's 306ppi. There are also indications that Apple's new A6 chip outperforms the Galaxy S3's 1.4GHz quad-core one, but the day to day difference is negligible.
As for phone cameras, they both have an 8MP sensor onboard, but the S3's front-facing effort is a little more detailed - at 1.9MP, compared to 1.2MP.
One of the other sticking points seems to be with Map functionality. Google has recently announced that it is enabling search history in its Maps, while Apple's iOS 6 Maps have been criticised for being, well, threadbare when compared to Google's offering.
And the final question: should you upgrade from your Samsung Galaxy S2? If you're a fan of the latest smartphone technology, then yes: the Samsung Galaxy S3 is worthy of any pocket (as long as you like the design).
But the Galaxy S2 is a long way from spent yet – the new ICS update has kept it fresh, and the speed is still very quick under most conditions.
So to summarise: if you've been waiting feverishly for the new Samsung Galaxy S3, you will not be disappointed. It's fast, it's sleek and it packs the latest technology that will get your pulse racing.
The recent update has made it an even better phone, and we've been using it out of choice for the last few months - given we've got the choice of most handsets out there, that's a pretty big recommendation for any phone. If you're torn though, do have a look at our iPhone 5 review and our iPhone 5 vs Samsung Galaxy S3 vs Lumia 920 vs HTC One X feature, to see what it offers.
Samsung faced an almost impossible task in trying to create a worthy sequel to the Galaxy S2, but the Galaxy S3 should definitely be one of, if not the phone you should consider on your next trip to your local handset emporium - and we have no problem giving it the title of 'Best in Class' for TechRadar's smartphone category.
Oh, and here's a little treat for all of you who made it this far... and love 80s commercials:
Samsung Galaxy S3 Galaxy S3 Samsung Android TouchWiz smartphones TRBCExtra awardrecommended phonespromo-en-gb phonesrecommended-en-gb