Samsung Galaxy Portal i5700
11th Mar 2010 | 12:08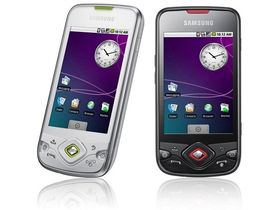 Can Android 1.5 and black plastic cut it in 2010?
Samsung Galaxy Portal: Overview, design and feel
Samsung, the famed Korean jack-of-all-technologies, is having another go at mastering the Android phone scene, after making a bit of a mess of it with last year's original Galaxy.
The i7500 Galaxy was a brave first attempt, but Samsung threw it away, alienating early adopters by not bothering to update the phone past its basic Android 1.5 operating system.
Seriously, there are petitions all over the place. Some men are still very angry about it all.
And now, learning from past mistakes, comes the Samsung Galaxy Portal - which looks pretty much identical and features... Android 1.5. Oh well. Let's give it a chance.
First impressions of the Portal are good. Nobody's going to be won over by black plastic in this day of hyper-alloy unibody combat cases and NASA-derived coatings, but at least the Portal feels solid - and the grippy, rubberised-effect of the back cover should minimise dropping/pavement catastrophes.
In fact, the Portal manages to be thicker and generally chunkier than last year's Galaxy, measuring 13.2mm thick compared to last year's model's 11.9mm.
The OLED screen of the previous Samsung Galaxy i7500 has been dumped, in favour of reliable old LCD technology - coming in at a thoroughly middle-of-the-road 3.2-inch in size.
It's bright and big enough, and if you haven't yet used a modern smartphone you'll be staggered by the HVGA resolution.
The phone's button layout is a slightly tweaked version of the original Galaxy's control array, which sees acres of the finest black plastic bent into a curved, yet unintelligible collection of icons you might expect to see on the command console of an alien space vessel.
You don't get a trackball or optical pad - directional controls are taken care of by a clickable d-pad reminiscent of old video game controllers.
But this is actually fine - text editing is much easier with a reliable, clicky button.
Moving the cursor back three characters to correct a typo in an important, what-time-is-dinner-related text message is much easier when you can simply BASH-BASH-BASH a button three times, rather than fiddle about scrolling a little wheel into position - or even worse, trying to poke the screen at the relevant point.
The screen is also impressive to use - capacitive tech means it's solid and glassy, and it's every bit as occasionally patchy as most other touchscreens out there.
You'll soon get used to pressing a bit harder around the edges. Even Apple hasn't mastered that yet with the iPhone.
The standard Android buttons are all present, but there's no explanation of what they do. The 'Menu' button doesn't say 'Menu' - all you get is an icon that looks a bit like a tray with an arrow on it.
The Home button is easy to comprehend thanks to the little house illustration on it, but we can't help but pity some poor old dad who's going to get given one of these as a free upgrade and be left utterly confused by it all.
The handset also feels very 'bottom heavy' - trying to press back or home while holding it in one hand is fiddly, and worse still is the unintelligible approach to button placement - there's thousands of them. Metaphorically.
You get a separate 'lock' button on the top-right edge of the case to wake it up and send it to sleep, a camera button on the bottom-right side, and the volume up/down clicker to the left - picking the Portal up without accidentally pressing something requires forceps and a very steady hand.
If only Samsung would bite the bullet and copy HTC's idea (like on the HTC Hero) of having the power buttons also acting as your screen lock - it'd then be possible to do away with at least one plasticky button, shaving fractions of a penny off the manufacturing cost, too.
At least there's a dedicated key for taking photos, which removes the utterly awful concept of operating a camera using a touchscreen button.
Samsung Galaxy Portal: Interface
If you're not experienced with Android, you'll find the Portal a confusing phone to get to grips with.
For those of you who've only experienced Android via a quick fiddle on a demo phone in Carphone Warehouse at lunchtime, the operating system's basically reminiscent of a simple touch-enabled version of Windows.
The desktop, which Google calls Home, spans three screens in the Portal's standard Android 1.5 (some providers skin this to give you more Home areas and Android 2.1 comes with five), so you're able to curate three separate collections of shortcuts.
This means you can have a page full of all your social tools, a page for your web stuff, then a third desktop space with boring work links.
There are two types of Android Home button - icons and widgets. Icons are straightforward shortcuts to apps, a pretty simple concept. Widgets are a little different, coming in all sorts of sizes and offering interactive content.
You might download a Twitter widget that sits on your Home screen, taking up three icon slots and letting you watch a live stream of Tweets without having to fire up a custom app.
Or there are news apps that load RSS feeds directly onto your Home page, giving you the latest important business (or meaningless celebrity) news without having to open an app at all.
Which is the great thing about Android. The Portal's rather bland and featureless default installation is a blank canvas that can be changed beyond all recognition thanks to a good hour of app downloading through the Android Market, and you'll soon ditch the bland analogue clock for something much more swish.
The Portal's faster-than-many 800MHz processor (including the Sony Ericsson Satio and iPhone 3GS) means loading apps and swiping your way through pages is very quick, with the Settings and Applications lists populating themselves with data much quicker than they do on some slower Android phones.
The phone comes out of standby mode in an instant, and you're able to pull the menu tab up to start browsing your phone's content as soon as it's woken up. Using it's a breeze.
However, the overall feel of the Samsung Galaxy Portal's interface lacks the smooth gloss of the likes of HTC's Sense overlay - it just feels a little sparse and featureless.
Samsung Galaxy Portal: Calling and Messaging
There's no flashy TouchWiz (like that used on the Samsung i8910HD) or Sense overlay on the Samsung Galaxy Portal; all you get to manage your calling and contacts business is the standard, barely updated Android default system.
The Android Contacts list is not your boring old list of numbers. Each entry has a separate field for mobile, home and work numbers, plus you can add as many extra fields as you like, if you have very, very well connected friends.
It supports fields for storing instant messaging IDs for your chums as well their postal addresses, and from the Contacts tab you may specify a separate ring tone for each caller if you want advance warning about who it's going to be on the other end.
If you're sociable and have lots of friends, there's a separate Favourites list pulled up from a tab within the Contacts, where you can access the numbers of people you call the most - you can also add people to this by pressing the star next to their name in the main listing.
You also get a call log of all incoming and outgoing calls, for keeping tabs of who the wife's been talking to.
Calling quality was fine, the same as on the HTC Magic or T-Mobile Pulse - not too digitised and more than loud enough.
Sending a message brings up Samsung's only software enhancement on the Portal - the Samsung keyboard.
It's basically a slightly larger version of the default Android keyboard, along with a customised dictionary, T9 predictive text options and the option of using a 123/ABC numeric style keypad.
If you're a bit old and still stuck in your T9 ways, it's handy to have your old numeric mobile typing style replicated - but this does run a bit slower than the stock Android keyboard, with the auto-suggest taking a fraction of a second to pop up its possible words.
Elsewhere, it's a standard Android 1.5 phone. Messaging is, therefore, pretty cumbersome. You send text messages by opening up Messaging or picking a name through the phone's Contacts, bumbling through way too many message screens in the process and wondering why texting is suddenly 100 times harder than it was on your old Nokia.
But that's not Samsung's fault. And if you don't like it there are numerous other text interfaces available on the Android Market - you just have to sift through them a bit to find them.
Your Gmail account is handled seamlessly by entering your username and password on startup - the inbox is automatically downloaded and messages update at very frequent intervals (especially if you're one of those popular sorts we hear so much about).
Non-Gmail email is also handled incredibly well. Android's email client supports numerous external providers, and it seamlessly connected to our Hotmail and BT accounts through its own tool in seconds.
It certainly beats the traditional living hell that is guessing your POP3 settings when setting up email on other gadgets.
And the other bit of good news - when the expected Android 2.1 lands to turn your Samsung Galaxy Portal into the Google super phone you always dreamed of, that will probably come with Exchange functionality as well.
Samsung Galaxy Portal: Internet
Here's a rare area where the Samsung Galaxy Portal shines. Its 800MHz processor helps kick web pages into view very promptly indeed - and lets you scroll around them with ease.
This is a lot better than the likes of the T-Mobile Pulse or HTC Magic - which aren't slouches themselves when it comes to web browsing.

It's also a darn sight more fluent than the Samsung Jet - which also has an 800MHz processor, but fails to render web pages well at all.
One of the areas the Android OS really shines is its web browser, which somehow manages to be so simple you hardly even know it's there.
Android's default browser is the model of simplicity. Pages load up without any visible tabs, toolbars or anything else on the display, giving you a full 3.2-inch window into the internet.
For keeping track of what you've been doing - and to save you having to retype URLs on the touchscreen - you get History and Most Visited tabs, accessible by pressing the Menu button, plus you can organise your own bookmarks through the Menu as well.
And no, there's no "pinch to zoom" - but when you touch the screen while browsing it pops up a magnifying tool, letting you zoom in and out in increments or hit a button to shrink the entire page to fit on the screen, which then gives you a magnified square you can use to examine the page in detail.
Also, it's here you get a great impression of how accurate and responsive the Samsung Galaxy Portal's touchscreen is - selecting tiny text links from a list is easy, with the most delicate and precise of finger touches selecting what you need.
Install one of the alternate Android browsers like Dolphin or Opera and you soon realise how little point there is in trying to do anything too complex on a touchscreen.
More buttons and more options means mo' problems, to misquote the famous hip hop song.
And if you're really after 'pinch to zoom' on pages you know which phone to flit off and buy instead, don't you?
Samsung Galaxy Portal: Camera
The Samsung Galaxy Portal's camera quality is surprisingly good for a 3.2MP snapper that's been rammed into the body of a mobile phone.
The focus is a bit slow, with the phone pausing, steadying its view, doing a bit more auto-focusing then waiting for you to release the button - and then waiting a little bit longer before deciding to capture what you're pointing at, if it's still there.
It takes a while, so don't go expecting to capture anything on the spur of any moments, but at least there's a dedicated camera shot button, which makes using the clunky default Android camera tool a little bit more bearable.
Photos come out at a decent 2,048 x 1,536 resolution, although, as with every mobile phone camera in existence, it's quite poor in low-light conditions.
WIDE SHOT: The camera's a bit over-eager to emphasise the brightness of things. Shadows are wiped out in favour of exaggerated colours when shooting in good light, with shots often coming out more bright and enhanced than necessary
CLOSE UP:The auto-focus, while slow, does a good job when taking pictures up close - the sample shot we took of our emergency backup Nokia 6680 mobile was surprisingly sharp, even with the camera held around 30cm away from the trusty last-gen brick
NO MACRO:There's no macro option, so don't expect to be able to take detailed pictures of the back of your hand, but as an all-rounder the Samsung Galaxy Portal's camera performs very well
LOW DETAIL: Detail tends to fall apart into abstract blotch territory when shooting complicated things like, er, grass and trees, but the output is decent enough to more than handle your social networking photo sharing needs
STRAIGHT LIGHT:Shooting straight into bright light is not advised on the Samsung Galaxy Portal, with very little detail captured
You can also select "camera nightmode" from the camera menu to enhance brightness, if you don't mind your shots looking like you've taken them within the blast radius of a nuclear detonation.
However, the lack of any sort of flash won't help you snap compromising photos of friends drinking specialist cocktails in specialist bars.
Another feature added in is Android lets you upload photos simply, but just clicking on them and sending them to Facebook or Gmail or whatever else you've installed. It's clever like that.
The Samsung Galaxy Portal's videos are recorded in 3GP mobile format and look passable, appearing in a fuzzy, blocky resolution of 352 x 288 - and VLC tells us they run at a frame rate of around eight or nine frames per second.
We also encountered error messages about not being able to play the video's sound on our PC due to a missing Samsung audio codec.
Samsung Galaxy Portal: Media
When it comes to media on the Samsung Galaxy Portal, there's Google's Android YouTube client, which is pleasingly simple and uncluttered, while music playback is handled by the bland default Android tool.
It is not glamorous, but will make 'Bad Romance' spew out of your headphones in an emergency.
The Music Player widget takes up four icon slots on a Home page and is alarmingly simple - you can pause or skip to the next track, that's it.
Tapping the widget takes you to the main Music Player menu, and from there it's as easy as long-pressing on a song to add it to an existing playlist or to create a new one from scratch.
The supplied headphones have a flimsy 'Pause' button on the wire, but if you want to offend the artist's integrity by skipping album tracks there's no option but to get the phone out and use the touchscreen.
At least the phone's volume control works while the screen is in standby mode, so you're able to adjust sound levels without having to de-pocket your mobile.
If you can live without a way to skip tracks without poking the screen, the Samsung Galaxy Portal's a workable MP3 player option - but you might need to upgrade the supplied 1GB microSD card if you get bored easily of the same few albums.
The photo gallery is the standard old Android one, so don't expect to be blown away - unless you get very, very easily blown away by things like grey tabs. It also confusingly houses videos as well.
If you're into doing it yourself and downloading video content through 'unofficial' channels, the Samsung Galaxy Portal copes well.
It was able to play an off-the-internet MP4 of Doctor Who, scaling down the original file's 640 x 368 video size and making it look superbly sharp on screen - and it played with no glitches whatsoever.
A 720 x 416 resolution AVI file of Relocation Relocation (don't ask) played just as well, despite Samsung only listing MP4 and 3GP formats on its official Samsung Galaxy Portal spec sheet.
The other video playback option on the phone comes via DivX, which supplies its DivX VOD Player.
To activate it on your phone you must first install the latest DivX Player on your PC or Mac, then synch it with the Samsung Galaxy Portal by copying across a registration code, then play a sample video on your phone.
And then, once you've gone through that significant kerfuffle, you're greeted by the option to pay for and stream DivX content on your Samsung Galaxy Portal. We doubt many people ever will.
A very capable video player, as long as you don't mind the rather basic front end.
Samsung Galaxy Portal: Applications
It's your standard Android 1.5 default suite on here, with only a few nods to the year 2010.
Samsung has, for some odd reason, decided to pre-install a copy of location-based app Layar onto the phone, so you're able to do such clichéd tasks as look for branches of Starbucks or search for pizza delivery companies in the vicinity.
But honestly, who really uses these tools outside of TV adverts? Who thinks to themselves "I fancy a pizza, I'll fire up my mobile phone and point it at the sky to see if there's one nearby"?
Of far more use are the other Google services you get as part of the Android spec. You need a Google account to activate the Gmail stuff (and access the Android Market), and it's essential that you do - as it's through your Gmail account that all your Contacts are backed up and synchronised.
You might not think you need that if you've not had an Android phone before, but you really do, as once you're all synchronised it's possible to edit your contacts on your PC and have them all automatically copied back to your phone nice and neatly.
Need someone's number but left your phone somewhere else? Google's got a copy on your Gmail Contacts list. That's a life-saver, if you're the sort of person who still makes actual phone calls.
Elsewhere under the Apps tab sits a Facebook and MySpace button, if you're into boasting about your life to people you never really liked 10 years ago.
The only other time-saving tool pre-installed by a lackey in the Samsung factory is the Switchers app, which handles shortcuts to quickly toggle settings for Wi-Fi, GPS, Bluetooth and Google's Autosync option.
This means you can turn everything off if you're in a sulk and want to avoid everyone. Or save a bit of battery through killing the Wi-Fi and Bluetooth when out and about.
Samsung Galaxy Portal: Battery
Get ready for a shock - the Galaxy Portal has a surprisingly decent battery. Samsung's previous Galaxy, was lambasted by all and sundry for eating battery life willy-nilly, despite having a supposedly more efficient OLED screen.
The tables have been turned here, with the Samsung Galaxy Portal's regular LCD screen somehow staying alive for a full day of in-bed, on-train, in-office, on-train then in-bed-again casual Twitter and web action.
Battery enthusiasts will know there's a good scientific reason for all this - the Samsung Galaxy Portal has a 1500mAh battery, slightly larger than the usual 1400mAh versions or lower you find in other phones. Every little helps.
You'll still spend most of your time worrying about unnecessary apps running in the background guzzling power and leaving you without text access at unfortunate moments, mind - but that's all part of the modern smartphone game.
Battery makers need to get their act together, basically, as they're seriously holding back technology - although there are some free task-manager applications on the Android Market that can seriously help maintain battery life.
Samsung Galaxy Portal: Connectivity
You'll be doing all your home browsing and Tweeting while connected via Wi-Fi, and the Portal does a fine job of instantly hooking itself into your router without whining for attention, then slipping surreptitiously back onto 3G when the signal disappears.
There's a 3.5mm headphone jack on the top of the phone, which is welcome, but the awful, awful supplied headphones, which are the type you have to physically force down your ear canal, are crackly right out of the box.
At least ours were - instant upgrades are recommended, and at least there's no proprietary adaptor to worry about.
Sound quality was tinny even with the in-brain headphone fully rammed right into our poor little earholes - Samsung's headphone quality is usually pretty good, so we're not sure what's happened here.
You'll be wanting some proper headphones, or, better still, a proper MP3 player - as Android 1.5's default music-playing software isn't the greatest or most user-friendly tool in existence, and you don't want to hammer the battery of a smartphone any more than necessary.
There was a 1GB microSD card in our Samsung Galaxy Portal box, along with a large-size SD Card adaptor if you've left your Micro-USB cable in the wrong house and need to copy off some photos.
The PC situation is a weird one - on the original Samsung Galaxy i5700, the phone came with Samsung's New PC Studio in the box.
Not so with the Samsung Galaxy Portal - but no worry, as this can be downloaded from Samsung's website to give you all manner of connectivity.
Well, no actually, because it appears that like its bigger Android brother, the Galaxy Portal is not supported by NPS as yet. We've no idea why Samsung seems to secretly hate mating a PC and an Android phone, but it clearly does.
At least you can drag and drop files to the SD card via the microUSB cable - this means getting media onto the phone is a cinch.
Samsung Galaxy Portal: Verdict
Samsung is playing an odd Android game. Korean rival LG is playing the budget-Googlephone game with the likes of the Intouch Max GW620, and across the water HTC is bringing out better and better Android phones like the Legend seemingly every day.
But Samsung seems to be happy to wander around making basic Android phones like the Samsung Galaxy Portal and then shouting about its new Bada platform instead.
Given that both are based on a Linux kernel you have to question whether Sammy's heart is really in the Google game.
We liked
Performance was robust. Our Portal never crashed or got bogged down with multiple apps open, while the battery lasted significantly longer than this reviewer's ladylike HTC Magic routinely manages.
Turn Wi-Fi and GPS off and you'll easily make it through a full day of semi-pro use.
The capacitive touchscreen is responsive, bright and the phone feels reassuringly heavy and solid. The 3.2-inch screen size is right in the Android 'sweet spot' - big enough to see and use, small enough to slip into the tightest of trouser.
Android 1.5, although visually rather basic, runs fast and does what a smartphone needs to do - and you can, of course, customise the hell out of it through the Android Market.
Plus there's a beta version of Android 2.1 for the European version of the Portal (known as the Galaxy Spica) floating about online, so an official update for the Portal ought to be imminent.
We disliked
While Android 1.5 runs the majority of apps on the Android Market, the lack of a few headline modern tools that require Android 1.6 and above will kill this phone stone dead for hardcore Android nerds.
If it doesn't get an update soon, the Portal will be yesterday's news.
The button layout is a mess. Anyone new to Android will be utterly bewildered by the black plastic nightmare beneath the screen, while the Home button, which is squeezed right into the edge of the case, is tricky to press if you're a right-handed phone user.
Left-handed people will love it, though. Perhaps left-handed people is the mystery demographic Samsung is targeting with this amazingly average phone?
Verdict
There's nothing wrong with the Galaxy Portal, but there's also nothing exciting about it.
Offering the same spec a mid-range Android phone would've shipped with 12 months ago, there's little here to boast about - especially when we've been bombarded by hype regarding dazzling new HTC glamour-phones for the last few months.
Even Samsung itself seems desperate to make the Portal seem more exciting than it is, claiming in print adverts that it comes with a "visual search engine" - when in fact that refers to the Layar app that's comes pre-loaded, and is freely available on every Android phone via the Android Market.
However, the Portal is tough and perfectly functional. The fact it ships with Android 1.5 and Samsung's poor history in offering updates will put off the geeks, but for the average punter looking for an affordable 'in' into Android, it's ideal.
It does come in for £20 a month on T-Mobile (that's for 24 months, unless you want to pay £360 for the phone), but it's the Vauxhall Astra of Android - dull but will get you where you need to be.
Want to get rid of your old mobile?Compare and get the best price
Android