Samsung Galaxy Mini 2 review
£149.95
26th Sep 2012 | 16:28
Budget handset, but that's not a bad thing
Introduction
The Samsung Galaxy Mini 2 showed up at MWC 2012 in February and slides in at the lower end of Samsung's range, but it's not the firm's bargain basement offering.
Replacing the original Samsung Galaxy Mini, the Galaxy Mini 2 can be picked up for around £150 ($200) SIM-free and you can get it for free on contract starting at just £10.50 per month.
As we've mentioned, the Galaxy Mini 2 isn't Samsung's entry level handset - that accolade goes to the Galaxy Y – which means it lines up against the likes of the Nokia Lumia 610, HTC Desire C and Sony Xperia U.
Pick up the Galaxy Mini 2 and you're met with that undeniably plastic finish which graces Samsung's whole range of smartphones from the quad-core Galaxy S3 flagship, all the way down to the likes of the Galaxy Ace 2 and Galaxy Y.
Not that we expect flashy, aluminium frames at this price point and the Galaxy Mini 2 is a solid little handset which nestles snugly into the hand, with the rounded rear complementing the curvature of the palm.
While it's easy to get your mitt round the Samsung Galaxy Mini 2, keeping it there is slightly more of a challenge as the smooth plastic offers little in the way of grip, and we came close on several occasions to dropping the handset during our review period.
The Galaxy Mini 2 may only weight 105g, but it has a solid build and we didn't experience any flexing of the chassis when we put it under pressure, so even if you were to let it slip out of your sweaty grasp, we reckon this little Samsung could take a few knocks.
Up top there's a 3.5mm headphone jack and the power/lock key is found at the top of the right side of the Galaxy Mini 2 – the position of choice for Samsung on all its smartphones these days.
On the left you'll find the volume rocker switch, which is easy to hit thanks to the petit 109.4 x 58.6 x 11.6 mm frame of the Samsung Galaxy Mini 2, allowing you to manipulate every last millimetre of the handset, even when held in one hand.
Below the volume switch there's also a microSD card slot, covered by a small but easy to open plastic door – allowing you to expand on the average 4GB of internal storage and thanks to the handy side-access, you can swap between cards without having to remove the battery or even the rear cover.
The bottom of the Samsung Galaxy Mini 2 sports a centralised microUSB port and a pin hole for the microphone, while round the back there's a 3.15MP camera and a small, slightly raised speaker grill next to it.
There's no LED flash for snapping in low-light, nor is there a front facing camera for video calls and vanity checks.
What you do get on the front of the Samsung Galaxy Mini 2 is a 3.27-inch TFT display with a 320 x 480 resolution – so an improvement on the 3.14-inch, 240 x 320 screen of the original Galaxy Mini.
Below the display there's the famous physical Samsung Galaxy home button, flanked by touch-sensitive menu and back keys – all of which we found to be suitably responsive to our various pokes and prods.
Switch the Galaxy Mini 2 on and the screen lights up to provide a decently bright and clear display, with text easy to read and colours relatively well represented – more than acceptable for a smartphone in this lower price bracket.
Flip the handset over and peel off the colourful yellow cover (black is also available), which is well connected to the rest of the frame but still easy to take off, and you'll notice that on the other side of it there's a black sticker which is actually the NFC pad.
It's good to see NFC making it ways into the cheaper handsets, with BlackBerry having led the way at the lower end of the market with this latest technology.
There's a removable 1,300mAh battery, which isn't huge, but with the small screen and 800MHz single-core processor on the Galaxy Mini 2, this isn't too much of an issue.
Pop the battery out and you'll then have access to the full-sized SIM card slot, no sign of micro- or nano-SIM support here.
The Samsung Galaxy Mini 2 is a good looking, budget handset with a strong build quality and manageable size – and the bright colour option for the rear cover will probably resonate with fashion-conscious teens.
Interface
Slightly disappointingly the Samsung Galaxy Mini 2 comes running Android 2.3.6 Gingerbread out of the box, with no sign of Android 4.0 Ice Cream Sandwich making an appearance on the handset.
Both the HTC Desire C and Sony Xperia U now have Ice Cream Sandwich on board, and this puts them clearly ahead in terms of software over the Galaxy Mini 2, and that could be a key factor for some customers when it comes to choosing a new device.
Looking past the omission of the latest operating system, the single-core, 800MHz processor and 512MB of RAM in the Galaxy Mini 2 do a commendable job of running Android, with pretty smooth operation all round.
A swipe is all that is needed to unlock the Galaxy Mini 2, however some of you may be disappointed to learn there are no shortcut options on the lock screen, something we have seen implemented on the Desire C and Huawei Ascend G300.
It's not going to be winning any performance awards, but we were able to comfortably slide through the homescreens - of which you can have a maximum of seven, giving you plenty of space for all your favourite widget and apps – although it doesn't feel quite as slick as its Sony rival, or even the cheaper Ascend G300.
Hold down on a free space on a homescreen, or hit the menu button below the display and select add, to access widgets and apps, with the stock Android offerings available from the off.
We found that the Galaxy Mini 2 didn't always pick us up when holding down on a homescreen, resulting in us having to take a couple of stabs at it which was a little annoying.
Apart from that the touchscreen managed to pick up all our other pokes and prods, which is good to see as sensitivity can sometimes be a little off the mark at the lower end of the price range – something we found an issue on the Desire C.
Pull down the notification menu from the top of the 3.27-inch screen and you'll note that Samsung, as part of its TouchWiz Android user interface, has added quick setting toggles to the top of the menu – allowing you to easily switch on and off Wi-Fi, Bluetooth, GPS, silent mode and auto-rotate.
We're big fans of Samsung's implementation of these settings and it's something we wished all Android manufacturers offered.
However an NFC toggle would have been a useful addition here, with us having to delve into the settings menu to fiddle with the near-field tech.
Basic apps such as phone and contacts open up instantly, but applications which require a bit more processing grunt do take a couple of seconds to kick into gear.
Even the messaging app took a second to think about what it was doing, before displaying all our lovely texts.
Samsung's TouchWiz interface, which we've already touched (ha!) upon, is a relatively decent stab at improving the Android user experience, offering first time users a slightly easier learning curve, while also providing all the additional goodies for hardened fans.
Contacts and calling
Contacts
Contacts on the Samsung Galaxy Mini 2 are dealt with in the standard Android fashion, allowing you to sync the list with your Google account, and then link each profile to various social networks.
Jab a finger at the contacts app, pre-installed in the app tray on your homescreen, and the application will open up instantly, showing you a list of all your best buds.
There's a square button with a plus sign in it next to a search bar, which allows you to add contacts to your address book, and you can use the alphabetical column of characters down the right side of the screen to quickly jump in a specific letter in your list.
Contacts can also be accessed from the phone app, both of which belong to the same application, with the icons just taking you to different tabs within it.
The Samsung Galaxy Mini 2 makes a decent attempt at matching your contacts with their respective Facebook profiles, but it's not fool proof and only managed to successfully match about half of our friends.
There's no fancy auto-match like in HTC's Sense overlay - although this is missing for the Taiwanese firm's budget Desire C handset – so you'll need to go through one by one, to join up the others.
This makes the process rather laborious and we found ourselves giving up after a while.
While the Galaxy Mini 2 can pull in your buddy's profile pictures, don't expect to see status updates or gallery images popping up in their contact profiles.
Calling
Samsung makes it easy it call people, as it's implemented a unique way of initiating a call direct from the contact list.
Swipe your finger over a contact's name in the list from left to right and the Galaxy Mini 2 will start dialling that number, swipe the other way and you jump into the text messaging app.
We really like this neat little feature and we found ourselves using it all the time, as it really makes calling a lot quicker.
Of course there's always the old fashioned number pad, found in the phone app, if you want to bash out a number like it was 1999.
Samsung has added smart-dial here, meaning the Galaxy Mini 2 will offer up suggested contacts related to the number you're tapping out.
There's also a call logs tab in the phone/contacts app, which shows you all your incoming and outgoing calls– and thanks to the somewhat absurd inclusion of text messages in the list, it all gets a bit messy.
You can filter the call log to something more palatable, received calls for example, but as soon as you exit it resets back to the default "all logs" – annoying!
Call quality is passable, but the Galaxy Mini 2 doesn't cover itself in any glory here.
We were able to hear the other person on the phone, but it wasn't a crystal clear line, even in areas of good reception.
The Samsung Galaxy Mini 2 was able to hold signal well, and we didn't experience any issues with dropped calls, even when hurtling along on the train.
Messaging
The Samsung Galaxy Mini 2 covers all the main messaging bases including email and texts, with a dedicated Gmail app pre-installed alongside the stock Android email and messaging applications.
As far as the email clients go they are pretty standard fare, with the excellently well equipped Gmail app the same on every Android phone, and the Email app offering up a useful universal inbox for a host of different account types.
It's easy to add email accounts to the Email app, you can even stick in your Gmail one if you just want to use on client, with a simple step-by-step guide helping you get set up.
The messaging app is another simple, no-frills application which just lets you get on with the job in hand – texting your mates.
There's a nice big new message button at the top of the screen, and below that are all your previous conversations with your contacts, and profile pictures are pulled through to improve the aesthetics.
The small screen on the Galaxy Mini 2 can become a little probablematic when it comes to bringing up the keyboard, as it all but hides the email or message you're replying too.
As well as taking up most of the screen, the keys of the standard Android keyboard are tiny and not particularly well spaced, meaning for anyone with podgy digits, typing is tricky – so expect to make numerous mistakes.
Rotate the Galaxy Mini 2 into landscape mode and the keyboard is slightly more manageable, and while there are plenty of third party options available to download from Google Play, the 3.27-inch screen will still be there to hamper you.
In terms of social networking, the Google+ app makes an appearance, but Samsung has opted against pre-installing the official Facebook and Twitter apps, instead offering up its own solution, the Social Hub.
Found on Galaxy devices throughout the range, the Social Hub is nothing new, but what it does provide is a unified inbox for Facebook, Twitter, LinkedIn, text messages and all your email accounts.
There are two main tabs within the Social Hub, Feeds and Messages, which keeps your social activity separate from your emails and texts.
From within the Social Hub you can directly post, reply, comment, like, tweet and re-tweet without having to open up the dedicated apps and while this may be good for quick, off the cuff comments, we still prefer the official apps for serious social networking activity.
Once again the diminutive screen slightly detracts from the Social Hub experience, making it slightly fiddly at times to hit the right button.
Internet
The Samsung Galaxy Mini 2 comes pre-loaded with the stock Android browser, offering you an easy to use web experience without any unnecessary features.
There's Wi-Fi b/g/n on board so you can hook up to your home, work or coffee house's network, plus the Galaxy Mini 2 has 3G connectivity for data on the go.
Now you need to remember the Galaxy Mini 2 is only running an 800MHz processor and 512MB, so speeds are not going to be lightening quick.
That said the Mini 2 was able to load up the mobile version of TechRadar in four seconds, but when it came to the full version the lack of power started to show.
It took the Galaxy Mini 2 10 seconds to load the full-blown TechRadar homepage in a usable format, but almost a minute to full finish, with the ad banners really causing it some trouble.
Pinch and zoom is available, but it isn't the smoothest of experiences, especially on content heavy sites and more often than not we found ourselves lurching between the levels, instead of smoothly transitioning.
Text reflow has not been included here, which is a bit of a pain as the size of the screen on the Galaxy Mini 2 means you have to pretty much zoom in to anything you're reading, and that means there's lots of sideways scrolling.
Once zoomed in and you've given the Galaxy Mini 2 a second to render the page correctly, text and images appear sharp and clear, meaning you won't need to strain your eyes to read what's on screen, but that sideways scroll really bugged us after a while.
As the Samsung Galaxy Mini 2 runs Android Gingerbread it means that it can still support Flash, which has been discontinued for Jelly Bean, so you can catch up with all the videos on the BBC and check out all those fancy, flash built sites you love.
Flash even comes pre-installed on the Galaxy Mini 2, meaning you can dive straight into the browser and start reaping the rewards right out the box.
Thumbnailed bookmarks are now a mainstay of the Android browser and it's no different on the Galaxy Mini 2, with the simple yet pleasing to the eye system implemented here.
If you're someone who likes to save up a load of pages to read on the train home while out of signal then you're out of luck here, as the Samsung Galaxy Mini 2 does not offer an offline reading mode in its browser – something the Desire C and Xperia U both do.
Overall the Samsung Galaxy Mini 2 offers up an average web browsing experience. While it's not going to blow your socks off with speed, or treat you to vast amounts of space with a big screen, it's a perfectly serviceable solution, ideal for infrequent web visitors.
Camera
There's not too much to shout about in the camera department on the Samsung Galaxy Mini 2, with no front facing option and no rear flash to help out in low light,
What you do get is a 3.15MP snapper, a little disappointing if you ask us, as the £100 Huawei Ascend G300 packs a 5MP rear camera with flash, while the similarly prices HTC Desire C also comes with a 5MP camera, but devoid of flash.
There's no shortcut on the lock screen, nor is there a dedicated physical shutter button on the side of the Galaxy Mini 2, meaning you're left scrabbling around for the camera icon in the app list – however popping it on the homescreen will help.
The camera app itself takes a couple of seconds to load up, so once you've unlocked the Mini 2 and located the app there's no way you'll be able to take a spur of the moment snap.
Options are few and far between with a handful of scene modes such as sports, landscape and night to choose from, as well as brightness, white balance and three basic effects (black and white, sepia and negative) to tinker with.
One slightly surprising feature is that the Galaxy Mini 2 can take panorama shots, plus there's continuous shot, which will take up to nine images in succession if you hold the shutter button down.
Let's not forget the 3x digital zoom, which will turn your grainy shots into a pixelated mess in next to no time, just dabble with the volume rocker switch to get your preferred level of blurriness.
There's no auto- or tap-to-focus, meaning you're left hoping the Galaxy Mini 2 is capable of sorting itself out, which can lead to mixed results in terms of image quality.
Once the shutter is pressed, there is a second pause as the screen goes black and the Galaxy Mini 2 takes the image, but it turfs you straight back to shooting mode, ready to go again.
Images, as you may have already guessed aren't brilliant – this is a camera which will suffice for the quick odd shot, but if you're into arty Instagram style shoots you'll want to avoid the Galaxy Mini 2.
Click here to see the full resolution image
Click here to see the full resolution image
Click here to see the full resolution image
Click here to see the full resolution image
Click here to see the full resolution image
Click here to see the full resolution image
Click here to see the full resolution image
Click here to see the full resolution image
Video
As with the camera, video on the Samsung Galaxy Mini 2 is more of an afterthought by the Korean firm, rather than a stand out feature.
The rear 3.15MP lens can capture rather standard VGA (640 x 480) quality video, which is less than impressive as we start to see cheaper handsets offer up 720p video recording, such as the Sony Xperia U and Huawei Ascend G300, while the £200, Intel-powered Orange San Diego will give you 1080p – that's full HD people.
Once again Samsung has decided against giving us any fancy tricks with the camcorder app, with brightness and white balance settings lining up alongside the same three, boring effects in the camera app.
While recording you can adjust the 3x digital zoom using the volume rocker switch on the left side of the Galaxy Mini 2, but quality is reduced the more you zoom in.
Check out our video sample below to get a real feel for the poor recording quality of the Samsung Galaxy Mini 2.
Media
Inside the Samsung Galaxy Mini 2 you'll find a mediocre 4GB of internal storage, however around half of that is taken up by the operating system, so when you get down to it you've got closer to 2GB of usable space.
Luckily you can give the Galaxy Mini 2 a boast by up to 32GB with the addition of a microSD card – which can pop easily into the side of the handset without you having to take the battery out or turn off the phone.
If you're not a fan of keeping media on SD cards, or just fancy storing stuff on the internal memory then you've got a couple of choices with the Galaxy Mini 2.
The first is the good old, hard-wired connection to your computer – grab the USB cable out of the box and plug straight in.
Once connected up you can go down the tried and tested route of drag and drop to shift content between your machine and handset.
Or, if you prefer, you can install Samsung's desktop software Kies, which is a little bit hit and miss, slow quite a lot of the time and really doesn't offer too many clear advantages over drag and drop.
However if wires are too old fashioned for you, the Galaxy Mini 2 has the Kies air app installed – allowing you to wirelessly manage the content on the phone through your computer's internet browser.
Your phone and computer will need to be on the same wireless network for this to work, and once you fire up the app it will give you an IP address to tap into the browser's URL bar, from where you'll be able to manipulate your media.
Music
The Galaxy Mini 2 comes with the stock Android music player giving you easy access to all the songs stored on both the internal memory and any microSD card you may have plugged in.
The player itself gives you the basic play/pause, skip and scrub controls, and there's a handy widget and notification bar controls, allowing you to easily manage your tunes without having to dive back into the app.
Sound quality is acceptable for a phone at the bottom end of the market and not sporting any fancy audio enhancements such as the Dr Dre Beats technology found in several HTC handsets.
You can play your tunes through the rear speaker on the Galaxy Mini 2, but quality isn't great and if you want to fill a room with music prepare for it to be tinny, distorted and not really banging.
Video
Watching videos on your smartphone probably isn't the top of your wish list if you're thinking about purchasing the Samsung Galaxy Mini 2, as the 3.27-inch, 320 x 480 screen isn't the most appealing for movie playback.
However that's not to say the Galaxy Mini 2 can't cope, as we were able to watch our MP4 movies without too much bother, however it's worth noting the supported file formats only encompass H.264/H.263 alongside MP4, so you may want to invest in a video converter.
There is a dedicated video player app, which is still a rarity on a lot of smartphones, which like the music player offers up the very basics for movie playback, but at least it's easy to use.
Thanks to the small, rounded design of the Galaxy Mini 2 it's very comfortable to hold – although you'll find yourself squinting at the tiny screen and while video is perfectly watchable, it's by no means the bright, sharp, clear HD experience you find on higher-end devices.
All in all the Galaxy Mini 2 is great for watching short clips on YouTube, but for anyone who wants to watch a full length movie we'd recommend digging out the laptop or switching on the telly.
Photos
The gallery app is your one stop shop for viewing all your photos – collating those taken with the Samsung Galaxy Mini 2's camera as well as any others you may have stored on the phone or microSD card.
It doesn't pull through albums from the likes of Picasa or Facebook, nor is there any photo editing software on the Galaxy Mini 2, with crop and rotate the only tools you have to play with.
The thumbnailed layout of the gallery is visually very appealing and easy to navigate, however a little annoyingly any video you may have captured with the camera will be mixed up among all your snaps.
Battery life and connectivity
Battery life
With a 1,300mAh battery the Samsung Galaxy Mini 2 gets a slight boost over the original Galaxy Mini, which rocked up with a 1,200mAh offering – and this will be good for a claimed 420 hours of standby, or 6 hours 50 minutes of 3G talktime.
Those who don't think this is enough will be glad to learn that the battery is removable, meaning that you could put in a bigger power pack if you so wished.
As far a battery life goes it's pretty good, as you'd expect from a handset with a single-core processor and modestly sized screen – a full days use is easy for the Galaxy Mini 2.
You can even stretch that to two days if you're a little more careful with your usage, and it will last several if you rarely touch the thing.
Connectivity
The Samsung Galaxy Mini 2 is surprisingly well connected for such a keenly priced device, will all the big hitters making an appearance; Wi-Fi b/g/n, Bluetooth 3.0, DLNA, A-GPS, a microSD card slot and a microUSB port.
Dip into the settings menu and you'll see that you can set up a wireless hot-spot with the Galaxy Mini 2, allowing you to share your network's data connection with other devices, such as a tablet or laptop.
However the connectivity options don't stop there, as the Galaxy Mini 2 also touts the latest in communication tech – NFC, or near-field communications.
This allows you to interact with other NFC-enabled handsets, as well as accessories which also sport the technology.
Some manufacturers, such as Sony and LG, offer their own tags which you can place around your home/car/office and program, telling your phone to do certain things when it comes in contact with them.
Samsung doesn't look like it's offering anything similar for the time being, but we wouldn't be surprised if it rustled something up in the near future.
There is a dedicated NFC app pre-installed on the Galaxy Mini 2 called Tags – the purpose of it being to interact with NFC tags you may find embedded in adverts on the street, or to share information with other NFC enabled devices.
It's a simple app which is pretty intuitive, although it really doesn't push the boundaries of what is possible with NFC and it would have been nice to see Samsung do something more creative with it.
Samsung has also stuck its AllShare app on the Galaxy Mini 2, which allows you to stream videos, photos and music between compatible devices via DLNA such as laptops and smart TVs.
Once again it's another well implemented application from Samsung which provides the basics for streaming content to and from a mobile device.
Maps and apps
Maps
As with any Android phones these days the Samsung Galaxy Mini 2 comes equipped with the excellent Google Maps application, providing you with worldwide maps, route planning and even free turn-by-turn navigation.
With A-GPS inside the Galaxy Mini 2, it was able to pinpoint our location in under three seconds – pretty impressive for a smartphone which sports a single-core 800MHz processor.
Begin to pan around however and that lack of power under the hood becomes a little more apparent, with the Galaxy Mini 2 taking a few seconds to load new areas of map.
The small screen, with is mediocre resolution means detailed maps – especially with satellite view switch on - can appear a bit messy and difficult to read, but switch back to the standard view and things do become clearer.
It may not be the smoothest pan and zoom experience you've ever had on a phone, but at £150 you've got a sat nav in your pocket which can do heaps more stuff as well.
Apps
We've already talked about four pre-loaded Samsung apps on the Galaxy Mini 2: the Social Hub in the messaging section, AllShare and Tags as part of connectivity and Kies Air in media, so we'll move on to the other 'goodies' which you get out of the box.
First up is the pretty irrelevant Samsung Apps store, which is a pared down version of Google Play and in some cases apps are more expensive here than in the Play store.
Samsung Apps is similar in design to the old Android Market, with a carousel of promoted apps up top and then various categories below – all very nice and all, but ultimately useless with Google Play next door.
And to add even more confusion to the whole situation the Galaxy Mini 2 also has the Samsung Hub app on it – which basically promotes certain applications in the Samsung Apps portal, it's app overkill people!
Google Play itself takes pride of place on the homescreen and offers up over 675,000 apps, with a huge range of free and paid-for content – plus there are books and movies to purchase as well.
That's about it for pre-installed applications, no Facebook or Twitter here, but Google+ does get a look in along with the host of other Google apps including Play Books, Maps, Gmail and Navigation.
Hands on gallery
Official gallery
Verdict
The Samsung Galaxy Mini 2 is an improvement on the original Galaxy Mini and while it doesn't do anything amazing, it's still a decent phone for the price tag it has.
We liked
Buying guide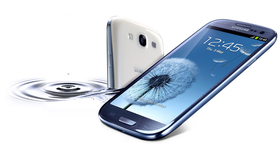 20 best mobile phones in the world today
For a cheap handset the Galaxy Mini 2 produces relatively decent performance and while it doesn't have the zip of pricier handsets, it's by no means a slouch which constantly leaves you waiting.
The clever placement of the microSD port on the side of the phone makes it really easy to swap between storage cards, helping you to build on the 4GB inside, plus a removable battery will be music to some people's ears as the likes of Sony and HTC start to seal in their power packs.
It's also good to see NFC make its way into another budget handset, as the contactless technology gradually builds its presence in the market.
We disliked
The camera feels like a bit of an afterthought and it lags behind the competition, with even the cheaper Huawei Ascend G300 offering up a better snapper.
Best phone deals
Save up to 40% on your mobile phone contract
It's also a shame to see yet another 2012 smartphone launch with Android Gingerbread, with Ice Cream Sandwich being established for almost a year now, and to add insult to injury it doesn't look like the Galaxy Mini 2 will ever get an upgrade to Android 4.0.
Verdict
Overall at £150 it's difficult to knock the Samsung Galaxy Mini 2, which offers up a budget smartphone experience and carries it off with relative ease.
The lower end of the mobile market is getting rather busy and the Galaxy Mini 2 has some stiff competition with the likes of the HTC Desire C, Sony Xperia U, Nokia Lumia 710 and Ascend G300 all vying for position.
However the Galaxy Mini 2 doesn't disgrace itself and while it doesn't rise head and shoulders above the competition it least gives them something to think about.
Samsung Galaxy Mini 2 review Samsung Galaxy Mini 2 Galaxy Mini 2 Android Gingerbread NFC smartphones phonescarousel-en-gb