Samsung Galaxy Mega
4th Dec 2013 | 11:48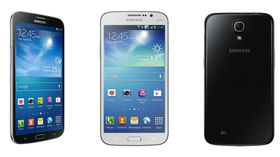 Size isn't everything
Overview
Ratings in depth

Samsung's Galaxy range must now officially cover every single corner of the smartphone and tablet market. With the tiny and purse friendly Samsung Galaxy Fame right through to the Samsung Galaxy Note 10.1 via the Galaxy S4 Mini, Galaxy S4, Galaxy Note 2 and Galaxy Note 8.0 tablet.
The Samsung Galaxy Mega needs to push itself into that line-up somewhere, and the name gives a little clue as to where it sits. We questioned the original phablet, the Samsung Galaxy Note, over its 5.3-inch screen size, and the Note 2 just pushed that further to 5.5 inches whilst remaining incredibly popular.
At 6.3 inches, we are again left questioning just how far the Koreans can push smartphones before it borders on the ridiculous. First impressions of the Galaxy Mega do suggest that Samsung might well have found that border.
Hitting price tags of free on a two-year £33pm contract, or £490 (around $800/AU$880) SIM-free means that the Galaxy Mega looks to fight it out against the big boys, if you'll forgive the size pun. The five-star-rated HTC One, the Sony Xperia Z and Samsung Galaxy S4 all square off at these price points, so the Galaxy Mega has a fight on its hands.
The Galaxy Mega will also have to fight to gain custom from potential Galaxy Note 2 customers, as well as from the upcoming Xperia Z Ultra and Galaxy Note 3.
In order to stand any chances of winning this fight, the Galaxy Mega is going to need to bring something pretty special, other than just a massive screen. That screen is also going to need to be impressive, thankfully this is an area that Samsung is famed for.
The 6.3-inch 1280x720 'Super Clear LCD' does a very good job, although we can't say we wouldn't have preferred a Full HD Super AMOLED Plus screen, especially given the Mega's price tag.
Behind *that* screen, the rest of the specifications leave a little to be desired, if only because they aren't as impressive at the first look. If a 1.7GHz dual-core processor and 1.5GB RAM seem familiar, that is because they match the lower priced, smaller Galaxy S4 Mini.
Even the 1.9MP front and 8MP rear camera sensors, and 8GB internal storage are drawn from the S4 Mini. The Galaxy S4 Mini is also around £7pm cheaper on 2 year contracts, so it really does start to appear that you are paying for the size.
The Galaxy Mega does come with all the other features that you would expect from the modern mid to high end smartphone, with Wi-Fi, Bluetooth 4.0, NFC, 4G and Android 4.2 to keep things running. There is also the Infra-Red blaster that seems to be making appearances across a variety of smartphones.
This is all packaged into a frame that measures 167.6 x 88 x 8mm, and weighs in at 199g. The Galaxy Mega unsurprisingly then, sits a little awkwardly in one hand, although the narrow depth and lighter weight make it a lot easier than we first expected. The Galaxy Mega even sits rather comfortably in the pocket, providing you're not wearing anything that fits a little tight.
Design wise, the Mega sits well within the existing Galaxy range, with the thinner bezel and curved edges giving it a clean look, and Samsung's standard button lay out giving an air of familiarity. The false chrome plastic wrapping also helps to make the Galaxy Mega feel more premium, although the plastic chassis suffers from the familiar problem of feeling a little cheaper than all metal devices like the HTC One.
Hidden behind the removable (and fairly flimsy feeling) back cover sits a 3200mAh battery to keep the Galaxy Mega running. The microSIM and microSD slots are also located behind the cover, and we didn't have the same trouble putting them in that we did with the Galaxy S4 Mini.
The microSD slot is somewhat necessary on the Samsung Galaxy Mega, with only around 5GB of the 8GB storage free. For a smartphone that has clearly been designed around media consumption, this is a bit of a surprise.
Camera wise, we've already mentioned that the Galaxy Mega comes with a 1.9MP sensor on the front, providing clear imagery for those selfies and Skype calls, and an 8MP rear sensor for all your other snaps.
The 8MP sensor might seem a little small, although Samsung has a habit of making every megapixel count, with the identical sensor on the Galaxy S4 Mini providing some more than decent shots. Thankfully, there is also a flash, albeit a single LED.
The menu and return soft-keys sit either side of the physical home button, with the volume rocker sat on the left edge, with the power/lock button sat directly opposite on the left. Both sets of buttons were easy enough to hit one handed, a plus for a device of this size.
The top edge houses the 3.5mm headphone port and IR blaster, with the micro-USB port (that doubles up as an 11pin MHL port) at the base.
Overall, the Samsung Galaxy Mega doesn't feel as large as it could, but the 6.3-inch screen is always going to be divisive. With the price range pushing the Galaxy Mega up against the flagships, we can see it struggling a little, and with the Galaxy Note 3, HTC One Max and Sony Xperia Z Ultra for company the phablet market is getting a little congested.
Interface
Being a Samsung Android device (4.2.2 Jelly Bean to be exact), you would be right in expecting the Galaxy Mega to come equipped with the latest version of TouchWiz, one that graces Samsung's flagship Galaxy S4 handset.
Previous users of Samsung devices will immediately feel at home, with the Korean firm making subtle changes with each iteration. In its current guise, TouchWiz is one of the best custom UI's out there, being both intuitive and easy to use.
Hardware wise, the Galaxy Mega's 1.5GB RAM and dual-core 1.7GHz processor manages to keep things chugging along relatively smartly, with no real hint of slow-down under normal use. Pushing things to the limit (updating apps, playing music and web browsing) puts an understandable strain on things.
Starting from the top, the Notifications bar has had a lick of paint, although keeps access to quick settings, and a little icon for access to a wider range of quick settings, and the full settings menu.
Quick toggles to turn off settings such Wi-Fi or Bluetooth is something that we have long been fans of.
There is also a customisable Auto-brightness feature, which allows you to turn it on and off, as well as decide how bright you want the screen to be whilst on auto.
The Jelly Bean notifications, being expandable and dismiss-able, are also a bonus. The top notification expands to show you more information, such as multiple messages from WhatsApp, or the ability to archive via Gmail .
Swiping to the left or the right also allows you to remove the notification from view, meaning that you don't have that text or email sat there bugging you all day. Voicemail messages, as ever, are still sat there until you call them.
The app drawer has also had some attention paid to it. Swiping left and right moves you between pages, with apps able to be viewed in a customisable grid, alphabetical grid, or alphabetical list.
Pinch to zoom even works, allowing you to see an overview of your app drawer in the same way that you can see an overview of your home screens.
Apps can also be hidden, which helps tidy up your drawer, especially if there are apps that you can't uninstall, but you don't want around. Folder creation is also possible, meaning that your app drawer can be tidied even further.
Folder creation on the home screens (of which there are 7) is not as smooth as on the iPhone 5 and other iOS devices, with folders having to be created manually via the Menu key or a long press on an empty space.
The seven home screens are a blessing, should you be someone that enjoys using the many widgets that Android and Samsung has to offer. When it comes to widgets on the Galaxy Mega, there are many to choose from, all accessed from a separate tab in the app drawer or by long pressing a home screen.
Of the most interesting, are the assistive light (to turn your LED flash into a torch), and the clock. Just about every UI comes with a custom clock, and Samsung's is clean and effective.
The lock screen has also had a brief lick of paint, with it being possible to put widgets on the lock screen. We can see why this can be useful, however manually sliding to the left or right meant that it was just as easy to unlock the Mega and browse the actual handset. We also found that because you need to swipe across the top of the screen, we were often opening the Galaxy Mega inadvertently.
We also like that connecting a set of earphones to the Galaxy Mega brings up a list of suggestions in the Notifications bar, with the Music and Video players, as well as the Phone, YouTube and Voice recorder app being offered.
Multi-Window is also available on the Galaxy Mega, something that helps make use of the bigger screen on offer. Dragging apps off the multi-window bar and to the top or bottom of the screen allow you to view two separate apps at once. As a feature, we don't see it being used all the time, but did make multitasking that little bit easier.
The settings menu also looks slightly different, with the list being broken down into Connections, My Device, Accounts and More tabs.
There are a variety of useful features available if you look hard enough, with it possible to increase ringtone volume whilst the Galaxy Mega is in your pocket, for instance, or one handed mode that makes certain features - like the dialler and calculator- easier to use one handed.
There is also a different home screen mode available, to make the Galaxy Mega easier to use for first time smartphone users. This makes the Mega a lot easier to use, with big icons to access the Camera, Gallery, Internet, Phone, Contacts and Messaging apps, with the rest of the apps accessed by the right hand home screen, and important contacts via the left hand screen.
Easy mode also provides a minor touch up to the Camera and Internet apps, giving them larger icons.
As Samsung billed the Galaxy Mega as the 'perfect device for students' at the launch, we don't see this mode being used all that often. That said, couple Easy mode with the massive screen, and smartphones suddenly seem a lot more appealing to an elderly market.
Overall, we are still very impressed with Samsung's TouchWiz UI. The Galaxy Mega handled pretty much everything we threw at it with aplomb. TouchWiz is still attractive and will appeal to both the newest smartphone users, as well as those that have used smartphones and Samsung devices before.
Contacts and calling
Contacts
Given the sheer size of the Galaxy Mega, you would be forgiven for thinking that it was just a small tablet, but in reality it is just a massive smartphone, which means it has the ability to make phone calls.
To navigate all your friends and colleagues, Samsung provides its uninspiring yet highly functional Contacts app. All your contacts are arranged in a long, high contrast list, adorned with either a tiny contact photo, or a cartoon face.
We get that the Koreans might be aiming to make it seem a little playful, but in reality the cartoon face seems a little creepy. We were also a little disappointed that, given the massive screen real estate, that the images aren't any larger.
Tapping the little thumbnail brings up a mini contact-card that shows you all the ways that you can contact that person, via Call, Message, Email, WhatsApp, Facebook etc. From the main list, it is also possible to Call or Message contacts by swiping left or right, saving valuable seconds.
As you can now guess, the Samsung Galaxy Mega can pull in your contacts from Facebook and other social accounts, should you have the correct application installed- Facebook doesn't come preinstalled, rather it is available on the Play Store.
Social integration leaves a lot to be desired on the Galaxy Mega, as it does on all of Samsung's devices, with the HTC One and other Sense devices being an almost perfect example of what we feel social integration should be like.
Contact linking is handled very well, we found that the majority of contacts were linked up well, and on the odd occasion that we had to link them up manually, suggestions were very accurate. Browsing the Contacts app was smooth, and the larger screen meant that moving by selecting letters on the right was a little more accurate.
It also possible to remove contacts from the list that don't have phone numbers, a feature that is very welcome, de-cluttering long lists. Contacts can also be grouped, creating Family and Close Friends groups, that makes seeing and messaging them en masse a lot easier.
Calling
The Phone app brings up a rather large dialler app (that is shrunk when the Mega is put into one handed mode). The dialler is fairly attractive with the big blue buttons contrasting well against the black background.
The dialler also supports smart dialling, a feature that is only really notable down to its exclusion on certain phones (iOS and Windows). Dialling 323, for example, will bring up 'Dad' like it would have done on old feature phones.
It will also bring up contacts that have a 323 number combination within their contact details. As a feature, it is one of those that really help make a UI feel intuitive.
When it comes to calling, we would really suggest that you invest in some sort of headset, as you really will look and feel a bit stupid with the Galaxy Mega pressed against the side of your face. The one that comes bundled with the Mega is more than up to the task, but you might want your own.
Call quality was decent, so no problems there. As for signal holding, we found that the Galaxy Mega matched what we expected, so again we have no complaints.
Samsung's 'Adapt Sound' from the Galaxy S4 is also included on the Galaxy Mega. Pop in a headset, or some headphones, and the Samsung Galaxy Mega will tailor the sound to suit your ears. 'Soft sound' and 'Clear sound' are also available.
One feature we have praised Samsung's Galaxy devices on before, still makes a very welcome appearance on the Samsung Galaxy Mega. After the call has ended, the screen brings up three options; Message, Call or Video Call.
This is ideal if you've agreed to text over some details, or suddenly realised you forgot to mention something. We use that all too often....
If you hadn't gathered from that, or the front facing camera sensor, the Galaxy Mega includes the ability to video call a contact.
We've mentioned once or twice before, but we don't entirely see the point of this given that we haven't a clue who makes video chats through the phone app. Skype and other apps are a lot easier to use, and with Skype contacts syncing with other contacts, you can Skype-call them direct from the contact screen.
Messaging
Just as important, or even more so nowadays, is a smartphone's ability to message a contact, rather than just make calls.
With the number of messaging options available, we have come to praise many a smartphone on their ability to stay in touch. Android devices, such as the Galaxy Mega, are equipped with such a wide range of tools to communicate that it's hard not to be impressed sometimes.
In order to be able to message a contact, you will need a decent keyboard to start with. Samsung Galaxy devices of old have never been amazing in this area, in fact we'd go so far as to say they have been awful; cramped keyboards tied together with inaccurate word predictions .
Things took a turn for the better with the advent of the Galaxy S4, and that has been carried across to all of Samsung's modern smartphones, including the Mega. We were a little worried that the larger screen on the Galaxy Mega was going to prove a bit of a hindrance. In actual fact, we didn't find it to be too bad.
Typing two handed was very comfortable, a lot more so than typing with one hand supporting the Mega and the other tapping away. Auto correction was by no means perfect, but it was more than adequate. The only real gripe we had with the keyboard was the vertical key spacing, with a little too much room given.
As with every review, we do sometimes find ourselves slipping into using our more favoured apps, and we're massive fans of the Swiftkey keyboard app, and we were pleased to see that this removed the vertical spacing, making it easier to use.
Using the keyboard in landscape is, unsurprisingly, a lot more difficult, We found that we were able to hit most keys, but the central keys were a little harder to hit, and we don't think our hands are all that tiny. Laying the Galaxy Mega flat and trying to type like on a tablet was also rather hard.
SMS and MMS messaging is all handled via Samsung's standard Messaging app, with the same blue and yellow bubbles that we have come to expect. We would really like to see Samsung put some work into making this app a little more appealing, but there are certain levels of customisation available within the settings menu, and the app is more than sufficient.
ChatON is a feature that now graces every Samsung device, and is available to download from app stores, such as Google Play. In essence, it is a WhatsApp/BBM/iMessage rival, that sends IMs across to your contacts. You can also use it to send voice messages, as well as pictures.
As a platform, Samsung has clearly given it some thought, but unfortunately, we seem to have been justified when we said that we don't think it'll catch on, as we have found that there are very few contacts online.
The rise of the cross platform WhatsApp and BBM for iOS and Android won't do ChatON any favours.
The email client that appears on current Galaxy devices is also out on the Galaxy Mega. Shocking. It is something that we have commented upon before, such as in our Galaxy S4 review, and we are glad that it has made its way across Samsung devices.
The clean UI makes the client easy to use, and the support for multiple accounts combined with an aggregated inbox makes it a lot more intuitive.
Being an Android device, Google has also bundled the Gmail client in. With the latest update bringing in contact photo's, and swiping to archive messages, the app is more packed and more intuitive than ever. It also brings across all the features that has made the desktop client so powerful.
Internet
If you have paid any attention to any review that we have written about Jelly Bean devices, you will know that Google's devices now come with two varieties of web browser, the Android version and Google's Chrome. You'll also know that we rate both very highly, and that both are very similar in what they do and how they do it.
We're never going to be able to decide which browser is the best for you, but we do tend to opt for Google Chrome when we can as it manages to sync over bookmarks from your Google account, something that is especially useful should you use Google's Chrome desktop browser, or have used Chrome on other devices.
Given that the insides of the Galaxy Mega are not as powerful as flagship devices like the Galaxy S4, we weren't expecting the browsing performance to be as silky smooth.
That said, we saw on the identically spec-ed Galaxy S4 Mini that the smaller internals didn't harm the browsing performance.
The Samsung Galaxy Mega we have (GT-I9205) is also 4G enabled and it's the future of web browsing, so having it on board the Galaxy Mega is certainly a good thing.
When it comes to web browsing, the Galaxy Mega's screen really does come into its own, providing 6.3 inches of pure web browsing goodness.
Whilst neither browser provides text reflow, the screen is large enough that you can pinch to zoom and see a rather large amount of text, especially when holding the Mega in landscape mode.
Both browsers have some pretty cool features, with tabbed browsing and incognito browsing being available. In the native browser it's a case of hitting the star shape icon in the upper right corner to bring up the add bookmarks icon, and then you can choose where to save that particular bookmark. With Chrome, access the menu and then tap the little star.
Within Samsung's browser it is also possible to turn off image loading, in a bid to help you save data. We don't expect data to be a massive problem, especially with the rise of public Wi-Fi, but it is always a handy feature to have, especially with some 4G contracts coming with heavily limited allowances.
Desktop and mobile sites can be enabled within both browsers, and the 'Super Clear LCD' screen is very bright, making reading text very easy. The 6.3-inch size makes it very appealing for extremely long periods of browsing.
Samsung also seems to have borrowed other browser elements from Chrome, such as the little magnifying pane that pops up when you tap a hyperlink that is right next to another, while zoomed out.
We doubt many readers will be to surprised, but Flash is also missing from the browser, given that Adobe pretty much killed Flash last year. It is however offered as an optional plug in on HTC device.
As we mentioned earlier, we do tend towards using Google Chrome, mainly because of the support it offers cross platform, being able to sync bookmarks and browsing history across devices.
One of the three default home screens also allows you to see the tabs that you have open on the other devices, making device hopping easier.
Overall, no matter what browser you choose to use, we can guarantee that the browsing experience on the Galaxy Mega won't leave you disappointed.
The 6.3 inch screen may not be Full HD, and it is *only* an LCD screen, but text is very easy to read, and the size makes viewing full pages a lot easier.
Media
We've said before that media is an area that Samsung seem to have spent a lot of time developing on it's smartphone and tablet range. Honestly, this is something that doesn't surprise us, given that Samsung's biggest rival is a device built very heavily around the media experience; the iPhone.
The Korean firm has graced the Samsung Galaxy Mega with just about every media element that you could possibly think of. A feature packed music player? Yes. A feature packed video player? Yes. An FM Radio? Ye... No.
The Galaxy Mega doesn't come with an FM radio, which isn't as large a surprise as it is a disappointment, given that the Galaxy S4 came without one too.
It is clear that the Galaxy Mega was designed to be a media consumption device, so the hubbub is going to be about that massive screen. We've touched upon it a few times, but it is a bright and clear screen, something that Samsung is famed for. The LCD technology isn't quite at the same standard of the Super AMOLED screens that we have seen from Samsung, like the one that graces the Galaxy Note 2.
It is also not Full HD, offering only a 720p resolution. On the whole this was more than sufficient. It was never going to iPhone Retina display challenging, or even match the Samsung Galaxy S4.
Disappointingly, with the HD display being 0.8 inches larger than the Note 2, the resolution is stretched a little further, meaning if you look really really hard, you can make out edges on icons.
Both the external speaker and the internal storage also have to be up to par, in order to be able to provide a first class media experience. Unfortunately we found both to be more than a little bit disappointing.
The speaker, at the highest volumes makes things seem a little tinny, with the bass reproduction not being as good as we have heard, and by no means a match for the HTC One or One Max.
As mentioned before in this review, the internal storage is also rather disappointing. Less than 5GB of the 8GB is accessible, which means that you will need to pop in a microSD card. These are supported up to 64GB, so there is some relief. Given that the Galaxy Note 2 comes with up to 64GB internal storage alone, this is somewhat of a disappointment.
Music
The music player app that comes with the Galaxy Mega is as good as it has been on previous Samsung devices. Sound reproduction might not be as great as we would have expected, or even have hoped when it came to the speaker, there is some respite in that that problem doesn't make its way over to headphones. Then again, there is a lot to be said to what headphones you use.
Samsung's music player comes with a built in equalizer, that will choose the right setting depending upon the song, or can be manually chosen from a long list that includes Bass Boost, Pop, Rock and the more interesting Tube amp effect and Virtual 7.1 ch. For less media savvy users, Auto mode is about all you'll ever need, but having the extra functions is never a bad thing.
Another interesting feature is AdaptSound. Follow the set up wizard, listen to a variety of beeps at varying frequencies and the app will boost the music to suit your hearing range. This is something that we reckon will have less effect on the younger audience, given that your hearing range narrows as you age.
Samsung's Music square makes another appearance, sitting alongside all the usual ways that you would expect to view your music; by artist, album, song, playlist or by folder.
This is something that we are still a little undecided on, but if you have a large enough media library, the Galaxy Mega will go through and analyse and sort it, allowing you to choose your music based upon your mood.
Play, pause, track skipping, shuffle and repeat buttons are also used, we figure there would be an uproar if they weren't there.
As a music player app, Samsung' offering is extremely well stocked, and we highly doubt you will ever need another one. Google does have the Play Music app as well if you're after something a little different, or if you're really hard pushed, there is always the Play store for a third party app.
For those interested in audio support, the Samsung Galaxy Mega supports MP3, AAC, AAC+e, AMR, eAAC+, I-Melody, MIDI, WMA, FLAC, WAV and OGG file types.
Video Player
So we have a half decent screen, so what next? Well, the video player is going to need to be decent. This is another area that the Korean brand has managed to excel in. For starters, opening up the video player greets you with a very attractive moving grid of your videos. Just a little feature, but it helps make the phone feel a little more fun and alive.
The video player also manages to pull in all your videos from your Dropbox account, as well as showing all the videos that you have stored on the Galaxy Mega. This is something that we'd have to give a massive thumbs up to, as it saves a lot of space, meaning that the 69GB you had potentially, is boosted (with another 50GB that Dropbox provides for connecting your Galaxy device).
Obviously when it comes to playing Dropbox videos, we'd suggest sticking to Wi-Fi, lest you get hit with massive data streaming bills. As for video support, the Galaxy Mega is equipped to play MPEG4, H.263, H.264, VC1, WMV7 and 8 file types.
Samsung's Pop-up Play function is also available on the Galaxy Mega, making real use of that extra screen space. It is also possible to split the screen, and have the video playing at the top whilst you browse other apps at the bottom, which is a massive boost to the multi-tasking abilities.
Gallery
Samsung's gallery app, like the video app, is also very attractive, providing a grid of thumbnails from all the folders that have stored media. We didn't notice initially, but the Galaxy Mega also pulls in all your photos from your Dropbox account (with the Dropbox app also allowing you to instantly upload photos to the cloud), as well as those from your Google/Picasa account, and even from your Facebook account.
Photo editing is also available, for images that you have saved on your device. There are so many to go through that it is impossible to list them all, but should you decide that you want to forgo editing on your desktop, Samsung has you more than covered.
Camera and video
Sensor wise, the Samsung Galaxy Mega may leave you feeling a little underwhelmed, if only for the size of the device. In reality, the sensors fit in with the other mid range specs that are popped behind the massive screen.
Adorning the back of the Galaxy Mega is an 8MP camera, with single flash, whilst the front face houses a 1.9MP sensor for posting one of those million selfies to Facebook or Snapchat.
Thankfully, Samsung has pulled the cat out of the bag again, with the Galaxy Mega having the same ability to take some decent photos that the Galaxy S4 Mini came with, as well as matching it in almost every single way.
Photographic options come in the form of Auto, Beauty Face, Best Photo, Continuous Shot, Best Face, Sound & Shot, Rich Tone (HDR), Panorama, Sports and Night, all of which are pretty self explanatory.
If you take a look in the camera settings menu, you'll find all the usual tools to change the exposure levels, the white balance levels and or geotag a picture. These, we have always felt, are more the preserve of the more serious photographer, and given the plethora of options we mentioned earlier, Samsung caters to just about every demand placed upon a smartphone camera.
The Samsung Galaxy Mega's camera does also come with a single LED flash. It is bright enough in lower light conditions, but you would be wrong to expect it to be a match for more powerful flashes on even the most compact of cameras.
Like on the aforementioned Galaxy S4 Mini, we were a little disappointed to see that Samsung's Drama mode, and Animated photo mode didn't make the cut. These are features that we liked on the Galaxy S4, and given the matching price tag, we thought we might get them. Oh, and picture in picture is also unavailable, but that isn't really a massive loss.
Click here to see the full res image
Click here to see the full res image
Click here to see the full res image
Click here to see the full res image
Click here to see the full res image
Click here to see the full res image
Click here to see the full res image
Video
It seems a long time since people were pulling out massive video cameras on their holidays, with smartphones now being a lot pocketable. Whilst not entirely pocketable, the Galaxy Mega's video camera is a rather impressive affair.
With recording done at 30fps, with a 1080p HD resolution, there is a lot to be said about the Galaxy Mega. Video recording is also no longer done through a separate app, nor through the same app but using a toggle switch. Samsung devices, such as the Galaxy Mega now just have one app, with two different buttons.
This makes a lot of sense, and we wonder why this hasn't been in place a lot longer. It also means that whilst you are recording your video, you can snap away still photos like we first saw on the HTC One X and Samsung Galaxy S3.
Overall, we were really impressed with the app's offerings. Samsung has clearly given it a lot of thought, and come up with a more than decent end user experience.
Battery Life and Connectivity
Battery life
We all know that a smartphone is only as good as its weakest elements, and more often than we might like, that element is the battery that is sat underneath everything. In a review, it would be impossible to say that the Galaxy Mega was an amazing phone, if it had barely enough power in the battery to power it for ten minutes.
We use the HTC One review as our case in point, as it only achieved our coveted 5 star status after a software update addressed battery problems.
Unfortunately, this section of the review is the most subjective, with just about every user of every device using it for a different reason. This makes coming up with an accurate review to each need a lot more difficult, but in short, we feel that the 3200mAh battery is adequate, delivering enough performance to get you through the day, but don't expect much, if any left in reserve.
To an extent, having dual-core innards does tend to go some way to keeping the battery life going, as larger quad-core processors tend to be a lot more power hungry. Where the Samsung Galaxy Mega is going to lose most of its juice is the screen. You can't have 6.3 inches of screen, without putting a lot of power into keeping it going.
Within the Galaxy range, and so on the Galaxy Mega, battery life is an area that Samsung has really put a lot of thought into. The greatest example is the quick settings that sit in the notifications bar. These have been around for as long as we can remember, and really do aid battery life, giving you the ability to turn off battery draining services such as Wi-Fi and GPS when not in use.
There is also the auto-brightness feature that is sorely missed on a variety of handsets, the most noticeable being that Galaxy S3 Mini. Auto-brightness levels can even be customised on the Galaxy Mega, although not massively. It's not a feature that we ended up using all that often, but we are fans of anything that gives that added extra level of control.
As we threw the Galaxy Mega through the grind, we are able to report that it lasted what we would call a standard day. We checked our emails occasionally, sent one or two text messages to our only friend, we even popped the video player on for a bit. With the Galaxy Mega's massive screen, we did find that the battery was sapped quite considerably with videos.
Our 90 minute HD test video caused a 27% drain, so if you have a long commute and plan to watch a lot of videos, you might want to take a cable with you to work.
Connectivity
Connectivity is getting a lot better across the board, with every level of the smartphone marked getting more and more connected, with NFC now gracing even the cheapest handsets such as the Samsung Galaxy Fame.
With mid range specs, the Samsung Galaxy Mega comes with all the standard connectivity gubbins and doodads that that we have all come to expect; Wi-Fi, GPS and GLONASS, Bluetooth, NFC and even 4G LTE.
With networks pushing 4G as the future of mobile internet, equipping the Galaxy Mega with 4G technology is a massive boost. After all, what is the point in having a massive screen that is perfect for mobile web browsing, if you're not going to have mobile technology to back it up.
Wi-Fi is supported to a/b/g/n standards (as well as Wi-Fi Direct on board), and comes dual band, supporting both 24 and 5GHz technology. Bluetooth is supported to 4.0 standard. DLNA streaming is another feature that is being built into a lot of Samsung's devices, and makes another appearance on the Galaxy Mega. We mentioned the IR blaster earlier, but that turns the Galaxy Mega into a remote control.
Samsung's Group Play also makes its way over to the Galaxy Mega, unsurprising as this is a feature that Samsung is trying to push, to make their devices more sociable. As an app, it is perfectly functional, connecting to other Samsung Galaxy devices so you and your friends can turn your phones in to something that vaguely resembles a surround sound system, with music being played through all the external speakers.
As always, connection to the PC is done via a microUSB port, which also doubles itself up as the charging point, and even an MHL (11pin) port. Connected to the PC, the Galaxy Mega becomes an external drive, meaning that the usual drag and drop features on the desktop are still present.
For those that want a little more functionality, Samsung also has its proprietary KIES software, which the Galaxy Mega can connect to via the microUSB cable, or via KIES Air (if both devices are connected to the same Wi-Fi network).
Maps and Apps
Maps
Can you use the Samsung Galaxy Mega as a sat-nav replacement? In short, yes. Today, there is less need for dedicated sat-nav equipment, with it tending to be the preserve of long distance drivers and for users that are out and about all the time.
That said, the Google Navigation option that comes built in Google Maps is, more often than not, a decent substitution. There are also a wide variety of free and paid sat-nav replacement applications available on the Google Play Store.
Anybody that has had any experience with an Android device, or anybody that has used Google's desktop mapping experience will know that the Mountain View firm's mapping application is pretty much unparalleled.
If you're planning on using the Galaxy Mega as a full blown sat-nav replacement, we can say that it copes admirably, and the 6.3-inch screen makes it very useful. Samsung devices also come equipped with both GPS and GLONASS location technology which provides swift lock on, and the route planning was quick enough to not leave us sat around in our car all day.
Within the general mapping application, the dual core processor was never going to be perfectly smooth moving in and out; there was slight slowdown, but nothing that we found to be a hindrance. As with other android handsets, the Samsung Galaxy Mega also pulls in nigh on every feature from the desktop version.
Apps
With Android's Jelly Bean OS keeping everything moving along on the Samsung Galaxy Mega, you shouldn't be surprised to find that the Google Play Store is where you will most likely be heading for all your app (and maybe even music, video and book)needs.
Like many OEMs, Samsung has also popped in its own app hubs, should you decided that Google's offering isn't for you.
We can see exactly why any manufacturers bundle in their own stores, it is a great way to make them some extra money. Given how well populated the Google Play Store has become (it's a real rival to Apple's App Store), we don't know if Samsung's, or anyone else's for that matter, will get a lot of attention.
We feel it's a little disheartening, as Samsung's apps have clearly had some thought put into them; they are easily as visually attractive as the Play Store, and come with very similar levels of functionality.
When it comes to the Google Play Store, we could easily cover it in high levels of detail. However, as an app it is pretty self explanatory, and very well known, we don't think that we need to. Just to clarify though, it is broken down into very easy to navigate sections; Games, Apps, Music, Movies, Books and Magazines.
Each section is subsequently broken down into further sections, making it easy to navigate. Couple this with large images and Google's Play Store has become a much more visually pleasing and more intuitive experience than it has ever been. The latest update even allows you to see which apps have recently updated themselves.
We should also briefly mention again that if you are an app hungry user, you should consider investing in a decent microSD card, as the 5GB of internal storage will fill up fast.
There is also a rather innovative looking Kid Mode pre-installed. This app does what it says on the tin, with it providing a safe area where kids can play on the Galaxy Mega, without invading the rest of the device
One thing that Samsung devices do come with, and these vary from device to device, as a whole raft of 'S Apps', which are Samsung created or edited applications to cover a variety of situations. The Galaxy Mega comes with S Memo, S Planner, S Translator and S Voice.
S Apps
S Planner is another way of saying calendar. Whilst being a very visually busy app, Samsung has put in many features to warrant its inclusion ahead of the standard Google calendar. Pinching to zoom through timings (day, week, month, year) are a smart and novel idea, yet the processor seemed to lag a little, with a noticeable delay between times.
S Voice is the Korean firm's response to Siri, and in tests it seemed to perform well enough. It is by no means as charming, nor as proficient as Siri is on the iPhone, but for a voice assistant it works, doing most of what we asked it to, and we can ask little more than that.
As for Samsung's S Translator and S Memo apps, we have to say they are pretty self explanatory. The former is a translator app, the latter, a memo taking app... Shocking! S Translator is a really nifty app, with the ability to listen to voices in either of the languages you are translating between, and then speak translations. For frequent travellers, or even those on a holiday to somewhere unknown, we can see it being very useful, especially if you can grab access to the Wi-Fi.
Samsung has also provided an app called Story Album. It isn't a massively useful app, offering the ability to make virtual photo albums that can then be sent to make real life albums. It was initially rather impressive, but not an app that we can see being used an awful lot, especially as you can manually sort them all a lot better on a desktop, before sending them off to print.
WatchON
With Infra Red making an interesting come back to the phone market (anybody else remember when it was used as a method of data transferral?), the Galaxy Mega comes equipped with an IR Blaster, wrapped up into a an app titled WatchOn. It turns the Mega into a remote control, and is a feature that we have seen previously both on other Galaxy devices like the Samsung Galaxy S4 and S4 Mini, as well as the HTC One.
We are pleased to report that WatchOn works very well. We were able to set it up to a variety of devices; multiple televisions and set top boxes. This meant that we had one universal remote, able to set it to the Sony Bravia in the bedroom, as well as the Toshiba in the living room, and the Sky box sat below it.
We were also impressed that it managed to hit all the right codes correctly first time, although it has other codes built in should you find that it doesn't respond immediately. Visually, the app is a charming recreation of a remote, with a grey plasticcy charm. As a complete remote replacement, we wouldn't recommend it, but it is more than functional enough should you misplace the remote, or should it be sat on the other side of the room.
WatchOn is not just a remote control app, however. The app also comes with the ability to suggest different programmes for you. The initial offerings weren't entirely accurate, but the longer you use it, the more programmes you tell it you like, and the more accurate it will become.
Official gallery
Verdict
After all that, you might have a pretty good idea of where this all leaves us. With the Galaxy Mega, Samsung has created a handset that really stands out, if only for its gargantuan screen.
Coming in at a price point that means it challenges the flagship end of the market, the Galaxy Mega needs to be able to fight it out with the Samsung Galaxy S4, the HTC One and the Sony Xperia Z1. Being equipped with lower spec-ed internal weaponry, this is a fight that the Galaxy Mega might struggle in.
We liked
Buying guide
20 best mobile phones in the world today
We could sit on the fence when it comes to the screen, but when it comes to the size of it, it really can be useful to have that extra space. Samsung has proven through the Note series, that big screens sell, and we can see why. It makes multi-tasking via the Multi-Window , or whilst watching a video through Pop-up Play that little bit easier. It also makes web browsing and book reading a lot easier.
The Galaxy Mega doesn't feel as large as it could do, either. Whilst too large to be popped into a tight pocket, or for one handed use 90% of the time, the Galaxy Mega was clearly designed to be used two handed, and tapping away a text or an email message is a lot easier with two hands and that wider screen.
We can say that we are also big fans of the camera, given that it has the same 8MP camera that was on the back of the Galaxy S4 Mini. It is a testament to the fact that sensor size isn't something that can accurately be relied upon as a measurement of a camera's image quality. It will never be a total camera replacement, but that 8MP won't leave you wishing that you had a compact camera in your pocket as well.
We disliked
Best phone deals
Save up to 40% on your mobile phone contract
As Galaxy Mega is going to be put up against the flagship phones, we were left feeling a little disappointed that the 1.7GHz processor behind the screen is only a dual-core. Whilst it might have been able to cope with the majority of things that we threw its way, it was by no means the same smooth experience that the quad cores in the likes of the Galaxy S4 provides.
The Galaxy Mega also suffers from paltry internal storage. We can't fathom how a device with such a large screen, that is ideal for watching videos on whilst out and about, can come with such a tiny internal storage. Samsung will argue that they provide the microSD slot, but we would still ask for more, as that 5GB will get quickly filled with apps.
Looking at the Galaxy Mega, it is clear what the major selling point is meant to be, so we don't understand why Samsung hasn't made more of a feature out of it. Maybe it would have pushed the high prices even higher, but with a phone that appears to have been designed almost entirely around that large screen, we would have hoped for it to have been Full HD, and using the AMOLED technology that Samsung is famed for.
Final verdict
In the end, we are left feeling a little confused by the Samsung Galaxy Mega. Every time we pick it up, we really want to like it. Samsung proved with the original Galaxy Note, and the subsequent Galaxy Note 2, that big screens really do sell phones, and we can see exactly why.
But that Galaxy Note 2 comes with an AMOLED screen, and the same resolution as the Galaxy Mega but in a screen that is 0.8 inches smaller so seems that bit more impressive. The Note 2 even comes in cheaper, with a quad core and the S Pen.
The Samsung Galaxy Mega, then, is annoyingly disappointing. With there being so much else to choose from, with the Galaxy Note 2 being cheaper, the flagship phones being higher spec-ed, and the onslaught of alternate 'phablets' in the form of the Samsung Galaxy Note 3, Sony Xperia Z Ultra and HTC One Max, we can't see where the Mega fits in.
First reviewed: September 2013
Samsung Galaxy Mega Galaxy Mega Samsung smartphones Android Jelly Bean Android 4.2 phonescarousel-en-gb phonescarousel-en-us phonescarousel-en-au