Orange Monte Carlo
£150
13th Sep 2011 | 10:04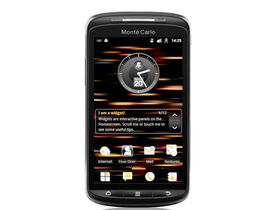 Can Orange's new low-cost Android handset match the San Francisco?
Overview, design and feel
When Orange released its San Francisco, we were bowled over. It was a great handset for a budget price, and it continues to be the standard by which we evaluate any Android phone that hovers around the £100 mark.
The Monte Carlo is a slightly different proposition in that it costs £150 on Orange Pay As You Go, making it a much more expensive handset than the San Francisco was at launch. You can also get it on an Orange contract for free.
And if you like the sound of what you read here, look out for the ZTE Skate – it's the same phone, but it's currently priced at around £250 SIM-free. If you go for that option, then bear in mind that there are some Orange-specific features on the Monte Carlo that won't be on the ZTE Skate.
Orange's price puts the Monte Carlo in the realms of the Acer Liquid Mini, the oddly designed Motorola Flipout and the non-Android BlackBerry Curve 8520.
So, what do you get for your money?
Well, on the face of it, you get roughly what you ought to for the money. There's a vast 4.3-inch screen, with 800 x 480 pixels resolution on offer. But the screen isn't as bright or sharp as some, its TFT-LCD making it almost unreadable outside in bright sunshine.
You've got the usual Wi-Fi, HSDPA and GPS connectivity, a 5MP camera and Android 2.3 operating system, so the Monte Carlo is pretty up to date.
At the heart of this smartphone is an 800MHz processor. It's not up there with speedy dual-core types, but for a phone this cheap we can't really grumble.
Construction-wise, things are OK but not wonderful. This is a big handset, measuring 125.9 x 67.8 x 10.4mm, but it's relatively light, weighing 120g. That's accounted for by the cheap plastic build, which feels ever so slightly creaky in the hand.
It's not flimsy enough to worry us too much – with the exception of the back plate, which is rather thin. You'll need to take care when you remove it, which you'll need to do in order to access the microSD card slot – which you have to annoyingly take the battery out to access.
The back plate itself is a shiny fingerprint magnet, and the front screen is barely better. Beneath it are three teeny lozenge-shaped buttons for Home, Menu and Back. The Back button doubles up as a charge indicator with red and green backlighting, and an alert light with a flashing green light.
The 3.5mm headset connector is neatly placed on top of the phone, a volume rocker is on the left and the main power switch and micro USB slot are both on the right-hand edge.
Interface
Orange can't keep its little fingers away from Android, and the basic Android 2.3 look has been hidden away under the Orange overlay on the Monte Carlo.
We always find Orange's skin rather uninspiring. The black and orange wallpaper is gloomy. Yes, you can change it, but out of the box it's a bit of a downer.
There are five home screens, and a quick stab of the Home button gets you a thumbnail view of them all so you can quickly move to whichever one you want if scrolling around feels like it takes too long.
Beneath each of the home screens there's a permanent bank of four shortcuts that take you to the main apps menu, messages, the dial pad and contacts. It's not a new idea, but it is one we like. We do wish that Orange could design icons we found nicer to look at, though.
This being an Android handset, you've got plenty of apps to play with through the Android Market. Orange adds its own apps and widgets to the range, and separates them out in the menu so you can easily see which are from Orange and which are native to Android.
It does get a bit confusing, though, especially for Android novices. Orange has its own apps for Contacts, Mail, Messages, Weather, Clocks and Alarms, and you'll find duplicates for many of these when you look in the Android apps folder.
You'll have to experiment to find which ones you like best and which apps you can do without. We really like the Orange messaging app. It shows incoming texts, and little side icons enable you to see a summary view, start composing immediately or jump into the main messaging app.
Among the many extras Orange includes is its Gestures app. This enables you to open apps using – you've guessed it – onscreen gestures.
There are oodles of gestures to choose from, so you can go to town assigning screen sweeps to apps, bookmarks, contacts, music playlists and more, then trying to remember which action you assigned to which gesture.
It's irritating that you have to be on one of the home screens for a gesture to be recognised, though.
Operation is pretty slick on the whole. With the 800MHz processor powering things along under the hood, it's probably going to be OK for day to day use – but be prepared for a spot of slowdown if you continually open up reams of applications.
Contacts and calling
We'll make one notable point right at the start of this section. The Orange Monte Carlo incorporates Orange HD Voice. This is an Orange proprietary technology that's designed to help make calls clearer.
HD Voice claims to reduce external noises, which is great if you're outside in loud streets. But both you and the person you're calling need to have HD Voice handsets for it to work. And you both need to be connected to 3G at the time.
During our testing we only made one call to another known HD Voice user, and that was from a fairly quiet location. But we did notice that the call had slightly better quality. To be honest, though, in everyday use, we aren't sure HD Voice is enough to make you want to buy this handset on its own.
For non-HD Voice calls, general sound quality was fine.
Signal strength was a bit iffy though. Our regular handset is on Orange and sitting at home its three bars of strength were matched by two bars on the Monte Carlo. We saw similarly relatively low-strength signal elsewhere too.
We were very surprised to see that the Orange Monte Carlo takes a laid-back attitude towards incorporating Twitter and Facebook data into contacts. So laid-back that it isn't there.
Go to Contacts and scroll through to the place where you 'Add Account' and you can fill in a contact's Exchange, Yahoo!, Hotmail or Google email address details.
But not Facebook or Twitter.
Moreover, there are no apps on board for handling either of these popular social networking tools. You can download them from the Android Market, of course, but out of the box the Orange Monte Carlo is a social networking abyss.
Contacts can be scooped up from Gmail, copied across from your SIM card or entered manually, and if you take the latter route you can add in a fair bit of information about each individual. Just not their Facebook or Twitter details. Did we mention that?
Smart dialling is supported, so as you tap away on the dial pad, matches are shown with their matching letters in red, the rest in white. To place a call, just hit the name of the contact.
Thankfully the larger screen makes all of this a very finger-friendly process.
There's nothing surprising about the dial pad, which looks very familiar. The loudspeaker is loud enough for use indoors, although in noisy outside environments it might be tricky to hear the caller.
Messaging
With no Facebook or Twitter integration built into the Orange Monte Carlo out of the box, you've got none of the fancy social media integration you get with some smartphones.
Out of the box, then, messaging boils down to email, SMS and instant messaging via Orange Messenger (powered by Windows Live).
Orange Messenger charges its Pay As You Go customers the princely sum of 5p per message sent.
If you fancy trying it, then you can sign in to Hotmail, MSN, Live, Orange or Wannado accounts and trial Orange Messenger for a rather ungenerous three free days.
When it comes to texting, there's a predictive text system going on to help speed up typing.
We found we didn't resort to it very often, though, because the keyboard is extremely comfortable, speedy and responsive in both portrait and landscape modes.
Threaded messaging is supported, and if you switch into landscape mode you see less of your messaging history, but the keyboard is bigger and easier to use, and the predictive text line is still present.
If you want to set up a non-Gmail personal email account to access, you may want to use the pre-configured settings for a number of popular email providers, including Sky, TalkTalk, Tiscali, and even the Orange-bought Freeserve. Does anyone still have a Freeserve email account?
Initially, it seems as though email is divided into the two usual Android pockets of Gmail in one app and email from the rest in another app. There are separate icons for each of these in the apps list.
However, things aren't quite what they seem. Hit the Gmail icon and you do indeed simply get to view your Gmail messages. Opt instead for the Mail icon and your inboxes are aggregated so you can switch between them.
So, that's Gmail in two separate places on one handset, then.
A word of warning about all this. Enter email addresses via the Settings area rather than in the Mail app itself. If you do the latter, it seems Orange sets you up for a trial of Mobile Mail, a service that starts charging you for use after a trial period. Very naughty, Orange.
Internet
Of course the Orange Monte Carlo has HSDPA built in, and Wi-Fi too, so you can use either to get onto the internet. The 4.3-inch screen with its 480 x 800 pixel resolution makes looking at web pages a treat.
It's a bit annoying that the home page is Orange World, but it's easy to reset this to any page.
The TechRadar home page is a complex one for small smartphones, but it renders well on the large screen of the Orange Monte Carlo. Initial loading quickly gives you a readable screen that you can pan around, and it looks good in both portrait and landscape formats.
A double-tap zooms you out to a full page view, which in many instances will be just about readable.
Text reflowing is very good. If you use the small zoom buttons that appear at the bottom-right of the screen when you tap it, you can get in really close, with full text reflow in operation. However, pinching and zooming sadly doesn't yield the same results, so best to use buttons for reading text at your preferred size.
Or, of course, you can get to a more sensible text size for reading.
Despite having an 800MHz processor, the Orange Monte Carlo doesn't have Flash support. This is a big disappointment, because the large screen really does lend itself to watching streamed video embedded into web pages.
The YouTube client presents no problems, with content streaming really well and the large screen doing a great job.
Yes it's an LCD-TFT, so the colours can lack the vibrancy of an AMOLED screen, but it's perfectly viewable, if a little washed out.
We do, however, have to say that if you're outside the screen can become unreadable. And the brighter the sunlight, the more trouble you're in. It's a problem we came up against on more than one occasion.
Camera
The camera is one area where the Orange Monte Carlo disappoints.
Photos are shot at 5MP. The lens, which does have a small LED flash built in to help out a little with indoor low-light shooting, sits right against one edge of the chassis, and we accidentally covered it sometimes, making shooting tricky.
We found when shooting videos and taking photos outside that the screen was almost impossible to see in bright lighting conditions. Point and click often turned into "point, guess and click", because framing videos and still images was really difficult.
On the plus side, the controls are easily accessible via onscreen icons, although you have to scroll down through quite a long list to adjust some settings.
There are very few effects, with just mono, sepia and negative on board. You've got some white balance settings too – the usual range of auto, incandescent, daylight, fluorescent and cloudy.
SUNNY: This photo was taken on a reasonably sunny day, and you can see that the camera has trouble rendering the bright sky and darkish background
CONFUSED:The sun was behind us when we took this close up photo and the camera really struggles to differentiate light and shade
REASONABLE:A fairly nice shot, though the yellow of the flowers was brighter than the photo suggests
BLACK-AND-WHITE:Trying out the filters, the black and white option works well
SEPIA: The sepia filter turns our yellow flowers into a more faded version of their former selves
NEGATIVE:Negative mode does what you'd expect, and produces this spooky floral display
Video
The video camera on the Orange Monte Carlo is rather hamstrung with VGA as its top resolution. It's unlikely you'll want to take any videos for widespread sharing at that resolution, although they look alright when shown on the handset itself.
Media
We've already looked at the YouTube capabilities of the Orange Monte Carlo, and there's plenty more on offer, in the shape of an FM radio and music playback.
You've also got MediaShare for Wi-Fi sharing of video, audio and images. This worked well when we used it over our home Wi-Fi connection, and we happily streamed music from our main computer to the Orange Monte Carlo.
The music player on board is the standard Android offering, with no connected options such as lyrics download. It failed to pick up album art from our SD card, but the controls are obvious enough with large and easy to press buttons.
There's one control that does look a bit different, though, and this turns Dolby Mobile sound enhancement on and off. It does actually make quite a difference when listening to music through the Orange Monte Carlo speaker, improving the quality considerably compared to the standard settings.
There weren't any headphones with our review handset, but when we used a mid-range set of our own we still found the output to be quite fuzzy, even with the Dolby Mobile sound system turned on.
Dolby Mobile includes an equaliser that has a small effect on sound quality, but this isn't a handset you'll want to choose if you like really good-quality music playback.
The FM radio on the Orange Monte Carlo is rather poorly featured. It doesn't seem to have auto seek and store, so that you have to run through frequencies to find stations manually. Then you drag these frequencies from a box at the top of the screen onto an area beneath, where they're saved.
There's no RDS, and you can't rename frequencies to represent station names. It's a poor show.
Video playback is a better story. Videos are picked up from the Android Gallery and from a separate Video app. If you choose the latter it'll list all the videos on the handset ready for playing. However, be warned it only supports MP4 and H.264 video formats. AVI, DivX, WMV and Xvid need not apply.
Our MP4s played fine, but we've mentioned throughout this review, the LCD TFT doesn't offer the most vibrant of screens and in sunlight it's extremely difficult to see the screen.
Battery life and connectivity
The Orange Monte Carlo is supplied with a 1400mAh battery. This might seem a bit underpowered for driving such a large screen, but the 800MHz processor is less of a drain than faster variants are, and we found the battery surprisingly robust.
For the record, Orange says the battery makes the Orange Monte Carlo good for up to 288 hours on standby and five hours of talk time.
We managed to get a day of use out of it, which we don't always do – it's pretty much bang in the 'morning to night' smartphone range 95% of the market is offering us, so be warned if you're heading off-piste... you'll need a charger.
And we think if you're light with the GPS, Wi-Fi, 3G web browsing and regular processes such as email collection you should get a day and a half between charges. That's quite good going.
Connectivity is plentiful, with HSDPA, Wi-Fi and GPS all here, as well as Bluetooth. We've also mentioned the MediaShare media server, which enables you to listen to music and look at videos and images stored elsewhere over your Wi-Fi network.
Maps and apps
We mentioned in the Interface section of this review that Orange pre-installs some apps of its own on the Monte Carlo, which provide similar functions to the Android ones. The same can be said of both maps and apps.
This can make for quite some confusion, and we really wish Orange would leave well alone with its own extras and let Android do the talking.
On the maps front you've got Google Maps and Orange Maps. They provide similar functions, but Google maps is much more feature rich, entirely free, and we'd stick with that.
Orange seems to have gone mad with apps. As well as its own such as Orange Wednesdays and Orange Photo for uploading to online storage, there are some games including good old Tetris and The Sims 3.
There are also some other productivity-style apps including Documents to Go for viewing – but not editing – Word, Excel, Powerpoint and PDF documents, a useful file manager, stopwatch, and a nice Note Pad app.
Orange also has its own app market, and there are widgets on the menu screen linking to what it calls the App shop, Games store, and Ringtones store. Thanks Orange, but this makes the menu section rather cluttered.
Moreover, there's a memory issue. The Orange Monte Carlo comes with 512MB of storage memory. When we checked our review handset there was just 118MB free for your own apps – not enough if you want to download the average amount of Market frippery – we suspect you'll be moving a fair few applications to memory card.
Hands on gallery
Official gallery
Verdict
The Orange Monte Carlo left us with a fair bit to whinge about, but in reality you are paying £150 for it, and at that price you have to expect some compromises.
It doesn't wow us the way the San Francisco did, but to be frank it is a good value Android smartphone nonetheless, and measures up well against competition at the same price. Our main major gripe is the lack of Flash.
We liked
The screen is large and responsive, and it's great for viewing video and reading web pages – much more than we'd expect for the money.
The MediaShare app is nicely implemented and easy to use, making streaming content from your main computer or server really easy – connection might be a bit confusing for the uninitiated, but it's simple enough to navigate through.
The 800MHz processor pumps along quite speedily. We didn't feel held up by it at all – you might be paying a lot less than you might for a dual core phone, but the performance belies the price tag.
We disliked
The screen is almost unreadable in bright sunny conditions outside, although it is readable on duller days – perhaps this is where Orange has saved the most money, but be ready for it and keep it up at full brightness before you venture through the door.
The microSD card can only be swapped out if you remove the battery first, which makes hot swapping media difficult. However, it's unlikely many PAYG users will frequently use this function, so it might not be a really big deal. There's no support for Flash though... it's a gripe as we're fans of it on phones that seem equally as powerful.
The camera is disappointing, particularly in video mode, which is stuck at VGA resolution – another area of cost saving we guess, and the frame rate is smooth enough to be more than acceptable.
Orange goes overboard with its apps and widgets, and for the most part we'd rather they weren't included. Sadly the included storage is simply abysmal... we wager most people will run out of app space in the first month or two, so a decent microSD purchase is a must.
Verdict
It's a shame that the Orange Monte Carlo isn't the great 'wow' handset that the Orange San Francisco was, but it isn't a bad phone for all that. At the price we think it is a good buy.
But the San Francisco is now £75, and remains a very tempting purchase if funds are tight.
There are some technical specs that we find strange – low memory for apps being a big one – and some that make sense (the screen is poor, but savings have to be made).
For an early entry into the world of the larger-screened smartphones, this is definitely worth a look.
Orange