Nokia X3 Touch and Type
£139
13th Jan 2011 | 11:00
Nokia brings back touchscreen Symbian S40 again, but is Android too far ahead?
Nokia X3 Touch and Type review: Overview
The Nokia X3 Touch and Type is not to be confused with the Nokia X3, a music-friendly handset that we reviewed early in 2010. Rather strangely, Nokia has a multiple nomenclature for its handsets these days, and the X3 Touch and Type is also known as the X3-02. No, we can't explain why Nokia wants to confuse you, but we wish they'd stop it.
If you've been feeling a little overwhelmed by high-end smartphones lately, and think that even Nokia is concentrating on the top end with the likes of the Nokia N8, then rest easy. The Nokia X3 Touch and Type is a good old fashioned candybar handset.
Its S40 operating system has had a touchscreen makeover so that, even if the handset looks old hat, its screen can be prodded and sweeped with the best of them.
And it has a music-friendly emphasis with a dedicated music player button, a music widget for the Home screen, FM radio, and even 10 free Ovi Music songs thanks to a voucher in the box.
Elsewhere, you'll find a reasonable range of features. HSDPA gives you downloads to 10.2Mbps and uploads to 2Mbps. There is a Wi-Fi connection, supporting b, g and n protocols.
There's only 50MB of internal storage, but an easily accessible microSD card slot lets you add more, and a 2GB card starts the storage ball rolling. There's a five-megapixel camera too.
And the physical design is appealing. The Nokia X3 Touch and Type is lightweight at a mere 78g, thanks in no small part to its mostly plastic chassis. It is small for the hand and pocket at just 9.6mm thick, 48.4mm wide and 106.2mm tall.
Our review sample was a startling popstar-teeth white version, but you can also get blue, black, lilac and a very frighteningly bright pink. Our white version had a grey metal backplate. In the other colours, the backplate blends in with the main chassis shade.
It isn't all hugely appealing, though, even on paper before you start to dig around. The small screen looks set to be a bit of a bind at times, and we have not been huge fans of the touch version of S40 in the past.
There is also the question price versus features. The Nokia X3 Touch and Type costs just £139 SIM-free, which sounds like a bargain… until you realise that Orange's fantastic Android-toting San Francisco is £99 on Pay As You Go and you can add apps to it till the cows come home.
Nokia X3 Touch and Type review: Interface
The Symbian S40 operating system is really long in the tooth. Even before touchscreens were all the rage, S40 was the lowly relation to S60, offering less flexibility and less third-party app support. S40 has had a touch sensitive makeover, and we've seen its touchy-feely guise before, for example in the Nokia C3's Touch and Type iteration.
The trouble is that touch alone does not make a good operating system, and S40 suffers from three main problems.
First off, it's stuck in the past as far as the user interface is concerned. Nokia has done its best to deliver a customisable Home screen and plentiful shortcuts, and this is fairly intuitive to use, but nowhere near as flexible as you'll find in an Android-based handset.
Tap and hold on any item on the Home screen and you get a 'personalise view' menu, which you can use to set up the Home screen. Tap any of the top three rows and you can add in a shortcut to something specific.
Tap the tool icon in the fourth row and you can configure four mini shortcuts to apps.
To help you get over the limitations of having a single Home screen, there is a second shortcuts screen. On the bottom of the main screen are Menu, Names and Go To options. Tap that last one and you get a 3 x 3 grid of additional shortcuts.
You can personalise this by tapping the 'Personalise view' option at the head of the screen then tapping any link that you want to swap for a new one.
Again, it's a bit of a fiddle, but at least it gives you some additional personalisation options.
In addition, you can tap and hold an item on the main screen to get to a menu of related options. So, for example, if you have your favourite contacts showing, you can tap and hold to edit who is in the list.
All this is fairly flexible, but you're stuck with the one Home screen with its ancillary nine shortcuts, and as we noted earlier, getting what you want onto the Home screen in particular is nowhere near as fast as the simple tap-and-hold convention of Android.
The second main problem is that the touchscreen is resistive and not capacitive. Now, we don't doubt Nokia has chosen resistive technology to help keep the handset cost down, and we do like the haptic feedback you get when you press the screen and the way menus roll on if you sweep at them fast enough.
But you need to press into the screen to get a response, and if you've ever used a capacitive screen which responds to the merest touch, you'll feel the Nokia X3 Touch and Type is sluggish.
There is another user-interface problem, and that is the small screen. Measuring just 2.4 inches and with a mere 240 x 320 pixels on offer, there simply isn't the real estate available to show a lot of detail.
The main apps menu, for example, manages to offer just nine shortcuts and this is where we hit the third problem.
We are used to seeing all apps ranged in a single list, as on Android handsets or the iPhone, for example. Here you get nine shortcuts and within these can be buried further shortcuts. Hit Apps, and you get a long scrollable list of apps.
One of the options here is Extras, and you have to tap that to see anything on your microSD card, games and a range of additional apps that have been downloaded, hidden in the Collection folder. These include things like Opera Mini, and a unit converter. It's quite a mess, really.
Nokia X3 Touch and Type review: Calls
The one thing the Nokia X3 Touch and Type is really good for is making calls. You can have four favourite people on the Home screen and initiate calls to them with a couple of screen taps.
But if you keep your contacts on the SIM, getting them to the Home screen involves copying them onto the handset first.
Why it can't just pick up data from the SIM is anybody's guess, but it's a pain and if you choose to just copy contacts into the phone and keep them on your SIM too, they are listed twice on the handset.
Still, once you've got contacts into the handset itself, it's a simple case of tapping the screen to make a call.
In-call volume could be louder with the handset held to your ear, and calls aren't always supremely clear, but the loudspeaker was good, and the people we spoke to didn't say there was any distortion or fuzziness on the line.
Adding contacts is a bit of a pain, as it always is with candybar style handsets. You need to add data in pre-defined sequence starting with number and moving through last name and first name before the contact is saved.
With those three bits of info saved, you then have to go into the contact to add more details, such as additional phone numbers, web addresses, image and special ringtone and any personal information, including a postal address, nickname, birthday or note.
Nokia X3 Touch and Type review: Messaging
Messaging and email are both hampered slightly by the smallish screen of the Nokia X3 Touch and Type. One thing you'll notice possibly even before these become an issue, though, is the annoying reconfiguration of the keyboard when compared to other Nokia handset, with a numeric keypad.
The rearrangement takes the three keys that are usually at the bottom of the number pad and puts them down the right side. So you need to tap bottom right for a zero, top right for the * and centre right for #. It took us quite a while to get used to the new configuration, but we can see why Nokia did it.
The arrangement leaves space for a slightly larger screen than could otherwise be accommodated and for a bank of shortcut keys below the screen. A tap on one of these gives you the option to see unread messages or go straight to message creation.
The predictive text system works well, and we like the forward and back arrows, which let us easily get to a section of a message to edit it. You can prod the screen with a finger to relocate the editing position, too.
As usual the # key alternates you through upper and lower case, and there is an on screen tappable # key that repeats the role. There is also a tappable key to get you to three pages of symbols and a page of smilies.
When it comes to email you've got the option of Ovi Mail, Yahoo, Gmail, Hotmail and BT Internet with easy configuration requiring a minimum of data input from you as well as the opportunity to enter POP and SMTP settings for other email addresses.
With that done, you can use either the network or Wi-Fi to collect email. Either way, though, you have to sign into mail accounts individually rather than having a unified inbox, and there is a bit of a wait while each account updates itself. Mobile email on the Nokia X3 Touch and Type is not the slickest experience.
Nokia X3 Touch and Type review: Internet
We've already noted that the screen of the Nokia X3 Touch and Type is small. That's bound to affect web browsing, and not in a good way. With just 2.4 inches of viewable area and 320 x 240 pixels on offer, you can't expect a superb browsing experience.
There are, though, two browsers to choose between. Nokia's standard browser doesn't show a great deal of anything much that's readable when you first get to a page. To zoom, you can use a little box or on screen zoom buttons, but either way you have to wait for a page to rework itself.
We got bored with waiting for it quite quickly and moved on to Opera Mini, which opens with a few pre configured bookmarks with neat little thumbnails and is much more of a pleasure to use.
The default load is a page overview, which makes it difficult to see detail, but it's easy – and fast – to zoom in with a double tap on the screen and then to pan around to what interests you.
Both browsers offer you a choice of connection whenever you start them up – Wi-Fi or over the network. That's nice, and we'd choose Opera Mini every time as our default.
Nokia X3 Touch and Type review: Camera
With a five-megapixel camera on-board, you might expect at least passable images from the Nokia X3 Touch and Type and, in terms of stills, that's what you get. There's no dedicated camera button to take pictures, but the on-screen icon is good enough for the job, and if you want quick launch you just have to put a shortcut onto the Home screen.
There is no flash, which is a disappointment as it means indoor shots suffer greatly in deteriorating lighting conditions. Nor are there many settings for those fun images that skew the light.
But on the whole, we found the camera to produce decent images.
Click here for full-res version
This extremely exciting shot was taken in a fairly dull supermarket forecourt. We didn't expect the Nokia X3 Touch and Type to cope well with the lighting conditions, and were pleasantly surprised.
Click here for full-res version
A chilly, dull winter's morning, but the camera made a good fist of the available light. If you look closely at the foliage, though, you'll see that it struggles with detail.
Click here for full-res version
We couldn't resist playing with the negative mode. It's rather more over the top than some we've seen, but if you want the effect, why not go all the way?
The Nokia X3 Touch and Type has 4x digital zoom, and this shot, taken to full zoom potential, shows exactly why digital zoom should always be left alone.
Nokia X3 Touch and Type review: Video sample
Video was very disappointing given how well the camera handled stills. Limited to a top resolution of 640 x 480 it was a little jerky and very dark. We've seen a lot better.
Nokia X3 Touch and Type review: Media
Nokia is pushing the Nokia X3 Touch and Type as something of a media fan's handset, and to that end you get 10 free Ovi music tracks via an in-box voucher. For more long-lasting enjoyment there is an FM radio, equaliser and a dedicated music player key.
The music player key sits on the front chassis beneath the screen, and when you tap it up pops a small controller that lets you pause the current track or go backwards and forwards through tracks.
If nothing is playing, you can start playback where you left it off before, and the little widget even remembers the last track you stopped at if you turn the Nokia X3 Touch and Type off between playing sessions.
The music player picks up album art and has its own playback controls.
The FM radio requires the headset to be in place before it will go through its auto scanning procedure. It popped 12 stations into available preset locations for us, leaving a further eight free. It's nothing spectacular, but it does its job.
Audio quality is reasonably good and fairly loud through the handset speaker, with a reasonably loud highest volume though an inevitable tinniness creeps in as you go up the dial. The equaliser presents don't have much effect, though.
The provided headphones aren't great, but they aren't dire either, though we don't like the flat in ear buds, which didn't stay in our ears well. The 3.5mm connecter is perfectly located on the top of the chassis.
Video playback is limited to MPEG-4 and 3GPP and you may inevitably have some local content that the handset just won't recognise. It didn't like a long MP4 of ours, stripping the sound out but refusing to play the video, but it was fine with a shorter MP4.
If you want YouTube, you'll have to go via the web which we did using Opera Mini. The results were woefully pixelated and jerky, and we don't believe that was due to our Wi-Fi connection, which allowed us to browse perfectly adequately.
Nokia X3 Touch and Type review: Battery and apps
We are used to seeing batteries that average out around 1200mAh and can top 1500mAh in some cases. So it's disappointing that the Nokia X3 Touch and Type has an 860mAh battery.
Nokia is quite bullish about what you should get from the battery, giving a quote of 300 minutes of talk, up to 25 hours of music playback and up to 6.8 hours of video playback.
As ever, you need a large dose of reality when putting these estimates into the real world, but we did find we were able to get through two days of usage without worrying too much about keeping mains power nearby.
We did not use the Nokia X3 Touch and Type as our main music player while testing, though, and you may find such usage leads you to need a daily charge.
The general good battery life can be put down to the fact that S40 is a relatively light operating system and the screen is not exactly a vast power drainer either.
Organiser
The life organiser facilities on the Nokia X3 Touch and Type are on a par with what you'd expect to see from any S40 handset. At the heart of the organiser functions is the calendar, which has a reasonable array of features and includes the ability to synchronise with Ovi for online backup.
You've also got an alarm clock and calculator readily to hand, the former offering you a single alarm with snooze function, the latter offering some scientific functions and a loan calculator as well as more straightforward calculations.
A to-do list manager, countdown timer, voice recorder, stopwatch and note taker could all also be useful when it comes to organising your everyday life, and you can go to town with the to-do list app, assigning alarms to actions you need to complete.
If you delve into the Extras folder, a step down from the folder that houses all the rest of the organiser features, you'll also find a converter that can cope with currencies, which could come in handy on foreign trips.
Nokia X3 Touch and Type review: Comparison
Nokia's Nokia X3 Touch and Type is evidence of how far mobile phones have come in the last couple of years. At £139 SIM-free, it's not exactly a pocket-money phone and you will have to justify the expense.
On the one hand, it's crammed with features and applications from calculator to music player. It is nicely made, it has good battery life and you can synchronise some of its data to a website.
But these things are simply not enough any more. It is competing with low cost Android based handsets that can do these things and have a huge amount of expansion possibility thanks to downloadable software.
With the likes of the Orange San Francisco, ZTE Racer and Vodafone 845 all rocking Android with its vast software library, and having relatively large screen and added GPS facilities, the Nokia X3 Touch and Type simply feels like it doesn't do enough.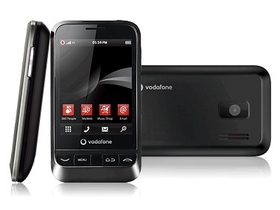 It even feels hampered next to the £109 Nokia C3, which has a full QWERTY keyboard at its disposal.
Only hardened Nokia fans are likely to opt for this handset when they could have the extra goodness that Android offers. And we don't see that situation changing any time soon.
Nokia X3 Touch and Type review: Hands-on gallery
Nokia X3 Touch and Type review: Official gallery
Nokia X3 Touch and Type review: Conclusion
The Nokia X3 Touch and Type is a slim, nicely made handset with a good range of features including Wi-Fi and a touch screen interface.
It is small, which means some aspects such as web browsing suffer from a cramped screen, but the keypad is well made and battery life is good.
There is a dedicated front button for music fans to access their tunes quickly, and an FM radio also helps song lovers to get their fill.
All this is good stuff. But we aren't convinced that the S40 operating system, even with its touch-aware makeover, is much to crow about, and we think these days people want something different from the look and feel, and accessibility of a mobile phone operating system. Nokia may need to go back to basics if it's to maintain a solid presence at this end of the market.
We liked
The build quality is good, and this is a light, well made and easy to handle mobile phone.
Battery life is impressive, and it ought to be possible to extend beyond two days of use if you aren't too demanding.
The camera shoots good photos and, while we'd have liked a dedicated button and a flash, we could see ourselves taking a fair few quick snaps with it.
The customisable Home screen and secondary shortcuts screen lets you get quick access to a wide range of apps and services. A good thing, because the menu system itself is rather convoluted.
We disliked
The resistive touch screen needs a fair bit of pressure before it will respond, and feels unresponsive compared to its capacitive counterparts.
The screen is simply too small for some activities, with web browsing the one that suffers the most. The Opera Mini browser saves the day a little, but internet users should really look elsewhere.
Nokia's bundled headset is average and, for a handset that's being pushed for its music features, it ought to be better.
The quirky keyboard design, where what is usually the bottom row sits in a column to the right, will take a bit of getting used to.
Verdict
Nokia hasn't really done a great deal that's wrong with the Nokia X3 Touch and Type. Making the S40 operating system touch aware breathes a bit more life into it, and there are some very positive features such as long battery life and good build quality.
But at this pricepoint, the competition is fierce. Android already has its place firmly staked out, and we think it can only push Nokia harder as time rolls on.
touchscreen Symbian mobile phone