Nokia Lumia 520
$170
18th Jul 2013 | 16:18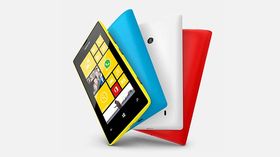 Windows Phone 8 goes low end but not low rent
Overview, design and feel
The Nokia Lumia 520 is Nokia's fifth Windows Phone 8 handset. It's a phone which slots into the very bottom end of the range, just below the Nokia Lumia 620.
And we do mean just below - the specs of the 520 and 620 are remarkably similar, meaning that Nokia's main competition at the bottom end of the market is itself. Otherwise, its biggest rival is likely to be the recently launched Huawei Ascend W1 - a low-end handset that we're rather fond of.
Of course if you look beyond Windows Phone 8 then there's also a whole host of Android competitors such as the Huawei Ascend G330 and the Orange San Diego.
But here's something that may have a bearing on whether you buy the Lumia 520 - the phone is now the world's top selling Windows Phone 8 handset, thanks to its impressive specs and low-end price.
The Nokia Lumia 520 has a fairly generous 4-inch, 480 x 800 display and is powered by a 1 GHz dual-core Snapdragon S4 processor and 512MB of RAM. That may not sound like much but the power matches the Lumia 620, and we had few qualms about the performance of that phone given its price. The screen is actually slightly bigger than that of the Nokia Lumia 620, which only has a 3.8-inch display.
The Nokia Lumia 520 starts at around £150 SIM free or from around £100 if you buy it locked (and the price has already plummeted to £70 in some stores), while the Lumia 620 retails from around £175 SIM free or £150 locked.
That means a decent saving for those who don't mind committing to a network. It's a little cheaper than the Huawei Ascend W1 too.
Update: The Nokia Lumia 520 will be undergoing a facelift soon when it gets the new Lumia Amber update, which will bring FM radio and an all new camera to the handset in Q3 2013 - we'll update the review when it appears. It seems to be imminent, as more phones have been spotted running the upgrade in the wild.
This facelift will even include the ability to use the phone with Bluetooth 4.0, a low energy form of the connection that will allow more sensors and less battery depletion of your phone when connected to external devices.
Like all recent Nokia handsets there's a lot of colour in the Nokia Lumia 520. It shares the look of other Lumia devices, with a single piece of smooth plastic covering the back and sides of the phone. That shell is available in black or white, but the bright shades of yellow, blue and red on offer will appeal if you like it loud.
If nothing else, it makes Nokia handsets stand out from the crowd. Regardless of the colour, it's quite a nice looking phone in other ways, with an angular rectangular design more in line with the higher end Nokia Lumia 920 than the curved edges of its closest relation - the Nokia Lumia 620.
It's certainly a more distinctive (and we'd argue classier) look than that of the Lumia 620 - which is odd for when the Lumia 520 is supposed to be the more basic option.
It's also slimmer and lighter than the Lumia 620, at a fairly sleek 9.9mm and 124g. At 119.9 x 64mm it is longer and wider than the Lumia 620, but that's understandable given that it's also got a slightly bigger screen.
We like the feel of it too. The plastic casing seems almost warm, making it nice to hold, and it's not as slippery as it might look - so getting a firm grip on the handset is no problem. The almost jagged corners can dig into your hand a little when held in certain positions, but it's at worst slightly uncomfortable and easily avoided by adjusting your grip.
The front of the Nokia Lumia 520 is mostly screen as you'd expect and at 4-inches it's a decent size for a low-price handset. The pixel density of 233 pixels per inch also isn't bad at all for the money you're paying - sure it's dwarfed by the likes of the 469 ppi HTC One, but it's also many times cheaper.
A huge plus is the ability to use gloves with the screen too - being able to type in the cold weather is becoming a really common ability on phones, but we're impressed Nokia managed it on such a cheap handset.
Unlike some handsets, the screen here isn't edge-to-edge: there's a black border running the entire way around it. At the sides this border is fairly narrow, but it becomes quite wide at the top to make room for the earpiece and a Nokia logo. It's even wider at the bottom, because that's where you'll find the start, back and search softkeys.
The back of the handset is almost featureless, with just a small Nokia logo in the centre, the 5-megapixel camera lens near the top and a tiny loudspeaker near the bottom.
The right edge of the handset houses all of the phones physical buttons, with a volume rocker at the top, a power button near the middle and a camera button near the bottom. The layout works well, with the buttons spaced far enough to prevent confusion.
The left edge is devoid of any features, ports or buttons at all.
The top is home only to a 3.5mm headphone port on the left hand side.
The bottom edge has a micro USB port in the centre, which is used for charging or connecting the Nokia Lumia 520 to a computer.
The back cover is easy to remove - you simply use your nails to peel it away at each corner. The cover itself feels reasonably sturdy, so we don't see it snapping even if you take it on and off a lot.
Once that has been removed, you'll have access to the 1430 mAh battery (which interestingly is bigger than the 1300 mAh battery found in the Nokia Lumia 620).
Underneath the battery there are two slots - one for a micro SIM card and one for a microSD card. The Nokia Lumia 520 supports up to 64GB cards, which comes in very handy for bulking up the storage from the fairly limiting 8GB of onboard memory.
At first glance it's certainly an impressive handset for the price, easily competing with the similarly priced Huawei Ascend W1 and potentially rendering the Nokia Lumia 620 redundant. In fact, given that it has similar specs, a bigger screen and a better battery, you might be wondering why the Lumia 520 is considered lower-end than the 620.
Well, there are a few reasons. First off, the Nokia Lumia 520 doesn't have NFC. It also doesn't have camera flash or a front-facing camera, plus there's no compass built into it, and while the screen is slightly bigger it still has the same resolution - resulting in a marginally lower ppi.
But we don't consider any of them to be deal breakers, and depending on how you plan to use the phone they may well be things you can happily live with - especially for £70.
Interface
Operating the Nokia Lumia 520 is a fairly painless experience. Swiping around the various screens is smooth and responsive, while the 4-inch display is plenty big enough to do most things comfortably. While it's only 480 x 800, the display also has a good enough resolution to prevent tiles and menus becoming a blur.
One thing we did notice though is that the screen feels ever so slightly sticky, for lack of a better word. It's responsive but somehow doesn't feel as accurate to the touch as many others do. On top of that it seems more prone to picking up smudges and fingerprints than we'd like - which can make things a bit of a mess.
The interface on the Nokia Lumia 520 is much the same as on any other Windows Phone 8 handset.
You start on the lockscreen, which displays the time and date along with an overview of your latest email, or any pertinent reminders pulled from Facebook or your calendar. Behind that you get wallpaper - or if you'd prefer you can set Facebook to display random images from your account.
Swiping up clears the lockscreen and takes you to the start screen. This has tiles for various apps and menus, and you can scroll through them vertically.
Long pressing on a tile lets you move it, resize it or unpin it from the screen, while if you dig into the settings menu you can also change the colour scheme. However, there are no custom wallpapers or widgets to play with. That keeps things simple and intuitive but some may find it limiting.
The tiles themselves are "live tiles", which means that they're not just a static image. Instead they can display additional information - so for example the People tile will show you thumbnails of contacts images, while the calendar will display upcoming events.
Swiping left from the start screen brings up a list of all your apps in alphabetical order - and again you scroll vertically up and down through these. Long pressing an app on this screen lets you pin it to the start screen or delete it.
You'll find the settings screen in here (though like everything else it can be pinned to the start screen for easy access if you'd prefer). From here you can change ringtones and other sounds, alter the start screen theme, set up Wi-Fi networks and more.
It's all well laid out and clearly labelled, though we wish certain options were more easily accessible, such as toggles for Wi-Fi and Bluetooth (which, as we just mentioned, will be upgraded to Bluetooth 4.0 in the next update to the software.)
We'd also love to be able to see how much battery percentage we have left without having to delve into the depths of the settings screen.
The soft touch back, start and search buttons are all fairly self-explanatory in their main uses, but two of them have additional uses if you long press them.
The back button will display an overview of recent apps and screens if you long press it, allowing you to tap on one to return to it, while the start button will bring up a voice search box when long pressed.
It can be used to launch apps, send texts, search the web and more, and generally it can tell what you're trying to say as long as you speak clearly.
Contacts and calling
Contacts
One area that Microsoft has really nailed with Windows Phone 8 is how to handle contacts. It's all fairly straightforward really: you access them from the People app, which gives you an alphabetical list of all your contacts, complete with thumbnails.
Tapping on someone brings up all the information you have stored on them - from email and phone number right through to office location, birthday and address.
You can then just tap on a phone number or email to call or message them, and it's easy to add new details to a contact at any time by tapping the edit icon at the bottom of the screen.
Swiping right from a contacts page will take you to a "history" screen, which keeps a record of communications between the two of you as well as their recent posts and updates on social networks.
Back on the main People screen you can add new contacts by tapping the plus button at the bottom, though you may find that your address book is already pretty full, as the Nokia Lumia 520 pulls contacts from Facebook, Hotmail, your SIM card and other linked services.
Swiping to the left brings you to a "what's new" screen, which combines social networks such as Twitter and Facebook into a single feed, giving you an overview of recent happenings without having to use a separate app.
It's simple stuff, but combining contacts and social network feeds is something that no other phone OS does quite as well as Windows Phone 8, and we're big fans.
If you keep swiping across from here you get to a list of people that you've recently been in contact with and finally a "together" screen, which lets you set up groups and rooms (which are like groups but allow you to share messages with everyone in the room).
Calling
You can tap on a contact's phone number to call them, but for the most part the "Phone" app deals with your dialling needs.
When you open it you'll find yourself on the history screen, which is simply a list of any calls that you've made and received, along with the date and time of the call.
You can tap on any of these to call the person back, but we don't imagine it's a screen that will get much use, so it seems strange that the app defaults to this one whenever you open it.
Never mind though - you can easily get to the other screens via icons at the bottom. One calls your voicemail, one takes you to your phonebook in the people app, one lets you search for a contact and one takes you to the dialler.
There's also a settings tab here, which lets you turn call forwarding on, set up text auto-replies and turn your caller ID on or off.
The dial pad itself is a bit of a letdown as it doesn't support smart dialling - so you're really only likely to use it for people that aren't already in your address book.
Things are a lot more positive when you're actually on a call, as call quality is pretty good - perhaps not the best we've come across but certainly above average, and we never had a problem hearing anyone or experienced any dropped calls.
There's the usual assortment of information onscreen during the call - the contact's name and number and the call duration, plus there are options to mute the call, put the call on hold, turn the loudspeaker on, or add someone else to the call. The loudspeaker isn't bad - it has fairly clear sound quality but it's not super loud, so you might struggle to hold a conversation from the other side of a room.
Stop being lazy though - move closer.
Messaging
Text messages on the Nokia Lumia 520 are handled by the Messaging app, which is much like the equivalent apps that you'd find on an iPhone or Android handset.
The main screen is a list of message threads from everyone that you've ever texted (unless you delete the texts).
Tapping on a thread brings you into the conversation with that person, where messages are displayed in coloured speech bubbles.
From here you can easily tap out a new message and there's also a button at the bottom to attach files to the message, and another to dictate a message if tapping is just too much work.
It works fine, and all that it's arguably lacking is contact pictures - a strange omission given that they're featured in the People app, but even the main threads screen doesn't have them.
If you swipe sideways from the threads screen you reach an area called Online, which lets you chat with friends from linked messaging services and social networks, such as Facebook.
It's a great feature and another way in which Windows Phone 8 really nails social network integration. Of course if you'd rather not be integrated you can just set yourself to offline.
Aside from text messaging and social networks (many of which have their own separate apps available to download as well as being integrated into the OS), there's also an email client included with the Nokia Lumia 520.
If you have a tile for it on your start screen then it will display how many new emails you have and the subject line of the most recent one.
Opening the app gives you a mostly black and white list of emails in your inbox, along with a snapshot of the message content.
You can tap one to open it, long press it to delete it, or swipe horizontally to see just a list of unread, urgent or flagged messages.
Emails are easy to read on the 4-inch screen, and you can quickly and smoothly scroll around them. You can also send a reply or delete an email at the touch of a button.
Composing new emails is similarly straightforward, as you just tap on the plus button from your inbox, then tap out a subject, email address and message. If you want to add a new email account that can also be done in a few taps, and there's support for most email clients.
The onscreen keyboard doesn't make things any harder than they need to be either.
There's no lag when inputting text and it takes a decent stab at autocorrecting typos. It's generally quite accurate too.
However, it is a little cramped, especially in portrait mode, so if you've got particularly big hands you may struggle with it.
Internet
The Nokia Lumia 520 comes with Wi-Fi and 3G as you'd expect and being a Windows Phone 8 handset your web browser choices are Internet Explorer and, er, Internet Explorer. Still, it's not the worst mobile browser we've ever used, so that's not the end of the world.
At the bottom of the screen there's a search/address bar, while to the left of that there's an icon to refresh the page.
To the right there are three dots which bring up all the other options, including changing tab, viewing your favourites, adding a page to favourites, pinning a page to the start screen and accessing the settings screen.
The favourites and tabs screens are both utterly straightforward. Tabs shows thumbnails of any open tabs, letting you tap one to switch to it or tap the cross to close it. You can also open new tabs from here by tapping the plus button at the bottom of the screen.
Favourites look a little different, eschewing thumbnails in favour of a black-and-white text list. You just tap a favourite to open it, or if you'd prefer to remove or edit it you can do so with a long-press.
Searches default to using Bing when you first open the web browser, but thankfully you can change it to Google from the settings screen.
You can also change which button appears to the left of the address bar, with the choice of a refresh button, favourites or tabs. Additionally you can delete history, turn location services on or off, and control a few other things from the settings screen.
Actually using the browser isn't bad, though we wish that a little more of the screen could be dedicated to buttons, as we'd like to be able to switch tabs, access favourites and refresh the page all from the main screen. As things stand you can do one or the other, and anything else requires bringing up a menu.
The 4-inch screen on the Nokia Lumia 520 is big and clear enough, so sites are fairly readable and images are reasonably sharp. However, if you're viewing a desktop site you might need to zoom in quite a long way.
The Wi-Fi and 3G performance could be better unfortunately. Using the TechRadar homepage as an example it took 7 seconds to load the mobile version over Wi-Fi which isn't bad but isn't exactly super-fast, while the desktop version took a whopping 24 seconds.
3G, as you can imagine, was even slower, exceeding 30 seconds for the desktop version of TechRadar.com.
Of course for under £100 you can't expect top tier performance, and it's generally not too much of a problem if you stick to mobile sites. It's also roughly on a par with the performance of the Nokia Lumia 620 and the Huawei Ascend W1.
Camera
The camera on the Nokia Lumia 520 is pretty basic, you get a 5MP sensor on the back, but it doesn't have any flash and there's no front facing camera at all - so video chats and self portraits are out.
It also nixes the chance of Skype calling, which is a big feature of Windows Phone 8, and therefore could be seen as a big miss. But if you want a phone for video calling, the similar Lumia 620 is your friend.
There aren't many options on the Lumia 520; you can adjust the ISO, white balance, aspect ratio and exposure value, as well as choosing between several scene modes such as close-up, night or sports, but that's it.
Beyond that the camera is basically just point and shoot, though you can tap to focus on specific things and there is a 'smart shoot' option, which takes a handful of rapid-fire pictures and lets you pick which ones to keep. It's a handy feature, since the first photo you take might come out blurred or someone's eyes might be closed.
When the Lumia Amber update appears you'll be getting an all-new camera too, with Smart Camera features springing from the phone's ability to take 6 x 1MP photos in a row - stay tuned for that upgrade in a few months.
Being a Windows Phone handset there's also a dedicated camera button, which is a lot better for taking photos than trying to use an on-screen button. It also gives you quick access to your camera, as pressing it from any other screen will launch the camera app.
The camera isn't bad at all for a budget handset, though it unsurprisingly can't compete with the snappers on pricier phones like the Nokia Lumia 920 or the Sony Xperia Z and the lack of flash is a real shame.
Click here to see the full resolution shot
Click here to see the full resolution shot
Click here to see the full resolution shot
Click here to see the full resolution shot
Click here to see the full resolution shot
Click here to see the full resolution shot
Video camera
The video camera on the Nokia Lumia 520 is similarly basic. It shoots in 720p at 30fps (which is the same as the Nokia Lumia 620), and the performance is similar to that of its big brother too.
The options for the video camera are even more limited than when shooting stills. You can adjust the white balance, turn continuous focus on or off and adjust the quality, though you can only choose between 720p and WVGA. You can either press the shutter button or tap on the screen to start shooting then do the same to stop and that's all there is to it really.
Since there's no flash there's also no video lamp, so its performance isn't great in poorly lit places, but if you stick to daylight the performance isn't too bad for such a wallet friendly handset.
When staying fairly still the quality is reasonable. However it struggled a bit with the ripples in the water.
Close-ups aren't handled too badly either. If you move too close in or move too quickly then it will struggle to focus, but for static medium close-ups it produces useable footage.
Fast moving traffic comes out a little blurred. The camera also fails to bring out details in the background.
Media
The Nokia Lumia 520 was never going to be a media powerhouse, with just 8GB of internal storage, average battery life and a 480 x 800 display it just doesn't have the chops to compete in the big leagues.
On the other hand that 8GB of storage can be expanded to potentially up to 72GB of total storage with the help of a micro SD card and while the resolution isn't amazing the screen isn't a bad size at 4-inches. For around £100 plus the price of a micro SD card you could have a satisfying little media player on your hands.
Music
Music is handled by the 'Music + Videos' app and it's a solid player. You can filter your music by album, song or artist - which in each case will present you with an alphabetical list of your stored music complete with album images if you choose to sort by album.
You can also find all of your music from a specific genre and create playlists. It's easy to navigate and use, though does little to stand out from any other music player.
When you play music you'll find that some music controls appear on your lockscreen, letting you easily pause or skip track.
Unfortunately the same controls aren't present on the start screen, so if you leave the player you have to either go back into it or lock and then unlock your phone to actually manipulate the music.
The Nokia Lumia 520 supports a decent range of formats including WAV, MP3, WMA, and eAAC+. It can also pump music out of its tiny speakers at a surprising volume without any distortion, though there's not really any bass.
As well as either copying music across from a computer or loading up a micro SD card with it, you can also purchase music from the Xbox music store to get it sent directly to your phone.
There's a solid selection available along with fairly competitive pricing (around 99p a track for new releases).
You can get to the store directly from the player and it's easy to browse - letting you filter results by genre and then check out top tracks, new releases and more. Though of course you can also just type in a search if you already know what you're after.
On top of buying music the store also offers an unlimited streaming service for a monthly subscription. You also get access to Nokia's Mix radio, which is a real boon for a lot of people - it's free music on a cheap as chips phone.
We're currently testing this feature in more depth - but if you're heading out and deciding about the Lumia 520, then from a music perspective there's a lot on offer right out of the box.
And good news if you love an FM radio! It's going to be enabled in a few months thanks to the Lumia Amber update - in fact, most of the Windows Phone 8 range is going to be upgraded with the functionality.
Video
Video is also handled by the 'Music + Videos' app, but it's nowhere near as fleshed out as the music experience. For a start there's no video store, which is a bit of a shame given that both Android and Apple have one. That means that you'll have to get your video content from elsewhere and copy it across to the Nokia Lumia 520 (or to a micro SD card).
Once you've got some videos on the phone they're laid out as a list with thumbnails and their titles. You tap on one to play it and then you have a few standard video controls (pause, skip and fit to screen). That's all there is to it. So it's pretty bare bones, but it gets the job done in the end.
The 4-inch screen is just about big enough to watch a video on comfortably, while the phone itself is also light and comfortable to hold for extended periods (just as long as you don't let the corners dig into your hands). The resolution and screen quality could certainly be better but in practice it actually didn't seem too bad.
The player also supports a variety of file formats, specifically MP4, H.264, H.263 and WMV. It sounds average through the internal speakers too, which is good if you HAVE to use it, though we'd advise you use headphones for richer sounds.
The biggest stumbling block in using the Nokia Lumia 520 for videos is the battery life, which plummets when watching something for an extended period.
Photos
Photos are housed in the 'Photos' app, which seems logical, and it's not a bad app either. If you tap on 'camera roll' you can see thumbnails of every photo you've taken on the handset, and then tap on one to open it.
At that point you can then scroll through the rest of your photos or tap on the three dots at the bottom of the screen to edit the current photo, delete it, save it to SkyDrive or set it as your lockscreen wallpaper.
Editing options take the form of cropping, rotating and auto-fixing and there's also a 'Creative Studio' option which lets you add colour tints to a photo, such as 'ivory' or 'jade'.
Handily it shows you a preview of how all these options will make your photo look before you commit to selecting one.
But the photos app doesn't just house pictures from your camera roll, it also syncs with Facebook and other social networks to pull photos from there.
If you've linked any social network accounts you'll find that all of your photo albums from them are present and correct under the 'albums' heading.
The 'Photos' app will also house any photos that you've copied across to the handset and as well as sorting by album you can filter photos by a specific date or search only for photos with a specific person tagged in them.
Battery life and connectivity
Battery life
The Nokia Lumia 520 has a 1430 mAh battery to keep it going. That's a slight boost over the 1300 mAh battery found in the Nokia Lumia 620, but some way short of the 1950 mAh battery packed into the Huawei Ascend W1.
The slight bump in battery size equated to a slight bump in performance over the Nokia Lumia 620, but it's an important improvement as while the Lumia 620 would sometimes struggle to make it through a day the Lumia 520 generally seemed fine - though you'd still normally need to charge it overnight.
In our patented battery test - running a 90 minute video from a fully charged handset with Wi-Fi on, social networks and emails set to push notifications and the screen turned up to full brightness, we saw the battery drop to 66% by the end of the test.
That's not brilliant performance, but when used in other ways - for example phone calls, playing music, sending texts etc the Nokia Lumia 520 performed a lot better and unless you're watching a lot of videos you should easily get a day's use out of it.
Nokia rates the Lumia 520 for up to 360 hours of standby time over 3G, 14.8 hours of talk time over 3G, 9.6 hours of talk time over 2G or 61 hours of music playback, which sounds fair, though it notably doesn't post figures on video time.
If the battery doesn't live up to your expectations there is a battery saver, which prevents apps from syncing in the background, plus you can also invest in a spare battery, since it's easily removable if you just pop the back off the phone.
However if you'd rather not do that then the Huawei Ascend W1 might be a better bet, as that is one of the few Windows Phone 8 handsets to actually sport good battery life.
Connectivity
The Nokia Lumia 520 has a handful of different connectivity options, including dual-band Wi-Fi 802.11 a/b/g/n, HSDPA at 21.1 Mbps and HSUPA at 5.76 Mbps. It has also got Bluetooth 3.0 and GPS, but it lacks NFC or a compass - both of which are included in the slightly pricier Nokia Lumia 620.
Configuring these connections or turning them on and off is pretty straightforward, as there are clearly labelled menus in the settings screen to sort them all out. Unfortunately digging into the settings screen is the only way to manage them, which is a bit of an annoyance as a shortcut would really come in handy.
Getting content on and off the Nokia Lumia 520 is totally painless, you just plug it into a computer using the included micro USB to USB cable, wait a few seconds for your computer to pick it up, then you can look through the handset's folders and simply drag and drop things on and off it.
There's also a micro SD card slot hidden beneath the back cover, which is all but essential for bulking up the storage from the 8GB that it ships with. Using a micro SD card additionally gives you an extra way to get content on and off the phone, as you can load it up with things before putting it in.
Maps and apps
Maps
Being a Nokia handset, the Nokia Lumia 520 comes with Nokia's own mapping app - 'HERE Maps'. It's not a bad offering at all, though it's fairly basic, particularly in comparison to Google Maps, which is what you'd get with an Android handset.
The maps themselves seem fairly detailed and accurate and it locked onto our location in just a few seconds whenever we had Wi-Fi connected, but over 3G things were a lot worse, often taking ten to 15 seconds and on one occasion taking what must have been around a minute.
That's unfortunate, since often you'll be out and about in places where you won't have access to Wi-Fi when you want to consult a map, but it always got there in the end.
We're not a fan of the washed out colour scheme either and while it will list nearby places (shops, restaurants and the like) if you ask it to, the list didn't seem at all comprehensive.
It also lacks many of the bells and whistles we'd like to see such as traffic information or elevation details. We weren't expecting Street View, since that's a Google thing, but there just doesn't seem to be much of anything here beyond the core map.
You can at least download maps to the phone, which is a very handy feature, meaning that for example when you go abroad you won't have to spend a small fortune on data to use your map.
As well as 'HERE Maps', the Nokia Lumia 520 also comes with 'HERE Drive', which is a free sat-nav service.
It's still in beta but it certainly seems to get the job done, with accurate navigation getting you from A to B hassle free.
Apps
Aside from the mapping and media apps that have already been discussed there's not a whole lot included on the Nokia Lumia 520.
There's a calculator, calendar and alarm clock, all of which are fairly standard and self explanatory in their functions, though it's worth mentioning that your calendar will automatically sync with any social networks or email accounts that you add to the handset.
Then there's Angry Birds Roost, which we foolishly assumed was a game, but it's actually just a hub that you can download Angry Birds games from along with Angry Birds themed videos and wallpapers.
We suspect that this will only see much use from the biggest of Angry Birds fans, but it's there if you want it and if not you can thankfully uninstall it.
The most significant apps come in the form of Microsoft Office and OneNote, both of which are fairly feature rich, with Office in particular proving impressive as it lets you create, view and edit documents, spreadsheets and presentations.
Doing much more than reading them on a 4-inch screen isn't the most pleasant experience in the world, but it could come in handy in an emergency.
Additional apps can be found on the store, which is home to both free and paid offerings. The selection is nowhere close to what you'd find on Google Play or Apple's App Store, but it's not bad either, with a selection of games, social media apps, productivity tools and more.
The games are worth highlighting in particular, as Microsoft have secured some unique offerings that aren't available on Android or Apple devices and you can also access your Xbox live account if you have one.
Hands on gallery
Official photography
Verdict
Though there aren't all that many Windows Phone 8 handsets available yet there are already several, such as the Nokia Lumia 620 and the Huawei Ascend W1, that manage to combine solid specs and performance with an entry level price tag.
The Nokia Lumia 520 can be said to join their esteemed company, as while it's even more pared back- lacking a front facing camera, NFC, a camera flash or a compass, the things that it does do it mostly does well.
We liked
The incredibly low price is a huge selling point for the Nokia Lumia 520. It also looks like a more expensive handset than it is, with a decent sized 4 inch screen and a stylish body which could almost lead someone to confuse it for the much more expensive Nokia Lumia 920.
It has also got a respectable amount of power hidden away inside, with a 1 GHz dual-core processor ensuring that performance is generally pretty smooth. The 5 megapixel camera is good for the price and while it doesn't have much built in storage it has a micro SD card slot to make up for it.
It also gets decent phone signal and as with all Windows Phone 8 handsets the way contacts are integrated with social networks is excellent.
We disliked
The lack of a front facing camera or for that matter a flash on the rear camera is a shame, somewhat muting its otherwise respectable photographic performance.
The screen tends to attract fingerprints and smudges more than most phones, which can leave it looking blurred and dirty after only a small amount of use.
We also found the battery life to be pretty average (though still slightly better than the Nokia Lumia 620) and the web browser was a little slow, particularly when browsing over 3G.
Verdict
The Nokia Lumia 520, much like its big brother the Nokia Lumia 620, is a jack of all trades and a master of none - although manages to make a good fist of nearly all it tries, for the price.
It looks good, it's got a decent screen both in terms of size and resolution, it rarely stutters or slows down, it's great for calls and messaging, reasonable for media and okay for photos.
To achieve a lower price point than the Lumia 620 it has had to strip away a few things - there's no NFC, compass, camera flash or front facing camera here.
But on the other hand it's also got a bigger screen, a larger battery, a sleeker, slimmer, lighter build and the same processor and RAM as the Nokia Lumia 620, so in many ways it's actually better.
Combine that with a lower price tag and we reckon that this just might be the best entry level Windows Phone 8 handset that you can buy and certainly the best value.
Budding photographers might find the lack of a flash prohibitive and if you're a power user you might want to consider the Huawei Ascend W1 for its superior battery life, but for everyone else the Nokia Lumia 520 comes heartily recommended.
Nokia Lumia Windows Phone Nokia Lumia 520 phonescarousel-en-gb awardrecommended