Nokia C5-03
£189
3rd Mar 2011 | 15:09
The updated C5 is a baby step in the smart direction
Nokia C5-03: Overview, design and feel
Upon first touch, the Nokia C5-03 is sleek but not stunning, chunky but light enough, and rocks minimalistic buttons, touchscreen capability and a shiny derriere.
But if you were picking up this smartphone in the hope that it might provide some real competition in the mid-range budget area, you may be in for a little disappointment. The Samsung Monte offers a better range of pre-loaded apps. The HTC Wildfire has a better UI and LED flash for the camera, and the mid-range Blackberry Curve 3G has email pretty much covered.
So what exactly is the Nokia C5-03 offering other than an extra '-03' on top of last year's Nokia C5?
Measuring in at just under 14mm, the handset is a little bigger than Nokia users might expect, but handily compact for everyone else.
Its rounded edges fit nicely in the hands, especially small ones, and while the depth might be an issue for some, we felt it gave the light handset (93g, thank you!) a little solidity and stopped the plastic-cased phone from feeling too cheap.
That said, it didn't prevent a hairy moment when removing the battery cover for the first time – the thin piece feels imminently snappable, which makes for a scary experience if you're, shall we say, as ham-fisted as we are.
The contrasting coloured end is a nice aesthetic addition, but is ultimately useless, though it allows for users to do a little outfit matching, if that's your thing. The loudspeakers are located there, though, which are perfectly loud and emit a nice, clear sound.
On the shiny back sits the five-megapixel camera, which is an improvement over its predecessor. There's no front-facing camera, so video calling is out.
All sockets, ports and buttons are present and correct. There's a charger socket, mini-USB socket (also for charging if necessary), 3.5mm audio jack, volume rockers, keypad lock button and place to put that lovely From Me To You Bear wrist strap you've been hoarding since the 90s.
There's also a microSD memory card port for up to an extra 16GB of storage to hold your morning commute podcasts, which are easily grabbable from both your computer hard drive and the Ovi podcast store. But should you get bored of those, a built-in accelerometer enables gameplay of modern classics such as Doodle Jump. Hours of fun right there. 

Nokia C5-03: Interface
Nokia C5-03 review: Interface
Utilising the Symbian OS (S60, 5th edition), the user experience is pretty clunky overall. Slow is the order of the day, with a side of occasional random crashing when the battery gets a little low and you attempt to open some apps, such as Twitter.
It's straightforward to navigate (you've seen it all before), and comes preloaded with social networking apps to get you started. However, the apps of choice, which, in actuality, aren't all apps but simply shortcuts to mobile sites, might explain a few things.
Facebook, Twitter and YouTube appear as standard, but also in the mix are Hi5, MySpace and Friendster... so if you still remember those log-in details from MySpace days gone by, you're in luck. Welcome to 2005.
The 3.2-inch resistive touchscreen weighs in at the same size as the capacitive offering on the HTC Wildfire, but doesn't match up to the HTC 7 Mozart's beastly 3.7 inches, the 3.5 inches of the iPhone 4, or even the 3.5 inches of the Nokia N8.
Yet the display is generally sharp, and videos – though a little laggy thanks to the OS – are watchable, though the pixelation can get a little dire, especially using the YouTube app.
A slightly frustrating bit of programming is the incredibly short time between the phone being active and sleep mode turning off the display, but this can be adjusted in the settings; either turned off completely or adjusted to fit a specified time.
To make sure you're not frustrated by a short auto screen lock time, delve into the settings to turn off the keyguard.
The Nokia C5-03's Home screen is customisable, with options to put favoured widgets and networks on display and shortcuts to your email inbox. However, if you're not a fan of the world being able to see your fondness for Freecycle, and you're not in dire need of a shortcut to Twitter's mobile site, we'd suggest the sleek Basic theme, with just two portals – one for your contacts, one for old-school dialling.
The nicely designed softkeys residing below the resistive touchscreen enable you to shortcut to dialled numbers and call log, the menu, and the screen lock and profile settings respectively. While you can only activate the profiles through the shortcut rather than personalise them, it's a nice minor touch that some past Nokias have lacked.
The menu screen is nicely laid out in grid format, though that could be changed to a list if you so desired. Social networking apps are already cornered off in their own folder and the music player and gallery are separated out from the app folder, which simplifies accessing media files greatly.
Also in the menu are Ovi Maps and the web browser, contacts, calendar, calculator and settings. Simple and easy to use – perfect for a newcomer to smartphones.
Nokia C5-03: Contacts and calling
Nokia C5-03 review: Contacts and calling
Here's where the Nokia C5-03 excels: at simply being a phone. The call quality is clear, the volume is good and we had signal almost everywhere, not to mention brilliant battery life. These are basic but important points, and means this handset is more than a pretty paperweight at the times where the likes of the iPhone occasionally falter.
Adding contacts from a SIM card is easy enough, but if you'd like to utilise the scrolling contacts bar across the top of your homepage for ease of calling, you have to input all details from scratch: massively time consuming.
Adding a contact's image to the Ovi scrollbar is an option, but there's sadly no way of, say, syncing contacts with Facebook that we've found. Instead it has to be an image from the internal gallery, meaning you'll probably keep the contacts bar for favourites, top dials and people you're okay with paparazzi-ing.
To add a new contact is simple enough; click the contacts icon in the menu and select Add New, which will bring the standard options of most phones to the screen: name, number, email. There are also options to add extra information on your new pal, but again, showing you that this phone just isn't in the right era, the options include handy 90's additions such as Fax and Pager numbers.
The option to create groups is quite handy if you want an easy way to separate work and play. Ovi chat is also accessible through the contacts menu, which you can then invite your contacts to, should they deign to join you on this platform.
Nokia C5-03: Messaging
Nokia C5-03 review: Messaging
The Nokia C5-03 features standard SMS, MMS, Email and Ovi chat, with Google Chat and MSN messenger hiding in the apps section.
Google Chat works nicely, if slowly, but any longer than 10 minutes or so and you'll either have gargantuan thumb muscles or be really frustrated by the end of it, thanks to the touchscreen and its resistiveness. No Facebook chat, though apps such as Nimbuzz are available to download from the Ovi store.
Email is simple and quick to set up, and swapping between your inbox and text messaging is nice and easy. Email inboxes are also organised in much a similar way to Outlook and Blackberry set ups, with easy to reach folders and dated subheadings. If you're looking for a handset that's simple to operate, the Nokia C5-03 has it covered.
The messaging interface is as any Nokia user would expect, and dead simple for anyone defecting from another manufacturer.
Creating an SMS or MMS happens through the same text editor, which lets you attach images, videos and sound files from the gallery, or even take a new image/video/sound file to insert into the message there and then. Obvious but brilliant in its own Ronseal "exactly what it says on the tin" way.
Thank goodness for the QWERTY keyboard, because the resistive touchscreen makes using the predictive text frustrating. However, haptic technology means a comforting little buzz every time you hit a letter.
A lack of features such as spell-check or autocorrect means a less comforting buzz when you have to delete half of a badly spelled text because you mashed a thumb onto the wrong letters by accident.
The size of the lettering isn't bad, but not lifting thumbs fully away from each letter before pressing the next results in a message that makes no sense whatsoever – not great then, for those with bigger thumbs, or the text ninjas residing among us.
Nokia C5-03: Internet
Nokia C5-03 review: Internet
Despite being billed as a smartphone – albeit a budget one – the internet browsing powers of the Nokia C5-03 aren't great.
The 3.5-inch screen is nice and clear, but again, pages are slow to load because of the outdated OS, and then don't even load to fit the screen.
Zooming isn't graduated, meaning you can super-zoom with a tap, but that is the extent of it. And, of course, there is that darned resistive technology. The accelerometer enables easy movement from profile to landscape browsing.
Happily, the provided browser does also support Flash Lite, but BBC iPlayer is still out of the question and if you really have an urge to watch mobile video content, sticking to the YouTube app rather than watching via the website is a better idea.
Opera Mini is available from the Ovi store, but surprisingly the user experience wasn't a great improvement on the Symbian browser; sites still load at around the same speed. However it's nice to know the choice is there should you want it.
The addition to crow about in this version of the Nokia C5-03 has to be Wi-Fi. Including WLAN 802.11 b/g is a great move from Nokia, especially for those on low data allowance plans, though we had a little difficulty connecting once or twice.
Nokia C5-03: Camera
Nokia C5-03 review: Camera
The camera in the Nokia C5-03 is functional and packs in a 5MP sensor (which beats the 3.15MP on the Samsung Monte, but then again can't compete with the 8MP provided by the HTC 7 Mozart).
Zoomed in pictures are blurred, non-zoomed pictures are rather pixelated, but this isn't billed as a macro shot phone. Also, inexplicably, gone is the LED flash inbuilt into the previous model. The shot quality therefore is middling and you'd perhaps expect a little more from a phone costing close to £200.
Sadly there's no built-in camera shortcut button, which may hinder those quick-snap Twitpics, but once you're into the camera mode, there's a decent amount to play with pre-shot, including ISO, white balance and exposure, and a chance to make up for the lack of Instagram by engaging the sepia tones.
For those who don't want to mess around with ISO or white balance, there are pre-installed modes, including night, portrait and sports.
Click here for full-res version
DAY SHOT:No zoom, fruit tea – colour is beautiful and true to life
Click here for full-res version
NIGHT MODE:Knitting – without zoom the picture is detailed and withstands being ported to a bigger screen via Twitpic without too much blurring
Click here for full-res version
INDOORS:Picture taken indoors in average light – you get a grainy but decently detailed picture
Click here for full-res version
ZOOM:The 4x digital zoom results in a blurred photo and lack of detail
Nokia C5-03: Video
Nokia C5-03 review: Video
In the Nokia C5-03's video mode, playback is a little laggy, but the microphone is sensitive enough. Uploading media to Facebook is easy through the provided app, but video uploads aren't supported, so no instantaneously bragging about sharing clips of that secret gig you're at...not until you can get to a laptop anyway.
As for the different recording options on the video camera, they're rather limited. There's record. Then there's 'low light' mode (which doesn't actually make a difference) and then there's 'night' mode (which also, doesn't make much of a difference but adds a nice blue tinge to the resulting clip). All in all, unless you're filming somewhere well-lit, the quality is quite dire.
The 640 x 480 (VGA) maximum resolution and 15 frames per second recording speed are the culprits here, and are bettered by just about every other phone on the market.
Nokia C5-03: Media
Nokia C5-03 review: Media
The music player interface is clearly organised by artists/albums/playlists/songs and podcasts and continues to play in the background once you've exited the player, appearing on the Home screen for ease of pausing and skipping tracks.
Playback resolution is pretty good, especially compared to the web-based Flash Lite videos,succumbing to only a little pixelation and the 3.5 inches of screen here is a nice size to gaze at when watching your episode of Diggnation.
Supported file formats pretty much end at mp4 and 3gp, so there's not a lot of choice there. That aside, it's a nice little player and we had no problems with it other than using it with headphones – the volume output was decent but when cranked up to full volume, the sound quality is shrill and uncomfortable to listen to.
The speaker volume is impressively loud, but let's be honest, you're not likely to want to serenade the 46 bus with an episode of your favourite podcast.
The gallery is, again, a simple interface, the contents of which can be easily sorted by file size, or by folders, depending on your preference. Music is separated out from images and videos and given its own menu tab, but songs can still be found in the gallery, for those who like everything in one place.
When it comes to the pre-loaded Nokia C5-03 Youtube app you get two options: either watch it in miniature or watch a few blurry pixels in full screen mode. In short, don't bother with it, it'll only end in pain.
The choice of podcasting is fairly limited, unless you connect the Nokia C5-03 to your computer and pull files you've downloaded via iTunes, but downloading is quick (two minutes for a 40min MP3 podcast over a Wi-Fi network, though MP4 podcasts take substantially longer).
Using the uncomfortable moulded plastic headset provided results in somewhat muffled speech, but the sound quality improved a little with the use of our own earphones.
Listening in loud places won't be easy though, given the volume doesn't go high enough, and listening to Ricky Gervais's voice became a pretty painful experience, what with his tendency to get a little shrill and all.
The FM radio is clear, with little distortion and instantly scans to set up radio stations for you at a click. Nice for walking to the tube and catching up with your morning music/news.
Nokia C5-03: Battery life and conectivity
Nokia C5-03 review: Battery life
The battery life is five star. Should you purchase a Nokia C5-03 handset, then you can caw with glee when the nearest iPhone 3GS or HTC Desire HD conks out next to you, having remained charged for all of an hour.
We squeezed a good 36 hours or so out of the battery, making a few long phone calls, fully testing the Nokia C5-03's features and leaving it two nights on standby. You can recharge this baby using a socket charger or mini-USB cable, but given the provided cable is about two inches long, you might want to stick to the old-school version.
Don't forget to fully exit those apps to help battery life and browsing speed – the Nokia C5-03 keeps several apps running in the background unless you specifically shut them down. Those on minimal data contracts might need to keep a watchful eye on what is running and what's not.
Connectivity
Despite the Nokia C5-03 having teething problems connecting to a netbook and syncing with the Ovi Suite, everything eventually worked smoothly. Plugging the phone in via mini-USB will cause the memory card to appear as a portable device, which makes dragging and dropping files easy enough to do.
We downloaded the Ovi Suite from the Nokia site, but you're also prompted to do this once the Nokia C5-03 is plugged into your computer for the first time. We'd recommend taking the time to download the Ovi Suite, if only for the ease of viewing new Ovi Store apps on a bigger screen.
Past that, it's simply a prettier version of the more functional media transfer software, and it's easier to drag and drop between folders if you want to transfer from phone to PC.
Connecting with a Mac is a little less simple than plugging in and clicking ''download''. Instead, connecting the Nokia C5-03 involved some fiddly Bluetooth action. Once configured however, the software gave much the same support as Media Transfer for PC, simply routed through iTunes instead.
Nokia C5-03: Apps
Nokia C5-03 review: Apps

The applications provided by the Nokia C5-03 are standard, if a little outdated. Facebook – check. Twitter – check. YouTube – check. Shazam is also a fun addition.
Then, inexplicably, appear MySpace, Hi5 and Friendster. Like the Symbian OS that resides on here, most of these apps are stuck in the past. We're not quite sure what Hi5 is even doing on there, apart from taking up valuable memory.
However, despite the invalid social networking, it's easy enough to download a little Foursquare action from the Ovi Store, though the range of apps is disappointing in the face of the Android and Apple stores.
Ovi Maps is excellent, with the GPS finding our position no problem. This version of the Nokia C5 also has a digital compass in the walking section – brilliant for when you're not quite sure which way down Regent Street you're actually heading.
The inclusion of the Qype app in the maps section also went down well with us, the rabid social networking fans that we are. The distances are 'as the crow flies', however, as we noticed the appearance of favourite coffee shops in the list of nearby places that were, actually, nowhere near our current location.
Our favourite find, though, is a little touch of genius called Here and Now, slightly buried away in the Applications folder on the Menu screen, which offers you ideas and tips on what's happening around you based on your GPS location.
Among the cinema times of films starting within the hour and tips on local guided tours are restaurant suggestions from Lonely Planet. A nice little gem, handy if you're in an area you don't know very well and stuck for inspiration.
The organiser apps are as vanilla as you might have expected at this point, but sometimes vanilla is good when it means a simple and clean interface.
The Calendar interface is easy to pick up and there's a dictionary (for which you can download extra languages – handy, we suppose, if you're staring at a menu and can't remember your GCSE French).
A currency converter, calculator and notepad seem to be all Nokia feel a budget smartphone user needs when it comes to the 'office'.
Ovi Store to the rescue, however – part with eight hard-earned pounds and you can download QuickOffice for all your word, Excel and PowerPoint needs. But when the original candybar version of the C5 came pre-loaded with a QuickOffice trial, shouldn't at least the same minor courtesy be afforded to the smarter version? We're a little perplexed by this, it's true.
Nokia C5-03: Comparison
Nokia C5-03 review: Comparison
Apart from touchscreen and Wi-Fi capabilities, things don't seem to have moved on greatly for the Nokia C5-03. The original version of this handset also came preloaded with Facebook and Ovi Maps, and indeed the third edition of the very same OS, though there are small additions here and there which lift the overall experience.
Price-point-wise, the first Nokia C5 sold for approximately the same amount SIM-free ( around £190), so this time around you do actually get a little more smartness for your hard-earned pound, but as previously mentioned, the Nokia C5-03 still doesn't compare to similarly priced phones.
Even stacked up against other Nokia handsets, the Nokia C5-03 doesn't fare well. The Nokia N8 has better all-round specs, and despite being on the heavier side, it's the price you apparently pay for a better OS, better UI and (for a little more money) you get a smarter experience indeed.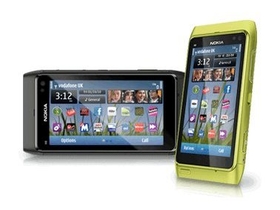 If you're not bothered about stepping across to another platform and simply want a better handset at a similar price point, you're probably better off reaching for the HTC Wildfire with your grubby paws. It's a smaller screen at 3.2 inches, but it's capacitative, and you can sync to Facebook to your little integrated heart's content.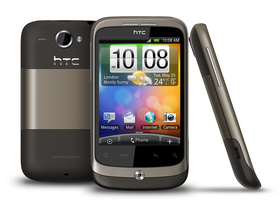 That said, we also now know the HTC Wildfire S is coming, with an improved screen resolution and Android 2.3 (Gingerbread), which may be worth holding out for.
Nokia C5-03: Hands-on gallery
Nokia C5-03 review: Hands-on gallery
Nokia C5-03: Official gallery
Nokia C5-03 review: Official gallery
Nokia C5-03: Verdict
Nokia C5-03 review: Verdict
If the Nokia C5-03 was still in school, he would sit somewhere in the middle of the class table. Not a dire performance, but not breaking into the big leagues either. He's a nice chap and isn't bad looking, but he's not particularly memorable either.
With the C5-03 being available in several different colours and having a handy wristchain slot (rather than an external memory card port) you get the feeling that it's aimed at customers more concerned with matching their phone to their outfit rather than hardcore networking, or even casual gaming.
More phone than smart, the innards of this little Nokia don't match up to the rather steep price point of £189 for a non-contracted handset, though those paying around £20 a month may have just the right amount of free data to while away a few minutes a day on the Nokia C5-03 waiting for their bus.
We liked
The familiar interface and ease of use will be a lure for some. Ovi Maps is a bonus and Wi-Fi connectivity is the trumpcard for this mid-range Nokia. Despite the lack of decent apps, access to the Ovi Store is easy enough and the touchscreen is of a good enough size to make casual social networking just about worth it.
Having a long battery life and being strong in the necessary core phone activity make it a good choice for those looking for a dependable device, rather than a pocket computer.
We disliked
The limited browsing capabilities and resistive touchscreen make the C5-03 the middling experience that it is.
The removal of good early C5 features such as camera flash and Facebook contact integration dials down the smartness of this phone and the S60 Symbian OS drags along at a semi-glacial pace. At this price point, we have to ask whether the addition of a little Wi-Fi magic is worth the average user experience.
Verdict
The Nokia C5-03 perfect for those wishing to dip their big toe in the smartphone water but aren't yet ready for a more powerful beast. If you're not overly concerned with apps, look for ease of use and enjoy keeping up with your friends on the go and on a budget, then pick up a Nokia C5-03.
If that's all you want, you won't be disappointed.
Symbian smartphone touchscreen mobile phone