Nokia C3
6th Jul 2010 | 15:56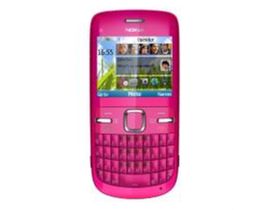 Does the low cost Nokia C3 offer great value for money?
Nokia C3: Design & overview
Nokia's C3 is a companion to the recently launched, and well-received, C5 and a lookalike for the perennial favourite E72. But don't, for a single moment, labour under the illusion that it is a direct competitor for, or update of, the E72.
With an asking price of £119 direct from Nokia and as little as £80 elsewhere SIM free it's obviously a budget buy.
Our review sample came from Vodafone, where it costs £80 on PAYG. The E72 still costs over £250 SIM free by comparison.
The E series is definitely aimed primarily at the business community, though E handsets have found favour elsewhere. The C series is aimed at people who want a budget handset and also want good communications features, hence the mini QWERTY keyboard that adorns the front and built-in Ovi Maps and Ovi Chat.
Facebook and Twitter feeds can be delivered live to the main screen, and Wi-Fi helps you keep a handle on data usage. You'll need that, actually, because this handset lacks 3G. You'll be relying on GPRS and EDGE for all your network based data comms.
The Nokia C3 comes in three colours. Our review sample was the slate grey option, which is really more blue than grey and a nice enough shade. There are also hot pink (eek!) and golden white versions.
The outer shell is shiny and we found it rather attractive to greasy fingermarks. The back has a matt finish, which is easier to grip and less prone to smears.
The dominant feature of the Nokia C3 is its QWERTY keyboard, which occupies the bottom section of the front fascia. There is a good array of nicely-spaced buttons sitting above this.
The D-pad is large and easy to use and there are two raised silver buttons. On our Vodafone-provided Nokia C3, the right-hand one can be customised immediately – you are walked through the process the first time you hit it.
The left-hand one takes you to Communities – a collective noun for Facebook and Twitter. More on that shortly.
Sitting inside these buttons on the flat fascia of the handset are two icons. You'll need to be precise, but pressing the one marked with the Messages icon took us to MyWeb (Vodafone's 360 service), while the other dropped us into Contacts.
There are also soft menu buttons and the Call and End buttons in this area, the latter doubling up as the on/off switch.
As is often the case, Nokia has made a very good job of the key quality and layout. We really find it difficult to fault.
The sides are fairly minimal in terms of buttons and connectors, though the elements present are where you'd expect to find them. The 3.5mm headset connector sits happily on the top edge alongside the main power connector.
On the left side are mains power and PC connectors (micro-USB) and microSD card slot, both of which are protected by hinged covers. Towards the bottom of this edge is a quick release catch for the backplate.
The right side is black apart from a second quick-release catch, and the bottom edge, which is rather more curved than the top edge, is also blank.
All is not sweetness and light, though. This isn't a small handset, yet the screen is compromised. The Nokia C3 measures 115.5 x 58.1 x 13.6mm and it weighs 114g.
With those dimensions you might expect more than a 2.4-inch screen – we think technically Nokia could have run to larger but the budget probably held things back. Delivering 320 x 240 pixels it is far from ideal for media-rich activities like web browsing.
Nokia C3: Interface
The Nokia C3 is a Symbian handset, which won't come as a big surprise to anybody. However, it runs Symbian S40, which, rather like the unfortunate younger brother in a Jane Austen novel who has to go into the church to make a living, is a far, far lesser thing than its S60 sibling.
And we're afraid S40 doesn't have the saving grace of being morally sound, lovely to be around and generally a good egg.
No, Symbian S40 feels cut down, hampered and, well, quite simply less than its big brother.
If you've never experienced S60 then you probably won't mind this, but to us the whole thing feels out of step.
Still, the Home screen offers a range of information and application shortcuts so that it looks quite busy and is very useful.
The first row of information is a set of shortcuts to contacts. Five are visible at any one time, with little thumbnail pictures of them. Beneath these is the Communities area.
Before you sign in to Facebook and Twitter there's a blank space here. Sign in to one or both of these and you can see updates, but only for whichever you select as the main account.
You use the D-pad to see older updates. Click the centre of the D-pad to go to a proper app for each service. Multiple accounts for both Facebook and Twitter are supported and it's easy to flick between them to choose different ones as the main account.
It is also easy to go to the Facebook and Twitter apps themselves. It's all very slick and on its own makes the C3 a great handset for social networking.
Beneath this is the Shortcut bar which shows shortcuts to five different apps. You can personalise these so that they show the apps you access most frequently.
And, in fact, you can personalise all three areas, so that they show other things instead of the presets. Options include calendar data, Ovi Chat, notifications and WLAN status.
On the main screen the two softkeys are mapped to the Web and a quick Go To selection of more shortcuts, while the centre of the D-pad takes you to the main apps menu. The whole thing is, as you'd expect from Nokia, extremely slick.
Nokia C3: Calls and messaging
Making voice calls is a breeze. If the person you want to call is not on your favourites list you can tap the aforementioned front fascia shortcut to get to your full contacts listing.
Alternatively, simply start tapping out a number on the keyboard. The handset assumes you want to enter letters and not numbers, and off you go.
There is a sneaky extra here too. If you want a countdown timer, you can just type in the countdown time you want in the format hhmmss and then choose this from the Options menu on the left softkey. If you want a three minute timer, for example, just enter 0300 for 03 minutes, 00 seconds. Leave a note if you want, then start the timer running.
You can send SMS messages to hand-entered numbers too, of course, though it's more likely that you'll want to do that for people in your contact book via the messaging app or direct from their contact data.
Entering contacts by hand is a multi-step process. First you enter a number, first name and last name on consecutive screens. Then you can add a photo and what the handset calls 'detail'.
One level of detail is additional phone numbers – mobile, home, work and in a rather old fashioned way, fax (we can't remember when we last sent a fax), as well as a 'general' number category.
Another level of detail is internet contact info which amounts to URL and email address. No Twitter handle, Facebook name or any other online moniker is catered for.
Next you can assign calling tones images and videos to a contact, and finally you can add what the Nokia C3 calls personal info (like the rest of the info isn't personal!).
That amounts to postal address, birthday, any note you may want to make, formal name, nickname, company, and job title.
It takes ages to enter a new contact using this multi-layered system, and it's a real pain. Nokia really should have just given one long screen on which we could choose to enter the data we want.
SMS creation is straightforward and if you sign up for them Ovi Mail and Ovi Chat are included in the package of what's available under messaging.
With Ovi Chat you can access Google Talk, Windows Live Messenger, Yahoo Messenger and Nokia's own Ovi Chat.
The best news of all with regard to messaging is that that the keyboard is superb. Nokia really does know how to make mini QWERTY keyboards. The keys are well designed, individually domed, and have a good return so they feel great under the fingers.
It is easily as good as the keyboard we remember from the Nokia E72, and with separate @ and . keys entering email and web addresses is a breeze.
Nokia C3: Internet
With 3G missing from the specs line-up Internet access has to rely on Wi-Fi or the GPRS/EDGE connection. We'd really advocate the former wherever possible. In fact, if you want to download any kind of data, such as for Ovi Maps, direct to the handset, using Wi-Fi is a must.
The real problem with the Nokia C3 as far as internet access is concerned isn't the lack of 3G, though – it's the small screen. As already noted, it measures 2.4-inches across diagonal corners and delivers 320 x 240 pixels.
Quite simply, that isn't enough. There's barely enough space to get the TechRadar home page header on screen let alone view any content without scrolling. Cutting the zoom level down to 50 percent enables you to you see more, but text is too small to read.
It takes rather a long time for larger pages like the TechRadar home page to be zoomed into and out of, too, leaving you with a tedious wait. And no, there's no way to get the screen into tall format. No accelerometer and no manual page swivel either.
Other sites fare little better unless you go for the mobile versions and even then the lack of height on screen means you can't see an awful lot at once.
Nokia C3: Camera
The Nokia C3's camera shoots at a mere 2MP, and is another area where the relatively low cost of this handset is immediately apparent.
There are almost no settings to play with. You can fiddle with effects choosing between greyscale, sepia, negative and normal, and choose between four white balance settings: automatic, daylight, incandescent, fluorescent.
It has quite a slow shutter speed, so you'll have to hold the camera steady to get non-shaky shots of your subject. The time lag between clicking the centre of the D-pad to shoot and your photo being taken is mercifully short but you'll still need a steady hand, and if you want to photograph moving subjects you could be in trouble.
It is very, very much basic stuff, and the video camera is no better, shooting to just two resolutions of 320 x 240 and 176 x 144, either with or without sound.
The default setting for video length, incidentally, is for MMS messages, so your first capture may cut off disappointingly early – as ours did!
It is easy to change the setting to the maximum length your memory medium can support, though.
CRUSHED WHITES:The sun was bright on the day we took this photo, and the camera really struggled to balance its colours. It decided the trees were most important, and so the building right of shot is a photographic disaster.
DETAIL:There is a lack of definition in this fairly close-up photo of flowers, but the colour is pretty close to what it should be and the focus is reasonable unless you look at the top-left edge of the picture, which for some reason is all squiffy.
MID-RANGE:With mid-distance shots, the camera copes reasonably well, and the quality of the detail here is more impressive than we'd anticipated.
LACK OF VIBRANCY:The camera has done the right thing here by focussing on the playground apparatus rather than the fence in the front of the photo, but the image itself is not particularly vibrant. Another victim of a sunny day!
For its low-resolution, video shooting was surprisingly good. The camera compensates for changes in light pretty well – and except when it was pointing directly at the sun it did a passable job.
Nokia C3: Media
The Nokia C3's music player will find tunes stored anywhere on a microSD card and import them into its library.
Shuffle, repeat and playlist functions are here, and there is an equaliser too, but it is all rather rudimentary.
There is no support for album art, and the player, like the on-board FM radio, looks lacklustre.
The radio is low on features. You have to have the headphones plugged in to listen as they act as the antenna.
The presets library is woefully shorthanded with just seven slots. That means taking the auto-tune route, which makes the handset store the stations it finds in order and it will, unless you're lucky, miss your favourite stations.
So manual tuning is pretty much a requirement. At least there is RDS so you know what station you are listening to.
Sound output is of a decent quality through the provide in-ear headset, but we improved it by using a higher quality set of earphones of our own. We do like that Nokia has managed to put the 3.5mm headset slot on the top of the chassis, where it is free from getting snagged in the pocket.
Nokia C3: Battery life and organiser
Battery life isn't as good as we'd have liked. On one occasion we dipped from three bars of charge to one bar in two hours of use, though we did have Wi-Fi on during this period.
Nokia suggests eight hours of talk and 500 hours on standby with 30 hours of music playback if you have the phone offline. We can't help wondering why anybody would choose to have the phone offline unless required to, though.
Our real world testing suggests you might get two days out of the Nokia C3 but would be advised to budget for daily charging.
Organiser
The organiser features on the Nokia C3 aren't as expansive as the set you get with a Nokia handset running Symbian S60. Still, they're okay if your ambitions are limited just to keeping tabs on your diary and to dos without recourse to too much fancy stuff.
The Calendar enables you to organise your time by putting little notes against dates. You can add reminders, meetings, scheduled calls, birthdays and anniversaries.
The notes are displayed next to a monthly or weekly view of the calendar and you can set audible alarms for them to make sure you don't miss anything important.
To-do list items are stowed away on a sub-menu of the calendar and they're also to be found separately hidden away in the Applications folder, which you can drill down to from the main menu.
The Applications folder also stores a calculator, notes app, stopwatch and another route into that handy countdown timer we mentioned earlier.
Come to the countdown timer via this route and in addition to a straight countdown you also get a somewhat more sophisticated interval timer, which you can use to save ten separate timers in a group.
Nokia C3: Hands on gallery
Nokia C3: Official photography
Nokia C3: Verdict
The Nokia C3 does not claim to be an all-singing, all-dancing, bells and whistles handset, and for under £100 you really can't expect it to do a great deal that's fancy.
Accepting that, it does seem to have a split personality. The chassis is really very nice – worthy of a handset that costs more than it does and with a superb mini QWERTY keyboard that some makers of more expensive handsets would do well to emulate.
On the other hand, much of the software is truly basic. The Twitter and Facebook apps we like, but the rest is fairly uninspiring.
Furthermore, without a 3G connection, the Nokia C3 is seriously hamstrung. We do like the fact that Wi-Fi is here, though.
We liked
Really well-designed mini QWERTY keyboard that makes typing at speed a dream. Tweeters, texters and fans of Facebook ought to find it a dream to use.
There is a nice main screen which is very open to customisation and which can display lots of useful information including live Facebook or Twitter updates.
We disliked
Symbian S40 really ought to be retired as an operating system in favour of S60. It just feels too cut-down and lacking in features to be much fun to use.
There are several areas in which the software lets things down. For example an FM radio with just seven presets, and a convoluted way of adding contacts to the handset.
With no 3G, the handset is not ideal for fans of social media or mobile Internet access.
The screen is really too small for media rich activities, and web browsing in particular is quite painful.
Verdict
You may come to the Nokia C3 expecting a lot more than the phone actually delivers. Its solid hardware design and good keyboard and buttons lead you to think this is a handset with a lot on offer.
But you'll find that when you actually start using it on an everyday basis the phone lets you down - although with the budget price tag you can't really expect much more.
Symbian mobile phone