Nokia 5530 XpressMusic
£129.99
12th Aug 2009 | 16:35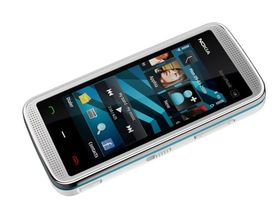 How does Nokia's budget touchscreen phone compare?
Nokia 5530 XpressMusic: Overview, design and feel
Nokia might have been late to the touchscreen game, but it's making up for lost time now by following up the successful 5800 XpressMusic and N97 with the budget 5530 XpressMusic.
It's a phone not too dissimilar to the 5800 XpressMusic in shape, albeit slightly smaller with a 2.9-inch screen. It feels lightweight and the screen is noticeably smaller than other touchscreen offerings, but it doesn't feel too tiny for a touchscreen, although it's probably on the edge of what's acceptable.
It should be pointed out that this is Nokia's budget offering, coming in at a price of £129.99 from the Carphone Warehouse, and therefore some compromises will have been made to shrink the cost of the phone down while maintaining a lot of the feel of its bigger brother, the 5800 XpressMusic.
The Nokia 5530 XpressMusic feels nice in the hand, although a little plasticky. However, that's offset by a decent weight, and a fairly well put together chassis. Put it this way - if you got this out at the pub most people wouldn't think you had paid so little for a brand new phone.
However, there is something that exposes the price - the keyguard slider switch on the side rattles whenever you shake the Nokia 5530 XpressMusic, instantly making it seem like some kind of toy handset. It's a strange thing to get wrong on an otherwise well designed phone.
The memory card and SIM card are both accessible from the outside of the phone, without needing to remove the back cover and battery. The two cards are hidden underneath a very long hinged cover, which looks more like an extended volume button than a SIM flap.
There's a stylus included with the Nokia 5530 XpressMusic as well, should you find your fingers aren't good enough for the screen. It can be found locked into the left hand side of the phone. We don't really like styluses (you should be able to easily touch everything on a touchscreen in our opinion) but at least it's in the chassis.
The top houses the on/off switch, which is quite small and seems a little lonely all alone on the face - but perhaps it's being punished by Nokia for some misdemeanour on a lowly S40 device, as it's usually accompanied by a USB socket and/or a 3.5 mm jack.
Both of those things have been moved to the bottom of the 5530 XpressMusic, and the headphone jack is particularly annoying as it takes an almost superhuman push to get your headphones to connect fully, meaning you're worried that you might break something when trying to cram it in the socket.
Other than that, there's only a small volume up/down rocker and the aforementioned rattling keyguard slider switch on the right of the device, with a camera button in the standard place. The keyguard is in quite an odd place in fact, as you have to shift your thumb up or down a fair bit to hit it accurately.
It might just be the shape of the phone, but it's a little annoying compared to the easy-to-use nature of the N86's keyguard, for instance.
The front of the Nokia 5530 XpressMusic also holds a number of touch sensitive keys, namely call and terminate options, a menu button and a media button located at the top which calls up elements of the phone like pictures, video and music on a drop-down menu. This touch sensitive element requires a bit of a poke to get working, but that's still miles better than the 'breathe and you'll hit it' touch sensitive buttons on the LG GD900 Crystal.
Nokia has also deigned to give us a 3.2MP camera with single LED flash on the rear of the 5530 XpressMusic, although this is a basic mobile photography effort with no sign of the Carl Zeiss that adorn the N-series handset cameras.
The front also has a stainless steel finish (although you have to peer closely to realise it) and houses two speakers for stereo output, which work quite well and will be looked at in more detail in the media section.
In the box
Nokia is thoroughly on board the environmental train at the moment, and while it hasn't gone to the extremes of Apple or HTC in sending out its phones in tiny boxes, it has shrunk things down to include recyclable materials and less packaging.
Inside the box is the phone itself (still in a cardboard holder), a 'standard' Nokia mini-pin charger (ie not microUSB as some of the Finns' phones have been recently) and a tiny, tiny microUSB cable, which is about 7cm long for some reason. We can only assume that Nokia has decided that the world is only using laptops on desks these days, as otherwise you're left with a dangling phone from your PC or Mac.
There are some OK headphones in the box as well, definitely better than the standard flat 'phones from Nokia as these are in-ear buds with some noise isolation tips, as well as a handsfree microphone in the middle. They might not be the best quality in the world, but they provide OK sound and for a £130 phone are a very welcome addition.
There's Nokia's Ovi Suite (replacing the PC suite software of old) on a mini-CD as well as an instruction manual, and Nokia has been kind enough to provide a 4GB microUSB card in the box as well.
Nokia 5530 XpressMusic: Interface
The Nokia 5530 XpressMusic is sporting the Symbian S60 5th edition interface, previously seen on the Nokia 5800 XpressMusic, the N97 and the Samsung i8910HD, which is a touch-friendly update to Nokia's long standing Symbian 60 OS.
This means the Nokia 5530 is actually a smartphone, and you can install all the applications the internet has to offer for the open platform. Well, that used to be the case, but since Nokia has opened the Ovi Store to rival Apple's App Store and Google's Android Market, things are slightly different, with a whole host of paid for and free applications available for the phone.
That would be good news for the Nokia 5530 user, except the application store isn't installed on the phone. We have no idea why, as it can surely only be an added incentive to buy the phone, but perhaps the 5530 XpressMusic isn't able to run a number of the applications and therefore it wouldn't be a good idea.
However, you can download and install it yourself, and it does run more freely than on other Nokia devices. It's still light years away from the likes of the Apple App Store or the Android Market, so don't get too excited about it.
The touch interface works well, with the keys and icons all laid out nicely and in a finger friendly way. The Nokia N97 had some issues with this interface (ie the screen splitting inexplicably, certain buttons and icons not appearing) but thankfully these have been cleared up with the 5530 XpressMusic.
Touching the icons might be easy, but the screen itself (a near-VGA 640 x 380 effort) isn't as responsive as other efforts, which might be explained by the fact we're only treated to a resistive, rather than capacitive screen.
However, it's hard to get too annoyed about this when you think about the £130 price tag; although we're still smarting about the fact the higher end devices (the N97 and so on) still pack the same old school resistive tech.
Nokia's layout has barely changed in the last few years as it has embraced the smartphone revolution, with the same menus to drill down into giving the same applications and options as before.
This is both a blessing and a curse - on the one hand consumers love familiarity, on the other, you don't feel like you're getting a huge upgrade from your older phones if you're a Nokia addict.
It's a bit plain as well, although it has the fun Finnish colours, but the one thing we like in the Nokia's 5530 XpressMusic is the menu transitions - scrolling, fading, parting; all options available to you. While it's nothing new, to see it in a budget smartphone without lag (in most cases) is a really nice touch.
Speaking on the subject of lag, the 5530 does suffer the standard Nokia slowdown we're treated to from previous efforts - but it's happily severely reduced compared to the snooze-a-thon that was using the N95 or N96 at times.
The home screen is a pleasant affair once more, with the contacts bar increased to 20 places, rather than the boring four on offer from the 5800 XpressMusic. Scrolling through these is meant to be as simple as swiping left and right, but in practice this is bizarrely near impossible, with each swipe often leading to accidentally pressing the contact itself.
We were excited when we first turned on the 5530 XpressMusic, as there's a link to your email in the middle of the screen - which works well and is a nice touch.
But there's no way to add other elements to the same section of the home screen - we were hoping for something like a web feed or similar to be popped there instead of our last read email.
We did find it annoying that sometimes we had to double tap a menu item to access it, whereas at other times a simple touch would suffice. It makes it hard to feel like you're in charge of the phone, which creates a kind of barrier between you and your device. And that's not good, seeing as you're going to spending the next year or so with it.
DUST MAGNET: The frame of the phone easily attracts and stores dust in the pocket
The media touch sensitive key at the top of the phone is the same as seen on the 5800 XpressMusic, and gives access to elements like music, photos and video. It's a nice idea, but we found we rarely used it for navigation except when trying to quickly get to a photo to show a friend, and pressing it was a little tricky at times as it has a pretty small strike zone.
But overall, it's a good implementation of the S60 OS on a budget phone. Perhaps at times it's trying to do too much, and perhaps could have done with being a 'lite' version of Nokia's smartphone interface, but we certainly didn't hate it.
Nokia 5530 XpressMusic: Calling and contacts
The Nokia 5530 XpressMusic has the aforementioned contacts bar on the home screen, so we'll deal with that first before heading on to call quality and contact layout.
The bar worked well on the original 5800 XpressMusic, and that only had four contacts on offer, with call and messaging history as well as web feeds for things like blogs, Flickr picture feeds or Facebook updates.
The same is possible on the 5530 XpressMusic too, but there are 20 spaces rather than four, which we feel is a good deal. Adding web feeds is all well and good if you want to pop somebody's Facebook updates on there, but most people won't be able to work out how to save a web feed, let alone place it on their favourite contact, so we bet that element goes largely unused.
When choosing a contact to link to the icon on the home screen, you have to make sure all your names and numbers are saved to the phone, otherwise you won't be able to pop the pictures and web feeds and whatever else on there.
The contacts list is laid out in a similar way to most other Nokia phones, namely with the default option being the list of all your buddies, and another tab letting you group together contacts and send out messages or emails to multiple people at once.
There are three methods of navigation through the list of names: you can either flick the touchscreen up and the list will move according to the speed of the input; you can use the scroll bar at the side or you can hit the search to look for a specific name.
The latter option is pretty convoluted, as you might as well either flick or drag your way through the list in a much shorter space of time. The touch interface offers some pretty 'graspable' scroll bars for each menu, so you won't need to mess about getting out the stylus simply to see the option below.
Each name has the usual stuff you can assign to it, and SO much more. You can obviously do pictures, ringtones, mobile number and name. So far, so standard.
But then you can add a fax number and email address. A company name. An assistant's number. The assistant's name. A carphone number. Yes, a carphone, those illegal to use on the move devices. Clearly Nokia forgot that a £130 phone wouldn't be used by anyone with an assistant, as they would be getting either a BlackBerry or an E-series handset if the Finns are lucky.
(By the way, we've named our assistant Doris).
Calling is rudimentary, with no 3G on board meaning a video call is out of the question (and we know that's going to be a deal breaker for so many). However, the 5530 XpressMusic also has the annoying 'slide to answer' calling function, meaning you have to slip and slid one way or the other to decide whether to take a call.
In practice, this was often hard to do, and we don't know whether it was just us having poor dexterity or something else, but pressing the call button to pick up the phone simply didn't work.
Call quality was slightly suspect at times as well, with the conversation often stuttering and juddering a lot, which happened a bit too often to be the other person each time.
And on a number of occasions the signal was lost altogether for some reason, and no amount of cajoling or restarting the phone could bring it back. It eventually re-connected each time, but it was a very annoying situation every time it didn't.
Nokia 5530 XpressMusic: Messaging
The messaging capabilities of the phone are likely to be well talked about in the marketing push from The Carphone Warehouse and Nokia on the run up to Christmas, and for good reason too - it works.
There's the obvious addition of handwriting recognition on a touchscreen phone, and we were surprised how much better it was than other handsets. We managed to write a whole text in under 10 minutes - which compares favourably to the average 30 minute waiting time we have to give when we're scrawling with a stylus.
It's an alright option, but you're always much better off just poking the letter on the screen in the right order, as no phone is going to guess what you're scribbling all the time.
The accelerometer on the phone works nice and swiftly on the Nokia 5530 XpressMusic, meaning when you want to switch between alphanumeric and full QWERTY it happens when you want it. It's still not as fast as it could be, but compared to the snooze fest of waiting for the likes of the Toshiba TG01 to re-orient itself it's much better.
The keys are surprisingly easy to hit on the 2.9-inch screen, even in QWERTY mode, which is surprising considering how cramped it all is (and with no predictive correction like that seen in HTC's phones).
When you think that two years ago the LG KU990 Viewty was stealing all the plaudits as one of the best touchscreen phones, with a 3-inch display (and truly awful accuracy for QWERTY texting) it makes you realise just how far mobile phones have come in a relatively short space of time.
That said, when writing a text it is a little difficult to enter the person you're trying to actually get hold of, as the simplest way to add a contact is to hit the tiny 'To' box on the screen, which often takes a few attempts. You can hit the dedicated icon at the bottom, but we liked the way the older Nokia's would prompt you to enter the person you're texting first, meaning you're less likely to accidentally send the text to the wrong person.
Email
Emailing follows Nokia's easy to use handbook once more, offering a simple method of setting up and using a webmail account in seconds. Simply add in your email address and password, and if it's a commonly used server then the Nokia 5530 XpressMusic will download and create the account settings for you in an instant.
From there, it's simply a matter of opening up the mailbox from time to time to see if anyone loves you enough to write you a message. You can enter the inbox from the home screen as we said before, or through the messaging icon, and then the phone will automatically ask you to connect up and check your mail.
It seems there's no easy way to set this to automatically check, which we find a little strange. You can leave the application running in the background to offer a pseudo-push effect, but that feels a) a little battery sapping and b) like cheating.
Other than that you've got your basic MMS options, with sending a picture via message available directly from the camera after you've taken your shot.
Nokia 5530 XpressMusic: Internet
We're massively disappointed whenever a decent phone comes along that doesn't have 3G, as the internet experience is nearly always compromised as a result. Yes, we know it conserves battery life, cuts down on cost and so on, and so on... we just don't see how you can have a full HTML browser with only GPRS surfing. It's horrible trying to do anything other than look at the mobile web.
Although to be fair, studies have shown that most people spend 90 per cent of their time browsing the web in the home or at work - and with Wi-Fi on board browsing moves from Ford Fiesta speeds to Lamborghini Diablo levels.
But you try uploading a picture you've just taken to Flickr (as Nokia loves you to do) when you've only got a 2G connection to play with - and don't try and tell us that people upload to Flickr primarily in Wi-Fi zones, as the main point of the functionality is to create a photo feed when out and about.
The resistive touchscreen isn't the best for browsing either, as several times we had to swipe again to make the 5530 XpressMusic do what we wanted it to in the first place (ie scroll down the page).
However, it would also often click on a link rather than scroll, or more annoyingly has a habit of zooming in thinking you've tapped twice on the screen. The smart-fit technology that allows you to view text on whichever size screen you've chosen is pretty good though, meaning the mobile internet experience is definitely passable.
The buttons to help you navigate through the browser are nice and easy to press thanks to the 5th edition upgrade to the S60 interface, but going full screen either involves waiting a very long time or heading through the menus, when there should be a simple button to do it for you.
We like the ability to view multiple windows as well, although switching between them can be a little bit difficult, as you have to trek through two menu options and then select another simply to close a window. On other Nokia handsets, you could simply press the 'cancel' button and it went away, and we miss that option.
However, the accelerometer allows you to easily switch between the landscape and portrait modes, and the 5530 XpressMusic has a decent ability to re-format the pages, which makes the whole process seem pretty slick.
Nokia 5530 XpressMusic: Camera
The 3.2MP camera on the 5530 XpressMusic is nothing overly special, but by the same token it works pretty well.
However the absence of Carl Zeiss optics are clearly hurting this effort, as while it manages a decent contrast balance, it struggles horribly up against a dedicated camera in terms of sharpness and colour reproduction.
It's even worse in night mode, when the single LED flash is scant competition to a full Xenon effort.
To be fair to Nokia, it has added in a range of scene modes and colour balances and so on to play with, as well as a good auto focus. We just feel that perhaps instead of confusing people with an array of settings 95 per cent don't know/want to know how to use, just improve the intelligence of the automatic settings to get a brilliant picture each time, like the LG Viewty Smart.
See how the Nokia 5530 XpressMusic got on against our dedicated Olympus SP-565UZ camera:
Nokia 5530 XpressMusic:
WASHED OUT: The colours from the Nokia 5530 XpressMusic pale in comparison to the Olympus
Olympus SP-565UZ:
Nokia 5530 XpressMusic:
GRAINY: Landscapes lack detail, although do capture a majority of the objects well
Olympus SP-565UZ:
Nokia 5530 XpressMusic:
BRIGHT LIGHT: The Nokia 5530 XpressMusic struggles in bright light
Olympus SP-565UZ:
Nokia 5530 XpressMusic:
NIGHT LIGHT: The Nokia 5530 XpressMusic has a decent enough flash to pick things out in the pitch black, although it isn't a match for a xenon effort

Olympus SP-565UZ:
Video recording
Although good for viewing back on the phone, the video recording on the Nokia 5530 XpressMusic isn't up to much at all, with up to 176x220 pixels (QCIF) and up to 15fps not the best spec set we've ever seen. Even the iPhone can record at VGA quality and 30fps.
If this doesn't mean much to you, VGA and 30fps is roughly DVD quality, and looks good on computer screens. The 5530 XpressMusic comes in at around a quarter of the resolution and takes in half as many frames per second leading to a grainier and jerkier video in the end.
There are options to play with the colour balance, as well as making it look like you're in the wild west with a sepia option, but it's not the best compensation.
Nokia 5530 XpressMusic: Media
As you can imagine, media is well catered for on the Nokia 5530 XpressMusic, with a dedicated music player, two video players and games all present and correct, and they provide some decent performance in this budget phone.
Music
While it might not set your world alight in terms of sound quality or functionality, the music player on the Nokia 5530 XpressMusic is good in its own right, enough for you to use this solely as a (fairly expensive) PMP.
You can sort through the tracks by artist, genre, album and so on, and see the artwork for said song when playing it back. There are a few little options to help make the sound a bit better (for example, Stereo Widening, Equaliser settings) but they're not really going to change the way you use this phone as a music player.
The music player will also still work in the background and give you some basic dedicated keys on the home screen when you exit the program and pootle around doing other things on the phone - it's touches like this that make the 5530 XpressMusic so usable on the whole.
The stereo speakers at either end of the phone are impressive too, with some decent sound quality coming out when placing the phone on the table to share your tunes with some friends. We're not convinced this is a good thing, as more often than not people decide to share their music with you even when you don't want them too; although if it's going to happen, it might as well sound good,
There's also a radio (which plays FM tracks, and not a lot more) and a podcasting application, where you can download and store your favourite soundbites. It's not that UK friendly though, as a simple search for 'football' gives you options for the American version (not the proper one, sadly).
Video playback
We were delighted and disappointed by the video options on the 5530 XpressMusic, as while you can watch all your videos back via the Video Centre or RealPlayer (and in fairly good quality on the near-VGA touchscreen), there appears to be a certain resolution you have to adhere to.
While the box claims to play back MP4 and 3GP, the former has a variety of codec formats out there, and only certain ones will play on the phone. There appears to be a limit of around 300x212 pixels, but we're not going to go into detail here, as most simply won't care about it.
Suffice to say a few music videos we like to watch on our phones didn't work, and although the device had a go at playing back only the audio (which softened the blow somewhat) it still doesn't give you that much faith in the 5530 Xpressmusic's multimedia device.
The 2.9-inch screen is oddly watchable though, but don't expect to marathon through all three Lord of the Rings films on there (despite a 4GB microSD card thrown in for good measure) as it's just too cramped. But the phone is a nice size for holding, so assuming you find the right format to put the file on to the phone, it's not a bad option for a casual video watcher.
Games
Hidden away in the Applications section are two neat little games that you can play to keep yourself amused in the wee small hours. Bounce is a children's-style game, where you drag your finger through a 3D course, pulling a small sac of bouncy fluid along with you to follow a story. Think Sonic but cutesier and, well, more about bouncing balls.
The other option, Global Race: Raging Thunder (which sounds like it was named through a translation machine) is an accelerometer based game where you twist the phone to turn the car. It's got some decent-ish graphics, fairly in-depth game play, but is a little too sensitive on the controls.
And unless we're just rubbish at it, all the cars we drive are freakishly slower than the others. Well, that's our excuse and we're sticking to it.
Nokia 5530 XpressMusic: Applications
Applications on the device aren't up to much out the box, and there's not a lot of scope for improvement. However, the eagle eyed among you, with no notion of the Ovi Store (which is Nokia's attempt to overthrow the App Store and Android Market) will enter the Facebook portal and see a link to 'more applications for your 5800 XpressMusic' (we assume the phone will be recognised soon).
This leads you to a link to the Ovi Store, and means that you get access to hundreds of new applications, both free and paid for. We won't lie to you - there's not much there at the moment, as the store has yet to really get off the ground, but apparently Nokia will be integrating things like location-based offerings in the near future, meaning if you're in Italy, suddenly it will promote Italian guide and phrase books to you.
Scouring the free applications, the best we found was a strobe light/torch application - which tells you all you need to know about the quality on offer.
There's not mapping application on board sadly, which makes the GPS chip inside a little bit redundant. However, a swift online trip to Senor Google's house will have you downloading Google Maps in no time, and you'll soon be able to navigate around with ease.
Nokia also persists with a number of never to be used applications too, like Friendster and Hi5 and Boingo. Some of you will have a play with these, most of you won't, and your life won't be any the poorer for it.
The Facebook application is actually rather good though, with all the same options to poke and edit your profile as you get on the Android and iPhone versions, albeit this is through the mobile browser, rather than a standalone application.
Other applications are mostly the standard Nokia fare - ie a collection of links to popular mobile sites like Amazon or MySpace - as well as converters, GPS information and a dictionary (actually, the latter is rather good - it's a proper dictionary and everything!)
Nokia 5530 XpressMusic: Battery life and organiser
As you can imagine from a dinky phone without a 3G chip on board, the battery life is pretty darn spiffy. We nailed the device as hard as we could for nearly two days straight before it gave up on us - but then again our web browsing efforts were certainly down due to the painful speeds achieved.
We were impressed, however, by the battery life of the music player. We were quoted 27 hours of continuous playback, and while we never reached that level we did use it on a long train ride back from Scotland and found it lasted very well indeed, especially when we were throwing a little bit of video in there too.
LONG BATTERY LIFE: The 1000mAh battery lasted particularly well
We anticipate, based on our efforts, talktime will be good as well, seeing as a half-hour conversation didn't rob us of a bar of battery (which so many phones do) so despite only having a 1000mAh battery under the hood, Nokia has optimised the 5530 XpressMusic well for the task.
The organiser consists of the usual suspects we've become accustomed to finding on the Nokia S60 handsets: the functional if unspectacular calendar, the calculator, the converter and the opportunity to write little notes to yourself.
The calendar is certainly good enough to use day to day - if you're a personal trainer for instance, you could easily keep track of all your clients in there. Similarly, if you're worried about which weight to use in kilos or pounds, or whether you're supposed to run in km/h or mph, this phone can work for you (although you sound like you don't know your way very well around a gym).
The note taker sadly doesn't let you scribble down notes to look at later - you can use the handwriting recognition, but that only enters the letters 'properly'... what a killjoy.
Nokia 5530 XpressMusic: Connectivity and PC
software
Connections on the Nokia 5530 are pretty well represented (although the earlier anger at a lack of 3G still hasn't subsided) as we've got Wi-Fi, GPS, Bluetooth A2DP and of course, GPRS/EDGE if you're desperate.
The overall reception of the phone isn't that great, with coverage constantly dropping out on us in zones we knew worked on our network. It might be a small and wallet friendly device, but it still needs to be able to work most of the time.
Bluetooth 2.0 worked well on the phone - finding the PC connection easily and flipping into gear when needed. We had a little trouble getting the A2DP Bluetooth option to work with our Altec Lansing BackBeat 906 BT cans, but eventually the two paired (why they refused for so long, we don't know) and stayed locked together whenever one was turned on.
Nokia's decision to 'go Ovi' has started to pay dividends, as the new Ovi Suite in the box is great. The Ovi Suite was a lot more intuitive than previous efforts, encouraging us to sync across all our media, back up contacts and even throw it all online to make it safe forever as Nokia tries to integrate all its services.
We found no great urge to do so however thanks to a lifetime of ignoring bundled phone software, but Nokia's integrated approach certainly make it a lot more appealing.
It did take a little while to install, but we had to upgrade a few components on our PC in the process, which it helpfully did for us. If yours takes an unusually long time to install, don't worry, just go and make a cup of tea and have a nice slice of cake to pass the time.
However, the home media server software wasn't up to much, as again we couldn't make it work. Like DLNA, the notion of wirelessly connecting all your devices together via Wi-Fi seems a little too much for the program to handle.
You can also set things like maps up on the internet and have them sent to the handset. That example isn't the best here as the 5530 XpressMusic doesn't have Ovi Maps installed, but there's a whole host of other cloud-linked software to play with under the hood.
Nokia 5530 XpressMusic: Hands on gallery
Nokia 5530 XpressMusic: Official gallery
Nokia 5530 XpressMusic: Techradar's verdict
Nokia should be applauded for taking the focus off the super expensive phones in these times of economic crisis, and the 5530 XpressMusic is clearly going to be a big draw for consumers if the runaway success of the 5800 XpressMusic is anything to go by.
We liked
The diminutive size means it fits well in the hand and pocket, and the SIM card placement is novel and easy to use.
There's a range of decent software on board already, and the menu transitions, which might sound insignificant, were actually a very nice touch indeed.
The music player, with its watered down home-screen player, also worked well, and the screen, while not as high res as other offerings, stood up well.
The improved number of contact options for the home screen was also a nice touch, and shows that Nokia is listening to what people like in their phones.
We disliked
There are a few things to dislike about the 5530 XpressMusic - the camera is poor for starters. It's functional, and for £130 you can't expect the world, but we were disappointed it didn't at least match the 5800 XpressMusic, which has a dual LED flash and Carl Zeiss optics.
The resistive screen was far too inaccurate at times (such as scrolling through the home screen contacts bar or the internet) and the screen was a little small as well. The fact the video player didn't work all the time also annoyed us greatly, mostly because it flaunts the promise of playing back MP4s when it doesn't for many files.
We would also have liked to see Ovi Store on the phone from the start, but at least you can download that and fix it easily.
But one of our biggest problems was with the reception - it kept dropping out on us for no reason and then took an age to re-connect. With no option to scan for networks (the usual method of prompting the phone to re-connect) we were stuck waiting. We don't know whether this was poor reception from the antenna or a glitch in the phone, but we're willing to give the 5530 XpressMusic the benefit of the doubt and assume it was a one-off problem with our handset.
However, we'd suggest checking the warranty on your 5530 XpressMusic if you decide to buy one, and if you see coverage dropping out for minutes at a time you might want to consider another option.
Verdict
The 5530 XpressMusic wouldn't be out of place against the heavyweight smartphones, although it would be among the worst on show. However, take into account the Nokia N97, the iPhone 3GS and the Palm Pre all cost around £350 more than the 5530 XpressMusic, and you can see why we like it a lot.
The overall feeling was that the phone impressed beyond the sum of its parts, as although there were times when the 5530 XpressMusic frustrated us, it also performed well a lot of the time and will almost certainly be a big hit around Christmas time.
Follow TechRadar Reviews on Twitter: http://twitter.com/techradarreview