LG Viewty Snap GM360
5th Nov 2010 | 15:45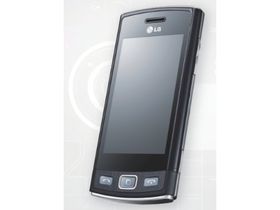 Can a featurephone still cut it against the budget Android brigade?
LG Viewty Snap GM360: Overview
LG's crop of lower priced handsets is plentiful and each has its own little pinch of LG-style stardust to make it seem a bit different from the others.
The LG Viewty Snap GM360, for example, is available from as little as £80 on pay as you go and free on £10-a-month contacts. It boasts 5MP Schneider-Kreuznach optics and something LG calls an 'Optic-all' zoom as its standout features. Don't get too excited, though – the latter's not an optical zoom. We'll come back to that in more depth later.
Still, however it's dressed up, you can't really expect top-notch results from an £80 phone. So the question here is whether you're getting a good quality handset for your money, or if you'd be better off opting for a low-priced smartphone, such as the Alcatel OT-980, instead?
Certainly with neither Wi-Fi nor 3G onboard, the LG Viewty Snap GM360 will have to work quite hard to earn our favour.
In form, the LG Viewty Snap GM360 is a fairly small phone. At 108 x 53 x 12mm it should fit neatly into most pockets. Yet it still manages to pack in a 3-inch screen, with 400 x 240 pixels on offer, that's touch sensitive. It's fairly good in terms of viewability, but the screen is a tad small for some media-rich activities.
There's a trio of buttons under the screen, two of which offer Call and End functions, while the neat centre button opens up a tabbed shortcuts area to running and favourite apps. The End button doubles up as a back button as well, so you can quickly leave the app you're using and get back to the home screen.
Build quality is reasonable for a phone at this price too. There's even some fake brushed metal on the button area at the bottom of the front fascia.
The long edges are well detailed, with a thin silver strip against the black plastic that forms the bulk of the chassis. The right-hand edge of the handset houses thin volume rockers and a camera shortcut on this strip, while the left-hand edge has a micro USB charger sitting under a hinged cover.
On the bottom, there's a thicker silver trim and no connectors, while the top edge houses the on/off button and a 3.5mm headset connector.
LG Viewty Snap GM360: Interface
When we reviewed the LG Town, a budget handset with a slide-out keyboard, we said we weren't too excited about the user interface. The LG Viewty Snap GM360 takes the same approach to its UI and we feel similarly about it.
There are three home screens, which you move between by sweeping as you would on any touchscreen handset. Each home screen has different, pre-designated functions, so there's no freeform ability to just stick widgets wherever you like.
That said, the main home screen does have space for widgets of your choosing. You pull these onto the screen from a menu that sits along its bottom portion. You're limited to four and they sit in a configuration that's dictated by the wallpaper you've picked.
The next screen is for housing your favourite people. Again, you can pull them onto the screen from a menu that sits along the bottom.
The third home screen is the one that you may find you don't get on with at all. It's all about LG's LiveSquare system. You can add friends to this screen, giving them little avatars.
These avatars animate and show you information about incoming calls and messages. Tap an avatar and you can see your contact history with them. It's a little bizarre to be honest.
The status bar along the top of each of the home screens can be tapped for a little more information about the status of the LG Viewty Snap GM360, and you also get a quick Bluetooth toggle and music pause/play button here too.
Each of the three main screens has a shortcuts bar beneath it. These enable you to quickly get to the phone dialler, contacts, messaging and the main apps menu.
LG organises its apps into four groups: Communication, Entertainment, Utilities and Settings. A horizontal finger sweep takes you from the 16 shortcuts on screen to a second screen of 16.
LG Viewty Snap GM360: Contacts and calling
We've already seen how the LiveSquare screen and the favourite people screen can provide you quick access to your top friends and contacts.
A quick tap on the Contacts icon at the bottom of any of the three main screens gives you access to your full database of contacts, and it's easy to add new contact details to the handset.
Social networking is catered for and there's a fair range of services included.
You'll have to be patient with them, though. The Twitter application, for example, is a Java app that takes a little while to load. Then you have to wait even longer to log in. There are further periods of waiting to endure if you want to look at mentions, or to search.
It's poor in comparison to Twitter apps on Android handsets.
There's a dedicated Facebook client too, but this also suffers. It feels slow and clunky in comparison to using Facebook on faster handsets with better, larger and more responsive touch screens. We wouldn't really want to rely on it.
Still, the handset didn't drop the connection on voice calls, and we had no trouble having a voice-based conversation using the phone.
LG Viewty Snap GM360: Messaging
There's a messaging icon on the main screen that, once tapped, takes you to SMS creation. The screen is a little cramped in tall mode, but you can switch between a T9 keyboard and handwriting recognition, depending on your desired form of input.
You can also tap the on-screen keyboard icon in tall mode to switch to a widescreen mode with a full QWERTY keyboard.
Handwriting recognition is quite slow, but then so is using either of the on-screen keyboards. The screen is a resistive type and it needs quite a serious press to register anything. There will be no feathery-fingered tapping at the speed of light on the LG Viewty Snap GM360.
Aside from SMS, mobile email is supported too. You'll find the wizard for setting it up is pretty straightforward to work with.
LG Viewty Snap GM360: Internet
Web browsing on the LG Viewty Snap GM360 isn't the best experience you'll ever have.
Neither Wi-Fi nor 3G are featured here and their absence means that all pages are excruciatingly slow to load. Particularly detailed pages, such as the Tech Radar home page, seem to take an age to become readable.
What's more, the resistive screen is pretty unresponsive when it comes to moving around within a page.
Zooming is annoying too. In principle, you can simply call up the Zoom bar and then sweep it to zoom in and out of a page. However, unless your fingers are very small, you'll find it difficult to get precisely the level of zoom you want.
If you prefer to switch your reading angle, there's no accelerometer, but there is an option to switch into widescreen view. There's also a full screen view option to make the most of the space that's available. Oh, and there's no text reflowing either, so you often have to scroll horizontally to read web pages.
On top of all that, the LG Viewty Snap GM360 actually reset itself a couple of times while we were web browsing. Yes, Opera Mini is hidden away in an apps menu, and this does give a better browsing experience, but it's also hampered by the lack of Wi-Fi and 3G. We doubt you'd want to use the internet on the LG Viewty Snap GM360 at all unless you were really desperate.
LG Viewty Snap GM360: Camera
Taking decent pictures is the LG Viewty Snap GM360's ostensible niche. To help with that is the Optic-all zoom. As we said at the start of this review, however, it's not an optical zoom. In fact, it isn't even a zoom feature as we would usually understand one.
Optic-all zoom is a software feature that results in improved image quality as you zoom in on the phone. It doesn't function on images over 1MP in size, even though the camera shoots at up to 5MP.
Presumably, that's because of the technical resources needed to implement the improved zooming quality. Regardless, it isn't worth writing home about.
There aren't many photographic bells and whistles – just a Macro mode; a choice of three, six or nine continuous shots; a range of colour effects; White Balance settings for cloudy, incandescent, sunny and fluorescent lighting conditions; and a self timer. It's all fairly standard fare, even on much lesser handsets.
Still, the camera does shoot pretty decent photos and benefits from having a flash.
This shot reminds us of the glorious sunny September day on which it was taken. The definition is good and the sky really was that blue and cloudless.
See the full size version here.
The camera struggled a little with this photo, because the foreground was in shade and that bridge on the left of shot was painted bright white, giving it a lot of variation in brightness to deal with. Still, it is a passable photo.
See the full size version here.
Zoom into this photo of an information board and it is perfectly readable, although there's obvious pixellation as you go further in.
The Macro mode enables you get so close to an image and no further. We were only a couple of inches from these blackberries and, as you can see, the photo's a bit blurry. This did not show up on the handset itself, though, and the colour reproduction is excellent.
LG Viewty Snap GM360: Media
The LG Viewty Snap GM360 has a music player, which had no problems finding tracks hiding all over our micro SD card, but failed to pick up album art. Also, composer tags aren't supported, just artists, albums and genres.
You can make playlists on the fly, and there's a music player widget for the home screen so you can control playback from there.
The music player has a Sleep mode – handy if you want to have music playing in bed before you go to sleep or for some other timed reason.
The 3.5mm headset jack on the top of the chassis means you can use your favourite earphones if you want to, and there's an equaliser to help you choose the sound output style you want. The sound quality is passable, but not great.
The FM radio auto scans for tracks and will fill up to 48 slots with saved channels. If you want to manually tune it, there's a neat little roller button in the middle of the radio screen. You can record from the radio too, but sadly it doesn't have the same sleep function as the music player does.
Video playback is a bit limited with just MPEG4 supported, but videos themselves played well enough in both wide and tall screen modes.
LG Viewty Snap GM360: Battery, apps and maps
With just a 900mAh battery to keep everything together, you'd be forgiven for guessing the LG Viewty Snap GM360 has poor battery life. In reality, however, it's quite good, thanks in no small part to the fact that it lacks 3G, Wi-Fi and GPS, which are three of the big battery drains on modern smartphones.
You should be able to get two days from this handset as long as you don't use it constantly as a portable music player.
With no GPS onboard, it won't surprise you that there's no map or navigation software to be had here. Nor is there an app store. LG does provide a fair few apps – for example, there's a drawing app, memo maker, voice recorder, calendar and task manager – but you can't expand on what you get with the phone itself.
Comparison
The LG Viewty Snap GM360 is far from a high-spec handset, lacking Wi-Fi, 3G or GPS. If you want those features and the ability to add more applications, then an Android handset might be more to your liking. The Alcatel OT-980 or ZTE Racer could be good bets.
If you're an LG fan, though, and are keen on messaging, check out the LG Town. It has a very similar user interface and setup, but adds a QWERTY keyboard into the mix.
LG Viewty Snap GM360: Verdict
There are good things to say about the LG Viewty Snap GM360. It has a decent camera, some pleasing apps and a fairly simple, easy to understand user interface.
Sadly, there are a number of black marks to mention too. It has a strange three-screened home page system, which doesn't appeal to us. It lacks 3G, Wi-Fi and GPS. Web browsing is a trial. To cap it all, you can get Android-based handsets, such as the Alcatel OT-98, that offer 3G, Wi-Fi, GPS and access to an army of third-party apps for a similar amount of money.
That makes it hard to recommend this handset as a good buy.
We liked
The app switcher system via a single button beneath the screen.
There are some neat features here, such as a sleep timer on the music player.
Some nicely designed visuals – the rolling tuner on the FM radio, for instance.
Battery life is pretty good.
We disliked
The LG Viewty Snap GM360 is a self-contained handset with no opportunity for downloading apps. What you get is what you're going to have to live with. An Android handset may be a better bet if this functionality matters to you.
There's no Wi-Fi here, so all your data sharing activity has to be done over the network.
3G is absent from this handset and any communications involving data really suffer. We can't help wondering if non-3G handsets are so far off message these days as to make them unsellable.
No GPS means no navigation or location-aware capabilities.
Verdict
The LG Viewty Snap GM360 might have come out quite well in a review even six months ago, because budget Android handsets were rare as hens' teeth at that time.
Now we have the likes of the Alcatel OT-980 and ZTE Racer, though, so it's difficult to see why anybody would want to spend close to £100 on a handset that lacks Wi-Fi, GPS, 3G and an app store when they could get so much more for their money.
LG