LG Town
7th Sep 2010 | 15:52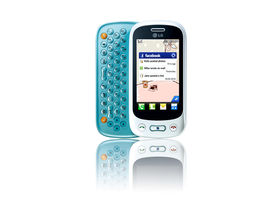 QWERTY messager at a ridiculously low price
LG Town GT350: Overview and design
The LG Town is the follow up to the KS360, which we reviewed way back in October 2008. The KS360 was available for the same price as the new Town, which has a small slide-out keyboard like its predecessor.
Things have moved on a long way in the intervening months and years, though, and the Town is a more advanced handset than the KS360.
Of course, everything else in the mobile phone world has moved on equally, and the positioning of the Town is pretty much bang on that of its predecessor. By that, we mean it's aimed at cash-strapped younger users with a liking for the written word as much as the spoken. We found the LG Town GT350 for £80 on O2 pay as you go.
The Town is a small handset that fits very neatly in the hand and the pocket. The white and blue colour scheme of our review sample is not unattractive, and the whiteness of the backplate is alleviated by a reasonably attractive grey patterning.
There is a neat button under the screen that calls up a tabbed window offering access to running apps and favourite apps, as well as Call and End buttons.
A tiny lock/power button is on the top edge alongside a 3.5mm headset jack, while the bottom edge is clear.
Both the sides have their share of buttons and connectors. On the left, there's a volume rocker and microSD card slot, on the right a micro-USB connector and camera shortcut button.
The general specs reflect the £80 price tag with no Wi-Fi or GPS in the features set. We can live with that at this price, but the absence of 3G is a big of a downer for all but the least expensive mobile phone these days.
LG Town GT350: Interface
The LG Town GT350's screen measures three inches across diagonal corners and it delivers 240 x 400 pixels, which is about right for a handset of this price.
The screen is resistive rather than capacitive, and the general rule of thumb is that resistive is the lesser of the two when it comes to pudgy-fingered accuracy. True to form, while prodding was responsive enough, sweeping was a bit more hit and miss.
We had problems when scrolling up and down to read text, for example, as the screen had a tendency to not register our input.
Out of the box, there's a cartoon-like approach to the user interface that we've seen on other LG phones. It's most noticeable in the main menu.
You can change the font from 'Fun Style' to 'Default' and choose different looks for the main menu too, so you can change this to a significant degree.
You've got three Home screens to play with, and they're familiar fare. On the main one, you can slap a few widgets drawn from a bank that runs along the bottom of the screen.
The range isn't vast, but there's probably enough here to keep younger users happy, and you get things like the weather, time, calendar, Facebook client, gallery, music player, FM radio, and a Google search box.
One of the other Home screens is dedicated to your favourite contacts, and again you just pull them up from a bar along the bottom of the screen onto the screen itself. You've room for nine – you just need to assign each icon to a named person and you're off.
The third screen is LG's LiveSquare screen, which you populate with bizarre little animated avatars representing your best mates.
In addition, if you tap the status bar at the head of any of the main screens you get a status summary screen that shows you the time and date, connection type, your operator name, battery strength, memory remaining on the handset and microSD card, profile, Bluetooth status and music status.
Those last three are handy, because you can change profile and toggle Bluetooth with a tap, and pause/play music with a tap, too.
This is nothing we've not seen before, for example on the likes of the LG Cookie Fresh, but it is all useful enough, as when as many of the Android brigade.
LG Town GT350: Contacts and calling
Making a voice call is as easy as tapping the dialler button on the main screen and hitting a number, or hitting the contacts button on the main screen or, of course, using either LiveSquare or the contacts speed dial screens we mentioned earlier.
There was nothing wrong with call quality, and the handset didn't drop calls while we were in the middle of a conversation, either.
You've got a couple of skins for the dialler, as well as the ability to set the font colour and size, and show or remove the alphabet, so you can personalise things a bit.
New contacts are easily saved to either the handset or SIM. You can't import your chums from Facebook, or other social networking or cloud-based sources though. This handset isn't advanced enough for that.
Contact info runs to a reasonable range including a nickname if you don't refer to your friends by their usual first names. You can store numbers for home, office, mobile, pager, fax and a general number that you can use for an additional contact method – but you can't rename the field.
You can assign a ringtone to a contact which is quite handy, and note a birthday and anniversary date as well as a URL. There's even room for some memo text if you can think of anything you want to add to a contact's details.
LG Town GT350: Messaging
Messaging is at the core of the LG Town GT350, and you've got that keyboard to help out. The keyboard is an absolute delight to use – much better quality than it looks, to be honest.
The keys are small, and you'll need to use fingertips if your hands are middling-to-large sized, but they feel responsive under the fingers.
Some will argue they're a bit too tight to press easily, but that's subjective and we like that firm feel.
LG has found room for a good few shortcuts on the keyboard too, including one that takes you straight to messaging, one for Windows Live and Yahoo Messenger instant messaging, one for mobile email, one for Facebook and one for the web browser.
In addition there is a small diamond of arrow keys that you can use to move about within messages.
If you don't want to use the physical keyboard to write a message, you can tap at an on-screen one. The small size of the screen makes this a bit of a fiddle, but it's OK for very short replies.
SMS messages can be seen in a threaded view if that floats your boat, and you can extract email and web addresses from the text of messages as well as phone numbers. It's all quite well thought through.
What isn't so impressive is that while there is a Facebook client, there's nothing for Twitter. No widget, no app, nothing. You'll have to get to that particular part of your social networking world via the web browser, and that might drive you crazy as there's nothing you can download onto LG's proprietary OS.
LG Town GT350: Internet
The LG Town GT350's web browser is Opera Mini and it does a fair job of trying to render pages in the small screen, but it took about 25 seconds to load the app from clicking on it, which seems an interminably long time.
Then there's the time it takes for a page to actually load. This will depend on what you're trying to load, of course, but on GPRS and EDGE speeds are inevitably a bit on the slow side, and you're stuck with these as there's no 3G or Wi-Fi here.
The screen is small for browsing the web, and there's a fair bit of zooming, panning and sweeping to do in most pages, but we do like the simple tap to zoom mode. Zoomed screens render up quite quickly, and text reflows so that you don't have to scroll around too much to read what you need to.
This certainly isn't a web browsing fan's mobile phone, but we've seen worse.
LG Town GT350: Camera
The camera shoots stills at a maximum of a mere 2MP and video at just 320 x 240. There are very few tweaks to make in order to improve the picture quality.
A three, six and nine burst shot mode, self timer and some colour effects just about cover the stills features. There's no flash, but there is a tiny self portrait mirror for taking shots of yourself.
Click here for full-res version
DARK TIMES:In general, the camera had a lot of trouble letting enough light in to take good photos. The trees in this photo lack almost any definition at all. The sample photos were all taken on a dull rainy day, and perhaps the camera would have fared better in bright sunlight
Click here for full-res version
OLDEN TIMES:Shot in Sepia, mode, the photo again lacks definition, but at least in this case it seems appropriate to the colour scheme!
Click here for full-res version
BIRD BRAIN:Here we have a different problem with light. The reflective glass on this mosaic meant the camera had just too much light and complexity to manage, and the result is an ill defined photo. The brickwork looks OK, though
Click here for full-res version
WASHED OUT:Yes, it was grey when this photo was taken, but that's not really an excuse for the washed-out colours and lack of vibrancy in the image.

LG Town GT350 review: Video
Video shot with the LG Town GT350 was almost predictably disappointing. Despite its low 320 x 240 resolution, the video is jerky, and there is the same dullness that we found with still photographs.
LG Town GT350: Media
The LG Town GT350 finds music files from anywhere on a microSD card and imports them into the media player with ease.
Media files come in the form of MP3 and AAC+ for music, and MP4 and H.263 for video, which is a little sparse in our opinion - but that's compared to the bevy of files supported by more expensive phones.
We've already noted the nice feature of being able to play and pause music from the status summary screen accessible from the Home screen.
There's also a music control widget you can put on the Home screen, which enables you to pause, play and go forwards and back in a playlist. It also shows what's playing, on a little scrolling display.
If you tap this widget, you're taken to the main music player screen, where you can choose a track or playlist.
The player didn't want to pick up our album art, which was a bit annoying, and volume through the speaker was not as loud as we'd have liked.
But there is an equaliser, and we were pleased to see a 3.5mm headset connector on the top edge of the phone. LG didn't send us any headphones to test, but our own cans seemed to work fine. Music quality was OK for a handset of this price range, and any poor treble reproduction was corrected by using the equaliser.
An FM radio adds to the music playback fun, and you can easily autoscan stations into its 50-channel memory. RDS means the radio knows what it's tuned to, and gives you that info on the frequency bar.
LG Town GT350: Battery and apps
The LG Town GT350 comes equipped with a 950mAh battery. That's pretty small by modern standards, but the LG Town GT350 doesn't have to do things like maintain a 3G signal or run Wi-Fi or GPS.
It has a relatively small screen to manage, and the biggest challenges you'll give it are the odd bit of web browsing and some music playback and radio action.
It's not surprising, then, that we found the battery lasted well. After a full day's moderate use – including some web browsing, texting, music playback and voice calls – the battery gauge was only down one of its three bars.
On that basis, we reckon the LG Town GT350 will be a two-dayer for most people, possibly even more. Though obviously what you actually get will depend on how hard you work the phone.
Connectivity
We've already noted the absence of Wi-Fi, 3G and GPS. Connectivity is limited to Bluetooth and GSM, GPRS and EDGE, so you aren't going to go all cloud-based data and web browsing.
Apps
The range of apps on board includes some already noted. Rather brazenly, LG puts a Social Networking app in its main apps menu, but when you open this it only offers a single link to Facebook. Other social networking apps will need to be accessed online.
A YouTube client is present, and there's a calendar, task manager and date finder – it tells you the date a given number of days after today. We've seen this on a lot of LG handsets and never found a use for it.
There is a handy little memo maker – another excuse for using that keyboard – voice recorder, unit converter, calculator and stopwatch.
LG Town GT350: Comparison
We've already noted that the menu system on the LG Town GT350 is very similar to that of the LG Cookie Fresh, a somewhat less expensive mobile, though the Cookie Fresh lacks the slide out keyboard.
If you want a keyboard, then recent options like the Sony Ericsson Xperia X10 Mini Pro are way over the budget.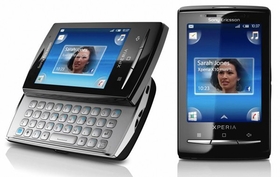 You might find the Samsung Genio Slide a more acceptable alternative. It has Wi-Fi and 3G, but to get those goodies you'll have to shell out more than for the LG Town GT350.
LG Town GT350: Hands-on gallery
LG Town GT350: Official gallery
LG Town GT350: Verdict
The LG Town GT350 sports a user interface design we've seen before, and it leaves us with mixed feelings. It is easy to use, but we struggle to see the point of LiveSquare, and we wish all three Home screens could be filled with widgets to allow for maximum personalisation.
The slide out keyboard is well made and comfortable to use. It's not up there with the best of them, but for a handset at this price it's pretty good.
We liked
The reasonably good keyboard with useful shortcut buttons means we were able to write at a fair speed.
The screen is more responsive to taps than some resistive competitors, though it has to be said that anyone who has used a good capacitive screen will immediately find it disappointing.
LG has integrated music playback well, so that it's easy to pause and resume from the home screen either via a widget or by using the status summary screen.
Battery life is good – but then there's not much by way of hardcore functionality to run it down quickly.
We disliked
With no 3G or Wi-Fi, data connectivity is very limited. Web browsing and other data-rich work is rather hampered by this. At least LG has opted for Opera Mini as the web browser, so that when you do go onto the web, the experience isn't too bad.
The lack of GPS immediately means you can't do anything remotely navigation-related with ease.
The 2-megapixel camera is very disappointing, and we struggle to see the point of LiveSquare.
There is no accelerometer – though you can force the screen to reorient into wide mode by sliding out the keyboard.
Verdict
Despite LG's claim that the LG Town GT350 is a great social networking fan's phone, we aren't convinced. With only a client for Facebook on board, all the other social networks – such as Twitter and MySpace – are out of the frame unless you go onto the web, and this isn't really the ideal phone for that.
On the other hand, the keyboard is well made considering the price of this phone, and if you're really, really into SMS, it could be enough to draw you in on its own.