LG Pop GD510
£149.99
15th Jan 2010 | 15:27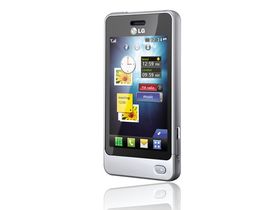 Has LG scraped too much off this budget touchscreen?
LG GD510 Pop: Overview and design
Aimed at mobile buyers after some touch control action on a budget, the LG POP GD510 is the smallest, lightest and one of the cheapest 3-inch touchscreen phones around. After LG's success with the cash-conscious Cookie KP500 – which notched up over 10 million sales in just over a year – LG must be hoping for similar things from this stylishly slimline device, which at launch is selling for under £100 on a pay as you go package.
The LG POP GD510 doesn't try to be a do-everything smartphone. The POP is instead pitched at delivering a fun package, with a friendly user experience and the sort of features its target audience are after.
Like the LG Cookie and Samsung's highly successful Tocco Lite low-cost touchscreen phone, the LG POP doesn't do 3G connectivity, relying instead on quad-band GSM with GPRS/EDGE data connections for any online activities. The success of other budget touchscreen phones suggests that may not be a big issue for the POP's prospective buyers.
The LG POP operates on LG's A-Class user interface (essentially a slightly altered version of LG's S-Class system on the likes of the Arena and Crystal), so you get plenty of eye-pleasing icon graphics and finger swiping screen switching effects. This will be what grabs off-the-shelf interest more than any head-turning features or cutting edge application technology
The set of features offered is reasonable for this grade of handset though not eyebrow-raisingly exceptional, with tick list essentials such as music and video players, a 3-megapixel camera, email support and FM radio covered. Unsurprisingly, you needn't look for Wi-Fi or GPS, but there is MicroSD card expansion (up to 8GB cards are supported) to bolster the POP's modest 40MB of internal user storage. Also, there's the option of adding a solar-cell powered back panel as an alternate power source.
The design of the LG POP GD510 is certainly a draw. The bodywork is elegantly slim and compact – it measures 97.8(h) x 49.5(w) x 11.2(d) mm and weighs just 87g. That size helps give its 3-inch screen more prominence, particularly as the front panel features an ultra-minimalist single physical button for interacting with the UI. This Smart Key acts as a Call/End/Clear/Back button all in one, adjusting role dynamically as required. In practice it works effectively and you don't miss the usual keys.
The casing around the screen has a matt silver finish with a splash of chrome here and there, and feels reasonably robust for a lightweight handset.
Buttonry is again kept to minimum. The power button on top doubles as a lock-key with a short press, while the camera button on the side also has a dual role, a quick tap of it pulling up a grid of favourite applications onscreen. This can be easily configured to your own requirements, as can much of the onscreen shortcut and quick key options.
Volume/zoom keys are in place too, and there's a single microUSB socket for charger, earphones and data hook-up to a PC.
LG GD510 Pop: User interface
The LG POP GD510 has a resistive touchscreen rather than the sort of capacitive display as used by the iPhone and other higher grade touchscreen phones, so it doesn't have the fluid multi-touch motion that screen allows. However, the WQVGA (240x400 pixels), 262k-colour display has a sufficiently responsive action for straightforward finger-pressing and swiping.
The A-Class user interface features three conjoined standby homescreens you can swipe between with a slide finger movement. Each of these displays the same basic control buttons at the bottom – numberpad for dialling, contacts, messaging and applications main menu – but offers a different type of special control option.
The default homescreen enables you to use widget mini applications. Pressing a small tab at the bottom of the display opens up a widget toolbar, from which widgets can be dragged and dropped onscreen.
These can be dotted around as you like, providing quick-tap access to features such as the music player, clock, image gallery, links to social networking services, an online weather forecast service, and Google search. A quick shake of the phone will neatly order them, and you can drag and drop them on and off screen as much as you want.
Swipe the main screen to one side and you get other homescreen views. One is a speed dial screen, which enables you to place icons for up to eight favourite contacts onscreen, with photos if you've assigned them in the contacts book.
They can be dragged and dropped to the main part of the display from a pop-out toolbar, just like with the widgets. Press the contact icon onscreen and options pop out from each side, to compose a message, dial the number, edit it or remove it as a speed dial option.
The third homescreen view adopts LG's LiveSquare quirky display of recently used numbers and contacts as an animated set of avatars of people or animals against swappable background. This 'recent contacts' style screen changes as different numbers are used. Press an avatar and the options on the tool bar vibrate, indicating that you can call, text or edit the contact. Alternatively, you can drag and drop a contact avatar onto a toolbar icon to initiate the function.
The homescreen options are useful without offering as many features as a decent smartphone, but they work well enough and add a bit of extra finger-dabbling potential for its target audience.
The main menu is opened by pressing the button in the bottom right corner of the screen, bringing up a grid of icons that takes a graphical cue from Apple's iPhone.
The menu is arranged in a 4x4 grid of icons, separated by categories of function – Communication, Entertainment, Utilities and Settings - you can scroll sideways on each individual row to see more options. Flip the phone sideways, and the accelerometer switches it from a 16-icon grid to a full 32-icon spread in landscape mode. They're easy enough to tap to select, though in landscape they aren't labelled.
Swiping through sub menus, you don't have the speed-sensitive kinetic scrolling action you get with an iPhone; you can only swipe quickly through a few entries at stroke.
LG GD510 Pop: Calls and messaging
The LG POP doesn't have any problem on calls – it produces a lovely clear audio performance. The screen locks automatically to avoid accidental face activation. Dialling from the numberpad is easy enough, the soft dialpad keys being big and responsive enough for easy tapping.
The phone contacts list is less fluid than some touchscreens, only allowing limited speed, although you can use a side scroll bar to drag down or search quickly through lists of contacts by tapping a panel and entering a name. It's manageable without being frustrating. Watch out though for lingering fingers as you swipe down, which can inadvertently select contacts.
Messaging
The text messaging layout is decently usable too. The soft numberpad uses a different layout to the dialpad, with extra control keys ranged down the right of the keypad, as we've seen before on other touchscreen handsets. Although this makes for less finger space for the main alphanumeric buttons, we didn't have any significant mis-pressing moments with the POP, and it felt comfortable to use.
You can choose either to use predictive text – which guesses what you're writing as you're inputting – opt for decent handwriting input options or a landscape QWERTY keyboard, which comes up automatically when the phone is held that way. That too is decent enough for reasonably speedy messaging.
Correcting text is an issue that can be fiddly on touchscreens, and here too getting exactly to the spot on the message you want to change does require precision and patience. Overall, though, the set up is quite intuitive for a touchscreen phone.
Email messaging is also supported on the LG POP GD510. Multiple POP3 and IMAP4 web-based accounts can be set up, with an email wizard requiring only email address, password and username for setting up accounts (like Gmail) automatically. If settings aren't automatically available for your account, these can be added manually.
Email works adequately for checking out and sending messages on the go. It may not be as sophisticated as more upmarket devices in terms of options to manage and organise mail or indeed in email presentation, but it does the job okay. You can also easily view documents sent as attachments, thanks to the excellent Picsel File Viewer software onboard.
LG GD510 Pop: Internet
Limited by a lack of 3G or W-Fi capability, the onboard browser doesn't download web pages particularly speedily. Mobile optimised sites, such as the BBC's news pages, render in a few seconds and are easy to navigate and operate.
Full websites, though, can take an age to fully download, and some with rich media provoke 'memory full' messages and don't download.
These limitations are a shame, as the browser controls on the LG POP are intuitive and user-friendly. A toolbar with zoom, reload, back and forward and bookmarks options makes it simple to operate, while onscreen zooming can be controlled with finger dragging on a bar.
In landscape mode, the page also resizes to fit the full display.
RSS feeds can be stored for regular updates, and an online-hunting Google Search option is included in the phone's Utilities store.
LG also includes a Social Networking Java application that enables you to manage Facebook, MySpace or Twitter accounts online – though that can be a relatively slow experience too, which is expected for a phone of this cost.
LG GD510 Pop: Camera
The 3-megapixel camera included on the LG POP is another steady rather than exceptional feature. It lacks a flash, so isn't much use in dark environments, while it has a fixed focus rather than an autofocus system, limiting its shooting flexibility.
The onscreen user interface on the full screen viewfinder is neat and easy to operate, with a well-balanced selection of icons providing an uncluttered menu, big clearly labelled buttons to select options, and a useful info key for when you get lost.
The camera has a fairly conventional set of settings options for this grade of cameraphone – brightness control, several colour effects, white balance, image quality, self timer, multiple shots and so on.
The camera boots up in an average 2-3 seconds with the press of the side button, and after shooting it takes a couple of seconds before you can fire off another shot. Image quality is reasonably good for this sort of camera – colour rendition is well handled but detail is limited and you can't get precision focusing on individual subjects in shots.
Exposure control works quite well mostly, and the auto-metering system seems to react swiftly. Results are above average for a fixed focus 3-megapixel cameraphone, without being remarkable.
The LG POP's photo viewing function is tidy, enabling you to get a full screen scrollable landscape view of thumbnails or to smoothly swipe through a set of images with timeline slider. It's easy too to select multiple images to send via Bluetooth or other messaging options (up to 20 at a time can be sent via Bluetooth).
Slip an onscreen slider down and you can capture video. Some LG touchscreens are among the best video cameraphones, but not the LG POP. It captures footage at maximum QVGA (320 x 240 pixels) resolution, shooting at up to 12 frames per second, so its footage is stilted and generally disappointing. Still, you can upload clips straight to YouTube from the Send options, should quality not be an issue.
The 3-megapixel camera isn't one of LG's high powered shooters. You can take acceptable snaps, but detail is limited. Colour balance is handled well, though and rendered naturally.
The camera does well at defining colours and maintaining good automatic colour and exposure levels, and for this grade of cameraphone it offers some precision and subtlety in rendering tones.
The fixed focus camera means you can't choose what part of a subject to focus on in the same way as you can with an autofocus equipped camera.
Here the camera's auto-metering system adjusts exposure to lighten first the background and then the foreground, although there is some burning out of the brighter portions of the shot in the latter image.
With night shot on, we found images darker images improved slightly but without ambient lighting, the lack of flash meant shots in dark places were poor and noisy.
LG GD510 Pop: Media
Video playback of downloaded video or clips you've side-loaded on to the phone is smooth and looks decent on the screen. MP4 and .3gp video playback is supported, although, DivX and Xvid video file formats are not supported on this LG model.
The video player interface is again intuitive. Videos can be watched in portrait mode with onscreen controls beneath, or flipped into landscape mode automatically for full screen viewing.
One clever addition is the facility to capture a frame from a video clip as a jpeg image, which can be viewed in the gallery.
The onboard music player does a decent job of dealing with tunes. The modest 40MB internal storage won't get you far, but slip a MicroSD card into the slot under the back panel (without removing the battery) and you can boost that storage by a up to 8GB.
Tracks loaded onto the phone are automatically sorted into familiar music player categories – all tracks, artists, albums, genres and playlists - and there's a shuffle option too. The user interface is conventional too – easy to follow controls and draggable time lines, plus various equaliser options.
The supplied earphones produce a very decent audio performance for this grade of phone – the headset produces a punchy and detailed sound across the range, with decent bass presence underpinning it, which impressed us for the price point of the phone.
There's no 3.5mm headphone socket on this phone, however – the LG POP uses a multi-purpose microUSB port to handle the ear-wear.
Tracks can be copied over to the phone using the supplied USB cable and LG PC Studio software, via Bluetooth or loaded on a MicroSD card. Mass storage mode drag-and-dropping of files is another option.
The LG POP is also equipped with an FM radio that uses the touchscreen UI to good effect, with a 'tuner dial' onscreen and buttons for channels. It does a perfectly serviceable job in a user-friendly way.
Usefully, both the radio and music player can be controlled by homescreen widgets while they're playing in the background.
LG GD510 Pop: Battery life and misc features
With its streamlined set of features, the LG POP doesn't have too many power-guzzling apps to wear down the battery life. LG estimates that in optimum conditions its 900mAh battery can keep it running on standby for up to 360 hours, or deliver 3.6 hours talktime.
In our tests, we found it had impressive staying power for such a slim touchscreen phone, running comfortably for around three days between charges. As an additional accessory option, LG also offers a solar cell powered back panel cover (though we didn't get one to test).
Organiser
The LG POP touches the usual organiser bases, packing standard issue features such as calendar, memos and to do lists, alarms and voice recorder. Other tools include a calculator, unit converter, world clock and stopwatch – all functional phone regular apps that haven't been made any flashier for touchscreen.
There's also a drawing panel, which enables users to write memos or scribble pictures or diagrams with their finger, save them as an image file and send as a picture message.
Connectivity
A quad-band GSM (850/900/1800/1900) handset, the LG POP GD510's absence of 3G connectivity hampers its online connectivity speed, the phone relying on GPRS/EDGE data connections. Wi-Fi is also absent – not a great surprise on a budget handset like this.
The phone's Bluetooth connection options include A2DP support for regular streaming of music to wireless headphones or other Bluetooth-enabled devices.
The POP also supports swappable MicroSD card expansion. There's no card supplied in-box, which is a little disappointing, but cards up to 8GB can be handled by the device, and cost less than £15 these days.
The phone's microUSB port and USB cable can be used for syncing contacts and calendar with a PC and backing up messages and other files using LG's supplied PC Suite software, and for transferring files. Mass storage transfer is supported too, while music can also be synchronised with Windows Media Player 10/11.
Other
There are a sprinkling of additional features onboard the LG POP, mostly for casual entertainment. These include a bunch of games, including some touchscreen and accelerometer based time-fillers, plus a Weight Tracker and Running Mate pedometer performance monitor.
There are also several quirky apps that'll get users scratching their heads figuring out what they're for - such as a Mellow Candle virtual burning candle, a Mind Selector rolling decision-maker, Sound Tuner random sound player, and a scrolling Banner app, to make your phone look like a scrolling Times Square message ticker.
LG GD510 Pop: Hands on pictures
LG GD510 Pop: Official Photography
LG GD510 Pop: Conclusion
As a lower-cost taste of touchscreen action, the LG POP GD510 is a lovely little handset. Its touchscreen user interface is comfortable to use, tidily constructed and doesn't stretch the new user with unnecessarily fiddly controls. The design is smart, slim and stylish too.
Of course, as a sub-£100 handset you're not going to get all the high-end features of more up-market touchscreen handsets, and while responsive enough for its LG A-Class UI to be usable, the resistive screen feel is no match on more sophisticated capacitive displays on higher grade devices. Still, that's not what the POP is all about – and it should be a big hit with its target audience.
We liked
The slim, compact design of the LG POP is immediately appealing – stylish, smart and very pocketable, and that single button hits the minimalist nail on the head.
We found the user interface straightforward to navigate and operate, with just enough homescreen tricks to add to the user experience rather than over-complicate it. Its iPhone-alike main menu and accelerometer auto rotation give it a snazzy look and feel for such a budget device.
The POP also has a good spread of features for the price, with an impressive audio performance through the in-box headset. Text messaging was relatively easy on the digits too for a touchscreen device. We were also pleased with battery life.
We disliked
The lack of 3G capability or Wi-Fi may not be a deal-breaker for its target audience, but it does slow down any online activity. The browser user interface is quite attractive and adds to the usability, but it can be slow without 3G to pep it up, and we had trouble loading some richer websites.
Although we liked the camera interface, the lack of autofocus was limiting, and any sort of flash would be welcome for shooting in darker places like clubs and bars.
Video capture quality is pretty poor, and in video playback we'd have liked to have seen DivX and Xvid support.
Widgets were welcome on the phone, but the selection available was a bit limited.
There's no in-box MicroSD card, but slipping one in, we found it a touch slow browsing content from the card if there were lots of files. Although decent earphones were supplied, we still would have liked to see a 3.5mm headphone socket or adapter in-box.
Verdict
The LG POP GD510 is an entertaining, relatively low-priced taste of touchscreen action that delivers an enjoyable and comfortable user experience. Sure, it doesn't have all the top-end gadgetry and lacks high-speed connectivity, but if its features tick the box for you, the slim, chic and cheap LG POP GD510 could be on your hit list.
Want to get rid of your old mobile?Compare and get the best price