LG Optimus L5
£140
2nd Jan 2013 | 15:52
LG's mid-range Android phone
Introduction
The LG Optimus L5 is the second of three LG Optimus smartphones that increase in specs, flanked either side by the LG Optimus L3 and LG Optimus L7.
With this middle phone weighing in at around £10 (around AU$15/US$16) per month, or £140/US$190 (around AU$213) SIM-free, does it give enough bang for your buck (or punch for your pound)?
You'll note straight away that the LG Optimus L5, or E610, is light, at just 125g (4.4oz) and seemingly slim, with a smooth metal edging. It's well balanced in the palm, but the plastic patterned back does lend it an air of cheapness, as well as not contributing much in the way of grip.
The straight-sided design of the Optimus handsets is welcome though; a small detail that helps distinguish it slightly from the usual mid-range offerings.
Inside, the LG Optimus L5 packs only a 800MHz processor, which is relatively poor compared to the 1GHz of the similarly priced HTC One V, but similar to the cheaper Nokia Lumia 610.
Outside there are very few additions to the clean design. The NFC antenna, 5MP camera (plus LED flash) and speakers reside on the back of the phone.
The front carries its 4-inch display, home key and soft return and menu buttons. At only 144ppi, the capacitive touchscreen with low-contrast display is a minus for this handset, meaning visibility in sunlight (or even just direct indoor light) is poor... and it all goes completely wrong if you hold it at even a slightly wrong angle. There are no deep blacks and saturated colours here, sadly.
As for the rest, the volume rocker (also used as the physical camera key) sits snugly on the left side, the micro USB port on the bottom and the power key and 3.5mm headphone jack on the top.
LG has squeezed 2GB of internal storage into the slim frame, with the option of adding up to 32GB more with a microSD, the port for which sits just above the standard 1500 mAh battery.
We found the plastic battery casing for the battery access somewhat difficult to get off at times, with the prising indent located at the top of the frame. Still, that's a minor grumble, and at least you can actually remove the battery, should you need to.
Overall it seems a shame to team Android 4.0 Ice Cream Sandwich with such slow processing power - it's a bit like clamping stabilisers onto Bradley Wiggins' bike.
Consequently there's the occasional sense of lag when, say, swiping between home screens or dipping in and out of apps. Even games of Angry Birds are somewhat jerky.
For such a small price point, perhaps that won't be an issue, but for a just little more cash there are handsets with dual-core processors, such as the HTC One S, which create smoother navigational experiences.
Interface
Despite running Android 4.0 Ice Cream Sandwich, the LG Optimus L5 can occasionally be laggy and slow to move between apps. Even swiping between home screens isn't particularly smooth.
Other mid-range handsets such as the HTC One S, which carries a 1.5GHz dual-core processor along with Android 4.0, don't have such issues.
Even if mid-range smartphones aren't fully-featured, you'd hope the navigation would be slicker.
The LG skin has a couple of interesting features, such as being able to edit all five home screens in a scrolling view rather than dealing with each one separately.
You can also organise app shortcuts into folders and keep shortcuts to favourite apps on the anchored dock.
The choice of widgets over app shortcuts seems a little limited, but there's Quick Memo, which is an interesting addition to the drop-down notifications bar.
See something you like on the internet? Need to remember to buy milk later? Hit quick memo and scrawl directly onto the screen. Done.
The notifications bar itself is customisable to an extent, mainly with the handiest display, connectivity and power-saving options.
Wi-Fi toggles are always welcome, but it's a shame there's no overall 'settings' option to add to the bar, meaning you have to come out of apps and back to the home screen if you want to change anything not included in the notifications menu.
For users of an Android smartphone with Gingerbread it won't be too difficult to navigate Android 4.0 Ice Cream Sandwich.
On the face of it, navigating around the phone is generally OK if occasionally juddering, though there are a few niggles when it comes to more in-depth set-ups, such as within contacts (which we'll get onto in a minute).
Contacts and calling
Contacts
Accessing contacts is easy, with the shortcut pre-loaded to the LG Optimus L5's home screen dock. You can also navigate into them via the dialler shortcut.

The displaying of contacts, however, is frustratingly poor. Once you've successfully synced all relevant accounts, you can pick which ones you'd like to display in your contacts list.
However, there's no option for merging doubled up contacts, so if you happen to be connected to people on multiple platforms, there's no way of easily filtering out several entries for the same person, or clustering them together in one contact.
This means you either have to delete several entries manually or end up with a screen full of duplicates.
Despite repeatedly attempting to sync Facebook, the LG Optimus L5 didn't pull through any of the data, and the only account for which a profile image was synced was Gmail.
Once inside a contact entry, there are shortcuts to messaging and any GTalk chats, but there's no display of the messages themselves.
Profile pictures also become pixelated in this bigger page display.
You can create groups for your contacts but only through the phone list (to which you'll need to import all your SIM-held contacts) or Gmail, but no other accounts.
Adding a contact is very easy, via the plus sign, which pops up at the top-right of the contacts list or by tapping the empty image icon next to an unknown number in your SMS inbox.
Calling
Calling is perfectly adequate on the LG Optimus L5. Despite a lack of noise reduction tech, background noise is manageable and the speaker volume is good enough even when calling someone next to a busy main road.
The sound quality does sound a little tinny though, and there is the occasional crackle, but you can hold a conversation and understand the person on the other end, no problem.
We were never in an area with particularly poor signal, so no calls were dropped while testing.
The dialler supports smart dialing and has an inbuilt shortcut for adding new numbers to your contacts.
The numbers and menu choices are displayed large and are responsive, perhaps making this a good handset for anyone with a need for such a display setup.
You can also reach the contacts, favourite contacts and call logs lists from within the dialler itself.
Messaging
The LG Optimus arrives with SMS, MMS, push email and IM capabilities, mainly of the plain Google variety.
The Gmail app supplements LG's email inbox, into which you can load multiple accounts.
It's not universal, though, so expect to route Facebook messages and texts though their respective apps.
You can pick a combined view with each account denoted with a different colour, or single out an account to concentrate on.
Reading emails is comfortable, but despite the 4-inch display it can feel a little crowded on the screen when typing your response.
All-text emails are great, but anything with images or html can't be zoomed out, which makes it somewhat awkward to read.
Setting up an account is nice and easy though: dip into settings > add account and enter your account details. Bob's yer uncle.
Functionally, the QWERTY keyboard for both MMS/SMS and email works fine in portrait, with decent spacing between the touchpad keys, plus fairly intuitive auto-correct.
Double-tapping on a word to save it to the dictionary is a nice shortcut.
The phone can occasionally lag behind the speed of your fingers, though, which can put a dampener on any quick (if not quick-witted) replies.
Landscape typing obscures the input screen space somewhat, but turning off text prediction helps with this problem.
There's Google Talk and G+ Messenger pre-installed, but if you're a bit more of a social butterfly than that, you can always download the usual suspects - Facebook, Twitter, WhatsApp and so on from the Google Play store.
GTalk and email are vaguely integrated into your contacts address book, but only via a shortcut that launches the appropriate apps, not in any particularly interesting way.
An SMS conversation view is displayed threaded, as most are now.
You can also call a contact from within the message thread by tapping on the phone icon in the top-right corner of the screen.
And if you're a fan of smileys, there are some cute Android ones you can use, which can be reached via the menu soft key.
The inbox view will pull in a contact's image from a synced social network where possible, and you can batch delete messages from the inbox.
Internet
The LG Optimus L5 offers 7.2Mbps HSDPA, HSUPA and 802.11 Wi-Fi, and is hotspot-enabled.
Browsing on 3G is just about bearable, but with noticeable delays in loading pages.
And attempting to browse without a 3G connection is nigh-on impossible.
Here's where the mere 144ppi pixel density (compared to the Nokia Lumia 610's 252ppi) begins to hinder the nice 4-inch screen sizing: colour saturation is low and blacks appear closer to grey.
Browsing isn't the greatest of experiences, display-wise. Images and text easily start to become fuzzy once you've zoomed in.
The LG browser supports text re-flow and Flash content, and while loading via 3G is predictably slow, the via Wi-Fi speed is more than acceptable.
Zooming in and out or navigating sites that aren't mobile-optimised can get a little jerky, but generally speaking it was OK.
It's not the smoothest of rides, but for a middle-budget phone it pretty much does what it says on the tin.
With these hardware specs, there's little that downloading a different browser will do to fix the above issues, but if you prefer you can always pick up Dolphin, Opera or Chrome from among the 700,000+ apps in the Play store.
There's little extra these apps will give you in functionality that the pre-installed browser doesn't, though.
There's tabbed browsing, which open new tabs by pushing the previous tab upwards, for you to access again later if you wish.
There's also a little pull-up bookmarks bar in which you can add favourites and check your browsing history.
Tap the bottom-right menu button to bring up a few more options, including saving to the aforementioned bookmarks, saving for offline reading and sharing via social media networks.
Camera
The LG Optimus L5 is equipped with rather standard camera fare: only 5MP around the back and no secondary camera on the front for video calls and self-portraits.
To be fair, its sister phone, the LG Optimus L7 carries only as many megapixels too, but it does come with a front-facing camera for video chatting.
The LG Optimus L5 has an LED flash and autofocus function though, and offers a few different modes to play around with in the app, including portrait, landscape, sunset and night.
You can also edit the ISO and white balance settings and toggle the flash on and off from a dedicated icon in the menu.
All of the following sample images were shot in the highest resolution possible - that is, 2560 x 1920.
Click here to see the full resolution image
Click here to see the full resolution image
When shooting in normal mode it's possible to toggle (via the cog icon in the top-left corner) certain settings to compensate for blue or yellow tones (whichever is your preference).
The above images were taken in normal (auto) mode without changing any settings and normal with toggled white balance, respectively. They're a little grainy, but perfectly acceptable quality for uploading to a social network or passing through a filtering app.
When messing around with ISO, white balance and other settings, the end effect will display automatically on the screen without having to snap the image first, which is handy.
Click here to see the full resolution image
Click here to see the full resolution image
These two images were taken in auto mode with flash and night mode. The light still appears flared in both images but night mode lights up the surrounding area sufficiently to reduce the pixelation a little. The end result is, however, more washed out than the former.
Click here to see the full resolution image
There isn't a dedicated macro setting, but there is autofocus. It didn't result in any massively obvious macro-style shot, but there is a little blurring in the background.
Even taken without a flash, the whites are overblown and the colours aren't very saturated.
Click here to see the full resolution image
It was a crisp and sunny day when this image was taken, and it's hard to say whether it's the inadequate camera or the inadequate display we were using to set up our photos that washes out the blue from the sky here. The colours don't appear very true to life.
Click here to see the full resolution image
While Sunset mode did capture the colours of the sunset rather accurately, it sadly threw everything else into shadow and created an evening silhouette. Changing to auto shooting mode produced an identical image.
Video
In addition to mediocre stills, the LG Optimus L5 captures VGA video at 30fps, which is what the Nokia Lumia 610 offers but at a cheaper price point.
There's only one shooting mode and a limp attempt at giving you some options to play with by adding a white balance setting and three colour tones to the menu.
YouTube : http://youtu.be/VbmUDWSGtkc
In our daylight pond clip, the zoom is incredibly jerky, and lighter areas of the film are overblown into complete whiteness. Moving the camera up towards the light source instantly throws the rest of the image into darkness.
Filming a road in daylight, once again the colours appear completely washed out, with the sky almost pure white and clear sun flares streaming into the image.
The captured movement of the cars is quite smooth, but there's no editing software to help reduce camera shake.
At night, the microphone picks up the sound of the road as a tinny hiss, and despite having on the LED light, the only things lit in the video are lit by the car headlights themselves.
Again the captured movement of the cars is smooth, but the quality of the video means there are blurred objects.
Media
The LG Optimus L5 isn't a media-heavy handset, but it does the basics. Pre-installed are two vanilla media players (video and music), though to take full advantage you'd probably have to bump the 2GB internal storage up with a MicroSD card.
A new smartphone user would have no trouble figuring out the media apps.
Music
The music player's grey and white interface is incredibly plain and simple; all options are list-formatted. There isn't any fancy iflow going on here.
View your music by songs, artists, albums, playlists and favourites, or, if you need to, find music stored elsewhere on your phone by using the folders view.
Supported files are the most common types: MP3 and WAV.
The sound is balanced in the LG Optimus L5's supplied earphones, but they're simply moulded plastic and therefore uncomfortable for wearing for more than 10 minutes at a time.
They do have an inbuilt remote control, but it's a chunky thing for all it does. Which is, pause/play the music and skip to the next song.
Amusingly, you can also actually answer the phone using the remote (which has an inbuilt mic) but not control the volume from them. For that you'll have to use the volume rocker instead.
If the aural experience isn't quite to your liking, bring up the settings using the soft key menu button and you can play with some preset audio effects such as bass or vocals boosters (including one mysteriously named 'earphone enhancer').
When the music is playing, you can quickly dip into the notifications bar to control the player while you're busy doing something else.
As for widgets, there isn't a satisfactory one; the only one offered in the widgets menu is actually just an icon shortcut to a playlist that you choose when trying to add the widget to a home page. So there's no extra functionality there.
Video
While the LG Optimus L5 has a video player, and while it has decent enough internal memory to hold enough video footage to keep you occupied during a commute, the big question here is, would you really want to spend much time looking at this screen?
It's using the video player that the poor display feels even worse: you have to tip it this way and that in different lighting to ensure you can see the picture clearly.
Not only that, but the headphone jack and the charger port are each placed at different heights on the sides of the handset, making it uncomfortable to hold if you're charging it while watching videos.
It does support several codecs, though (MP4/DivX/Xvid) and offers limited settings to play with while watching the screen (mainly brightness and screen ratio).
There's also a handy option to lock the screen into landscape or portrait, which pops up when the video is playing.
The screen is really the major bugbear though, and certainly doesn't entice you to use the player for anything longer than a short sitcom.
Gallery
As though as a sorry for, or admittance to, the mediocre camera, the Gallery offers a surprising amount of editing tools hidden away within its settings menu.
Here you can edit the warmth and saturation of images, cross-process, crop and even add something called ''face glow'' (which seems to do nothing discernible to faces, to be honest).
You can access the Gallery and these excellent editing options via a shortcut on a home menu or within the apps menu itself: there are no widgets available for this one.
Radio
If you ever get bored of your uploading media (or indeed, Spotify), there is an FM radio on the LG Optimus L5 to amuse you.
You have to have headphones attached at all times, even when playing through the speakers, and the reception is static-filled, like ye wind-up radios of old.
The radio automatically scans for stations when it's turned on, but you have to manually rename them, if you happen to know what preset you what.
Battery life and connectivity
Battery life
With a standard day's commuting use, including music streaming, internet-based apps, an hour of Wi-Fi use and two or three 10 minute calls, the LG Optimus L5 1500 mAh battery lasted a good nine hours before it needed charging again.
On lighter usage days the battery fared better, and the handset is quoted standby and talk time times of around 900 and nine hours respectively.
It took approximately two hours to recharge via micro USB, but plugged into a wall the result was much quicker.
Hidden in the LG Optimus L5's settings is a power-saving option, which can be set to switch on when the phone hits anywhere between 50% and 10% of battery life.
In the menu is a Battery Use list showing you what's eating up your battery life.
You can choose to force quit the apps there and then, or simply press and hold the home key to bring up the apps manager.
Drag from either side to quit an app. The power saving menu also has a decent tips page, which someone who's in the market for this type of smartphone would find useful, explaining how to stop accounts auto-syncing in the background, and so on.
Connectivity
With HSDPA 7.2Mbps internet, the LG Optimus L5 stands shoulder to 3G shoulder with the Nokia Lumia 610, but doesn't match the HTC One S's 42Mbps speeds.
The DLNA client is LG's SmartShare. We tried downloading the Mac client - Plex Media Server - but it constantly got stuck trying to open, and sadly SmartShare couldn't find any devices to connect to.
There is a Wi-Fi hotspot feature that can be toggled from the notifications bar for your 802.11b/g/n connection, which is always handy.
And if you ever actually use it, Bluetooth is available.
The main draw for the LG Optimus L5 in connectivity is the inclusion of an NFC antenna and an LG+ tag, which you can use to make life a teeny bit easier in a geeky, fun way.
We used the tag on a bedside table to launch the alarm when tapped. But, frustratingly, the LG tag+ app can't actually configure to set the alarm for you, so really how much time does it save?
If you get bored using it to toggle your alarm or Wi-Fi, you can re-write the tags, which can be used in Car, Office and Sleep modes, with one extra mode for personalising.
Still, it's early days for NFC, and once the technology starts to make a more regular appearance in handsets, perhaps there'll be more you can do with it besides make contactless payments and automatically launch the sat nav when you dock your phone inside a car.
PC connections are made via the LG Optimus L5's mini USB port.
To sync your files with a PC, you can always download the LG PC Suite from the LG website, but the simplest way to organise your files remains to drag and drop the folders that auto-load when you plug the handset into your PC.
Apps and maps
The LG Optimus L5 is quite the blank slate with the standard functionality apps (alarms, document reader, messaging apps and media players) plus a sparse Google offering, which means you can mould the LG Optimus L5 to whatever purpose you wish, within reason.
Aimed at a fashionable crew (with its 'modern look' and 'versatile view'), it's nevertheless hindered in what it can do by its lack of processing oomph.
The LG Optimus L5 comes with the main Google apps pre-installed and a few LG-branded ones too (mainly the LG+ NFC tag app, SmartShare and so on).
Being an Android smartphone, Google Maps is of course installed. The GPS locked on within 15 seconds or so in our tests, but it was slightly inaccurate.
It was only a few metres off, but if you didn't know the surrounding area, that inaccuracy wouldn't help you.
The Google Play store matches up to the 700,000+ apps that Apple can boast, and though there are a few big-name apps you still can't get on Android, the vast majority of them are there to purchase. They're ready to be downloaded straight to the LG Optimus L5 from the dedicated Play app.
The NFC app, LG Tag+, is fun to play around with, as mentioned in the Connectivity section of this review, but it requires the purchase of additional tags to surround yourself with nerdy functionality settings.
If you're a casual gamer, or you're hoping to pick up a good phone for the usual freemium suspects such as Swing Shot or Angry Birds, the LG Optimus L5 isn't really it.
It can cope - just about - with this level of gaming, but it still lags a little, so if you're already used to a smoother playing experience, this isn't the phone for you.
Official gallery
Hands on gallery
Verdict
Buying guide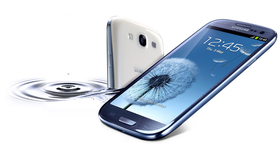 20 best mobile phones in the world today
The LG Optimus L5 seems, at first glance, to be a possible contender for a good mid-range, low-cost smartphone. It's loaded with Android 4.0 Ice Cream Sandwich, it's on the NFC bandwagon and it's a light, simply designed handset.
But a deeper look into the hardware specs punctures that initial sense of optimism. An 800GHz processor doesn't stand up to other mid-range phones, such as the HTC One S, that carry dual-core processors, which wastes the potential of running Android 4.0.
The screen is a paltry 320 x 480 pixels (144ppi) when cheaper handsets (here's looking at you, Nokia Lumia 610) have better pixel densities for less money. So despite a shiny fascia, the insides just don't do the job they could.
We liked
Best phone deals
Save up to 40% on your mobile phone contract
We were pleased by the fact that the LG Optimus L5 ships with Android 4.0 Ice Cream Sandwich. We enjoyed the chance to play around with NFC-enabled kit, even if the LG version of an NFC app doesn't quite fulfill its entire potential.
We also liked the square-edged design and the light weight of the handset. And we were impressed by the good battery life, though it's not as if the processor would be draining it too quickly.
We disliked
We didn't like the constant lag that dampened use of the phone, or the way that even simple games would jerk and judder. Nor that the 800Mhz processor wasn't up to scratch.
The low pixel density ensures the screen is barely legible in direct sunlight and that watching videos means tilting the screen this way and that to find a good viewing angle.
Verdict
Buying Guide
Best Android phone
Essentially the LG Optimus L5 could have been far better had LG just upped the processing power and the hardware specs a little bit. Instead it's a disappointing piece of tech, despite its potential; especially with an NFC antennae.
Overall, with its good battery life, light weight and build and 4-inch display, it could have been a good starter smartphone.
But spend a little extra money these days and you'll pick up a phone with better specs - even the Sony Xperia U has a better display, secondary camera, dual-core processor and a larger internal memory than the LG middle child that is the LG Optimus L5.
LG Optimus L5 Optimus L5 L5 LG Android Ice Cream Sandwich smartphones phonescarousel-en-gb phonescarousel-en-us phonescarousel-en-au