LG Intouch Max GW620
25th Jan 2010 | 14:48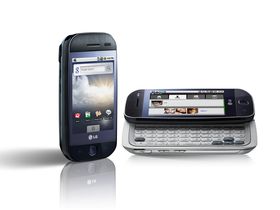 Can LG actually make a decent budget Android mobile?
LG Intouch Max GW620: Overview, design and feel
The first Android handset from the Korean firm, the LG Intouch Max GW620, has taken a different direction to its competitors - there are very few Android phones that have aimed at the lower end of the handset spectrum, and it's interesting that the Korean firm has chosen this tack.
However, while the costs have been kept down to make it a competitor to the HTC Tattoo, LG has still added a decent amount of innovation into the mix, by offering the choice of the vanilla Android experience or its own S-Class interface, offering a new level of functionality.
The phone itself is small - a 3.2-inch HVGA resistive pales in comparison with the Google Nexus One phone, with its massive 3.7-inch OLED capacitive screen - but the Intouch Max GW620 also brings a full keyboard and a decent array of buttons as well.
The outside of the phone is well designed in pretty premium plastic - it's light, but still feels solid in the hand. The 3.5mm headphone socket sits at the top next to he power/lock button, and is also raised so the headphone jack sits flush with the chassis - something we haven't seen much of in newer handsets, which leave the metal of the headphone jack exposed.
LG has also had a good think about its media offering on the Intouch Max GW620 as well, with a dedicated music key next to the camera shutter button on the left-hand side of the device. It's a feature we saw in the LG New Chocolate BL40 from the firm, and something we're big fans of.
There's also a dedicated gate for the microSD card on the side of the phone meaning hot swapping of memory cards is much easier - for some reason there's been a trend towards putting this feature under the battery in recent Android handsets, and it's very annoying when you want to watch a video from another device and can't be bothered to connect it to a PC, so kudos to LG for this.
The left-hand side of the phone is more basic - the volume up and down rocker and the microUSB slot are housed here, with the latter housed by a pleasant-to-release gate.
And the main Android functions are taken care of by the front three keys - touch sensitive home and back buttons, and the physical menu key. We kept getting the home and menu button mixed up on the Intouch Max GW620 because of other Android phones choosing a different layout - so if you're upgrading from another Google device watch out.
In the hand the phone fits very nicely. Both in landscape and portrait mode, the dinky chassis sits well, yet in the pocket there's still some width to it thanks to the QWERTY keyboard. That's not too say it's too hefty - just that there are a few thinner devices out there on the market at the moment.
The keyboard is pretty easy to slide out, with minimal effort needed and a pleasing click registered when fully extended.
The great thing LG has done here is to bring a decent number of keys to the party with the Intouch Max GW620 - there's a full set of QWERTY buttons, four directional keys and a full range of numbers too, making tapping out a message a very swift task indeed.
The travel on the keys is similarly good, making it very easy to simply shuffle across the keyboard and write messages without having to go back and correct yourself. There seems to be a slew of full QWERTY devices coming to market at the moment with the likes of Nokia N97, the Motorola Milestone or the BlackBerry Bold 9700, but we'd have to say the keyboard on this little device is probably the best around at the moment.
LG Intouch Max GW620: Interface
Android might have been done to death by a number of firms recentlyt, but the problem with that is unless there's some re-skinning going on, such as we've seen on the HTC Hero with the Sense UI for instance, there's not a lot more that can be done with the OS.
However, that's sort of solved by the speed with which Android is being updated - since November last year when it arrived in the UK on the T-Mobile G1, we've seen around four major upgrades, with many little ones in between.
So here's our issue with the LG Intouch Max GW620 - it manages to do something cool by bringing a new skin to the Android experience, but it also is stuck on a very low-end version of the Android firmware in the shape of 1.5.
To put this in context, it's the same firmware that the HTC Magic debuted on in the first half of 2009, and doesn't have a whole lot of cool tricks to show off like the Motorola Milestone does with Android 2.0.
But thanks to the Lord of Mobonia for upgrades - we can't imagine that LG will leave its first Android device lumbered with an archaic version of Android, so we expect this to update in the near future for better mobile use.
Anyway, back to the skin, and LG has done something pretty impressive here in offering a sort of dual boot option for its users. You can either have the vanilla Android option, complete with three home screens and the standard menu, or decide to use LG's effort, which is very similar indeed to the S-Class interface the Korean firm has so lovingly been putting on its device for the past year or so.
The former is just as we said, the basic Android experience, meaning the neat pull-down notifications bar from above the screen, the cool pull-tab menu system with the iPhone-a-like grid of applications on the phone, and the three customisable home screens to dump icons onto.
However, with S-Class, the same principles are applied, but, for instance, the menu is grouped into elements like communication and multimedia, and the home screens operate in a kind of loop, so you can keep scrolling right endlessly to see those icons you've lovingly placed on your home screens.
The resistive screen on the Intouch Max GW620 is a little disappointing, but for the more budget price it's understandable. It works much better than most of LG's other screens though, and is easily on a par with the Nokia N900's, which employs the same technology but is a far more expensive model.
A problem with the resistive screen does come in the shape of unlocking the Intouch Max GW620 from sleep mode. You can either double tap the power key at the top, hit any key and hold the on-screen key, or tap menu twice.
As you can imagine, this many ways of opening a phone, coupled with a 'no fingers needed' touchscreen, means the Intouch Max GW620 will often unlock itself in your pocket, which can sometimes lead to embarrassing calls in the pocket.
The system does suffer from terrible lag at times though - you can be tapping a menu option or trying to answer a call and the phone will freeze for a second, forcing you to press again to see if your touch registered only to find you've inadvertently done something else.
Actually, freezing was an all too common problem on the Intouch Max GW620, with the screen shutting down a number of times when trying to be used in our tests - we hope it's a kink that LG works out soon, as while it's not too annoying it certainly grates.
LG Intouch Max GW620: Calling and contacts
LG has gone for an interesting take on contacts for the Intouch Max GW620, as despite its early 1.5 version of Android it has chucked in some cool social networking opportunities into the mix.
Where before you had your basic list of phone friends for contacts in the same window as the phone dialler and your favourites, the new way LG wants to do things is to divide the menu up into new tabs, with your favourite people given their own separate application.
This means you can see the phone dialler and call log in the contacts list as usual, but there's also the option to open up the phone to see groups as well, so you can chuck your buddies under labels.
The contact list is large and well laid out, with a simple flick taking you miles down the list, and a tab at the side of the screen allows you to sort your contacts by name as well - this latter function actually works, unlike some other Android devices we don't care to mention *cough*MotoMilestone*cough*.
LG has skinned the contacts list in a similar way to its S-Class interface, meaning wide open spaces for the finger to strike and an easy-to-hit call button next to the picture of each person.
And as we mentioned earlier, social networking is a big part of this phone, with Facebook, Twitter and Bebo all thrown in there for good measure. The only real use for them is to link them with your friends so that the photo from their online profile synchronises with their phone version too, although there is further functionality if you're willing to dig.
When editing a contact you simply have to link them in with their Facebook or Twitter account from the list on the phone to add that element to their profile (a word of warning though - if you accidentally link the wrong profile that photo will stay on there even if you eventually find the right one).
However, this isn't as intuitive as you might hope, especially with the Twitter application - not only does it only show around seven people on a list when you're searching for your friend (with you having to load a new list for a few seconds to bring up a new set of people to choose from... annoying when you've got 500 or so followers) it also sometimes won't synchronise with the chosen person anyway.
But once you have got the right people and profiles together, it's again not the most useful element to have, as there's no way to message them or anything - just the opportunity to see their statuses and link them into the profile to provide an easy way to synchronise their information – although we now expect a little more than just a direct link to their profile from a phone of this calibre.
Calling was adequate on the Intouch Max GW620 – we found the speaker to be of reasonable quality, although we weren't blown away by the clarity of any phone call.
However, coverage was pretty good – although when the phone did decide to roam, it wanted to stay there rather than switching back to 3G, which was pretty aggravating when we knew that there was 3G available.
LG Intouch Max GW620: Messaging
Messaging on the LG Intouch Max GW620 was a pretty nice experience – as we mentioned before, there's no method of integrating straight with your social networks directly from the contact menu, but that's not to say this isn't a great messaging experience on a mobile phone.
First of all, we love the keyboard bundled with the Intouch Max GW620 – it's up there with the best physical keyboards on a mobile phone, and way better than the likes of the Motorola Milestone, which has that perplexing lip/antenna on the bottom of the device to make typing a complete irritation.
The spacing between each key and the travel is top-notch – this is especially obvious when you send a message more than a few characters long. It puts nearly every other keyboard in the shade.
While the phone itself is sluggish at times, the ability to simply start typing a name and have it show the contact information from the home screen works well – and it adds to the decent messaging experience.
There are a variety of messaging options on the LG Intouch Max GW620 – not least the addition of Exchange email thanks to the Moxier suite added onto the phone. This means that you can get instant push email on the device, with minimal fuss.
We did find that the push element of the email wasn't always as co-operative as we'd like – sometimes it wouldn't download a message and we'd have to head into the menu to manually get it on to the phone.
However, SMS and MMS are as good as we've come to expect on an Android phone, shown by the easy way in which you can send a text (as mentioned before) and the quick ability to send an MMS to someone right from the photography menu, although we're not the biggest fans of the automatic face-recognition technology LG is claiming you can use to achieve this.
Basically, we're in love with the keyboard on the Intouch Max GW620, and coupled with inbuilt Exchange ability we think it's a winning combination.
However, we're perplexed and bamboozled in equal measure that this phone isn't running the latest version of the Android system – 2.0 would have given instant access to Exchange emails, and that's what we all want to see.
We had a look at the French model of the Intouch Max GW620, and that appears to have Exchange built right into the phone – we'll be intrigued to see whether the OS gets an upgrade in the near future.
LG Intouch Max GW620: Internet
We're big fans of the internet on Android phones, and the Intouch Max GW620 is no exception - it's a WebKit-enabled browser that simply works well.
There are a few issues with the GW620's ability to handle the net however, and that's mainly down to the resistive screen - we're not big fans of it to start with, and the fact is that we constantly struggled to get the correct level of accuracy when using the phone in both portrait and landscape mode.
The smart-fit technology worked well, though, as double tapping to zoom in meant that the text was automatically re-sized in both portrait and landscape modes - this is something sadly lacking with the likes of the Motorola Milestone for instance.
The visual bookmarks also worked a treat - having tabs to sort between your favourite and most viewed sites was pretty good, along with the history all in one simple-to-get-to place on the phone.
What was odd about the LG Intouch Max GW620 was the fact that initially you think that there's a distinct lack of ability to do simple things like reloading the page, or scooting forward or backwards through the pages you visited - well, that's until you realise that there's a little tab at the side that springs open to reveal a whole new transparent menu, as well as the standard list of functions opened by the normal menu key.
This transparent option allows you to do all the things we thought LG had forgotten to do - it's not blatantly obvious that this function is there though, as the tab is pretty small to hit. What's more annoying is that it also gets in the way of the text sometimes too - sometimes all you're trying to do is scroll down and the tab will pop open.
Also, it's hard to shut the thing down - when you're in portrait mode it's fine, as there's a blank space to tap, but in landscape this wasn't possible, so it was either a physical button press or tapping around the icons trying not to hit one - not ideal.
As you can imagine on a phone of this calibre - there's no Flash video to play with, meaning that you can't watch YouTube or BBC iPlayer in its native format. That said, the rest of the experience is pretty snazzy, with a phone that seems light on specs fair whizzing around the pages we were calling up - no complaints about the performance there.
The Intouch Max GW620 might not be a phone that competes with the likes of the HTC Hero or the Nokia N900 in terms of internetability (new word copyrighted by TechRadar to describe how internetty a phone is), it's still a very passable effort that you'll have no qualms turning to in a day to day setting.
LG Intouch Max GW620: Camera
LG knows how to make a decent cameraphone - just check out the LG Viewty KU990 or the Viewty Smart GC900 to see the ability that the company can throw at a snapper.
That's also true in this Android phone - but it doesn't quite match up to the photography power of its siblings. We were impressed with the sheer range of options on offer, with the ability to change the ISO settings and picture modes, as well as face tracking within photos.
But we were left a little bit cold by the new fancy 'Auto Detect' face recognition feature on the Intouch Max GW620, as despite promising to be able to recognise people when taking a snap and then give you the chance to upload the pic to their social networking site, in reality the accuracy wasn't the greatest.
We like the feature as an idea - we just think that LG could have used this social networking phone a bit more intuitively. For instance, it would be better if you could just choose the person from a list by default, rather than making the phone do the work for you and it getting things wrong.
But beyond the fancy pants stuff it was a decent enough camera - the flash sparked well enough to create some good images, but a single LED flash like this isn't going to be bright enough to capture your friends in a nightclub or anything - rather just adding detail to close up shots.
Day to day shots came out well enough under normal conditions - the camera did take an age to process each snap, which meant that if you got one picture wrong you had to wait a long time to fix the problem, but apart from that we were reasonably impressed with the camera, probably rating it among the best of the bunch so far (which isn't saying much when the rest of the crop is similarly poor when it comes to Android cameraphones).
Video was a pretty fine effort on this device, with a smooth image captured by the D1 resolution lens, which managed to gobble up images at a great 30fps – making it much smoother than the iPhone 3GS for instance when it comes to taking video.
Again, sharing was an option here, and while this shows that the Intouch Max GW620 is very much a social networking device, we struggled on occasion to get it to work when we wanted it to.
LG Intouch Max GW620: Media
Now onto media on the LG Intouch Max GW620 - and it certainly was an odd experience. We're not talking about the performance - we're more intrigued by the fact that the way the media is displayed hints at a hidden screen that other companies have failed to spot.
If we compare the GW620 to the Motorola Dext, we see an interesting similarity - they both display the media in a kind of 'angled gallery' format, with the thumbnails of the media in question making up a picture-board effect.
We initially put this down to a new version of the gallery with the Dext, but given it's also being seen here, and on an older version of the OS, we're wondering whether LG and Motorola are the only two companies to discover this hidden secret - or less interestingly, the only two to bother to use it. Either way, we're perplexed.
Media use on the phone was certainly no slouch, with LG throwing in all kinds of video codecs into the mix. DivX, MP4 and H.264 were all present and correct, meaning that the vast majority of our media files played without a problem. However, M4V wasn't present in the compatibility list, which will be a shame for some of those who have coded their files for an iPod.
The music player on the Intouch Max GW620 was the basic Android one AGAIN - and we're getting seriously bored with nobody managing to upgrade it yet. Yes, the big icons are easy to hit, and the level of intuition for placing all the functions on the screen is good - but we want something that offers a little more than just being able to play our tunes (and play then well, sonically, might we add), something like being able to edit the album artwork directly from the song.
Another little feature LG is keen to show off is the movie maker - although we're getting a little tired of this feature and hope the company upgrades it soon. Basically you get to choose a song (or section of it), a few photos and some transition effects, and then fuse the whole lot together to make a little 'film' of your slides.
And you can upload it to YouTube as well - but we can't think of anyone in their right mind who would want to do that.
LG Intouch Max GW620: Battery life, other features
Battery life on the LG Intouch Max GW620 was remarkably good - that's probably due to the big power pack providing juice under the hood. We managed to get a good day's use out of our device nearly every time - in fact, turn off the push email and Wi-Fi and all that and you'll probably be able to make the phone last two days; and even longer than that if you're a moderate user.
If you've had other phones from LG, you'll have noticed that there are some bizarre additions to the clan, like motion sensitive gaming. Well, that's also here with the Intouch Max GW620, as well as the faithful radio tuner. We can't explain to you how cool the radio portion of this phone is until you try it for yourself - suffice to say that the touch-controlled dial still works like a dream on this phone.
Applications are at a premium here on the phone - that's why there's a link to the Application Market from LG, as is the case with nearly every Android device.
But wait! There's a problem here - Google has upgraded the Android Market, making it easy to see the applications in search, and view screenshots and all that - but that's only for those with Android 1.6 and above to take advantage of.
The LG GW620 runs on 1.5, you might remember, meaning that we're getting a very basic Market experience indeed - not a problem if you've never picked up an Android phone before, a bit iffy if you've played with a better one.
We mentioned before the Moxier suite of products - well, that means that you get corporate access to your calendars and contacts on the phone, although there's no way to synchronise your appointments with the main calendar.
We're still impressed by the addition of the Moxier suite, and there's a lot worse on offer out there to get your work stuff onto a personal mobile phone.
There's also a suite of work-related products on there too - you're able to view Word, Excel and PDF files on the phone thanks to bundled software.
Connectivity is much as you'd expect on an Android phone - there's Wi-Fi, Bluetooth with A2DP support, high speed 3.5G and GPS of course.
The latter option works pretty fast, even managing to get a lock on you when you're in a building (as long as you're near-ish a window) and it can keep hold of your location well too. It means that Geotagging of photos is possible - although we're still not convinced there's a lot of call for such a function.
Overall, the LG Intouch Max GW620 is a pretty well-specified device - connectivity, productivity and battery life are well put together, which is impressive on a phone that costs just £20 per month.
LG Intouch Max GW620: Hands-on gallery
LG Intouch Max GW620: Official photography
LG Intouch Max GW620: Verdict
The LG Intouch Max GW620 is a good device, a very good device - just one with some flaws baked right in. We understand prioritising making this phone low cost, although we're not sure we agree with all the compromises. At least there's a new direction on offer here, and we always like that.
We liked
The keyboard. Oh, the keyboard on the Intouch Max GW620 - it's so easy to use that we're actually wondering if we've actually left our teens after all, such is our delight at being able to speedily write text messages to our chums. It's a simple to use bit of hardware, and we're glad it showed us what's possible on an Android phone.
We also like the fact LG has clearly thought about what users want from a phone like this - it's not always about the bells and whistles, it's about being able to do things easily. Push email and calendar functionality, turning Wi-Fi on and off from anywhere on the phone through the pull-down menu - these are things we want to see, and Android offers the chance to play with that, as shown in this phone.
The screen is big enough, the media playback above average and the rest of the overlay a real case of how to make Android work without over-complicating things.
We disliked
Actually, we should probably add a caveat to that last line - it's not complicated providing you don't use the S-Class system. Cube-based home screens, a categorical way of looking at the menu - we've not liked it very much on any LG phone so far, and that remains the same on the Intouch Max GW620 - we're just glad you can turn it off.
The use of Android 1.5 is a really big mystery to us as well - we're sure LG is going to have a good reason for using it, but for our money, it should have done whatever was necessary to get at least Android 2.0 on here - it adds so much and given that it's going to be open source any day now, we're hoping and praying that this is an update waiting to happen in the near future.
The resistive screen was also a disappointment - it's low budget technology, and really hampers the fluidity when using the phone. Yes, we can see why LG has done it to keep costs down, but at the end of the day some people are going to pick up this phone and be less impressed - and then they probably won't care about the price.
Verdict
It feels hard to give a proper verdict on the Intouch Max GW620 - it's like a really, really good phone made out with a bad one and the resultant mobile baby came out with elements of both. The cost of the handset is great - £20 a month is a smashing deal - and the level of connectivity and productivity will entice a lot of people.
But then again, the resistive screen is poor, the phone is chunky and while the keyboard is good, the on-screen option isn't in the same league, and that's a real turn off for some people.
We hope that an upgrade will come along soon and fix some of the problems, but until then, we'll have to wait and see if LG's plans to do Android on a budget will pay off in the same way as the low-budget Cookie did.
Want to get rid of your old mobile?Compare and get the best price
Android