LG GD910 Watch Phone
£500
7th Sep 2009 | 14:44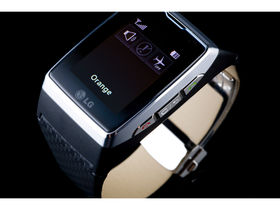 Is there actually a decent mobile beneath the LG Watch Phone?
LG GD910 Watch Phone: Overview, design and feel
LG has finally launched the GD910 Watch Phone to the UK public, for the far-less-than expected price of £500.
The question we want to answer in our LG watch phone review is as it's packed with a touchscreen, Bluetooth and even a camera, is it still just a gimmick or the start of a real life Dick Tracy era?
The phone/watch (we'll go with phone) is a sleek number, given the amount of technology packed under the hood.
It features a leather-like strap, which adjusts through a simple 'tug to fit' system, which loosens fairly regularly, so you'll need to keep tightening it up.
The SIM slot is located with the battery at the back of the phone, removed with a fair amount of force using a coin. The phone will still work without a SIM card, but unless you're desperate to use it as a music player on the wrist, it's a little redundant.
The unit itself is a sleek design, and the touchscreen is much better than others on the market (but then, a 1.4-inch touchscreen must be easier to work with than a huge 3-inch plus effort).
The three buttons on the side are a little fiddly to operate, with arm hair often pinched when using them. Similarly, when using it on your right arm, the screen is also obscured by the hand trying to work the phone.
LG has been clever in the design of the GD910 Watch Phone though, with the call button opening up a number of menus, and the hang up button taking you back to the top screen, with the middle button simply navigating back and forth.
It feels very light on the wrist, with the chunkiness far less than we were expecting. It's no stretch of the imagination to see this being used as a 'normal' watch.
CLAMPED: The charger holder sits snugly on the side of the LG Watch Phone

The charger is a novel design, with a clamp holding the phone to a metal plate, which then connects to a USB charger for computer compatibility as well. It took a couple of goes to get this snugly fitting, but when we did we had to admit it was pretty cool.
LG GD910 Watch Phone: Interface
Let's be clear here, the LG GD910 Watch Phone doesn't actually do a lot beyond calling, texting and playing the odd bit of music... but then again, would you want it to?
To that end, the GD910 has a basic interface, but given the limited poke-ability on the 1.4-inch screen, you can understand why.
The main interface is divided up into six categories - Time, Contacts and Messaging (and Settings), Alerts, Memo and Calendar, and a direct link to Voice/Video calling.
The touchscreen, as said above, is much improved over LG's 'proper' touchscreen efforts, and allows you to navigate around the phone easily with swipes left and right.
On some occasions, such as trying to slip past the Voice/Video call section, more often than not we inadvertently hit the options to open up the dialler, which is a little annoying.
Elements like the clocks and calendar also have a vertical option as well, so you can scroll up and down to choose new options, such as a range of clocks to choose from, memos or a shortcut to the music player.
ALL THE CLOCKS: There are a multitude of choices for your clockface

Voice calling is also activated by long pressing the back key in clock mode, and gives you a choice of options to say. For instance, saying "call Chantal" will lead to the phone asking if that's what you want to do (more often than not, it recognises the name well) and then calling after you say yes.
There are more obscure options in there, such as asking what time it is, which we can only assume is useful when you only have a Bluetooth headset on. However, simply looking at your wrist makes a lot more sense.
Hitting the correct options and swiping left and right is very easy, and we're impressed with the overall responsiveness of the LG GD910 Watch Phone.
LG GD910 Watch Phone: Calling and messaging
Let's make something clear - make sure you use a Bluetooth headset when calling on the LG GD910 Watch Phone. It's very easy to sync nearly every option on the market (we used Jabra's new HALO headphones with built-in microphone, which give stereo sound and dual microphones) and they just make much more sense than talking to your wrist.
We tried the latter option when out and about, but a) people can hear your speakerphone conversations, b) there aren't a lot of places where you won't annoy everyone and c) you look like a complete fool.
Video calling is a little more acceptable, but simply the angle of holding the phone pointed towards your face is a little much. It's much easier to take it off your wrist when video calling, which isn't too bad thanks to the VGA camera on board (although we're not convinced video calling will ever be much use anyway).
Finding the right contact to use is actually a lot more similar to a normal phone than you'd expect. You can browse the last called menu by hitting the Call button or head through the contacts list. You can both scroll and name search through the latter, although we wouldn't recommend scrolling through using the touchscreen, as this takes a very long time.
The contacts list gives users the option to call using a small icon next to each name, or hitting the name opens up the option to video or voice call, or send a message.
Users can also set up groups to send mass emails to friends, which makes a lot of sense when you consider how much harder it is to interact with the phone repetitively.
ON A CALL: The screen during a phone call on the GD910
Considering how small the unit is, we were impressed with the coverage on the LG GD910 Watch Phone, with 3G holding on well no matter where we were.
And we have to love the convenience of having a vibrating alert on your wrist for a call or a text - it makes life so much easier to know you're never going to miss a call thanks to such a feature.
We were actually quite surprised at how easy it is to message on the LG GD910 Watch Phone, with the touchscreen's virtual keypad working quite nicely. It's the standard 12-key layout, with either a T9 predictive text option or the normal multi-tap available.
Given that screen space is at a premium, the tricks LG has implemented to allow easier texting on the GD910 Watch Phone are impressive. Choosing a new predictive text word is enabled by a drop-down menu next to the message, and other options, such as capitalisations and symbol mode, can be accessed by another menu at the bottom of the screen.
One slight irritation stems from the fact that the messaging function doesn't start with a capital, so the pernickety user will have to fiddle about sorting that out from the start, but it's hardly a major gripe.
Accuracy for texting on the LG Watch Phone is actually phenomenal considering how teeny tiny the screen is, with around 95 per cent accuracy at least, increasing as you get your finger used to moving very short distances around the screen.
We were impressed with the performance, and although the screen is a little small, the tricks to extend it work well, although we can't help feeling it's not a killer reason to buy the phone.
LG GD910 Watch Phone: Camera and media
The camera on the LG GD910 Watch Phone is frankly laughable, and, let's be honest, it's there because LG could include it. The front facing camera is only around for the video calling, and clearly someone at the Korean firm saw an opportunity.
Pictures can only be taken using the on-screen button, so unless you want to take pictures of your own face, there's not a lot you can do with it. LG has put some nice white balance functions on the GD910 Watch Phone, but it seems a bit redundant when you can't actually take real pictures without trial and error to try and catch the subject.
Here's a sample shot compared to the Olympus SP-565UZ so you can make up your own mind:
The LG GD910:
The Olympus SP-565UZ:
As you can see, colour, depth, clarity - pretty much everything on the LG GD910 Watch Phone is very sub-standard. But we can't imagine the camera was put on there as a highlight.
We're sad that the LG GD910 Watch Phone doesn't allow videos to be watched on the device like some other options from lesser-known Asian brands, but we guess you can't have everything in such a sleek device.
Music playback (via our Jabra HALO headphones... we must reiterate you should NEVER use the external speaker in public for anything) was good and bassy, and navigation through the music player was actually a lot easier than we hoped thanks to the responsive touchscreen.
The photo viewer is also a decent effort, with a list view for your files and a simple horizontal view to look at your snaps. You can also zoom into the photos and scroll around using the touchscreen, although it's mostly for personal viewing as showing photos to others requires you to practically dislocate your wrist.
LG GD910 Watch Phone: Battery life and connectivity
As you can imagine, there's no Movie Maker or Photo Editing suite on board the LG GD910 Watch Phone, but there are some organisational things to keep you occupied if that's the way you want to use your wrist.
The calendar, memo functions and calculator are all on there, and work pretty well. The calendar is available from the top menu, with the usual functionality from a mobile phone, namely being able to set appointments or anniversaries and have a repeat or single alarm to remind you it's happening.
The memo function also lives on the top menu, displaying the last written note, which weirdly can't be left blank after the first time you write on it. Note: best write something you don't mind reading over and over again as you swipe past.
We would have been thoroughly outraged if we couldn't have a calculator on the LG GD910 Watch Phone, as a calculator on the wrist is something we've been after ever since we were a child. Thankfully, you're still just as cool wearing one as an adult (well, we think so).
Multiple alarms also live on the GD910, meaning you can set reminders for yourself whenever you want, and there are more alarm options than the old 'beep-beep, beep-beep' sounds of ye olden digital watches.
Battery life is actually pretty good, and we have to admit we weren't expecting such after being given the holster charger, but we managed a good three days of use before we needed to recharge.
Admittedly we barely used the music player, there's no internet and the camera function was left to gather dust, but we did text a fair bit, and the calling over Bluetooth was used fairly regularly.
We switched to our Jabra HALO headphones almost straight away for a better Bluetooth experience, but we've been told the headset in the box will power down faster than the phone itself, so it might make sense to take a backup in order to make sure you don't have to chat to your wrist.
USB CLAMP:The connector for standard LG phones is clipped into the clamp for charging
The connectivity on offer was pretty standard - unlike most other watch phones (not that we expect many to have used many others) the GD910 at least packs 3G, allowing the cool video calling.
There's obviously also Bluetooth 2.1 on board with A2DP connectivity, so you can use both a single headset and stereo Bluetooth cans to listen to the on-board music and calls.
We were a little annoyed not to see a 3.5mm headphone jack for when the battery on the Bluetooth headset runs out, but we'd imagine that wasn't possible given the size of the GD910 Watch Phone.
The phone works automatically as a mass storage device when connected to the PC using the bundled USB lead (which you have to extract from the back of the charger) meaning you can drag and drop images and music onto the GD910.
LG GD910 Watch Phone: Hands-on gallery
LG GD910 Watch Phone: Official gallery
LG GD910 Watch Phone: Verdict
Reviewing a watch phone is a tricky prospect, as so many of the usual features and elements we look for are obviously not going to be here.
But that doesn't stop it being something very different, and we like to at least have something different to play with.
We liked
The GD910 Watch Phone has a lot of cool features, namely the fact it's a watch and a phone combined. The sleek design was quite surprising, as well as the low weight on the wrist, and the battery kept going far longer than we expected.
The touchscreen is excellent too, probably only because it has to deal with 1.43-inches of touch area, but it still gave great accuracy when texting and trying to find a contact in the list.
We disliked
There aren't a huge range of features on the GD910 Watch Phone, and if you run out of Bluetooth power then you're stuck looking like a fool chatting to your wrist.
1.43-inches of touchscreen isn't enough either, and despite looking sleek on the wrist it could do with being a little bit larger. Another annoying problem is not being able to keep the backlight on and have one of the cool clocks illuminated day to day, instead of heading to the standby mode all the time.
Verdict
The LG GD910 Watch Phone is, ultimately, a ridiculous device, as a phone on your wrist isn't the most practical idea.
However, we can't help but like it because it just is really cool - it's a watch phone for crying out loud, the sort of device you'd design in school when asked to make your ultimate gadget (we're waiting for the next generation that spits out biscuits, then the dream is complete).
It's 'only' £500 as well, which might sound a lot for a pared down phone, but it's a lot less than the £1,000 on contract we were expecting.
The LG GD910 Watch Phone isn't going to be the best seller of the year, and the price will probably only attract people with enough money to waste on casual trinkets, but it's a decent effort and one that will hopefully spawn better devices in the future.