LG Chocolate BL20
1st Mar 2010 | 14:44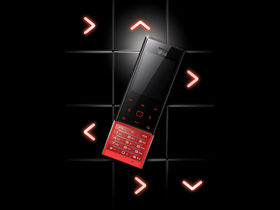 Smooth and slim - but is this a case of style over substance?
LG Chocolate BL20: Overview and design
LG has introduced a more sweetly priced slider phone – the Chocolate BL20 – to try and tempt style-savvy phone buyers not interested in the more feature packed (but higher-priced) Chocolate BL40.
Sporting a similarly sleek design, the LG Chocolate BL20 is the latest update of the original LG Chocolate phone (KG800) that first appeared in mid-2006.
Central to the chic look is a smooth, glossy piano-black casing that features hidden touch-sensitive controls on the front panel that glow red through the casing only when the phone is activated.
It's a more refined look than earlier Chocolates, echoing the BL40's design – although the Chocolate BL20 has fewer high-end features than its touchscreen range-mate.
The new Chocolate BL20 instead offers a more typically mid-priced mobile package – including HSDPA high-speed 3G data connectivity, a 5MP camera, media player functionality and an FM radio. But the real headline on this new phone from LG is certainly style.
Design
The minimalist bodywork of the closed Chocolate BL20 is certainly attractive. Its black bodywork is offset with metallic red trim on top and bottom and on the slide-down number pad, plus some subtle chrome edging.
Measuring 105.9(h) x 50.8(w) x 12.3(d) mm, it's a slimline slider that weighs a reasonable 115g and is nicely balanced in the hand.
However, all that glossy bodywork does mean it can be slippery in cold or damp conditions. Covered in a single plastic sheet, the front panel is also a finger-smudge magnet.
The display is a 2.4-inch QVGA (240 x 320 pixels), 262K-colour LCD, which is bright and zingy enough for most applications. It's not as big as a smartphone-style screen, but is acceptable for this type of mid-range device, especially with no touch control.
The original Chocolate phone was one of the first to introduce a touch sensitive navigation pad, and the BL20's similar digit-stroke control panel takes up most of the space under the screen.
A central select button surrounded by four direction arrows glows out from behind the black casing when the slider is opened or the phone activated, delightfully fading again when the phone goes into standby mode.
These buttons work conventionally to navigate around menus, albeit requiring light touching rather than pressing. They each also do typical phone shortcuts for calling up features, including text messaging, contacts, ringer profiles and a quick menu grid (you can select up to nine apps or functions for fast-touch access).
Other buttons include two regular softkeys, a button that shows active features as icons on a toolbar, and a widgets key.
This key pulls up five mini apps you can scroll between on screen, wherever you are in the menus. Functions include an alarm clock, memo writer, calendar, favourite contacts list and an online-based weather forecast app you can define for your preferred location.
A light finger glide is all you need to use the controls, like stroking a mobile phone version of a duckling. Dabbing around the menus is similarly effortless, although the sensitivity of the controls to even the merest of touches can cause accuracy issues if you're not handling it carefully.
A stray thumb or finger brushing the pad (generally your own) can accidentally activate a shortcut or the select button.
It's not particularly troublesome in most features but has potential for irritation in some, such as if you accidentally select send while composing a text.
LG has included touch activated volume/zoom controls around the BL20's side, plus a camera key and a screen lock button.
A single microUSB socket on the side takes care of charging, PC data connections and earphones; there's no standard 3.5mm headphone socket on the phone (boo), though an adaptor is provided in-box (slightly quieter boos).
The sprung slider mechanism revealing the number pad feels sufficiently robust. The pad itself provides large keys with plenty of finger room, and despite being flush against the surface are very responsive for fast, accurate texting. The metallic red finish is arresting too.
LG Chocolate BL20: Interface, calls and messaging
Despite the snazzy touch sensitive navigation controls, the LG Chocolate BL20's user interface and menu structure is conventional stuff. New users should find few problems working around the features and functions.
Pressing the central select key brings up the main menu in a colourful 12-icon grid, which can be changed to a list if you're that way inclined. As you move through the menu grid, the icon you're on enlarges to help the less mobile-phonic understand what's going on.
This partially obscures the label of the icon directly above, although it doesn't cause any real navigation issues.
Select an icon and, unless you're opening the camera or browser options, you're taken into further sub-menu lists, which are numbered in regular LG fashion for quick keypad selection. It's all very familiar phone navigation, especially if you've grown up with any kind of Nokia phone. The graphics are functional and sensibly arranged, and you can tab sideways between most sub-menus.
Calls
The LG Chocolate BL20 hits the mark for high-quality voice calling, delivering a first rate performance throughout our tests.
There's no forward-facing video camera on this model for video calling, though that's unlikely to be an issue for most potential buyers seeing as the last person to (probably) perform such an action did so accidentally back in 2007.
As mentioned, the keypad has a simple and effective layout, while the phonebook is easily accessible from a D-pad shortcut. Up to five favourite contacts can be assigned to one of the widgets for quick carousel-style access.
The phonebook contact details are adequate and provide more than the basics, though they don't offer as extensive a rundown of contact info input options as some higher grade phones – although if that's your bag, perhaps you should consider the higher end LG Chocolate BL40.
Messaging
The LG Chocolate BL20 offers standard text and multimedia messaging options, plus email.
An email wizard enables you to set up your regular web-based POP3 and IMAP4 email accounts on the phone simply by tapping in email address and password details, the phone automatically installing appropriate settings where available. If unavailable, account details can be chucked in manually.
Viewing new emails is reasonably easy, though there's no document viewer software to view downloaded attachments. Managing emails is average for this sort of phone, with only three email message headers viewable on the screen at one time – but we'd be surprised if the hardcore email user opted for a mostly shiny phone like this.
With the slider keyboard, typing out messages is a breeze – it's responsive and has a good springy action. It's straightforward to operate too – if you want to send an MMS you can simply insert an image or other item into the message from the menus found at the bottom of the screen.
LG Chocolate BL20: Internet
There's no Wi-Fi capability on the LG Chocolate BL20, so high speed data comes courtesy of its HSDPA 3G network connectivity.
The browser is swift at negotiating mobile-optimised sites, and can open full web pages, with flash support too. They look good on screen and are well rendered for the screen size, automatically re-sizing to give you an overall page view of the site. The text is small, but can be speedily zoomed in and out using numberpad shortcuts.
However, some web pages can take time to fully load – so you'll probably end up hanging around the mobile web unless forced out into the big wide World Wide Web.
Although navigation involves the usual type of mobile menu option lists, the keypad is configured for several useful browser shortcuts – including zooming, switching to a full screen landscape view, viewing recently visited pages as selectable thumbnails, and so on.
Two browser windows can be opened at one time and toggled between, and you can also do text searches in web pages, and even save a page to look at later, should you need to have dinner or wash your cat or something.
It makes for more efficient operation than most mid-tier conventional phones, although inevitably it's not as slick and intuitive as some touchscreen browser efforts we could mention (including LG's own, such as on the LG Viewty Smart GC900).
LG Chocolate BL20: Camera
The Chocolate BL20 has a reasonable camera for this class of ultra-slim, mid-priced style-heavy device. A press of the side button has the 5MP shooter ready for action in just a couple of seconds.
It has a two-step autofocus system and an LED flash. The autofocus system provides a bit of versatility in getting crisply focused shots on particular subjects in a composition, enabling you to get an item in focus and hold focus before taking the shot.
However, the camera shooting button on the side isn't the best for doing this, as it has an almost touch-like action, barely depressing when focusing and shooting.
The lack of 'feel' when pressing means heavy-fingered users could snap before they're ready, and it requires a delicate touch to get it right. It's a bit too fiddly for our liking, with the shutter lagging when pressed, so you can easily miss that shot of your friend 'hilariously' falling out of a window.
The user interface is mid-level LG, not offering the raft of neat features used on its higher grade camera phones. There's the usual supply of effects, white balance tweaking, brightness and basic ISO settings plus night mode, timer and multi-shot options.
In addition, a Text Scan option enables you to take snaps of handwritten memos or drawings by converting shots into bright, high contrast black-and-white images from close-up shots.
Bright background:The 5-megapixel camera on the LG Chocolate BL20 is capable of achieving decent results. Here, shooting into a rising sun, colours are bright and subtle in places
The LG Chocolate BL20 delivers decent image quality. Colours are bright and well balanced, and there's sufficient detail in images for acceptable prints.
Contrast and exposure are also handled capably by the auto-metering system. It's not comparable to the best 5MP camera phones however, and would likely be slapped down in a techno-cage fight with standalone 5MP cameras.
Decent detail: The camera does provide a decent amount of detail for this grade and longer range images are reasonably sharp
Low light performance is not particularly impressive, and the flash offers only limited illumination over short distances – although that's perfect for capturing far off, blurry photos of possible UFOs late at night.
Darker side: In lower lighting conditions, the camera doesn't perform as well. The flash can deliver short range illumination brightly, but images aren't as crisp
The BL20's video facility is limited to capturing MPEG4 video at QVGA resolution at maximum 15 frames per second, so self-recorded footage is mediocre on playback.
You can watch sideloaded or downloaded video clips too, although the phone is limited here, too, supporting 30fps playback of just MPEG4 and H.263 files – DivX fans, you're sadly out of luck.
LG Chocolate BL20: Media
The MP3 player fielded on the LG Chocolate BL20 is standard issue mid-tier fare. It doesn't do anything particular whizzy, presenting music playing categories in a regular list format, while the player controls are operated by the touch navigation pad.
There are a familiar set of options for equaliser sound tweaking, plus shuffle and repeat, and cover art is supported if available.
The BL20's software automatically identifies new music and files it accordingly, with the likes of MP3, AAC, AAC+ and WMA files supported.
Music can be loaded onto the phone using the USB sync cable and supplied LG PC Suite software, via Bluetooth, or slipped quietly in through the optional MicroSD card (optional because you have to buy the thing – damn you LG).
The phone has a modest 60MB of internal storage, although it supports MicroSDs up to 16GB, slipped in under the back cover. Mass storage drag-and-dropping is another file transfer option.
There's no 3.5mm headphone socket on the BL20's bodywork, although the supplied 2-piece headset does have an adaptor that allows you to plug in your own ear-gear via the awkward side-mounted multi-purpose microUSB socket.
We say awkward, but what we mean is hair-tuggingly frustrating when you try to pull the phone out of your pocket when listening to tunes, only to find it caught on that pointless little coin pocket – forcing you to wiggle and dance and realise you should probably lose some weight.
Sound quality through the supplied earphones is decently acceptable, with a reasonably well balanced sound across the frequency range; it can be a touch toppy however, but has punchy bass underpinning it.
Try better quality headphones, like our reference affordable Sennheiser CX300's, and you'll get a much richer audio experience – something we'd definitely recommend trying.
In addition to the music player, the Chocolate BL20 includes a serviceable FM radio with RDS that's simple to tune either automatically or manually.
This can be played through the loudspeaker, though earphones need to be plugged in. The loudspeaker isn't particularly pleasing on the ears, in typically tinny mobile fashion – so it's a no-no on the bus or Tube.
LG Chocolate BL20: Battery life and organiser
Battery life is acceptable on the LG Chocolate BL20 - with LG calculating that its 900mAh battery pack can keep the phone running for up to 450 hours on standby or provide up to 5 hours talktime.
With fewer power-sapping features than big-hitting high-end touchscreen phones, we found it delivered a steady two to three days of power with our typical use, though heavier usage of features like the music player will take a greater toll on power consumption.
Organiser
LG doesn't spring too many surprises on the organiser and tools front. The memo and calendar widgets may be useful extras, but most of the organiser apps are standard functional stuff – calendar, tasks, memo, plus there are alarm clock, voice recorder, stopwatch, calculator, unit convertor and world clock tools onboard.
There's also a photo memo option that works with the Text Scan camera tool, and a date finder, which enables you to look up a date a certain number of days ahead - which could be handy for some cool and happening hip-cats, we guess.
Connectivity
The LG Chocolate BL20 is equipped for dual-band UMTS 900/2100 3G and tri-GSM 900/1800/1900 network usage (meaning it will work in the US).
It supports HSDPA high-speed 3G mobile data connectivity (up to 3.6Mbps) and GPRS/EDGE on GSM networks.
As a mid-tier phone, it doesn't have Wi-Fi onboard. Bluetooth 2.1, with A2DP, is supported, and synchronisation can be carried out over the air with a PC using Bluetooth and the supplied LG PC Suite software, or via the supplied USB data cable.
Other
LG has kept the Chocolate BL20 minimalist in the extra apps department. There's a Yahoo search facility pre-loaded, which when selected takes you online, but there were no other apps to speak of in our review sample.
On the games front, there were just a couple of Java options – Sudoku Café and Mini Game Planet, which offers a selection of simple games – but don't go expecting the dizzy-making blowing games from the Chocolate BL40.
LG Chocolate BL20: Verdict
While the LG Chocolate BL40 was a stunning-looking touchscreen headline-grabber, the Chocolate BL20 is more a mid-tier style phone.
That's not to say the BL20 hasn't got plenty of design pizzazz to make people sit up and take notice, but its features rundown marks it as a steady mid-range 3G handset than anything more wow-worthy.
Visually, it certainly has a glossy chic appeal about it, though the glow-through touch navigation pad maybe doesn't have quite the shock of the new that the original Chocolate had.
Style-conscious users who aren't drawn to the obvious fashionable touchscreen contenders may find this sleek slider attractive, particularly at its mid-range price point.
We liked
The bodywork design of the LG Chocolate BL20 is impressive – minimalist chic that's given a distinctive look by the glowing touch-sensitive controls.
Its responsive slider number pad makes texting a breeze, and the menu system and interface will be intuitive for most mobile users.
The 5MP camera, while not top of the camera-phone class, produced decent enough results too for a style-majoring handset.
The music player performance through the supplied earphones was okay too, and the 3.5mm headphone adaptor enabled us to improve that significantly by adding our own headphones.
HSDPA connectivity was welcome, and it presented pages reasonably well for a feature phone like this.
We disliked
Some people love touch sensitive controls, others feel the opposite way.
We found that they were generally fine for navigation, though they could get accidentally brushed in passing during everyday use, inadvertently selecting options or opening functions. Not a deal-breaker by any stretch, but a trait that's not so common in more conventional slider phones.
As an upgrade to LG's Chocolate range, we'd have liked to have seen a few more high-end features – such as Wi-Fi and GPS – to make it stand out from other 3G mid-rangers for more than just its looks.
We'd have preferred, too, a dedicated 3.5mm headphone socket on the bodywork rather than an awkward side-mounted multi-connector for earphones, but at least LG supplies an adaptor in-box.
Verdict
As sweet-looking as the LG Chocolate BL20 is, it's not as tempting as it might have been had LG stacked it up with more functionality to go with its fine design.
Its feature rundown is decent enough for a mid-level 3G phone, but it's not innovative or particularly exciting, and touch sensitive controls, while eye-catching, aren't as in vogue as touchscreen operation.
Nonetheless, the design is still distinctive and stylishly elegant, and this will no doubt draw many admirers looking for a minimalist chic alternative at a mid-range price.
LG BL40