HTC Wildfire S
12th May 2011 | 10:08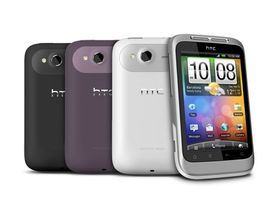 HTC's latest Android phone is nice and small, but does it offer too little?
HTC Wildfire S: Overview, design and feel
The HTC Wildfire arrived in mid-2010, when the world was still reeling from the impact of the sensational HTC Desire.
And the Wildfire was almost as popular, coupling HTC's fantastic Sense user interface with a smaller, solid and capable little body – it was a lot of people's first, affordable smartphone.
If you are in the market for a new smartphone, check out our sneaky video peek at the phone before reading on:
But things are a little different in 2011. The dual-core "superphones" have arrived, which means something with a lowly 600MHz processor is going to have to win fans via features and price rather than power.
The HTC Wildfire S isn't exactly a cheap phone, either. Currently on sale for around £220 through the SIM-free retailers, there are now plenty of extremely capable Android-powered phones out there for less money – such as the Samsung Galaxy Ace or LG Optimus One.
It's going to be a bloody fight, this.
Design
HTC has refreshed the design substantially, giving the Wildfire S the same workmanlike black and chrome look as seen in the excellent HTC Desire S.
There are no physical buttons on the front of the phone, with HTC opting for four capacitive touch-buttons. These are your standard Android Home, Menu, Back and Search options. They're responsive, plus HTC has put in a little vibration feedback to reassure your brain that your finger did indeed just hit the right spot.
HTC has removed the optical trackpad, which has allowed it to make the Widlfire S a little shorter than last year's model. It's a very tiny phone and also manages to be lighter – 105g versus the original's 118g.
The 3.2-inch screen runs at 320x480 resolution, so obviously isn't going to be as sharp as displays found on more expensive phones. But it is pleasingly solid, nice and glassy and responsive to even the lightest of touches.
Given that the old HTC Wildfire had a screen outputting at a shameful 240x320, this is still a big step up. It's not particularly sharp, mind – there's a noticeable mesh over everything if you look closely.
Feel
Round the back is your classic HTC moulded rubber cover, which is grippy and feels pretty solid. There's also the 5MP camera lens and, thankfully, an LED flash.
There's a proximity sensor in the front case, allowing the Wildfire S to dim the screen when you press it to your ear. But there's no front-facing camera here.
It's a chunky, well-made little phone that feels very nice in the hand and impressively solid. But is it any good when you turn it on?
HTC Wildfire S: Interface
HTC Wildfire S review: Interface
You get Android 2.3 on the Wildfire S, with HTC's latest version of its Sense UI over the top. We like a bit of HTC Sense – it's a very comprehensive re-skin, and one that adds huge amounts of extra functionality to Google's popular mobile OS.
The lock screen is in the standard HTC style – swipe down to access the Home screens. Once there you have a choice of seven workspaces to flip through, each holding a selection of app shortcuts, widgets and folders.
The standard pull-down Android Notifications window has been upgraded by HTC, now coming with a scrolling list of recently opened apps, plus a quick settings tab for toggling Wi-Fi, Bluetooth, GPS and more on or off.
The Wildfire S does a pretty good job of keeping everything running smoothly. Some of the more complex apps, such as social network aggregator Friend Stream, can slow the scrolling down a little, but it's generally a solid experience.
Friend Stream lets you pull in status updates from Twitter, Flickr and Facebook, presenting everything in one unified timeline. You can scroll up and down within this app, so it's all there right in front of you on a Home screen.
It can get a little messy, though. Web links in status updates very kindly open up the website in question, only your view of the page is restricted by having the original tweet at the top and a retweet bar at the bottom – leaving only a minuscule gap for the actual web content between.
While HTC's widgets offer great functionality, their white-on-black style is beginning to look a little dated.
HTC has also provided Home screen widgets that create an icon-based list of Contacts you've added to your Favourites, a music player, its famous weather widget and one that streams in your latest text messages. It's all very user-friendly, and no doubt geared towards those who don't do a lot of tinkering.
If you do like playing about, HTC's Sense interface has a lot beneath the bonnet. Home screens can be shuffled about, with a two-fingered pinch of the screen bringing up an overview of your workspace and long-pressing on a screen icon enabling you to change the order in which it appears.
Enthusiasts will also enjoy HTC's many customisation options. The right-hand button on the curved dock brings up the Personalisation menu, from where users can change scene – a way to create and save Home screen setups – or select entire new skins for the phone's screens and menus.
It's not just visual enhancements, either. Collections of Sound sets can be downloaded via this menu and the HTC Hub it links to, if you need a new collection of tones and alarms.
Back in the apps menu, HTC has again given us more options than are usually found in Android devices. Apps can be sorted alphabetically or by date, plus there are separate tabs for frequently used tools and those you've downloaded yourself.
One of the many tiny changes made to this latest version of HTC Sense is the scrolling of the app listing. It now flips down one whole screen at a time, so it's easy to keep your place if you have a heap of things loaded onto the phone.
Android 2.3 is a great, polished operating system. HTC Sense makes it a little better.
HTC Wildfire S: Contacts and calling
HTC Wildfire S review: Contacts and calling
Clicking the Phone button that permanently sits at the bottom of the Wildfire S' screen brings up the dialler, which sits atop your complete list of contacts.
There's a nice little toggle in the bottom-right of the screen, which lets users quickly sort the entire contacts section, choosing not to display people the phone has sucked in through Twitter or Facebook. This is very useful for temporarily hiding people who don't have phone numbers.
Editing individual contact pages presents hours of fun. You can allocate different ringtones to different people, block callers and even specify a default action when clicking on the name. For example, having it so that pressing on a contact opens up a new email to that person rather than accidentally phoning them.
The widget even puts an appropriate icon on their profile image, so you know what the default action is – or if there's not one already allocated, it'll ask you to set one the first time you press it.
Contacts can be linked, too, so if there's someone in your SIM list you've known for 20 years who has only just got around to signing up for a Twitter account, you can press the little chain link on a person's page and link their boring SIM contact to their exciting new online pseudonym.
The Facebook integration is as good as ever - things like people's statuses popping up when you phone them and a little alert to tell you it's their birthday are brilliant.
The Android dialler offers many options for human-to-human voice chatting, even letting users put people on hold. For fun. The phone's mobile network connection was good, and voice quality when making calls was also perfectly respectable.
HTC Wildfire S: Messaging
HTC Wildfire S review: Messaging
Text messaging within the Wildfire S is pretty simple. You get a text interface with an attachment menu, allowing users to send pictures, video, text-based app recommendations, contact details in vCard format and even vCalendar appointments.
HTC's email app supports multiple POP3/IMAP accounts and Microsoft Exchange ActiveSync, with the app managing to successfully set up our BT and Hotmail accounts using only the username and password. Emails all arrive into one inbox, with messages colour coded for different email accounts.
HTC's email presentation isn't very exciting, but it does the job. You're able to copy text out of the body of emails, which is useful, or send highlighted chunks of text – selected by long-pressing on a text area – via Android's sharing menu.
It's therefore very straightforward to highlight a sentence from an email and send it directly to Twitter, if that's how you spend your working days.
The keyboard is HTC's take on the standard Android QWERTY. It's quite sensitive and responds to touches without lag, plus it can be set to predict words or not.
It does a decent job, plus it's nice having alternate characters on each key – accessed by a long-press – so you don't have to flip to a second screen when adding apostrophes, question marks and the like to messages.
If you're feeling brave, it's also possible to activate voice input. It manages single words like "hello" without too much fuss if you talk like Rex Harrison, but try a sentence of a few words and it struggles to separate them. It takes time to process your words, and correcting errors is more trouble than it's worth, so we'll stick with the keyboard.
HTC Wildfire S: Internet
HTC Wildfire S review: Internet
The 600MHz processor in the HTC Wildfire S just about works for regular web use, although scrolling through more complex sites can be a bit of a slow process.
HTC has updated the tab system, with a pinch of the screen zooming out your view and popping up a scrollable list of all your open browser windows. This is a fantastic addition to the Android web browser.
Sadly there's no Flash Player support in here, due to the speed of the processor, so you can forget about BBC's iPlayer site or app working. That's a fairly large problem when it comes to selling a mass-market phone aimed at the casual buyer.
General page browsing is surprisingly good, given the rather low-spec 600Mhz processor inside. Scrolling while the pages are loading can get a little messy, but once everything's arrived it's easy to pinch-zoom your way around.
Page text reflows nicely if you double-tap the screen, again helping users to navigate big pages with the minimum of fuss, and the letters will still jumble around to fit even if you zoom in a little more with multi-touch pinching.
If a site has a visible RSS feed, the RSS icon appears beside the URL bar. Pressing this prompts users to add the subscription, which pops up in HTC's custom News app. This app also syncs with your Google account, so will pull in any feeds you've previously added to the Google Reader desktop tool.
The low resolution (by today's standards) screen means text is never particularly sharp unless you zoom in, but it's readable and does the job as a mobile web machine.
HTC Wildfire S: Camera
HTC Wildfire S review: Camera
The HTC Wildfire S comes with a 5MP camera, powered by an almost identical menu system to that used in the larger and more powerful HTC Desire S.
The only difference here is the lack of a couple of the fancier image filter options that featured on the Desire S, such as the vignette and hipster-style retro filters. All you get on the Wildfire S are:
SEPIA: A warm sepia filter
Click here to see the full res shot
OLD SCHOOL: A black and white effect
Click here to see the full res shot
NEGATIVE: The usual pointless negative
Click here to see the full res shot
POSTERIZE: And a posterize option for creating your own Andy Warhol prints.

Click here to see the full res shot
BLUE: There are also aqua (blue tint over everything) and solarize (a bit like negative, only messier) to play with.

Click here to see the full res shot
The image preview comes with an icon to instantly set the photo you've just taken as an icon to represent one of your contacts, which is handy. It's all very 'joined up'.
Photos taken at the highest resolution of 2592x1728 look nice in good light, although areas with high detail, such as grass and trees, tend to end up looking a little smudgy when viewed at full size.
FLASH: The flash is a highlight, making indoor, low-light photos look great (if it weren't for the red eye problem)

Click here to see the full res shot
DARK:Without the flash, low-light photos emerge looking very grainy indeed

Click here to see the full res shot
MOODY: Outdoor scenes also look overly dark without a strong light source
It's your standard, slightly disappointing HTC camera, basically. Great for outdoors landscapes, but not so hot if you go to places that aren't substantially illuminated by a large, nearby star.
Click here to see the full res shot
HTC Wildfire S: Video
HTC Wildfire S review: Video
Video quality is one of the bigger compromises on the HTC Wildfire S. The maximum resolution here is 640x480, so there are definitely no HD ambitions on display. This is a bit of a shame, as 720p recording was on the spec sheet when the phone was revealed at Mobile World Congress earlier this year. But it's not in the finished phone.
You are, however, able to zoom in when recording clips, although be prepared to wait a while – this is a very, very laggy and jerky process.
The sensor also chugs noticeably when moving from light areas to dark, meaning it's possible to watch the phone reduce or increase brightness step by step. Couple this with the clunky zoom and it gets very messy indeed.
Back on the positive side of things, the LED light can be set to be permanently on for illuminating dark scenes, plus you have manual control of white balance.
The frame rate stays pretty solid, and the picture isn't as blotchy as that found on some lower-spec smartphones. It's perfectly usable, but the HTC Wildfire S remains one of the poorer-performing Android phones out there when it comes to video recording.
HTC Wildfire S: Media
HTC Wildfire S review: Media
The technical specs of the HTC Wildfire S state the phone is able to play 3GP, 3G2, MP4 and WMV video files, with audio support for AAC, AMR, OGG, M4A, MOD, MP3, WAV and WMA music files.
In reality, this means most mainstream, paid-for video downloads will play, but there's no joy for those of you hoping to play any of the more popular AVI or MKV video formats.
The Android video player is always something of a disappointment, offering nothing more than the option to play/pause, skip through the clip and toggle between a zoomed-in full-screen view and a bordered original scale.
The music player is rather standard too, letting you sort tracks on SD card by artist, album, playlist or a massive list of everything. There are no affiliated shopping systems on here, so if you want to buy music directly through the phone, you'll need a standalone app.
HTC supplies a full-page app for playing music, although there's not much use in it. It plays and pauses and lets you skip tracks, but that's all. Pressing the album art opens up the main player. There are no lock screen audio controls, either.
Of course, being a Google-powered phone means you get the official YouTube app on here. The HTC Wildfire S handles this with ease, even supporting direct uploads of your own video recordings from within the player.
HTC has also stuck in an FM radio, which comes with plenty of customisable presets. It's possible to route the sound through the speaker, although it still requires the headphones to be plugged in to act as an antenna.
Sound quality through the onboard speaker is good, lacking bass as ever, but sharp enough. HTC's headphones are simple in-ear bud things, with one button – Play and pause – on the cord. They do a good job.
There's not much in the way of onboard storage space for downloaded applications, sadly. Just installing a few essentials took us up to 60MB of used memory, with only another 90MB free. If you plan on playing some of the bigger games, memory space is going to be an issue with the Wildfire S, no doubt about it.
HTC Wildfire S: Battery life and connectivity
HTC Wildfire S review: Battery life and connectivity
The HTC Wildfire S comes with a 1230mAh battery, the same as in 2010's original Wildfire. We found it lasted very well indeed, thanks to the small (by today's standards) screen and the efficient Android 2.3 OS.
HTC states that GSM talktime is 430 minutes. We got two and a half days off one charge, with moderate web use and email/data sync options left at their default settings, which is certainly better than you get out of the 'superphones' with their enormous screens. So if longevity is a concern, that's one area where the Wildfire S beats most other Android phones by a mile.
Connectivity
Wireless hotspot functionality is in, with the Wildfire S able to turn itself into a fully functional 3G modem for hooking a laptop into. You don't have to do it wirelessly, either – a USB cable from a laptop to the phone is enough to enable you to tether it to your mobile data connection.
Wi-Fi connectivity supports 802.11b/g/n, and we found it great at maintaining a connection to our home network. Bluetooth supports version 2.1 along with A2DP for wireless stereo headphones.
HTC Wildfire S: Maps and apps
HTC Wildfire S review: Maps and apps
Being an Android phone means you get the finest free sat nav tool in existence bundled in with your phone – Google Maps.
The Wildfire S is exceptionally quick to connect to a GPS satellite, taking only a few seconds to get a location. Once it knows where you are, the Navigation tool is a fully-featured sat nav, complete with voice directions.
Obviously you get the official Gmail app along with Google's Latitude and Places toys, plus HTC has put on a couple of competing choices of its own.
Apps
HTC Likes is the company's own app recommendation engine, which features a selection of apps pulled from the Android Market, with votes generated from HTC users.
It's a rather unnecessary duplication of the Android Market that's surely going to end up simply confusing people – especially as following the "install" option takes you to the Android Market.
You also have access to more widgets via the HTC Hub, which includes many less thrilling HTC Sense tools. One we like very much is the Bookmark Widget, which adds a list of your bookmarks to the Home screen for easy launching of sites.
HTC has fiddled with the Android Market page for this phone. The usual My Apps tab has been replaced by an HTC icon, which takes you to an off-putting and seemingly random collection of paid-for apps that, presumably, someone somewhere has paid HTC to try to sell to its users.
The My Apps tab is now hidden behind the Menu button, making it slightly less convenient to access and manage your software.
That said, the Android Market itself has improved massively in the year since the first HTC Wildfire launched. Android users can now install apps via the web, and there's a huge amount of free and paid content out there.
But can it play Angry Birds?
Yes, just about. It's usually quite smooth, although as the levels increase in complexity so the number of jerky moments does too. If the only reason you want a new telephone is to play Angry Birds, don't get the Wildfire S.
HTC Wildfire S: Hands-on gallery
HTC Wildfire S review: Hands-on gallery
HTC Wildfire S: Verdict
HTC Wildfire S review: Verdict
The HTC Wildfire S is a solid, charming little phone, ideal for those making their first steps into the smartphone world. Experienced Android users won't be impressed by its average web performance and lack of gaming power, but those who don't mind the odd glitch will love its staggering collection of social features.
We liked
The physical form of the phone itself is good. It feels well made, HTC's rubberised back is nice in the hand and the screen feels solid. The capacitive menu buttons are very responsive too.
The updated HTC Sense 2.1 UI is another fantastic effort from HTC. Some of its widgets are a little bland-looking, but the functionality you get from having both Android 2.3 and HTC Sense is peerless.
HTC's contacts system is immensely impressive. A variety of Home screen widgets and easy customisation make it simple to invent your own one-click messaging powerhouse.
We disliked
Being limited to 640x480 video recording is a little disappointing, especially when many other smartphones with similar 5MP cameras manage 720p video capture with no trouble.
Also, the phone struggles to actually record. The digital zoom, while nice to have on occasion, is rendered useless by the lag.
The 600MHz processor does struggle to keep things running smoothly elsewhere, especially when using the web and gaming. Angry Birds is a bit jerky, which is an enormous crime in this day and age.
Verdict
The HTC Wildfire S is a solid and well-featured phone, no doubt about that, but the poor little thing struggles to render some web pages and isn't exactly future-proof in this fast-moving mobile world.
Yes, you get Android 2.3 and all the many joys of HTC Sense, but without Flash Player support and with a processor that would've been considered slow in 2010, it's hard to find a place in 2011's vibrant, multicultural smartphone scene for the HTC Wildfire S.
For only a few quid more – about an extra £3 per month on monthly tariffs – you could get the vastly more impressive HTC Desire S instead, which features much the same software running on significantly more capable hardware.
Or for much less money you could pick up a PAYG model such as the Orange San Francisco, the LG Optimus One or the Samsung Galaxy Ace.
Sadly for HTC, there are many cheaper options available to those looking for their first smartphone right now.
The only ace up the sleeve of the Wildfire S is its arrival to running Android 2.3, which simply isn't enough to warrant the extra money.
HTC HTC Android 2.3 Android 2.3.3 smartphone