HTC Wildfire
1st Apr 2011 | 13:50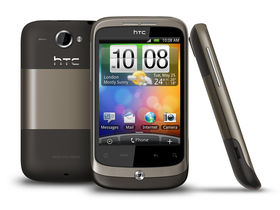 The low-cost version of the HTC Desire arrives
HTC Wildfire review: Overview
Update: now read our Hands on: HTC Wildfire S review.
A smartphone for those on a tight budget, the HTC Wildfire doesn't skimp on the specs; the touchscreen handset runs Android 2.1 with the user-friendly HTC Sense UI and is rocking the same processing power as 2009's phone of choice, the HTC Hero.
If you're in the market for a new smartphone, you can check out our quick video guide to what to look out for:
We'll be running this review a little differently – HTC gave us three phones to test rather than one, so in addition to the main review we've got TechRadar readers Paul Jones (PJ) and Dennis Shorter (DS) to give their two penn'orth.
PJ: I'm an HTC Tattoo user, so it's hard not to compare the Wildfire to it the whole time I've been using it. The good news is it seems to be much better.
DS: I've not been a fan of HTC since I was forced to use the HTC Touch Diamond for work – the stylus and convoluted user interface was a real turn off. Having not touched an HTC product since then, I'm glad to say that the new range appears to be a lot more user-friendly.
The 3.2-inch QVGA capacitive touchscreen and optical trackpad work in tandem for easy navigation, while the 5-megapixel camera will keep photographers happy even in the dark, thanks to the inclusion of an LED flash.
Gone are the toy-like looks of its predecessor, the HTC Tattoo – the Wildfire has a more mature style in the vein of its older sibling, the HTC Desire. Although small in stature, the Wildfire sill towers over the likes of the Sony Ericsson X10 Mini.
HTC has gone all-out on the social networking features for the Wildfire, integrating Facebook into everything from the calendar to caller ID. Sharing Android apps has also been made simple with a system for sending links to friends from the handset.
Design
Everything is nice and compact, much like the handset itself. The HTC Wildfire is small and light; at 118g it weighs in at just 20g more than the Sony Ericsson Xperia X10 Mini – a tiny, tamagochi-sized handset.
Thankfully, the screen is quite a bit larger – 3.2-inches of capacitive touchscreen goodness. If you're accustomed to a smartphone with a larger screen, you may find yourself missing the extra inches, though.
The rather more cramped Home screens of the HTC Wildfire, when compared to the iPhone or HTC Legend, began to grate after a little while, and those with larger fingers may struggle to make the appropriate selections.
When it comes to looks, it's hard to be disappointed by the HTC Wildfire.
Taking its design cues from the HTC Desire, it features the bold silver highlights and optical trackpad, and is a world away from the other budget Android handsets we're starting to see invade the market like the cheesy hipster looks of the Motorola Flipout or the sombre plasticky LG GW620 InTouch Max.
Available in a variety of colours – from jolly cerise to serious bronze – the HTC Wildfire looks grown-up and feels solid in the hand despite its lightweight disposition.
It's great to see that some thought has gone into the camera – with an LED flash sitting next to it and a smart silver rim, the camera lens looks quite the business.
The optical trackpad doubles as the front panel's only button; other commands are controlled by touchpads at the bottom of the touchscreen panel.
Unfortunately, HTC has not seen fit to give the Wildfire the camera button we so deeply desire, so the optical trackpad doubles as shooter too.
The handset does have the one-button volume control on one side though, and the HTC Wildfire's power/screen-lock button sits on the top of the handset alongside the 3.5mm headphone jack. It's all very straightforward and no-nonsense.
PJ: The HTC Wildfire looks really good; it feels much more professional and sophisticated than the Tattoo ever did. I really like the minimal number of buttons but I miss having a physical call and hang-up button.
However, the layout redeems itself by making it harder to accidentally unlock the Wildfire in your pocket as only the power button can do it.
It's not just the buttons that impressed me, though; the HTC Wildfire's screen is really nice too, especially compared to the Tattoo. It's smooth to use and the resolution is so much better than that of the Tattoo.
DS: The HTC Wildfire looks a little squashed down when you first handle it – not ridiculous though.
I'm not a fan of the touch sensitive buttons, as I can never work out where I'm supposed to be tapping without looking – it's easy to get confused.
However, the Wildfire is pocket friendly and feels good quality for the price.
In the box
HTC doesn't mess about when it comes to accessories. As such, the HTC Wildfire comes with the minimum – but it's the quality not quantity that we like.
Why get tangled up in two wires when one will suffice? Hence the multi-part charger, the wire of which doubles as USB connector. The Wildfire also comes with headphones; smart black earbuds with a 3.5mm connector and hands-free capability.
HTC Wildfire review: Interface
Despite being designed as a lower-cost Android handset, the HTC Wildfire still comes with the company's much-loved Sense UI. Although this may keep costs a touch higher than they could otherwise be, it's a joy to use.
From the moment you switch the phone on for the first time, you'll appreciate it easing you into smartphone-dom, with a smooth eight-step walk through getting you set up quickly and easily.
In a matter of minutes, you'll have your contacts imported, your social networking sites set up, your Google account activated, your Wi-Fi connected and your preferences set. Like we said, a joy.
Navigation around the HTC Wildfire is fairly straightforward – with seven home screens available for customising, you'll be able to save your most-used apps and widgets here and avoid the alphabetised menu altogether.
Popular widgets, like weather, news, favourite contacts and FriendStream (HTC's social network aggregator) come ready installed to home screens but moving and removing these is very simple.
Just holding down the icon you want to reorganise then dragging it to its new location (or the trashcan) does the trick.
Silly little things like how few icons you can place on a screen started to grate – although with seven Home screens to play with, there's obviously plenty of space overall.
Swiping through them all is no big deal for the HTC Wildfire – you might think with the lower processing power and the lower-quality screen that there'd be some lag; there really isn't.
In fact, that processor is the same speed as the HTC Hero's (528Mhz), so it shouldn't be any great surprise that it can hold its own – although it's not going to offer Desire levels of speed, and juddering sometimes occurs when switching windows and applications.
If you don't fancy swiping, you can scroll between using the optical trackpad. HTC's lovely Leap View, introduced with Android 2.1 on the HTC Legend and HTC Desire earlier this year, is present and correct, giving you a quick overview of your home screens and a shortcut to moving between them.
Although buttons aren't exactly in abundance on the Wildfire, it would be convenient to be able to use the trackpad as the screen unlock button as well as the power key. It's much more accessible when you're in a hurry.
Of course there's full access to the Android Market on the HTC Wildfire, so you can download apps to the handset. Download speeds over Wi-Fi were generally fine, although a little slower using 3G.
HTC has clearly given app sharing some thought, and come up with a system for sending links via email or text to friends without a fuss.
It's not the most elegant of systems, but it's a darn sight easier than them having to search for the app in the Marketplace.
As the handset is basically run in the same way as the Desire and Legend, this handset isn't aimed at the tech-phobic, more at the smartphone-literate on a budget.
That said, it's very easy to get the hang of – the set-up guide walks new users through setting up their various email and social networking accounts, while the menu system is also very straightforward.
The seven home screens may be a little more confusing, but so simple once you've customised them to your liking. The Wildfire also makes it easy to transfer everything from your old phone via Bluetooth using the onboard 'transfer data' app.
The HTC Wildfire comes with haptic feedback by default – we like the satisfying buzz as it registers our commands, but if you're not such a fan it's fairly easy to turn off in the settings menu.
PJ: I'm glad to see that the HTC interface is largely unchanged – it means it's really nice and easy to get to grips with from the first time you use it. Because I've used the Tattoo in the past, the software feels very intuitive and familiar.
Being able to view all the Home screens at once using the pinch gesture is very cool; you don't always remember where you've put certain applications so nice to be able to see them all at a glance.
Customising the Home screens so you have the widgets and apps you want at your fingertips is brilliant.
The optical trackpad isn't as precise as the D-pad I'm used to on the Tattoo. But it's usable and I reckon I'd get used to it.
Menus are well laid out and I love having the settings in collapsible panels so you can dig into them without going through masses of menus. There's just no need for an instruction manual.
DS: I thought it was going to be a similar situation to my first HTC when I first saw the interface, which upset me a little bit.
But thankfully it was a totally different experience – the screen (capacitive now) is so much more responsive and flicking between the home screens was much easier, as was customisation.
I liked the pinch method of seeing all your displays at once, but it was a little useless as I only played with it when it was there.
I was also told to try out the live wallpapers, which were cool but the Wildfire seemed to struggle to display them properly at times.
HTC Wildfire review: Calling and contacts
Accessing the dial pad is as easy as pie – there's a big fat icon at the bottom of the home screen that takes you there. You can then start dialling a number or name (using the T9 predictive text method) and smartdial will work out who you're aiming for from your contacts.
Calls made using the Wildfire could be clearer; although not bad quality, callers' voices were a touch on the fuzzy side. We also had a couple of issues with dropped calls even when the reception was perfectly fine.
We're quite taken with HTC's polite ringer feature – if a caller isn't someone you fancy chatting with, simply turning the Wildfire over puts the ringer to silent until your voicemail kicks in.
Contacts are integrated with Facebook and Twitter should you wish it, which is great in that it means most of your contacts will end up with snazzy photo icons without you having to go through setting each one.
The only downside is that we ended up with a load of duplicates and no obvious or easy way to get rid of them.
As with many current handsets, favourite contacts can be saved to one of the seven home screens for quick access.
The HTC Wildfire is all about social networks being integrated fully into the phone's operations – this includes caller ID. If the person calling is also a Facebook contact, it'll tell you their latest status update and if their birthday is coming up.
This is great and all, but we're so used to just answering as soon as we glance at the name it wasn't something we found particularly useful.
PJ: I've always found smart-dial invaluable, and it's nice and easy to use on the Wildfire. When making and taking calls I do really miss the dedicated call and end buttons, though. Call quality is fine, no complaints.
The HTC Wildfire's contacts book is pretty good – I like having the favourites panel and it would be cool if it auto-populated using people you call most often – but you can see these in the call log anyway I suppose.
DS: I've not got Google contacts set up, so I imported mine from Exchange, which turned out to be a big mess thanks to not having to ever look at that address book before.
I did try linking them together, and the offered links mostly helped. However, I simply couldn't be bothered to do them all as there were loads; I imagine if you have the phone for a long period of time you might manage to do it eventually.
Call quality was decent though – although it was annoying how long it took to connect to people, and at times it failed on the first go, which was really irritating.
HTC Wildfire review: Messaging
Messaging on the HTC Wildfire is pretty basic. But what it lacks in features it makes up for in being very easy to use. The inbox features contacts' images which make it quite nice and colourful to look at and each contact has its own threaded messaging for an easy reminder of the conversation so far.
Writing text messages is similarly straightforward; the HTC Sense QWERTY keyboard is one of the best around.
It's obviously a little more spacious if you auto-rotate it to landscape mode, but portrait wasn't too cramped to use either – this is a vast improvement on the resistive Tattoo's T9 layout.
The predictive text learns words quickly and easily so you can be chatting in your own lingo in no time and the multi-touch display is able to register more than one letter at once, so speedy typing is easy.
Our only real issue with messaging on the HTC Wildfire is that sometimes there was a delay in receiving text messages, even with full reception.
Messages were stuck in the ether for several hours, even while we browsed the web over 3G and sent other messages of our own. We were using the HTC Wildfire on post-pay O2, and this could quite easily have been a network issue.
Setting up Exchange or Pop email is no problem as long as you have all the required information to hand. It's simply a case of filling in the fields onscreen and that's it.
Emails can be laid out either as a traditional inbox or threaded conversations – and it's particularly handy to be able to sort emails by date, or look through only unread emails.
PJ: Having used the HTC Tattoo, I really appreciated the bigger screen on the Wildfire when it came to writing text messages – it's wide enough to house a QWERTY layout rather than the numberpad style.
DS: I liked the amount of messaging options on the Wildfire – email, texts and Googlemail all landed easily. I don't Tweet very often, but it was very easy to get Peep to sync up all my stuff.
I agree with Ed though – messages were poor. I was using a Three SIM and messages frequently wouldn't send, with 'Message unable to send, retrying' coming up far too often.
I liked the keyboard more than I thought I would – I've not used a touchscreen keyboard for a while, and I was surprised how easily I got on without using a stylus.
HTC Wildfire review: Internet
The HTC Wildfire comes with a WebKit browser onboard – it's actually pretty good; generally loading speeds were fairly nippy although sometimes images would take a few seconds longer than we'd like.
Multiple windows come as standard and switching between them is just a two-command affair.
The screen is a bit small for browsing full web pages, so zooming is a must; multi-touch zoom worked well and we could zoom in quite far before the text and images became distorted by pixellation.
The HTC Wildfire also features a 'find on page' option, which makes wading through text-heavy web pages much easier.
Switching between Wi-Fi and 3G is fairly easy – the HTC Wildfire won't auto-connect to those annoying BT Openzones but will remember any Wi-Fi you've connected to before to save you entering passcodes a second time.
If you are planning on switching between 3G and Wi-Fi regularly, we'd recommend adding the HTC power control widget to one of the home screens. It's a one-stop shop for controlling your 3G, Wi-Fi, Bluetooth and GPS connections.
This can also control your automatic updates, screen brightness and push notifications if you need to save battery. To manually switch connections, you'll have to go into the Settings menu.
One benefit of the HTC Wildfire over some handsets like the iPhone is that you can watch Flash content on it as you browse the web; this means you aren't restricted to a specific YouTube app, for example, and can play Flash games and watch embedded videos on web pages like BBC News.
However, Flash won't work on every site, and will be a little choppy at times – we're looking forward to the Android 2.2 upgrade that brings Flash 10.1 and a much better browsing experience.
PJ: The web browser renders really quickly over Wi-Fi – much quicker than I've been used to on my handset. It's a shame there's no .co.uk autofill in the address field, and it's a bit annoying that the URL bar locks to the top of the webpage – especially when you're zoomed in.
DS: I liked using the internet on the Wildfire a lot – it was quick and easy to use. However, I found my Wi-Fi kept dropping out for no reason when at home, which meant that speeds were a bit lower.
I shared a couple of websites through Facebook, and it worked really well – although this seemed to tax the Wildfire a little bit too much at times, causing a few error messages.
HTC Wildfire review: Camera
It's great to see another 5MP camera in HTC's Android lineup, particularly with the addition of the LED flash. Our main bugbear was the Wildfire's screen. Taking photos on bright days is very tricky; because of the glare on the screen, you have to just point, shoot and hope.
The other issue with the QVGA screen is that it made our photos look very low-res and pixellated. Luckily, the raw image files aren't such poor quality, but you don't get a very good feel for your shots using the HTC Wildfire's screen alone.
The range of options is quite stunning though, on a par with a low-end digital camera. There's the option of a timed-shot and geo-tagging your photos by recording location information. You can toggle brightness, contrast, saturation and white balance to your heart's content, or use one of the built-in photo effects.
Here's a shot with all default settings, no flash on a bright day. The colours are a little over-saturated which leaves the shot looking a bit fake.
The zoom function was pretty good, as long as you remember to focus the shot (a nifty touch-to-focus function means you just press wherever you want the focus to be on the screen).
If you forget to focus the shot though (as was wont to happen on bright days when the screen was hard to see) you end up with a fuzzy mess like this.
The HTC Wildfire comes with an array of image options, most of which are a bit cheesey, like Sepia effect…
…and 'aqua' which basically turns the whole shot blue.
Solarize isn't an effect we can see getting much use either.
Posterize effect could be good for an arty profile shot, but it's not very effective on close-ups.
Low light photography isn't amazing either though; comes out very pixellated on the screen, and far redder than we're used to.
The flash is super bright, and when set to automatic it goes off when it doesn't really need to, but it's a pain to have to keep setting it to on when in low light.
Grayscale is an option, so feel free to dress in Victorian garb and fool your friends into thinking you had a past life as a farmer.
Negative effect is quite a good one for Pop Art style images and faux X-ray effects.
From within the camera application, you can switch to shooting video. The same effects options are available for motion capture as still shots, which means you can make some olde-worlde sepia masterpieces as well as filming your friends larking about.
There's a slight delay when pressing record for video – very annoying if you miss the beginning of whatever it was you wanted to record.
Granted this video is shot on a fast-moving train, but as you can see, the video camera doesn't do a brilliant job of capturing the landscape as it shoots by. There's a lot of jaggy edges and pixels floating about and it looks very amateur all in all.
There's no doubt this video was filmed on a mobile phone – and doesn't stand up against the HD recording found on the likes of the Sony Ericsson Vivaz or the iPhone 4.
It's also frustrating that you can't rename image and video files in the gallery from the handset itself.
PJ: The Wildfire's camera is good – it's cool that it's got a flash and the photo quality is adequate on the handset. I really like that it gives you loads of options and found it quite intuitive to use – especially the slide-out menus on the side of the screen.
DS: I've never really used cameras on phones, and I don't think this one would make me start.
The flash is a bit week, and it took ages to get a photo that wasn't a bit blurry. I was impressed by the quality of images when I put them on the computer, with some nice colour capture, but overall it was a bit of an average camera for me.
HTC Wildfire review: Media
HTC's music player is not exactly beautiful. Despite taking some design cues from the iPhone 4's iPod player (Cover Flow-style artwork, anyone?) it doesn't manage to pull it off in such an elegant manner.
It ends up being a little clunky to use, although you can swipe through album covers or view them in list mode if you prefer.
As always, we're glad of the 3.5mm headphone jack so we can use whatever headphones we fancy; although HTC's in-box effort isn't too bad.
Using Sennheiser in-ear headphones, sound quality wasn't noticeably better or poorer than that of the iPhone or HTC's higher-end Androids, the HTC Desire and HTC Legend.
The built-in speaker is another story though; as with most handsets, it was tinny, shrill and not something we'd be keen to use on a regular basis.
When it comes to video, playback of footage stored on the handset itself is quite a disappointment – although the content may be high res, the screen is not high enough quality to handle it, so you end up with quite a jaggy, pixellated experience.
If you've ever used a handset with a high-end screen, like the Samsung Wave and its Super-AMOLED display, you'll be aghast at the quality.
There's no option to swipe through videos as they play, but the video gallery layout is very simple and you can nip between files in just two or three taps.
It's also easy enough to share your own videos via email, media message or using a social networking link; there's no Facebook uploader though which is a shame.
Not many Android handsets come with an onboard FM radio so it's a nice addition to the HTC Wildfire. The headset acts as the aerial so it has to be plugged in to use the radio, but you can then play it through the external phone speaker.
Unfortunately, you can't just use any old headphones to act as aerial. Aside from that it's very straightforward to use, if a little slow to fire up, and can be left running in the background as you use the Wildfire for other things.
PJ: The music player is pretty much the same as on the Tattoo; it's quite fast and generally adequate. Nothing special, but it does the job.
DS: I've not got any video files to watch anything on, but I did have a look at the YouTube quality and was impressed, especially over Wi-Fi.
Music was also good – the widget was cool, and though most songs didn't have album art it was relatively easy to browse through.
HTC Wildfire review: Battery, apps and maps
HTC reckons we should be able to get 480 hours of standby time out of the 1300 mAh battery – we beg to differ.
A full charge barely gave us one whole day of very light use, although we did have background apps running throughout. We could also have turned down brightness, pulled off push email and switched off 3G to conserve power, but where's the fun in that?
Making calls didn't seem to drain the battery so severely, although we'd still argue that HTC's estimate of 490 minutes talk time is massively optimistic.
PJ: The handset needs charging once a day so as long as you get into that routine then you're ok. It's annoying if you forget to take your charger away overnight though, and I did find that it seems to drain really quickly at the last minute.
DS: I don't really like that I have to charge the phone each day even though I'm not using most of the functions – I know that's a feature of most smartphones but it's really hard to stop being shocked when you watch the battery falling so quickly.
Organiser
One of the great things about Google Android handsets is how wonderfully they sync your Google accounts.
The calendar on the HTC Wildfire is no exception; reminders and alerts for appointments we'd added on our desktop popped up without us having to manually force synchronisation.
As well as Google Calendars, it also integrates Facebook events and birthdays, leaving you with a well-populated calendar before you've even added anything via the handset.
We love that when flicking through our schedule for the next three days ahead, the calendar told us what weather to expect. Perfect for planning outfits (we... err... mean football games) and picnics, unless you travel a lot, since it's based on your current location.
The alarm and clock settings are easy to access simply by tapping the HTC Wildfire's Home screen clock.
From here it's a one-tap process to set the phone to bedside mode, as well as perusing or setting world clocks and using the stopwatch or timer functions.
The alarm function is as comprehensive as you need it to be – the Wildfire comes with three alarms pre-set up for you, but you can customise your own alarms – so if you're working funny shifts you can decide which alarm goes off on what days to save you having to set a new alarm every evening.
Our only complaint is that it's a bit too difficult for us sleepyheads to get the alarm to snooze. We kept turning it off instead which led to continual over-sleeping. At least, that's our excuse anyway.
Maps
Maps saw no complaints from us, with the GPS locating us effortlessly as we travelled around London and loading maps at an acceptable speed.
The built-in compass is invaluable for the directionally-challenged, and the route planner is wonderfully simple to programme with clear directions to follow either in list view or on the map.
There's not a great deal to say about the calculator on the HTC Wildfire – it's very basic and looks really dull. Obviously we're not suggesting HTC make it the highest priority, but we'd still appreciate a bit more effort on the calculator front.
We'll admit that we're easily impressed by shiny things so forgive the hyperbole as we wax lyrical about the HTC Wildfire's flashlight; it's wonderful. Styled onscreen like an actual torch, you can swipe between three different brightness settings, as the light shines out from the LED flash on the back of the handset. Marvelous.
If you're into gaming, you'll be pleased to head that you can save your high scores from the HTC Wildfire to universal scoreboards online – finally the world can appreciate your prowess at Jewels and Solitaire.
PJ: The organiser isn't something I a great deal but this one was ok – very easy to use and I like having so many alarm options.
I was really impressed by the flashlight! It's such a handy addition and was really fun to mess around with.
The maps app has definitely improved, the addition of a compass is invaluable and mapping is generally more accurate.
DS: Why don't all phones have a flashlight application? It's not like it kills the battery, and this is just awesome.
I used the Google Maps application loads – I particularly liked being able to see Tube routes overlaid on the maps.
HTC Wildfire review: Connectivity and comparison
HTC doesn't go in for masses of custom software for connecting your handset to a PC or Mac.
Considering some of the abominations other manufacturers have come out with (looking at you, Samsung and Sony Ericsson), it's probably just as well the HTC Wildfire is simply treated like an external storage device when plugged into a computer via USB.
Copying songs, video files and documents across is as easy as copying them between folders on your desktop.
Network coverage on O2 was standard, pretty good most of the time with only the occasional blackspot.
We did suffer a couple of call cut-outs for no apparent reception-related reason, and at least one text message delivery was delayed by several hours. It's not clear if this was a network or handset issue.
GPS on the HTC Wildfire was far better than handsets in a similar price-bracket, for example the Sony Ericsson Vivaz which struggled to locate us after twenty-minutes of trying.
The HTC Wildfire managed to find us almost every time we opened the map app. Unfortunately, the location service for the weather widget on the home screen was another story – it was so flaky that at one point it thought we were in New York City when we were, in fact, in Somerset.
Getting set up on Wi-Fi is covered by the handy set-up guide the first time you turn the HTC Wildfire on.
There's always a notification when an open Wi-Fi network is in range, and the handset will remember Wi-Fi networks you've connected to recently so you don't need to repeatedly mess about with WEP keys and passwords for familiar networks.
Comparison
HTC has given the budget Android phone a go before – it didn't go so well. The HTC Tattoo was a horribly toy-esque resistive touchscreen handset.
The HTC Wildfire, however, makes good on all the promise of that cramped little handset. With fewer buttons clogging up the front panel, a capacitive screen and a more mature design, it blows the HTC Tattoo out of the water.
We'd be remiss if we didn't mention the likenesses between the HTC Wildfire its older brother, the HTC Desire. A powerhouse of a handset, the Desire is one of the few ever to score five stars in a TechRadar review.
Aside from lower processing power, screen quality and size, the two handsets are very much alike; and we can't say we felt the loss as much as we were expecting to.
Although we did find the screen a little cramped on the HTC Wildfire and watching video content was nowhere near as satisfying as on the Desire's lovely AMOLED screen – but that processor held up well and we could easily get by.
Although the Wildfire's screen is small, we were happy to have the QWERTY keypad layout and great zoom facilities for web browsing.
If you fancy something even smaller, we'd point you in the direction of the Sony Ericsson X10 Mini, another Android smartphone-lite with similar capabilities to the Wildfire but a completely different Android experience.
The HTC Wildfire even manages to give older models of the iPhone a run for their money; with Android's flexibility and customisation, in many ways it's a nicer handset to use than the iPhone 3G.
Sadly, the iPhone App Store continues its vast superiority to the up-and-coming Android App Market; but its day will come – eventually…
If considered a mid-range handset, in a bracket with the likes of the Sony Ericsson Vivaz and LG GW620 InTouch Pro, the HTC Wildfire easily takes the crown. It's a combination of sleek, mature styling, ease of use and speedy web browsing that makes it the best in group.
HTC Wildfire review: Hands on pictures
HTC Wildfire review: Official gallery
HTC Wildfire review: Verdict
So what do we really make of the HTC Wildfire? It's a likable handset with a lot going for it.
We love the HTC Wildfire's grown-up looks, proving that low-cost handsets don't have to look like they should be sold in ToysRUs.
You can't go far wrong with HTC's Sense interface either, customising those seven home screens means that no two handsets need be the same and it'll work for you.
The social networking integration will appeal to the younger generations, although some may find the caller-ID functions redundant. Quick and clever web browsing will be universally appreciated, as will the Google Maps which never let us down.
A myriad of little things kept us happy – from app sharing to the easy setup process, the inclusion of a camera flash and the handy flashlight.
The thing that kept annoying us while using the HTC Wildfire was the screen. It just isn't sharp enough for us, if we're honest, and if you've ever used a handset with an AMOLED or Super-AMOLED screen, you'll find yourself thinking the same.
Anyone who wants to watch a lot of video on their handset would be well advised to steer clear. And while HTC has got a lot of things right in its Sense UI but there are still areas that smack of afterthought.
We were hoping that lower processing and poorer-quality screen may at least mean a more copious battery life, but that doesn't seem to be the case; and with delayed messages and multiple dropped calls, the Wildfire didn't prove itself 100% reliable either.
It's heartening to see HTC getting a low-cost handset so right and, although there were niggles, we're convinced that the HTC Wildfire is one of the best mid-range Android phones around.
Whether the cost will remain a little too high to make it a truly budget phone, though, remains to be seen.
PJ: Ultimately I like the HTC Wildfire it because it's a familiar system. I feel like it could easily compete with the big boys like the iPhone and the Desire, but it's also a bit of a bargain.
I'd give it 4/5
DS: I was really surprised how much I liked this phone – and how much better HTC handsets are in general.
There are some really nice touches on here, like the flashlight and easily to use home screens, and a good range of email and internet options. It might be a bit daunting for those who haven't used smartphones before, but it's pretty straightforward once you start fiddling.
I didn't like the screen quality, nor the squat shape – but then again, for the price it's great, I just think I'll be happier trying something like the Desire or the iPhone 4.
I'd give it 3.5/5.
Want to get rid of your old mobile?Compare and get the best price
Android 2.1