HTC Desire Z
4th Nov 2010 | 14:46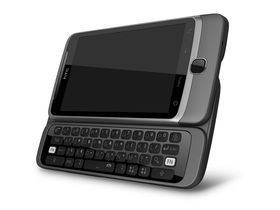 HTC's next Android wunderkind wanders in sporting a QWERTY keyboard
HTC Desire Z: Overview, design and feel
The HTC Desire is, in effect, the second in the new Android range from HTC, with its much larger brother, the HTC Desire HD, taking most of the limelight.
But it's more than 'spare a thought' for the HTC Desire Z, as this phone is designed to encompass the best Android has to offer with HTC's sublime Sense overlay - and a QWERTY keyboard to boot.
The first thing you'll notice about the HTC Desire Z when you pick it up is the sheer heft, as we're seeing a phone with a 3.7-inch screen coupled with a not-insubstantial QWERTY keyboard and hinge underneath.
The whole unit weighs in at 180g, which isn't the lightest on the market, and you can certainly feel it in your pocket... but it's not so bad that if you're hungry for a QWERTY keyboard you won't be able to tolerate it.
The Desire Z itself feels pretty high end, as it's clad in aluminium and has a nice and polished feel to it. The battery cover on the back is well-designed and complements the design well, and pops off with a pleasant jump when using the switch on the side.
The front of the phone looks different to the HTC Desire HD, with the usual four touch-sensitive keys (home, menu, back and search) above a clickable optical trackpad that lets you negotiate text and also doubles as an enter key.
The left-hand side of the phone holds the large volume rocker switch, and the microUSB slot, which is uncovered.
The right-hand side only has the aforementioned battery cover release and the physical camera button - which we're really pleased to see after it was left off the Desire HD.
The top of the phone hold the power/lock key, and it's much more prominent than others in the HTC range, and it's really easy to hit to open up the phone.
The 3.5mm headphone jack is also situated here, and is nicely positioned to not get in the way when you're watching videos through wired headphones.
The slide out keyboard has a lovely motion too, as it doesn't glide out; instead, it folds out on itself, lifting and dropping into place. The QWERTY keys themselves are large and easy enough to hit, but not raised enough nor have enough travel to really allow super-fast typing in our opinion.
The keyboard also packs another problem: the hinge is really loose, and the screen wobbles under touch input when the keyboard is stowed away.
And when open and held vertically, a few shakes can see the screen rock back easily onto your thumbs, which is really not what we'd expect from a device of this class.
Sure, it's not going to happen that often, but we'd certainly expected more from the build quality on a device designed by HTC.
HTC Desire Z: Interface
The upgraded Sense UI present on the HTC Desire HD is also back in full force on the HTC Desire Z too, and it's equally as good and well-stocked, despite the phone only packing a MSM 7230 Qualcomm 800MHz processor.
Packing Android 2.2 and the new Sense UI, there's not much more HTC can pack in here - that's until Gingerbread arrives, of course.
The main home screen is flanked by three either side, where you can drop a huge number of widgets and icons to customise the phone as you want.
Applications are accessed by pressing the small triangle in the bottom left-hand corner, and dragging the notifications bar down from the top will show you any messages or notifications you need to be aware of.
But that's all offered by nearly all Android phones - it's the extra stuff that HTC has popped on the Desire Z that we're interested in.
The first new addition is the 'palette' key in the bottom right-hand corner; it lets you alter the theme, design and layout of the Desire Z in a multitude of ways. (The same menu can be accessed by long-pressing on an empty part of the home screen).
Here you can choose new skins, to make the phone's OS look slightly different, or choose from a number of pre-configured widget and wallpaper layouts, each designed for different tasks. For instance, the Entertainment offering stocks the FM radio, FriendStream social networking and Music Player widgets.
What's really neat is the internal GPU of the Desire Z is able to flick through these pre-configured options with a delightful slickness, and if you want to get more, then simply click the 'Get More' option, and you're taken to another online portal, which looks the same as the on-phone experience.
Sure, you need to sign in to the HTC Sense service (which you'll need to do anyway to get all the benefits of the HTCSense.com features) but the speed and ease of which you can alter your phone is almost breathtaking.
The overall operation of the HTC Desire Z is as good as anything we've seen; there were a few more very, very slight instances where the phone would judder and lag a touch, but this had the effect of breaking the spell of complete speed rather than proving to be a real irritation.
The live wallpapers, easy widget manipulation (long press on one to move it around, remove it by dropping it on the rubbish bin or new to the upgrade Sense UI, drop it onto the edit option to change its settings) and Leap View (pinch the screen to see all your home screens in real time as thumbnails) are another indication that HTC has really got the interface right on the Desire Z.
HTC Desire Z: Calling and contacts
HTC has been slightly criticised in the past for caring more about making an superb browsing phone rather than concentrating on the core phone functionality, and to a degree its laid that fault to rest on the Desire Z.
Contacts
The contacts menu on the HTC Android range has always been excellent, and that's back again on the Desire Z.
From the first time you turn the phone on and log into your various accounts (Googlemail, Facebook, Twitter, Exchange) the Desire Z will automatically populate the contacts menu with all the people you have stored.
You can choose to only view certain people (only SIM contacts, for instance) or all at once, and then link them together.
This linking is a real user delight, as once completed you can see Facebook and Twitter updates from the contact profile on your phone, browse their photos as if they were on the phone or get a notification of an upcoming birthday when they call you.
However, linking these up can take time if you've got hundreds to go through, so it's good that suggestions are provided (and they're mostly accurate too, meaning you only have to press the link icon in the top right-hand corner of any profile and accept to complete the tie-up).
And a new feature for the HTC Desire Z is when the phone first populates the phone book, it has a look at the contacts and makes a list of suggestions for linking, meaning all you have to do is click on the link icon to accept. Very easy, and a massive time saver.
One word of warning: if you sign in to Facebook and Twitter at the start and populate the contacts, don't select the same option if you load up the Facebook and Twitter apps on the phone itself; you'll be left with hundreds of duplicates you won't want.
One thing we've always been impressed with from HTC in the contacts menu is the ability to customise each person. Of course you can enter emails addresses and phone numbers and the like, but you can also choose which account you want to profile picture to come from, be it Twitter, Google or Facebook, and choose the name too, even if its a separate account.
The contacts menu on the HTC Desire Z is one of its very strongest points, and while some things can be a little slow to load (calling up a person's most recent Tweets for instance) it's still a real 'user-delighter'.
Calling
Calling on the HTC Desire Z, as we mentioned, is a better experience than some of its Android brethren, and this seems mostly down to the sheer size of the device.
The smaller screen means its easier to position the earpiece at the right place on your head, and callers had no problems with hearing us when we spoke, despite no noise cancellation present.
The volume and quality was decent, and we liked the speaker underneath - not earth shattering again in terms of volume, but we'd rate it as better than the HTC Desire HD.
There are a few nice touches here too: the dial pad also can access people in your phone book by tapping out their names in T9 predictive text mode, making it easy to find the people you're after.
There's no way to separate between missed, received and dialled calls though, which is a little bit of a pain when you have to scroll through the whole list.
Nor will repeat callers show as one item on the list - most annoying when you have to go down past your girlfriend accidentally calling you 67 times when the phone was left on in her bag.
A few other nice touches that HTC has developed to make its handsets a little more intuitive are also present here. Elements like when the phone senses its in a pocket or bag (using the proximity sensor) it will ring louder, or the ringer volume will lower when the Desire Z gets picked up.
The best trick we think HTC has put on its devices is the ability to turn the ringer completely off by turning the phone over - it's one of those things that really impresses your Mum when it accidentally happens at the dinner table... although you really should have it turned off in company, darling.
Coverage, connection and quality all passed our tests when it comes to the HTC Desire Z's calling capabilities, and despite the heft we'd actually recommend it as a normal phone.
HTC Desire Z: Messaging
As you can probably tell, messaging is important on the HTC Desire Z, with the keyboard providing the springboard for a large number of methods of communication.
The keyboard itself is pretty nice - we've mentioned the quality of it already, and we like the way the screen folds away to give just under a centimetre of clearance from the top row of keys.
The buttons themselves are more flat than rounded - in our tests, we found that this was something of a hindrance when it came to flat out typing.
The spacing between them is good, meaning there wasn't a lot of accidental wrong presses. However, the ease of hitting them meant we couldn't build up a good head of texting steam to get going on a longer email.
We'd say something more raised, like on the HTC Touch Pro 2 or the LG Optimus GW620 is a little easier to use, but not by a massive amount.
Initially we were annoyed that there was no predictive text correction on the physical keyboard, but further investigation showed that the predictive options could be enabled either through the menu or the XT9 function on the keyboard.
There are two function buttons on offer here, as well as large shift keys and a relatively big space bar - all quite easy to hit, although the function buttons aren't the easiest to hit.
There's also a rather nice addition of two keys that can be assigned a given function - this can be practically anything, from opening a specific web page to turning on a phone signal.
However, we felt this was actually a little redundant in practice, as we only performed a select number of options in keyboard-open mode, like emailing and text entry.
We found the best use is for copying or selecting text, and perhaps emailing a specific contact. If only the same keys were available shut mode.
The on screen keyboard is also pretty darn good, as it has eerie levels of predictive auto-correction - it's the same that's been offered on a number of HTC phones, and is as good as ever.
In fact, although the screen feels a little cramped, we used it a good 90% of the time in reality, as the convenience and ease of use was so great.
The optical trackpad on the front of the phone is a little redundant in our eyes, as you can easily select the correct amount of text using the touchscreen. Simply hold the section you want, and a magnifying glass pops up to let you select the correct space between letters.
The same option will let you select text, copy and paste, and look up via Google, Wikipedia, Translate and more. It's ace.
This optical trackpad will also throw another surprise at you - it will glow around the edges when you have a message, which is really odd when there's a notification light that does the same at the top of the phone too.
The number of messaging options on the Desire Z is dizzying. Exchange email, webmail, IM (through Google Talk), SMS (made into MMS by simply hitting the paper clip to add in an item) are all supported, and Twitter and Facebook are also supported using the included apps.
Multiple email accounts in one inbox are supported here too, which is a nice touch - although if you've got a Gmail account and want to have it in there too, you'll need to switch off the main Gmail app, as otherwise you'll be getting double notifications every time a mail drops in.
HTC Desire Z: Internet
The internet on the HTC Desire Z is as good as HTC can manage, and that's high praise in our book.
The Webkit-enabled browser is one of the best around, thanks to coming with a large number of functions, such as text wrapping, Flash 10.1 support and the ability to share web pages through a ridiculously large amount of sources.
We'll deal with Flash 10.1 first - it's pretty good in our eyes, and nearly all videos played without an issue. We didn't really manage to watch BBC iPlayer without an issue, but other than that nearly everything played smoothly.
We still think this needs some tweaking though, as the HTC Desire Z struggled to display video in full screen without needing to think about it hard, and only sometimes would the option to go full screen appear when you wanted it to.
We actually found ourselves turning off Flash video to conserve the battery, or at least setting the plug-in to only work when we demanded it. This made pages a mite quicker, and is certainly one of the best ways to optimise your internet browser.
We're noted fans of the Bookmark system on HTC Android phones, with large thumbnails for your favourite sites and the ones you visit most often. You can also access history by holding the Back button, which is a nice feature too.
The sharing option is simple - if you want to send the web page link (or selected text) you simply hold the relevant section or open the menu and select 'share'. This enables you to send the link via MMS, Twitter, Facebook or similar without much in the way of slowdown.
In short, the sheer functionality, speed and features of the browser on the HTC Desire Z mean that if you're not too bothered about the slightly smaller screen then you should definitely think about this as the best browser/keyboard combo.
HTC Desire Z: Camera
The HTC Desire HD camera is relatively successful as a standalone snapper - it's not up there with the best in class, but in our tests it proved to be snappy (sorry...) at taking pictures.
That's actually pretty important - turn off the preview pictures panel and the shutter speed is pretty good, only a couple of seconds before readying itself to go again.
The settings aren't massive, but what they do offer is impressive - touch to focus not only will bring the relevant area of the on-screen image into focus, but also alter the light levels to bring the correct subject to the fore.
It's interesting to note that there's a Widescreen option, which basically adds a few more pixels to the screen, rather than changing the megapixel resolution completely.
The settings on offer (through nifty little sliding scroll wheels) are Exposure, Contrast, Sharpness and Saturation. They all make a difference to the output, and we particularly liked the crazy snaps we managed with the Contrast and Saturation levels right up.
Touch to focus is a handy addition - it basically lets you choose where the subject is with your finger, and the colour and exposure modes adjust automatically.
HTC has also put on photo effects, like Vintage framing, Solarise, Distortion etc. It's not going to be used for a serious snap, but it will be good for creating funny pictures to uploading to Facebook.
When each picture is taken the option to share to Twitter and Facebook is offered (crazily through the 'Share' key) and it's options like this that show the HTC Desire Z is designed around the consumer.
In normal mode, the camera is relatively adept at capturing pictures and lighting correctly
Click here to see the full-res image
The 2x digital zoom is OK, but doesn't really add anything that moving a bit closer couldn't achieve
Click here to see the full-res image
There's no specific Macro mode here, but the autofocus is so strong it can handle subjects under 5cm away
Click here to see the full-res image
There are a variety of settings to play with, so here we compare all the different options, starting with low exposure
Click here to see the full-res image
High exposure
Click here to see the full-res image
High contrast
Click here to see the full-res image
Low contrast
Click here to see the full-res image
High saturation
Click here to see the full-res image
Low saturation
Click here to see the full-res image
Low saturation and contrast
Click here to see the full-res image
High saturation and contrast
Click here to see the full-res image
Vintage mode is pretty much just darkening out the edges
Click here to see the full-res image
Is there a reason for Solarise mode? Probably not, but it looks ace
Click here to see the full-res image
Night time shots in automatic mode come out a little bit over-exposed
Click here to see the full-res image
Add a bit of exposure correction though, and you're in business.
Click here to see the full-res image
HTC Desire Z review: Video
Video on the HTC Desire Z is pretty good, capable of recording at 720p and around 25fps by our testing.
It actually seems to be better than our HTC Desire HD, at least in comparative tests - which you wouldn't have predicted given the naming of the handsets.
The options are roughly similar to photography: you can mess with things like exposure or add an overlay to change the style of video.
The video we shot in lighter and darker scenes was pretty consistent - at night the frame rate obviously drops to make sure the maximum amount of light is let in, but overall it was more than acceptable.
HTC Desire Z: Media
Android is good for many things, but one of the plus point is the offerings third party developers have been able to put together for media playback, fixing some of the problems of the default offerings.
But don't think that the HTC Desire Z has a poor media experience or anything... it's pretty good but it can be bettered with some downloading.
Music
The main music player on the Android experience is basic, but HTC adds a little bit to the experience. You get an album-centric experience, with the option to swipe the thumbnail to move to the next song.
This is a little bit laggy in our opinion, and is quicker by just hitting the forward and back keys.
Sliding your finger along the bottom of the music player will give you access to all your songs sorted by artist, album, genre and the like - building a playlist is similarly easy.
When the phone is locked, there's a clever touch in allowing the music player to sit on the lock screen so you don't need to open the phone to skip tracks.
However, this functionality is not extended to third party applications, which is a massive shame for the likes of Spotify, which some people might use a lot instead.
Audio quality is pretty good - using the additional Dolby Mobile didn't do much to the sound in our opinion except make it tinnier. The SRS Surround Sound option gave the widest result in terms of sound, but the equaliser with bass booster worked well too.
A couple of new and nice touches: after the artist, album, genre etc there's now 'Connected Media' that searches for DLNA-enabled devices.
This means if you've got a Windows 7 enabled PC or a Playstation 3 turned on you can see all the media contained on that and stream it straight across... and it really works well.
The other new feature is the addition of an Amazon MP3 store link - hit that to search for new music to buy and download. It doesn't add a lot in terms of media functionality, but it's an easy (and sometimes quite cheap) way to get that song you've been thinking of.
Video
Video on the HTC Desire Z was a lot like the HTC Desire HD - it's not the best experience in the world by some distance.
The main problem we had was with actually finding the video we wanted to watch - the only way in is through the gallery or video application (which only shortcuts the gallery by taking you directly to the video section, but is something we've asked for in the past, so well done HTC).
You're then presented with lists of thumbnails of the said videos, and if you don't know which is which, you have to long press on each and see the details to get to the right one.
And more annoyingly, the video thumbnails wouldn't even load. We don't know why, but we were left waiting an age for the application to populate.
We're unsure of the file formats the Desire Z will support, as while MP4 and WMV videos all played nicely (although we had to guess where they were) MKV would often show up, partly play and then crash. Other videos which previously played would then crash too - so we're at a loss to confirm which files are best here.
Also some video (although not all) encoded in widescreen was compressed to 4:3 - and only the option to zoom in to make the picture fill the screen rather than stretch it out, as we could do with the same files on the Samsung Galaxy S.
Again, Dolby mobile and SRS Surround sound were present, but this time it's the former that made the most difference... we found that 'properly' ripped/encoded files would have a nice wide audio output through our headphones.
Connected Media
Another new trick for the HTC Desire Z - DLNA streaming to a big-screen TV. Given Nokia was crowing about being able to plug your Nokia N8 into the TV via an HDMI-out cable, this wireless method has the potential to become a much cooler offering.
And if you've got a DLNA-enabled TV (or are willing to buy the HTC dongle to turn it into one) then it really is - it's a feature that really will impress friends.
All you need to do is open up the application or click Share in the media you want to pump to a big screen, and if there's a relevant display in proximity then it will appear as an option.
Simply select it and in seconds the TV will start connecting and play the media you've chosen. HD files take a little longer to get going, but the effect is the same - you can play a movie you've captured or got on your phone with no problems.
We should say if you're showing off an HD movie you've downloaded from elsewhere from the HTC Desire HD, it's not the equal of the wired-up Nokia N8, which can also support 5.1 surround sound, but for 99% of the tasks you'll want to do the HTC wireless method just looks so cool.
We'd advise you don't try and show off a photo album using this method - it takes AGES to scroll through each one, so best to stick to music and video. You know, for parties and whatever else posh people with DLNA TVs do.
HTC Desire Z: Battery life and connectivity
If you've read our HTC Desire HD review, you'll know that we were slightly concerned about the battery life that phone offered.
Well, the good news is the HTC Desire Z packs a better battery life - albeit only slightly.
In full use - by which we mean a fair amount of internet browsing, calling, texting, having emails on (although not using push) and perhaps pulling out the maps and GPS, we managed to just about last a day on a single charge.
It gets a little bit close to the edge on some days, and on others you can last much longer - it's all about how you use the phone. Once again, the display is easily the biggest culprit for sucking the juice - often around 50-60% of the power total.
But if you're willing to get a bit creative with your usage, you can get some stellar power lifetimes on the Desire Z. We've managed to have the phone on for 48 hours, and only use 30% of the battery, which is phenomenal.
However, this is with everything turned off bar the cell radio - no synchronisation in the background, no mobile data, Wi-Fi, screen set to lowest brightness and minimum time-out... in short, keeping the screen off and only making and receiving calls and texts (although there was a 20 minute music session and some photo taking).
Clearly this is atypical use, but it's good to see that if you're willing to sacrifice some functionality, the Desire Z will reward you. We don't think you should have to, so we'll stick to the 'around a day's lifetime' battery pledge, especially when the iPhone 4 is a real step ahead in terms of battery consumption.
Connections
The number of connections on the HTC Desire Z is impressive - there's GPS, HSPDA to 10.2Mbps, Wi-Fi with 802.11 b/g/n, and Bluetooth 2.1.
The GPS gets its fix pretty quickly from cold - we're talking around seven seconds from Google Maps being started up.
Wi-Fi felt a little on the picky side, frequently jumping up and down the bars even if you're not moving around much - and when there's only one bar available, the data rate would really slow down.
Bluetooth was OK - using our Jabra Halos with the A2DP connection was easy to set up and only took one attempt. We saw less skipping in the music than usual from using this streaming method on an HTC Android phone, but overall it's still not a good experience when walking out and about.
As the Desire Z is running Android 2.2, Wi-Fi Hotspot connectivity is included too, meaning you can turn your phone into a Wi-Fi emitter using the 3G connection.
This is superbly easy to set up: simply activate the app from the menu, set the broadcast name and a passcode of your choosing - then simply boot up your laptop or whatever it is you want to connect and you'll be browsing in no time.
Although you might want a charger handy, as this method absolutely decimates the battery in no time at all.
HTC Sense.com
The official website for the new HTC Desire range has been up and running for a few weeks now, and it's not been without its share of problems.
Thankfully we found that the HTC Desire Z worked much better with the new portal, offering nearly all the functionality we've come to expect.
Contacts are now all synchronised across, and messages also to a degree - for some reason the threaded messages wouldn't pick up the name of people in our address book, leaving them as referencing a string of numbers.
From this portal you can perform a number of functions to help you maintain your HTC Desire Z from afar, such as being able to make it ring on the maximum volume setting even if it's on silent.
You can also track it on a map, send a message so people can find it and bring it back to you, and even remote wipe it so thieves can't see your Facebook page. That would be soul-destroying.
While it sometimes took a few attempts to make this functionality work, it's still cheaper than the £50 a year you have to pay Apple to get the same abilities to the iPhone 4.
We're generally fairly impressed with the HTC Sense portal, but think there's definitely a lot of room for improvement.
PC connection is pretty good - the HTC Sync offering allows you to check out what's happening on your phone, automatically back up your photos and other media, and generally poke around the innards.
But as you can see, the software wants to call the Desire Z by its codename, the HTC Vision, and also has popped a picture of the HTC Legend on the screen instead.
HTC Desire Z: Applications
The HTC Desire Z is full of applications and services to help accessorise and improve the performance of the phone, and many of these make it a real pleasure to use.
We always want to be wowed when we first turn a phone on, and that's another thing HTC has taken care of with the Desire Z.
There are a couple of new things that HTC has added with the new Sense UI that really make a difference here, such as the HTC Hub: is a place to get elements that totally overhaul your handset - from widgets to new messaging sounds; it's all here and free.
This also requires an HTC Sense account, offering all manner of extra elements, and most are presented in cool, swipe-friendly thumbnails that show off the power of the inbuilt GPU we referenced a few times earlier.
Downloads are swift and easily viewed - if you buy one of these phones use this function as soon as you can to try it out, and you'll feel like the link between cloud data and your phone has never been closer.
The other new offering is HTC Likes, which is a collection of applications that HTC is promoting from the App Market - but with this portal there are descriptions, comments and likes/dislikes (including those from your HTC Sense friends) to let you know how popular the app is in real time.
Here are our picks of the applications HTC has added to the Desire Z out of the box - and we're pretty impressed with some of them.
Flashlight - this is exactly how is sounds, and we only wish there was a home screen widget for it. Offering three levels of brightness, it uses the LED flash on the rear of the phone to create a handy torch.
News and Weather - this little widget shows you the local weather in your region (although the HTC Weather widget is also excellent and does the job a little better) as well as local news.
With an easy swipe system and various categories to choose from, this is a really good place to keep up with what's going on in the world of politics or what Cheryl said/did/tasted like on X Factor this week.
Reader - We were going to put in a little diatribe here about how we thought the screen was probably a little small for the Reader application as we were downloading the Avid Reader scene you need to activate the app.
But then, despite the new scene popping up on the Desire Z, there was no reader application, and no bookshelf either. It's really disappointing, as on the HTC Desire HD it's a really good offering.
3.7-inch screens aren't too small for such a thing, as the Desire can handle books fine on the Aldiko e-reader... sadly you're going to have to go down the same route here.
However on the Desire Z it's not the best as the screen is a little bit small for reading a full novel - even the Desire HD struggles with it, and that's got nearly an inch on this phone's screen.
SoundHound - This is a Shazam-style application, but one that goes one step further - you can hum and sing and lalalalala a song into the phone and it will try and identify it.
Utterly pointless for 90% of songs you can't remember (you very rarely can remember the name even if you read it) and it can be a little inaccurate - but it's a fun way to ridicule your mates down the pub.
However, you only get 5 free tries per month (five less than with the HD), so don't go overboard too soon.
HTC Desire Z review: Maps and Games
The HTC Desire Z comes complete with two mapping options – considering how long the Taiwanese firm has bet big on Google Maps, offering its own option seems a little counter-intuitive.
We'll start with Google Maps that comes loaded on the Desire Z automatically - in our eyes it's the best option, and that's not just because it's free.
You get the easy to read interface we've all come to expect, where you can search the maps for whatever you like - businesses, landmarks and addresses.
You can also add in other layers, like Transit Lines (the Tube, for instance) Traffic and Wikipedia entries for things nearby.
Weather has been added to Live Wallpapers, so you can not only see where you are at all times, but also work out the weather too. We couldn't make this work in the UK when we played with it, but then again looking out the window achieved the same thing anyway...
The GPS lock was pretty quick, taking around seven or so seconds from cold to work out where we were. It's not the fastest, but seemed to hold our connection when we were using the phone as a sat nav.
Google Maps comes complete with integrated and free sat nav, and on this massive screen it's tip-top - you can easily see where you're going and it's very easy to poke the screen when you need to get a little more information.
Navigation actually gets its own little icon on the home screen, and will get you wherever you want to go - and tell you the traffic conditions too. It still relies on data streaming, which is a bit of a downside, but it's great for a free offering.
Voice search is offered on the HTC Desire Z, after a mysterious absence on the Desire, and it works well here too. Ask the phone to 'Navigate to that place with the Rosetta Stone' and you'll be taken to the British Museum (if that's where it is).
It's not a necessary touch, but it's pretty accurate providing you have an even dialect and speak clearly.
Locations
So after the wonder of Google Maps, we're unsure as to why HTC has decided to put its own locations platform on the HTC Desire Z as well.
In association with TomTom, the theory seems pretty clear - making money, as while the maps are free to download, you have to purchase traffic and speed camera information.
Admittedly you can't get the latter with Google Maps, but that has the advantage of being free - we assume HTC is all about choice here, although it can be a little confusing.
The application works far better on the HTC Desire Z than it did on the HTC Desire HD, as it actually contains the listings it has promised.
From the nearest cash machine to the best pub in the area, it was scarily accurate and able to give a lot of good places to go. Admittedly we were testing it in the middle of London, where you can expect there to be more than a few pubs and attractions littered around the place.
There's also a car panel for using the phone as a Sat Nav, and this has the fabulous option of either using the Premium Navigation (which appears to be free) or Google Navigation, which runs faster but doesn't offer features like Helicopter view (to see your forthcoming route) or phone call integration.
Plus another cool thing on locations is you can download the whole of the UK to the phone to save data (although it takes up nearly 500MB of space, which may be a problem for some people with smaller memory cards or using a lot of media).
We'd wager it's not going to be too long until Google comes out with a caching option as well - we assume it's currently some sort of licensing deal at the moment, but it seems like a sensible thing to do in the future.
But this is about choice, and given the sheer volume of stuff available through locations that only adds to Google Maps, we just wish the two would have been integrated together fully to offer one heck of a mobile mapping experience.
Games
The HTC Desire Z comes with an inbuilt GPU to handle the heavy graphical processing on screen, and it works really well in our eyes.
It doesn't load games as fast as the HTC Desire HD, as side by side tests showed that the Z was constantly beaten by a couple of seconds, but the gameplay was very similar.
Football games look superb on the phone, and racing options like Raging Thunder offer up a decent motoring experience. The smaller screen means its harder to see some aspects of the game, and if you need to hit certain elements of the screen for gameplay this is obviously not as good as on the Desire HD.
Of course, it's the casual gaming that HTC wants to attract too, and the likes of Angry Birds and Teeter both perform admirably - the former especially as it's so high-res you can see the birds' faces change colour as they fly towards to targets.
HTC Desire Z: Hands on gallery
HTC Desire Z: Official gallery
HTC Desire Z: Verdict
HTC has been hurtling towards smartphone stardom for over a year now; just look at its stock prices to see that it's not just a select few that's getting excited.
From around the Diamond2 onwards the company has been churning out top-end handset after top-end handset (with some questionable choices in there, admittedly) so the question is: can it keep up the pace?
The HTC Desire Z is clearly a phone designed for a certain demographic: those that like Android, like touchscreens but want the freedom of a physical keyboard as well.
But does the rest of the package stand up as a well-rounded phone or is it the mobile equivalent of Frankenstein's monster?
We liked
We have always been fans of HTC's Android line-up, and the HTC Desire Z doesn't stray too far from the pack.
The polished aluminium chassis feels like a decent lump of quality in the hand, and the cool fold-out hinge really adds something unique.
The 800MHz processor's perceived lack of zip was nowhere to be seen, as nearly every time the Desire Z responded under the finger exactly as we expected.
The Locations application is actually a real boon - finding things nearby is excellent and the way you can integrate Google Maps Navigation in shows that it's not meant to be a completely separate product.
The new Sense UI and HTCSense.com portal are also both good additions to the party, with the former offering some nice cloud cross-over for phone customisation.
We disliked
The build quality of the HTC Desire Z, while it feel premium, is actually a little suspect. The hinge feels a little flimsy, and pressing down on the touchscreen on our review unit actually caused it to wobble a little.
The keyboard will obviously add some heft, but the weight and depth of the device makes it sit a little uncomfortably in the hand at times too.
The battery life is once again a little low - and why we couldn't have a larger capacity option in there when there's so much chassis to play with, we don't know. It's not terrible, but there will sometimes be days when you might struggle to get through the whole day without charging.
Video still didn't display properly, and navigating through it is a nightmare in the Gallery and Video applications - you'll need to download additional software to make it easier, and that's something we're never happy recommending users should do.
Verdict
Whether you like the HTC Desire Z or not is will depend on your love for a physical keyboard. If you want one desperately and love Android with a fiery passion, then the Desire Z is for you.
However, if you can take it or leave it, we'd suggest you look elsewhere. While the Android 2.2 OS works well and plays nicely within the phone, you're carrying round a rather substantial amount of extra heft with the Desire Z.
The new HTC Sense is a step forward in terms of an impressive UI, and the addition of things like Locations can only be a boon.
It's a decent attempt at bringing it all together in one tidy package - we just wish the hinge was a little more solid, as other than that, it's a top phone.
HTC Android 2.2 Android