HTC 7 Pro
28th Feb 2011 | 17:54
The HTC 7 Pro brings a keyboard to the Windows Phone 7 party
HTC 7 Pro: Overview
Windows Phone 7 has been with us since last October, where the first flurry of handsets came quickly with a trio from HTC, the HD7, HTC 7 Mozart and HTC 7 Trophy being joined by the Samsung Omnia 7 and LG Optimus 7.
Since then, things have been a little quiet on the hardware front, with the Dell Venue Pro only just surfacing.
However, we anticipate the arrival of an update to the Windows Phone software very soon, and of course Nokia's recent announcement that it is joining forces with Microsoft on the smartphone front has turned heads.
Now we've a new piece of hardware to gawk at too, the HTC 7 Pro. This is the first Windows Phone 7 smartphone to have a slide-out QWERTY keyboard and, as such, it is an obvious candidate for the businessperson. But if it's well designed and sleek enough, it might be a surprise consumer success too, just like the old HTC TyTN II was.
In fact the HTC 7 Pro draws on the TyTN II's very clever hinged design. Slide the QWERTY keyboard out from underneath the screen and a mechanism automatically kicks in that raises the screen a few degrees so it sits at a nice angle for viewing in the hand and on the desk.
On the old TyTN II you had to tilt the screen manually, so the automatic tilt here is nice to see. The mechanism on the review unit was initially a little sticky, but quickly became smooth and snappy, albeit slightly wobbly at times.
Size-wise, the HTC 7 Pro isn't too much of a beast considering it packs a full keyboard. The overall weight of 185g is a bit hefty, but the dimensions of 117.5 x 59 x 15.1mm aren't too bad.
And the general build quality, aside from that sticky hinge, is good. There's a metal backplate and solid plastic elsewhere with a nice chrome edging to the screen.
Side buttons run to the camera button that all Windows Phone 7 handsets sport, a volume rocker, micro-USB port and, on the top edge, a 3.5mm headset connector.
And under the screen there are three buttons you'll find on all Windows Phone 7 handsets. There's a Start button, Back button and Search button. These are all touch sensitive rather than being physical buttons. It's nothing fancy, all very utilitarian.
Specifications are standard – within the OS' confines. Like all Windows Phone 7 handsets we've seen to date, there's no microSD card slot to boost internal storage. In this case that runs to 8GB, a storage capacity that is bettered by the 16GB LG Optimus 7 and HTC HD7.
The five-megapixel camera has been bettered by an eight-megapixel shooter in the HTC 7 Mozart. But there is a 1GHz processor, Wi-Fi with b, g and n support, GPS and Bing maps, and HSDPA supporting 7.2Mbps download speeds and 2Mbps upload.
The screen is not huge, but adequate, being a 3.6 inch, 480 x 800-pixel capacitive offering. The HTC 7 Pro is very similar in spec to the rest of its Windows Phone 7 brethren, but lifted by the presence of that keyboard.
HTC 7 Pro: Interface
HTC Pro review: Interface
Windows Phone 7 is very heavily controlled by Microsoft, so that no third parties are allowed to skin it. That means every Windows Phone 7 handset looks and feels substantially similar to every other.
Network operators and manufacturers can add their own influence, but the scope is minimal and comes in the shape of apps and services rather than massive user interface changes.
So it will come as no surprise if you've seen any of our other Windows Phone 7 reviews to know that the Home screen here is based on 'tiles'.
These are vast square and sometimes rectangular icons that link you to apps, show you data and can take you to web links or other discrete bits of information.
You can move these tiles around with a long press and drag so that your most used shortcuts are at the top of the list when you flip into this Home screen. Any tiles you don't need are removed by hitting the small pin icon that appears when you long press.
Sweep a finger from right to left when on the Home screen and you'll see a complete list of all the apps on the device. Long press any of these and you can pin them to the Home screen.
The Home screen can get very long if you like lots of shortcuts, and this single vertical list arrangement is nowhere near as hospitable to those who like a lot of shortcuts as Android's multiple Home screened arrangement.
Windows Phone 7 arranges its data around 'hubs'. There's a Music and Videos hub, an Office hub, a People hub and so on. The idea is that stuff is grouped together logically so that you don't have to do much hunting around for it.
The system is unlike anything on any other smartphone, and it is something of an acquired taste. We aren't entirely sure we like the long horizontally scrolling screens that bleed into each other, but if you aren't too bothered about a preconfigured order being placed on your stuff, then it is easy to get around.
There are some neat touches. For example, if you set up an alarm and pin it to the Home screen, the tile tells you what time the alarm is set for and that it is on. That's a bit timesaver if you don't use an alarm every day and are constantly needing to check whether it is set or not.
Overall though, the touchscreen experience is very slick, and rarely falls apart under the finger. For instance, the slide under the finger is nearly always exact and predicatable. We don't like to say it too much, but it feels a lot like experience on the iPhone, for example.
One annoying factor with a phone that has a slide out landscape keyboard - the home screen OS doesn't rotate, so you have to use it long-ways even though you've just flicked back to the main display in the middle of typing.
HTC 7 Pro: Contacts and calling
HTC Pro review: Contacts and calling
Like other Windows Phone 7 handsets, you aren't going to get the best out of the HTC 7 Pro unless you are a Microsoft fan through and through.
Contacts, for example, can be entered onto the handset directly, or acquired from your SIM card, but there is no way to synchronise with Outlook via the desktop. You first need to get Outlook data off your computer and into Windows Live. For reasons we can't fathom, Microsoft just doesn't want you to do desktop synchronising of contacts any more. Odd, since the other major smartphone platforms are happy with that.
Still, Facebook is supported as well as Exchange, and Google too.
When all your online accounts are set up, it is easy to see new posts to Facebook by friends, and to find people by scrolling through to their name in the A to Z listing.
But you do have to go through a rather laborious manual linking process to bring entries for the same contact from different places are brought together, and Microsoft really needs to work on this area to make it easier and faster.
That all important task of making a call is made easy thanks to an icon on the Home screen that takes you to a dialler where you can tap out a number, or flick straight into your contacts list.
The dialler is nowhere near as pretty as those we've seen on other handsets, though.
And that also goes for when you are in a call. Microsoft is into minimalism here, not graphically rich charm.
We have to say, also, that in-call quality seemed fine when we were holding the HTC 7 Pro to our ear, but the speakerphone is really quiet and even at top volume we aren't sure it is really usable.
Connection was pretty standard through general use - in the standard problem areas around town the HTC 7 Pro wasn't the best at holding signal, but once it found a bar or two of connectivity it took a while to shake it off, so we experienced very few dropped calls.
HTC 7 Pro: Messaging
HTC Pro review: Messaging
The HTC 7 Pro offers the usual Windows Phone 7 approach to email with Windows Live, Outlook, Yahoo, Google and other POP accounts easily managed.
Adding a POP account is just a matter of running through a few information screens and popping in the relevant details. In a lot of cases, the handset will find the server details automatically – it even managed this for our own rather obscure account.
Once accounts are set up, you can see email on a very uncluttered screen that easily allows you to flick between all, unread and urgent messages.
If you choose to view all, any you've read have a greyed out subject line, which is quite a nice prompt.
But as ever with Windows Phone 7, we'd have liked to be able to change the font size so we could see more emails on screen at any one time.
SMS conversations are shown as a thread and it is really easy to keep an eye on the chat you've been having with someone in this way.
Composing messages is a straightforward process. As with other Windows Phone 7 handsets Microsoft has tweaked the on screen keyboard so that in both tall and wide modes there is some second-guessing of what keys you want to hit next. Their target areas are increased – invisibly – making for greater accuracy with speed than you might anticipate.
This is great, and we also like the word suggestion and error notification systems in the email creation area. The latter borrows its wavy line underscore from Word. It means you can correct a message after writing it rather than constantly scouring it for errors.
The HTC 7 Pro adds one feature that other Windows Phone 7 handsets don't have in the shape of its physical keyboard.
HTC has managed to squeeze a number row above the top QWERTY row, and a handy range of symbols is accessible if you long press some keys – for example, the £ symbol sits on the R key. You can lock the symbols by pressing a FN key, though we aren't sure why that is useful. Nobody wants to write !@#$%&, very often.
You can call up an array of smilies by pressing a dedicated key, and another function key enables you to use non-standard letters, such as é, very easily.
There's room for a miniature set of cursor control keys, which are good for moving around in longer texts.
In the end, though, with such a good on-screen keyboard, we aren't really sure the slide out keyboard offers a great advantage. It's well made, but not outstanding, and we found we were able to type out text as quickly using the on-screen option in wide mode. We wonder if the days of the physical keyboard are numbered?
The keys share a lot of similarities to the HTC Touch Pro 2 in the way they look, but not in travel - they're very stiff to press in some cases (the space bar is atrocious, and we mean awful, for feedback, meaning you can rarely test if you've pressed it for example) and while well spaced, typing speeds were still quicker on the touchscreen.
HTC 7 Pro: Internet
HTC Pro review: Internet
The improved Internet Explorer you get with Windows Phone 7 is a vast improvement on what Microsoft bundled with the previous version of Windows Phone (Windows Mobile 6.5).
For a start, it benefits from the high-resolution, 480 x 800-pixel screen and so is able to show plenty of detail. Pages load quickly – and we particularly enjoyed using the browser over Wi-Fi.
However, over both 3G and Wi-Fi the speeds are still dwarfed by the best Android and iOS has to offer - we really hope Microsoft picks this up in future updates.
Full-screen views are easily zoomed into with a double tap, and text reflows. However, zoom in further and you lose the reflow, which is a nuisance, though not unprecedented.
What we really like is that you can easily pin a web page you like to the Home screen, making it really easy and fast to come back to it later without having to fiddle around with bookmarks.
You can have multiple pages opened at once, and easily switch between them by tapping an icon on the bottom of the screen.
So far, so good, but the lack of Flash is disappointing when it's becoming commonplace on Android and HP webOS.
Something Microsoft seems to have 'forgotten' to fix as well: when in landscape mode, the bookmark and tab icons are lost until you flip back round to portrait mode, meaning constantly opening and shutting the HTC 7 Pro to just switch windows - we really hope this is fixed in the future.
HTC 7 Pro: Camera
HTC Pro review: Camera
With a five-megapixel camera offering autofocus and a flash, and capable of 720p video recording the HTC 7 Pro is positioned at the upper end of the range. Sadly, though, experience tells us that the camera is a bit below par.
There are a few shooting modes to tinker with such as beach and sports shot, a macro mode and a fair few effects, too.
There are a couple of neat features in all Windows Phone 7 handsets that the HTC 7 Pro offers. First off, you can squeeze the shutter button even when the handset is in standby mode and so are able to shoot quick, off-the-cuff shots easily.
Second, you can get the handset to send shots straight to SkyDrive, an online 25GB storage area you get when you register at Windows Live. Do that, and it is easy to share your photos as well as keep them backed up.
Click here for full-res version
OUTDOORS:A straightforward photo with no effects selected, the camera struggled with the variation of light and shade in our chosen scene, and made mincemeat of some of the more detailed areas. Take a look at some of the areas of water for example, where detailing is poor
Click here for full-res version
BLACK AND WHITE:Greyscale mode produces a disappointing image again because of the inability of the camera to cope with light and shade. The area of water going into the distance is too much of a dark splodge to be acceptable
Click here for full-res version
NEGATIVE:Negative mode is often fun to try, but here it doesn't produce much variety of colour or light and shade at all
Click here for full-res version
SEPIA:Sepia mode we quite like. That ageing effect is hard to dislike, really, and it is forgiving of the light and shade issues we've already mentioned, since you'd expect some fading from a truly older photo
Click here for full-res version
SOLARISE:Solarise mode is always fun to play with, though we can't see many practical uses for it, unless you're into photography as art, of course
Click here for full-res version
CLOSE-UP:Macro mode proved surprisingly effective
HTC 7 Pro: Video
HTC Pro review: Video
The 720p video recording is a bit grim. Jerky and lacking in clarity, we can't say we'd want to use it unless we were able to move the camera very, very slowly.
HTC 7 Pro: Media
HTC Pro review: Media
Like other Windows Phone 7 smartphones, the HTC 7 Pro relies on Zune to get media on and off your handset. Microsoft has done itself a bit of a disservice in this respect, because we much prefer being able to drag and drop media onto a smartphone, or, indeed, to hotswap microSD cards. But there's no card slot on any Windows Phone 7 handset at present, so that avenue is well and truly closed.
Still, once you've set Zune up transferring tunes is not problematic. It's a bit irritating that you can't see content on the phone when it's connected to Zune, though.
On the HTC 7 Pro, Music and Video has its own dedicated area, and you can flick left to right to access material. One screen shows stuff you've newly ported across, another shows your playback history and you just tap what you want to play.
Media playback really benefits from SRS Surround Sound, and with that turned on it's very good. But, horror of horrors, you can't turn it on while in the music player. You have to go out of the player and into an app called Sound Enhancer to set it up.
The same goes for equaliser settings, but you can't fiddle with those unless you have headphones connected. This simply requires too much mucking about for a handset which purports to minimise screen taps as much as Windows Phone 7 does.
There's an FM radio, which has a very minimalist look, though thankfully it does automatically find station information and it's easy to add stations to your favourites list by tapping the star icon above the frequency indicator, and then go to your favourites by tapping the star icon at the bottom of the screen.
We'd have liked auto seek and save, though, Microsoft!
Video playback is accessed from the same area of the handset as music, but getting videos onto the HTC 7 Pro is a pain because they have to synchronise via Zune, and if your files are large this will be a slow process. Too slow, in our opinion.
Playback quality is good, though, with the 1GHz processor ensuring smoothness and the good sound quality enhancing the experience.
HTC 7 Pro: Battery, maps and apps
HTC Pro review: Battery life
The 1500mAh battery performed surprisingly well. We got ourselves beyond the crucial 24 hour point without too much trouble, but that was with a fairly frugal usage including manually fetching email and a preference for Wi-Fi over 3G data.
We temper that with the fact that if you are a heavy music listener, HSDPA, Wi-Fi or GPS basher you should realistically still be thinking in terms of daily charges.
There were times when the phone would get a little hot and begin to drain quickly - with no task manager, the only way to manage this is to turn the phone off.
Maps
The HTC 7 Pro comes with Bing Maps. This doesn't feel quite as nice as Google Maps, but it does do a job of getting you from A to B and we absolutely love the way it automatically switches from map to satellite view as you zoom in closer and closer. That's really useful when you are somewhere new and looking for a particular spot.
It is in the add-on apps department that makers of Windows Phone 7 smartphones have to find their point of difference, and for HTC that means the HTC Hub. This launches rather slowly, and delivers through its own custom interface.
When you get to the HTC Hub you see the Sound Enhancer app that we've already mentioned and a few more extras such as YouTube and Need for Speed. None is installed, so you have to go through the installation process, and while YouTube is free, Need for Speed costs £3.99.
You can browse for more apps, and some are free, some charged, but it is a slow and painful process, much more so than using Apple's App Store or the Android Market.
Microsoft has its own app store too, the Marketplace, which you can get to from the main apps list. This also lists the HTC apps, and it's a quicker place to get them. While the Microsoft Marketplace has started to fill out since it launched, we still say that the App Store and the Android Market are the place to go for sheer volume and variety.
One note - if you're downloading free trials of applications, when asked to update them, the phone will just 'install' nothing and constantly say there's an update waiting. It's irritating, but certainly does make you upgrade or delete.
HTC 7 Pro: Comparison
HTC Pro review: Comparison
The obvious parallel to draw for the HTC 7 Pro is the HTC Desire Z. It's also a touchscreen HTC phone featuring a keyboard, but this time it's Android 2.2 powering things and HTC's Sense UI is integrated more than it is the HTC 7 Pro's HTC Hub.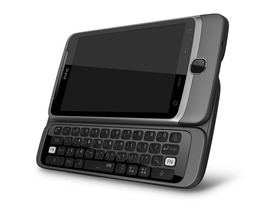 Of course, the HTC 7 Pro also has competition from other Windows Phone 7 devices, including the impressive HTC HD7 for those who want a larger screen. The Samsung Omnia 7 features a stunning AMOLED screen, so is ideal for media watchers, while those on a budget would do well to look at the HTC 7 Trophy.
If it's the keyboard you're most keen on, BlackBerry phones have always been a great option, and the BlackBerry Torch offers a similar touchscreen/keyboard combo to the HTC 7 Pro.
The Palm Pre 2 is also a fine option, though the HP Pre 3 (keep up with the name changes!) is set for release this summer, and should be a marked improvement.
HTC 7 Pro: Hands-on gallery
HTC Pro review: Hands-on gallery
HTC 7 Pro: Official gallery
HTC Pro review: Official gallery
HTC 7 Pro: Verdict
HTC Pro review: Verdict
In the months since the October launch nothing much has changed as far as Windows Phone 7 is concerned. It remains the kind of operating system you need to buy into lock, stock and barrel to get the most out of it, going for Zune and the Microsoft-operated SkyDrive as part of the deal.
If you prefer a more open approach, and like the idea of microSD card swapping instead of constant synchronising, then the HTC 7 Pro may not be for you.
However, the HTC 7 Pro does add the novelty of a slide out QWERTY keyboard, a relative rarity in the modern smartphone age, and that could draw your attention.
We liked
The general design is good, with a solid build and a clever self-tilting mechanism to the screen as you slide the keyboard out.
Sound quality is great – really good for a smartphone. But again there is a niggle in that you have to leave the music player to fiddle with equaliser and SRS settings.
Automatic uploading of photos to SkyDrive for backup is smooth and seamless, and we love being able to hit the side button and launch the camera even when the HTC 7 Pro is locked down.
The keyboard is comfortable to use, and well thought-out. But again we have to temper this with the thought that we worked just as fast on the touchscreen in wide mode as we did with the keyboard.
We disliked
The constant need to rely on Zune for data transfer is a pain, and video can be slow to synchronise. We really want drag and drop for file exchange.
The absence of removable microSD card storage is irritating. We do a lot of file exchange by disk swapping and really missed the ability here.
The absence of Flash in the web browser is also a black mark compared to the Android competition.
The absence of desktop contacts synchronisation is a very odd move considering how many people still use desktop Outlook for at least some of their vital info. If you don't store this kind of data entirely in the cloud, you'll need to steer clear or be prepared to change.
And that space bar - it's really awful and takes all the flow away from trying to type at speed, which is the real reason for tacking a physical keyboard on in the first place.
Verdict
The HTC 7 Pro is a fairly standard Windows Phone 7 smartphone albeit one with a slide out keyboard. The keyboard adds a little bulk, but with a very good tappable keyboard in widescreen mode, we wonder whether it really enhances usability enough to warrant the increased size and weight of the hardware.
In the end, though, our key gripes aren't really about the keyboard, they are about Windows Phone 7. The interface is slick, and there are aspects of it we really like. But we don't like being pushed into the cloud for all our data storage, forced to forego microSD cards or pushed into using Zune for all desktop file transfer.
HTC 7 Pro Windows Phone 7 mobile phone smartphone Microsoft