HTC 7 Mozart
20th Oct 2010 | 23:01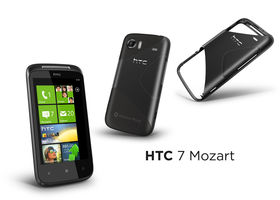 A Windows Phone 7 handset with a musical and photography focus
HTC 7 Mozart review: Overview, design and feel
The HTC 7 Mozart is one of three Windows Phone 7 launch handsets from the Taiwanese company, offering a surround-sound experience for video and music playback from your humble handset.
The 1GHz processor also powers a 3.7-inch WVGA screen, an eight-megapixel camera with Xenon flash and 720p HD video recording as well as all 3G and Wi-Fi connectivity for speedy web browsing.
There isn't a great deal between the launch handsets for the new operating system, given Microsoft's strict control of the software and stringent minimum hardware specifications. But what sets the HTC 7 Mozart apart from other HTC handsets such as the HTC HD7 and HTC 7 Trophy?
Well, the HTC 7 Mozart has a focus on high fidelity audio, and as such it offers virtual surround-sound in the form of SRS WOW HD. This audio enhancement makes the sound seem wider, even when wearing headphones, provides more realistic bass and clearer definition to the sound you hear.
The HTC 7 Mozart is also a little smaller than the HTC 7 Trophy and HTC HD7, but offers a better camera (eight megapixels to the others' five megapixels).
All offer the same 8GB of internal memory – there's no hot-swappable storage on any Windows Phone 7 handsets so you can't expand that 8GB.
This lack of external storage puts HTC 7 Mozart users in the same boat as iPhone owners, although the iPhone 4 offers a lot more memory for your money these days. Obviously the HTC 7 Mozart doesn't offer the freedom of its Android-toting brethren, the HTC Desire HD and Google Nexus One, in this respect.
The back panel is a bit busy. Not only do we have the camera lens and Xenon flash, but also a small external speaker (often mistaken for the micro-USB charging port), the Orange, HTC and Windows Phone logos, as well as HTC's stylistic elements – triangular rubberized top and bottom segments with the body of the handset built from a piece of brushed aluminium. There's a lot going on back there.
On the front, the HTC 7 Mozart has the familiar Windows-specific buttons laid into the panel – Back, Menu and Search. It's all very smart and serious.
Aside from these embedded buttons, there's also a camera shutter button and volume control on the rounded sides, and a lock-screen/power button on the top of the handset. Alongside this is the 3.5mm headphone jack.
Overall, the HTC 7 Mozart is a slim, lightweight handset. Despite this, it feels well put together and the brushed aluminium gives it a sturdy feel.
Although the HTC 7 Mozart has neither the super-sized screen of O2's HTC HD7 nor the Super AMOLED goodness of the Samsung Omnia 7, its 3.7-inch WVGA display holds its own in terms of brightness and crisp graphics.
HTC 7 Mozart review: Interface
Some people hear the word 'phone' in association with 'Windows' and a shudder of fear and disgust runs through them.
These people probably owned a Windows Mobile device at some point in their lives, and may be relieved to hear that Windows Phone 7 couldn't be more different.
Gone are the PC-alike text menus and pixellated fonts, the HTC 7 Mozart features a brave new world of images, tiles, one-step processes and snazzy typography.
It's clear that a lot of work has gone into all aspects of Windows Phone 7, from the panoramic design to the thoughtful integration of Facebook into the core functions of the operating system. It really is a pleasure to use.
The Start screen is composed of an array of live tiles, most of which update with useful information or recent images as appropriate.
This means your Home screen is always changing – it's a nice touch but does mean the tiles that don't have any live information (eg Internet Explorer) are a bit dull and staid.
You can pin as many applications, favourite contacts, web shortcuts and music tracks as you like to the HTC 7 Mozart's start screen, although there's no universal handset search function, so you may want to keep it easy to navigate.
These tiles can be arranged however you like by simply long-tapping then dragging to their new destination – one pain point here, though, is that tiles don't automatically realign themselves so we often end up with a gap and have to spend more time dragging others into place.
Any applications not pinned to the start screen are stored in a separate screen on the right. The list is alphabetical and accompanied by small icons for each item, making it easy to spot what you're after.
The Windows Marketplace is the place to go to download apps on the HTC 7 Mozart, for which you'll need a Windows Live account (you probably have one still hanging around from the '90s).
Once you've logged in and set up your own Marketplace account by accepting Microsoft's terms and conditions, you can quickly and easily download apps. Once installation is complete, they'll appear in your full application list just off the Home screen.
Paid-for apps are available in a range of prices – from 79p to upwards of £5 but it already looks like there's something to suit every budget.
Fans of HTC's Android line-up, including the HTC Legend and HTC Desire Z, will have been disappointed to hear that Microsoft will not allow any user interface skins over its operating system, so there's no full lovely HTC Sense here, except in the form of a hub.
This is a little Sense-like haven where you can enjoy the animated weather we're so fond of on handsets like the HTC Desire, as well as giving quick access to HTC's other bespoke apps, like Sound Enhancer.
The HTC 7 Mozart doesn't seem to like loading the animation-heavy hub when battery is getting a little bit low, which isn't ideal.
Alongside the HTC Hub, there's also a bunch of Orange-branded apps auto-loaded to your Home screen. The illustrious Orange Wednesday app will no doubt go down well, giving you two-for-one cinema tickets on a Wednesday as well as film reviews and details of your nearest cinema.
There's also Orange Maps which is 'coming soon', so we haven't been able to try it out just yet. Your Orange gives you quick access to your mobile bill details while Orange Daily offers a news round-up for the day.
Again, we found these reluctant to load when battery was running low.
Core phone functions like calling and text messaging are accessed from the Home screen, as long as you keep the relevant icons pinned to the main page.
The interface is by no means perfect; there's a lot going on here but at the same time so many steps have been removed that we can't help but feel a little limited by the operating system.
Users coming to the HTC 7 Mozart from an open OS such as Android on the Google Nexus One will feel this in particular.
While Microsoft made a big song and dance about each Windows Phone handset being "wonderfully mine", the customisation is incredibly controlled. You can't change the menu background other than from black to white, nor can you control what information or images pop up in your tiles. Similarly, it's impossible to stop your tiles auto-updating if you don't want your whole life available to whoever happens to glance at your phone.
Call us pedantic, but when you don't get to control any of the customising, it's doesn't make the handset feel truly personal.
The software isn't perfect yet either; although the review sample we were testing is retail-ready, we did experience a couple of bugs.
We had both the HTC hub and Marketplace repeatedly wing us back to the start screen without asking – usually when the battery was getting a bit low on juice.
As a brand new OS, though, we can cut Windows Phone 7 a bit of slack. Really, it's no less controlling than the Apple iPhone 4, which offers you even less personal information on your Home screen.
The design makes a nice change from the rows and rows of app icons we've become accustomed to on other smartphones, and the slick design makes Android look scrappy and unkempt in comparison.
On the whole, the Windows Phone 7 interface is fast and easy to use, effortlessly swinging between applications and hardly ever keeping us waiting.
HTC 7 Mozart review: Contacts and calling
The contacts book on the HTC 7 Mozart is, like every other Windows Phone 7 device from the HTC HD7 to the LG Optimus 7, very nice.
Pulling in contacts from your Facebook, Windows Live, Gmail and any other webmail accounts, it's easily populated before you even import contacts from your SIM. It loads the pictures from Facebook really quickly, as opposed to other handsets that take their sweet time over it – we've found this with most mid-range handsets such as the Samsung Genio Slide.
The only downside to all this integration is that we ended up with a whole load of duplicate contacts that then had to be deleted individually or linked to each other one by one.
Plus, if your Windows Live account is as old as ours is then be prepared for an influx of contacts you're no longer in contact with – there's no obvious way to stop it syncing these contacts and you need your Windows Live account for the Marketplace, so you may want to set up a clean one before syncing.
When clicking on a specific contact, you're given a variety of ways to contact them depending on the information you've saved. You can write directly on to their Facebook wall if you don't fancy emailing, calling or texting them.
The People application on the HTC 7 Mozart is, essentially, Facebook. By scrolling across to the right, you can see what's new, which consists of friends' status updates and the associated comments. Each contact's page also contains a note of when that person's birthday is – this could come in handy but since it doesn't seem to sync with the calendar application, it has limited use.
Although there isn't a specific 'favourites' tab in the People application, you can pin as many as you like to the start screen for quick access. The address book also offers a 'recent' section where the contacts you've viewed most recently are stored.
The dial-pad doesn't offer smart-dialing, so if you start manually typing a number then it won't offer you any contact suggestions. This is such a handy tool on other handsets, such as the BlackBerry Torch 9800, that it seems like a bit of an oversight. Instead, you can access your contacts list from the calling screen and either scroll down or click one of the letter tabs to skip to contacts beginning with any letter.
Calling
Calling quality was good – on a par with that of the iPhone 4 certainly, and our caller said its audio quality was better than on the BlackBerry Curve 9300, the last handset we trialed on him. Voices on both ends of the call were clear and calls connected very quickly.
Signal is generally good on the Orange network, using a pay as you go SIM. The HTC 7 Mozart managed 3G for most of the time we were using it around central London.
HTC 7 Mozart review: Messaging
As with most mid- to high-range handsets in this day and age, the HTC 7 Mozart offers a range of messaging options, from email to text and media messaging as well as Facebook integration.
Setting up email is nice and easy – webmail set-up requires no more you're your username and password if you're using Google, Yahoo, Orange or Windows Live (including Hotmail) as your email service. If not, you just need your POP, IMAP settings and log-in information to get going.
The email inbox is very clear and easy to get to grips with – the trademark panoramic view is in effect again, and scrolling to the right from the main inbox takes you to unread mail, then flagged and urgent messages if you're using an email account with Exchange hosting. If you're not using Exchange then these two screens remain blank, which seems a bit of a waste of space to us.
Email with images render very quickly because the software uses the same rendering engine as that behind the web browser, so HTML emails retain their original look and feel. Once loaded, it's very easy to scroll around the message and zoom in using the pinch gesture.
It's a shame that the email inbox doesn't offer threaded conversations, and we'd like to be able to amalgamate multiple email accounts into one inbox too.
Although the HTC 7 Mozart doesn't have the slide-out qwerty offered by the HTC Desire Z and Dell Venue Pro when it launches next year, the on-screen keyboard isn't bad. We tended to use it in landscape, but even in portrait mode with the keys tightly arranged it didn't make us want to tear our hair out in frustration – unlike the Google Nexus One's on-screen keyboard, for example.
Microsoft has put a lot of work into the Windows Phone 7 text input tools. The auto-correct device on the HTC 7 Mozart is pretty good, offering a list of suggestions and substituting the most likely if you don't tell it otherwise.
It also employs the classic Windows squiggly red line under words not listed in its dictionary, and you can go back and click on the whole word in one motion to see suggested alternatives.
Microsoft tells us that HTC 7 Mozart's keyboard calibration changes as you type – for example, if you type 'th' then the sensors around the most likely next letters 'e', 'a', and 'i' grow slightly so you're more likely to hit them.
However, it's worth noting that we tested this out and didn't see any difference – whether this is because it doesn't actually work or we weren't aiming close enough to the correct letter is impossible to say.
Unlike the email inbox, the messaging centre on the HTC 7 Mozart does offer threaded conversations that are nicely laid out in little speech bubbles. An SMS message can easily be turned into a MMS transmission thanks to the small paperclip icon that takes you straight to your pictures menu to choose an image to send.
Given how heavily Facebook is integrated into the People hub, we expected to find Facebook messaging built in to the HTC 7 Mozart, but you'll have to download the free official Facebook app to be able to do any more than write on friends' walls.
HTC 7 Mozart review: Internet
Internet Explorer for Mobile is another phrase that strikes terror into the hearts of phone geeks everywhere. At the time of writing, and probably at the time of reading no matter when you do, Internet Explorer is the only web browser available on Windows Phone 7.
Not to worry, though: it's not that bad! The speed at which it renders entire web pages on the HTC 7 Mozart is pretty impressive, fitting the whole page to the 3.7-inch screen. From here, zooming in is a pinch-to-zoom affair, and the text re-renders so you don't end up with fuzzy, pixellated text.
Although it doesn't auto-fit content to the screen as you zoom, you can double-tap to zoom back out to a full column, then double-tap again to zoom all the way out.
Multiple sites can be open at once thanks to tabbed browsing – up to six tabs can be on the go. Switching between them is simply a matter of tapping the 'tab' button then choosing whichever one you want.
Be warned: if you have six tabs open in the web browser then click on a saved web shortcut pinned to your start screen, the HTC 7 Mozart will override one of your open tabs and you won't be able to use the back button to return to the previous site.
There's no Adobe Flash support on the HTC 7 Mozart at present, or indeed on any of the Windows Phone 7 launch handsets. However, Microsoft has included a work-around so that you can view YouTube videos either on YouTube itself or embedded on other sites.
To be able to do so, you'll have to download the Video Player for YouTube from the Marketplace; unfortunately, it doesn't come pre-installed on the HTC 7 Mozart.
There's currently no way to copy and paste on the HTC 7 Mozart either – Microsoft has said this much-lusted-after tool will be making its way to all Windows Phone 7 handsets in a software update in January 2011. This makes sharing specific areas of a web page pretty much impossible. You can share links via email or SMS, however – it's an option in the pull up menu at the bottom of the screen.
One handy web browsing tool is 'find on page' which we also saw on the HTC Wildfire. This enables you to search the text on the web page for the specific area you're interested in. You can also set the HTC 7 Mozart to show you the mobile or full internet version of each site in the settings tab.
HTC 7 Mozart review: Camera
The camera on the HTC 7 Mozart is one of the few features that can set it apart from other Windows Phone 7 handsets.
Sporting a rather snazzy 8-megapixel camera, the HTC 7 Mozart boasts the best camera of the HTC Windows Phone 7 launch line-up. The interface, however, is exactly the same as the HTC HD7 and HTC 7 Trophy.
One aspect that we really like is the ability to go straight to camera from the lock screen – if you press the shutter button down for a couple of seconds while the handset is locked, the camera springs into life – even if you have a PIN number in place.
This makes it quick and easy to get shooting, and keeps your content safe from prying eyes if your HTC 7 Mozart is PIN-protected as the only other screen you can get to is the PIN entry screen.
Although we didn't have a problem with it, it's worth noting that this means your camera could potentially start shooting in your pocket.
The settings menu is quite straightforward, although it's frustrating that it doesn't revert directly back to the camera after you choose a setting – you have to keep hitting back until you get there. It's nice that you get a small preview on the edge of the screen as you look through options, though.
It's a little annoying that the autofocus will only work on the centre of the image; we miss the touch-to-focus we've enjoyed on the iPhone 3GS and iPhone 4.
Click here for full-res version
AUTOMATIC:This photo was taken with all settings set to auto – as you can see, the colours are bright and the camera has differentiated between the different shades of red quite nicely
Click here for full-res version
LANDSCAPE:Taken with the auto-scene Landscape setting, you can see that the camera has struggled a little with the brightness in the top-left corner, and the leaves of the tree in the distance have lost all definition
Click here for full-res version
UP CLOSE:We couldn't get the HTC 7 Mozart to take a shot on macro mode without a lot of blur – this was the closest we got. It could do with some auto-shake correction, a slightly less-stiff shutter button or an on-screen button instead
Click here for full-res version
Click here for full-res version
Click here for full-res version
ZOOM:The camera on the HTC 7 Mozart offers 6x digital zoom. The full zoom is, as you might expect, not the best quality – very pixellated. At this level of zoom, the camera also picks up even the slightest wobble so getting a fuzz-less shot was very difficult
Click here for full-res version
MONOCHROME:The other effects are pretty standard fare; black and white is not bad although again the camera struggles a little with bright light
Click here for full-res version
OLDEN TIMES:We found an old shop for the specific purpose of testing the sepia effect – it's a little bit too orange for our liking
Click here for full-res version
REVERSAL:The negative effect works quite well here, making the autumnal trees look like they're blossoming in the spring time
Click here for full-res version
SOLAR POWER:Solarize is one of those effects we're not sure why manufacturers bother including – does anyone actually use these? The one on the HTC 7 Mozart is all right, we suppose
Click here for full-res version
FLASH:The flash on the HTC 7 Mozart is very bright indeed – a little too bright for most portrait shots. The double-flash makes the shot very slow, especially because it's preceded by the camera shutter sound. The number of times we moved the handset before the shot had actually taken was ridiculous.
For all we hate on that Xenon flash for slowing us down, you can't deny it does a good job. The problem is that you have to hold still while it gets on with taking the picture, so you often end up with a bit of blur.
Click here for full-res version
DARKNESS:Without the flash, low light images are very dark with little definition
Click here for full-res version
FANCY TOOLS:A couple of faux-professional imaging tools have been included; metering mode can be used to determine how much light a shot needs and Flicker control reduces distortion when shooting computer monitors and television screens. These seem a little superfluous for a phone camera and we didn't see a great deal of difference with or without them, but it's a nice nod to real photography from the HTC 7 Mozart
Click here for full-res version
TOO QUICK:Sport mode is nigh on pointless if you're using the flash because it takes so long to actually take the picture, you'll never get the shot that you want. It's much quicker without the flash but not fast enough to do away with any blur, as you'll see in the photo above
Click here for full-res version
COASTING ALONG:In the absence of an actual beach to test this mode out on, we had to make do with these trees. Hopefully one of them is a beech tree. The light is softened to lessen the harshness of the glare on a beach – although we're not sure we'd recommend you take any smartphone to a sandy beach unless well protected
Click here for full-res version
COUNTERING CANDLES:Candlelight mode offers a cold blue wash to temper the warmth of candle flame – we can't help but feel it comes on a bit strong
HTC 7 Mozart review: Video
The HTC 7 Mozart shoots 720p HD video (not quite the 1080p true HD that RIM insists its upcoming BlackBerry PlayBook tablet will have, but as good as other HD-toting handsets like the HTC Desire HD, Sony Ericsson Vivaz and Nokia N8).
The video recording app isn't quite as straightforward to use as the Apple iPhone 4 and output quality isn't quite on a par either.
As you can see in the clip above, the video recorder is constantly monitoring light levels and autofocusing, but it's a little slow to catch up – this means areas of bright, overexposed video and juddery focus attempts.
While shooting video is pretty straightforward, sharing it is less so. With no option to upload straight to YouTube or Facebook, longer videos can't be shared via email either. You'll have to sync it with the Zune software on a PC.
HTC 7 Mozart review: Media
The Music and media hub on the HTC 7 Mozart is very pleasing, aesthetically speaking – album and video artwork is displayed in thumbnail form on the main hub screens, with new and recently used items providing the main features.
On individual artist pages, you're treated to a panoramic image of the band in question in the background – provided the Zune software is able to find one, that is. If you're of alternative tastes you might find yourself faced with a blank background more often than not.
Clicking through to the dedicated music section takes you to an alphabetical list of artists from which you can flick over to albums, genres, a full song listing and playlists.
It's not as slick as the media player on the Samsung Galaxy S or as fine-tuned as that on the iPhone but Microsoft has had a good stab at something a bit different and the HTC 7 Mozart handles it well, scrolling between image-laden screens with ease.
Although you can't import playlists you've created in other music applications, like iTunes for example, you can build them in Zune Player then import them.
One real issue is that you can't create playlists on the handset itself, a feature that makes an appearance on any number of feature-phones, not least the Sony Ericsson Zylo. A pathetic substitute is the ability to add songs or albums to 'now playing' to create a sort of on-the-go playlist.
We do really like being able to pin albums or artists that we're particularly fond of to the Home screen, though. It's an aesthetic thing really, because a shortcut to the same album isn't something we'd necessarily use on a regular basis.
One of the only nods to multitasking on the HTC 7 Mozart is the ability to have music playing while you use other phone functions. On the pre-release review unit, we found this buggy and unpredictable but the retail-ready model seems to have sorted these glitches out. We didn't encounter any problems with other applications while music was playing.
Wolfgang Amadeus himself would no doubt be pleased to use the HTC 7 Mozart as a music player via headphones. The sound quality is very good for a casual user (audiophiles may not be happy, but then are they ever?) and HTC's Sound Enhancer app enables you to adjust the equaliser.
Although you can't manually tweak bass and treble, you can boost each or choose a preset like pop or jazz. Listening to music using a pair of Scosche headphones was a real pleasure; easily on a par with the iPhone 4.
The bass and treble boosters are too enthusiastic to suit many tracks but we were able to find a setting using the equaliser that suited each genre of music we tested out.
Although the SRS virtual surround sound is far more effective on video content, it gave music tracks added depth and switching from SRS to no effects left tracks feeling very flat indeed.
The handset's built-in speaker held up its side of things very well though; even without the SRS or Dolby enhancements turned on it provided a less tinny experience than we're used to on cheaper feature phones.
Using Dolby Mobile (which you turn on in the pre-installed HTC Sound Enhancer app) it provided an experience very like that of the dual-speakered iPhone 4. The only downside is that you have to have your handset on its side or lying face down as the speaker is on the rear panel.
Speaking of weirdly placed components, the volume control is not hugely easy to use on the HTC 7 Mozart, placed as it is on the underside of the curved edge of the handset. This makes it very difficult to change the volume with one hand or to get to the 'now playing' widget that pops up at the top of the screen when you hit the volume button.
Another annoyance is that the HTC 7 Mozart inserts a beat of silence between each track, even when you're simply listening to an album in running order. Indeed, there doesn't seem to be a shuffle option other than to shuffle all songs on the handset.
That 3.5mm headphone connector isn't just good for listening to your own tunes; you can also use headphones as a radio aerial for FM radio. The HTC 7 Mozart doesn't offer you a brilliant radio app, however.
Auto-scan failed to pick up any stations when we gave it a go, so be prepared to painstakingly run your finger across the tuner screen to get the best possible reception for each station. Thankfully, adding stations to your favourites is a one-tap affair so you should only need to do this once.
When it comes to video playback, the HTC 7 Mozart's virtual surround sound really comes into its own. You need to be using headphones to get the full cinematic effect but the crashes, bangs and ambient audio coming at you from every angle makes for an immersive video experience. A much more satisfying viewing than we had even using the Dolby Mobile setting.
The WVGA screen gives a fairly good picture quality, although it's limited by the display size in comparison to the HTC HD7 – the HTC 7 Mozart sports a 3.7-inch display as opposed to the HTC HD7's killer 4.3-inch affair, complete with kickstand for vertical viewing.
If you're accustomed to a powerhouse such as the Samsung Galaxy S with its Super AMOLED screen and deep contrast ratios, then you might be a little disappointed with the HTC 7 Mozart. Although it's a very fluid experience thanks to the 1GHz processor, we had to make up with artefacts on most videos and the colour definition wasn't great.
One sticking point on the HTC 7 Mozart is that you can't fine-tune the screen brightness – you're stuck with low, medium or high and nothing in between.
Audio supported formats:
M4A, M4B, MP3, WMA (Windows Media Audio 9)
Video supported formats:
Playback: 3GP, .3G2, MP4, M4V, MBR, WMV (Windows Media Video 9 and VC-1)
Recording: MP4
HTC 7 Mozart review: Battery life and maps
The HTC 7 Mozart has a 1300 mAh Lithium-ion battery that HTC says should keep you gassing for up to 330 mins with 435 hours of standby time. We're not convinced by this figure. We weren't completely let down by the battery, despite the fact that the charger icon seemed to go down very quickly at first, but if we could have a five-hour conversation on a single charge we'd be extremely surprised.
Getting through one day on a single charge was a hard job, even when usage was pretty light so probably best not to expect 18 days of standby time either. For intense use while writing this review, we had to recharge the handset after five hours' use.
Capacity: 1300 mAh
Talk time:
WCDMA: Up to 330 mins
GSM: Up to 405 mins
Standby time:
WCDMA: Up to 435 hours
GSM: Up to 360 hours
As a Windows phone, the HTC 7 Mozart uses Bing maps rather than Google Maps, which is the default to on Android handsets like the Sony Ericsson Xperia X10 and Apple's iOS devices such as the iPhone 4.
Bing Maps has proven to be pretty good, though. The GPS is quick and accurate on the HTC 7 Mozart, while the maps are attractive to look at. When loading, rather than a depressing grey grid you get a nice cloudy effect while the maps animate in.
The app also offers accurate walking or driving directions in a flash and you can watch the map progress while reading the written instructions, which is really useful.
Unfortunately there's no option to bookmark favourite locations, so you'll have to tap addresses or postcodes in each time.
Although the HTC 7 Mozart obviously doesn't offer Google's extremely useful Street View, it automatically switches to satellite view when you zoom in close enough using the simple pinch-to-zoom gesture. There's no option to have the directions read out though, so it's not really good enough for use by drivers.
HTC 7 Mozart review: Connectivity and apps
The handset militantly requires you to connect to the Zune software on a PC – if you don't do this, there's literally no way of getting media content into your library.
If you've been ignoring those auto-updates for, say, several years then this will be a bit of a pain in the neck, but once all your updates are installed it's plain sailing as far as installation is concerned. The software then goes around your PC and notes where all your music is stored so it knows where to pull music from, rather than creating a duplicate in a new location.
Zune basically acts as iTunes does with your iPhone; it allows you to do a spot of housekeeping on your apps and music, but really it's a portal to keep your music transfers and things in one place.
Mac users may have a little more trouble than their PC equivalents. Microsoft hasn't exactly made Mac connectivity a high priority, but it will at least allow you to sync music and other media content using a program called Windows Phone Connector for Mac, which is capable of accessing you iTunes music.
The beta version of the connector software has been released (you can download it here – unfortunately it doesn't auto-prompt you to do so when you plug your handset in to your Mac). It works a lot like iTunes does when you connect an iPhone – simply check which music, videos, podcasts and photos you want to sync then let it crack on.
One neat feature that will have iPhone owners green with envy is music syncing over Wi-Fi. Once the HTC 7 Mozart has been synced with the Zune software via USB for the first time, you can enjoy automatic media updates over Wi-Fi when the handset is charging.
This works perfectly. The HTC 7 Mozart has to be charging for ten minutes before sync will begin and you can't use the media hub while the handset is syncing, but for replenishing your music stock with minimum effort it's a gem.
The HTC 7 Mozart's Wi-Fi connection held up admirably. Over the course of an entire day's intensive use, we didn't have any problems with dropped connections and the speed was really excellent. We also found we had 3G connectivity for the bulk of the time we used the handset in and around central London and web speeds were consistently high.
Apps
Although the Windows Phone app Marketplace is not as well stocked as, say, Apple's App Store, Microsoft has obviously put a lot of effort into ensuring that a good array of apps are available from launch.
So you'll find a number of big-name apps in there – such as Flixster, eBay, WeatherBug and Shazam – to keep you going for now, and it's safe to say we'll see many more apps in there in the coming months.
For now there's a good range of social networking apps – the official Twitter and Facebook apps are, in particular, brilliant. Designed with the same Windwos Phone aesthetic as the OS itself, the panoramic layout lends itself to the different sections of each network.
Although there's no Spotify application available (yet – no doubt it'll be making its way to the Marketplace soon), you can substitute this with a Zune Pass account to give you unlimited music to stream or download. You can then play these tracks back on the HTC 7 Mozart or via your PC, Xbox 360 or standalone Zune player.
The HTC 7 Mozart does come with a range of useful things pre-loaded though.
Aside from the Orange apps and HTC Hub we've already talked about, there's Microsoft Office, which is excellent for reading and making minor text edits to Excel, Word and Powerpoint documents.
OneNote is an advanced note-making application that enables you to add images, voice memos and even bullet points to your notes. Sending these in emails can be done within the OneNote app once you've saved your changes – it's a shame you can't simply attach notes to emails, however.
There's also the Xbox Live integration; this will be a real boon to gamers. Linking the account on your Xbox 360 with your HTC 7 Mozart enables you to see when your friends are online and available to play against online, as well as keeping a track of scores and, of course, keeping your highly customised avatar in the game.
For all the HTC 7 Mozart's great integration with Facebook, we're still missing a couple of things even with the Facebook app up and running. We'd love to sync the Facebook calendar with the onboard Windows Phone calendar, but it's just not an option – likewise, there's no way to upload and share videos shot with your handset.
There are some great things about the Windows Phone calendar, however. Syncing it with your Outlook calendar is very easy and the 'I'm running late' button is a stroke of pure genius; provided the event you're running late to has attendees listed, you can hit the late button and send an auto-populated email telling them that you're running late but on your way.
Like all the Windows Phone 7 handsets, the HTC 7 Mozart features a dedicated search button. This doesn't offer you the option to search the entire device for a specific contact, song or email, but it does offer application-specific searches.
When on the Home screen, it defaults to a Bing search, complete with impressive wallpaper image. This can be a little annoying, however – the search button is very responsive and we found ourselves accidentally hitting it while in other applications.
Suddenly we'd be flung out of the app and into a Bing search. This is especially irritating if you've just framed the perfect camera shot or if you're in the middle of a game.
HTC 7 Mozart review: Comparison
The HTC 7 Mozart may have a smaller screen than its launch compadres, the HTC HD7 and HTC 7 Trophy, but what it lacks in screen size it makes up for in style. It's a more Android-inspired handset than the two other HTCs, which are very much in the straight-laced Microsoft vein.
With its rounded sides and styled-out back it puts us much more in mind of the Google Nexus One and HTC Wildfire than the other Windows Phone 7 launchers.
The interface on the HTC 7 Mozart couldn't be more different to that of the open Google phones, including those with HTC Sense like the HTC Legend. Because of this, it feels much less of an HTC handset and more of a Windows Phone, which is what Microsoft was going for.
Unlike the Google Nexus One and its Android contemporaries, the architecture is very closed so you'll be getting the same experience on all the Windows handsets, regardless of your token customisations.
Although the contacts integrate brilliantly with Facebook on the HTC 7 Mozart, it's lacking in other social networking know-how – unlike the Samsung Wave, for example, which can integrate Twitter contacts as well and makes uploading images to Flickr part of the infrastructure.
In terms of media playback, the HTC 7 Mozart can certainly take on the likes of the Apple iPhone 4, however. Microsoft has re-thought the music player and come out with something less like the Cover Flow stylings on the iPhone, which has been much-copied – not least by RIM on the BlackBerry Torch 9800. In terms of playback quality, the HTC 7 Mozart is excellent and easily the Google Nexus One's superior.
The HTC 7 Mozart still lacks in some areas though; we'd like to be able to build playlists on the handset as we can on the Sony Ericsson Zylo, and the multi-tasking aspect of the media player on the HTC 7 Mozart struggles, where the iPhone 4's does not.
HTC 7 Mozart review: Hands-on gallery
HTC 7 Mozart review: Verdict
Windows Phone 7 has a long way to go to prove itself a contender, but on the HTC 7 Mozart you can colour us impressed. We like the new attitude to a home screen with live tiles and our own content making an appearance, and the design of the whole OS is very attractive.
We liked
The HTC 7 Mozart really holds its own in terms of media playback, thanks in part to the enhancements like SRS virtual surround sound which was very effective when watching video.
With a lightweight feel and rubberised sections on the reverse, the HTC 7 Mozart feels like a handset that will weather the course of a long contract without meeting an early demise.
The camera offers good picture quality but can be slow to load and slow to take photos, particularly when using the flash.
We disliked
To say we took issue with some areas of the social networking integration is not to belittle how well Microsoft has melded Facebook with its OS. However, we want to see more networks available for this level of integration and to be missing out on notifications and messaging in Facebook is a real loss.
The messy back panel really takes something away from the HTC 7 Mozart's design, and we found the strange placement of the volume button increasingly annoying.
Verdict
The HTC 7 Mozart is a good start for Windows Phone 7. It's got its heart in the right place and with HTC behind it, you'd be churlish not to expect a high quality handset.
For straightforward music playback and a comprehensive contacts book, the HTC 7 Mozart won't go far wrong, but don't expect too much from it. Even with that 1GHz processor and 576MB of RAM to play with, it sometimes struggles with seemingly simple tasks.
Windows Phone 7 HTC Microsoft smartphone cameraphone