Dell Streak (Android 2.2)
23rd Feb 2011 | 18:20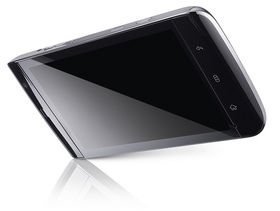 Dell's five-inch Android offering now comes with Froyo
Dell Streak: Overview
Just over eight months have passed since we first looked at the Dell Streak. An impressive five-inch device with 2GB of built-in memory, powered by a Qualcomm SnapDragon 8250 1GHz processor, the Dell Streak ticks all the boxes as far as specs are concerned.
When it hit the scene, one of the glaring drawbacks we noticed was that it was only running Android 1.6. Even back in June, this was a puzzling decision by Dell.
The Nexus One had led the way with Android 2.1 (Eclair) almost four months beforehand, and the HTC Desire had exploded on the scene, also touting Eclair, shortly afterwards.
Priced at £399 direct from Dell (unlocked), and found at only £20 a month on contract, the Streak is now in the ring with the Nexus S and the HTC Desire HD, so Dell has given it a fighting chance by giving the Streak an upgrade to Android 2.2. Not only has the base layer of the Android OS been upgraded, but the UI provided by Dell has been overhauled with Dell's own Stage Launcher interface.
So how big is it really? As mentioned, the screen is five inches from corner to corner, but this fills the front of the device pretty well – not a great deal of space is used for a bezel. The device is 153mm in width, 79mm high, only 9.98mm thick and weighs in at 220g.
You might think that sounds hefty, but when in your hands, it feels lighter than you expect it to, and the design is far from clunky. It has curved edges either side, and backlit touch-sensitive Back, Menu and Home buttons. The Dell Streak certainly is an attractive device.
Dell Streak: Interface
Dell Streak review: Interface
The Dell Streak comes with it's own, unique user interface called Stage Launcher. One great improvement this brings is that the Streak can now be used landscape or portrait, which wasn't previously possible with the 1.6 version.
As custom launchers go, Stage Launcher looks quite nice. It comes with a selection of Stage widgets that appear to sit on a large metallic shelf. These widgets resize well as you move the phone from landscape to portrait, which is more than can be said for most standard Android widgets.
Most of those look a little odd when using the Streak in landscape mode (which is how we believe the Streak should be used), such as the YouTube widget being cut off three quarters of the way down.
One feature of the launcher is that you can tap slightly above or below the app drawer button and seven icons will pop up. They only sit there for a second before retreating from whence they came, so if you're quick, you can press one to jump to that particular Home screen.
Home screens with Stage widgets on are represented as such with a relevant icon. Screens with third-party widgets on are simple a little Android icon.This is Dell's way of compensating for the lack of a similar feature to HTC's Leap View.
However, we actually found this quite annoying. Quite often we wanted to open the app drawer and found ourselves repeatedly bringing these seven icons to the bottom of the screen. Even when we wanted to use these icons, they drop down again so quickly that it took longer than just swiping to the screen we wanted.
Dell Streak: Contacts and calling
Dell Streak review: Contacts and calling
The dialler on the Dell Streak is a simple but effective affair. Hit the phone icon as you would on other Android 2.2 devices, and your dialler appears.
On the right are nice big number buttons for dialling; on the left are answer phone, microphone, delete and call buttons.Along the top are your fairly standard Phone, Call Log, Contacts and Favorites tabs.
Although you might feel a little silly with something so large held against your ear, one thing's for sure: you'll have no trouble understanding whoever you're talking to on the Streak.
Maybe an advantage Dell has with more space inside the device is room for a decent speaker, because the Streak has given is some of the clearest call quality we can recall for some time.
An advantage Android has as a system is that it stores much of your information in the cloud. When you add a contact, it gets added to your Gmail account contacts. If something should happen to your phone and you get a replacement, you can simply log back into your Google account and all your contacts will reappear.
Another neat trick is that once you log into the Facebook app, you can select to sync contact information. Provided your contact names match your friends' actual names, their Facebook profile picture will be linked to the contact on your phone
Dell Streak: Messaging
Dell Streak review: messaging
The messaging app on the Streak is a pretty standard deal. What perhaps sets the Streak aside from other phones is the inclusion of Swype as standard.
This was a bit of an odd twist, though. We generally love Swype for thumbing in text messages at great speed, but the Streak just isn't a one handed device. If you hold it portrait and wrap your hand all the way round the Streak, in a firm grip, we challenge you to reach the Q with your thumb…
Turn it landscape and you have even less reason to use Swype. If you happen to press a second letter while your thumb is still on the first, all kind of odd words will appear in your messages.
You do, of course, have the option of installing a third-party keyboard, or simply changing your input device to the standard Android keyboard. Once we'd done this, we found it to be a breeze to type on, either landscape or portrait with both thumbs or even flat on a desk, typing using multiple fingers at quite some speed.
In the Messaging app itself, your text messages are grouped, or threaded, with the contact picture showing on the left.
Tapping on a thread will open the conversation up, allowing you to review what's been said so far and to type a response right there in the bottom.
It does lack any kind of theme or appearance options, but these can be found in other messaging apps such as Go SMS in the Android Market. You can change your notification settings though, including the message tone and if you want your Streak to vibrate to alert you when a text is received.
As with messaging, the email app included is the standard Android app. We found the extra screen real estate meant reading and replying to emails on the Streak was a comfortable operation.
The Gmail app wirelessly integrates with your Google mail account. We found it quite handy to allow access to other pop e-mail accounts and run them all through Gmail.
By using auto-labelling, you have great control over your incoming emails. With plenty of online space for them, you can archive rather than delete, and always be able to find information people have mailed you.
Should you prefer to manage your POP/IMAP accounts independently, use the standard email app for this. Usually you will just need to provide your username and password and possibly the mail server name, and the Streak will do the rest.
Dell Streak: Internet
Dell Streak review: Internet
Surfing the web is of the strengths of the Dell Streak. The huge screen lends itself to browsing, with no need to keep zooming in and out to see what's on the current page.
The browser used is the standard Android browser, which is simple but effective. We found it easily whisked us in and out of pages on a decent connection, including sites with Flash content (thanks to Froyo), provided you have the Flash plugin installed for free from the Market.
Not only is the screen large, but text shows crystal clear and images look vibrant. Should you want to zoom in on a certain area, simply double tap and text gets rearranged to fit into your new screen view. Double tap the screen again to come back to full page view.
The standard browser doesn't technically have tabbed browsing, but it does allow you to open multiple windows. A few presses allows you to switch back and forth between pages.
Apple will tell you that Flash slows down your browser, but Android has the answer to this and its called 'available on demand'. Select this in browser settings and instead of loading Flash content as a page loads, it renders the page but leaves empty boxes where the Flash parts would be. A simple tap and the content is loaded for you. It's really quite an impressive system.
BBC's iPlayer ran very nicely in the browser, and looked and sounded fantastic on the Streak too with little slowdown, although it wasn't perfect all the time.
Dell Streak: Camera
Dell Streak review: Camera
You can adjust white balance to counter the orange effect of flourescent light, for example. You can set the flash to auto, off or always on.
In the app's settings you can also change the brightness, contrast, scene mode (such as portrait, sports, scenery and so on) as well as reducing the MP count to something smaller, making files easier to upload.
The Dell Streak has a slight edge on most other devices in the camera department because it has a dedicated camera button, which seems to be a rarity these days.
The only problem is that it's rather flush to the camera casing, and we found it hard to press it through its two-stage focus and shutter release without wobbling the phone a little. You can use the on-screen shutter button to avoid this, if you suffer a similar problem.
The camera itself is a 5MP sensor capable of 720p HD video. While this is quite impressive, we wouldn't suggest the quality of the video was comparable to even a cheap camcorder of a similar resolution.
Close-up shots seemed to confuse the Streak a little. With something like the Desire HD, the camera app did a great job of adjusting the flash level to give a properly exposed photo. The Streak didn't seem to be able to do this, overexposing the close-up. We turned off the flash and it then did a reasonable job of the picture.
As well as the 5MP camera on the back, the Streak has a handy front-facing VGA camera. While we've not really had any need for a front-facing camera yet, there's no doubt that when the apps start appearing that make use of them, they'll become a must-have on new phones.
Sample shots:
See the full size image here.
See the full size image here.
See the full size image here.
See the full size image here.
See the full size image here.
See the full size image here.
See the full size image here.
See the full size image here.
See the full size image here.
See the full size image here.
Dell Streak: Media
Dell Streak review: Media
The Dell Streak should be a fantastic media device. With its five-inch screen, YouTube and other video files look great, with no squinting to see whats going on. Colours are nice and clear, and the display does a good job of even fast-paced video clips.
The speaker on the Streak is one of the best we've heard. Loud and clear, while not having a great deal of bass, its one of the best we've heard in some time for playing music and podcasts.
As with most devices these days, there's a microSD card slot, which comes with either an 8GB or 16GB card in it, giving plenty of space for your music and video. This can be expanded up to 32GB if you wish.
One addition Dell has added to the stock media apps is Dell Movie Stage. Within the app, there is a selection of movies available for download for $2.99. Granted, they all seemed quite old movies and there only seemed to be 15 available at this point, but it's good to see companies thinking about how to get content to mobile devices.
As well as Dell's own apps, there are, of course, the Android music and video players.
The music player is reasonably simple to use. Note that if you have all your music ID tagged properly, it's a lot easier to find the music you're after.
You can search through your music by artist, by album, by individual song or you can create your own playlist with simple long-presses on the file to add to any given set.
Even with music playing, it's a reasonably simple looking affair and the app doesn't really scale to the Streaks huge screen too well. The album art sits up in the top-left corner, you have buttons for playlist, shuffle and repeat, some info about the current track and then quite a lot of blank space before you get to the progress bar at the bottom, just below the play and skip button.
There is a button for HDMI, but unfortunately the Streak has no HDMI out, so this does nothing unless you go for the additional Streak Home AV dock to port the content to a bigger screen, which isn't included in the box and costs £53, which is a little expensive in our eyes.
The built-in movie player seemed to struggle with most video files we tried to play on it, such as MPG, MOV and AVI files. The only types it played for us were MP4 and, of course, 3GP (the format the Streak records in).
There are ways to get around these limitations – a variety of apps on the Market, such as VPlayer, mean you can play most formats.For some reason, though, VPlayer itself wouldn't work, force closing each time we tried to play a video.
When the Android movie does player works, again, it's simple to use. Along the bottom is the progress bar, which drops out of view after a few seconds. Tap the screen to bring it back in to view. In the corner is the lone pause/play button.
Importing movies and music onto the Streak is easy enough to do as well. Plug it in via the USB cable, opt to transfer files and it will appear like a USB drive on your PC. Simply drag and drop files into whichever folders you want and they will copy over in a matter of minutes.
There's one other way to enjoy video on your Streak: through the new iPlayer app, recently released on the Android Market.
Although this only works over Wi-Fi at this point, it provides fantastic looking BBC content right there on your huge 5-inch screen. It's a must-have for Dell Streak owners.
Dell Streak review: Battery and organiser
Dell Streak review: Battery
Swing by any forum for pretty much any Android device and we'd be amazed if there isn't a lengthy thread discussing the battery life of said device.
Something else you'll notice on these forum threads is that people with the exact same devices will have very different battery life experiences, be that because of different usage or different apps running that might drain more power than others.
Dell has done a good job with it, though. The Streak easily lasts us a full day with 40 per cent battery left. This includes an hour of music playing and an hour or two of screen-on time, plus half the day spent on a decent Wi-Fi connection, the other half on a 3G data connection.
There are many devices we've seen that would be struggling near the end of the evening (such as the HTC Desire), but not the Dell Streak.
Organiser
The Dell Streak comes with QuickOffice already installed. In theory, with QuickOffice you can view documents on your phone. In reality, we struggled to do this on many occasions.
In QuickOffice you get the option to log in to your Google Documents account, Dropbox account or many others. We had no problems here, but over half the files (Word and Excel files) on Dropbox wouldn't open on QuickOffice. Opening Google Docs was fine, but how much use is this really if you can't edit them?
Of course, you can organise most of your life through the many great apps and mobile sites Google has to offer, such as the calendar and contacts, which will sync with your Google account, so you can look things up or add things through any computer browser.
Dell Streak review: Connectivity
The Streaks connectivity is as good as you would expect for a device of this nature. It has Wi-Fi and Bluetooth, as does pretty much every other smartphone. The only real annoyance is Dell's decision to use a propriatory connection instead of micro USB, which is now becoming the standard.
This means, there will likely be a time you'll be away from your home and your cable with no method of connecting your Streak to a power source or a friend's computer.
With the 2.2 upgrade also came a Dell Sync app for your computer. When set up, this synchronises and enables you to back up your device to your PC.
Once set up on your PC, it will allow you to sync certain folders from your PC to your Streak, be they for photos, video or otherwise.
The installation on our Windows 7 PC took around 15 minutes, including updates and reboots, and then another five minutes to check what's on your device. After that, it's very easy to use.
It would seem to be a reasonably simple way to make sure you don't lose any important photos you take each day. According to the device's Settings, this can be done over Wi-Fi, but we couldn't seem to get it to do this, since the PC software failed to find the device time and again.
Dell Streak: Comparison
Dell Streak review: Comparison
The inclusion of Android 2.2 definitely means this latest version of the Streak beats its predecessor, but we can't help but think it should be a little smoother. It didn't seem as fast as you would want a Froyo device to be. Any time a selection box springs into view, it looks a little like a flicker book animation.
Compare the smooth interface of the Desire HD or the Nexus S and the Dell Streak is left looking like the slower device.
Likewise, if you compare Dell's Stage Launcher next to HTC's Sense UI, the Dell version comes off second-best once again. It does look nice, but the polish just isn't as good as HTC's UI.
There are no spinning dials to select a time, no fancy weather animations floating across your homescreen. Tap the weather on the Streaks Stage Launcher and instead of animations, a browser opens to load a weather website.
The hardware of the Streak stands up well to the current crop of top-end Android (and non-Android) devices. If a nice large, clear screen is very important to you, you'll probably be better off with this over the Desire HD.
On the other hand, if you're not intending to use the device much as an actual phone for voice calls, you might be better off getting a Samsung Galaxy Tab with a SIM in it. Although it's two inches larger than the Streak, it will probably fit in the same pockets a Streak would, and you get even more screen real estate to play with. Also, Samsung devices generally play a little nicer with a wider variety of video codecs.
Dell Streak: Hands on gallery
Dell Streak review: Hands-on gallery
Dell Streak review: Official gallery
Dell Streak review: Official gallery
Dell Streak review: Verdict
Dell Streak review: Verdict
The Dell Streak is a memorable device. It doesn't really have any direct competitors on the market, with the closest in screen size at this point being the HTC Desire HD, but even then the Streak towers over it. With this phone, you'll definitely be noticed.
We Liked
The screen is fantastic, videos look great and apps are large and clear. Coupled with a great speaker, the Streak proves itself a fantastic media device.
While it might sound dull that so many apps in the Streak are the stock Android versions, this is now a strength rather than a drawback. Google is working hard on improving its app stable. Gmail is now a great way to manage your e-mails, Google Maps and Google Navigation are killer apps that should make owners of rival phones green with envy, and there's more to come.
We Disliked
The Streak has a handful of characteristics that might be an issue to you, mainly based around its size. At 220g, it's probably the heaviest mobile you'll find anywhere right now. Its immense size does mean you may well be laughed at when you pull it out to answer a call.
Even for a big person, the Streak is a two-handed device. Trying to operate it with just your thumb may be tricky.This is, perhaps, the issue: the software lends itself to one handed thumb operation, such as with Swype, but the Streak's physical size moves it towards being a media tablet.
Verdict
Is this the device for you? The size really could be a sticking point for some people, so we strongly recommend trying it out yourself. Is the Dell Streak a good device, though? Definitely. Is it an improvement on the 1.6 version? Without doubt. It won us over in a lot of ways.
Android Dell Streak touchscreen phone