BlackBerry Pearl 3G
11th Jun 2010 | 15:27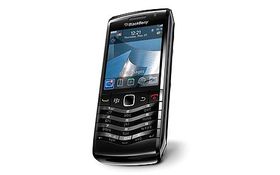 Will a QWERTY-free, slimline BlackBerry make merry in the mass market?
BlackBerry Pearl 3G: Overview and feel
If we were playing a game of word association, we're guessing the word BlackBerry would be quickly followed by QWERTY and business.
It's been like that since the RIM entered the market, rarely erring from the 'QWERTY keyboard, functional design' mode - apart from the Storm range, which hasn't really changed the game.
It's a stereotype RIM hopes to finally break with its latest consumer-friendly smartphone, the BlackBerry Pearl 3G.
The Pearl 3G is certainly small and slim; a BlackBerry Bold 9000 could swallow it up whole and still have room for an old-fashioned stodgy dessert. Or if you want specifics, that's around 108 x 50 x 13.3mm.
Small package means fewer features? Not a bit of it. The Pearl almost creaks with features, including Wi-Fi and 3G connectivity, GPS, a 3.2-megapixel camera with autofocus and video recording, a well-featured media player and an optical trackpad.
It also sports multitasking, social networking for the likes of Facebook and Twitter as standard and, of course, the power of BlackBerry email and messaging. Just without the QWERTY, which is replaced by RIM's SureType technology for inputting your text.
Of course, that's just the tip of the iceberg. The BlackBerry App World has been growing steadily over the past year and, while it's not up there with Apple's App Store, it does offer a good range of apps and utilities, which in turn will make your Pearl 3G that little bit more flexible.
BlackBerry Pearl 3G: Design
As we mentioned previously, the Pearl 3G is the lean, mean email machine of the BlackBerry family. Very light (93g) and only 13.3mm thick, this is the BlackBerry that slips into any pocket or bag with ease.
It's not short of style and clever design touches either. Comfortable in the hand thanks to a slightly curved profile, the Pearl 3G has an almost flush keyboard on the front below the on/off buttons, menu controls and optical trackpad, as well as shortcut buttons on the side as raised 'lumps' for quick access to voice controls and camera functions.
Also housed on the side is the mini USB slot and headphone connector, while the top hosts direct controls for the media player, blending into the design so much that you just might miss them if you weren't forewarned.
On the downside, there isn't any quick access to the microSD card slot – that involves flipping the back off and squeezing it in above the battery. With the flimsy construction of that back, it's something you don't want to be doing too often, or in a hurry.
Finally, this particular BlackBerry has a camera at the side of the Pearl logo on the rear, while the screen is a 360 x 400 pixel colour display, coming in at 2.2-inches.
Not the greatest in terms of space, especially in an age of large touchscreens, but it's not necessarily a hindrance, depending on how you are using your smartphone. More on that point as we go.
BlackBerry Pearl 3G: Interface
Using the BlackBerry OS 5.0, the Pearl 3G's interface is pretty much everything you would expect of a BlackBerry if you've used one before, but with a little added speed. If you've not used one, allow us to explain.
The menu system on the Pearl is icon driven and using the optical trackpad, you can quickly flick through the icons on display, clicking on the one you require.
It's a method that has stood the test of time and with the new trackpad, is much improved from the temperamental 'ball'.
Around 20 icons will fit onto the Homescreen without the need to scroll the page, but if scrolling is good with you, you can have as many as you require.
Moving icons is easy, just click the Menu button for a range of options to move, delete or hide icons. So, for example, if you download anything new online or from BlackBerry App World, icons for the app will appear in your downloads folder.
Just move the new icon to the homepage via a selection from the Menu key and you can access it easily. Likewise, if you get tired of something or just don't need it, move it off the Homescreen, hide it or delete it.
At 'rest', or when you switch on, the Pearl 3G, by default, offers access to your most-used functions (known as Zen), the defaults being your mail, SMS, contacts, BlackBerry Messenger and Facebook.
Of course, if you want to replace them, that's fine too, just hit that Menu button again and swap it around in your options.
As we said, it's a time-served interface and against some of the more whizzy 3D efforts on the market, the BlackBerry OS might look a little tired and dated. But what it lacks in style it makes up for in functionality. We guarantee within five minutes of booting it up, you'll be flying around the menu like a pro.
Setting up is easy too. Pretty much everything is wizard-driven, so from getting the Wi-Fi connected to creating new email accounts, it's all just a matter of following the simple steps.
Different profiles are already preset, but you can spend time tinkering with the different tones for an individual fit. It might take you some time too – the Pearl 3G is packed with sounds and ringtones, with the option of using your own music too.
If there's a downside to the BlackBerry's interface it's the lack of quick access via the screen to the media functions – for us, at least two clicks too many. The top controls on the case are fine once you are in, but getting in is a real pain.
This isn't just a Pearl 3G issue, it's a wider BlackBerry issue, perhaps because for RIM, media has always been down the priority list for business devices. But with a non-business device like the Pearl 3G, it should be better.
BlackBerry Pearl 3G: Calls and contacts
When it comes to organising your contacts, the BlackBerry is as good as anything. But when it comes to call quality on this particular model, it could be better.
We found voice calls to be on the quiet side, with a little bit of background noise – a slight hiss, if you like – although we didn't experience any complete drops in the network during calls.
The Pearl 3G is a mid- to high-end handset and for the money you'll be paying, it should be better in terms of making and taking calls.
It's slightly frustrating, because everything else in that area is as good as, if not better, than expected. Ringtones, for example, are loud and there's a number to choose from (with the option of adding your own too) and the ability to assign tones to various contacts is always a nice touch.
Talking of contacts, the Pearl 3G offers it all and more. Using the same contacts system as your average business-friendly BlackBerry, you might be a little daunted when you add a friend.
After all, does your best mate really have six phone numbers, two fax numbers, a pager, two emails, a company and a job title? Of course not. Just stick in a name, number and email, just those details will show on the completed page. But if your friends ever do take over the world, there's room to expand the entry.
It's not included as standard, but if you happen to be a Google user, download Google Sync. It will drop all of your friends and contacts into your BlackBerry contacts, keeping it updated as they change. It should save your fingers several weeks of typing duty.
BlackBerry Pearl 3G: Messaging
SMS and MMS messaging is very straightforward on the Pearl 3G. No QWERTY, but text messaging is easy enough on the minimal keypad. Just select your contact, type the message, add a smiley if you fancy, then send away.
You can check the spelling if you're feeling pedantic and you can see any messages sent and received in the email-like SMS folder.
MMS is just as easy – take a photo, select a contact, select the size/quality you wish to send and it goes. What more can you ask?
This is a BlackBerry, if it doesn't do email well, there's no hope for it. Just as well it does, then, but with a slight reservation.
Setting up an email account is, by and large, a breeze. Whether it's a webmail account or something PC-based, just head to the email wizard, enter your account details and the Pearl 3G will set it up and, when available, work with your inbox to push emails to your handset when they arrive, so you are free to view, delete, forward or reply as the mood takes you.
Delete from your phone and it goes from your inbox elsewhere too. It's the reason why businessmen love a BlackBerry and if you lead a busy life, it should help you too.
You can add as many email accounts as you like to the phone, which you can oversee from one message inbox or from each individual address folder. Indeed, if you do use multiple boxes, you can add different tones for each account, just like you can with people in your contacts directory.
So if the email is so good, why the reservation? Well, that minor niggle is the BlackBerry SureType technology. Most BlackBerry devices have a QWERTY keyboard, so banging out a long email isn't much different to using a laptop. It's just smaller.
With the Pearl 3G, the keyboard is more like a traditional phone to fit the profile of the handset, but it also means a different way of text input.
SureType is a form of predictive text, constantly second guessing your word choice, as well as spellchecking as you go. Like predictive text, it is both helpful and frustrating at the same time.
Once you get the hang of it, you should be able to fire out emails at a fair rate of speed, but if you've not used it before, be prepared for some very frustrating days and emails taking longer than writing and posting a letter, especially if they're beyond a couple of lines of text.
It might make you regret buying the handset, but stick with it – the fact that it learns from your more commonly-typed words really does add speed in the medium term.
Instant messaging
One of the selling points of the Blackberry is BlackBerry Messenger, but whether it works for you is dependent on the number of mates you have with the same make of device.
It's simple to use – just enter the email address of your BlackBerry-toting buddy and if they approve you, instant communication is here.
Just type in a message to your contact or multiple group contacts like you would with any other messaging app, with BB Messenger informing you when the message lands. It's great – if you have BlackBerry-based friends.
If not, prepare to gaze at an empty screen. It's also where BlackBerry App World comes in. Other messaging tools are available to download, including Google Talk, so if you are the first to go down the BlackBerry route, you'll not be alone.
And who knows? Your mates might be impressed enough with your handset to buy one too.
BlackBerry Pearl 3G: Internet and social networking
The standard BlackBerry browser has never been much to shout about, all too often having trouble rendering pages and in many cases, taking too much time to download content. Maybe, just maybe, RIM has started to deal with the problem, prior to actually bringing out a WebKit-based browser.
We have used and tested a number of BlackBerry devices and always had some pages that the BlackBerry just doesn't like. This time, all of our favourite temperamental pages (and other more reliable content) passed with flying colours.
Of course, there's a 'but' coming here. In fact, there are two. Firstly, the small screen of the Pearl 3G makes the zoom function on the browser your best friend when it comes to web content. It will zoom in on the detail, but when you've got a busy or text-heavy page, constantly having to zoom is a real pain.
Secondly, that speedy loading is only when you've got a 3G or Wi-Fi connection. When you lose that, the page load times increase significantly. What took seconds suddenly takes minutes. We'll look more at the connectivity of the Pearl 3G later on.
Social networking
The BlackBerry range has long had decent apps for all the main social networks, two of which are included here as standard. No MySpace, but in 2010, are you really surprised?
The Twitter app has recently gone official for the BlackBerry and we have to say, it works like a dream, integrating well with the wider BlackBerry messaging system.
If you are a regular Twitter user, you'll know what to expect – a box for your message, a screen to view all the messages of those you follow (complete with avatars) and a row of icons for everything from replies to people search.
If someone sends you a direct message, that drops into your main message inbox like a new email, which is a nice touch. A well thought-out app and one that's a dream to use on the Pearl 3G.
Facebook is also represented here and it's a decent way to keep updated. Log on and you'll be greeted by your latest news feed, with options to comment or 'like' an update, upload a photo, send a message, write on a wall – pretty much everything you would expect.
Admittedly, it does look a little basic and a little cramped on the small screen, but if you can deal with that, the Facebook app here is more than adequate.
BlackBerry Pearl 3G: Camera
In 2010, a 3.2-megapixel camera isn't much to shout about. However, in practice, the camera, which also offers up autofocus, flash, 2.5x digital zoom and video recording, is more than adequate for the job and incredibly easy to use.
It also works well with the other tools on the handset and offers plenty of options for photo quality and size, effects and geotagging of your snaps. Shortcut keys on the side of the handset also make it easy to capture that moment quickly and easily too.
OUTDOORS: Images are more than acceptable, capturing a typical street shot here with all the detail you would hope.
OUTDOOR CLOSE-UP: Alternatively, check out this outdoor close-up of some flowers. Again, it's not anywhere near SLR quality, but it is more than acceptable for a mobile camera.
INDOORS: This isn't quite so sharp, even on a very bright day. But the image is clear, there's no blurring and the colours are reasonably true.
EFFECTS:As ever, an effect can hide a multitude of sins and the Sepia filter, used to capture the same area, does produce a good quality indoor snap.
Video is surprising good, with this film of a local traffic junction impressing both visually and audibly in light of our low expectations. Again, no substitute for a dedicated video camera, but for producing clips for the web, it's hard to criticise.
Sharing images is very easy too, with apps for the main photo sites, the option to email or MMS your snaps, as well as transfer to social networks, all at various sizes and image qualities, dependent on your needs. Just a click of a button brings up a thumbnail gallery too.
Shame the camera isn't a little better in terms of pixels, but in terms of use, it's hard to fault.
BlackBerry Pearl 3G: Media
As we alluded to earlier, the media player on the BlackBerry Pearl 3G isn't bad at all. But accessing it is slow and inconvenient.
Okay, it's not that slow, just not as instantly accessible as it should be. Click to go to Homescreen, another to the media player, another to select breakdown of content (all tunes, albums, artists etc), then another to play the music. It's tiresome.
Once in, though, it's not a bad little player. Music can be transferred in via drag and drop or by RIM's own software via a PC or Mac and, if tagged, should drop nicely into the searchable interface and anyalbum art provided will show too.
Don't forget those top controls we mentioned earlier too – very useful when you're out and about.
For its size, the Pearl 3G has a decent pair of lungs. At full volume, sound is beyond what you expect, as well as having a good amount of clarity – no break-up or distortion at that high volume.
Same goes when using headphones, which are more substantial than your average mobile earphones and, for us, offering up a fuller sound than much of the competition too.
Video playback tends to suffer from the small screen. If you like the idea of squinting at a 2.2-inch screen for entertainment, it might be for you. It's also good for checking those mini movies you've just shot, but we prefer our video on a larger screen.
Videos have a decent amount of clarity, but this is one area where the small and compact nature of the phone really falls down.
Let's be honest, you'll be on a one-way trip to eye strain if you spend your day watching Hollywood blockbusters on the Pearl's screen. Good for a short funny a mate has sent you or, indeed, checking out your own clips. For anything more, it really struggles.
BlackBerry Pearl 3G: Battery, GPS and calendar
Battery life is one of the selling points here, with RIM promising up to five hours of talk time and up to 18 days of standby. Compared to, say, the 3G BlackBerry Bold 9000, that's light years ahead of the game.
Our experience is certainly promising, although battery life is almost impossible to benchmark when a smartphone is used in so many different ways by different people.
After a full charge, we made calls with the Pearl 3G, browsed a few sites, played music, hammered Messenger – the kind of thing anyone with a Pearl 3G would do – and found the battery performed strongly.
Admittedly, we've had trouble finding a decent 3G connection with the handset – if we had, things might have been a little different. But even allowing for that, we've not been reliant on the charger, which isn't always the case for a BlackBerry.
GPS navigation
GPS is always a welcome bonus and the BlackBerry Maps included here is reasonable for a finding your way around town. It picked up a satellite in seconds, pinpointing our location as well as panning round the area.
We do have to stress that this is just basic mapping included; don't expect to give your in-car unit the boot and replace it with this. That said, if you happen to be lost in a city, it should offer a helping hand.
On the plus side, Google Maps is available as a free download for the BlackBerry. Again, it isn't going to replace your car satnav, but it does offer much more detail, and you should make it one of your first downloads.
Aside from that, geotagging and location finding in apps is a welcome bonus with the GPS on board.
Calendar
As you would expect from something keeping business on the move, the calendar on the BlackBerry Pearl 3G is an impressive tool.
Break down your tasks in days, weeks or months, view your wider schedule or agenda, organise appointments, set alarms for those appointments (when due or in advance), schedule conference calls, invite people to meetings, change time zones – it's all here and more.
Even better, you can sync it up with external tools (like Google Calendar, for example), should you and your friends/contacts be reliant on that.
The entire program is built for the busy businessman, so if you are buying the Pearl 3G as a 'social' phone, you can be sure it has all bases covered. In fact, on the Pearl, perhaps too many bases.
BlackBerry Pearl 3G: Connectivity and other
Whether the problems have been down to network coverage in the area we test in, or just slightly dodgy reception for the handset itself, we're not sure, but 3G reception has been occasional, rather than the norm.
Doing a like-for-like test with another BlackBerry on the same network does show a slightly weaker signal for the Pearl 3G, which isn't promising.
That's obviously not a scientific test, but it does worry us slightly. Something perhaps to check out at your local phone dealer if you are considering a purchase.
Wi-Fi reception was good, though. Easy to set up, the Pearl 3G was happy to jump to the wireless connection as and when required, which certainly made browsing and downloading a more pleasurable experience.
The phone also comes with Bluetooth connectivity, which enabled us to pair up with a notebook without any problems, accepting a file quickly and without any problems. Or if you want to go wired, a mini USB to USB cable is provided to transfer data and media or to update the operating system.
Other features

As with all phones, the headline features are always matched with a host of minor features, many of which are worthy of a mention.
Games :
Games always appear on handsets and the Pearl 3G is no exception. In this case we have a mix of arcade, strategy and cards, specifically Brickbreaker, Word Mole, Trooper Typing, Texas Hold 'Em King 2, Sudoku and Klondike.
All a little basic, but a good mix of games and, above all, full games rather than demos. We like that.
Applications:
A throwback to business handsets, the Pearl 3G has a raft of productivity tools, some you might use occasionally (MemoPad, Tasks, Calculator, Password Keeper), others you'll probably ignore, especially with a screen so small (Word To Go, Sheet To Go, Slideshow To Go).
To be honest, the latter features are more like 'tasters' anyway. You can open a Microsoft-friendly document with them, but you can't create one without buying the full package. It kind of spoils the good will the games built up.
Voice notes are also included, so you can record your ideas on the go or do a quick interview. It's functional, but if you are serious about this, a standalone voice recorder might be for you.
Saying that, recording works fine, playback is decent and you can use your 'voice notes' as quirky ringtones too, so don't write it off completely.
Alarm clock:
In a hotel with no clock and an early start required? Use your Pearl 3G. It's actually a decent little extra, throwing out a clock that fills the screen and offering up a loud alarm to get you out of bed.
BlackBerry App World:
Okay, you've got your handset and you want to grab some extra apps, including the ones we've recommended in this review. Where to go? BlackBerry App World. It's a handset-based store mixing free and premium apps, all available to browse and download and with reviews from users.
As we've mentioned previously, the store isn't the biggest or best app store, but it does the job well, enabling you to customise your phone for next to nothing if you shop clever. Check it out as soon as you've got your handset charged up.
BlackBerry Pearl 3G: Hands on photography
BlackBerry Pearl 3G: Official photography
BlackBerry Pearl 3G: Verdict and comparison
The obvious comparison is to another BlackBerry model. The BlackBerry Bold 9700 for example, which offers much of the same, but with a much bigger profile and a full QWERTY keyboard. Horses for course you might say.
Of course, if you want to check out other smartphones and aren't set on a BlackBerry, the Palm Pre Plus has just hit the market, or if Android and touchscreens appeal, check out the highly-rated HTC Desire or HTC Legend.
Of course, there's that thing called the iPhone 3GS too, but if you fancy one of those, you might want to sit tight until the iPhone 4 is released in the very near future.
We're slightly torn when it comes to the BlackBerry Pearl 3G.
We liked
We like the fact that RIM has packed just about every high-end BlackBerry feature (QWERTY excepted) into a small and stylish device and we like its ease of use. But it's not without its flaws.
Despite these, we find ourselves quite liking the Pearl 3G. It offers just about every mobile essential and more, with almost everything functions as it should.
And if SureType works for you, this is a very small and convenient way of keeping up with your email correspondence.
We disliked
Call quality is below what we would expect, network coverage was very disappointing for long periods and to be honest, the familiar look of the BlackBerry interface is perhaps an indication that the interface is just a little too long in the tooth.
Whether SureType works is up for debate too. In an age of touchscreen keyboards, looking to predictive text for inspiration doesn't fill us with confidence.
Verdict
The BlackBerry Pearl 3G is a good quality smartphone that should serve you well, but with just a couple two many issues to make it a highly-recommended one and the lack of a genuine wow factor, it's not going to top our charts.
BlackBerry smartphones RIM trbcextra trbchardware