BlackBerry Bold 9700
£389.99
13th Nov 2009 | 11:30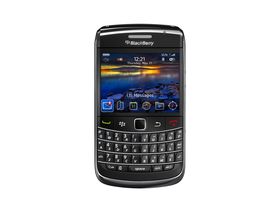 Can the new Bold better the excellent original?
BlackBerry Bold 2 9700: Overview, design and feel
RIM has updated its flagship model with a sleeker and more powerful model – the Bold 2 9700. Featuring an improved processor and latest UI, the phone certainly has the specs but can it stop the iPhone and Android onslaught?
The BlackBerry Bold was one of the standout devices of last year – it was RIM's statement that it was coming for the consumer market.
And while it was successful, there always comes a time for a refresh, and that's where the new BlackBerry Bold 2 9700 comes in.
It's a sleeker, faster and more able device than its predecessor, and it shows. We're talking 16g lighter, 6mm less wide, 5mm less tall and a whopping 0.9mm thinner.
But what this means is a more cramped keyboard, which will be a big worry for some who picked up the Bold, not because it was one of the first BlackBerrys to use 3G, but because it had one of the largest keyboards in the range.
The device's diet does add a touch of class to proceedings – it now looks like a Storm 2 handset but with a whole lot of keys jammed on instead. The top of the phone houses two buttons: the lock and the mute keys. The former will turn off the screen and lock the keys, and the latter will mute the phone when ringing, but holding it down will put the phone into standby mode.
The screen is now among the most high-res in the BlackBerry world, as it stands at a Magic-matching HVGA resolution. It's also supposed to have a light-sensing display, but the Bold 2 9700 seemed confused about that function, constantly upping the brightness of the screen when light conditions don't seem to change.
The right-hand side of the phone holds the rubberised keys, which function as the up/down volume buttons and also as music navigation buttons for the media player. A similar rubberised option is further down the side, which functions as the camera shutter key.
On the left-hand side lives the function key, which can be programmed to perform a number of functions, with the default being voice command of the phone.
Above this lives the exposed microUSB port, as well as the recessed 3.5mm headphone port. This is built into the curved chassis, which means a portion of the headphone jack is left exposed.
On the older Bold this was a flush socket, which meant a more snug fit – however, we didn't experience any problems with the audio playback, so it's just an aesthetic issue.
The keyboard itself is a little cramped for our tastes, with the 6mm loss in width a bit too much to make the keyboard as easy to use as before. However, RIM has taken this on board and made some decent changes by increasing the prismic feel of the keys to give your fingers more to hit, which will go some way to making typing more accurate (especially if you have longer fingernails... so we're told).
The layout of the keyboard is the same as before, with the menu button and return key flanked by the call and terminate keys. As we mentioned before, there's no trackball in sight here, being replaced by the optical trackpad first seen on the BlackBerry Curve 8520. This gives a different (and darker) look to the front of the device, and early indications seem to suggest that early users appear to like the new hardware.
The back of the phone brings that beautiful (or not) faux leather feel, although this time it's not the whole way across - just a wide strip of the battery cover. The camera is improved too, with a 3.2MP snapper combined with an LED flash making things a lot more consumer friendly.
The chrome outline of the first Bold is back again, but this time it's more refined and part of the chassis, which we think gives the Bold 2 9700 a classy finish compared to the original effort, which had the same thing the whole way around the outside of the unit. While smaller, the BlackBerry Bold 2 9700 has a nice refined feel to it, and while the keyboard is a little bit on the cramped side, it certainly makes the unit look sleeker.
However, we're worrying that the new design might actually alienate previous bold users, who found the larger keyboard to be a real boon when it came to typing out messages. The wider shape might have annoyed some people, but given that a fair amount of the hardware is the same we're wondering whether most might prefer the old version.
BlackBerry Bold 2 9700: Interface
Using the new BlackBerry 5.0 OS, the BlackBerry Bold 2 9700 is a more powerful and intuitive device than its predecessors.
Navigation is achieved almost exclusively through the optical trackpad, although the keyboard offers easy to use shortcuts.
The home screen consists of a wider space for your favourite picture, with the favourite icons from the top level of the full menu appearing at the bottom of the home screen to act as shortcuts instead.
A link to the sound profiles is also included, allowing you to quickly switch off noisy ringtones or set the Bold 2 9700 to vibrate only before entering a meeting or the cinema.
Pressing the menu key opens up the full set of icons, with the usual BlackBerry applications and functions all accounted for. Again, the only way to navigate through this effectively is with the trackpad, so you'll need to tinker with the sensitivity settings in the options menu. It's not necessary, but some will find the trackpad almost unusable at the default sensitivity level, and especially if you've come from using a physical trackball.
Holding down the menu key will open up the running tasks pane, allowing you to see what's eating up the memory, although we have to say the 624MHz processor performs admirably.
Actually, it's worth noting that RIM has significantly sped up the performance in both the BlackBerry 2 9700 and the Storm 2, with both of them reacting to inputs and opening applications much faster than before.
For instance, when opening up the gallery on the original BlackBerry Bold, the pictures would take quite some time to load, whereas now the thumbnails pop up almost instantly. Similarly opening and closing applications is a much easier experience than before, making it easier to navigate around without being forced to wait all the time.
As per usual with the BlackBerry range, the optical trackpad might be used for most things, but it's the menu key that does most of the hard work, with the important elements of each application accessed in this way.
RIM has also taken a leaf out of Nokia's book by including a method of unlocking the phone using the star key coupled with the call button - OK, you can do it with the lock button on top as well, but for a bit of old school cool we like this function a lot.
While we're glad the BlackBerry OS 5.0 is included on the Bold 2 9700, we still wish that RIM has done something about the layout of the screen - it's still very sparse. For instance looking at the contacts menu is quite dull - while the names are listed nicely, the font and stark black and white backgrounds could so with a little of an aesthetic tweak.
While you could accuse the Bold 2 9700 of being a little boring when it comes to design, the impressive thing is that everything is kept simple, which is why users have flocked to BlackBerry for so many years. It's essentially a collection of menus as an interface, something Apple realised was important when designing a phone UI.
We hope that there will be a few design tweaks in the future to make it look a little more boring, but for now it's perfectly functional and allows the phone to work at a pretty fast speed.
BlackBerry Bold 2 9700: Calling and contacts
As we mentioned above, the calling and contacts part of the BlackBerry Bold 2 9700 is good while leaving a lot to be desired as well. Admittedly it does what's necessary, which is to let you see all of your contacts in one easy list, but we can't help feeling there could be a nicer way to do it.
The list function just looks like reams of names of people you've never met or are ticking off at a door - yes, we know most are laid out like this, but there's something boring about the fact that we can't have pictures next to the names to make things a little more appealing.
Facebook Connect for BlackBerry might help to solve the issue, but (and this is a very, very irritating point we'll come back to) T-Mobile-locked BlackBerrys (such as the one we're trialling today) won't let you download or install applications, even over Wi-Fi, with the phone stating that it needs a data plan every time you try and install something that requires a connection onto the phone.
However, once looking at the profile, things are a little nicer, with a picture and all the contact's information displayed easily, even down to birthdays and your anniversary with him or her.
Being able to scroll down and select an action is one of the nicer elements of the phone - it means you don't have launch a dedicated application every time you want to send a text.
When you're actually making a call, there are several options on offer. For instance, when actually making the call, you get to see all the pertinent information mentioned earlier in the profile on the call (although we're not sure why you need all that information.)
Of more use are the options within the call – activate the speaker and place it with the back down on a flat surface and the phone will become a very decent speakerphone indeed.
And the fact the BlackBerry series is designed for the business user comes through even more strongly when you peruse the in-call options. For instance, you can add a caller to the conversation (with the phone opening up the contacts list to do so) and you can transfer it on to another person using the same method.
Another nice touch is the ability to enhance the audio of the call, bringing up the bass or the voice tones if you're struggling to hear either, which actually does make difference when the person you're trying to speak to is in a loud place.
And we especially like the in call notes – we know it's not a new function, but being able to write a note on a phone conversation and then see that in the contact profile later on is a really useful function, especially if you're using the phone for work.
Call coverage is good on the Bold 2 9700, although we're not so pleased with the 3G connectivity, as it dropped out on us on more than one occasion to default to GPRS.
However, we didn't have any problems with the calls themselves, so the Bold 2 9700 has to have a tick for this category.
BlackBerry Bold 2 9700: Messaging
You may not already know this, but the BlackBerry series is actually pretty good for messaging, what with this new-fangled email and all that these days.
We'll deal with that first – and ye gads, it's blindingly simple to set up as usual, with just the (ask the guy from IT) elements necessary for you to start receiving push email.
And it's even easier if you want to get involved with some consumer email as T-Mobile wants you to do – it's as easy as entering your email address and password on the popular (Gmail, Yahoo and Hotmail) accounts, with a plug in giving you direct access to your mailbox.
Interacting with your email is a nice experience as well, from the well laid out (if aging) inbox to the sheer number of keyboard shortcuts making navigating around messaging even easier.
However, if you're like us and get around a million (non-useful) emails a day, you don't want the hassle of having to delete them all at once (as it appears you can only mark blocks of messages for deletion, rather than the relevant ones) and therefore you'll need to mark them as unopened.
This is one of the very few times on this phone that you'll be experiencing any kind of slow down, as the Bold 2 9700 struggles to keep up.
Text messaging is a similar experience to the e-mailing – it just works because the phone is designed to be a communications device.
Threaded conversations are a boon, the keyboard shortcuts are there again (although not as many, as email obviously offers a richer messaging experience) and you can even send an IM or Facebook message to that person too (well, you could if Facebook Connect was allowed on our phone).
However, and this is likely to be a big bone of contention – we're not sure that we're fans of the new slimmer keyboard. We'll lay our cards on the table: we're not BlackBerry addicts and although we dabble fairly heavily with RIM's devices, we've never dedicated countless train journeys to learning the intricacies of typing on one.
And while we really appreciated the wide open spaces of the original Bold, bringing us a high degree of accuracy, the Bold 2 9700 isn't as easy to become as accurate on in our opinion.
Yes, the keys are raised in a lovely fashion, making them easier to find under the touch – but like most BlackBerrys, we find ourselves cursing it under our breath.
However, speaking to BlackBerry addicts, they weren't so pessimistic; proclaiming that the new design of keys was easier to use than most other RIM devices, but still preferring the older Bold's keys instead.
And of course, out the box BlackBerry Messenger is included as well, so you can type the PIN of your favourite people into the device and away you go.
It's simple to use and much like most other IM clients – except with a tighter integration into the ecosystem.
And the nice thing is it doesn't seem to suck the life out of the battery either, with the client running in the background and updating fairly regularly, yet not losing juice too easily.
We like messaging on the BlackBerry Bold 2 9700 – but then again if we didn't, there would be a big problem at RIM's design centre we think.
BlackBerry Bold 2 9700: Internet
The BlackBerry Browser surely cannot be long for this world – you can almost hear it creaking when you fire it up on the BlackBerry Bold 2 9700.
Well, perhaps that's a little harsh, but it's certainly not the most intuitive browser on the market, with constant hanging on websites, both on Wi-Fi and 3G connection (which we'd have hoped wouldn't be the case).
Evidence of this can be found in the fact RIM has recently purchased Torch Mobile, developers of Webkit (similar used in the iPhone and Android platforms) browsers, which means the company clearly knows it needs to up the game here.
If you're using Javascript, it causes websites to hang and look at their fingernails before looking up at you and saying 'oh, did you want to look at something here?'
And given the fact it happens more often than not, you can see why it's an irritation having to use the web browser on the BlackBerry Bold 2 9700.
Of course, you can install other browsers, but these can't be set as default, so we're not sure what else to do.
There are some nice touches in the browser, like the way you can set it to mimic Firefox when accessing certain pages. But other problems, like zooming in and out of pages, still exist, as shown by the fact you can click to zoom in, but have to press the alt key and click to zoom out.
We can see why RIM has used these keyboard shortcuts, but in today's pinch/zoom/twist/punch browser interaction society, this is starting to look a little dated.
Admittedly there are few options available for non-touchscreen phones, but we would have liked to see some better use of the trackpad and perhaps some improved smart-fit text resizing technology while we're at is as well.
The speed of the browser when working correctly isn't too bad, and we like the keyboard shortcuts on offer, but they're not really enough when some websites don't let you in for ages.
Perhaps we're being too harsh on a phone range that's never really been geared for internet browsing thanks to a prior lack of 3G. But given that we're marking phones down for not being able to play flash, it's not really acceptable for a phone to struggle with Javascript.
BlackBerry Bold 2 9700: Camera
Like the internet browser, the camera on the BlackBerry Bold isn't going to be used to win any photography competitions.
But don't get the wrong idea – we're big fans of the Bold 2 9700's camera, and for what it's designed for, it does a bang up job.
Think about mobile photography for a moment – what's it used for? Taking a picture of something that you want to show your friends, invariably by Twitter these days.
Perhaps on occasion you'll want to zoom in a bit, or maybe take a picture in lower light. Essentially, you want it to work quickly, and with the minimum of fuss.
Well, a 3.2MP camera with flash is certainly going to be good enough for that, and you can add to the mix the fact the Bold 2 9700's camera appears to be better than the iPhone's.
In normal daylight, the phone captures images well, picking out a pretty good level of detail (although colours aren't as well formed as they could be).
And as for the LED flash – well, that's not going to be used to illuminate a complex night scene any time soon. Should you want to take some nice pictures of your friends, then you should make sure you're up nice and close in order to get the maximum throw (and you might want to warn them about the bright light you're about to flash into their eyes).
The 2x digital zoom, handily operated by the optical trackpad, is a nice touch as well – especially as beyond that the phone can't really handle that much detail.
Add to that a decent autofocus and the ability to tweak white balance, and photos come out looking half decent on a phone that has a camera almost as an afterthought.
And that's all your really need in a phone like this – as we mentioned the primary function is generally to leave the image on your phone, or maybe upload it to a relevant website. With that in mind, RIM has added simple cropping (for contact profile use) and renaming functions to the photograph review pane, before you can send it off to Facebook or email or even through MMS (shocker, we know).
Video recorder
Video is pretty much the same as the camera – it's there, it can record and it will capture footage for those odd moments when you want to share them with mates later.
It's only HVGA, so there's not a lot of point putting it on any larger screens – but then again, we don't expect that you'd want to. The Bold 2 9700 captures a fairly high amount of detail in the videos, and with the chop-less footage quality, appears to be offering a fairly high frames per second capture.
While there's no full video suite to play with afterwards, at least you can rename and replay the file to your heart's content – and if the video's not too large you can send it on too. What fun!
BlackBerry Bold 2 9700: Media
As you may have guessed, the Bold 2 9700 is continuing with RIM's new plan to make its BlackBerry range less of a 'work only, serious face' device and more of a 'wow, isn't my outside life fun too, I want to share that with my BlackBerry!'
Clues to that effect are the converged media sector on the new 2 9700 (whereas before Music was a separate and aloof function) and the 3.5mm headphone jack, which makes listening to things on the go so much easier.
Music
The music player on the BlackBerry range has always been slightly ahead of the curve, meaning that whatever has been necessary to make listening to MP3s on your phone palatable has been used.
There's no great secret feature to the music player on the BlackBerry 2 9700, but all the functions you'd hope for are there: shuffle, repeat, playlists and categorising by album/artist etc.
There's also the menu option to stream the songs out to a Bluetooth headset – we used stereo A2DP Jabra Halo headphones and not only was connection faultless, there appeared to be little sound depreciation as well.
Couple that with a nice-looking album art displaying interface, and it's perfectly feasible the MP3 player on the 2 9700 could replace an MP3 player, providing you use a big enough microSD card.
And beyond the simple MP3, there's also support for WMA and AAC+ t00, so you won't be hamstrung by that many incompatible file types.
Video
In the same vein as music, the video player on the Bold 2 9700 does just what it needs to without being fancy.
Whether you can watch that many videos on a 2.4-inch screen, we don't know, but we do know that the shrunken proportions and increased resolution make video look sumptuous on this phone.
We tried watching a full length movie on the phone, but not only were we conscious the whole time of people wondering why we were staring a BlackBerry so intently for such a long period of time, but the screen sometimes lost details of the film simply down to its size.
In terms of compatibility, we're seeing DivX/WMV/XviD/3gp codecs all supported, although XviD only 'partially' for some reason. Perhaps it will only play the first half of any video or something.
Picture gallery
As we mentioned before, RIM has ramped up the processor on this phone and that's never as obvious as when looking through media files.
Despite having a fairly full 8GB microSD card on board, the Bold 2 9700 showed only the merest hint of slowdown before powering through its tasks – thumbnails for photos displayed in milliseconds rather than having to wait an age.
Scrolling through and opening them for editing was also simple as well – it's something we keep coming back to but the simplicity of this BlackBerry Bold 2 9700 is what makes it so compelling at times.
Other nice features in the media section include a voice recorder with apparently no limit on how much sound can be recorded in one sitting, and voice notes so you don't have to write down that important plotline you just thought of for that novel you're never going to write.
Blackberry Bold 2 9700: Applications and battery
Let's get this fact out the way early on – battery life on the Bold 2 9700 is fantastic compared to others in the range. It can easily last a whole day with normal use, and sometimes you'll even extend it into the next if you shut down Wi-Fi and push email when not needed.
It's something of a coup for RIM that it's managed to optimise its BlackBerry software to work so efficiently – now users don't have to consider having to carry a charger around with them 'just in case'.
Of course, that cause is ably helped by an industry leading 1500mAh battery powering things along, but we're sure that most BlackBerry users will agree you can't put a price on being able to message and text and IM and watch videos all day long without worrying when the battery's going to blow (well, run out of power... not actually blow up).
At least users won't have to worry about applications draining their battery, after the odd T-Mobile plan not letting the BlackBerry App Store download properly.
We're still looking into why this might be, as it would be very odd if the flagship BlackBerry handset wouldn't allow you to use one of the key features.
However there are some key features on there already, such as the range of commuter games to keep the businessperson with a crazy fun side amused.
We're massive fans of the Texas Hold 'em King 2 poker game, and there's not a person on the planet that won't end up addicted to BrickBreaker at some point in their lives. We're also pleased to note that the latter works well with the trackpad rather than the ball, which is a real relief for those BrickBreaker BlackBerry fans.
The Word, Excel and Powerpoint viewers are also present and correct on the phone, and do exactly what they say on the tin.
And of course, we'd be very much remiss to not include the whole phone search function. This can check through practically anything, from messages to tasks to contacts and makes it very easy to spot when you need to work out somebody's significance in a project or something.
And of course, where would we be without Maps? The BlackBerry Maps software is back again, and it's still no better – the blocky graphics and cartoonish place labellings are as irritating (if functional) as ever, and the GPS system was so-so on the Bold 2 9700.
However w do like features like the layers option on the map, allowing you to make notes where important things are... like your house and where you work – places you would struggle to find in general life then.
BlackBerry Bold 2 9700: Connectivity and PC
Connectivity is dealt with in the usual ways, with Wi-Fi, Bluetooth and 3G all present and correct, with the former working particularly well as per usual on BlackBerry handsets.
We very much like the fast switching between Wi-Fi and 3G – if you've got the battery life available (and you should have) then you can leave Wi-Fi on and let it connect to your trusted networks whenever you get in range of them.
Bluetooth is similarly easy to set up, with both having their own little set up widget in the menu screen to help explain what's going on when you try to connect to a nearby device.
We especially liked the option to 'listen' for a device trying to find our device, like the two objects were silently shouting commands to each other, just out of range of the human ear.
And we just dealt with GPS – it works well enough on the inbuilt mapping software, but we suggest you check out Google Maps for the BlackBerry range, as you always know where you are with that program (arf).
PC software is dealt with in two ways: Desktop manager and media sync. BlackBerry Desktop manager basically allows you to back up all your files to your computer to make sure they're safe if you lose the phone (which we all will do at some point, let's be honest).
Media Sync is one step beyond that in terms of entertainment, whereby it reads your iTunes and Windows Media Player playlists and sends them spiralling to your Bold 2 9700 directly to the new device without the hassle of having to put it into mass storage mode every five seconds.
BlackBerry Bold 2 9700: Verdict
The BlackBerry Bold 2 9700 is certainly a very good device, building on everything we've come to expect from the Canadian firm.
It's a little bit squished from the older device, but we don't think that's too much of an issue given the well designed chassis.
We liked
We liked a lot of things on the BlackBerry Bold 2 9700 and that's not just because the phone is a high end BlackBerry.
The solid build quality cradles a battery with unrivalled lasting ability within the RIM range, and the camera and video recorder functions are exactly what they need to be.
Video looks gorgeous on the smaller (but more high res screen) and while it's not going to replace a dedicated PMP it will alleviate boredom on those delayed train journeys.
We disliked
The main problem with Bold 2 9700 is that it still feels like the BlackBerrys of old, and that's something we're starting to feel badly needs updating.
The OS is functional enough, and that's nice, but in the accelerating smartphone market we don't want to see RIM suddenly start falling away.
The internet browser is a perfect case in point for this, with there being no support for elements like flash video or multiple windows – a separate browser will need to be downloaded post haste.
We're also not fans of the boring menu layout system either; surely this is primed for a pep up?
Verdict
While many will probably disagree with us, we're not sold on the more cramped keyboard that makes the new Bold 2 9700 look a lot like a hundred other BlackBerry designs out there today.
However, we do like the sleek chassis it comes in, and the trackpad is a clear upgrade from the trackball, so kudos to RIM for that.
The sheer speed of the Bold 2 9700 is to be commended, as it's clearly a big effort from RIM to get that up to speed, and although App World isn't working for us yet thanks (probably) to the T-Mobile, we're sure once that's up and running the Bold 2 9700 will be a very compelling business phone indeed.
Like the HD2, whether it's something the consumer will want/need, we don't know – it depends on the importance of easy to sync web mail we guess, as well as a stylish device to boot.
Want to get rid of your old mobile?Compare and get the best price
trbcextra trbchardware