Acer Liquid E
21st Jul 2010 | 13:43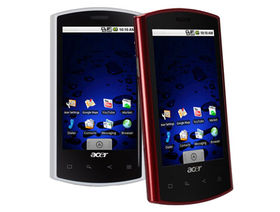 Acer's second Android phone adds an Eclair 2.1 update
Acer Liquid E: Overview
As a relative smartphone newcomer, Acer entered the Android playpen last year with the Liquid S100. It was a decent first effort, but very a bold manoeuvre.
The HTC Hero was topping the charts, while established players Motorola and Samsung were making waves with their deployment of handsets boasting the Google-made OS.
Despite releasing a mobile phone with an array of high-end specs, including the now commonplace Snapdragon processor and a superb screen, the Liquid was somewhat lost in the shuffle.
Without a trusted mobile name behind it, most of the smartphone-fancying kids threw the idea of purchasing this particular toy out of the pram.
Rather than being intimidated by the Android big boys, the notebook specialist is back with a second bite of the cherry.
The Liquid E (we laughed at the name too, and wondered if the Daily Mail would be launching a campaign against it) boasts the same design, same underclocked 768Mhz Snapdragon clip, same 480 x 800 hi-res 3.5-inch capacitive screen and same 5MP camera.
So what's new? Android 1.6 is out and Android 2.1 Eclair is in.
Okay, great. But now the playing field has been elevated with the HTC Desire, rather than the Hero, ruling the roost. Can a phone that does little to enhance the Android OS, while offering less than no improvement on the first device really contend with it?
With a top-end price of £400 SIM-free, it's really going to have to go some to achieve that. Let's investigate.
Acer Liquid E:Design
If you've seen the Liquid S100, you've seen the Liquid E. It's the exact same design, and it's not something that Acer is hiding, despite well-justified concern over the first phone's cheap-looking exterior.
The big selling point here is the new incarnation of the operating system.
At 135g, it weighs exactly the same as the HTC Desire, and it's 2g lighter than the iPhone 4.
It feels a good deal chunkier than both of those blockbusters though, measuring up at 115mm long, by 64mm wide, by a chubby 12.7mm thick.
The design itself is very minimalist without a single hard button nestling next to the 3.5-inch capacitive multi-touch screen.
There's plenty of space around that screen, with the SIM-free model we're reviewing boasting a white casing.
Indeed, one of the best things this phone has going for it, is that it looks like an Imperial Stormtrooper. We only hope it's smarter.
Occasionally, it struggles to be as receptive when hitting the smaller icons, like the Google voice search microphone, but swiping between Home screens is very slick, although not quite as rapid as on phones like the HTC Desire.
Below the screen are four touch-sensitive icons offering the Android buttons we've become accustomed to: Home, Search, Back and Menu.
We like the way they're designed here, nicely lit from beneath. They don't come alive unless the screen is unlocked.
Once the screen is unlocked, it's apparent that it's a strong effort. Icons appear in great detail and it's bright, colourful and very vibrant.
It's a shame that it's rendered practically useless in direct sunlight.
Housed on the rounded side-edges are the phone's only hard buttons. On the left is the power/lock screen switch, while the volume keys sit opposite.
The silver metallic keys would appear to be handily placed to use when handling the phone naturally, but they're actually quite difficult to press without squeezing those on the opposite side.
The phone's glossy plastic casing is also quite slippery. The seemingly convenient positioning turns out to be more of a hindrance.
Beneath the volume keys is the hard camera button and, when pressing the power switch it's also nigh-on impossible not to push this too. It never really matters as the camera key requires holding to open the app.
The back of the handset features the same five-megapixel camera and the external speaker, while the black bottom features the mini-USB charging port.
The top of the device offers a little more interest with flashing white lights emerging from the black casing when the phone is charging or when new messages arrive.
It can be a little distracting when you're trying to sleep at night, but all in all, it's a nice touch. Also housed at the top of the handset is a 3.5mm jack.
Somehow the device doesn't sit as well in the hand as the iPhone 4 and the HTC Desire.
The squarish top edges and the 64mm width mean it's not quite as comfortable in the palm as we'd hoped, and it's difficult to find a manageable position. As we mentioned, it's also rather slippy too.
Taking the back off involves pressing down in the centre of the handset and digging your fingernails underneath the top; something that doesn't really inspire that much confidence that you won't just snap it in two.
The battery may be housed in the upper half, but it's the lower half that gets quite warm.
It's a rather cheap and plasticky design, reminiscent Acer's laptops, but not necessarily an unattractive one. It's just not going to win any style points against the iPhone 4s and the HTC Legends in the densely-populated, drop dead gorgeous smartphone stakes.
In the box
Compared to what we're used to seeing these days, with Palm, HTC and Apple's minimalist offerings, the Liquid E's box is gigantic.
Beneath the handset are a few manuals and an instructions CD, and then box opens out like something out of Indiana Jones. Why? We're not quite sure. There's certainly no Lost Ark to be found.
There's a USB charging cable, separate mains plug and a set of decent headphones, which double up as a hands-free kit. There's a 2GB microSD card also bundled in, alongside an SD card adapter to slide it into. Nice touch.
There's also some screen protectors and a velvety sock with a drawstring. Kind of like a mobile phone sleeping bag.
Acer Liquid E: Interface
After re-reading our review of the Liquid S100, there was always a worry of simply rehashing what had already been written. After all, we're looking at almost exactly the same handset.
However, here's an area where we don't have to worry about that. The sole reason for this phone's re-release is the incorporation of the Android 2.1 Éclair operating system currently tasting the good life on the HTC Desire, Google Nexus One and Motorola Milestone.
Couldn't that have just been handled with a firmware upgrade, we hear you ask? Yes, but it's hardly worth rolling out a update that no-one is going to download. A re-release with this tweak gives them that second bite of the cherry as a 'new' Android 2.1 handset.
So how does it shape up? HTC has the brilliant Sense UI to overlay and enhance the open source software, while Motorola has MotoBlur, Sony Ericsson has TimeScape, so what can Acer do? Well, not a lot really.
One of the beauties of Android is that any man and his (engineering-savvy) dog can build a smartphone and thanks to the open source operating system, instantly produce a handset boasting an excellent and familiar interface without putting any real work in.
Dell certainly put in a shift to customise the 1.6-toting Streak, but Android 2.1 on the Liquid E appears largely organic.
The only real differences that are instantly apparent from navigating around the phone are the bookmarks and media carousels housed at either end of the five Home screens.
Bookmarks enables you to flick between mini pages, in an attractive dovetail design. Positioned at the right-hand edge of the screen, it works really well.
Better still is the media fan, enabling you to switch between recent pictures, music and video, which is a convenient way of accessing that content without delving deep within the phone.
Another neat innovation is the neat main menu interface, which operates on a rolling belt, serving up your favourite apps.
There's a nice depth to it, since you can see the icons above and below your current screen, ready to be rolled into play.
It's one of the nicer ways of displaying the multitude of Android apps that come pre-loaded on the OS. It's a shame it stops at the end rather than continuing in a cycle though.
Once you select an app, there's a neat 3D animation which draws the app out from the icon to engulf the screen, ably assisted in this instance by the Snapdragon processor, which opens applications in an instant. When you're done and close an app, it's then sucked it back in.
This helps to add a much-needed bit of character to the Acer Liquid E.
But that's kind of it. The rest is very much Android 2.1 in the way the Google gods intended. But is that necessarily a bad thing? Not at all. It boasts so much of the great functionality that HTC Hero and Dell Streak owners are lacking.
Let's start with Live wallpapers, an added bonus that has proved so popular on phones like the HTC Desire.
Even though it's rather shallow of us, they really add a lot to the phone's enjoyability and look fantastic on the 480 x 800 screen, unlike the Vodafone 845 Android 2.1 phone that recently crossed our path.
The Live Google Maps wallpaper is especially satisfying, and kept much better track of our progress than it did on the Vodafone 845. That handset had us stranded in North Wales instead of sunny Shrewsbury, while the Liquid E's GPS maintained our actual position very well.
The Nexus, a cacophony of touch sensitive coloured lights, is so much fun that it's worth keeping a Home screen bear for.
The addition of Android 2.1 allows an additional two Home screens, bringing the total on the Liquid E to five customisable screens. Navigating between them is smooth, but it doesn't feel as slick as on HTC's newest handsets.
As with most new Android phones, there's a means of navigating back and forth without swiping all the way from left to right, and this is done by holding the on-screen menu grid, prompting mini Home screen cards to appear.
Multitasking is present, and holding the touch-sensitive home key prompts a menu of open applications and the underclocked Snapdragon processor handles many open applications relatively well.
The Android connectivity bar, which enables you to control Wi-Fi, GPS, brightness, Bluetooth and syncing, is also here, and is another area where Android just makes life easy.
Also on board is Google's voice-to-text functionality, which works wonderfully when conducting web searches. However when we tried to tell the phone to "Call Mum new", the handset Googled "cool mom nude".
Brilliant. That's how we found out that voice-to-text functionality didn't work on the rest of the phone. And found a website with Ma Radar on we didn't want to see.
The phone's general search functionality also takes note from Apple's spotlight interface, which searches the phone for contacts and apps before consulting online Google options.
Holding the touch-sensitive Search icon beneath the screen prompts the voice-to-text Google search functionality.
All in all, on this handset, the interface is basic, but very, very usable. There's no overly-customised skin like HTC's Sense or Motorola's MotoBlur, but the beauty of Android is that it just works, and works very well indeed.
With a fast processor and a great screen, the array of widgets and apps are always going to be a winner.
Acer Liquid E: Calling and contacts
As with all new Android phones, filling your contacts book is an absolute doddle and can be done within minutes.
Say what you will about Google and privacy, but if you've ever used an Android phone before, repopulating the contacts folder on a new phone is painless.
Unless you've spent a long time refining your Google address book, there'll be a lot of unwanted contacts on there, so you'll need to do a little deleting.
Something that stood out to us, when setting up our contacts book was the ability to add our Twitter contacts into the mix, alongside Google, Facebook and SIM address books.
It's easy to hide Facebook, so your contacts folder isn't jam-packed full of the acquaintances who were mean to you at school. Facebook friends are listed in the Others section, beneath your phone contacts. Twitter pals also live there too.
Unfortunately we couldn't find a way to merge contacts, so the only ones who appear as both Facebook and Google contacts are those you've previously merged on other devices.
We tried changing names in the hope that they'd recognise each other and sync-up, but with no joy.
Those contacts that do have a Facebook profile attached to them have an "F" icon beneath their name alongside the "G" for Google.
Calling
Call quality is good, and audio was clear but not always reliable. We had to reset the phone because the recipients of our calls could not hear us. Upon reset the problem was solved and we've not experienced the same thing since. Still, it was quite worrying.
Accessing your call contacts is straight forward as you can simply start typing a name into the dialpad, but this is one area of the phone that isn't quite as fluid. The haptic feedback seems to delay things somewhat.
For some reason, quite annoyingly, phone numbers are formatted in the American style 123-456-78901 style. No big deal, but still we'd like our numbers to be familiar.
Another interesting feature was the ability to put a contact on hold and make a second call, which is handy in a "hang on a second, I'll just ask him, let me put you on hold" kind of way.
Call quality comes through loud and clear from both the internal and the external speaker and no amount of holding it in different places could cause the signal to drop. Trust us, we tried, so stick that in your pipe and smoke it, Jobsy.
Acer Liquid E: Messaging
This isn't one of the more pleasant experiences when using this phone. It seems that it's impossible to turn of the haptic vibrations when typing out a message on the standard keyboard, which seems to slow down the entire process because the phone is always trying to catch up with itself.
It doesn't seem like a processor problem, because everything else is pretty slick. We've had this issue before on phones, turned the vibrations off, and it has been much easier to type, but here we couldn't turn them off even when doing so in the Android settings menu.
The text messaging interface is in-line with the familiar Android experience, with threaded messages, so there's no problem there, but actually typing it is a different experience altogether.
In portrait mode, the Liquid E's keys are a little too rounded and mistakes are a regular occurrence.
The space key is largely unresponsive and you have to access the numbers and symbols screen to type a comma. In the comma's place is a globe key to select language.
Why on earth does that need to be there instead of a comma? Worse still, if you hit it by accident, you have to trawl through all the languages to get back to English.
It also seems a little bit too keen to guess what you're typing. The dictionary functionality is great, and suggested words do appear in a menu below the text field, but the phone seems to second guess you more often than is necessary.
Often, one mistake can veer you off in a completely different direction, we were typing "they're" and made one mistake and all of a sudden the suggested word was "turther". We can't even begin to make sense of that one.
Type "Shearer" and the suggested word was "endeared". That may explain how we feel when we see Alan Shearer's face, but how does the phone figure that's what we wanted to type?
In other cases, it fails to correct when it really needs to. Why would the phone think we want to type "wad" instead of "was"? It won't even give us an apostrophe for I'm. It thinks we want to type "in". Backwards.
This happens time and time again and it makes typing a text a quite laborious and often infuriating experience.
The lack of reliability also removes being able to use the space bar to accept the suggested word. We typed "Maxi" and by the time we'd finished the text, we'd sent "Nazi". Not cool.
It's easier to type in landscape mode though, but that doesn't solve the problems.
One good thing about texting is the auto re-send functionality that will send your unsent messages when you regain signal, rather than having to do it manually.
Email functionality suffers from the same problems, although the organic Android 2.1 email interface on the Liquid E works very well. You can add Hotmail, Gmail and Yahoo accounts very easily, and there's no messing about with POP/IMAP settings or incoming/outgoing servers.
Each inbox is colour coded, and you can choose the default account from which you want to send email. There's also combined inbox functionality too, but still no sign of threaded emails.
You'll need the native Gmail app for that. RoadSync is also built-in as standard allowing easy access to your Exchange email.
Acer Liquid E: Internet
Browsing the web on an Android phone is always a painless experience, thanks to the native browser packed full of logical and straightforward functionality, but on this great screen it really is a joy.
With multi-touch on board it's easy to pinch-to-zoom and get close in on text and images thanks to the capacitive touchscreen and although text isn't reformatted to fit the new window, the experience isn't unduly affected.
Text is reproduced brilliantly even when zoomed to the maximum level and everything re-renders very quickly thanks to the snappy Snapdragon processor.
It would have been even quicker had Acer let it off the leash to achieve its 1GHz potential, rather than the 768GHz it currently operates at.
Double-tapping on the screen zooms out to a full page view or in close depending on the area of the screen you're looking to focus on.
The bookmarks tab to the left of the URL bar also gives easy access to your history and most visited pages, and it's also fair to mention the custom-built Bookmarks 'fan' widget on the Home screen again. The design is nice, serving up a visual reminder of the last page you visited on that site.
It's also really easy to share pages in a plethora of ways, with official Twitter and Facebook apps, email and RoadSync among the many options.
There's still no Flash player to speak of on the handset, which is strange considering that the pre-loaded and instantly dispensable Acer bookmarks, are all heavily Flash-based.
Acer Liquid E: Camera
How many Android phones are there on the market at the moment? Thirty? You can count the ones with good cameras on one hand. The Dell Streak and HTC Desire are the ones that spring to mind, but nothin else really stands out.
The inauspicious tradition continues here with the Acer Liquid E. The 5MP sensor is exactly the same as the one housed on the Liquid S100.
Auto-focus is on board, but we would have really liked to have seen an LED flash and touch-to-focus, but it's difficult to expect a lot from a company with less photography experience than it has smartphone experience.
In good light, the camera can churn out some very decent results, with good colour reproduction and a decent amount of detail, but without the sun's help, it's very much a lame duck.
Trying to get up-close and personal is a waste of time, as the lens just cannot handle any kind of attempt at macro photography.
Taking pictures takes a long time, either through the on-screen shooting button or the hard button, neither of which incorporate a two-step focus that we've become accustomed to on some Android phones.
You have to really push the hard button right in to take a snap and it's a slippery customer, so taking pics isn't the most pleasurable experience in the world.
There's also a bunch of Android-imposed shooting settings, which can be summoned from a tab in capture mode. They include white balance, colour mode, location storage and ISO, but 99 per cent of the time you'll be using the custom setting.
Mono can produce some decent black and white pics however, while the Daylight WB setting improves contrast in your pictures.
DARKNESS: The phone struggles to let in light, even though you can see clear blue skies above
Click here to see the full res image
LANDSCAPE:Contrast is very heavy, restricting brightness in this shot
Click here to see the full res image
SUNNY:There's a much better showcase of natural colour and light when the sun peeks through the clouds
Click here to see the full res image
MACRO:It's extremely difficult to get up close and personal with subjects from a close distance. The focus always tends to the background
Click here to see the full res image
ZOOM:Images become extremely noisy when zoomed right in
Click here to see the full res image
DETAIL:The camera can still showcase a decent amount of detail in the right light
Click here to see the full res image
The Liquid E does put the geotagging to use more prominently than many of the latest smartphones. After taking a picture, you can instantly select a 'Show on map' option, which quickly prompts a Google Maps positioning of your snap.
This also crosses over into the brilliantly-designed custom Gallery application, that we first saw on the Google Nexus One, rumoured to be inspiring the design of Android 3.0 Gingerbread.
It's packed full of pretty animations, transitions and slideshows that would not look out of place on the Apple iPad.
Pictures load in a folder that also gives you the location of the pictures if you have it enabled (in this instance Shrewsbury, Shropshire) and options to share, crop and show on a map.
The NemoPlayer gallery, which isn't nearly as pretty, even gives the exact longitude and latitude co-ordinates. Fancy.
VGA video is also on-board, recording in customary 3GPP, which is basically an MPEG4. There's some similar video settings to the stills functionality, and the quality is pretty much as you'd expect from a basic Android phone.
Footage is surprisingly clear, however, and detailed. Although at just 20 frames per second, it's quite choppy. Again, everything is hugely dependent on natural light.
Acer Liquid E: Media
We mentioned this in the camera section of the review, but the best way to view your files is through the NemoPlayer Home screen media widget, which fans out into albums and dates, and can be easily flicked through with the thumb.
Clicking on the relevent thumbnail opens that particular album in an attractive gallery feature.
NemoPlayer replaces the standard Android media player to showcase your galleries, music and video under one banner, which is an interesting approach.
The problems reported with the first Acer Liquid, which saw the app crash whenever you tried to view a video on the new incarnation of the handset has now been resolved.
It's good to see because the scrollwheel Home screen widget is one of the more attractive reasons to adopt this phone.
The NemoPlayer widget does dominate a lot of that vital Home screen real estate, but also allows you to easily tab between photos, audio and video content with one-touch access, while also showcasing thumbnails, so it's definitely worth keeping there.
Beyond that, sadly, the unofficial Beeb Player app has disappeared from the Android Market, so there'll be no BBC iPlayer content for you. We're still waiting for the official nod from the Corporation.
The Android YouTube widget is implemented well here, allowing easy uploads and easy sharing, and shooting direct to the streaming service.
In terms of listening to music, the all-encompassing NemoPlayer does a decent enough job, and the Home screen widget allows you to select artists directly, which is a nice bonus.
The phone is capable of playing MP3, M4A WMA, WAV and iTunes' AAC files.
Inside the application, album art runs along the top tab allowing you select albums from there, but in most cases, album art resisted the switch from the PC and we were left with bland musical notes as icons.
The NemoPlayer app is one of the few areas where Acer opts to superimpose its will on top of the Android OS, so we have to give it a little credit.
You can still access the official Android music player, but for the sake of convenience you'll probably end up using NemoPlayer.
Audio quality isn't particularly great. An iPod touch it most certainly is not. The external speaker is terrible, not just encroaching on back-seat-of-the-bus territory, but building a chav fort there, thanks to some disgustingly tinny low-quality playback. Even Ma Radar commented on how bad it was.
The bundled in headphones are okay, but you'll need some decent cans to enable decent audio playback.
With video, NemoPlayer showcases footage you've copied over to the device alongside your captured video in the Home screen scroll wheel. One push on a thumbnail commences playback.
Video playback on the trailers we downloaded and transferred over to the device looked very good on the Liquid E's screen, and playback was fluid and lived up to the resolution of the footage. The device is capable of handling MPEG4, H.263/4 and, surprisingly, WMV files.
Multimedia performance, as a whole, is as expected, but Android's 2.1's gallery widget is in a different league to everything else on the phone.
Acer Liquid E: Applications
The Android Market continues to blossom in a solid second place, as it chases the App Store down. While a swing in fortunes is highly unlikely, quality and quantity is improving greatly.
There still aren't many killer apps for Android phones, such as iMovie for the iPhone 4, and games are still extremely primitive, but the extremely well-designed and user-friendly Market does have a lot to offer.
The one advantage Android phones have over Apple is the free Google Maps Navigation app, which transforms any Android-toting smartphone into a full-function sat nav system complete with turn-by-turn voice instructions.
It's a masterstroke from Google, and something which adds so much value to new Android phones. Just install a simply piece of voice software and you're good to go.
The screen is good enough and large enough to handle the app, and the GPS signal remains true for most of the time.
Voice instructions are clear and delivered in plenty of time, and there's also the opportunity to add satellite and traffic layers. You're able to simply speak your destination into the phone thanks to the voice-to-text functionality.
It's also easy to cycle through the directions using the arrow keys at the top of the screen. Returning to your current position can be achieved by pressing the navigation arrow.
It'll also run in the background while you perform other tasks, while directions appear in the notifications tab at the top of the screen, and voice instructions continue as normal.
It's a magnificent piece of functionality and it is, without question, Android's killer app.
The Acer Liquid E can do something that the iPhone 4 can't do, without opening the wallet, which is the beauty of Android.
Social networking
We've talked a lot about NemoPlayer, but the social networking applications on the Android 2.1 OS have enjoyed a nice little bump, including an excellent official Twitter app.
Android apps have a habit of being somewhat less aesthetically pleasing than their iPhone cousins, but Twitter is one of the exceptions to that mandate.
The application's Home screen features a cute animation of the Twitter bird tweeting out clickable trending topics.
It really is a fully-functional incarnation. If you'd like to tweet a photo, there's a camera button to summon the handset's snapper, or an upload key to add in a picture you've already taken.
The app also uses GPS to pinpoint your location if that's your bag.
Accessing your lists, tweets, mentions and retweets is also a doddle, and it's really easy to mention those you're following by ticking a check box. All in all, it's a great effort and even boasts a live updates Home screen widget which fills half a screen.
There are other Twitter apps available on the market, including the also excellent Twitdroid and Tweetcaster (which showcases tweets in a rolling slideshow), but the official one is by far the best, and it's free too.
Facebook for Android has improved in recent times, but it's not really up there with Facebook for iPhone.
Google Talk is on board and Skype is downloadable for free from the app store. The iPhone now has MSN messenger, but Android doesn't.
Calendar, documents and weather
The on-board calendar app syncs with your Google schedule, while RoadSync allows all your businessy-type business to be arranged.
We'd like to see an integrated Roadsync/Google calendar here, so we know whether we should be partying or in an important business meeting, but no dice.
Facebook event functionality, like on the Palm Pre Plus' webOS calendar, would also be a welcome bonus. You could do this on the web and have it ported to your phone, but that's a little convoluted.
The Documents to Go app enables Android phones to read Word documents, Excel spreadsheets, slideshows and PDFs, but you'll have to buy the full version to create those documents.
The Accuweather widget, which has become a fixture on Android phones, is available but doesn't look quite as good as it does on the Sense UI.
The trouble with having five Home screens is that two of them are pretty much dominated by the bookmarks and media widgets, while the two big social networking sites also take up a page.
Once you add the centre Home screen which features all of your pre-eminent apps and a Google search bar, there's scant room for anything else.
On the last available homescreen, we went for Accuweather, the connectivity bar and a custom version of the Sense UI clock and that was our lot.
Acer Liquid E: Battery and connectivity
Quite simply the worst battery performance we've ever seen on a smartphone.
The lithium 1350mAh battery (slightly lower than the 1400mAh on the HTC Desire) was fully charged at 10am on the first day of full testing and by 5.30pm it was completely dead.
And by dead we mean dead. It took forever to have the will to come back on. Even when plugged into the mains it took half an hour of resting up before we could even switch the thing back on.
To be fair to the Liquid E, we tested it to the max, employing the camera heavily and sending 3MB pictures via 3G, and continually using push email, but it surely shouldn't be draining to this extent?
We typed out a lot of texts and had the screen on full brightness to combat the sunlight, while live Twitter and Facebook widgets were running on the Home screen, but a seven-hour battery life is incredibly poor.
On another day, we used it sparingly and by 8pm it was also on the way out. Whereas we'll happily accept that most smartphones need to be charged in order to handle a second day's usage, not making it through the first day is completely unacceptable.
It promises five hours of talk time and 400 hours of standby battery. That's simply not true.
Connectivity
Android phones are always well-armed when it comes to connectivity and the Liquid E continues that fine tradition. There's 802.11 b/g Wi-Fi, which performed very consistently, HSDPA to 7.2Mbps and quad-band 2G connectivity.
Bluetooth 2.0 with A2DP is also present and AGPS works very well in terms of geotagging photography and Google Maps navigation. It does struggle in crowded areas, and it's not so reliable indoors.
The homescreen-housed connectivity bar allows you control most of that functionality with one touch.
For a laptop manufacturer, you'd think that the Liquid E would be jam-packed with cool PC functionality that would encourage users to own this phone as an extension to their Acer PC. Well, no-one at Acer thought of that.
There's no neat interface to allow file transfers or contacts back ups and the CD that accompanies the handset is merely a digital instruction manual.
Plugging the Acer Liguid E into the PC just prompts the microSD card storage, making it easy to drag and drop your files onto the device. Sadly there's no opportunity to utilise the device as a mobile broadband dongle.
Acer Liquid E: Hands on gallery
Acer Liquid E: Official photography
Acer Liquid E: Verdict
Android has opened the door to all and sundry to enter the smartphone world, but whereas their natural competitors Dell went all out with the smartphone/tablet hybrid Streak device, Acer has chosen to create a decent device and just let Android speak for itself.
The Streak boasted a brilliant, premium design and, even though it was only Android 1.6, added a great skin to the OS giving the device a great deal of character and identity. All in all, that's a much better smartphone.
We liked
Android 2.1 is a reason to like any phone, and thanks to an excellent hi-res display, largely responsive touchscreen and a way-above-average processing speed, makes using it an enjoyable experience.
The screen really is up there with some of the better handsets on the market, colours are bright and vibrant, while icons are detailed and text is reproduced excellently, even when zoomed in all the way.
The 768MHz Snapdragon processor ticks both the like and dislike boxes. We like it because it adds a real zip to proceedings.
Apps open quickly and transitions between screens are smooth. Nothing ever crashes on this device, and there's never really any lag.
But why is it underclocked? Just let it rip, for heaven's sake – although battery life is clearly already an issue, so maybe that's not the best idea.
The touchscreen didn't cause us any problems either. While it's not as instantly responsive as the top-end handsets, it still obeyed our demands over 90 per cent of the time, only really struggling with smaller icons.
In terms of the Android OS, there's plenty to like. It enables the Liquid E to be a great browsing device, social networking phone and mobile sat nav. It has an app store second only to the App Store. Live wallpapers are also cool.
In terms of custom Acer functionality, we do like the NemoPlayer and Bookmarks scroll wheel Home screen widgets, and the gallery and geotagging features are fabulous.
We disliked
The Acer Liquid E is a lazy release from the company, serving up exactly the same design with exactly the same camera, and functionality, while only boasting an update it didn't create itself.
Android 2.1 is something to shout about, but this is something that could have been handled in a firmware upgrade, but the trouble is there'd be no-one to download it. We understand the move, but why not do something with the hardware to save a little face?
We absolutely despised using the messaging app on this phone, and couldn't wait to plonk the SIM back into our now-sluggish HTC Hero. It's terrible and using it filled us with trepidation.
The design, while endearing with it's Stormtrooper-esque appearance is no Darth Vader-like iPhone 4 both in looks and functionality. The battery life is also absolutely abysmal.
Verdict
In terms of hardware, design and specs, the Liquid E is no match whatsoever for the top ranked iPhone 4 and HTC Desire phones, but is a capable second-tier player that can definitely compete with the likes of the Nokia N900 and Motorola Dext phones.
It's nowhere near as good as the Xperia X10, Palm Pre Plus, HTC Legend or Dell Streak handsets, either.
Acer is not a recognised smartphone name and its reputation for producing quality laptops isn't such that this phone was ever going to make a splash at a time when there are more quality phones than ever before. The Liquid S100 didn't. The Liquid E won't.
However, any phone boasting Android 2.1 is worth a look, and when it's backed up by a fine hi-res screen and a fast processor you can't go that far wrong. This is a good and capable handset, make no mistake.
We're just a little disappointed in the lack of effort Acer has put into making this phone its own, or improving on the original Liquid S100 beyond the upgrade from 1.6 to 2.1.
We've seen much worse Android phones than this but can't hand-on-heart recommend it. It could have been so much more has Acer really put in the donkey work.
This phone looks like a Stormtrooper, but sadly, also packs as much character and identity as the hapless, instantly replacable servants of the Dark Lord of the Sith.
It'll do its job and it'll follow orders well, but when it comes up against an opponent of any might it can be vanquished with consummate ease.
This isn't the smartphone you're looking for, but we don't need Jedi mind tricks to convince you of that.
Android 2.1 Eclair