Asus Transformer Pad 300
£399.99
17th May 2012 | 16:04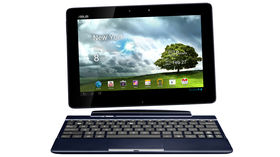 Baby Transformer still packs quad-core power
Overview
The Asus Transformer Pad 300 has been hotly anticipated since its announcement at MWC 2012, and for good reason. This is the lowest priced quad-core tablet we've seen, which goes big on value, something that's welcomed by double-dip recession hit wallets everywhere.
You won't see a tablet review without 'Apple rival' or 'iPad killer' chucked in willy nilly, but let's get something clear: this is a contender for the tablet top table, and should make the tech world sit up and take notice.
The TF300, as it's known, is a 10.1-inch Ice Cream Sandwich tablet that 'transforms' into a netbook style device, when the slate slots into its keyboard dock. You can then work on office documents using the keyboard, and control Android with the mouse pad, much like any laptop.
It's a new addition to the Transformer range, which currently includes the Asus Eee Pad Transformer Prime, and will be joined by the full HD toting Asus Transformer Pad Infinity 700 later this year.
The Transformer Pad 300 packs Nvidia Tegra 3 quad-core power, a stated 12 hour battery life and excellent usability to the £399 category, which is currently occupied by the new iPad and the Samsung Galaxy Tab 10.1.
While the Asus Transformer Prime sells for £500, Asus has managed to pack the same technology into the Transformer Pad, and offer better value than its competitors for £100 less.
There's also a range of colours on offer, including a fetching red, blue and silver.
If the thought of quad-core power, long battery life, and writing emails without frustrating mistakes appeals, read on for our full definitive review.
Design and features
The Asus Transfomrer Prime currently retails at £500, so the first question to consider is how has Asus come to market with a tablet that matches the Prime for speed and performance, still packs a keyboard dock, and costs £100 less.
The answer is build quality.
The textured metal back adorned with concentric circles has been unceremoniously axed, and in its place appears a plastic panel. It's still textured, but flexes when gripped, and doesn't ooze anywhere near the same class and quality of the Prime, or indeed the new iPad.
The drop in build quality is carried into the keyboard dock as well. The finish to the body and keys is noticeably inferior when compared to the Prime, and we found a lack of tactility when typing. The middle of the keyboard had a fair amount of flex, something that's not so noticeable on the Prime.
The mouse, however, is a triumph. It's generously sized, and supports multi-touch gestures, which enable you to navigate the multiple screens of the Android home page with ease.
A major compliment to the Transformer's usability was how we returned to the tablet mode time after time, which was fast, responsive and silky smooth, in no small part due to the quad-core Tegra chip.
While the build quality has been sacrificed in an exercise of thriftiness, we're not too concerned. The Transformer Pad 300 is still streaks ahead of the Android tablet competition, and there has been a move towards other manufacturers dropping their own build quality as well, specifically on the Samsung Galaxy Tab 2 10.1.
The screen has also been downgraded in the move to cut costs, and the 1280 x 800 IPS panel is lacklustre. It's noticeably inferior in comparison to the Super IPS panel on the Prime, and pales next to the Retina Display of the new iPad.
Colours were generally represented, but the screen wasn't as sharp as the new iPad or the Samsung Galaxy Tab 10.1, and we found the screen to be very reflective.
When playing Temple Run and Riptide GP and looking closely at HD content, blacks were distinctly blue, and noticeably noisy. If you're looking for the best visual experience, you should get the new iPad or wait for the Infinity 700.
While corners have been cut and savings made on the exterior of the Transformer Pad, Asus haven't scrimped on the inside, and if you want to get the most bang for your buck, the Asus Transformer Pad 300 comes to life under-the-hood.
The Nvidia Tegra 3 processor that powers the Asus Transformer Pad 300 is one of the best you'll find, with quad-core power, and an extra one in reserve for taking over when you need maximum power efficiency, enabling the ARM Cortex A9 cores to power down. Nvidia calls this 4 PLUS 1 core technology, and while it sounds like a gimmick, we found the Transformer Pad 300 marries excellent performance and long battery life.
We were also pleased to see 1GB of system RAM and a healthy 32GB of storage in the TF300 that adds to the strong value argument posed by this new Transformer. The £399 iPad only features 16GB of storage, which for media and app hungry users will be quickly filled. Many apps are now in excess of 500MB, and that space fills up quickly, so getting double the storage for the same price will be a key buying decision.
The Transformer Pad 300 ships with Android 4.0 Ice Cream Sanwich as standard, and it takes full advantage of all the new features in the range. You can read our full run down of the features here.
Elsewhere there's a 2200mWH battery, which can't be removed, unlike laptop batteries, but there's a second cell in the keyboard dock, which takes battery life up to a stated life of 15 hours.
There's also an SD card reader in the dock, microSD expansion on left-hand side of the tablet, and a Micro HDMI port for connecting to external displays. This is an excellent array of connectivity, and really helps to maximise the potential of the Transformer as a tool, rather than a toy.
Interface, performance and battery life
Ice Cream Sandwich is the OS of choice for the TF300, and Asus hasn't opted to tweak the standard offering too much. The home screen is unmistakably Android, and anyone familiar with Google's mobile OS will instantly be at home.
There are a few proprietary apps and widgets you can use, but the vanilla experience is genuinely refreshing after you've spent time using HTC Sense or Samsung's TouchWiz, both of which are serviceable, if needless, skins on a solid and simple OS.
The TF300 scored a staggering 9623 in our Antutu benchmarking, which is vastly superior to any of its rivals, bar the Asus Transformer Prime.
Many dual-core tablets we've tested have lagged slightly in the OS, and even switching between home screens lacks the buttery-smooth feel which we admire on the new iPad, but there's no such dip in responsiveness here.
3D gaming also scored highly in Antutu, which was reflected in our real-world gaming tests. It's head and shoulders above any of the Android tablets, and we weren't able to find a title that tested the limits of Tegra's power.
We played endless games of Temple Run and Riptide GP with no sign of slowdown, and enjoyed enhanced graphical effects such as splashes and drips, thanks to the Nvidia Tegra 3 chip. The Tegra Zone also has some excellent titles, exclusive to quad-core toting tablets.
Navigation through Ice Cream Sandwich was also seamless and smooth, and the TF300 rarely paused for thought, although we did have issues with some strange noise to the left of the screen. A couple of apps fell victim to this, but this disappeared after an over-the-air update in the Settings menu.
Great performance is nothing without longevity, and we were keen to test the TF300 to its limits. We streamed a HD version of Kanye West's Runaway video (a stress test on the senses as well as the battery) for 416 minutes before the Transformer TF300 finally gave up the ghost.
At nearly 7 hours of HD streaming, the Transformer is one of the best performers on the Android tablet scene, and longevity is boosted even further when connected to the keyboard, with 12 hour's use easily achievable.
If you spend a long time on the move, you won't find a tablet capable of delivering this kind of battery performance elsewhere. Streaming HD content would also require a large proportion of Tegra's power, and in normal use, we found we could eke days of light use, thanks to the 'fifth' power saver core.
The 8MP camera was also one of the best we've seen on a tablet, and while we'd never be seen taking a photo in public, quality from the f2.2 lens was passable. Colours were well represented, and focusing on subjects was easy.
You can even take panoramas, something that's been turned off on many ICS slates. We would like to see more options of photo manipulation on tablets, which would justify taking them on such a large size, but the Transformer only performed the bare essentials.
You can also capture 1080p video on the TF300, and Ice Cream Sandwich has a host of cool and funky effects, which enables you to get creative with your films.
The built-in speakers can be turned up to a fair volume, but the sound was tinny and harsh, and at maximum level we found there to be a substantial distortion. This made listening back to music and YouTube videos uncomfortable.
Internet
There's no doubt that the Android 4.0 browser is the most powerful Google offering to date, and we found that pages rendered quicker and aesthetically better than on Honeycomb based slates.
Gone is the patchy, slow-reveal of your favourite web sites, which now snap to life in a second. The overall load time may only be fractionally faster, but it's certainly more pleasing this way.
Navigation was also smooth, and there was no hint of judder, stutter or pause for thought when scrolling through long pages and articles. You can even use the multitouch mouse pad to scroll up and down naturally, just as you would on any laptop or MacBook.
Web pages looked superbly clear, and we were impressed how easy it was to read text. Every millimetre of on-screen real estate is used, making browsing a pleasure, and pages fill the 10-inch screen, leading to a relaxing way to enjoy your favourite sites.
Flash is also supported in the native browser app, which will be a big draw for many users, and videos quickly fired into life, something that is really helped by the presence of that quad-core Tegra 3 processor.
We also found the browser had some odd quirks, which detracted from the experience. Clicking on a link using the mouse sometimes zoomed in on the page rather than taking us to the next one. What's more, clicking a link often resulted in a page we visited earlier en route to that site appearing momentarily, before flicking on to the correct site.
There are other browser options available though, with Opera a popular choice among power users. As the TF300 runs Ice Cream Sandwich, you can also take advantage of Chrome, which brings a host of needed upgrades to the browsing experience, and we'd certainly recommend this, and we found reliability improved dramatically.
If you're looking to surf the web on the move, there's more bad news. There's no 3G version of the TF300 slated, so you will have to stick with Wi-Fi to browse the web.
Media
The Asus Transformer Pad TF300 uses the Google Play store, previously known as Android Marketplace, to offer downloads of all apps, games, and every increasingly, movies and books.
The selection is no-where near as colossal as the iPad's with the backing of iTunes, but it's certainly an area which is growing fast. Google's rebranding of the app store puts a bigger focus on consumable content, and the options to find movies and make book purchases is obvious as soon as you open Google Play.
The buying experience is seamless, and Ice Cream Sandwich's revamped video handling puts all your videos in one place. Movies are fractionally cheaper than on iTunes too, with Girl with the Dragon Tattoo available to rent for £3.49, but the selection isn't only a fraction of Apple's, and there are no high definition options.
As a tablet, it's not well suited to books, and the chunky body doesn't lend well to reading on the train or tube. It feels top heavy in the hand, requires effort to grip, and the plastic back isn't as narrow or tactile.
Due to the docking keyboard, the tablet feels more natural when held in landscape mode, which is good for movies.
If you want to use your own media, rather than buy from Google, the Asus Transformer Pad 300 is an excellent tablet. You can drag and drop resources, and the generous amount of storage that we mentioned earlier is great if you have large collections.
While drag and drop makes life a lot easier, we found that the TF300 was slightly sniffy about the formats it played. AVI files were strictly off limits, which wiped out much of our collection of TV shows, as was MKV. HD content played smoothly when we did get the formats right.
One of the major bugbears with the iPad is the need to use iTunes to manage media, so being able to drag and drop, and the presence of microSD and SD slots is a welcome relief. This makes it a superior media tablet to devices which claim to be film-friendly, such as the Motorola Xoom 2 Media Edition, which bafflingly uses proprietary software to manage media.
Ebooks are read using the Google Books app that you can download from Google Play, or you can use the Amazon Kindle alternative.
It's serviceable with clear text and lets you easily swipe to turn pages, but there's no way the Transformer Pad 300 should be considered a good ereading device for book junkies. The selection of books falls far short of expectation, and the screen and size simply can't compete with the host of budget ereaders now available.
Apps and Games
When we were first introduced to the TF300 back at MWC 2012, Asus spokespeople were keen to brand this budget quad-core slate as a gaming device, so we were keen to see how this would be adopted, and we were impressed with what we found.
The Tegra 3 processor is built for mobile gaming, with an abundance of processing and 3D graphics power than is unrivalled in the Android line-up. What's more, Google Play is a fantastic resource of titles, and the selection is growing every day.
Android historically lacked the breadth of big-name titles you'd find on the Apple App Store, but this is changing. Some of the biggest iOS titles, such as Football Manager 2012 Handheld are now on Android, and if you're looking for games, you can read our run-down of the best titles here.
The Nvidia Tegra 3 chip made mincemeat of all the games in our test, and even provided some extra graphical effects that you wouldn't find on other tablets. Riptide GP is a classic example, with some pleasing drips and splashes on screen, and it bodes well for the future of mobile gaming.
The Tegra 3 processor doesn't just make existing Android titles look better, and there's a dedicated app store called the Tegra Zone, which takes you content which is specially designed or enhanced for Nvidia toting tablets.
Gaming performance was excellent throughout, and there was some exciting looking content such as Shadowgun and Grand Theft Auto III.
There's a mixture of free and paid-for titles, but while some games like Dark Meadow: The Pact looked superb, some seemed more like showcases of the superb capabilities of the TF300 than bastions of quality mobile games, though we have high hopes for the future.
One of our major bugbears is the search in Google Play. We often found that apps weren't returned during a search from the device, yet a web search on our PC soon revealed the title we were looking for.
We could then 'send' the download to the tablet without fuss, but after using iTunes, we're not fans of leaving the sofa to download, play and enjoy titles.
The TF300 is a good gaming performer, which rivals the new iPad in terms of performance and comfort.
Until the launch of the Infinity 700 with its HD display, we'd go as far as to say this is the best current Android gaming tablet available.
It's still trumped by iTunes' excellent selection, and the experience of gaming with the iPad's Retina Display, but that shouldn't detract from an excellent all-round performance.
Hands on gallery
Official gallery
Verdict
You can't release a £399, 10.1-inch tablet and not expect comparisons with the iPad, so we'll cut to the chase.
We liked
The Asus Transformer Pad TF300 is currently one of the best 10-inch Android tablets you can buy, and represents better value with equivalent performance than the Asus Transformer Prime.
The top-notch benchmark scores, wonderful use of the keyboard docking station, excellent battery life and superb usability make it a top recommendation in our eyes.
If you're platform agnostic and are tossing up between this and the iPad, things get trickier. The Transformer is better value, has double the storage, a fantastic keyboard dock which makes it much more versatile, and Ice Cream Sandwich closes the gap hugely.
We disliked
Buying Guide
15 best Android tablets in the world
Some people may be put off by the build quality, with the plastic body falling behind the Transformer Prime and way behind the new iPad - plus the flex in the keyboard won't be to everyone's liking.
The lack of 3G compatibility rules out internet on the move, which is a must for those who depend on a tablet while commuting, with Transformer Pad 300 users restricted to Wi-Fi hotspots.
Verdict
The new iPad is still the best all-round tablet you can buy, and is backed up by a fantastic eco-system of apps, magazines, music, games and content. It's the more pleasing and polished option, and if your main aim is to keep cost down and entertainment high, the TF300 still falls short.
Individual needs and budget will determine if the Asus Transformer Pad TF300 is right for you, but we applaud Asus for marrying value and performance, and the TF300 comes highly recommended.
Asus Transformer Android tablets techlife tabletscarousel-en-gb