Archos ChildPad
£99.99
15th Apr 2013 | 17:04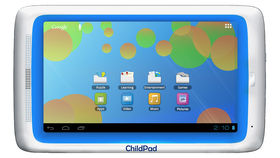 Games-loaded Android tablet keeps the big, bad internet at bay
Introduction
This is a tablet that's been virtually ignored in the emerging genre of 'mini tablets' - a sector dominated by the Google Nexus 7 and Kindle Fire - but there's definitely a place for a tablet that's child-centric, even if it's merely to enable parents to regain control of their own tablet. Step forward the Archos Arnova ChildPad.
The internet is a big and very bad place for kids to be let loose in, and the fear of offspring visiting inappropriate websites is certainly one of the reasons - the other major one being high prices - for tablets not being as prevalent as they could be among youngsters.
The Archos ChildPad is a seven-inch tablet that seeks to take on the likes of the Kindle Fire, Nexus 7 and even the iPad mini by providing some parental filtering software for parents' peace of mind.
The software in question - Mobile Parental Filter - doesn't come for free, but of more concern are the hardware limitations of the Archos ChildPad. This is a basic implementation of the Android Ice Cream Sandwich 4.0 flavour (version 4.0.3 to be exact), but it runs behind a somewhat questionable screen; it's got just 800 x 480 pixels to play with.
Touch-play comes from within four folders on the home screen, namely Puzzle, Learning, Entertainment and Games. There are plenty of the latter preloaded, from Angry Birds and GlowHockey to Hamster: Attack! and the pleasingly-named PigRush.
The regular Google Play app shop is replaced - in what does seem like a wise move for parents keen to cut out inappropriate downloads and accidental app purchases and in-app payments - by an alternative hub called AppsLib, which has 10,000 games, books, comics and video that's filtered for suitability. That's the theory, anyhow.
The Archos ChildPad comes with 4GB of built-in storage, with a micro SDHC card slot for either pushing that up to as much as 32GB, or inserting music, photos and video from a smartphone or computer.
Unlike some Android gear, the Archos ChildPad links to Windows and Mac computers as a pop-up flash drive for simple file transfers.
Features and design
Measuring 223 x 142 x 12.2mm 8.78 x 5.59 x 0.48 inches) and weighing a generous 380g (13.4oz), the Archos ChildPad is small enough for an adult to pocket, but whether it's light enough for a child to carry easily is in doubt.
In terms of design it's really nothing special; its curved corners of white plastic are soft enough, though even softer is the blue silicon back that has four millimetre-deep feet to further prevent scratches.
Otherwise, the design is more phone than tablet; either side of a centimetre-thick blue screen surround are a camera (VGA 640 x 480-pixel quality - and there's no rear camera) and a mic at the top (if held in portrait orientation) and a speaker at the bottom.
Meanwhile, there's a huge blue Archos ChildPad logo on there too, just in case you've forgotten who this is aimed at or what it's called.
Elsewhere, the only slots and controls are along the top. This includes a small standby switch, a micro USB in and, underneath that, a micro SDHC card slot (which in theory increases its 4GB of flash memory, and a good thing too since almost half is taken up with pre-installed apps and software). There's also a headphones jack, and a find-something-sharp reset button.
There's also an empty slot that looks suspiciously like it could have housed an HDMI output; perhaps Archos changed its mind at the last minute. More likely, the Archos ChildPad is a mere mod of another model - something that puts into question its child-centric claims. There's no Bluetooth or GPS functionality, either.
Backed-up by a 1GHz ARM Cortex A8 processor and 1GB of RAM, the Wi-Fi-fuelled Archos ChildPad's 800 x 480-pixel capacitive touchscreen has a G-sensor to recognise its orientation.
In the box comes a micro USB cable and a USB wall charger. All this comes for a full retail price of just £99.99 (around US$150/AU$146).
Interface and performance
The Archos ChildPad's interface is pretty empty. A standard Android Ice Cream Sandwich (ICS) experience with content and apps removed - and a load of games downloaded in their place - it's not an OS that offers much customisation.
Besides the standard array of Puzzle, Learning, Entertainment and Games folder on the home screen, the usual top-left grid icon is also on hand to store all other apps and widgets.
Inside there are all the apps already seen in those folders, plus the likes of AppsLib (a Google Play replacement), Browser, Calculator, Camera, Clock, Email (which in our test failed to link to a Gmail account, so we had to resort to the browser), Explorer (to locate files stored on a microSD card, for example), that Mobile Parenting Filter, Movie Studio (iMovie-style video editing, which is overkill given the Archos ChildPad's basic front-facing camera-fuelled video ability), Search, Settings and Sound Record.
Not only is this standard Android experience not designed for kids, but it's tricky to customise, too. The physical process is the same as on any Android phone or tablet - touching an app icon for a few seconds transfers it to the home screen grid - but the Archos ChildPad seems incapable of remembering what you did between shutdowns.
Placing shortcuts on the home screen for the browser and a few games is therefore rather pointless. Parent-led and password-protected customising really should be a central pillar of the Archos ChildPad; it's not even an option.
Another slight annoyance is some of the default settings. In particular we had problems with the sleep option. The Archos ChildPad can be set to nod-off after as little as 15 seconds, but to a maximum of 30 minutes, which isn't a patch on most Android tablets (though it can be set to never sleep while charging). However, the reason for that becomes clear later when we look at the battery life... or lack of.
Although we wouldn't call it frustrating to use per se, the Archos ChildPad doesn't have the greatest touchscreen around. It's not so much that swipe sensitivity is slow (though there is a definite lack of haste when moving along photos or panels), but its simple touch control is a pain.
Launching an app, closing a tab on the browser and accurately selecting something on the screen isn't always easy, with frequent mis-types occurring. We didn't chuck it out the window (we've seen far, far worse), but some impatient people might do.
When called upon, the keyboard launches in a just about an acceptable time, and in our Angry Birds test we actually did quite well, though change the orientation of the Archos ChildPad and you will have to wait a few seconds for the screen to catch up.
Still, for playing basic games the processor is absolutely fine. What a relief.
Browser
We're not sure why Archos has bothered with a browser on the Archos ChildPad, because it's virtually unusable. That might sound like a positive for parents looking to restrict a child's exposure to the web at large, but it's nothing of the sort; during our review browsing the web was at different times both frustrating and completely unrestricted.
Crucially, for the first week we used the Archos ChildPad the time was set to January 7 2011, and it didn't update itself despite being permanently on Wi-Fi. During this time we used the standard Android browser - the only one it's possible to use on the Archos ChildPad - and had completely unrestricted access to the internet, search engines and all.
OK, so we did receive basic security warnings for virtually every website we visited, including Google, and we couldn't download apps from the Google Play website, but we did manage to log in to Google and check Gmail easily enough.
Meanwhile, the BBC iPlayer was off-limits only because Android devices require the additional BBC Media Player app from the (inaccessible) Google Play app store, while visiting ITV Player prompted a link to a Google Play app, too, but we did manage to visit YouTube easily enough. Apps for Twitter and Facebook are conspicuous by their absence, but their websites were not.
And then everything changed. We were about to implore everyone reading this review to quickly reconsider buying the Archos ChildPad if parental control was on their shopping list, because it was offering zero protection on the web.
However, once we'd updated the Archos ChildPad's date and time, that Mobile Parental Filter software that we had subscribed to suddenly kicked in, instantly banning any visit to a search engine.
In fact, each time we attempted to visit Google, we were redirected to Wikipedia's home page, and given the message: 'Search engines are forbidden'.
Whether or not that date/time issue is a default setting, we're not sure, but we now have few concerns about security. Mobile Parental Filter comes pre-installed, and works for six months before charging you £9.99 (around US$14.91/AU$14.59) per year.
It's available for absolutely any Android tablet via an app download from Google Play, but in that scenario it's only free for 30 days (incidentally, ignore the bad reviews on there - most are written by the very kids this software is designed to protect).
Made by Profil Technology, if any website deemed inappropriate is visited the software flashes up an 'access denied' page and a reason for blocking, though there is a password-protected 'parent area' that can unlock specific pages (CBeebies, for example), as well as an 'unblock request' option that informs the developer.
All good, but mind the bugs and do a test to make sure that the software is up and running (and the current date and time set) before handing the Archos ChildPad over to your kids.
Movies, music and books
Aside from Big Buck Bunny, a 20 minute cartoon provided for free by Archos, the only way to get movies and video content on to the Archos ChildPad is via USB or microSD card. In our tests we got an impressive array of file formats to play, including AVI, MKV, MOV, MP4 and even the RealPlayer Media RM format, a true collector's item (though largely pointless).
If file support is nothing short of stunning - something's that's typical of Archos gadgets, it must be said - the same doesn't apply to either the navigation or integration of the non-standard Video, Music and Gallery pre-installed media apps.
Videos are listed with thumbnails along the left-hand side, though those thumbnails often get confused, or disappear. Once playing, the navigation controls - which include scanning, playback, bookmarks and aspect ratio - physically layer-over the core Android navigation controls along the bottom, so it's not possible to change volume during a movie, or even exit straight to the home page.
To do either of those, you have to select the 'go back' option, represented by a circular arrow. It's another example of why stripping down features and offering some hastily put-together software doesn't constitute a child-centric device. Apathy towards the Archos ChildPad could quickly ensue - after a barrage of questions to parents, perhaps.
That's a shame, because picture quality is the right side of acceptable; contrast is a bit of a washout, and the viewing angle is tight, but some good work with colour and detail (from hi-def files, in particular) makes the Archos ChildPad more than acceptable as a basic video host.
Photos in the JPEG, BMP, GIF or PNG formats are highly watchable, with six to each page in Gallery, and some nice transitions between them.
There's a carousel of images along the bottom of the screen, too, though the icons are far too small for our grown-up fingers. However, the aspect ratios do appear to judder and change when swapping between images and general navigation.
Music
Music was never going to be the Archos ChildPad's strong suit, because of its terrible speakers. We know kids prefer the sound of compressed music to 'proper' tunes, but this is going too far. Play a high-octane track - such as one with drums or guitars in it - and it sounds like an attack of insects.
However, through headphones things are different, and the plethora of filetypes we threw at the Archos ChildPad - including MP3, WAV, OGG and FLAC - all produced good volume and enough detail, though none had the depth and width that you'd expect on a reasonably good smartphone or MP3 player.
Although we liked the chance to play a song then revisit our library while it continued playing, it took us a while to then figure out how to stop the music.
Books
Unless you download e-books or comics as dedicated apps, or a free e-book reader from the AppsLib online store, the likes of EPUB, MOBI and even plain text files are out of reach on the Archos ChildPad.
Given the short battery life, it's probably wise to avoid using it as a reading device, but that does detract from its usefulness.
Apps and games
Despite running on Android Ice Cream Sandwich, the Archos ChildPad doesn't get any love from Google, though we're not sure whether it's a lack of certification or a belief in a ring-fenced web that persuaded Archos to leave off access to Google Play apps.
Instead, Archos has downloaded a flurry of apps - essentially from Google Play - to the Archos ChildPad before bolting the door.
There are no official Google apps, so the likes of Gmail is via a browser only, but some standard Android apps remain, such as Camera, Clock and Settings. The lack of any social media apps will likely put off anyone over the age of about eight years old, though all websites can be visited if that parental software is left unactivated.
AppsLib is the big news on the Archos ChildPad, and for the most part it's a sensible, if basic approach. Its 30,000 apps are divided into Selection and Top 50 on the home page, with Categories (Books & Comics, Education and the slightly ill-judged 'Productivity'), and My Apps.
Although some apps have a green tick and the word 'approved' by the side of them, we do have a problem with MyLib in that it's not been designed for kids.
As well as requiring an account to be set up, something an adult could and should be in charge of, apps are sold in both Euros and US dollars, which is confusing. It would have been better to ring-fence free, approved apps that a child could download and install.
We have a bigger problem with the Puzzle (Flight Frenzy, Memory for Kidz), Learning (Word Tree 3D, Math for Kidz), Entertainment (Mini Piano Lite, Magic Doodle) and Games (Angry Birds, Glow Hockey, Speed Skater and Stellar Escape) groupings of apps on the home screen, which have a few French language apps in them.
There are also adverts embedded in some of these apps, which advertise other games but take you straight to the security warning panel in the browser if you interact with them.
Camera, battery and benchmarks
Camera
The camera is a write-off. If you're after a child-centric tablet, it is safe to presume that the intended user doesn't have a (probably more expensive and higher-spec) smartphone or any other kind of handheld device yet (if that's not the case, look away now).
So we're disappointed that the Archos ChildPad doesn't have a rear-facing camera. Granted, taking photos in public with a tablet is not something a right-thinking adult would do, but we don't see why kids should have to carry around multiple gadgets with them.
Taking any kind of pictures aside from self portraits with the Archos ChildPad's built-in VGA-quality front-facing camera is virtually impossible, but we've no complaints about the basic quality of these shots; they are what they are.
The camera app provided is the standard vanilla Android version, but comes without without any tweaks, aside from a location toggle.
Battery life
For a gadget that's presumably designed to be harder-wearing that most, and also likely to be tossed around and left for days on end, the battery life is shamefully short.
In our long-term test the Archos ChildPad consistently seemed to drain of juice very quickly, and in no session did it make it past the four-hour mark. If left alone for four days a full battery discharges to about 50%.
Benchmarks
The Archos ChildPad didn't do well on the benchmark tests either, managing an average of just 4140ms on SunSpider, making it about 50% slower than higher-spec tablets. That said, it's definitely got enough processing power for games and video.
Universal browser tester PeaceKeeper produced an average score of 232, which is not great; browsing is mostly off-limits if the filter is activated, but besides that it's one of the Archos ChildPad's definite low points as an experience - though never unusable.
Verdict
Don't be fooled by the name; the Archos ChildPad gets its child-friendly moniker as much through its use of bright white and blue plastic as its does from (apparently) kid-centric software, though we were (eventually) impressed by its Mobile Parental Filter app.
We liked
Having a nice, bright colour scheme is perhaps a tad predictable for a child-centric tablet, but it makes a cheery change from those super-serious gloss black tablets that dominate the adult market. All tablets are toys, and this at least looks like one.
Once the Mobile Parental Software is set up and operating, it successfully blocks dodgy websites and is easy enough to tinker with. Meanwhile, digital file support is nothing short of awesome - it even supports hi-def MKV files and lossless music files such as FLAC and OGG - while the large selection of pre-installed and smooth-running games, including Angry Birds, does the job.
Best of all, though, is the Archos ChildPad's low price of £99.99 (around US$150/AU$146), which at last makes it affordable and practical to get your kid the gadget they've been desperate for.
We disliked
We're not totally convinced by the Archos ChildPad. Is the Android OS made for kids? No, it's not - it's far too fussy and illogical - and nor is the Archos ChildPad designed with kids in mind.
The bugs in the Mobile Parental Software are alarming, while the short battery life isn't much help. Minor grumbles about the quality of the screen, the simply awful built-in speaker, the poor camera and the lack of GPS or Bluetooth aside, we do consider the Archos ChildPad a rather heavy device that isn't up to scratch.
Its single core processor just about copes with Android ICS, games and browsing, though it's slightly hamstrung by its touchscreen's lack of tap-sensitivity.
Final verdict
We can't help thinking that there's a huge gap in the market for a good tablet with a child-specific OS that's designed for kids yet easy for a parent to control. The Archos ChildPad, however, isn't that device - and Android isn't that OS (though you may be able to tinker to make Android child-friendly).
Seeming a bit too heavy for the age group it's aimed at - primarily the under 10s - Android proves rather too fussy for younger age groups after easy and logical access. We would have liked to have seen a far more comprehensively modified version of Android, with extensive options for parental-controlled micro-customisation.
With its effective - though possibly buggy - Mobile Parental Software (an app that's cheaper here than if downloaded from Google Play to, say, a Google Nexus 7) disallowing free access of the whole internet, the Archos ChildPad does fulfil its minimum brief. We're just not convinced that elsewhere there's anything particularly child-centric about the design and spec of this tablet.
Taking away access to Google Play is a nonsense; instead the Mobile Parental Filter should be able to cope with its contents and filter appropriately, or ban access to pay-for apps.
We're also rather concerned about its low-resolution screen and terrible, awful built-in speaker; the Archos ChildPad desperately needs Bluetooth to stream to a wireless speaker accessory.
However, while the Archos ChildPad may not be the most advanced tablet computer available, it's not meant to be, and as a way to bring the world of the touchscreen tablet into a child's life for relatively little spend, the Archos ChildPad is a decent, fair value attempt. But it won't stop your child from nagging you for an iPad mini.
Archos Arnova Archos tablets children