Spotify
1st Mar 2009 | 10:00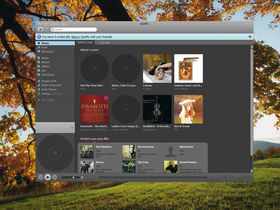 Is music-streaming app Spotify the legal answer to all your music needs?
Spotify's catalogue may not include one of the specific songs that you're after, but for every one it lacks, there will be five more worth a try.
A growing market for playlists makes it easy to find new tracks, and the app even remembers your settings across different PCs.
The main problem that we've experienced is that while Spotify uses P2P technology to get its speed, it doesn't actually tell you this up front, even though this could easily have a knock-on effect on your connection.
The current lack of a method to buy files or sync your library to portable devices also means that you'll still need a copy of iTunes or similar on hand. However, these are relatively minor issues, and the service is still in beta
It's likely to become more ad-heavy as time rolls on in order to drive people subscription, but at the moment you can easily listen to 10 tracks without coming across an advert. For those of us who just dabble in music, that's a pretty good deal.
music streaming free p2p techlife