Canon PIXMA MP610
£120
22nd Jan 2008 | 11:59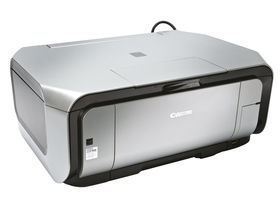 Canon's all-in-one printer gives you everything, and a little more besides
Little short of legendary, Canon has made such a success of its revolutionary five-ink printing system over the past few years that conventional six-ink photo printers have disappeared from the company's product line-up altogether.
So what's the big advantage? Typically, photo printers using dye-based inks fail to produce rich, crisp black text, making them poor for document printing, while four-ink pigment-based printers produce lacklustre photo prints.
Colour conscious
Like its recent predecessors, the MP610 uses two black inks, one pigment-based and one dye-based, as well as dye-based cyan, magenta and yellow inks.
The net results are impeccable mono and colour document printing and surprisingly stunning photo prints, with highly accurate colour rendition across the entire spectrum, despite the lack of additional light cyan and light magenta inks that are usually found in standard photo printers.
Some of Canon's previous five-ink printers tended to over-emphasise the contrast in photo prints.
The new M610 has been tamed in this respect, producing more lifelike output that's kinder to skin tones, generating superb results.
Printing and photocopying is also super-fast, with document print speeds of up to 31ppm for mono and 24ppm for colour.
The speed advantage is even more noticeable when printing photos, with borderless 10 x 15cm being outputted in as little as 20 seconds.
Switching to normal photo quality mode, the MP610 produced 10 x 15cm prints in just 39 seconds in our tests, while full A4 prints took a mere one minute 45 seconds at best quality.
This makes the Canon almost three times as fast as competing HP and Epson models at their top quality photo settings.
There's more good news on the running costs front, with ink costs working out to about 7.5p per 10 x 15cm photo and 29p for a full A4 photo print.
Compared with the current crop of photo-friendly Epson and HP printers, ink costs are about half the price per photo print.
For regular document printing, the Canon is equally frugal, with costs of 1.8p and 5p for mono and colour A4 pages respectively, based on the usual five per cent coverage.
Every little helps
For basic printing, you can get all of the speed, quality and cheap running costs of the MP610 by buying the new PIXMA iP4500, which uses exactly the same print engine but costs just £70.
To our minds, however, the MP610 is more than worth the extra, as it provides a complete printing and photocopying solution.
For direct photo printing, a wonderfully intuitive control panel and menu system combines the advantages of the multi-format memory card reader and the 6.2cm colour screen.
Direct printing facilities also offer optional image noise reduction, face brightening and red-eye reduction, as well as adjustments for brightness, contrast and colour, and special effects such as sepia toning.
The real highlight of the MP610, however, is that it includes the best photo-quality scanner we've ever seen built into an all-in-one printer.
Canon's CIS scanners have always led the field but the A4 model built into the MP610 features exotica such as fade and grain correction, dust and scratch removal, unsharp mask and stitch-assist.
Photocopy quality is also top of the class, making the MP610 the most complete all-in-one document and photo package on the market. It's a thing of beauty.
TRBC