Sony Vaio S Series 13P
£1800
2nd Aug 2012 | 11:40
Sony's flagship business device ticks all the right boxes
Introduction
Sony's new Vaio S Series laptop continues the Japanese company's tradition of stuffing its flagship device with the very latest tech available, then serving it up in a cool, slimline business chassis.
The spec sheet alone flicks the metaphorical middle finger up at its Ultrabook-christened rivals and that's before you've even begun to use it.
The features of this laptop, not to mention the asking price, establish the S Series alongside the Dell XPS 14, Apple MacBook Air 2012 and the Samsung Series 9, in the top tier of ultraportable, ultra-premium notebooks.
The Vaio S Series 13P keeps the familiar sharp edges and lightweight design we remember from earlier models and the same brushed metallic design that gives this laptop its business credentials.
The Vaio Series S 13P measures 328 x 226 x 21mm and weighs 1.6kg, which makes it thicker and heavier than an Ultrabook, but by no means are you going to struggle to slip this into a satchel or briefcase and carry it around for a day.
Predictably, even under heavy use the chassis remains cool to the touch and very quiet.
These attributes make the specifications that Sony has packed into the Vaio S Series 13P even more impressive.
First up is the new Intel Ivy Bridge i7 processor.
Its four cores give it a clock speed of 2.90GHz, and it's assisted in the graphics department by a dedicated NVidia Ge Force GTM graphics card.
The slimness of the chassis hasn't stoped Sony from adding a slot-loading Blu-ray drive and on the opposite side you'll find the latest ports and connections - including Thunderbolt.
In times gone by it was easy to have a crack at Sony laptops for their particularly high prices, but the new option to customise components means this is less of an issue.
You're still going to have to pay handsomely to get the best out of the Sony Vaio S Series 13P (our review unit configuration came in at £1,822) but, to be perfectly honest, it's well worth it.
Specifications
This year Sony streamlined its entire laptop catalogue and as a result, the Sony Vaio Series is available in three variants: The S Series 13, S Series 15 and S Series 13P with the main differences being screen size and chassis colour options.
Our review model was the Vaio S Series 13P - the P stands for premium – but once you've selected your model, you can choose from a range of options that let you customise the internal components to your own needs (or budget).
This extra freedom to shape your product is something Dell has been doing for a while, and it's a definite plus point for Sony.
If you're not interested in the components then there are standard specifications, but if you're planning to spend £1,000 on a new laptop it pays to take a bit more time and get the machine exactly the way you want it.
The beating heart of the Sony Vaio S Series 13P is the Intel Core i7-3520M CPU. It's not the fastest Ivy Bridge chip available, but it was enough to go blisteringly quickly through our benchmarking tests.
There's 8GB of RAM on board, although this too can be customised either upwards to 12GB or downwards to 6GB or 4GB. We feel 8GB is perhaps the sweet spot between price and performance.
It's doubtful you'll use the Vaio S Series 13P as a gaming machine, but the Nvidia Ge GForce card does help take some of the strain from the processor and the Intel HD 4000 integrated graphics.
Even so, the Vaio S Series 13P is much more suited to using professional editing or creative software than busting out a few frags on Battlefield with the detail settings cranked up.
Unfortunately, the 13.3-inch screen on the Vaio S Series 13P doesn't boast a Full HD display, relying instead on a 1,600 x 900 pixel resolution.
What's more, the lack of a Super-TFT reflective coating further hampers this as a movie/gaming machine.
The matte screen is obviously better suited to professionals looking to work in offices or other brightly-lit environments.
What is good to see is that the screen is reassuringly bright and colours look sharp even without the added depth of shading that you get from a reflective screen.
Sony has made the most out of the available real estate on the Vaio S Series 13P's chassis.
To the right is a slot-loading Blu-ray drive, which can be upgraded to a Blu-ray writer if you fancy burning your own high-definition content. Also on the right are two USB 3.0 ports, HDMI and VGA connections for external monitors or TVs and a Gigabit Ethernet port for wired internet access.
There's also the Thunderbolt connection, popularised by the new Macbook Pro but still relatively in its infancy when it comes to peripherals.
You also have an SD Card slot alongside a MagicGate Pro Duo port for Sony's own proprietary memory cards.
Rounding out the specifications is the fingerprint scanner tucked next to the standard Sony hotkeys at the top of the chassis.
Performance
Cinebench 10: 11,226
3D Mark '06: 6,538
Battery Eater '05: 203 minutes
Listing specifications is all well and good, but using the Sony Vaio S Series 13P for real is when you appreciate the extra touches Sony has included.
For example, at the top of the chassis, above the keyboard is a switch that toggles the laptop's performance between speed and stamina – switching the configuration depending on whether you want maximum performance or to conserve the battery life.
It's nothing you can't do yourself in the Control Panel of course, but having the shortcut right in front of you is useful and time saving.
We've often praised Sony for the usability of its laptops and with the Vaio S Series 13P it's a case of 'If it ain't broke, don't fix it.'
The spacious isolation-style keyboard is very comfortable to use and there's a good depth of travel considering the slimness of the chassis.
The added backlight also helps during those late-night typing sessions.
The multi-gesture touchpad is a wide rectangle with curving edges and integrated buttons.
Next to the gloss of the metallic palm rest it's very easily distinguished and comfortable to use and the buttons are very nicely weighted.
As we mentioned earlier, the Vaio S Series 13P remained cool and quiet, even when we were pushing it with several programs going at once, as well as streaming video from the internet.
The operating system is Windows 7 Professional and the 8GB of RAM kept the overall performance smooth and lag free.
Although the 256GB solid-state drive doesn't give you a great deal in terms of storage, the benefit is apparent in the boot-up and general performance speed.
You can have the Vaio S Series 13P up and running in a matter of seconds from hibernation, and this is perfect for when you want to quickly hammer out an email or edit a document on the move.
We mentioned that media wasn't the strong point of the Vaio S Series 13P, and this is more apparent when you try playing music through the speakers.
You can hit a respectable volume with the Vaio S Series 13P, but quality isn't as good as we've heard from the likes of the HP Envy Spectre.
However, we do have to give the Vaio S Series 13P credit for its battery life, which came in at 203 minutes during our Battery Eater benchmarking.
Verdict
We were fairly confident that the Ivy Bridge Sony Vaio S Series 13P would be an excellent machine, and our only hesitating thought was that it would effectively price itself out of contention compared to increasingly affordable Ultrabooks.
That's true in part, but we have to admit that Sony's decision to let consumers customise their machine opens the Vaio S Series 13P up to much greater potential than if they had simply left it as a closed spec.
Buying Guide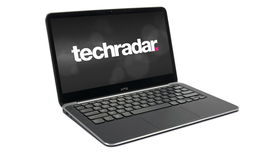 20 best laptops in the world
We liked
Both the portability and usability are excellent here. So much so, that the excellent specification almost fades into the background.
General usage was excellent thanks to the comfortable, well-sized keyboard and the speed of the operating system, not to mention the fact the chassis keeps cool and quiet even during high-intensity usage.
Furthermore, to have a Blu-ray player, Thunderbolt, Fingerprint scanner and backlit keyboard, as well as SSD and a 203 minute battery life on a chassis this slim is exceptional.
We disliked
Although the Sony Vaio S Series 13P can satisfy our general usage and business requirements, a media machine it is not.
There's not enough on-board storage for the average person's movie collection, so you'll need to rely on streaming services like Netflix or cloud storage.
Even so, the screen and speakers aren't geared towards multimedia use and other Ultrabooks like the Asus Zenbook UX31, Dell XPS 13 or MacBook Air are better choices in that regard.
Our other gripe was the lack of a Full HD screen. If that's what you want, you'll have to opt for the larger Sony Vaio S Series 15.
Final verdict
The Sony S Series 13P is a shining example of Sony's ability to craft great laptops and it's practically flawless as an ultraportable business machine.
The inclusion of a Blu-ray drive doesn't stop it being a bit of a let-down when it comes to multimedia, but frankly that's splitting hairs considering the performance and extra features you get out of this machine.
The boxy, executive design might not appeal to all but the usability is certainly up to Sony's usual high standard. If you need a powerful, portable business machine, the Sony Vaio S Series 13P should be topping your list.
P Sony Vaio computingcarousel-en-gb TRBCExtra TRBCHardware TRBC