Samsung Series 3 NP355V5C
£599
3rd Oct 2012 | 10:17
Not an Ultrabook, but a big, powerful laptop
Introduction
These days, we're surprised when a laptop that's more than 2cm thick and weighs more than a couple of kilograms comes across our desks. Ultrabooks such as the Asus Zenbook UX32A, HP Envy 4 Ultrabook and Samsung Series 5 Ultra seem to have almost completely taken over.
With all the flash behind these new designs, it's easy to overlook something such as the Samsung Series 3 NP355V5C-S01. Intel is powering the Ultrabook boom, but we've got an AMD processor in this 15.6-inch laptop. SSDs are the hot technology, but here Samsung has swapped speed for a huge hard drive.
But the Samsung Series 3 reminds us what a premium we're paying for the convenience of thin and light laptops. For £599 (about AU$938/ US$967), you get a quad-core processor from the high-end AMD A10 'Trinity' APU, with a dedicated Radeon 7670M providing some graphics grunt (though the A10 has a built-in GPU it can use to save power).
You also get a healthy 8GB of RAM, while a generous 1TB hard drive means that you'll have plenty of space to store videos.
In fact, the Samsung Series 3 looks initially like it should score a home run as a multimedia machine. But two things hold it back slightly: the 1366 x 768 screen can only display 720p HD, not 1080p; and while there's a DVD drive, there's no Blu-ray support.
Its size (32 x 372 x 243mm, or 1.26 x 14.65 x 9.57 inches) and weight are fairly standard for this kind of home laptop. At 2.5kg (5.5lbs) it feels a good chunk heavier than an Ultrabook, especially something such as Samsung's own Series 9, but it it's nothing unusual for a 15.6-inch laptop.
Samsung has used the extra space to squeeze in a number pad to the right of the keyboard, and has moved the trackpad over to the left, so it's in line with the space bar.
Along the sides of the machine, you'll find a reasonable array of ports: VGA, HDMI, Ethernet, two USB 3.0 ports and two USB 2.0 ports, along with the DVD drive. There's also an SD card reader tucked tidily away beneath the curve at the front of the machine.
In terms of looks, the Samsung Series 3 is simple silver and grey plastic on top, with a pattern on the lid that's faintly reminiscent of brushed metal. It's all fairly understated, and wouldn't look out of place at home or in an office.
You will notice very quickly that the shiny lid picks up a big smudge every time a finger goes anywhere near it, though.
Specifications
For its price, the Samsung Series 3 355V5C-S01 offers a seemingly tantalising list of specifications. A quad-core processor, discrete graphics, lots of RAM and a hefty hard drive… what's not to like?
The processor is AMD's top-of-the-line A10 CPU, offering four cores running at 2.3GHz, though they're capable of running at up to 3.2GHz when needed.
The A10 is interesting for spec fans, because it's AMD's first Piledriver chip, which is the step after the promising but disappointing Bulldozer technology we saw from the company.
You might also like...
Windows 8 review
We won't go into the minutiae too much here - you can get all that from our AMD A10-4600M review - but the important thing is that it's faster than AMD's previous processors, and should bring better integrated graphics performance.
In the case of the Samsung Series 3, though, you won't be reliant on the integrated Radeon 7660G graphics for your gaming needs - there's a discrete graphics card in the shape of the Radeon 7670M.
Now, you might wonder how much of an improvement the graphics can be if the model number is only 10 better, and actually, the two graphics chips are pretty close to each other in terms of performance. However, the two are able to combine to theoretically increase performance dramatically over a single integrated graphics chip.
Naturally, this brings a larger power draw with it, but Samsung and AMD have provided power options to ensure that your computer only uses as much power as it needs when on the battery.
This is all backed up by 8GB of DDR3 RAM, which should offer plenty of headroom for multItasking or editing home movies. And it's more than enough power to run Windows 7 Home Premium.
Though there's no SSD here for instant operating, there are a few built-in software optimisers for booting the Samsung Series 3 laptop quickly and waking it from sleep rapidly.
Instead of a fast solid-state drive, you get a generous 1TB hard drive, offering plenty of space for storing music and movies. It's only a 5400rpm drive, instead of the faster 7200rpm drives you might get in a desktop, but that's standard for laptops.
Backing up and transferring files can be done very quickly with the built-in USB ports. It's a bit of a shame that only two of the four are the faster kind, but it's much better than none.
Along with the SD card slot, Ethernet port, VGA and HDMI video outs and microphone and headphone jacks, there's a good selection of ports on the side of the Samsung Series 3.
There's also the DVD drive, of course, though there's no Blu-ray support. As we mentioned, though, the screen doesn't support Full HD 1080p, so you won't be missing the Blu-ray much anyway. The widescreen display is 1366 x 768, which isn't that unusual for this price, but it's a bit of a shame.
Internet connectivity is handled via either the Ethernet port or built-in Wi-Fi adaptor, supporting up to 802.11n speeds. There's also Bluetooth 4.0 support.
Performance
AMD's latest set of chips are intended to combine into something that rivals the speed and power efficiency of the latest Intel chips going into thin and light laptops. And in a quick glance at the specifications, it looks like it should be a good tussle.
It's a shame, then, the results don't really hold up. A Cinebench score of 3829 is only about a third of what you get from Intel Core i7 processor in the Asus Zenbook UX32A, despite AMD's processor having four CPU cores, compared to two in the Intel.
Benchmarks
Cinebench 10: 3829
3D Mark 06: 5736 with 7660G(2x)
Battery Eater 05: 118 minutes
Similarly, the 3D Mark score actually bests the integrated graphics from Intel's ultra-portable chips, but only by a small margin. And considering that there are two GPUs in the Samsung Series 3, that's pretty disappointing.
Buying Guide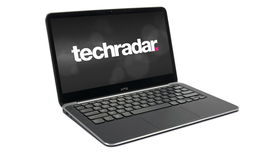 20 best laptops in the world
However, these are synthetic tests, and it's in the real world that it counts. The Samsung Series 3 actually feels plenty fast enough. Bigger hard drive-based laptops don't feel quite as snappy as SSD-based machines, but they certainly aren't slow, and the Samsung Series 3 is as fast to respond as you could ask.
The same is true for the graphics. The Radeon graphics cards are capable of DirectX 11 support, and we played Deus Ex: Human Revolution at the native screen resolution and many of the options turned on, with only a few frame rate stutters. With a small amount of tweaking, that can be made smooth.
Nobody's suggesting that this is a serious gaming machine, but it's capable of running reasonably recent games for those who want 3D graphics, and it'll more than serve the needs of casual gamers.
When it comes the battery life, the result of 118 minutes continues our theme of disappointing benchmarks. This is no all-day work machine, but for a home multimedia machine, it should get you through most films on the battery, and you're rarely that far from a power socket.
But budget machines such as the MSI CX640MX have it beaten, and for £200 (AU$313/ US$323) more, we'd hope it could at least match the battery life, even with beefier specs.
We just mentioned about being a multimedia machine, which seems like the ideal target for a laptop like this. Some decent gaming chops, a large hard drive, a 16:9 screen - but it's just not there. The 1366 x 768 screen is standard for budget laptops, but this isn't a very cheap computer.
You might also like...
Best Ultrabook: 16 top thin and lights for 2012
Similarly, for the £599 (about AU$938/ US$967) price the Samsung Series 3 goes for, we'd expect to see a Blu-ray drive.
As we've said before, the lack of 1080p screen makes the absence of a Blu-ray drive seem less important, but we really want both. This could be the perfect family laptop, offering something for everyone, but it just falls short.
It's not just about the HD video, though. The screen itself offers nice colours and is great to look at square on, but offers pretty poor viewing angles. We could maybe forgive it if it were higher resolution, or if it had a high-quality IPS display at this resolution, but it means that anything you watch on the screen with more than one person won't look great for someone else.
Things are a bit different when it comes to the keyboard, though - it's excellent. The keys are a nice size and are easy to find because of the way they're all separated, and they have a nice amount of resistance, with feedback when pressed.
The trackpad isn't quite as good a story, though. It's not terrible, but the two-finger scrolling often doesn't work properly, and it was a little sensitive for us to keep tap-to-click turned on. We're also not keen on its matt finish and feel.
Still the usability is good overall, and the build quality generally matches. It feels a little cheap underneath, the top is finished nicely, the screen's hinge is nice and stiff, so it doesn't wobble around, and it feels sturdy.
As is so often the case, the Samsung Series 3 comes with the burden of bloatware, and you'll find you're inundated with power-saving features and so on. There's even the 'Software Launcher', which is a dock filled with pre-loaded software, where you can add your own shortcuts too.
Given Samsung's recent legal history with Apple, its remarkable resemblance to the dock in OS X on Macs (right down to the magnification animation) strikes us as risky, but we're here to judge its usefulness, rather than its origins.
And, well, it's not very useful. You can already pin things to the Taskbar. We recommend doing that, since it's less obtrusive.
Verdict
When we first got our hands on the Samsung Series 3, we thought it had multimedia machine written all over it, thanks to its optical drive, large hard drive and widescreen display.
That didn't really turn out to be its strengths, but good usability appeared in its place, and a nice array of ports mean it looks like a good work machine. Except it's got a bit of a weak battery life.
So it ends up in an odd place, then. Not quite media machine, not quite home machine - jack of all trades, master of none.
We liked
There's a nice, simple design to the Series 3. We like the lid pattern, and it's fairly minimalist when opened - no array of buttons sticking out, or horrible plastic partner logos (well, except for the five stickers on it).
For the specs, it's undoubtedly a good price, especially with that 1TB hard drive. Cloud storage is great, but you won't stop people storing masses of media for a few years yet, so a machine with a big hard drive is welcome.
The keyboard is really nice - comfortable and responsive. Overall usability is good, save for a couple of minor trackpad niggles.
We disliked
Buying Guide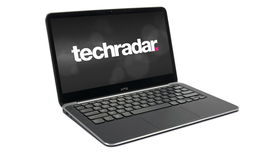 20 best laptops in the world
The benchmarks for the AMD processor and graphics are rather disappointing, even if real-world use doesn't feel too bad. We expected more from AMD's latest quad-core chips.
The battery life is hugely disappointing, too. As we said, we're not expecting an all-day machine, but there are laptops that cost a third less that last for as much as an hour longer, and we'd like it to match them for the price.
And for a machine that should be a knock-out for home use, we really would expect a Blu-ray drive, and either a higher quality screen at this resolution, or one with more pixels.
Final verdict
Though the Samsung Series 3 seems attractive on paper for its price, a closer look doesn't bear this out. Disappointing performance scores and battery life, along with a few missing specs, take the edge off what is otherwise a very capable machine. The Series 3 355V5C-S01 isn't bad, but it's not a great machine either.
Samsung Samsung laptops computingcarousel-en-gb