Lenovo IdeaPad Yoga 11
£699
14th Jan 2013 | 14:53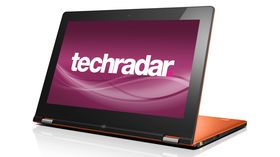 The laptop-tablet hybrid is back in a smaller version with Windows RT
Introduction
Windows RT devices haven't exactly been flying off the shelves, and with delays besetting the whole market as manufacturers struggle to work out the demand, the Lenovo IdeaPad Yoga 11 is here to give RT a much-needed boost.
The Yoga 11 is the little brother of last year's Lenovo IdeaPad Yoga 13, one of the flagship laptop-tablet hybrids for the launch of Windows 8.
At 11 inches, it's smaller and runs the ARM-powered RT version of Windows, which means it has more in common with an Android tablet than a traditional laptop.
While the market has been disappointingly quiet, the Lenovo IdeaPad Yoga 11 offers something a little different for Windows hybrid hunters. Its screen is the same size as the Sony Vaio Duo 11, and an inch smaller than the Dell XPS 12, but those machines run full-fat x86 Intel chips and cost over £1,000/US$1,100.
Then there's the ARM-based Asus Vivo Tab and Samsung Ativ Tab, which run low-power mobile chips but take a tablet form, with a detachable transformer-style keyboard.
In fact, the closest competitor to the Lenovo Yoga 11 is either Microsoft Surface with Touch Type or the Asus VivoBook S200, the £450 (around AU$687/US$725) Intel Core i3 based touchscreen laptop, which we loved. However, while they are both touchscreen, the VivoBook can't match the Lenovo's special bendy abilities.
The Yoga gets its name because of its unusual design that enables the screen to rotate fully backwards until it becomes an 11-inch tablet. This dual hybrid use is part of the new drive from PC manufacturers to enable users to carry a single device rather than a laptop and a tablet.
However, while carrying the Yoga instead of two devices might save your back, don't count on it saving your wallet.
The Yoga 11 is overshadowed by a colossal price tag that will make most would-be iPad hunters baulk. £699/US$849 (around AU$1,069) for a Windows RT device is huge, and with the chips, cost of the operating system, RAM, cooling and other costs reduced, we're not quite sure how it justifies this asking price.
There are other disadvantages as well. Running Windows RT means it can't run any app that's not from the fledgling Windows Store, and the tablet form factor is nowhere near as svelte as the iPad - measuring 298 x 204 x 15.6 mm (11.7 x 8.0 x 0.61 inches).
So can it overcome these problems to become the perfect hybrid device, or will it simply disappoint on both fronts?
Specifications
The Nvidia Tegra 3 processor that powers the Lenovo IdeaPad Yoga 11 is the same as you'll find in heaps of Android tablets from 2012 and in 2013. However, the Windows model isn't as powerful as the ones enjoyed by its Android-based cousins, and when all four cores are used, it can run at a maximum of 1.3GHz.
When powering an Android device, Tegra can run at up to 1.6GHz, which means that the ferocious power we've seen on the likes of the Asus Transformer Prime or Google Nexus 7 doesn't quite translate here.
It's backed up by 2GB of RAM, which is standard for an ARM-based tablet. The smaller apps don't require the gargantuan amount of RAM needed in full-fat Windows PCs, so don't get too hung up about the lack of memory.
Inside you'll find a choice of 32GB or 64GB SSD hard drive (we tested the 64GB), which is a figure we are going to get hung up about. Most of the Yoga's direct rivals feature a 128GB SSD at least, with the Dell XPS 12 boasting a colossal 256GB model, albeit at nearly double the price of the Lenovo IdeaPad Yoga 11.
Buying Guide
25 best laptops in the world
There's plenty of connectivity in the shape of USB ports and an SD card slot, so you can add storage via USB and cloud services such as Dropbox. But we think that if you're going to plump for a single hybrid device, you will need more space than a paltry 64GB.
Being a Tegra-based laptop/tablet, there's no dedicated graphics like you'd find on a beefier Windows laptop, so you'll have to make do with the mobile chip's 3D capabilities. That doesn't account for a great deal, and there's not enough power for the latest games - not that it matters, since they won't be compatible with Windows RT.
However, the Tegra chip does have enough power for HD movies and some of the games in the Windows Store, which are starting to pick up.
The 11-inch IPS screen has a resolution of 1366 x 768, which is nowhere near the quality of the Sony Vaio Duo 11's 1080p affair. It's a real disappointment, and means that movies and games look bland and lifeless.
In this day and age the screen is not an area on which companies can scrimp when you're up against hosts of top devices with IPS+ screens, AMOLED and Retina. The Google Nexus 10 has upped its game to feature a 2560 x 1600 pixel display, which makes a mockery of tablets with 1366 x 768, especially when they cost three times the price.
Of course, Lenovo will argue that the Windows-based ecosystem and laptop form factor make the Windows RT-toting Lenovo Yoga 11 a better buy for people who want to work on the move - and it has a point.
The Lenovo IdeaPad Yoga 11 ships with Microsoft Office 2013 and has a full-form QWERTY keyboard, and an inch extra screen real-estate to play with. However, with the lack of apps in the store and the expansion of Google Play, we're not sure how long that argument is valid.
We're fans of Windows 8, but if Microsoft Office ends up on Android, there's no reason to fork out £699/US$849 (around AU$1,069) for the Yoga 11.
You might also like...
Best Ultrabook: 16 top thin and lights
The build of the Yoga 11 will also divide opinion. On the one hand it's well-built with a pleasing orange finish that looks stylish. The slim chassis weighs a competitive 1.27kg (2.79lbs), which stacks up well against full featured Ultrabooks that tend to weigh around 1.3kg (2.86lbs), and transformer-style tablets, which weigh around 900g (1.98lbs) with their keyboard docks.
The large, well-cushioned keys offer a far better experience than Microsoft Surface, and there's a large trackpad as well.
However, many tablet buyers will see the Yoga 11 as a hulking slab of plastic compared to the aluminium-adorned luxury of the iPad 4 or iPad mini. You can buy removable docks for these devices, and while there's not the connectivity, they are making strides to become usable work computers.
Performance
Being a Windows RT machine, our standard PC benchmarking tools are incompatible with the Lenovo IdeaPad Yoga 11, so we were forced to use the same tests we subject our Android and iOS devices to.
While these are both tests of browser performance primarily, SunSpider works the processor, while the visual nature of Peacekeeper means that it's a better indicator of graphics capabilities.
You might also like...
Best Ultrabook
Our SunSpider test revealed a score of 1126.3ms, which is a marginally slower time than Microsoft Surface, despite running the same processor. The reason for this is unclear, since pound for pound they are nearly identical, so perhaps Microsoft found some extra tweaks under the hood.
However, to put that relatively meaningless SunSpider score into some context, it's drastically faster than the Asus Transformer Pad Infinity, which scored a comparatively high 1730ms. It should be noted that the test was performed using IE10, which is much newer and more advanced than the standard Android offering, and dare we say it, designed with SunSpider performance in mind.
In real-life use the Lenovo performed adequately, yet still suffered with some of the lethargy levelled at Microsoft Surface. We also found a number of strange behaviours, such as being unable to close a video and the multitasking feature disappearing, which required a reboot. It's not the kind of experience you relish when turning your tablet on for the first time.
In Peacekeeper, a score of 368 was par for the course for Windows RT machines, but is thoroughly outgunned by the iPad 4 (951) and even the relatively toothless iPad mini (515). If you had any illusions that a Windows PC was going to outgun the existing tablet establishment, you'd be mistaken.
However, like Surface, the Lenovo IdeaPad Yoga 11 managed a superb battery score, which shows that Microsoft has achieved one major victory with its new version.
While Microsoft Surface RT managed a whopping 7.5 hours of looping HD video, the Lenovo IdeaPad Yoga 11 topped it with a staggering 9 hours and 32 minutes. It's a major win for longevity, and shows that Windows RT has a solid basis on which to build - we just need to see prices fall and apps increase, fast.
Benchmarks
SunSpider - 1126.3ms
Peacekeeper - 368
Battery - 570 minutes
Verdict
Buying Guide
25 best laptops in the world
The Lenovo IdeaPad Yoga 11 is a stylish, lightweight and durable laptop that neatly doubles as a tablet. At 11 inches, it's portable and thin enough to be used in tablet form, but like its bigger brother, having the keys on the reverse affecting your grip makes it far from ideal.
If you're looking for a laptop form factor for work, which doubles as a tablet for basic apps and sofa surfing, then the Yoga 11 is worth serious consideration, although we'd advise you to head to your nearest PC superstore to give it the once over.
It's not for everyone, and we'd primarily recommend it to someone looking for a small Windows 8 laptop who doesn't want to miss out on enjoying all the touchscreen goodness that Windows 8 has to offer.
However, as an entertainment device that demands to be used more as a tablet, the more stylish Surface RT is top of our list, and you'll save a wedge for apps and accessories.
The price of the Lenovo IdeaPad Yoga 11 is absurdly high, at £699/US$849 (around AU$1,069), and any consumer wrestling with the cost of an iPad will only make one decision when faced with the Yoga's colossal price tag.
We liked
The look and feel of the Yoga 11 is impressive, and we liked the soft finish and the stylish and vibrant orange styling. At 1.27kg (2.79lbs) it's just light and thin enough to be thrown into a bag, and the solid build quality means it will certainly survive a few knocks, too.
While we're still unsure about Windows RT, the inclusion of the Office 2013 suite as standard is a big plus-point, and unless you require specific software such as Photoshop Elements, you should be able to find most things you need.
We disliked
The price of the Yoga 11 is absolutely absurd, and represents a missed opportunity to carve a niche with this innovative bendy product. The lacklustre power, dull lifeless panel, minimal storage and flat-lining app ecosystem doesn't justify the price tag. If you can leave the tablet functionality, the Asus VivoBook S200 touchscreen laptop is a much better buy, and runs full-fat x86 Windows apps.
We're not sold on the Lenovo's performance as a tablet, and while we'd say that it's just light enough to be used comfortably, we think it's time Lenovo conceded that having the keys in your main grip areas ruins the experience, and it might be time to go back to the drawing board.
Final verdict
You might also like...
Best Ultrabook: 16 top thin and lights
While we're pleased that there's another member of Team Windows RT on the market, the Lenovo IdeaPad Yoga 11 won't do Microsoft any favours in convincing people that it's a sensible purchase. The sky-high price tag, mediocre performance and limited capabilities need to be overcome, and getting sub-£400/$500 products on the shelves would be a good start.
The Lenovo IdeaPad Yoga 11 is a nifty device in itself, but it's not as fun as Microsoft Surface, and unless you're looking for a work laptop that doubles as a nifty tablet to watch films on, we'd advise forking out for a more expensive Sony Vaio Duo 11 or the more portable Microsoft Surface.
Lenovo Lenovo IdeaPad Lenovo laptops TRBC