Lenovo IdeaPad U410
£649.99
31st Jul 2012 | 08:23
Lenovo is back with a lower-priced Ultrabook to tempt the masses
Introduction
Lenovo was one of the original players when the Ultrabook revolution kicked off late last year with its IdeaPad 300s and now, fresh for 2012, the Chinese manufacturer is back with a couple of more wallet-friendly slimline offerings in its U Series; the Lenovo IdeaPad U310 and the U410.
Like the 300s, the IdeaPad U310 is a 13.3 inch Ultrabook, but it's its bigger-brother, the Lenovo IdeaPad U410 that we're focusing on here.
The flagship machine of the IdeaPad U Series, the U410 is a 14-inch machine, ready to take on the likes of the HP Envy 6, the Samsung Series 5 Ultra, the Sony Vaio T13 and the Asus Zenbook Prime, for the 2012 Ultrabook heavyweight (or should that be lightweight?) championship.
At 21mm thick, however, and with a weight of almost 2kg, the Lenovo IdeaPad U410 isn't likely to worry the likes of the Acer Aspire S5 or the Dell XPS 13 in the super-skinny stakes.
But where the U410 does shine is with its value for money.
The review model that we took for a spin; an Ivy Bridge i5 model boasting 6GB of RAM, discrete graphics from Nvidia and a healthy 750GB HDD, can be yours for a penny less than £700.
If you're happy to settle for an i3 CPU, you can even shave £50 off of this price.
You might also like...
Best Ultrabook: 16 top thin and lights for 2012
The top model, packing an i7 processor with 8GB of RAM and a massive 1TB drive is less than £800.
In Ultrabook terms, that's incredibly good value. In fact, in plain old laptop terms, it's still a fantastically competitive price range.
Back to the review model in question, the Lenovo IdeaPad U410 is quite a chunky model as Ultrabooks go – but it's still plenty svelte enough to stick in your bag and carry around for a full day.
And, given that it's wrapped in a slick-looking brushed aluminum chassis (with your choice of a Sapphire Blue, Metallic Red or Graphite Grey finish – Lenovo's caps, not ours), it should be plenty sturdy enough and be able to withstand the usual everyday punishment.
The thick(ish) edges have a nice feel to them as well, curved inwards with an aesthetically pleasing silver trim.
The only thing that spoils the build really is the slightly clumsy placement of the Ethernet port and the slightly cheap looking ventilation grilles.
There is a 1-megapixel webcam on board, which is capable of grabbing 720p HD video.
You can use this camera for the usual stuff such as video conferencing and Lenovo has also chucked in a few software options for it as well, the most notable being the VeriFace face recognition program.
Like the face detection unlocking security of Android 4+, VeriFace allows you to secure your machine with a portrait, with only your ugly-mug able to unlock the action.
In theory, this is a great idea – in practice, it's a laborious affair to setup with massively inconsistent results.
Specifications
The i5 chip powering the Lenovo IdeaPad U410 that we mentioned in the intro is a third-generation Intel Core i5-3317U one, clocked at 1.7GHz (up to 2.6GHz using Intel's Turbo Boost tech), backed up with 6GB of DDR3, 1,600MHz, RAM.
This being an Ivy Bridge machine you are, of course, treated to Intel HD Graphics 4000, and all of the DirectX 11 and OpenGL 3.1 goodies that affords you.
And, in what is still quite a rare-occurrence in the Ultrabook world, you also have access to discrete graphics courtesy of the included Nvidia GeForce 610M 1GB GPU.
The hard-drive storage option blows most of its Ultrabook competitors out of the water.
Unlike the 2011-Ultrabook models, that mainly chose extreme slimness and solitary SSD drives in favour of thicker chassis with enough space for a good old-fashioned HDD, 2012 has seen a boom in HDD packing Ultrabooks.
Sure, this does mean that you're substituting some of the desirability elements of the latest laptop genre, but you're definitely getting a much more practical machine, one that is much more likely to meet your HD digital needs, in exchange.
In the case of the Lenovo IdeaPad U410, you're treated to a 750GB HDD, which sits alongside the 32GB SSD.
It's the HDD that'll come in handy when storing all of your HD media content.
The SSD allows for the usual Ultrabook treats such as Intel's Rapid Start along with Lenovo's own BootShield tech (for faster boot ups after big installation sessions) and a resume from sleep mode of just one second.
But there's no need to awaken the U410 from sleep all of the time – it also packs Lenovo Smart Update, a piece of software that grabs all your social updates (email, Facebook, Twitter, IM and so on) without ever being fully powered up, which is a great feature if you're the type who simply must know what's happening at every waking (or non-waking in this case) hour of the day.
Lenovo has also pre-loaded the IdeaPad U410 with OneKey Recovery software, allowing you to keep a backup of your system, even if Windows fails to load.
There's also a dedicated physical button on the edge of the U410 to fire-up the recovery process, should you run into major difficulties. It's a handy addition that, hopefully, you'll never have to use.
In terms of connectivity you have the usual setup of Wi-Fi (802.11b/g/n), 10/100M LAN using the awkward Ethernet connector and Bluetooth.
There are also four USB ports – two of which are the faster USB 3.0 variety, HDMI and a 2-in-1 (SD and MMC) card reader.
Performance
Benchmarks
Cinebench: 9,076
3DMark: 5,517
Battery Eater: 181 minutes
Since the third generation Ivy Bridge Intel Core chips landed earlier this year, we've been consistently impressed by the performance increase from the Sandy Bridge platform.
And the Lenovo IdeaPad U410 is no exception to this rule.
Its raw benchmarking score for general performance is as good as we've ever seen on an Ultrabook (and remember, this was an i5 model, not an i7 one) and, although the 3D gaming benchmark result didn't quite match the Acer Aspire Timeline U M3, it was still a decent score.
After all, this isn't a gaming machine – it's an Ultrabook whose reason for being is everyday multimedia and productivity tasks.
That's not to say you can't get your game on with the U410 though; we managed to run Batman around Arkham City at an acceptable frame rate with a few of the settings toned down.
Casual gamers should, therefore, have no bother wasting a few hours killing baddies in virtual worlds.
The Lenovo IdeaPad U410 had absolutely no issue playing back HD video (even 1080p footage) from a number of file types and casual media editors shouldn't worry that the i5 chip isn't up to the task.
We edited large image files with little fuss and basic video editing should also prove to be a seamless affair.
Sticking with media, and you won't be disappointed by the sound on this small machine.
Powered by Dolby Home Theatre V4 tech, the stereo speakers were surprisingly good with nice clarity and a reassuring bass response.
The 1,366 x 768 glossy display is okay, with decent colour levels – although it is guilty of fading and struggling with darker shades if you aren't viewing from the optimum angle.
This is no way an issue exclusive to the U410 though.
A higher resolution would have been nice but 1,366 x 768 seems to be the Ultrabook standard at present, although there are one or two exceptions, such as the HP Envy 14 Spectre and the Asus Zenbook UX31, that opt for a larger pixel count.
These two Ultrabooks are both far pricier than the U410, however.
Using the Lenovo IdeaPad U410 is a pleasurable experience thanks to the nicely spaced, and naturally cushioned, AccuType isolated keyboard that features individual rounded keys.
The keys aren't backlit, like the MacBook Air's, but they are nicely positioned, with a pleasing travel and you won't have any issues with discomfort while tapping out long emails, essays or even that novel that you've been working on.
The trackpad is a solitary affair, set just left of centre, which forgoes physical buttons in favour of a couple of integrated clickers, situated at the base.
You can, of course, simply tap anywhere on its surface for a standard right-click, and multi-touch gestures, such as pinch to zoom, are supported.
However, we found that the trackpad was a tad oversensitive at times and we found ourselves regularly cursing an accidental click or an unwanted webpage zoom.
Lenovo is promising a battery life of nine hours for the IdeaPad U410, with a standby time of a staggering 117 days.
In our stress test, however, the model we had in for review only managed a disappointing 181 minutes.
Even with regular use (casual web surfing, media streaming, document editing and so on) we didn't get more than five hours.
The battery is embedded within the U410's chassis, as per the regular Ultrabook setup, so there's no option of carrying around a spare either.
Verdict
The Lenovo IdeaPad U410 is the Chinese company's most mainstream Ultrabook yet and is an encouraging example of where the market is heading.
Sure, there is plenty of room for super-skinny, super-slick, ultra-desirable machines with hefty price-tags, but there is also a demand for more affordable portable notebooks.
And the U410 meets the latter with aplomb, by offering a high-end hardware configuration in a mid-level assembly. It's an Ultrabook for the masses.
We liked
Buying Guide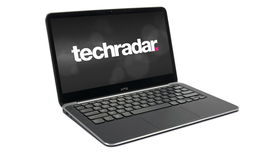 20 best laptops in the world
The fact that the Lenovo IdeaPad U410 offers both a third-generation Intel core CPU and a dedicated GPU from Nvidia, along with a healthy amount of storage, makes this one of the most-efficient Ultrabooks that we've come across yet.
This is still an Ultrabook remember, so it's not a great machine if you're looking to do some high-end gaming or intense HD video editing but, in terms of raw performance, it outscored both the Acer Aspire S5 and the HP Envy 6 – two direct slimline competitors.
The sound quality of the U410 is also great, thanks to its Dolby Home Theatre V4 audio enhancement tech, and we also liked the Smart Update function, which allows you to always be in touch with your digital lives.
We disliked
Okay, we know that 21mm thick and 1.9kg is fairly lightweight in laptop terms but for an Ultrabook, it's a bit of a chubster.
In fact, it's the maximum thickness that Intel allows for its Ultrabook branding.
However, it's still a nice design, save for a few niggles; most notably the sharp-edged Ethernet port that doesn't seem to fit and the plasticy ventilation grilles.
We also found the trackpad to be a tad over-sensitive, and the poor battery performance was highly disappointing, given the nine-hour promises made by its makers.
Final verdict
There are an abundance of Ultrabooks hitting the market at the moment and a clear trend seems to be emerging.
Manufacturers are having to make the decision between substance and style, between practicality and desirability, and are having to pitch their products into an ever-evolving market with an ever-expanding range of price points.
And while the Lenovo IdeaPad U410 is in no way a bad-looking machine, it's obvious that its Chinese manufacturer has opted for a strong hardware configuration with a bang-average build quality, in order to keep the cost down.
But we think Lenovo has chosen wisely in the case of the U410, which is a brilliant machine that is perfectly suited to meet the demands of the digital media boom that we're in the midst of, with an extremely tempting price tag.
Lenovo Ultrabook notebooks computingcarousel-en-gb