Asus Zenbook UX32A
£849
1st Aug 2012 | 09:37
Asus gives the Zenbook brand an Ivy Bridge makeover
Introduction
The original Zenbook was one of the first Ultrabooks unveiled and even to this day it takes some beating.
The follow-up for 2012 – the Asus Zenbook UX32A – boasts much of the same excellent build quality with some of the components scaled down to make it affordable.
Part of the appeal of the original Zenbook was the head-turning design and, in that department at least, nothing has changed.
The Zenbook Prime keeps the sleek, aluminium build that has become a staple of Ultrabook heritage.
Slightly thicker at the hinge end at 14mm the Zenbook UX32A has a wedge-shaped look similar to the original Zenbook and the Apple MacBook Air. At its point in measures a tiny 8mm.
Asus has kept the concentric circle design that now not only adorns its Zenbook range but also premium tablets like the Asus Transformer Prime and Transformer Pad Infinity.
The circle design throws light back like the spokes of a wheel and gives this machine a premium sheen that we don't get from the solid silver of the Sony T13 Ultrabook or the black glass of the HP Envy Spectre.
While looking pretty on the outside, the Zenbook comes with a less-than-flattering internal specs sheet.
Our 13.3-inch review model came with an Intel Core i5-3317U processor clocked at 1.7GHz along with 4GB of RAM and an integrated HD Graphics 4000 GPU.
These components don't put out the barnstorming benchmark results we'd see with an Ivy Bridge Core i7 machine, but they bring the Zenbook down to more affordable realms of Ultrabook computing.
Specifications
The Ivy Bridge chip on the Zenbook UX32A helps to lift it above any second generation Intel machine you'd care to mention, but this is still only a Core i5 processor.
Which means the message here is about balance between performance and affordability. Evidence for this is the fact that our review model didn't break the 10,000 score when we tested it with the Cinebench 10 benchmarking program.
Don't get us wrong, this machine will still perform - and perform well. But it won't match the Asus Zenbook Prime for performance, so you can't run demanding program on top of demanding program.
This machine will take care of what you need it to do – web browsing, basic office programming and multimedia use, but the Dell XPS 14 and Acer Aspire S5 will both outperform it on paper.
Most telling is the 4GB of RAM - we're now routinely seeing 6GB or 8GB of memory on premium notebooks.
Similarly, the screen resolution on this model is a modest 1,366 x 768 which lacks the pixel count to display Full 1080p HD.
So if you plan to use this for watching movies you're going to have to content yourself with 720p content. Again, for the majority of us this won't be a problem but it's something to keep in mind if you're looking at an investment beyond two years.
Although we might be berating the internal specifications somewhat, when it comes to the hardware design and connections, Asus has got it spot on.
You're given three USB ports, all of which are USB 3.0 – allowing you to transfer data ten times faster than you ever could with musty old USB 2.0.
There's also an HDMI port and DisplayPort for connecting the Zenbook UX32A to an external display.
There's no VGA connection here which isn't a huge omission because as time marches on, we expect to be seeing less of these connections anyway.
The Zenbook UX32A comes with 500GB of storage space and there's also a full 3-in-1 SD card reader for adding in extra storage if you fancy it.
If you want to use some of that storage space for a music collection, then you'll benefit from the excellent Bang & Olufsen speakers packed into the Zenbook Prime's chassis.
Sound quality was an unexpected highlight of the original Zenbook and Asus has certainly repeated the feat here.
Performance
Cinebench 10: 9,145
3D Mark '06: 5496
Battery Eater '05: 208 minutes
For everyday usage, the Asus Zenbook UX32A is a very nice machine to have around.
You might also like...
Best Ultrabook: 16 top thin and lights for 2012
Its portability makes it particularly easy to slip into a bag and carry about; the solid unibody chassis only weighs 1.5kg and is strong enough to take the inevitable knocks that will come its way.
Boot up is handled with typical Ultrabook speed (thanks to the 128GB SSD) and you'll be up and working away in under two seconds from sleep mode.
The keyboard has changed from that of the original Zenbook to a more traditional black with slightly more travel on each key.
There's a subtle backlight to the keys that helps if you're working at night. Similarly, the screen is a matte display – which helps a great deal if you want to use the Zenbook UX32A in bright light.
The large touchpad supports multi-touch gestures, so you can pinch to zoom or use two fingers to scroll up and down a document.
Both of these functions were smooth and responsive and the integrated click buttons aren't difficult to use either.
This can be a contentious point – the touchpad buttons on the HP Envy 4 were stiff and horrendous – but Asus has managed to sidestep that particular pitfall.
Multitasking is handled very well by the quad-core Intel processor and it's only under extremely demanding programs that the divisions between a Core i5 specification and a Core i7 specification start to appear.
What we will say, though, is that gaming will struggle.
The Intel HD Graphics 4000 is a decent GPU, but without the extra video memory of a dedicated graphics card, you'll have trouble keeping the frame rate up here. The latest titles are beyond the scope of this machine.
In terms of software, Asus has loaded a fair amount of its own onto the Zenbook UX32A.
There are some cool applications, like Asus FaceLogon – allowing you to unlock the computer with the webcam, but others like Asus WebStorage Drive might not appeal if you're already using Dropbox and Skydrive.
If we have one slight complaint, it's that the battery life really could have been better.
We expect an Ultrabook to post a battery score of over 200 minutes as standard, and the 208 minute score we got from the Zenbook UX32A after looping HD video and running the Battery Eater testing program is a bit disappointing.
It's a shame because it's a slight tarnish on a fantastic machine that makes a good entry into the Ultrabook canon.
Verdict
Any reservations we had about the Zenbook UX32A come from the internal specifications. Only 4GB of RAM, no dedicated graphics card and a 1,366 x 768 pixel resolution aren't what we'd expect from a top-flight Ultrabook.
But, having these components on board will benefit anyone on a budget.
While the Zenbook UX32A will set you back £850, the Zenbook Prime – with Core i7 and a Full HD display is £1,500.
And even if the UX32A doesn't have the best spec, everything else – that is the craftsmanship; usability and connectivity are all first class.
Buying Guide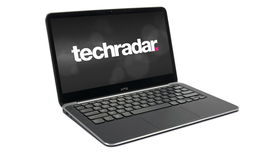 20 best laptops in the world
We liked
Where once Asus might have been known for affordable black heaps of plastic, the Taiwanese company now regularly turns out gleaming high-end machines that we can't take our eyes off.
The Zenbook UX32A is one such machine.
The design and usability are great, from the slickness of Windows 7 with the Ivy Bridge processor to the great keyboard with the subtle backlight.
Like its predecessor, the Asus Zenbook UX32A is also slim and light enough to carry around all day and the range of connections, especially the three USB 3.0 ports, is excellent.
We disliked
Unfortunately, a 208 minute battery life doesn't really cut it in our book. It'll last you a day at the office for sure, but realistically it should at least match the original Asus Zenbook – which we managed to keep going for 253 minutes with the same test.
Aside from the battery life, there's not much else to dislike about the Zenbook UX32A; both screen and speakers were above average.
Final verdict
The Zenbook UX32A is a solid Ultrabook – thanks to the remarkably attractive design and the addition of an Ivy Bridge chipset.
If there's one criticism to be levelled, it's that the battery life could have been better.
While it would have been nice to see a 1080p display panel and a bit more RAM, these are the preserve of the top-flight Asus Zenbook Prime.
Ultimately, though, if you're on a budget and looking to make the step up from a cumbersome laptop to a gleaming new Ultrabook, you won't find many better options than this one.
Acus laptop