Canon EOS 450D
£492.82
3rd Apr 2008 | 14:53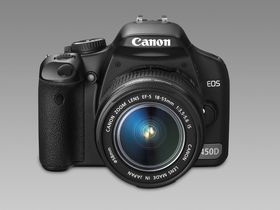 Top-quality features make the 450D more than an amateur D-SLR
In recent months, Canon has dominated the D-SLR market with the 400D, its super-successful entry-level camera. Some time after launch, newcomers are still snapping that model up for its superb image quality, ease of use and bargain price.
Last summer, Canon also launched the high-end 40D, and many keen amateurs made the leap up to this semi-professional, yet still highly affordable, model.
Capitalising on that success, Canon has now upgraded the 400D to the 450D. It's matured like a fine wine and is all the better for it, boasting an impressive array of features, many of which are borrowed from the 40D.
Big LCD screen
The body itself has evolved little from its predecessor; it's still pretty compact and weighs in at only 475g. However, on handling it you'll notice it's now got a chunkier, rubberised handgrip, which provides better stability. You're also faced with a whopping great big 3-inch LCD screen (the same as the 40D). Not only can you review your photos with greater ease, you can also compose your shots from tricky angles, thanks to the addition of Live View.
Click the dedicated switch and in an instant you can compose your shot on the LCD screen, as with many standard compact digital cameras. A revamped colour-coded menu system and a fresher feel to the display both complement the bigger screen.
Cosmetics aside, Canon has made some substantial changes to the inner workings of the 450D. Most notably, there is a boost in the number of megapixels, with the 450D packing in 12.2MP compared to the 10.1MP offered by the 400D and 40D. The increase in megapixels allows for greater enlargements and finer detail when zooming in and cropping.
If you open the memory card slot, you'll notice that the 450D now takes SD cards, rather than the more traditional CompactFlash. Canon could set a trend here, because the smaller card format frees up space and weight. This is great news if you currently own a compact camera and are looking to buy your first D-SLR, but it's a bit of a nuisance if you're upgrading from the 400D, as you'll have to ditch your current cards.
Super-fast image processing
Another steal from the 40D is the DIGIC III processor, which speeds up image rendering and enables the 450D to shoot 3.5 frames per second in burst mode. It handles up to 53 JPEGs (six RAW) continuously without interruption, which is a huge increase on the 400D's 27 JPEGs.
And as for perfecting exposure, Canon has included spot metering, which opens up the options for meter reading. The AF system works on the same nine points as the 400D, yet has extra sensitivity at f/2.8, which offers quicker and more accurate focusing. Looking through the viewfinder, you'll also find the AF points more clearly displayed.
For those looking to purchase their first D-SLR, the 450D is relatively intuitive straight out of the box. Turn the large mode dial to Auto and you can get shooting straight away. There's also Program AE, Shutter priority AE, Aperture priority AE, Manual, and A-DEP to free up creativity, as well as six custom modes (Portrait, Landscape, Close-up, Sports, Night Portrait and No Flash).
Picture quality is as fantastic, and a small step up from the 400D. Images appear sharp and crisp, colour rendition is spot on and noise levels are remarkably low at ISO 1600, even in poor light conditions, which is a big improvement. The ISO can also be easily changed with a dedicated ISO button. Another feature taken from the 40D is Highlight Tone Priority mode, which helps to prevent highlights from blowing out.
A solid all-rounder
In essence, the 450D is a fusion of the 400D and the 40D and it shares components from each. This shows that Canon is continuing to push for success in the D-SLR market. The 450D is almost-but-not-quite a semi-pro camera, yet amateur photographers are unlikely to be scared off by its technical spec; after all, it harbours the same look as its predecessor.
It really is a fantastic camera for newcomers to the D-SLR market, and also for owners of the 400D who're looking for an inexpensive alternative to the high-end 40D.
canon digital SLR photography professional