Lomo Sprocket Rocket
£69.99
5th Sep 2011 | 14:07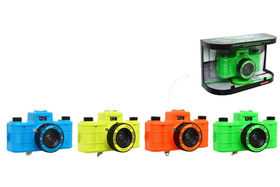 Big, bold and beautiful - retro analogue snapper put to the test
Overview
The Lomography Society has a huge cult following online, notching up over 350,000 Facebook fans all keen to worship at the altar of analogue.
To many people bored with the perfect image quality and predictable nature of today's digital cameras, Lomography (or Lomo) cameras add the guesswork of photography back in.
Although they're not known for their precise optics, the charm of Lomo is that you're never quite sure what you're going to get when your roll of film is processed.
The original Sprocket Rocket was launched into the market back in 2010, with the Superpop neon colour variations making their debut back in July. The premise of the camera, along with all Lomo cameras, is to keep it simple.
Getting its name from its ability to expose film all the way up past the sprocket holes, the camera shoots panoramas, giving an ultra wide field of view.
A rewind dial on the top of the camera means you can wind the film forwards and backwards for multiple exposures and other interesting effects.
In terms of controls, you won't find many on board, just a shutter release, the ability to switch between "normal" (1/100th second) and a Bulb mode. It doesn't come with an inbuilt flash, but there is a hotshoe on top of the camera for mounting such accessories.
Build quality and handling
There's no denying that this is a bold camera, and you will get some slightly puzzled glances from those unfamiliar with the Lomo brand. It's fairly bulky in the hand and unless you have the pockets of a clown, there's no way you're going to be able to slip this in.
However, it's also a fun design, and, pretty simple and easy to use. Digital aficionados may struggle with the concept of actually inserting traditional film, but it's really a doddle with simple-to-follow instructions making it easy.
It's also a bonus that the camera uses 35mm film, which is still relatively easy to get hold of, unlike the 120mm film is which is used in some other Lomo models.
The lens has a rudimentary focusing system, allowing you to switch between "macro" (0.6-1m) and 1m-infinity. Obviously without a rear LCD screen to guide you, it can be a little hit and miss whether you will get your subject in focus but this is something you will learn to judge better the more you use the camera.
Using the shutter release is a little different from most cameras. Instead of a standard button atop the camera, a metal arm protrudes from the lens. It makes a very satisfying 'click' noise after each release, but it is a little tricky to use when shooting in portrait orientation.
The other problem with the metal arm is that it can be relatively easy to knock when grabbing the camera from your bag – and with film that can of course mean a wasted frame that will still cost you money to develop.
You'll find another switch at the bottom of the camera for switching between "sunny" and "cloudy" setting. It's pretty hidden away from view so it can be easy to forget this setting altogether, meaning that some of our pictures were a little disappointing, but again this is something you could probably learn to remember over time.
As the Sprocket Rocket shoots panoramic photographs, it will only fit 18 images on a standard 36 exposure film. A handy white dot shows through a window at the top of the camera to show you when you've wound on the film enough, to allow you to perfectly align your shots. If you prefer you can overlap or double expose for more creative effects.
We had a lot of fun experimenting double exposure and overlapping images, but again this is something that can take a lot of practice before you perfect the technique – but of course, this is all part of the fun.
Performance
In terms of image quality, with Lomo cameras you're not looking for perfection. You can get crisp, perfectly exposed images from your digital camera after all.
With the Sprocket Rocket, as with pretty much all Lomo cameras, the charm is in the light leaks, odd colours and the occasions when you don't get the camera settings right and the photo is a dud.
You might find yourself disappointed with the results the first time you get a roll of film developed, but for us, the waiting to see what turns out was the most exciting part. And, perhaps more importantly, going back to using a film camera is a great way to learn about the fundamentals of photography and learn about shutter speeds.
We used a 100 speed XPRO CHROME colour film supplied by Lomography. The colours were bright and punchy without going overboard with vibrancy. However, it perhaps would have been better to use 400 or 800 film with the camera to get brighter results, especially when using the camera in darker locations or indoors.
You'll probably find you get slightly different results depending on the film selection you use, so it's worth experimenting with different varieties until you find a type you like.
Sample images
Click here to see high-res version.
The colours from the supplied XPRO CHROME colour film are punchy and bright, without being overly saturated.
Click here to see high-res version.
You can expect random light leaks in your images when using Lomo cameras - unless there was a ghost following us on this day.
Click here to see high-res version.
Experiment with double exposure and overlapping images for creative effect.
Click here to see high-res version.
In this picture you can see a light leak as well as some flaring, but the colours have been represented well.
Click here to see high-res version.
It can be easy to underexpose images if you accidentally leave it on the wrong setting, but with a little bit of practice you should get better at understanding the camera.
Click here to see high-res version.
Even on a bright sunny day, the 100 film has struggled a little here, so we'd recommend using 400 or 800 film for brighter images.
Verdict
Lomography's Sprocket Rocket is a fun camera that will certainly get you noticed when out on the street, especially if you opt for one of the new neon colours in the Superpop range.
Don't expect perfect image quality from the camera, but do expect to learn something new and to let your creative side out.
On the downside, owning a Lomo camera is something of an investment. Not exactly cheap to begin with, retailing between £70 and £80, don't forget you'll also need to shell out for film and developing every 18 pictures – and that can soon add up.
We like
The fun retro styling, neon pop colours and the sense of fun and nostalgia that the Sprocket Rocket provides.
We dislike
It can soon turn into an expensive hobby, especially with unpredictable results – this is something you need to learn to love.
Verdict
One of the Lomography Society's key principles is that you should always have your Lomo with you for those unexpected moments. This is something we'd recommend with this camera. Pop it into your bag and almost forget about it, take pictures in a variety of locations and you'll find yourself delighted when the results come back.
Lomo Lomography Analogue Film