JVC HD 65DS8
£3200
31st Mar 2008 | 09:26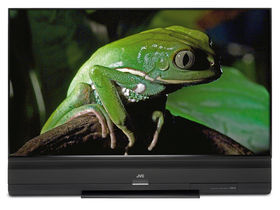 A stunning behemoth of a television for your viewing pleasure
This rear-projection behemoth sports a staggering 65in screen, which, you have to say, makes its £3,200 price tag look very affordable compared to flat TVs of similar dimensions.
While it's definitely not as slender as an LCD or plasma, it's by far the slimmest rear-pro set yet, measuring just 29.5cm. You can even hang it on a wall.
Amazing technology from JVC
JVC is also to be congratulated for minimising the bulk by making the screen bezel just 1cm wide.
The technology at the 65DS8's heart is the company's proprietary D-ILA projection system. In fact, it is the same as the one in JVC's excellent DLA-HD1 front projector.
Connectivity is slightly disappointing, though. The two v1.2 HDMIs on offer aren't compatible with the Deep Color enhanced picture format now provided (ironically) by JVC's new camcorders, added to which, they only accept 1080p/50/60Hz feeds.
The 65DS8's other vital statistics find a full HD 1,920 x 1,080 native resolution, a digital tuner, JVC's detail- and colour-boosting DynaPix HD processing, and a very respectable 10,000:1 claimed contrast ratio (achieved with the help of a manually adjustable iris).
Jaw-dropping HD pictures
With various HD sources, the JVC 65DS8's pictures initially look quite jaw-dropping and not just because of their sheer size. The set displays some genuine image quality. HD pictures look ultra-sharp, with tight edges and fine details galore.
This is true even in dark areas, where terrific black levels ensure that every shadow detail and greyscale nuance is reproduced with authority.
Also admirable is the TV's colour toning, which leaves skin looking natural, while rich greens and reds are realistically vibrant. The picture isn't entirely noisefree though.
Affordable home cinema TV
There's actually a slightly gritty look to HD pictures – especially if you leave the Digipure function on. Standard-definition images from the digital tuner look quite blocky and 'alive', too.
There's also some flicker and the image's brightness doesn't always look completely uniform, with gentle 'shadowing' clearly visible in the corners of the screen.
With some potent sound to complete its home cinema skills, the JVC 65DS8 is occasionally stunning and always impressive, at least with HD material, despite its flaws.
So if you fancy pushing your pictures to the max but not your budget, and don't want the inconvenience of a front projection system, ignore the JVC 65DS8 at your peril.
JVC HD 65DS8FlatscreenHD Readyp