YouView from BT
11th Dec 2012 | 17:01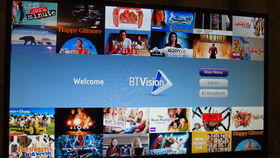 BT's take on YouView - is it worth signing up for?
Introduction
YouView essentially provides a hard drive Freeview HD recorder with the ability to watch catchup TV on your TV. So you can scroll back in the EPG and watch programming from BBC iPlayer, 4OD, ITV Player and Demand Five from any time over the last seven days (providing the programming is available on that service – sports are notable in that they are often missing).
We've already reviewed the standard YouView service that you can choose to buy from a retailer for around the £250 mark subscription free.
The alternative – that we're looking at here – is that you can opt to go the BT or TalkTalk route and get extra on demand content. So you should read the standard YouView review in tandem with this one, as we're predominantly looking at the extra services BT provides here.
Getting YouView from BT means a 12 month subscription, but you can get the BT service from £5 per month for the Essential pack (pay from 50p per show or item including sports, music, kids shows and box office from £3.50 per film) or pay £12.50 per month to get everything included. These two bundles replace the old BT Vision system (they still seem to be branded BT Vision on the BT site).
You're also able to view Sky's Now TV should you have a subscription to that – unlike the original BT Vision service you can't opt to have Sky Sports 1, 2 or ESPN as separate channels.
The eagle-eyed among you will have noted that you can, therefore, get a YouView box for a considerable saving on the normal £249 cost.
You will, however, need to have a BT line and BT broadband connection to use the service (in addition to a standard roof-top aerial to receive the Freeview channels) and the combined sub we saw was £18 per month plus £10.49 line rental and a £49 set up fee. Aside from the set up fee though, you're probably paying most of that cost already if you're with BT.
Unlike TalkTalk, which is using a different YouView box, BT is using the default YouView box that we really like – check out our Humax DTR-T1000 review.
It's clear that BT is hoping you'll buy a decent tranche of on-demand content to make its subsidy on the box worthwhile.
We think this is a slightly forlorn hope, primarily because it's rather easy to avoid the online content on the YouView interface. BT has an entry on the main menu alongside access to the Guide and your recordings, but you'll rarely use this main top-level menu because you're more likely to use the Guide button to access programming and make recordings from there.
The on-demand stuff just isn't visible enough. The quality of content is OK – there are some decent films, while BT must be pinning its hopes on its deal to show 38 Premier League games a season from August 2013 – including 18 'first pick' games.
BT has said it will be launch up to 20 channels early in the new year, many of them in HD.
We really like YouView as a whole; the only place system is a little odd in the way it deals with the on-demand catch-up players. This is somewhat understandable given that they use different protocols and systems, but it does seem a little odd when iPlayer or 4oD players have to load up from the internet just as if it was a PC. That is a little harsh, but it is a jarring experience.
The box also seemed to randomly drop connection to our BT Home Hub 3 at times – it was connected by Powerline adapters supplied with the box, so the connection really should have been better – we have no issue with the internet normally on 64Mbps BT Infinity, and use a Samsung Smart TV with BBC iPlayer usually without issue.
We were able to watch BBC iPlayer and Demand 5 fine one day and then the next the box kept trying to load the service when we searched for a particular programme, but it just left us hanging and didn't come back with a message there was a problem.
We were a bit disappointed with the lack of BT specific information with the box (and yes, we asked our contact if our review sample was the same as a paying customer would receive). The Powerline adapters were supplied without explanation, while there wasn't a lot of in-depth information about the BT-provided programming. It's so easy to miss. We did like the fact BT made a follow-up call to ensure all was well, though.
Verdict
We really like the core YouView service. But because of the non-obvious way to access the BT content, it can be hard to remember the on-demand films and TV is actually there. It is a subsidised way to get hold of the YouView box and BT is banking on you using the pay-as-you-go programming or subscribing to the £12.50 package.
We liked
We love the Humax box. It's a real bonus for BT that it has chosen to use the launch YouView box rather than try and specify something different. The recording, pause and resume all work excellently. The remote is great to use and the overall quality of the programming guide and interface is decent. The selection of BT Vision on-demand content will only improve as we move towards BT offering more channels over the service.
We disliked
We weren't phenomenally impressed with the quality of service on our network, with the on demand players even seeming to have issues connecting at times. The BT Vision on demand service is also a little sluggish to load at first. The selection of on-demand content isn't great at the moment but, as we said, it will improve.
Final verdict
YouView from BT is a good way to get yourself an otherwise pricey YouView box – providing you already have a BT line and BT Broadband already which many of us don't. For the raw price it should be commended. BT knows work needs to be done on content, but for us there is a bigger problem – visibility of that content. It's so hard to get at it!
That aside, there are also issues with YouView as a whole, primarily that many much cheaper Freeview HD recorders are now offering access to on-demand content, while many smart TVs also do it out of the box. On demand is YouView's big sell, but those foundations are being undermined constantly by such alternatives. But that's almost a side issue for BT.
The company needs to make its on demand programming truly tempting. The launch of channels in the new year will be make or break for its TV offering.
BT YouView