10 best 40 and 42-inch TVs in the world today
26th Mar 2014 | 13:59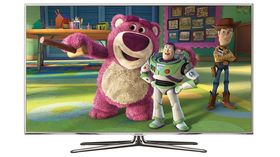 Choose between the best 40 and 42-inch TVs
Once known simply as 'plasma screens' in the collective consciousness, the 42-inch TV is where the flatscreen dream started in the late 1990s - and where it's still at its most innovative and best.
With plasma tech now excelling at 50 inches, this smaller screen size is now almost totally dominated by Edge LED-backlit LCD TVs, and it's something of a sweet spot for the latest smart TV tech. With the availability of ever-cheaper bigger TVs, 40 to 42-inch TV models are in danger of being regarded as small screens, which just goes to show how disgustingly spoilt we've all become.
Serious home cinema addicts have moved on to 50-inch and bigger screens, leaving this category a swarm of slashed prices and some great value - though thoroughly advanced - options that can drag a living room or bedroom into the modern age.
Arguably the minimum size where both Full HD (now standard) and 3D makes most sense, and where a Blu-ray player and Freeview HD (also now standard) become a must, the 40-42-inch TV size hasn't lost its allure, despite becoming affordable.
So here's our breakdown of the current best 40-inch and 42-inch TVs today...
Finlux 40F8030-T
BBC iPlayer-toting 2D big screen bargain
Why pay more when you can get the basics for less than £400? Exceptionally low-priced it may be, but this 40-inch TV television from Finlux - a brand that's been away from the UK for a while - is one of the best value options around. And with Freeview HD and apps for BBC iPlayer and YouTube, this budget big screen TV seems anything but.
Its four HDMI inputs are as many as any other TVs offer, while handy USB recording is also a bonus, though there are some clues that it's constructed around last year's tech. There's no dual-core processing, so the user interface can hang a little, plus streaming digital files can be frustrating, and there is a slight blur on the screen. However, taking its price into account, the Finlux 40F8030-T barely puts a foot wrong. Nervous? You shouldn't be.
Read:Finlux 32F8030-T review | Compare the best prices
Panasonic TX-L42E6B
Mid-range 2D marvel with a slinky silver finish
Best bought for My Home Screen - 2013's finest smart TV innovation - this 42-inch TV is also seriously good looking, with a super-slim frame and silver finish. The easiest-to-use smart TV we've tested to date, the multiple home screen approach provides a highly visual yet simple system. The picture has plenty of dynamism, too, with natural-looking images that are a notch above the Finlux's. It's a potentially brilliant gaming monitor, too, with low input lag and a spotless treatment of HD sources.
A surprisingly open-sounding mid-range and some well-rounded trebles are enough to convince us of the Panasonic TX-L42E6B's good value status, though if you're looking for something slightly smaller then you should consider the Panasonic TX-L39E6B, an almost uniquely 39-inch sized screen that's otherwise identical to this one, and sells for £510.
Read:Panasonic TX-L42E6B review | Compare the best prices
Samsung UE40F6400
3D and voice control are overshadowed by Smart Hub
It may not be a patch on the Panasonic TX-L42E6B 42-inch TV looks-wise, but there's a lot to love about the Samsung UE40F6400. As well as Freeview HD, it packs in both voice control and active shutter 3D modes on top of a touchpad remote and awesome integration with Samsung Galaxy devices. Not bad for a mid-range TV, and though voice control of its S Recommendation search facility for on-demand apps isn't always spot-on, the search feature itself is excellent.
Pictures are a riot of ballistic colours, decent contrast and fine HD detailing, while the 200Hz LCD panel at the core ensures that everything is largely free from motion blur. However, all of this is overshadowed by Samsung's Smart Hub, which once again proves that it's the most app-packed around. Nicely designed for 2013, its exclusive hosting of on-demand apps for all UK terrestrial broadcasters makes it hard to beat.
Read:Samsung UE40F6400 review | Compare the best prices
Philips 42PFL6008
Ambilight and a floating design meet excellent pictures and sound
Philips TVs have always been primarily about three things - peerless pictures, awesome audio and amazing Ambilight. This Edge LED-backlit 42-inch TV is no different, but adds a great design that uses one sheet of glass across the entire front of the product, and a desktop stand that's hardly there at all. For those not familiar with Ambilight, it's a stereo light show that emits coloured light from the sides of the TV using external LED strips; by dynamically matching the colours on the screen, it creates a relaxing and ever-changing light show on the wall behind the TV. Bonkers? You bet - but brilliant.
Ditto the spot-on colour palette, stunning HD sharpness, quality upscaling and powerful audio. In fact, the only slight letdown is the Philips 42PFL6008's somewhat bland smart TV interface, though it does host both BBC iPlayer and YouTube and power a great second screen smartphone app.
Read:Philips 42PFL6008 review | Compare the best prices
Samsung UE40F7000
Is this the best value Samsung TV around?
It may not be the flagship 40-inch TV for Samsung this year, but we have a sneaky feeling that the Samsung UE40F7000 is actually better value than the step-up Samsung UE40F8000. We don't say this because of its lower price, but because the Samsung UE40F7000 pairs a slightly more practical screen design and desktop stand while retaining most of the Samsung UE40F8000's core qualities.
For instance, its touchpad remote and quad-core processors are a revelation, and the redesign of the Smart Hub with a host of slinky transitions, icons and live TV thumbnails is as impressive as the all-round picture quality that extends to bright, detailed images with convincing black levels - and awesome active shutter 3D. We like the integration with Galaxy smartphones and tablets, though iOS users get short-changed with clone viewing of TV channels. Granted, the UE40F7000 has a lesser capable panel than its pricer sister (we noticed some LED light leakage), but in almost all other areas it's identical.
Read:Samsung UE46F7000 review | Compare the best prices
LG 42LA860W
Is this the most fun TV yet?
£1,150: LG gives a good user interface. The Korean brand has been aggressively promoting its passive Cinema 3D TVs in the UK for a few years now, and the 42-inch LG 42LA860W is a fine example. One of the best-looking TVs around, what it lacks in ultimate contrast it makes up for in sheer HD detail, clean upscaling from DVD sources and a great out-of-the-box ISF mode, though it's the multimedia options that are just as appealing. Downloaders and those wanting to network other devices with the TV will adore SmartShare, which together create a comprehensive networking experience that even extends to linking an NFC-compatible Android smartphone just by touching it on the TV.
We also love the Magic Remote, which is a pointer-style controller much like those found on the Nintendo Wii, enabling easy navigation of the lightning-quick user interface. Magic Remote even renders the LG 42LA860W's web browser usable, which is almost unheard of for a TV, and while LG's exclusive inclusion of Sky's Now TV app makes up for the otherwise lacklustre app selection, it's superior to the Philips.
Read:LG 47LA860W review
Panasonic TX-L42DT65
Tuner-tastic second screen antics & polarised 3D
How about a built-in Freeview HD tuner? Two? Add a couple of Freesat HD tuners and this 42-inch TV from Panasonic's DT65 Series becomes an almost ludicrously well-tuned TV. It all means that inspecting what's on another channel is as easy as looking at a moving thumbnail of live TV, while second screen viewing is also possible thanks to an excellent app that can show one TV channel on your iPad or Android tablet's screen while wirelessly sending another, unlike the 'clone' apps of the other brands. And don't forget Swipe & Share 2.0, which now enables two-way file exchange between smartphones/tablets and the Panasonic TX-L42DT65B.
A delectable, 35mm-deep chassis with a super narrow bezel of no more than 10mm adds another dimension to the Panasonic TX-L42DT65B, but there's more where that came from. A polarised 3D filter - just as that found on the LG 47LA860W - works with cheap cinema-style specs. A stunning four pairs are included in the box.
Read:Panasonic TX-L42DT65 review | Compare the best prices
Sony KDL-40W905A
One-touch NFC smartphone pairing and superb pictures
In true Sony style the Japanese brand has seen fit to furnish one of its flagship TVs with a smart TV system dominated by its own content. Video Unlimited, Music Unlimited and Play Memories jostle for position with the likes of BBC iPlayer and YouTube in what the manufacturer calls the SEN - Sony Entertainment Network - but it's not as impressive as similar hubs from Panasonic or Samsung. However, what the Sony KDL-40W905A 40-inch TV does offer is a firm focus on picture quality over everything else; nuanced colours, sublime detail and terrific local dimming (which helps achieve deep and intense black) create a pitch-perfect picture in both 2D and 3D.
The icing on the cake is the most polished smartphone-TV linking system yet. Touch your NFC-ready smartphone to the Sony KDL-40W905A's slim NFC-equipped TV remote control to pair the phone to the TV. Its static SideView app is nothing on the Panasonic TX-L42DT65B's second screen app, but this Sony's easy to use interface and even better images are a fine option.
Samsung UE40F8000
Flagship flatscreen packs an almighty punch
It may only be a couple of hundred quid more than the step-down Samsung UE40F7000, but this, Samsung's flagship 40-inch TV for 2013, makes a suitably impressive case for top dog status by adding an unusual arc-shaped stand as well as a higher-grade panel and more advanced LED micro-dimming. Packing an almighty punch on all three key fronts of design, performance and features, the incredibly slender Samsung UE40F8000 impresses most of all in the shadows. Feed it a really dark scene and the screen manages to deliver an excellent black level depth that stretches all the way across the screen with near immaculate uniformity.
There's even a new Cinema Black feature that dims the sections of Edge LED lighting where the black bars are above and below some films. As if that wasn't enough, the Samsung UE40F8000 in 3D mode handles motion and crosstalk better than ever, with scintillating results.
Read: Samsung UE55F8000 review
Bang & Olufsen BeoVision 7-40
The only TV with built-in 3D Blu-ray comes at a hefty price
Whisper it, but this could be the first time a Bang & Olufsen TV has been good enough to successfully argue its place into a living room on picture performance rather than 'just' a totally unique design. The first Edge LED-backlit, Freeview HD-laden and 3D-ready incarnation of itself, this periodically refreshed BeoVision 7-40 moves at the touch of a button, though there's a choice between a low or high motorised floor stand, a table stand, or a wall bracket that swivels. Add a £2,700 BeoLab 7.2 speaker that can act as either a stereo soundbar or as a mono centre speaker in a surround sound setup, and cinema heaven is yours. It even includes 'digital curtains' when you switch the TV on or off.
Detailed, clean and versatile images with profound blacks make for an impressive overall picture performance, while those built-in 3D Blu-ray player and awesome audio options will be just as tempting to those with deep pockets.Yes, the huge price is a massive barrier to almost all of us, but if you even care how much the BeoVision 7-40 costs, you're not the target market.
Read:Bang & Olufsen BeoVision 7-40 review
LCD TV Christmas HD TV plasma tvbuyingguide-en-gb tvcarousel-en-gb vertical_links_box-en-gb