10 best 37-inch LCD TVs in the world today
23rd Apr 2012 | 13:00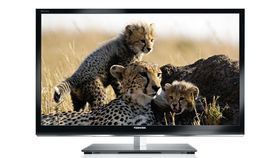 Let us help you choose the best 37-inch LCD TV
10 best 37-inch TVs
Our constantly updated list of all the best 37-inch TVs in the world

Best TVs to buy
10 best 32-inch TVs
13 best 42-inch TVs
12 best 3D TVs
Making the decision to upgrade from a bulky old 28-inch CRT TV is almost too easy, but heading straight for a 42-inch plasma can seem a little daunting.
And thus the 37-inch size became one of the UK's most popular shapes; a lot more impressive than a 32-incher, yet not big enough to entirely dominate a living room. It's also often the maximum size for those of us who are forced, simply by the shape of our living room, to shove a TV in the corner.
The 37-inch TV has taken a bit of a back seat in the last year or so, with the 32-incher making a comeback as the nation's favourite. You can blame the recession for that.
Buying Guide
Best TV 2012
All the buying advice you need to choose a new HD TV in the modern era!
But this is still a size division that's as competitive as any, with the big brands weighing in with models.
Despite its direct forerunners being some of the best-reviewed (and best-selling) TVs around, Panasonic's TX-P37X20 is the only plasma left in this category but no longer makes the list.
The 37-inch size has become a battleground dominated by aggressively low pricing.
This is where brands like Toshiba really come out fighting - Tosh likes to concentrate on value and smaller sizes rather than on producing the biggest and best.
If you are in the market for a new TV you can also check out our TV buying guide video below
A buyer's market, the 37-inch size is also home to some wonderful innovations. Here you'll find TVs properly exploiting a Full HD resolution, and TVs with built-in Freesat and Freeview HD tuners, others with online dimensions and 100Hz scanning.
So here's our pick of the best 37-inch TVs currently available...
Toshiba 37RL853B - £379
A decent 37-inch LCD TV with Freeview HD and a bucketful of picture adjustment options
First on the list we have the bargainous Toshiba 37RL853. It's a solid middle-of-the-range Freeview HD screen with few frills and not many thrills either. But what it lacks in built-in picture enhancements it makes up for with a surprising degree of user adjustment features. It dabbles its toes in the Smart TV waters with a trio of online services and is prepared to have a go at home networking, albeit with mixed results.
Overall though, this kind of versatility should be welcomed in a TV that is capable of delivering good-quality pictures, and for the money looks like a fairly solid proposition.
Panasonic TX-L37E30B - £423
Advanced networking is the trump card of this connected LED TV
This handsome gunmetal gray LCD is LED-powered and a mere 75mm thick, with Freeview HD, advanced networking features and access to a Panasonic's tempting new cloud-based Viera Connect service.
Picture performance is above average but not quite class leading – blacks just aren't deep enough for unqualified praise and there are motion artefacts if you crank up the Intelligent Frame Creation feature – but network media support is first class. It's available for a great price though and so anyone looking for a strong performer for under £450 could do a lot worse.
Read:Panasonic TX-L37E30B review
Toshiba 37UL863B - £437
Edge LED TV with Freeview HD and Freesat HD
Another low cost Toshiba model, the 37UL863B has a fine remote, decent GUI and highly watchable pictures from all sources - it's a good value TV. Not only does it have tuners for both Freeview HD and Freesat HD, but an overhauled and attractive EPG on top of USB recording.
The GUI's icons for BBC iPlayer and YouTube upfront give quick access to these kings of the smart TV landscape – and all via an integrated Wi-Fi module, which we didn't expect at this price.
But it's inconsistent with digital files and a roster of online services are plagued by a lack of content and faltering links within to YouTube and BBC iPlayer, so the 37UL863B is hardly the smartest TV around.
Read: Toshiba 37UL863B review
Sony KDL-37EX524 - £399
Excellent cinematic 37-inch that's slightly let down by some motion blurring
The Bravia Internet Video online service sported by the 37EX524 continues to lead the way in terms of smart TV services that actually give you what you want on a TV: namely, lots of video content, rather than lots of pointless apps.The set is decent looking too, and its black level response is excellent by edge LED standards, which helps it deliver impressively cinema-like pictures with Blu-ray discs. The 37EX524 sounds better than most very slim TVs too.
But there is some noticeable motion blurring at times, even a little when watching HD, which can leave motion-packed sequences looking slightly soft.

Sharp LC-37LE320 - £575
Sharp puts on the style with this natty LED Freeview screen
Affordable and contemporary, but not loaded with the latest tech, Sharp's 37-incher offers LED backlighting and a mere 45mm depth. An unashamedly everyman screen for those who don't wish to rummage in the bargain bins, it's lack of 100Hz, networking or Freeview HD is countered by image sharpness and colour vibrancy as Sharp manoeuvres back into the upper tier of LCD TV makers.
Panasonic TX-L37E5B
Versatile 37-inch Edge LED set with engaging smart dimension
It may not have any kind of 3D gubbins onboard, but that has arguably helped Panasonic develop a better quality panel with an image that's both more consistent and more impressive than some of its recent 3D attempts.
Performing best with HD sources though with a decent all-round performance, it's this reasonably slim 37-incher's smart TV talents that most lend it an upscale appearance.
Read:Panasonic TX-L37E5B review
Panasonic TX-L37DT30B - £726
BBC iPlayer plus built-in Freeview/Freesat HD tuners on this 3D Edge LED TV
Panasonic's first effort at an Edge LED TV is also 3D-ready, although it's sized to steer clear of competing with the brand's barnstorming 3D plasmas – and the TX-L37DT30B comes a clear second place, judged purely on 3D images.
Still, compared to other 3D LCD TVs, this DT30 Series set is a competitive performer that pairs 3D with quite wonderful 2D, and even Freeview HD and Freesat HD tuners. Yes – both!
The appearance of BBC iPlayer – at last – on Panasonic's Viera Connect platform is welcome, as are deep blacks, an effective anti-blur system, HD detail and some striking colours.
Panasonic's first 3D LCD TV is a huge success. So huge, in fact, that we have little issue with declaring this one of the finest 37 inchers in the business.
Read:Panasonic TX-L37DT30B review
Sony KDL-37EX503 - £748
Freeview HD and media streaming grace this brilliant TV
At last, we have a 37-inch TV that carries a Freeview HD tuner that doesn't cost the earth.
To celebrate the ground-breaking nature of the Bravia KDL-37EX503, Sony has departed from its usual aesthetic by adding a comely strip of brushed aluminium to the bottom edge.
The set's rear is attractive, too, thanks to the inclusion of four HDMIs, a USB for playing MP3, JPEG, and AVC/AVCHD/DivX/MPEG4 video files, and an Ethernet port. As well as enabling you to stream from DLNA PCs, the Ethernet connects to Sony's new Bravia Internet Video platform.
Black level response is among the deepest we've seen on a non-LED LCD TV, colours are natural and exceptionally subtly blended while the set's various processing systems do well at cancelling out LCD's inherent motion blur problems - so HD and SD pictures look enjoyably detailed.

LG 37LE5900 - £763
Edge LED lighting in a budget TV
Despite its low price, LG's 37LE5900 is an edge-lit set that's proof that LED tech is getting cheaper by the day.
Elsewhere an amazing set of features crammed somehow into a breath-takingly slinky chassis (including a Freeview HD tuner and 100Hz processing), though an occasionally patchy backlight takes the gloss off this otherwise impressive package.
Read:LG 37LE5900 review
Panasonic TX-L37ET5B
A midrange Edge LED telly with an aggressive passive 3D performance
Easy 3D may not be able to match the ultimate detail of active shutter variants, but who cares? It's err, easier to live with and, let's face it, 3D as a format is only ever going to make an occasional appearance in the living room. Who wants to shell-out £50 on 3D specs when £1 will get you a performance that's at least half as good? Not families, that's for sure.
Packed with features and nothing if not good value, the TX-L37ET5 marries Easy 3D to an excellent smart TV dimension and a versatile, if occasionally flawed, treatment of myriad video sources.
LCD TV HDTV tvbuyingguide-en-gb tvpromo-en-gb vertical_links_box-en-gb