Fixing Windows Vista
21st Mar 2008 | 10:35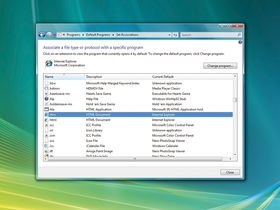 How to remedy some of Vista's many ills
Microsoft really dropped the ball with Windows Vista. Yes, it does have some good features. But they're outweighed by groggy performance issues, bugs and other problems that millions now encounter every time they turn on their PCs.
Microsoft spent years and billions of dollars developing Windows Vista, and so you might, not unreasonably, have expected that it would be better than its predecessor Windows XP. But if you moved to Vista and found that it was slower, resource-hungry, won't run your old software and still has major bugs, you might have been forgiven for feeling, well, a little disappointed.
Fixing Vista's many bugs
Don't give up on Windows Vista just yet, though. We've identified some of the key mistakes Microsoft made during the design process and have come up with a selection of tools, workarounds and solutions you can use to overcome them. You can free up RAM, improve your PC's speed and compatibility, and even fix bugs you didn't know you had. All it will cost you is your time.
Windows Vista's problems begin with its substantial memory footprint. XP could run with 128MB of RAM, but Vista requires 512MB at a minimum. Realistically you'll need at least twice that. A substantial chunk of this is due to Vista's shiny new Aero interface, so if you value performance above looks then it makes sense to turn this off.
Right-click the desktop, select 'Personalize', click 'Window Color and Appearance | Open classic appearance properties...' and choose a non-Aero colour scheme. Click 'Control Panel | System and Maintenance | Performance Information and Tools | Adjust Visual Effects' then select 'Adjust for best performance' and you'll cut down on menu animations, too, along with other CPU-sapping tricks.
Disable unnecessary Windows services
Pruning unnecessary Windows Services also saves plenty of memory. Press [Ctrl]+[Alt]+[Del], launch Task Manager and click the 'Processes' tab. Select 'Show processes from all users', click the 'Image Name' column header to sort by name, then select the svchost.exe process that's using the most memory (click 'View | Select Columns' and check 'Memory - Working Set' if you can't see how much memory is being used).
Now choose the 'Services' tab and you'll find every service that's using this instance of svchost.exe. Visit a website such as Black Viper to find out more about each one, then run the Services applet ('Start | services.msc'), search for and double-click on each unnecessary service and set its Startup type to Disabled.
vLite is a clever tool that reduces memory requirements, by allowing you to remove all kinds of components from a Windows Vista installation. But be careful how you use it: remove something critical and you could cripple your PC. Don't play with vLite unless you're confident about your Windows knowledge and your ability to easily recover from PC disasters.
Should all that sound too risky for you, then there's always the option of resorting to the time-honoured technique of removing unnecessary Windows Startup programs. Launch Windows Defender and click 'Tools | Software Explorer' to get started.
Windows Service options
Disabling unnecessary Windows Services is useful, but you'll still need to control what's left. Windows Update, for example, is now far more eager to reboot your PC after installing an update. It'll ask first, but if you're not around to say no then your system will restart, even if you're downloading something huge and important.
So if you're leaving your PC running overnight for some reason and really don't want a spontaneous reboot, then temporarily disable the Windows Update service first. Right-click the 'Command Prompt' option, select 'Run as administrator', then enter the command: net stop "windows update"
Reboot or enter the command to get it working again: net start "windows update"
The Windows Vista Indexing service crawls through your documents, building an index that'll help you quickly search for them later. While it won't reboot your system and should run firmly in the background, the service can consume plenty of CPU time, and you may want to tweak it. Click 'Start', then type 'Index' in the search box and select 'Indexing Options' to begin.
If you only want to index the Start Menu and not documents, for example, click 'Users | Modify | Show all locations'. Clear the tick next to Users and it won't be indexed in future. Or, if you're regularly searching other folders, then check them here. The indexing process will become slower, but your searches will speed up considerably.
Click 'Advanced' for more useful options. Here you can place your search Index on another drive - handy if its current drive isn't your fastest. And click 'File Types' if you need to tell Windows what to index. By default it looks at just about everything, but if, say, you'll almost never search for JPEG filenames then it's best to uncheck them here. The indexing service will have less work to do and finish that little bit faster.

Mastering User Account Control (UAC)
The new User Account Control (UAC) soon becomes annoying, frequently reporting that 'Windows needs your permission to continue' for just about anything you want to do with it. And yet it's also a major part of Vista's new security model and unquestionably helps to keep your PC safe. So turning UAC off altogether wouldn't be a great move. You just need to tone it down a little.
If you're installing a program from a trusted source, then you could try right-clicking the Setup file and selecting 'Run as administrator'. You'll probably still get one UAC prompt, but after that you shouldn't see any.
You can also mark a program to always run with extra security privileges by right-clicking it, selecting 'Properties | Compatibility' and checking 'Run this program as an Administrator'. But be wary; if you use this application to access the Internet, work with files you've downloaded (including graphics) or view anything with scripts or macros (including Microsoft Office), then it could be exploited by malware and you should leave UAC on.
Even if you think UAC hassles outweigh the security benefits, though, you shouldn't turn it off altogether: we'd recommend you disable the prompts instead. It's easy: run REGEDIT, go to HKEY_LOCAL_MACHINE\SOFTWARE\Microsoft\Windows\CurrentVersion\Policies\System and set ConsentPromptBehaviorAdmin to 0 (use 2 if you're restoring default settings). You won't see alerts any more, but UAC will still run in the background, and you'll continue to benefit from associated features such, as Internet Explorer Protected Mode.

Windows Vista Explorer issues
The Windows Vista take on Explorer features many interesting changes, yet somehow has still managed to retain one ancient problem, where it regularly forgets the column headings and other customisations you apply to individual folders. If you find this a recurring problem on your machine, then first click 'Control Panel | Appearance and Personalization | Folder Options | View', scroll down and check the 'Remember each folder's view settings' option. Explorer won't even try to save your folder settings until this is switched on.
Sometimes your folder settings have been saved, but simply become corrupted. Use REGEDIT to access HKEY_CURRENT_USER\Software\Classes\Local Settings\Software\Microsoft\Windows\Shell, then click on 'Bags' and select 'Edit | Delete | Yes'. Delete the BagMRU key as well and restart your PC.
Microsoft suggests you also increase your folder view cache, which may avoid corruption in the future. Still in REGEDIT, go to HKEY_CURRENT_USER\Software\Microsoft\Windows\Shell, double-click on 'BagMRU Size', select 'Decimal' and set it to 10,000. This uses up to 5MB more RAM, but will hopefully ensure Windows remembers your settings in the future.
Boosting networking performance
Microsoft spent a great deal of time working on the networking side of Windows Vista, with the aim of delivering significantly improved speeds to its users. But, when in use, networking can be substantially slower. One common cause is the new Multimedia Class Scheduler Service (MMCSS).
This is designed to prioritise audio playback, so media streams more smoothly, but in doing this it can also significantly degrade network performance, especially if you have multiple network cards (one wired, one wireless is enough). Just playing music on your computer while you copy files can be all it takes to cut speeds down to a crawl.
Disabling MMCSS should be enough to get you moving again, but unfortunately you can't do that immediately, as Vista claims the Windows Sound service is dependent on it. This isn't true, though, so you must first run REGEDIT, navigate to HKEY_LOCAL_MACHINE\SYSTEM\CurrentControlSet\Services\Audiosrv, double-click on the DependOnService key and delete MMCSS from the list.
Now launch 'services.msc', double-click on 'Multimedia Class Scheduler Service', click 'Stop' and set the Startup Type to Disabled. Then reboot and test your network speeds again.
A second, entirely different issue arises from the new Windows Vista TCP/IP stack. This continually adjusts its Receive Window to deliver the best possible performance and usually works very well. But sometimes, for reasons that aren't clear, it cuts performance drastically. If you're suffering major network performance issues, try turning off the new feature by opening a command line and entering 'netsh interface tcp set global autotuninglevel=disabled'.
However, if you don't notice any change after you've done this, enter the following: netsh interface tcp set global autotuninglevel=normal to restore normal operations. Use netsh interface tcp show global to see the current settings.
Audio annoyances
Windows Vista has seen drastic changes in many areas, but arguably it's the audio side that's produced the most confusion for its users. If you have a decent Creative audio card but your games don't sound so impressive any more, for example, it's probably because Vista no longer supports their clever audio effects. Try installing Creative's ALchemy utility to get them back.
If your problem is not with sound but with volume, you should remember that Windows Vista now maintains extra volume controls, including for Windows applications and perhaps other sound-related programs. Click the speaker icon on your system tray and select Mixer to see and adjust these settings.
More fundamental issues are often down to driver problems. Check the current sound driver you're using in Device Manager ('Start | devmgmt.msc') and if it's from Microsoft, try a driver from your sound chipset manufacturer instead. This even applies with integrated sound: Realtek users, for instance, report better Vista results with Realtek drivers downloaded from their motherboard manufacturer, or directly from the Realtek website.
And if your sound fails after your computer wakes up from sleep, and doesn't work again until you reboot, then you're not alone. If you have USB speakers, then removing and plugging them back in should help, and there's a specific patch that should fix issues with high definition audio devices.
This could be the symptom of another problem, though, so we'd recommend installing the official Vista Service Pack 1 - it could restore your system to its full working order.
VistaWindowsMicrosoftAero