Top tips for your iPod Touch
9th Jan 2008 | 10:07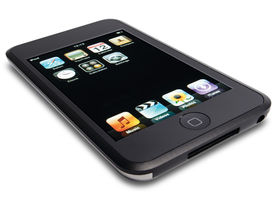 Get more from Apple's best-ever iPod
Own an Apple iPod touch? Some say that it's the very pinnacle of media player technology. What other MP3 player enables you to flick through your music collection with a casual flick of your fingers, before letting you watch a video on a stunning hi-res screen and then surf the internet?
The team at MacFormat magazine have put together this in-depth tutorial to help you get the most out of Apple's flagship iPod.
Music on the move
You've been able to create On-The-Go playlists on your iPod for some time now, but you now have much more control over them before they're saved to your library. On older iPods, you could only pick the songs you wanted, but on the iPod touch (or iPhone) you can continue adding to the On-The-Go playlist, as well as delete unwanted tracks or change the order in which they appear.
Start by touching the Playlists icon at the bottom of the screen and tapping on On-The-Go. You now have the option to pick any songs to add to the playlist, by tapping on individual tracks, albums, other playlists, podcasts or any other group under the More icon.
To pick an individual song, first find the one you want to add and simply tap on it - it goes grey to show that it's been added. Then, to add a larger group of tracks, tap on the Albums icon at the bottom of the screen and first select the album you want and then tap Add All Songs. Finally, tap on the Done button and you go back to the On-The-Go playlist, where you can either add more songs or edit the ones you already have.
Building your playlists
As with everything iPod-related, editing on the touch is simplicity itself. Go into the On-The-Go playlist and click on Edit. Pressing on the + button enables you to add new tracks to the playlist, or you can remove one by tapping on the red circle on the left of the track.
Finally, if you want to move a track to a different part of the playlist, then all you have to do is tap (and hold) the icon on the right side of the track and move your finger up or down until it's in the correct position. Remember though, that when you next sync your iPod touch, your On-The-Go playlist is saved into your iTunes (and iPod) Library and it's then impossible to edit it further.
While on the subject of syncing, you might have noticed that you don't have to eject the iPod touch before disconnecting it from iTunes. This is because you're not able to access the touch's hard drive like you could on previous models - so consequently, Enable disc use is missing from the iPod's options in iTunes.
If you're used to transferring documents from computer-to-computer via your iPod, then it might be time to invest in a USB dongle.
No strings attached
To get the online capabilities of the touch working then you'll need access to a Wi-Fi hotspot. We recommend signing up for The Cloud, which is affiliated to O2 and will come as part of the monthly subscription for iPhone users.
For just £3.99 a month you get unlimited access to The Cloud's fast network, and after you've logged on for the first time, your touch will automatically connect you to The Cloud network any time there's one in range.
There's more good news for Wi-Fi users, as McDonald's (which claims to own around 10% of the Wi-Fi hotspots in the UK) has just announced that it will be offering free Wi-Fi access in all of its 'restaurants' from the end of the year, too.
Video on the go
Getting video files on the iPod touch is as easy as it was with previous video-enabled iPods and the new classic and nano. And although the screen on the touch is slightly wider than the others, iPod-formatted video files will still play quite happily - and as we've said before, you can simply adjust the video to either fit in the screen or fill it by double-tapping on the video while it's playing.
Any iPod-formatted video file will be able to be imported straight onto the touch. These include TV shows downloaded from the iTunes Store, video podcasts and any video files that you find online - such as movie trailers from the Apple website or videos downloaded from Google video, for example.
If you'd prefer the video to fit the touch screen perfectly though, it's easy to convert it - see the 'Converting video' section for how to do this.
Getting online
Don't worry if you're about to leave a Wi-Fi hotspot but want to keep viewing a web page, because your Safari browser is clever enough to keep your current page loaded on your iPod, so it'll always be there when you reload Safari - until you load up a new page, that is. This will work for multiple pages too, so you could have a range of important web pages stored on your iPod for later reading.
You can even import your Safari bookmarks from your host computer - the one that the iPod touch is synced to. Start by connecting your touch and then click on the Info tab on the right. Now scroll down and check the box marked Sync Safari bookmarks.
You may have noticed that there are a few spare spaces on the main screen of your touch, which is partly due to the fact that it's missing some of the features found on the iPhone - Google maps and stock reports, for example. While we have no doubt that Apple will at some point release additional widgets to add to your touch, there is something you can do in the short term to further increase the player's functionality.
Head to www.apple.com/ipodtouch/webapps at the Apple site and you'll see a wide range of web-based applications that can be used when you're connected to a Wi-Fi hotspot. Everything from basic games to online word processors can be found here - and there's even a direct link to the iPhone/touch formatted Facebook site.
How to convert video for the iPod touch
There are several ways to convert videos for the iPod (you can even do it through iTunes, but we don't recommend you do that) but the best program by far is iSquint. It's quick, simple to use and the results it produces are perfect.
iSquint, however, is Mac-only. For a Windows-friendly solution, download the Videora iPhone converter. Videora can cope with all manner of video files and offers easy 1-click transcoding as well as more detailed conversion options.
Find missing album art
Adding album art to both iTunes and your iPod has become a whole lot easier since Apple added the Get Album Artwork feature to iTunes (see under the Advanced menu). But despite the fact that it's fairly comprehensive, it's not infallible. For example, in our personal iTunes Library, made up of over 3,000 songs and 270 albums, it couldn't find artwork for around 20 full albums and over 250 individual singles.
So, what do you do if you're a die-hard completist? One option is to employ the services of a third-party program to fill in the gaps. One such program is CoverScout from equinux. Costing just shy of €20, CoverScout enables you to quickly spot the gaps in your library's artwork and then search via Google or Amazon to find them. Then, once you've found the correct ones, you just import them into iTunes.
Don't worry if you still can't find what you're looking for though, as there's built-in support for a webcam too, so you can take a quick shot of the CD cover and import it that way - CoverScout is even considerate enough to reverse the camera so that the sleeve is shot the right way around.
How to stream video to your iPod touch
If you've bought (or are thinking of buying) the EyeTV digital TV adaptor for your Apple computer, then you might be interested to learn that its creators Elgato have recently released an update to the software, which enables you to stream video files downloaded from EyeTV to your iPod touch or iPhone via your computer and a Wi-Fi network.
Although the EyeTV software is generally intended for use over a local network, we've tried it over much larger distances and it works perfectly - if a little slowly.
MacFormat's Chris Phin has managed to get the system up and running and posted a brief EyeTV tutorial video on the MacFormat website. You can view it here.