Canon rumours: what you need to know
13th Dec 2013 | 16:36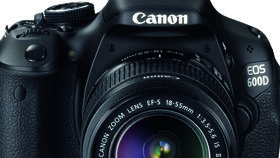 Canon 70D, mirrorless, 7D Mark II and more
It seems like barely a day goes by without a new Canon rumour.
Here on this continually updated Canon rumours page, you'll find the latest news and information on what camera is likely to be announced next.
Got any hot tips? Let us know via our Twitter feed or via email.
Canon 7D Mark II rumours
Buying Guide
Best Canon cameras
With the announcement of the Canon 70D out of the way, a good portion of focus has now shifted to another old-timer in Canon's range.
The Canon 7D has been around for over four years now - an absolute age in camera terms. Many photographers are keen to upgrade the model which sits at the very top of the enthusiast line-up - although admittedly some of those customers are likely to be drawn towards the full-frame 6D.
It seems likely that Canon will stick with a crop-factor APS-C sized sensor for the 7D replacement - if such a camera ever appears. It's a bonus for sports and wildlife photographers as it gives extra reach.
That aside though, it seems likely that top-end technology will trickle down on to the enthusiast camera, so we expect to see something packed with lots of exciting extras, such as a touchscreen and Wi-Fi. We could also see the dual pixel technology as seen on the Canon 70D - with a better processor, this could be an exciting addition.
Digic 6 is the latest processing engine from Canon, but it's not found in the latest 70D, which sticks with the Digic 5+ processor. Instead, this processor is reserved for compacts such as the G16, S120 and SX280. Perhaps the 7D successor will be the first DSLR to feature the next generation processor instead.
To differentiate the 7D Mark II from the 70D, we could see improved weather selling, a more advanced AF system and a higher resolution sensor. Canon seems to be playing fairly safe with resolution sizes so far though, so don't necessarily expect Nikonlike high figures.
Canon mirrorless rumours
Buying Guide
Best compact system camera
Although Canon finally joined the mirrorless party with the Canon EOS M back in July 2012, that hasn't stopped the rumour mill from suggesting what could be the next compact system camera from the company.
It's fair to say that the M hasn't been hugely well received, with many advanced photographers disappointed by the lack of direct controls, buttons and a viewfinder.
There's also a distinct lack of proprietary lenses, and, while you can attach existing EF and EF-S optics via an adapter, sticking a large lens on a small body does somewhat defeat the object. By comparison, the Micro Four Thirds system has over 25 optics, while even the Nikon 1 range is growing slowly.
In Japan and China, Canon is releasing the Canon EOS M2, a slightly upgraded version of the original. However, this camera isn't scheduled for release in the rest of the world.
A recent interview with Masaya Maeda from Canon Japan appears to suggest that a new M body could be on the way in the second half of 2014, with additional lenses.
We might also be treated to a prosumer/professional mirror less camera. With the likes of Sony, Panasonic and Olympus performing well in this field, it wouldn't be a surprise to see Canon showing an interest in this sector of the market too.
Canon high pixel-count camera rumours
Nikon has pretty much led the way with high resolution cameras, with the Nikon D800 boasting a whopping 36 million pixels. We've also now got the Sony A7R, which uses a 36 million pixel full-frame chip.
Canon on the other hand has been rather more reserved in its equivalent offering, with the 5D Mark III offering the more modest 22 million pixels.
Still, rumours continue to persist that Canon is preparing its own very high resolution model, most likely to feature over 40 million pixels and probably featuring at the very top of Canon's DSLR lineup.
Although it's been running around the rumour mill for some time, it seems likely that we'll be waiting for a while longer for such a model to appear and we're unsure of such a camera's moniker - some have suggested the Canon 1DSx could be a possible name, though.
Canon 5D Mark IV rumours
There were four years between the announcement of the EOS 5D Mark II and the Canon 5D Mark III, but improvements and upgrades tend to move at quicker pace these days, so it's not totally out of the realms of possibility that 2014 could see an upgrade to the Mark III - just two years later.
Canon now has two full-frame models in the "prosumer" section of its line-up, but it seems likely that the 5D line would be replaced before the 6D, the newer model.
Perhaps it will also be more of an incremental increase, a la Nikon D610 vs D600. As the Canon 6D has Wi-Fi, this could also be included, or other extras such as a touchscreen.
Canon cameras Canon mirrorless compact system cameras cameraspromo-en-au cameraspromo-en-gb cameraspromo-en-us camerascarousel-en-gb camerascarousel-en-us camerascarousel-en-au